Key takeaways
People around the globe spend up to 4.8 hours a day on mobile apps
The most popular app categories are messengers and social networks. Some other top categories are video streaming services, delivery services, and online shopping apps. For example, apps like Telegram, TikTok, Netflix
When choosing a niche to enter, keep in mind your budget, resources, target audience, and market trends
Some statistics to consider 
According to the analytical company App Annie, people around the globe spend a third of their time in mobile apps, which is up to 4.8 hours. Another interesting thing  is that users spend enough money in mobile apps: let's take a look at the numbers for 2021.
According to Statista, the most popular Google Play app categories in 2021 were Games, Education, and Business & Finance. And App Annie listed the most popular apps which are large social networks and messengers — TikTok, Instagram, Telegram, and WhatsApp. Some of the most downloaded apps are also Spotify, Zoom, and Netflix. 
There are many predictions about the future of mobile app development in 2022. They  include such trends as AR, blockchain, AI, cross-platform development, games, and super-apps — apps with a lot of features. 
But what about money? Let's dig into the revenue predictions in different categories for 2025 from Statista:
| | | |
| --- | --- | --- |
| App category | Revenue in 2021 | Projected revenue in 2025 |
| Lifestyle | $10 million | $14 million |
| Education | $6 million | $10 million |
| Social media | $39 million | $60 billion |
| Photo and video | $16 million | $25 million |
| Music | $9 million | $13 million |
| Books | $7 million | $12 million |
Based on the stats, here are some major mobile industry takeaways : 
The most profitable markets are Japan and the US since people spend more on apps in these countries.

The most popular apps are messengers and social networks. Some other popular apps are music and video streaming services, delivery services, and online shopping apps. 

Most notable app development trends are cross-platform development and AI.

Pay attention to super-apps, virtual cards, and shopping apps. 

Aside from games, some of the most profitable apps are social networks, photo and video apps, book reading apps, music streaming, educational apps, and lifestyle apps.
10 mobile app ideas for 2023
Let's dig into some trending mobile app ideas for startups according to statistics and predictions by large corporations. Get some inspiration from our list of app ideas!
1. A recipe app
Considering the increasing popularity of lifestyle apps, delivery apps, and messengers, feel free to develop a recipe app with dietary recommendations. You can also add a feed and a chat so people could exchange recipes and share food pictures. Cooking is a routine, so users would be happy to see an app with categorized well-tested recipes to ease their daily life. And home cooks will get an opportunity to become experts.
You can monetize a mobile app like this by promoting food companies or using the subscription model.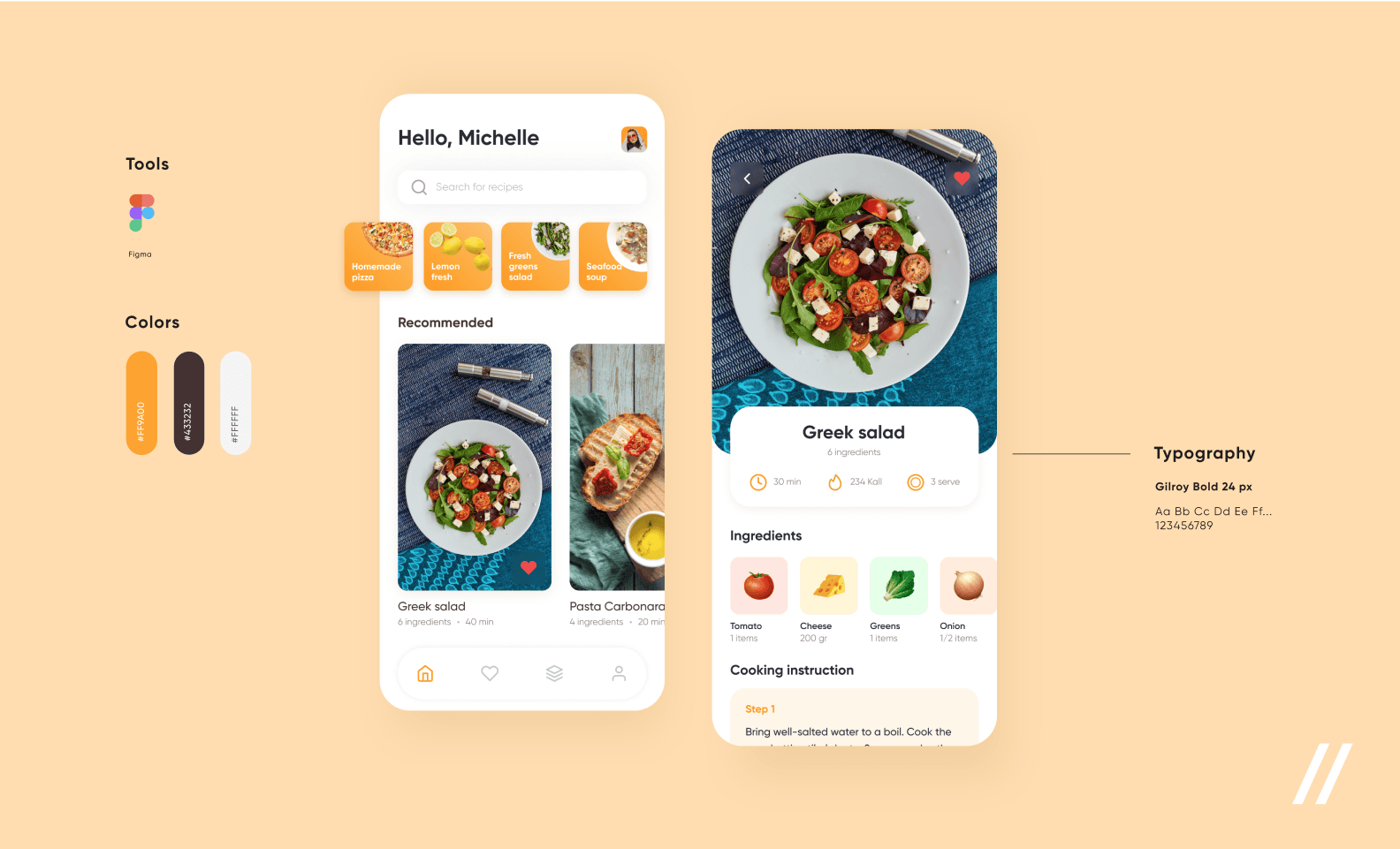 Here's our recipe app UI design concept from our Dribbble . Orange color associates with tasty food and we categorized recipes conveniently. 
2. A language learning app 
According to Statista, the e-learning app market was at its prime by the first quarter of 2020 — with 470 million downloads in App Store alone. But even after the peak of lockdown, e-learning is still in demand. According to ReportLinker, the educational app market in the US is estimated at $90 billion in 2021. And Statista shows that "education" was the third popular category in the App Store, making 8.66% of search requests. All this data shows that educational apps have a market need and vibrant growth perspectives, including monetization. 
For example, people learn foreign languages around the world — so why not create a language learning mobile app? An app like this should have video lectures or text content with study materials  and practice options  like self-check tests and video calls with people from different countries. 
It might be difficult for startups to compete with larger language apps because it will be hard to attract enough people for language exchange calls  . But you can solve this by suggesting free bonuses for activity in your app. You can also add classes with professional teachers to   monetize the app with in-app purchases or a subscription service.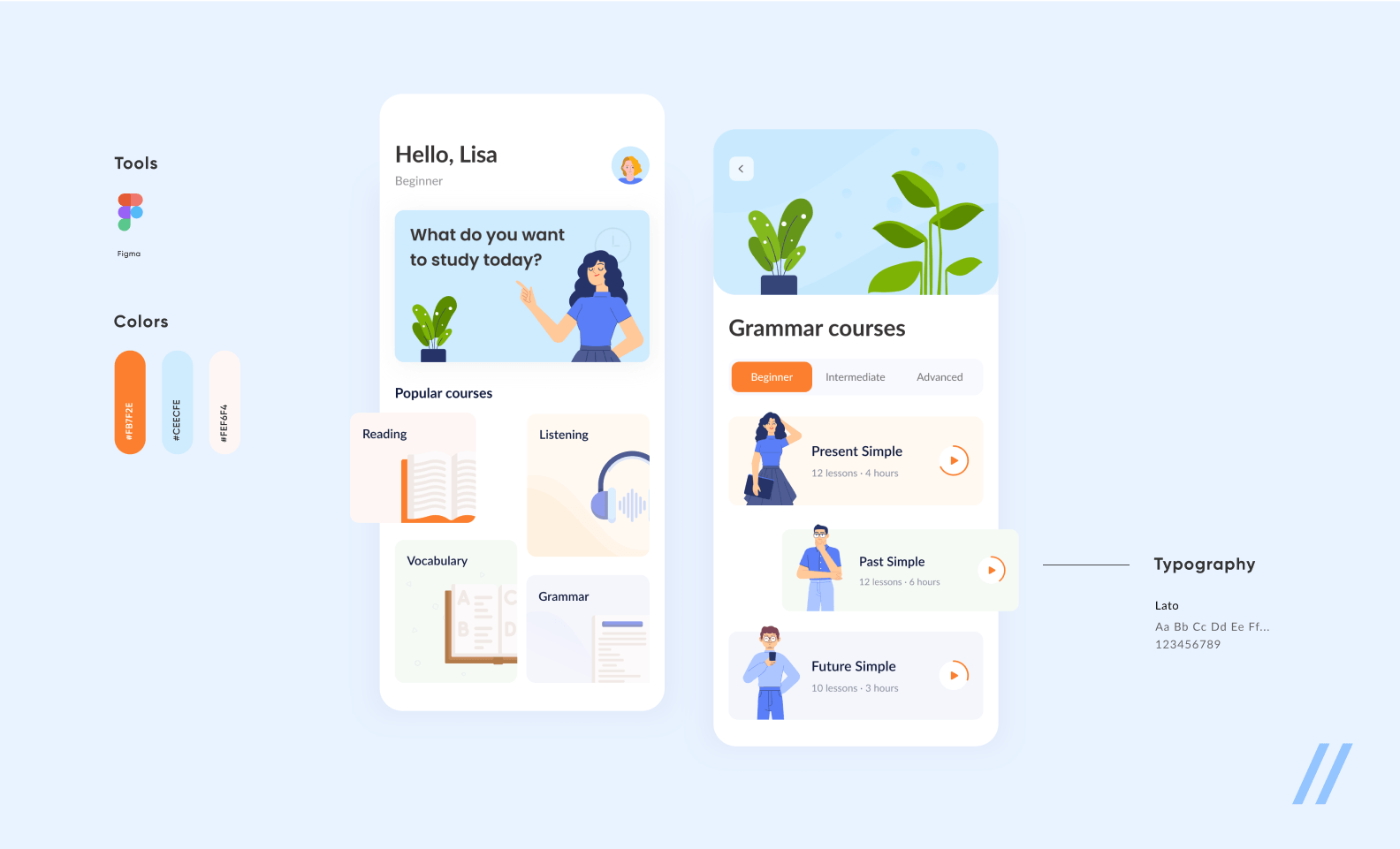 This is our e-learning UI prototype: classes are categorized by skills, students' competence, and topics. 
3. A reading app
Simple reading apps are pretty popular — for example, by December 2021 Ireader, the biggest reading app in China, had 87.5 million active users. But if you don't want to compete with such big players, focus on more niche content. You can make an app with children's books, non-fiction about art, the XXth century literature or obscure and rare works. Make a library, publish audiobooks or translations to different languages for reading and vocabulary practice. And if you want to monetize your reading app, set a limit for books available per month and add more paying options depending on how much of a bookworm a user is.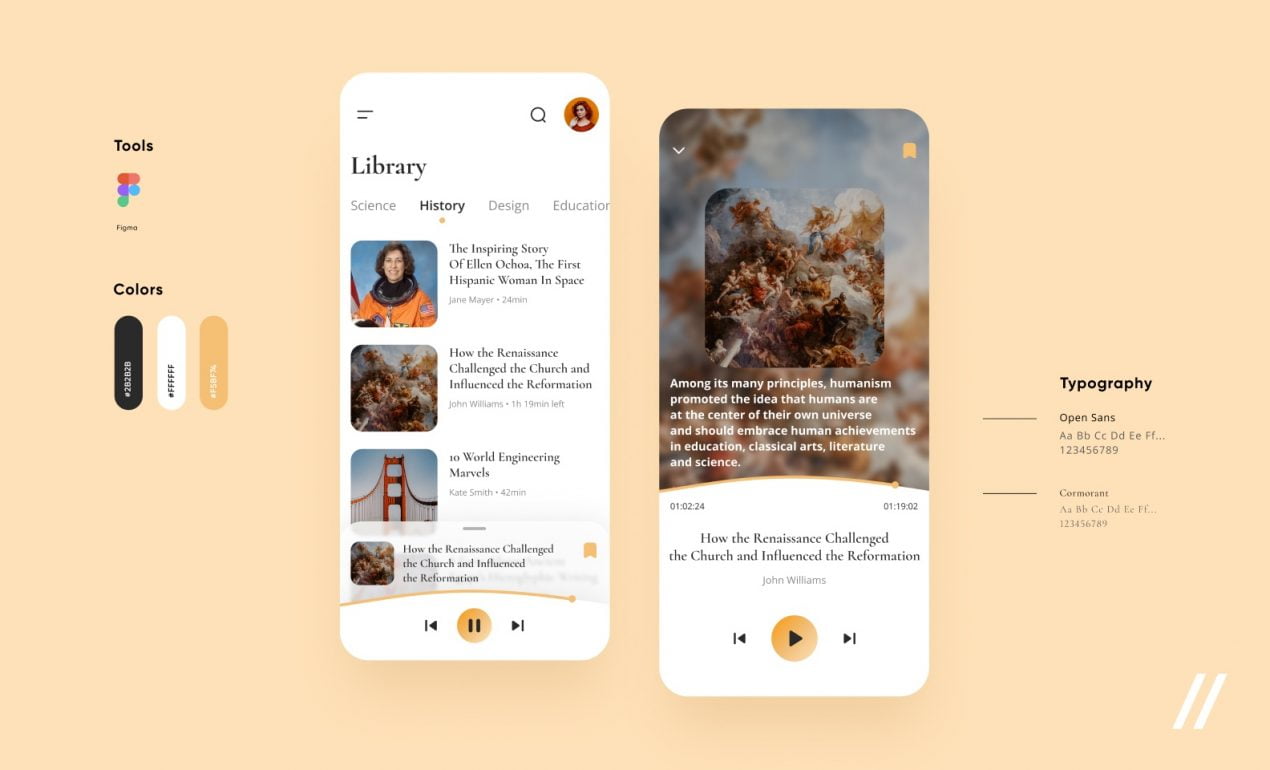 This is one more concept created by the Purrweb team — an app for reading quality journalism. You can use it as a reference to make your book reading app as well. 
4. A food delivery aggregator
Thanks to the pandemic, the food delivery app market has been growing. According to Business of Apps, the total revenue from such apps in the US alone reached $26.5 billion in 2020 brought by 111 million active users. And the projected revenue from such apps will be  $42 billion by 2025, which means that this market niche is pretty promising for startups. These apps work with different restaurants and shops and they vary in prices — that's why users often have to download 10 different apps to satisfy all their needs. You can solve this problem by making a convenient aggregator — at least within one city. You can show the largest amount of food vendors and allow users to compare prices and delivery time. Another good idea is adding several search filters so users could find the best option for their situation.
Such projects can be monetized by taking a fee from vendors where users buy food. Another option is a cheap subscription — if users frequently buy food in your app and make the best deals, this profit will be bigger than the subscription price. But you can't use this model right away — users need to find the value in your product first.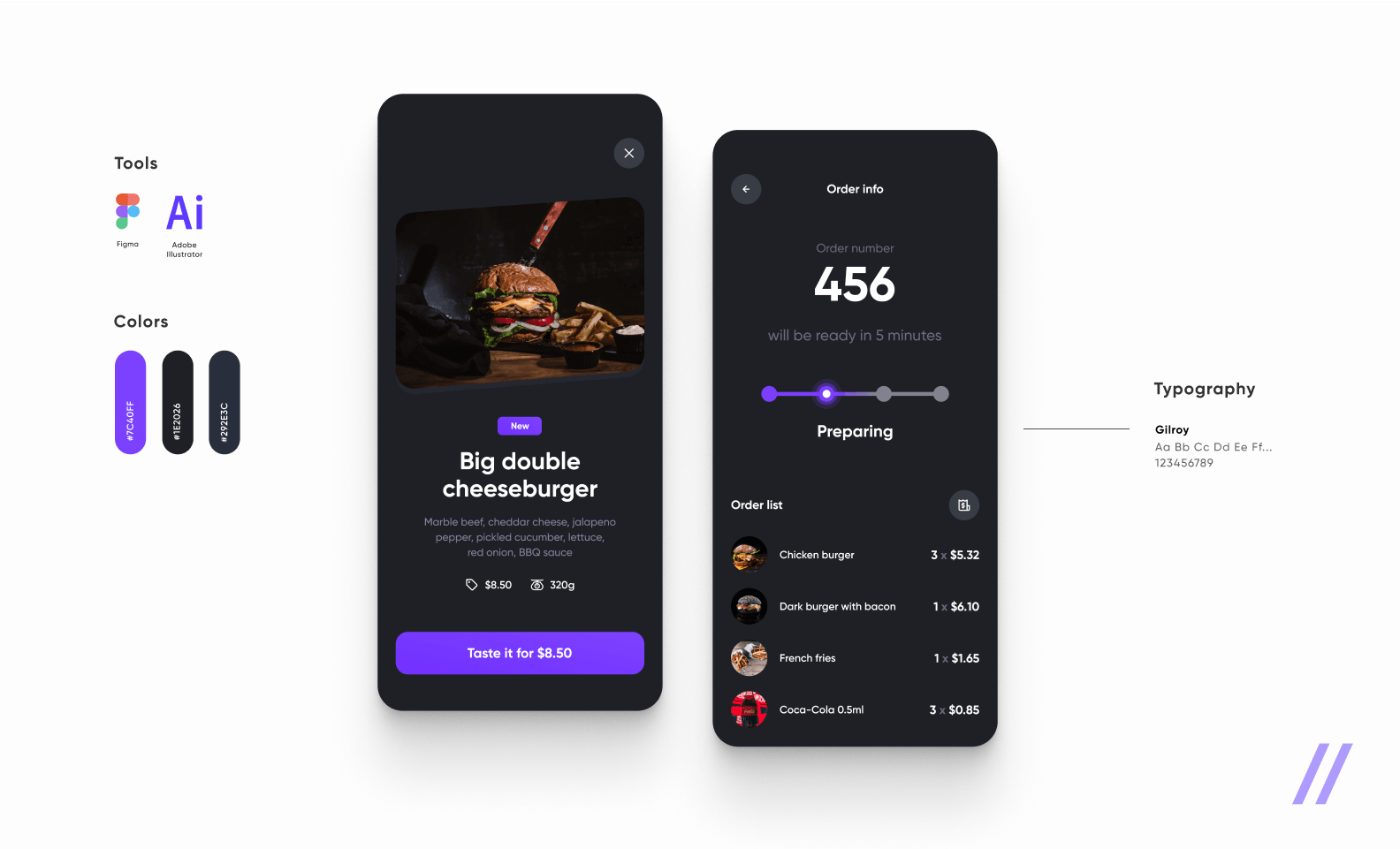 We made a food delivery app concept. The dark theme is convenient to use at any time of day and big bright pictures make it easier to choose the most appetizing option. 
5. A friendship app
According to Global News Wire, the dating app market has been steadily growing and is expected to grow further. In 2020, the total dating app revenue reached $3.08 billion. The biggest players on the market in the US based on the MAU are Tinder and Badoo — 48% of dating app users have an account in one of these apps. So it will be hard for startups to compete with big app development companies like Tinder — that's why we suggest focusing on niche markets. For example, according to the OnePulse survey for The Wall Street Journal conducted in 2021, 35% of people aged 16 to 24 used dating apps to find friends over the last 12 months. Big market players saw the need for friend-finding options — like Bumble who added their BFF mode long before the pandemic. But there's still a need for "friending" apps in more niche markets — and here's where startups can thrive.
You can make friend-finding apps for people with specific hobbies like fishing, dancing, hiking, or art. Or a certain demographic like young moms. It will help people with common interests find each other. Such projects have great monetizing opportunities like paid profiles or freemium. 
Take a look at our twist on "friending" apps.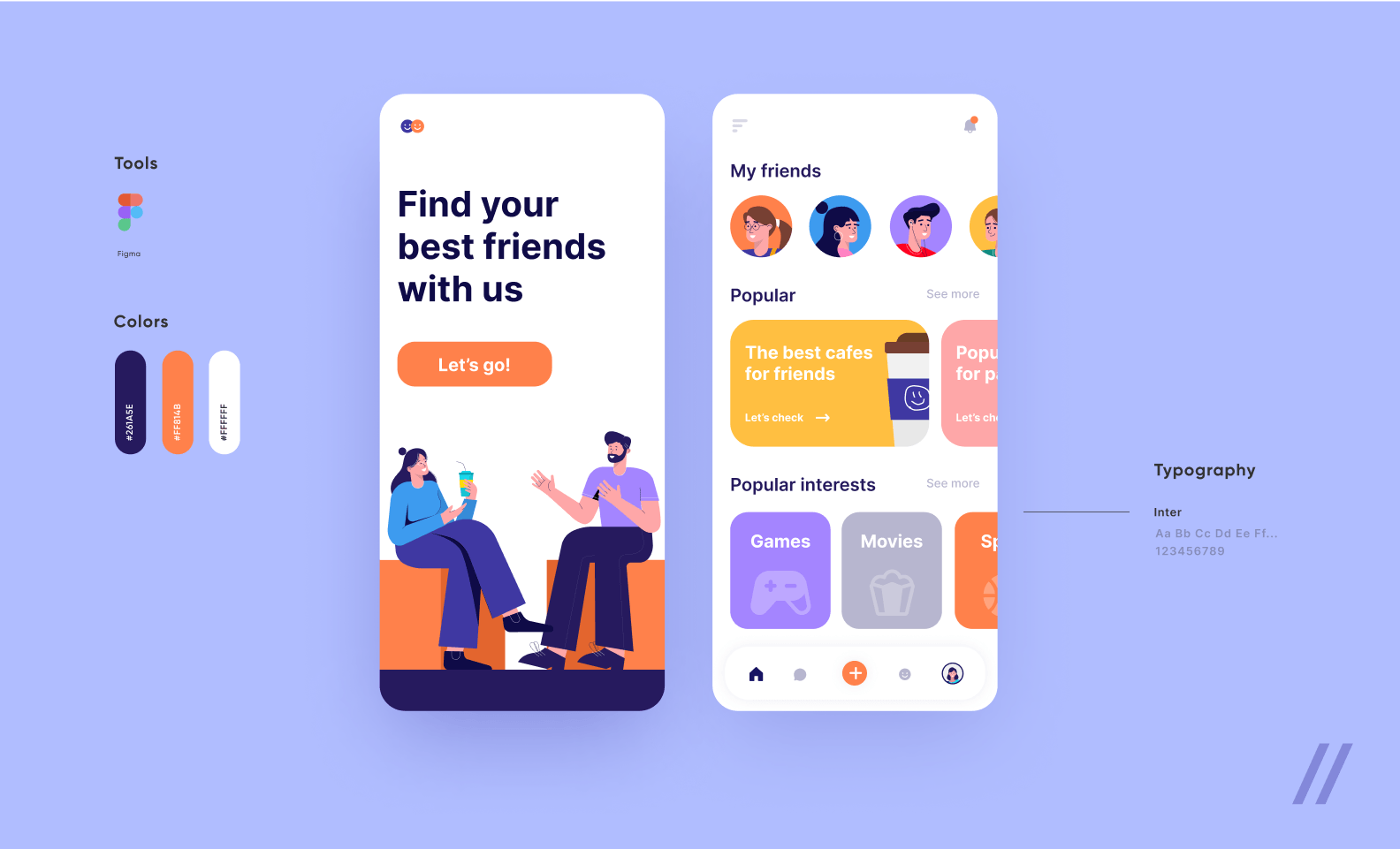 This is our "friending" app design concept. The app has a hobby-based search filter and bright colors improve user experience.
6. A healthy lifestyle app
Lifestyle apps keep growing, according to the report made by Sensor Tower. Users from the US spent nearly $300 million on apps from this category — and the amount of downloads reached 151 million. Considering the super-app trend in the industry and the increased health anxiety due to the pandemic, a healthy lifestyle super-app is a perspective startup concept which will have a market need in 2022. Your app can include a calorie intake tracker, a chatbot with workout advice depending on users' lifestyle, and a feature that allows users to search swimming pools, fitness clubs, and jogging parks near them. Another great idea is posting content from experts in sports and healthy nutrition. 
This project can be monetized by promoting fitness clubs, sports equipment, and healthy food brands. You can also include paid content like private online classes. 
Need a reference? made a concept like this: Purrweb made a concept like this: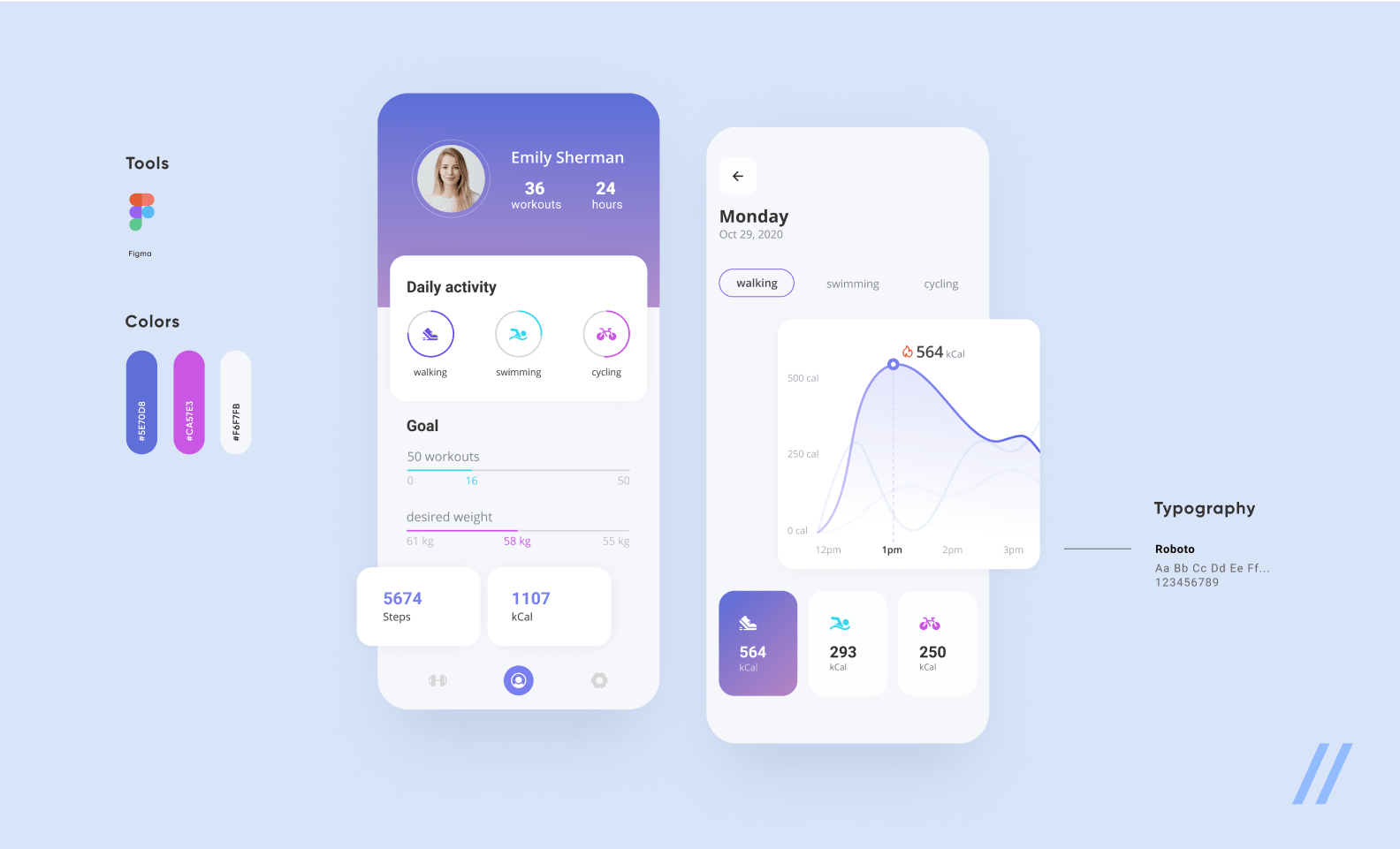 A healthy lifestyle super-app and its possible UI design.
7. A video streaming app
Although many people still prefer full screens, most users can't wear laptops all the time — on  public transport or just outside their homes. You can offer  a cross-platform video streaming service that would work great on all devices. To stand out, include different content: movies, shows, news, lectures, and product reviews. And monetize this service using the freemium model.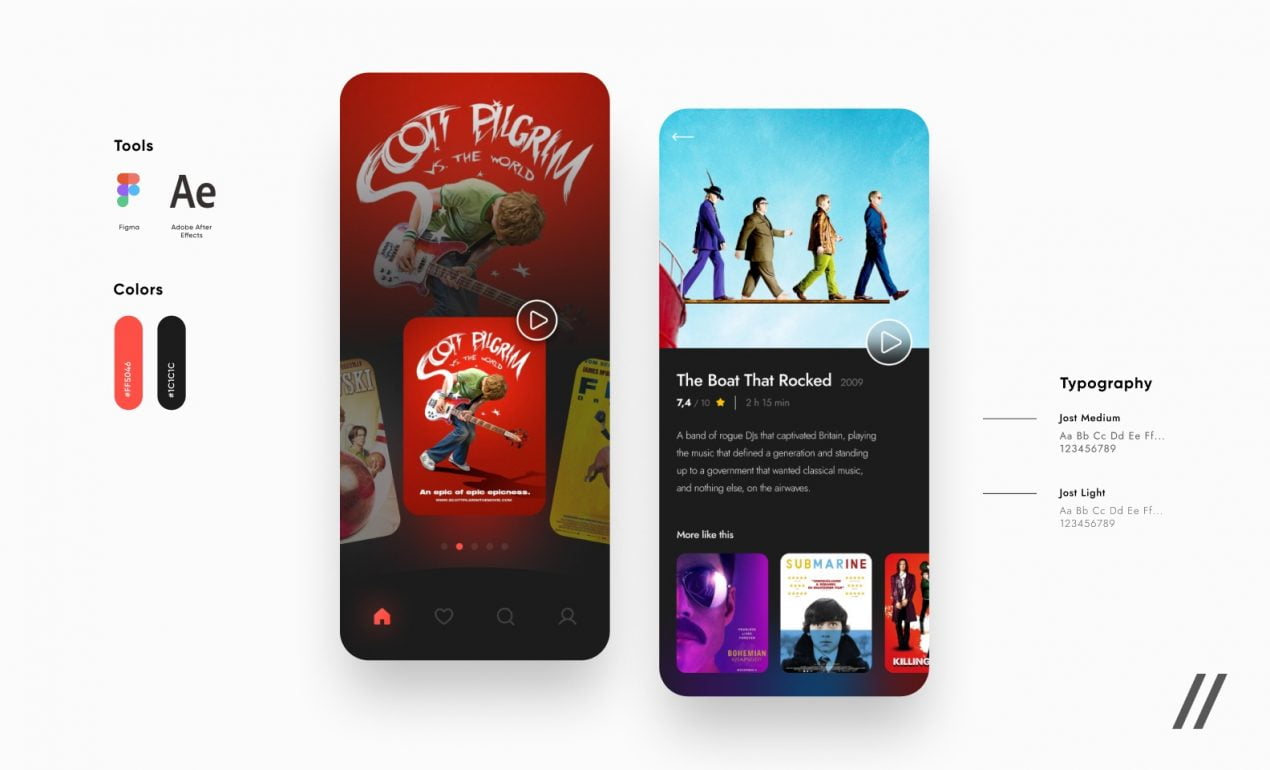 We made a UI design concept for a movie streaming service. The dark theme makes an impression of a real movie theater. 
8. A music app
Music apps are popular around the globe. According to Business of Apps, Spotify, one of the first streaming apps, reached 160 million subscribers by the end of 2021 — this is almost 33% of the entire music streaming market share. And the revenue from music streaming mobile apps has been steadily rising since 2014, reaching $18.9 billion by 2020. Keep in mind that Spotify is so popular not only because it's convenient to use on the go or because of their huge music and podcast library — this app development company keeps adding new interesting features to their product. For example, Synthesis, the feature they added in 2021, allows users to generate playlists based on two people's listening stats. 
It's hard to create a music streaming app that can compete with Spotify but you still can be outstanding on the music app market. For example, you can create an app that only publishes the freshest releases. You can also add reviews from music journalists and a taste-based search filter. Some monetization options are selling band merch and concert tickets or making your app content partially paid.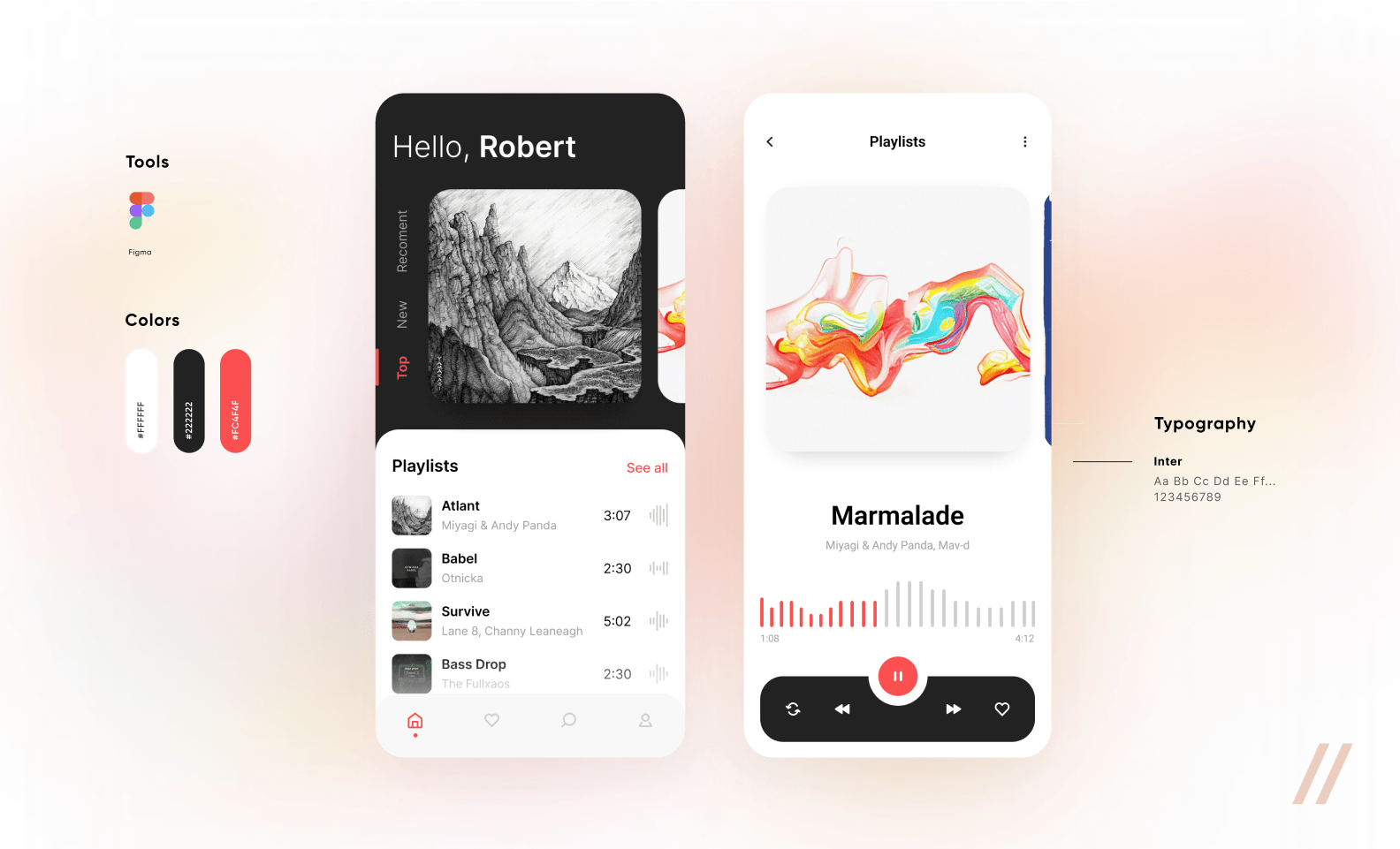 This is our concept for a music app where users can make playlists out of recently found tracks.
9. A microlearning mobile app
People are ready to pay for e-learning apps because the convenience of a smartphone allows you to learn on-the-go. Microlearning is an educational trend that goes in line with ‌learning via smartphone — it's a short and intensive learning experience with bite-size classes and a delivery that emulates real-life problem solving. This approach allows employees to acquire both hard and soft skills quickly, on demand, and without feeling cognitively overwhelmed. That's why eLearning Industry included microlearning in their list of workplace education must-have trends. 
There are already a lot of online courses in digital professions. But you can teach people anything: literature, philosophy, art, law. You can also help people prepare for exams or improve their general erudition or professional qualification. Just keep it brief: short videos, bite-size articles, quick quizzes. As for monetization, you can make your content fully paid or implement a subscription service with a short free trial period.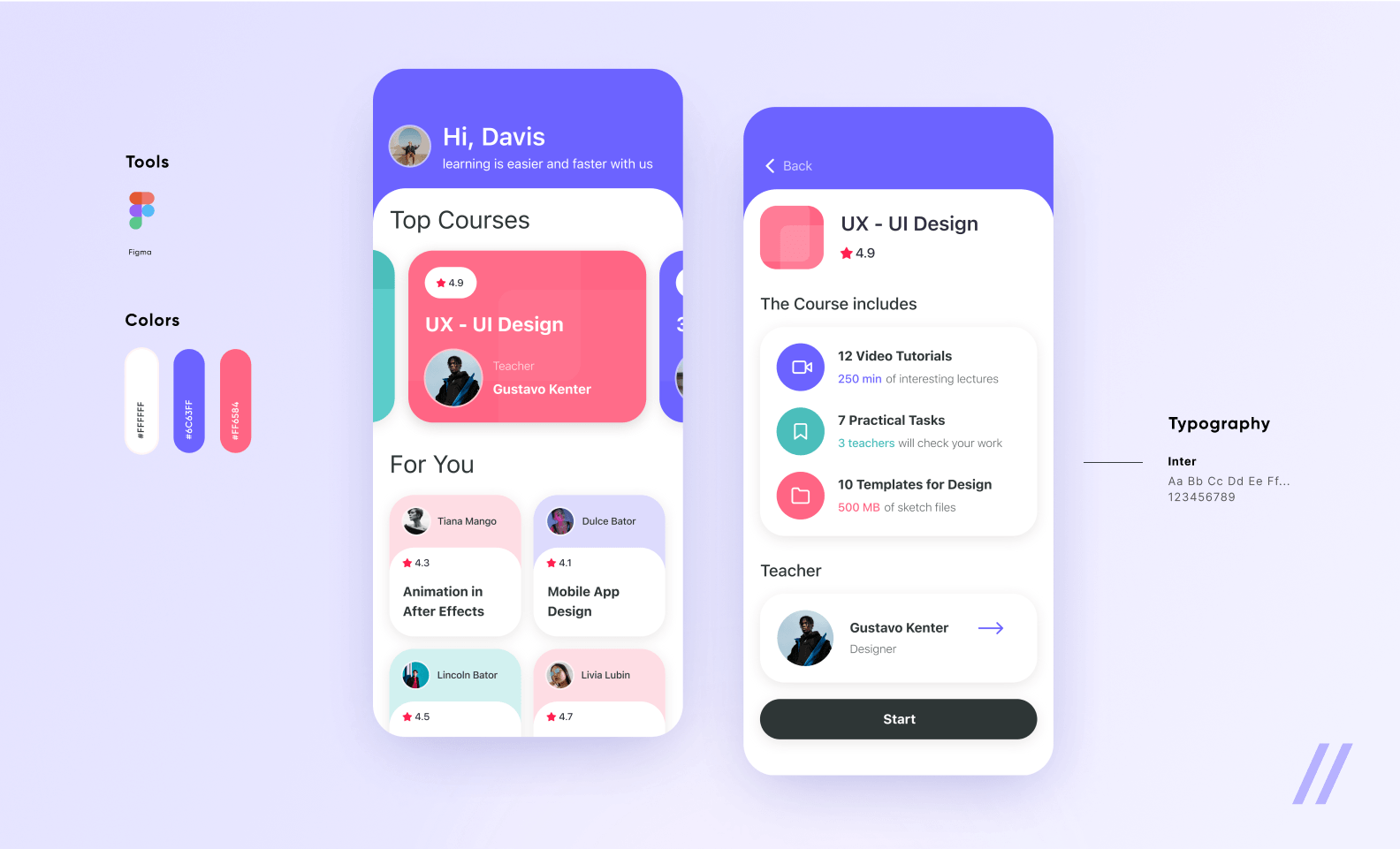 This is our microlearning app concept: all the courses are split into short classes and exercises.
10. A networking app
People actively use social media but Facebook or Instagram don't have a lot of networking opportunities. Neither do dating apps — according to the survey conducted by LendEDU, 44% of young adults use Tinder not even for meeting new people but for boosting their confidence. Meanwhile, there is a market need for networking platforms — not for finding employees for certain position but long- or short-term business partners. Where can people find counsellors, experts for articles and lectures, collaborators? You can develop a networking mobile app for that. You can add a filter by field, expertise level, and location. In apps like this, people will be able to find a lawyer to help their business or a psychology expert to collaborate with on Instagram Live. 
You can monetize your networking mobile app using a subscription model. For example, premium accounts can have more convenient advanced search filters.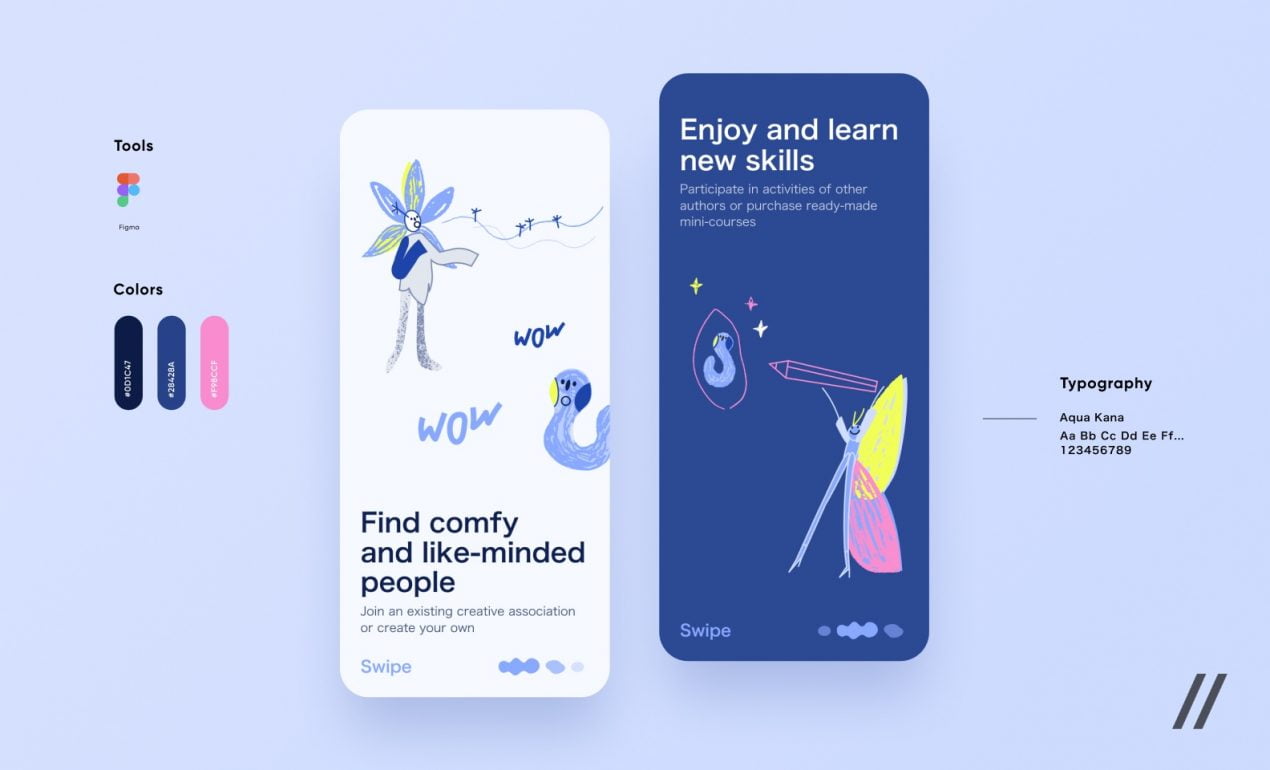 We've come up with a networking app UI: user profiles, chats, and the donation feature.
But what should I choose?
This list is only a bunch of examples for your inspiration. Ideas are infinite — use your imagination and experience, and don't forget about your budget. Ask yourself these questions before getting started:
Do you want to go global or only work within your hometown? 

How do you want to monetize your product?

Which field are you good enough at to make a cool app?

Which resources for content do you have? 
We hope that this checklist will help you come up with a fascinating mobile app idea.
Keep your eyes on trends and analytics but don't follow it blindly. There are niche markets that are still very profitable — but these apps will never be on top lists in app stores. 
Have a mobile app idea? Contact us! Our team builds apps from idea to app store — and we'll help you with market research and maintain the finished app. To start working with us, please fill in the feedback form below.