CRM: Cosmoport-Restricted Manicure?
A sales manager used to have one tool for keeping tabs on people or and events: his notepad. This was neither too handy nor very reliable; even we sometimes forget the contact info or the date of events we enter into the phone. The simple old notepads would get lost, warm leads would be handled as cold ones, and there was no question of precise analysis and statistics. But not anymore!
CRM stands for "customer relationship management" — in the form of an application that automates sales, marketing, and support. CRM systems can issue invoices, remind about events and scheduled calls with clients, or distribute the workload in the pool of sales personnel. They take the minutes of all the wrangling and back-and-forth that go on between the company and its clientele and show the statistics to illuminate which sales channels and event managers perform the best.
Today, the market of CRM systems is overcrowded. Users can afford to look at the ease of use beyond mere performance. Web design software comes to the fore, as we are about to demonstrate a selection of twelve well-rated CRM applications for sales and event management. They do some things better than others, however.
Examples of popular CRM systems
These CRMs all serve a client base of a different type, and the list of its design examples includes solutions intended for small, middle, and humongous scale enterprises. These cases will help to know exactly how to build a CRM properly.
Salesforce
If your CRM solution is meant for big business, you could do worse than learn from Salesforce — possibly the best-known CRM program internationally. It can be customized to infinity, adding functions to suit company-specific needs such as event planning, but in most cases, this is fairly complicated and requires assistance from the technical staff. Salesforce has a clean and laconic interface in neutral colors — a sound choice from the UX standpoint. The user focuses on the information displayed.
Salesforce is great because  it manages to fit so much data on the dashboard in an understandable way. Starting Salesforce for the first time, the user is bound to be blown back by the gush of information, but in some time the flood settles into manageable pools. The sales funnel is represented by an image, revenue sources ride a graph — the design is very sensible and direct. Event organizers will like this tool too.
Hubspot 
Another major CRM system on the market, often compared to Salesforce, only intended rather for small companies. It is not a woolly mammoth of functionality like its counterpart, but it is simpler to use and tune to one's desire.
Hubspot stands out for its approach to incoming traffic. Usually, CRM solutions are built on the sales funnel principle: get as many clients (users) as possible up on the rim and sieve them down to the bottom line. Hubspot, on the other hand, uses a flywheel model throughout: the customer sits at the center, and the event managers, salesmen, and follow-up woo him with their roundelays. This approach sets the priority on inculcating a long-term relationship for a better LTV.
Hubspot is great because  it has a clean design with obvious navigation. A newbie user can learn what is what here pretty quick, aided by pictures and starting tips.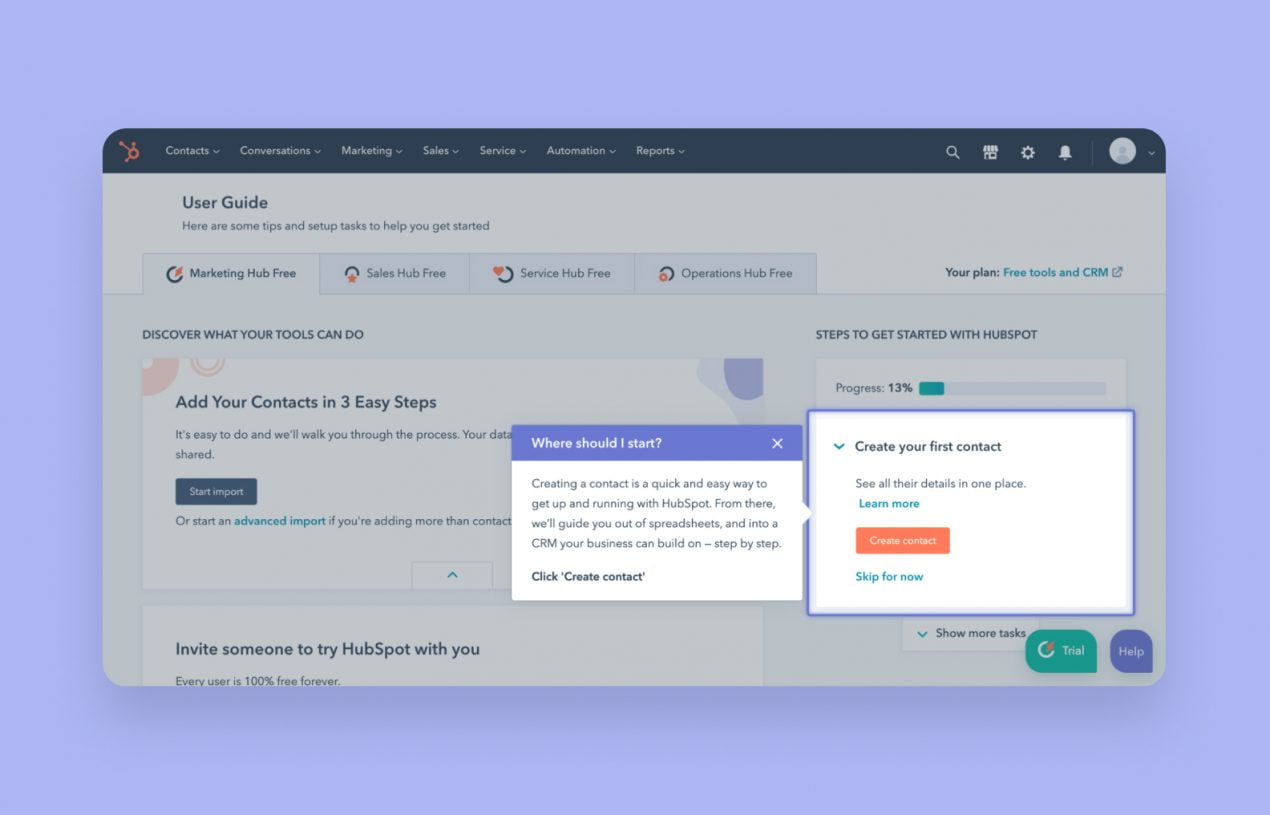 NetHunt CRM
It's a platform with built-in Gmail and LinkedIn integrations that enables users to manage events, tasks, and the sales pipeline without leaving their preferred communication channel. This system lets users add recent leads with a click of a button or automatically from their  inbox. If you want to manage your email campaigns or events easily, NetHunt will help you to do so without having to open another tab.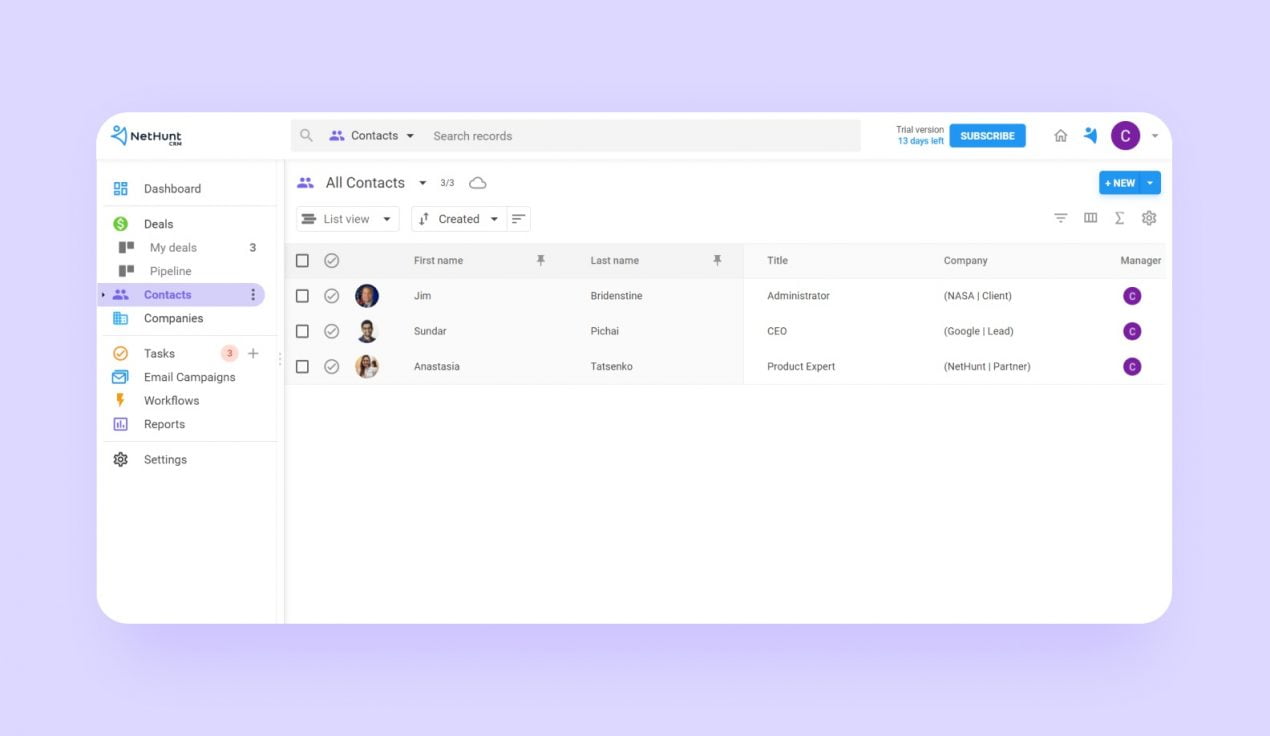 Gmail-like dashboard is easy to navigate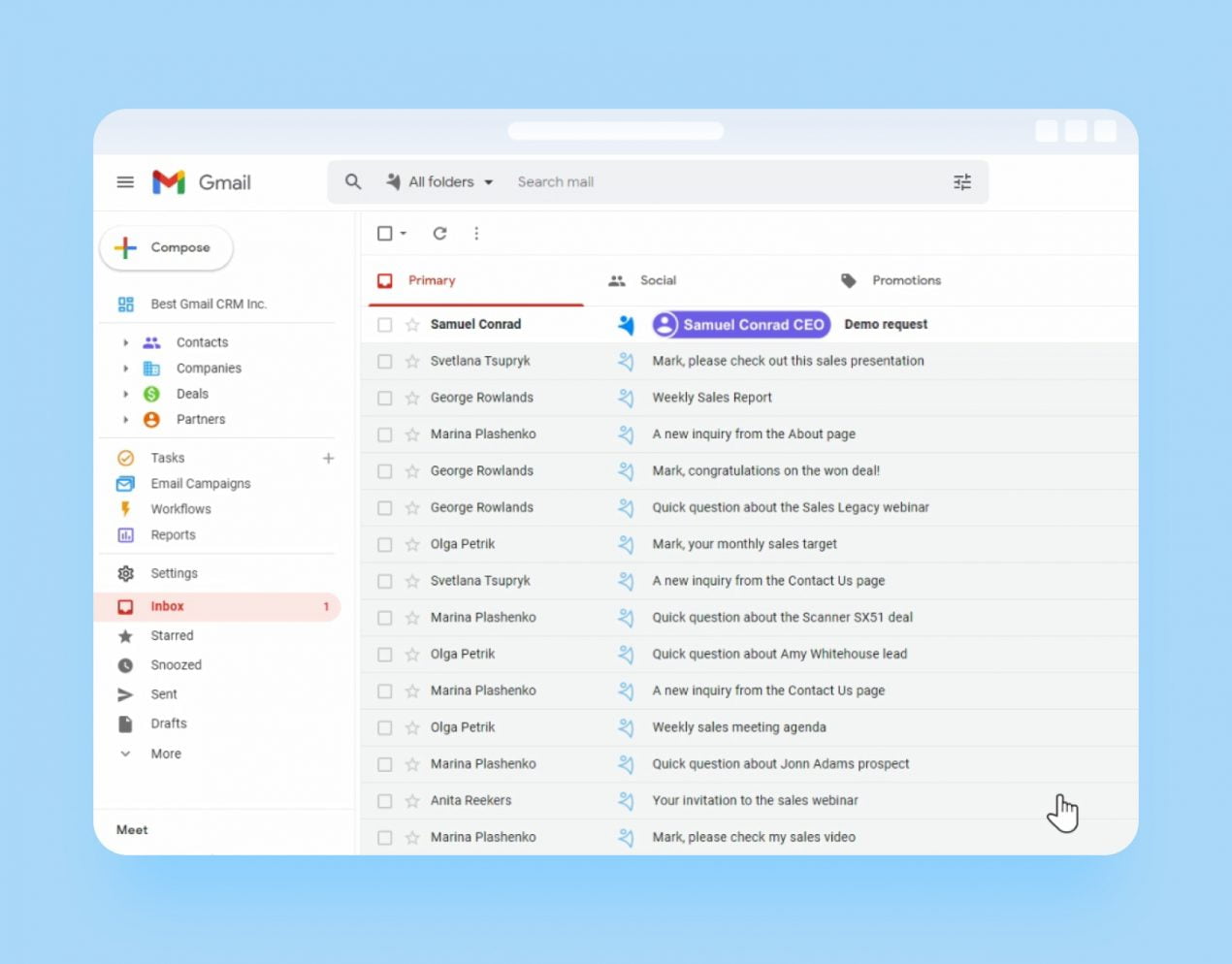 The design of NetHunt's inbox version 
NetHunt CRM is great because it allows you to install the Google Chrome extension and to use an inbox by Gmail with subsidiary functions such as handling post-event reports. Moreover, it is possible to connect this software with LinkedIn and some other channels. Such a feature enables customers to get used to the new interface quickly: they should just tweak some parameters in a web version. 
Zoho CRM
Zoho is a software provider that has about 45 SaaS products for small and medium-sized enterprises. Zoho CRM is one of the best projects of this enterprise. It has a simple and minimalist design. When customers start to use this system, Zoho CRM shows a guide for newbies. If users accidentally click a wrong button, it won't be hard to fix: this CRM displays recent activity and allows you to undo steps.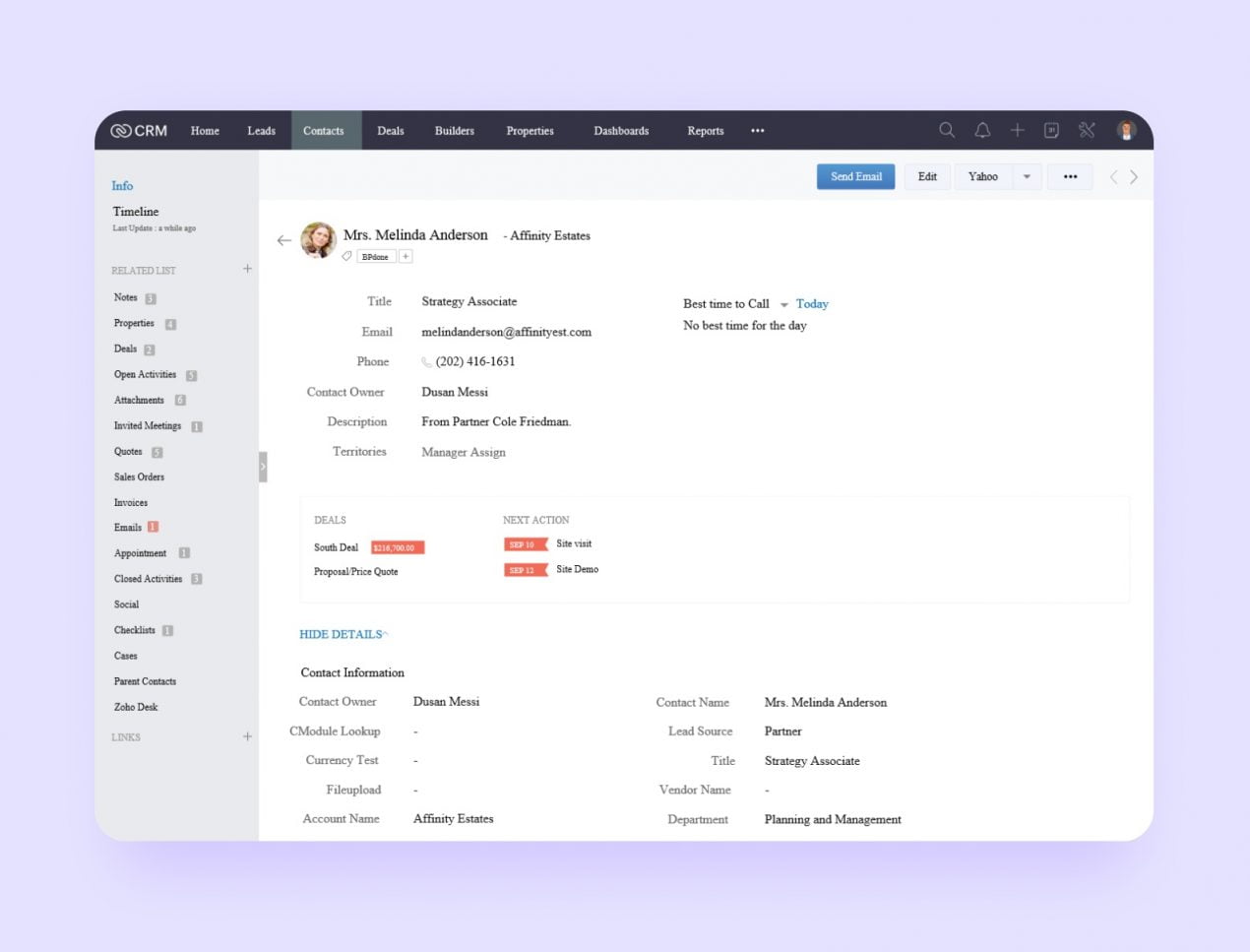 This is how contacts look like on the platform
Zoho CRM is great because its users can customize system's design. For instance, it's possible to change the order of menu items above, interface colors, or blocks with contacts. Such a feature allows customers to build a CRM design for their unique needs. For example, event managers can add relevant activities in a menu.
Monday Sales CRM 
This system was created for different types of businesses. It's important that the program shows learning blocks when users start to use new templates. Such a nice design solution helps newbies to get used to this software effectively.
If you want to connect features of the platform with other tools from familiar companies, you can use Apps Marketplace by this CRM. For example, there are Facebook, Gmail, and Outlook connections.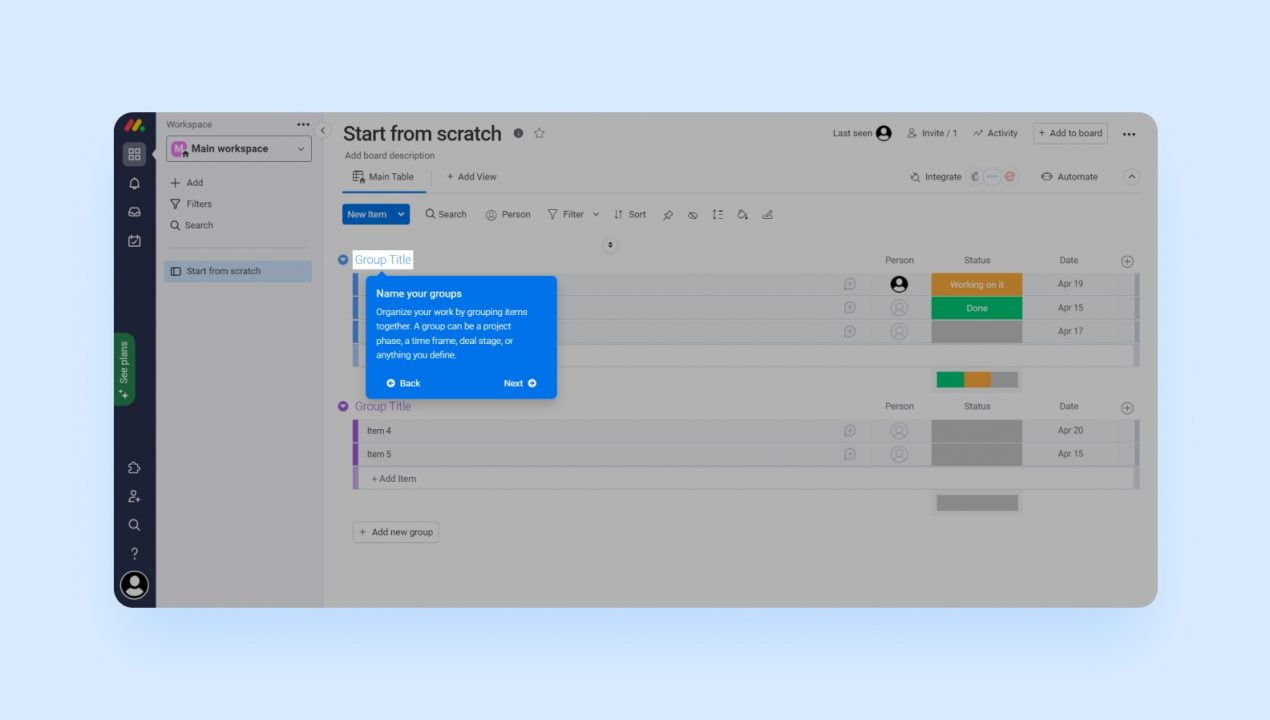 A hint in the CRM
Monday Sales CRM is great because of its mammoth set of default workflows. That design feature means the platform is a sound choice for small companies because there are employees who play different roles at once. It's crucial for them to be able to choose an appropriate template to manage the system effectively. For example, event coordinators can choose a relevant template and use it fruitfully. 
Freshworks CRM
It's an AI-based system for small and medium-sized businesses mainly. On the one hand, some functions will be hard to get used to if users have no experience working with complex analytical tools. On the other hand, customers can benefit from pre-installed automation templates. For instance, newbies can use event managing, autoresponders, and welcome emails for new subscribers. 
Freshworks CRM is great because it has the precise design with a hint from an AI-assistant Freddy which is always available. The system learns from users' information to give actionable predictions, advice, and insights. Freddy is able to remind of events, to analyze site visitors, and to discern hot leads from the cold ones.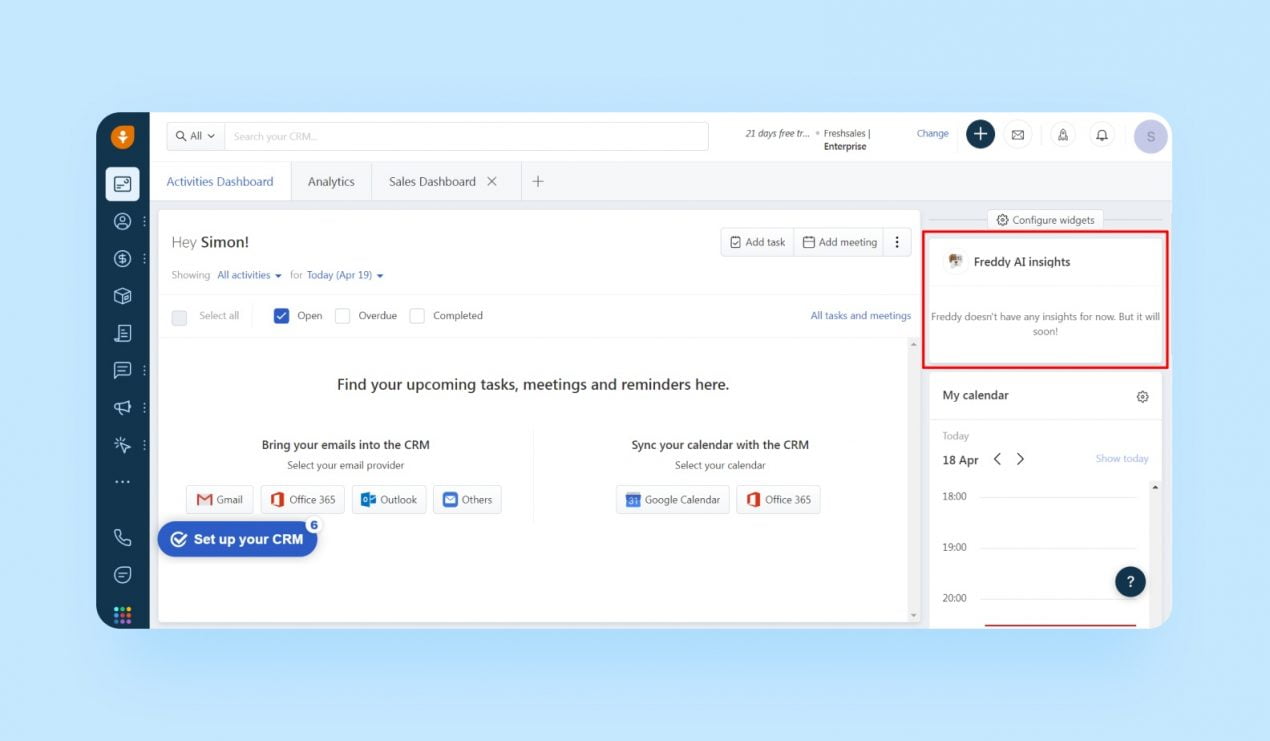 Freddy is waiting for the new data to analyze
AmoCRM
This is a sales department-oriented CRM system with clear design solutions. The interface offers sorting deals by different criteria: hanging, inactive or closed. Calls here are added to the database automatically and the database is segmented by client type.
When this solution is started for the first time, it shows hints to help learn one's way around the workspace and the sales process itself. For example, when the first potential deal or event comes in, Amo will explain what the sales funnel is and does in nice detail.
The app design is intuitive enough and can be tweaked to preference. The navigation panel with a few humble icons waits unobtrusively on the left.
AmoCRM is great because it features messenger software integration. The user can get in touch with a customer over WhatsApp and invite them to an event from inside the CRM program.
RetailCRM
This program was created with online commerce in mind. It can link up with e-store engines, download product and order information and update order data in both directions in real time. Leads are converted straight from social networks and messengers. 
In 2020 the developer committed to a clever overhaul of the whole CRM design, including the colors.
According to the developer, the system has become "more human." Navigation has been revamped, too: now all of the instruments for Retail can be found on the side panel. Expanded statistics are shown online in the analytics section: on customers, products, amounts. There is also a "best salesman" scale where you can compare people's KPI.
RetailCRM is great because orders can be processed in the same window. This design solution allows the user not to click away to view inventory data, issue invoices, formalize shipping and so on.
Pipedrive
This Estonian startup has grown into a "unicorn." The developer positions its CRM solution as a suite for small business. An abundance of plug-ins lets Pipedrive be set up to match the needs of a company in a flexible manner. For instance, event planners can manage events' calendars in the system.
The sales funnel and leads are emphasized and set apart on top of the side panel. Every new lead goes to the funnel automatically, and the process can be controlled via a convenient and handy interface. Its scheduler allows the customer to plan events too.
Pipedrive is great because the CRM design is so minimalist. Capterra has rated this system's simplicity at 4.5 out of 5.
EnvyCRM
According to the developer, this is a program that does not require pre-training for sales and event personnel, a super-easy CRM with a simple design. In Envy tasks for customers are loaded automatically when moving from stage to stage in the deal-making process: the call is over write a call resume schedule the next call. The customer will not be abandoned halfway because the manager flounders.
EnvyCRM is great because deals can be controlled by pushing buttons, that is, routine tasks are wholly automated. If the user presses "Failed call," he will see other buttons to choose: "Line busy," "Not reachable," "Won't pick up." This way the salesman can devote less time to micromanagement and concentrate on the tasks offered by his superior, who defines the button line-up.
YClients 
This СRM system is targeted at beauty parlors, clinics, gyms and other service sector companies. It has an option for notifying clients about appointments and events over instant messaging and e-mail, and canceling and rescheduling can be done online. 
Yclients is great because here it is possible to set up widgets for online events. A widget can be put up on a website or a social network page, its design is easy to customize. Customers will make their appointments and the user can send out notifications, plus the customer gets into the YClients database directly from the widget. It's a convenient tool for event marketing to.
S2
A respectable CRM system for middle and small businesses. It creates tasks for every stage of the sales funnel, reminds of deadlines, offers checklists with tips to sales or event managers and informs customers about the state of their orders over SMS.
Like in Retail, everything here is done inside one window, but the design is considerably more turgid. The icons are on the sides, the navigation panel is on top of the screen.
S2 is great because it features a convenient doc template creator. Salesmen and event planners are relieved of having to fill in agreements and other complicated documents. Once laid down, a template can be filled in with data in a couple of seconds, which, of course, increases the event coordinator's productivity.
These were some of the most popular solutions and their outstanding features which shed some light on the methods of how to design a CRM. Now let us look at essentials of platform interfaces all of them pay homage to. These elements serve to simplify the workflow (surprise!): especially to ease event planning. 
Essentials of CRM design
Your future CRM solution's interface is going to reflect the purposes and scale that you meant for the program. Small companies need somewhat different functions than heavies. Still, there is a basic set of CRM design features they all try to include.
A staged sales funnel.

The sales funnel is the basic CRM lens through which a company's efficiency at bringing money can be assessed. All customers must travel these dantean circles: from the moment their attention catches on an offer down and down to booking, confirmation and payment. That concerns events too. These stages of the deal should be visualized in as simple a way as possible. Literally drawing a funnel up there can't be beat.

An intuitive workspace.

Put some effort into sparing users a night in bed with the program. A CRM system should not be a wardrobe with clapping side panels. The user needs to understand right away where the statistics are and where the events' calendar is. Icons are best captioned.

  

Convenient searching

. Even if this system's CRM design is to be as plain as Pipedrive's, it still needs in-depth, flexible searching of deal and customer data. This will save the salesmen and event organizers the time they would spend looking for tasks and clients. If you can include drop-down suggestions, all the better.

A team calendar.

All CRM

design

solutions allow synchronization with Google Calendar and similar services. The bigger the company or project, the more important such common

events'

calendars become. Let's say that a customer wants to meet with the sales and

event

departments tomorrow. Instead of writing to every team member's work email he can set up the

event

in the calendar, and they will all be notified in their CRM accounts.

Custom filters for deals, orders and clients.

When the system is geared towards sorting out large amounts of information, it needs to include ways of filtering out the unimportant bits with quick filtered searches. These custom

design

filters can help do things like zeroing in on a particular client who needs to be reached and reminded about his order. Custom filters neatly sort data away into relevant lists,

such as postponed events.

Real-time analytics and reports.

These should take the form of digestible graphs, charts and tables with detailed data such as the amount of products sold last week, resold items, order data and so on. With a tool like that superiors will find it easier to understand particular subordinates' performance, while the salesmen and event managers themselves will be able to devote their time to more urgent uses.

Thought-out document templates.

Documents ready and waiting to be filled in are an important time-saver when it comes to paperwork. For example, make it so that customers'  wholesaler info

and upcoming events' data

, once given, will be inserted in all relevant forms.

An integration-supporting API interface.

 Let this program plug into the company website, in-house software, apps and messengers and social networks: Telegram, WhatsApp, Instagram, etc.

Such a solution will help to manage events in a more effective way. 
Common errors
Now for where CRM can go wrong. When CRM design is considered, it is easy to be swallowed up by data display and forget about the interface. Here are some of the more widespread errors which allow you to understand how to build a CRM avoiding such flaws.
A busy interface
We can point fingers here at Salesforce, so overloaded with information on the side panel that at first the user does not know where to look. A crawling chaos of charts, graphs and numbers is a bad thing in design. Keep the screen spacy. You can do this by putting the power in the user's hands and letting him choose the main screen settings. And the easier this will be to do, the friendlier the design will feel. Allow the user to focus on the parts he considers important and banish the rest from the workspace.
An uninformative dashboard
Different business sectors need different analytics. Before you start working on the dashboard's CRM design, you need to know what information will be relevant. The service sector will want rescheduling info, sales people and event managers will need the numbers on that, online stores like to tally up successful deals.
Difficult navigation
The user experience is the king of the hill for CRM systems, because they are supposed to save companies time, not waste it some more. The simplest thing you can do to meet the user halfway is to caption the icons and put them in a side panel.
Unreadable fonts
If the event planner tried to find a client's telephone number in a notepad filled in by a doctor, this would be an equivalent of using bad fonts. Font readability affects users' performance. Restrain your individuality here. As a general rule, avoid serif fonts, because they look better in physical, printed media. For app design you want something boring and smooth.
A vile palette
Users should be able to spend hours upon hours of their life in the system without cone cell breaks. When planning color contrasts, aim for practicality, not surreality. The color circle is the usual tool for testing color combinations.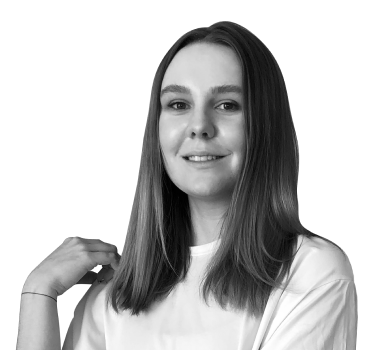 On the whole, there are six types of harmonious color combinations: monochrome, three neighboring colors, complementary colors, triangle, rectangle, square. This is more of a suggestion for choosing colors. Every color also has a variety of hues, and the circle can't help here.
Deafness to criticism
Say what? Yes, just listen to the people who try or envision themselves trying to use the program and respond to their wishes and complaints. You can also read up on feedback for competitor solutions or try putting the workspace of your future CRM program out there as an MVP. Let the users themselves decide if they fancy the prototype CRM design. For example, the event planning feature is hidden in the interface and users complain that they can't find it. It's important to fix this flaw.
---
If you are still torn and angsty about the design of your dream CRM, holler out to us! The talented and dedicated folks at Purrweb will descend upon you like helpful bees. Our UI/UX designers will assist with developing the concept, fix the coloration, choose the right font and graph/chart presentation – and so on down the list.
Some of our finished work can be viewed here.