WELLNESS

AND SPORT APP DEVELOPMENT

We develop sport & wellness apps to connect wellness professionals with their clients, which allows to reduce fixed costs and use working time more efficiently.
Key features
These features will turn the process of personal growth into an exciting journey for your clients
Set goals & Track progress

Communication with your mentor

Calendar to schedule trainings

Nutritional value calculator

Dashboard with statistics

Gamification with achievements to boost motivation

Player for audio/video training materials

Health indicators monitoring
Types of wellness

and sport apps

we develop

Fitness trackers

Help your users better themselves by recording their achievements and tracking their habits.

Workout and exercise apps

Provide training programs and dietary recommendations in text or video form.

Apps for wearables

Use the potential of the Internet of Things to assist your customers wellbeing and sports training.

Meditation apps

Calming vibes and meditation techniques, provided to your users with our tech.

Online therapy
platforms

Connect patients to specialists, help people get well from the comfort of their own home.

Custom apps

Whatever is your idea of a wellness and sports app — we got you. Don't feel discouraged If your project doesn't fit other listed types. Contact us and we'll make it work for you.
Wellness and sport app development cycle
UI/UX Design
We think through the user flow by creating a mind map. Based on that we design black and white wireframes. When you are happy with them, we design 1 or 2 main flow screens to get everyone on the same wavelength in terms of overall style. Then we touch up the details, finalize the design and create UI-kit to accommodate speedy and tidy development.
Project assessment
This stage is about ideation and planning. We look into the market and study key players. Then we round up the features you want to add and plan all the work. After this stage we are ready for any possible challenges.
Quality Assurance
We run auto and manual tests to weed out each and every bug during development.
Development
We code in sprints. Those are 2 week long and after each one you can see the results of development and give feedback. We assess the actual app performance by beta testing in TestFlight or Google Play.
Release and support
We will carry your project through the release in the App Store and Google Play. We also offer post release support so your project will grow bug-free.
Release and support
We will carry your project through the release in the App Store and Google Play. We also offer post release support so your project will grow bug-free.
Why do you need fitness and sports app development services?
Enter a new market or broaden your market segment
Provide better services to your clients
Provide better services to your clients
PROJECTS WE'VE BUILT
Have a look at our web and mobile solutions for the sport & wellness industry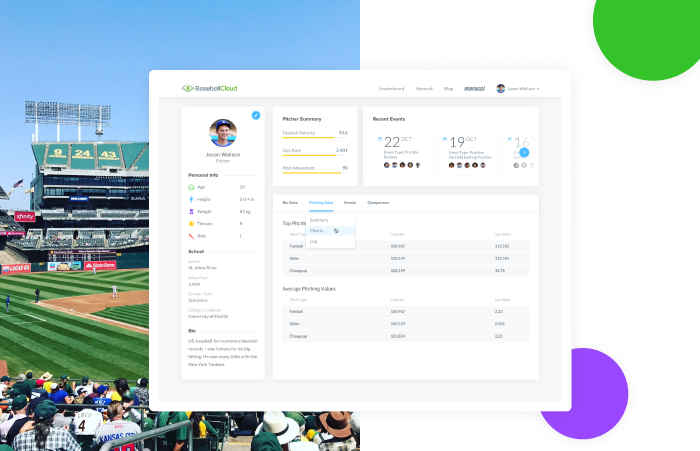 BaseballCloud
A website for aspiring baseball players. It allows players, coaches, and scouts to track and compare players' performance for better training, socialization and hunting purposes. We made sure during UI/UX design to display the stats in a way that's both comprehensive and easy to follow. This way it's apparent at the first glance what numbers mean and what to improve.
View case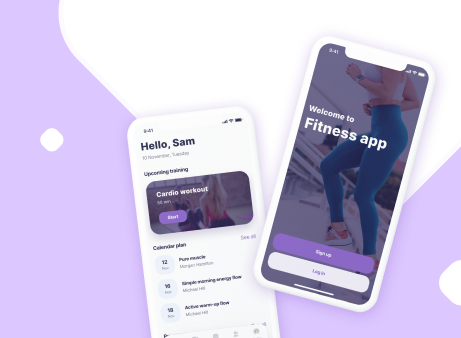 Fitness app
Connecting gym rats to trainers. The customers get video instructions, exercise plans and tips from their trainer. Trainers use a web interface to search for clients, send requests, and offer services. We included an attractive interface, fast onboarding and training progress visualization in graph form.
See more
View case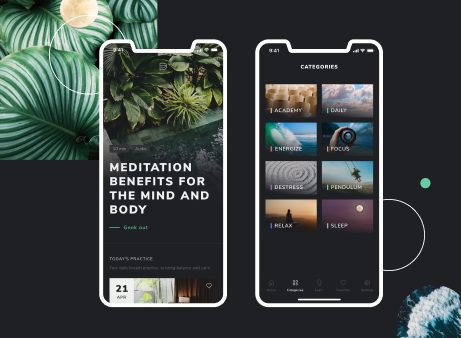 Breath method
An app with breathing exercises. Helps city dwellers to relax.Contains articles, audio lessons and breathing techniques to calm and better yourself. The design evokes a feeling of reuniting with nature. Additional features: TouchID and FaceID login, a custom admin panel and Instagram feed inside the app.
See more
View case
What our clients

say about us
19 REVIEWS
216
reviews on 3 platforms
FAQ
s
Why should health and fitness apps be built?

Health and fitness apps help users be in a good shape even if they don't go to the gym. It's very comfortable to have the opportunity to train at home and especially during pandemic. Users can track their progress and monitor their diet or calories with the help of this app.

How long does it take to develop a fitness app?

The fitness app development will take approximately 920 — 1020 hours, which equals 4 months. After this time period you will get a working version of your product. You'll get real users' feedback and then can improve your app.
What makes a fitness app successful?

Some fitness apps are more popular than others. But why? Let's figure it out, what features does the successful health and fitness app have: Workouts and video tutorials. Users should have a choice and find a workout that suits them the most. Video lessons make such apps special and make people use them again and again. Water tracking. Modern life makes people forget to maintain water balance. The app can send notifications to stay hydrated. Food tracking. It's a very helpful feature for those who monitor their weight. Also such apps can offer users healthy recipes. Online consultations. Some people want to stay healthy but don't know how to train right. Professional consultation of a trainer helps in such situations. It can be a video consultation or just a text.
Thanks for your inquiry. It usually take up to 24 hours to get back with reply.
Wanna schedule an online meeting?