React Native Development Services
We create top-notch multiplatform apps. With UX as a №1 priority.
IOS and Android development with React Native
We've started providing React Native services since 2016 and have never regretted doing this. That marvelous technology helps our clients cut project budgets and timelines dramatically – we just build both iOS and Android apps at the same time without huge additional efforts.
The React Native framework has become very popular recent years and industry considers it as the top choice for
cross-platform mobile app development
What is React Native
React Native is a JavaScript framework that you can build native mobile applications with. Facebook released first public versions of it in 2015. With React Native you can save 30%-35% of the time and budget on building both iOS and Android apps compared to developing them the old way
Facebook Supported, Community Driven React Native Development Services
React Native is being used in thousands of apps and services, but it's likely you've already experienced it in one of these apps:
Instagram

Tesla

Uber

Discord

Skype

Pinterest
Why us
Purrweb has a full-cycle team of developers, UI/UX designers, project managers, and QA specialists. Our team can complete the development of a React Native application from the ground up, including UI/UX, API and the mobile Frontend development services - the whole number of services needed for the mobile app release in App Store and Google Play.
We are leaders in building cross-platform mobile apps with React Native. With a great portfolio of React Native iOS and Android apps, our team has a substantial experience that helps us deliver the quality products fast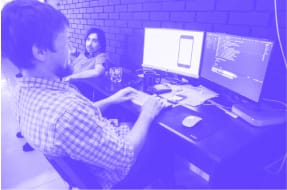 Fitforce: All-in-one Fitness app | React Native Development
Fitforce is a universal tool for sport lovers on the
one side and fitness trainers on the other. It comprises a chat functionality along with appointment scheduling system, invoicing and training routine setup. Purrweb's part of the project was to come up with a great UI/UX design and develop React native app for IOS and Android. We built 2 separate apps for the trainer and fitness client to not mix up the functionality, as Uber did with the apps for driver and passenger.
As a result of our services, there are 2 apps in the App store and 2 apps in Google play. The client is on a user engagement stage, gathering feedback and planning next project lifecycle iterations.
View case
Purrweb established a collaborative and effective process from the beginning, while their expertise and responsiveness to feedback helped them deliver a top-notch product. CEO, FitForce.com Inc.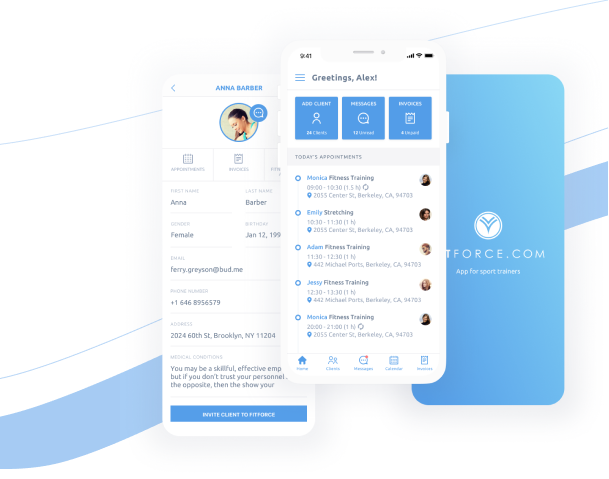 React Native development services
React Native Consulting

True React Native experts don't write code right from the start. Firstly, it's crucial to understand the product idea and requirements. We thoroughly study the details clients share to come up with a clear strategy on how to move forward. To meet business goals and deadlines.

React Native Development & Design

We run a team of talented and result-oriented designers who create truly engaging products. With not just sexy look but also top-notch UX. The finished design doesn't mean the 'finished' product, right? So, once we make sure that every piece of the design looks great, Purrweb developers make it a digital reality.

Custom mobile solutions

Template-based apps that bring 0 value — this is absolutely NOT what we want to deliver. Why? Because users never get back to such products. Instead, we build highly customized cross-platform apps that alleviate real pain points. Mature JS libraries help us achieve that.

React Native Migration

Mobile app technologies are like fashion trends: ones are outdated, the other ones are trendy. React Native is something more than just a trend. It's battle-tested, and hence, definitely worth migrating to. So, why not use this framework to update an existing product and give it the native look and feel?

MVP

for Mobile Startups

If you want to build MVP, React Native is the best choice. Why? Because the MVP stage is mainly about testing the unknowns. Rather than guessing about what platform targets prefer using, it's better to speed up the development process and simultaneously develop both Android and iOS apps.

Support

and Maintenance

The moment when you release the product doesn't mean that care and control aren't needed anymore. To make sure that all bugs are fixed (apps are never bug-free) and the product properly works, we provide post-launch support and maintenance.
What our clients

Tell about us
Head of Product at EventIgnite - Digital Signature Software

7, November

CEO at contentplace - Content marketplace

18, February

Purrweb was the perfect solution for us to build the utmost viable platform. The way they worked helped us in building and designing our platform — better than we could have ever expected. We recommend Purrweb 100% for any of your developing needs.

CTO at Personalised — wellness app design

22, March

Purrweb is one of the fastest agencies if not the fastest one that I've ever worked with. In terms of budget, the cost was very affordable — not too much more than you expect from a typical freelancer yet the quality level that you're buying for that is definitely kind of top end. I'd love to mention that we originally planned to build MVP design but the design that we got is much more better — the guys from Purrweb weren't just a yes-man, they were challenging some of our ideas with constructive feedback and the product we ended up with as a result is very high quality.

4, February

Purrweb helped me very much by designing our app. And the whole process from the beginning of the first contact to the delivery of the final designs was really satisfying so I can recommend work together with Purrweb. I'm really happy with them!

CEO at minme.io - Site-builder

15, March

Working with Purrweb was an incredible experience from start to finish. They've always been responsive in no time, and the design skills of the team are evident: it's really great quality work. I am happy with everything that we received from them. It was a pleasure working with Purrweb. Thank you!

CEO, Stark Systems - Fintech app

10, September

I'm absolutely satisfied with Purrweb services - they deliver excellent quality, and are customer-friendly

Founder and CEO of Gallivant INC.

6, July

Purrweb really know what they are doing. So, throughout the process, these guys thought about what each part of the concept meant. They walked me through the mindmap and figured out how this project should work. And as we started building the product they guided me through it and gave the sense of confidence. When we did this, I said: 'Cool, that looks really good!' I recommend Purrweb to solo founders who don't have 100% design expertise. It is really important to invest time and money in design.

20, August

My name is Weilin and I contracted Purrweb to do a health data application. My experience has been wonderful. Purrweb's entire team has been easy to talk to, really fast response time. They take the time to understand your project, they suggest ideas as well, and help you to think about things that you really haven't thought about. They create a price point as well. So I will highly recommend Purrweb.

General manager of Shaoke Logistics

11, August

Hello, this is the general manager of Shaoke Logistics, we are focusing on last mile delivery. Purrweb designed a pretty good logo for us, we also asked them to develop our website. We liked this logo and the main color very much and updated our office based on them. Purrweb's team has done a very good job, they are real professionals. I recommend them to such companies like us.

Founder of RIA Insurances

03, August

Hello! My name is Nipun Virmani. I'm the founder of a startup called RIA Insurance. It's an insurtech company focused on health. We asked Purrweb to design the logo and the website for one of our health and wellness programs called Spark. I would happily recommend Purrweb. They've done a good job for us. We liked working with the team. They are very professional in terms of communication. The designers did a great job with the logo. And we continue to work with them beyond this as well.

Branding Director at VIWO Internet of Things

14, July

Hi, I'm Lisi Lai, the Branding Director at VIWO Internet of Things. For the past several months we've worked with the Purrweb team on the design of a company's website & logotypes and the development of a mobile app. I appreciate the Purrweb team for their work and recommend them to you.

CEO, Moon Sun Fire Limited - Health & Fitness Startup

12, September

I'm very very happy with the work done by Purrweb. They helped us to improve and achieve our goals

CEO, Daiokan - Marketplace for photographers

20, March

Founder & CEO at Viatu AG - Travel Platform

20, March

The communication was really immaculate right from the start. We got responses really fast, and I was able to hope to a voice call within a couple of hours. I am thankful so much to Purrweb for the continued support and for the great work!

Grecha.pro — FoodTech development

18, May

Hi. My name is Mikhail, I'm a founder of Grecha.pro — a project that provides restaurants with a service that allows owners to place orders online. Guys from Purrweb helped me with the MVP design and development. I definitely recommend other startups to work with this great team

Vendify - application for vending machines

25, May

Hello, my name is Aivis. I'm a Co-founder & CEO of Vendify. Our project is technically complicated, that's why it was important to develop a mobile app. We hired Purrweb for the full-cycle development of our app and did enjoy this cooperation. The result is great, we liked how the team worked on the design as well as the solutions they offered. The work process was flexible: we could complete tasks in either common or unusual way. For instance, we met online to discuss and make changes on the fly.

24, May

Hi. My name is Vlad Samarin, I'm a CEO of Energo — a service for power bank sharing. We've been working with Purrweb for several years. Purrweb provided full-scale mobile app development, which allowed us to raise a round of investments and earn a government contract.
I want to thank the team working on our project — they all did a great job. There was constant communication, they were proactive in providing feedback and implementing my suggestions. I would especially like to thank Sergey Nikonenko, COO of Purrweb, Elena Farberova and Alexandra Rumyantseva, project managers working on my project, and the dev team led by teamlead Alexandr Purtov. Thank you!

Merch design for an Instagram blogger

19, May

My name is Artem. I came to Purrweb with an unusual request: to design merchandise for me. I didn't found ready-to-use solutions and decided to do everything the hard way. Despite the fact that the task was experimental for both me and the team, everything went great. The team was very productive and delivered the result with minimum edits and efforts. In addition, they were always positive. Thank you!

Co-founder of Kadex Enterprise LTD

2, July

Hello there, my name is Andrew, I'm a co-founder of Kadex Enterprise LTD. We're working on investment solutions for the cryptocurrency industry. Couple months ago we partnered with the Purrweb team. We requested them to redesign the users' accounts interface along with the landing page. I'm happy with how the interface design turned out: eye-catching and beautiful. Purrweb takes a responsible approach to work. They care not only about the beauty of the design but also about how frontenders will implement it.

What I really like about Purrweb team? They are young, smart, open-minded, and customer-oriented. They are very receptive and open to feedback.

I am always glad to get in touch with the team, to discuss some work tasks. All told, it's really awesome to work with these guys.

COO, Appswiz - app building tool

Purrweb provided us with a complete design solution for our customer-facing platform. I recommend them to everyone who looks for an awesome UX/UI team. They are extremely talented, as well as upfront and honest. Their attention to detail, and care on a whole, was of the highest level - Purrweb is a very client-oriented team.

CEO, Baseballcloud - Sports web application

Purrweb design team worked on the redesign of our project. They were responsive to my feedback and provided good ideas on some parts I had not considered. Thanks for the great work!

Check out the result

CEO & Founder, Tunetank.com - music marketplace

The guys wrote the front- and back-end for our web app. The project turned out to be quite big and difficult in the implementation of certain elements, but the guys exceeded my expectations. The team is very responsive, explaining to me all the work in detail, and in some cases advised me how to do better :)

Check out the result

CEO, WRSTBND - Event Hosting System

Purrweb successfully built the platform, satisfying expectations. They were easy to work with, making the collaboration flow smoothly. Their detail-oriented approach was a hallmark of their work.

How we integrated wristbands

Check out the result

CEO, Lead Generation Company - B2B software

Unlike other developers I've worked with, Purrweb genuinely cares for our project, and they delivered a product that has successfully launched and attracted thousands of daily users. Selfishly, I'd like to keep Purrweb to myself, but their team is fantastic, and I'd highly recommend them to anyone looking for a web development team.

Co-Founder, Mayuri - Accounting Platform

I have been working for one year with Purrweb. The communication is very smooth and the quality of their design is excellent. I warmly recommend you this agency.

CEO, Fitforce Inc - Fitness startup

The app is going through beta testing, and user feedback has been mostly positive. Purrweb established a collaborative and effective process from the beginning, while their expertise and responsiveness to feedback helped them deliver a top-notch product.

Check out the result

Co-owner, ENT Group - VPN service

We worked with Purrweb team, they made brilliant web and mobile design for our project, everything was great and we really enjoyed working with this agency. Communication was excellent, they assigned a project manager, and for us it was great since he translated our ideas into design perspective and actual tasks for the design team. Also, they're not so pricy.

Project Manager, Loophole Technologies - healthcare startup

I can highlight easy communication, they were very responsive (even despite the time zone difference). Clear timing and even done a few extras free of charge. Purrweb team seems to have experience of creating apps and looking at the task from the long term perspective even if they were not responsible for that. Value for money indeed and personal approach.

Founder, Lief Therapeutics - healthcare app

Purrweb has helped us on numerous design initiatives and always followed-through quickly and with lots of interaction with us. They really make an effort to understand their customer's needs and create solutions that are thoughtful and delightful. I highly recommend them!

5 rules for mobile health apps

CEO, Investment Banking Firm - Fintech App

Purrweb's involvement has moved this once-stuck solution toward launch. Their developers are the most skilled I've worked with in recent years, and they work at a fair price. The testing phase has drawn positive feedback from user groups. Expect a partner who takes initiative to move the project forward and works efficiently to meet deadlines.

CEO & Founder, Promile.me - Interior Design Tool

Before Purrweb we have dropped a few other suppliers and when we have started to work with Purrweb we found out that they have a strong customer support focus, always keep deadlines and help us move our products forward. I'm 100% sure that working with Purrweb will make the journey to your goals easy and secure.

Founder, Adveli - Learning Management System

Purrweb's CTO is a good Ruby on Rails developer and I enjoyed working with him. He was a big benefit to our team since he made suggestions on workflows etc. and helped us improve them. He cares a lot about keeping a customer satisfied and he has the ability to keep an overview about the whole project. I will definitely work with Purrweb again.

Founder, This for That - Sharing-economy startup

I always find myself coming back to this company for my design work. They surely know how to give an idea life and make it reality. Very professional and friendly.

COO, Appliance Repair - Electronics Repairing Services

These guys are awesome, would recommend to anyone who wants good quality service.

Product Owner, Digital Health Application

Perfect communication and response times. Always professional. Really took the time to understand our vision and contribute to that creatively. Went the extra mile and did not do just the minimum. Accomplished everything within budget.

Co-Founder & COO, PatchAI - Healthcare Platform

Great and professional team that delivers exceptional design on time and within the scope. Would recommend them to anyone.

5 rules for mobile health apps

CEO & Founder Vulner.ru - B2B security service

Purrweb has an impressive portfolio of really beautiful UI/UX works. I also love the way they were working with my feedback and comments on the work done. The improvements were quick and the result is perfect.

Director, Gaming & Events Company

Purrweb have incredibly talented designers and a team of excellent communicators around them. They provided project updates and presented the latest work and they were very responsive to feedback. We have been more than satisfied with every element of their work.

I know that 10 out of 10 exists only in a perfect world or a vacuum, however these guys are really close to it. They even exceeded my expectations.

It was maximum 2 hours to get a reply from my PM. I know usually designers don't like modifications, however this wasn't the case with Purrweb - they were very patient and comfortable to work with. They made the price and project stages very clear, and I was aware of everything happening on the project.

CEO Mamado - Parents' app

It was a non-standard project, since they didn't have to start it from scratch, and they had to work together with my team. What I particularly liked and would like to point out directly - is that their manager Svetlana did a great job and helped us easily connect our teams and collaborate efficiently. This is a long-term plus, because now I know that whenever I need extra hands, I can contact Purrweb and get all the help I need.

Along the way of work we've changed the working process and adopted the Agile methodology with sprints - this helped us pull things together and speed up the development.

Product Owner at PayPay - Payment Service Provider

Purrweb team completely reworked the way navigation works and streamlined the core user flows, which made our service more intuitive and convenient for the users.

Purrweb's manager had carefully studied our competitors, created a detailed mindmap, and spent hours discussing interface elements with us. I was impressed by their attention to detail and proactive communication - when something wasn't clear enough they were asking questions in order to avoid mistakes.

Artem Puzikov - Head of IT department at JSC Gazstroyprom

The tool Purrweb are building for us has already helped our Security and Analytical departments to work with personnel profiles 20 times faster!

I admire the flexibility of the Purrweb team. The guys had kindly accommodated all our requests delivering even more than they'd committed to. I also love the transparency of the working process - I'm always aware of project status and I get an instant reply to every question I ask.
20 REVIEWS
React Native Agency | Our apps
React Native Consulting and materials
Purrweb team keeps willingly sharing the learnings and expertise about React Native services. You will know all the pros and cons of React Native and the ways get the maximum value out of it. Check out our knowledge base about React Native development.
View all articles —
Thanks for your inquiry. We'll get back to you in less than 24 hours!