However, how to determine subscription price that also allows your company to benefit? You can't just make a wild guess. In this post, we will share with you some tips. 
3 common pricing strategies
To help you come up with your own subscription price, let's dive into three common strategies subscription companies use to define their pricing: cost-plus pricing, competitor-based pricing, and value-based pricing.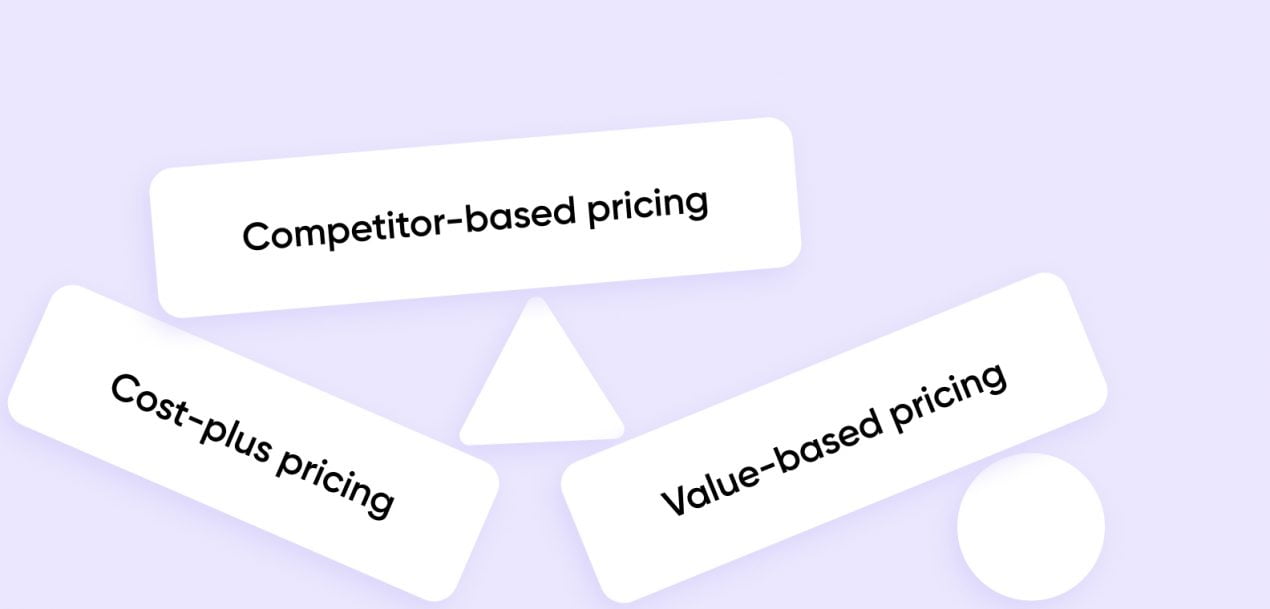 Cost-plus pricing
This approach invites you to sum up all costs to develop an app and produce content and add up some percentage to it.
For example, when you buy apples in a store, you pay much more than it costs to produce them. But the supplier and the store each add a fixed percentage on top of the apples' costs.
At the first glance, it seems like a perfect approach. You will pay off all the costs! However, is it a good approach for app monetization? Mostly, not really. In software development, the costs to provide a user with an account is rather low. At the same time, the value that the customer will get from this account can be pretty high.
Value-based pricing
Customers do not care how much it cost you to develop a product. If they find your product useful — they will pay for it, if not — c'est la vie. How to determine a value-based subscription price? Conduct surveys and field research asking people what they are ready to pay to use your application.
The disadvantage of this approach is the time and effort you will have to put into finding out the price. You will have to invite people to your office, collect, and analyze their answers. However, the result will be much more true-to-life.
Competitor-based pricing
If you look at the prices of your rivals, it will help you. You will know how to determine a subscription price that is reasonable. Knowing what's offered on the market, you can provide a discount to attract more customers or add a pleasant bonus to increase the value.
This approach is simple and can be used by a startup. However, if you are offering a much better product than your competitors, you shouldn't allow yourself to get tied by their prices.
How to decide on a specific price step-by-step
Now let us see how to determine subscription price using special techniques and tools.
Talk to customers
Field research when you ask customers about how much they are willing to pay for your services is one of the classic methods to establish a price. You can use time-tested frameworks to guide you. We briefly explain to you each of these methods, so that you knew what to look up on the internet.
Gabor-Granger technique
The essence of the Gabor-Granger technique is to use surveys to estimate whether the respondents would buy the product for this or that price.
Van Westendorp Price Sensitivity Meter
This technique allows you to investigate the price sensitivity of the target audience: what prices they see as too cheap or too expensive.
Brand Price Trade-off
How to determine subscription price if you enter a new market? Take into account the value of your brand and other players on the market.
To sum up, every situation is unique, and it is up to you what technique to use based on your niche and time/money restraints.
Do market research
If you can't or don't want to work with focus groups, you can concentrate on how to determine subscription price using market research. Business intelligence tools enable you to extract information about target markets, customers, and marketing efforts.
First, you will need to collect the data about competitors; it usually can be parsed from app stores and competitors' websites.

Then, choose the parameters you will analyze. Important metrics to look out for are the price index, competitors' promo activity, and the product's availability. Take into account only the companies that are still afloat and actively develop their product

Finally, apply machine learning tools to the gathered information to generate valuable business insights about pricing. AI-tools can process larger amounts of data faster and with increased accuracy.
Data analytics allows you to see the objective picture and not just rely on your guts. Top competitor price monitoring tools are:
Prisync. This is a SaaS application that helps you uncover the pricing strategies of market rivals. It helps you to research the market, discover historical pricing trends, and track fluctuations. It can research as many competitors for the chosen category as you need.
PROS. If you are looking for a convenient cloud application to estimate your competitors' pricing strategies, PROS is the way to go. It is powered by AI and enables startupers to make smarter and more informed decisions about the prices.
Zilliant. You can use Zilliant to get a pricing solution tailored to your business. The program will help you to build a pricing strategy calculating cost volatility, Revenue leakage, and more.
Lifehack 1: introduce plan tiers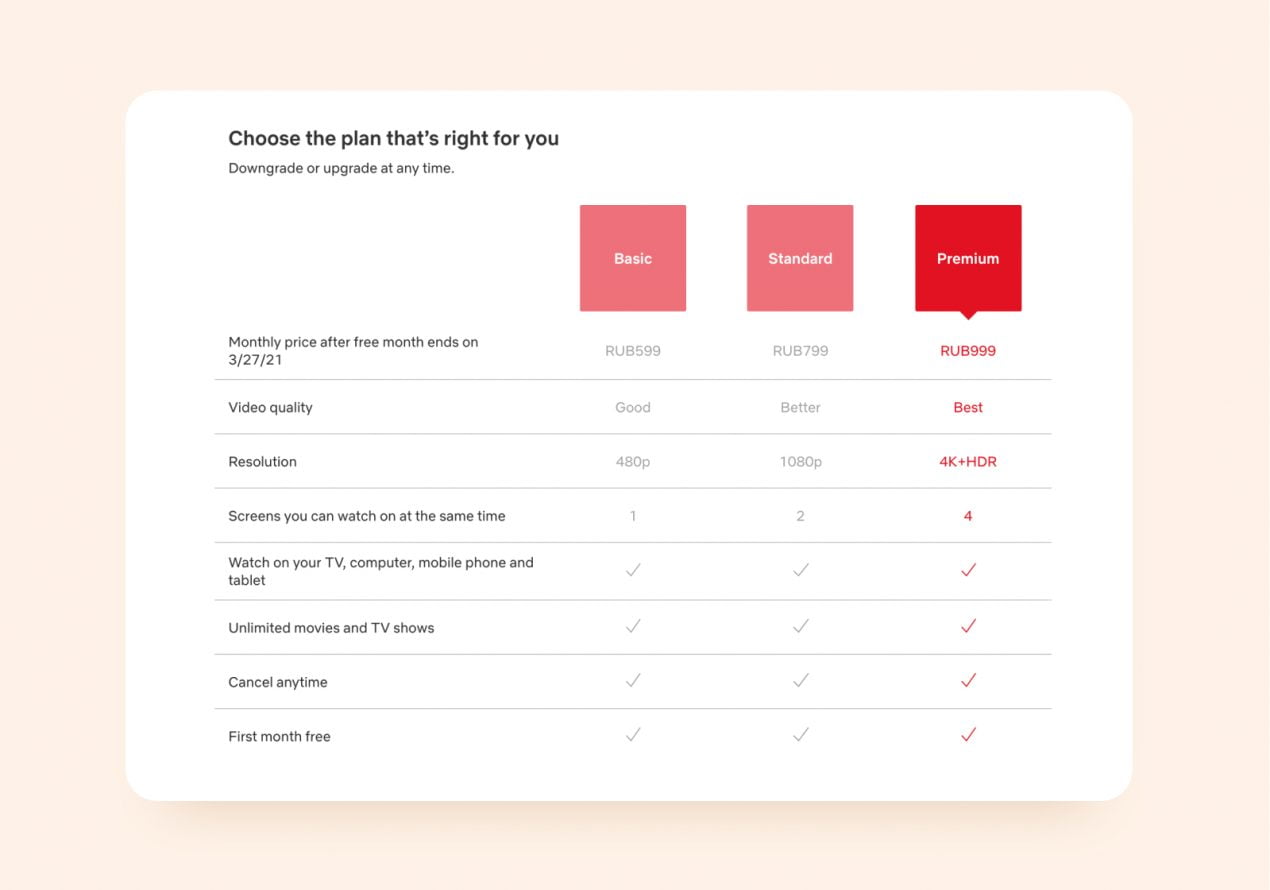 Sometimes letting users choose between different options is great: they feel more free paying only for the functionality they want to have. There are usually at least three different tiers: Basic, Optimal, Premium. If your product contains many features, you can introduce more tariffs.
For example, a social network for professionals LinkedIn offers Basic and Premium tiers for its users. If you want to get many connections (be able to send unlimited messages and offers to new people), subscribe to a Premium plan. The platform offers different tiers for individuals and companies who are trying to generate leads.
Lifehack 2: Implement an annual pricing plan
Annual plans often have better active usage and retention than monthly plans. The individual makes a bigger investment in the product upfront, so they're more invested in the overall product. To motivate the users, you can offer 15-20% discounts or a short trial period (1-2 months). New York Times and many other magazines that have gone digital offer users an annual subscription. The quality of materials published in the newspaper is beyond any doubt, but anyone can still access them on their website. However, having subscribed, users can get access to an unlimited number of articles, videos, and podcasts. What motivates the choice of the annual subscription for NYT is its low price ― basic subscription costs just $3 a month. Also, the majority of people want to be aware of what is going on in the world all the time, not just one month in a year. It makes more sense for both the company and the reader to charge it in a lump sum.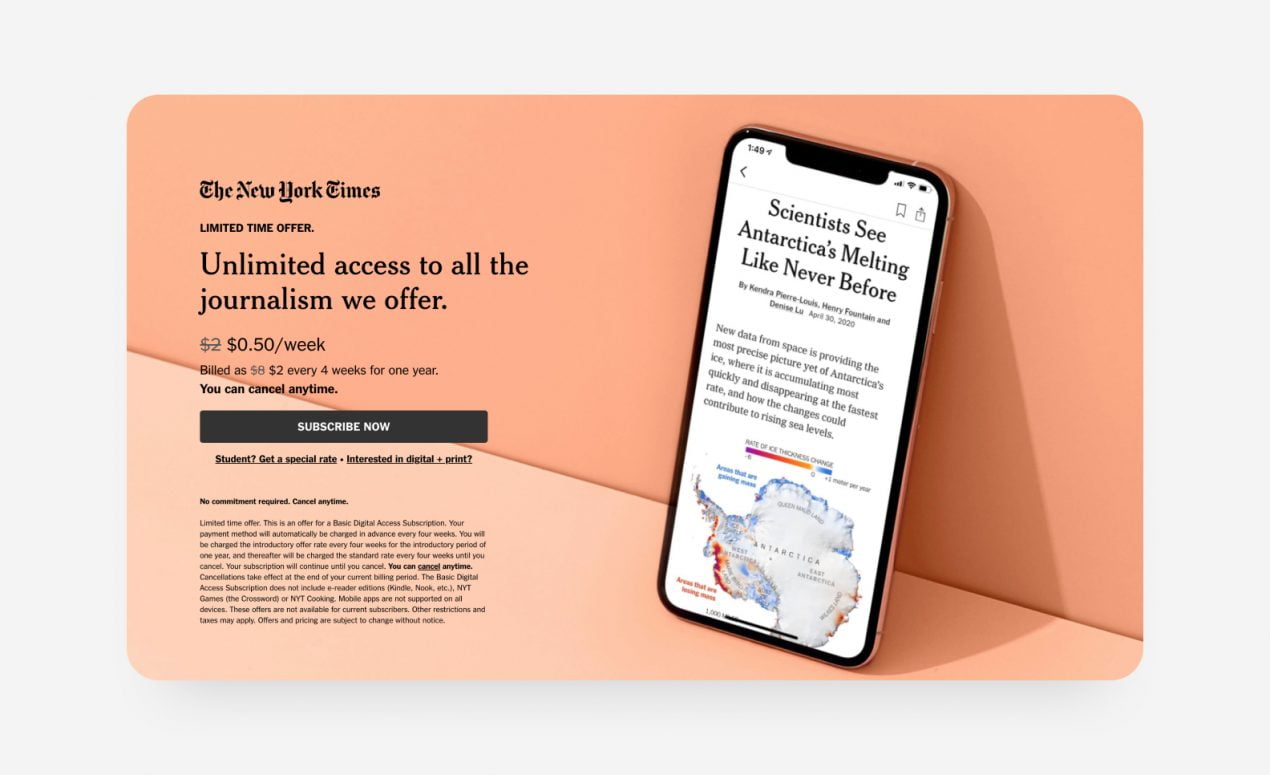 Lifehack 3: What about freemium?
Freemium won't allow you to earn millions but it's a good customer acquisition strategy. If you are a young company, people don't know whether they can trust you. You need to offer a really good customer experience to show people what they are paying for. In this case, using freemium can be very beneficial.
Netflix has three pricing tiers: Basic, Standard, and Premium. Every new user can enjoy the Standard tier for 1 month for free so that they get access to all the possibilities of the platform.
Using a Standard and not a Basic or Premium tier for freemium is a smart move:
Basic doesn't allow you to switch between different devices (your desktop and smartphone, for example). Therefore, the user won't fully acknowledge how convenient the platform really is.

Premium is the plan for home movie theaters (Ultra HD) or family use, and a lot of users simply don't need these functions.
Netflix has great features such as the possibility to change languages of the audio, subtitles, description audio for people with vision impairment, and recommendation system. Its interface is also very attractive, this is how Netflix 'hooks' people.
Therefore, don't be afraid to offer a short trial period! Even the top players on the market do that.
Conclusion
Establishing a reasonable price is important if you want to keep your company afloat and make a profit. Don't try to guess how to determine subscription price but talk to the customers and study the market applying data analytics tools. Most important: be flexible in your pricing strategies, don't be afraid to experiment with different pricing tiers and freemium policies.