Key takeaways
It costs between $100,000 and $185,000 to develop an app similar to Uber, Instagram, or WhatsApp.
The stages of the app development process are project analysis, UI/UX design, app development, QA testing and release.
To decrease your app development budget, think about creating a cross-platform MVP app.
You will need approximately $56,000 and around 4 months to create your own basic functionality app.
A simple app means an application with basic features and a standard template-based UI (user interface). Think of brochure type apps, maps or GPS trackers as an example.
Next comes an average-complexity app, which is more elaborate both in functionality and design. The examples range here is wider, as most of the apps in App Store or Google Play belong to this category. Social networking, fitness, photo editing apps of an average-complexity constantly enter the market.
Finally, when we are talking about a complex app, we mean a fully customized application, packed with complicated up-to-date features and elaborate UI. It can have new technologies that were never used before and are developed from scratch. The spending in this case literally has no limit.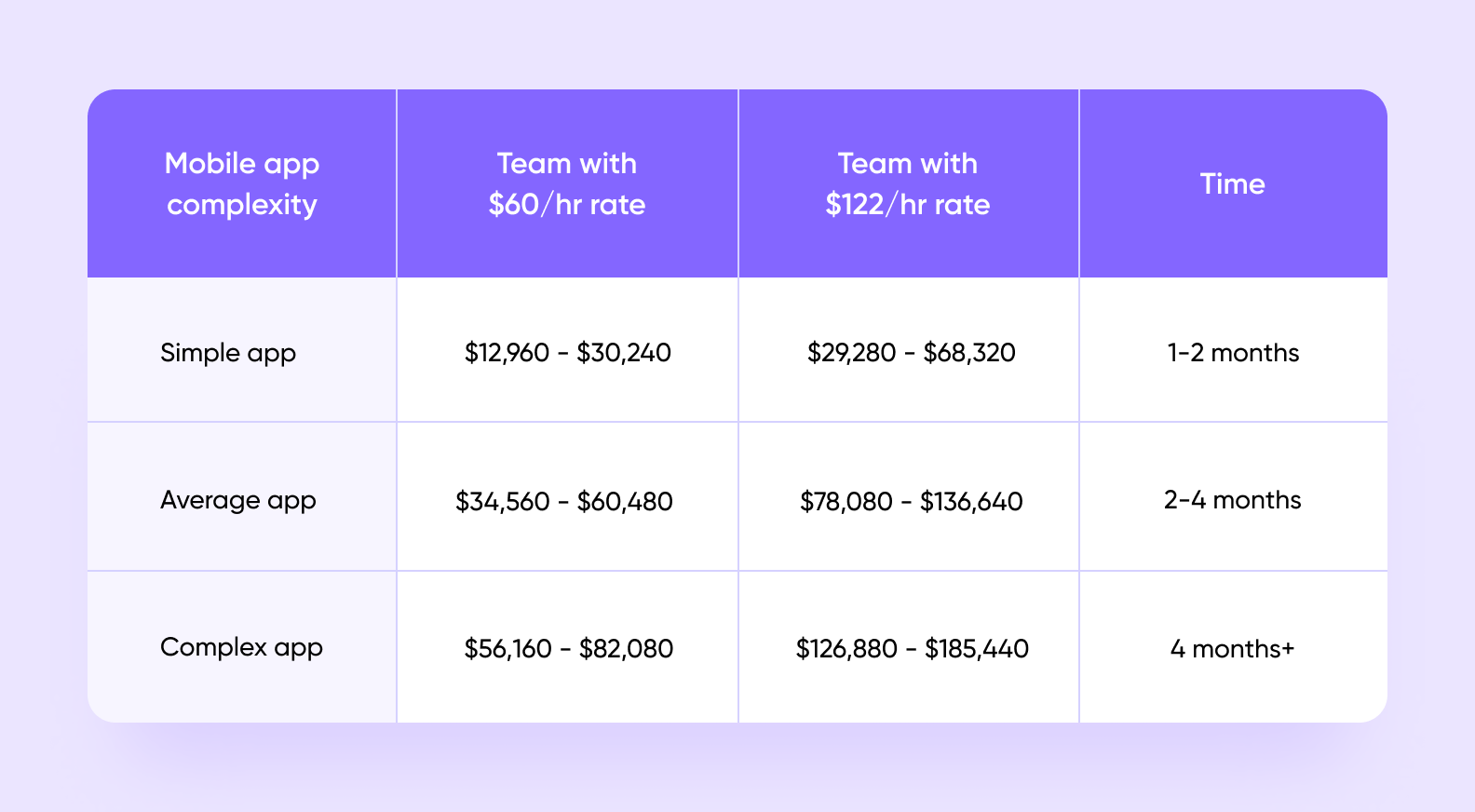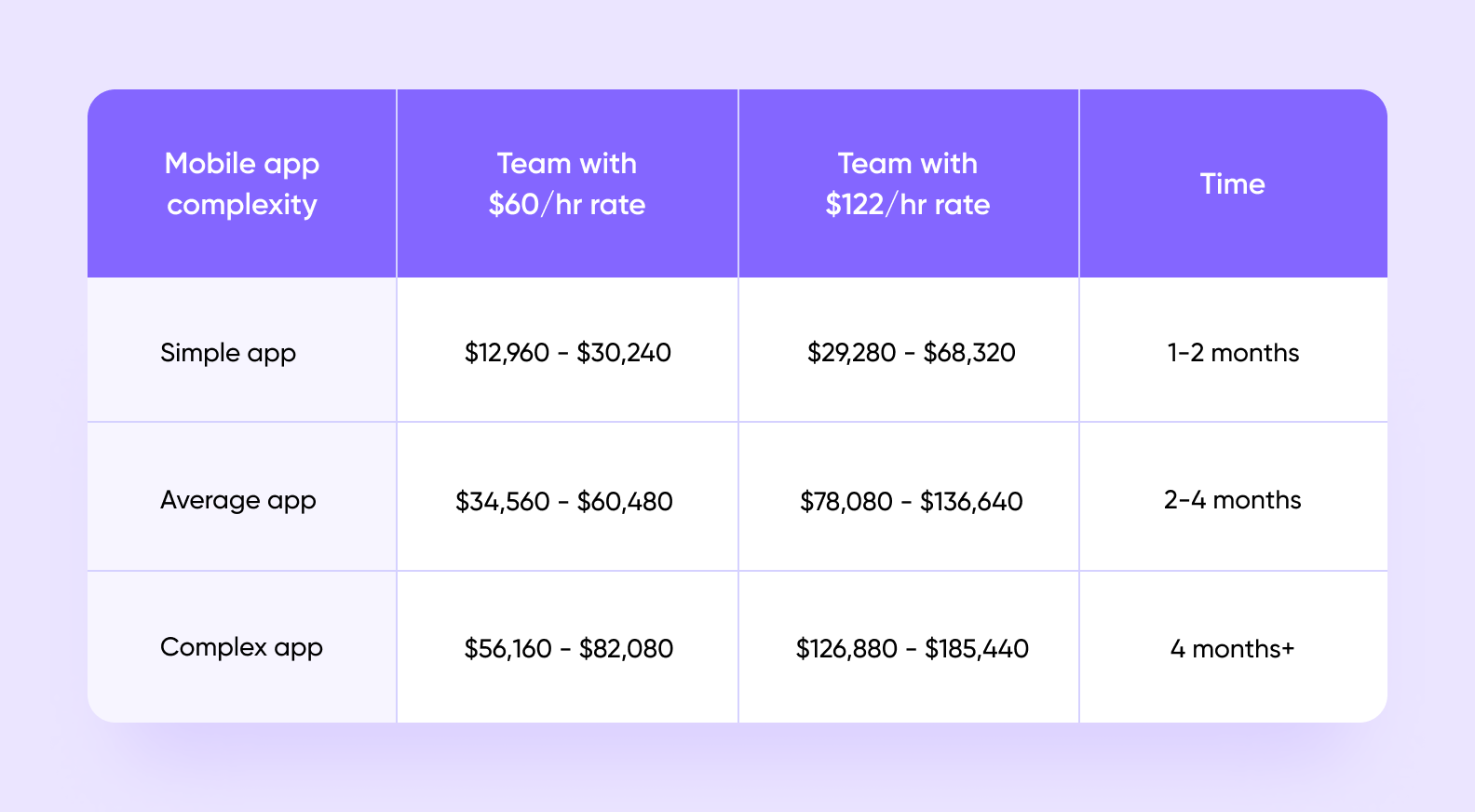 Numbers are based on Goodfirms survey.
Depending on the number of innovations, the staff involved and the desired functionality, the app development cost can reach more than a hundred thousand dollars. 
The cost to make an app like Uber, Instagram, or WhatsApp is $100,000 – $185,000, not to mention millions of dollars spent through the years on research, marketing and maintenance
Get free project estimation in 48 hours
300+
startups trusted us since 2014
55+
reviews from happy clients
Book the meeting
How Much Does It Cost to Develop an App? Cost Breakdown
How much is it to create an app? Here's Purrweb's app development cost breakdown. Bear in mind that these are approximate numbers — we based them on our calculation of a fitness app that has basic functionality. Read further and you will get the idea of how and why they may vary.
| | | |
| --- | --- | --- |
| Stage | Estimation in weeks | Approximate costs |
| Project analysis | 1  | $1,000 |
| UI/UX design | 4  | $5,400 |
| App development  | 9 – 10  | $36,000 – $40,500 |
| QA Testing | concurrently with the development | $5,400 – $6,000 |
| Project management | during the whole project | $3,950 – $4,100 |
Overall, you will need approximately $56,000 to create your own basic functionality app. And the application development process will take 920 – 1020 hours, which equals 4 months. 
If you need another example of an app development cost breakdown, take a look at our restaurant order management application Grecha: we built an MVP in 3,5 months, which cost $47,640.
Now let's explore the stages of the app development process and analyze why they cost like that.
Stage 1. Project analysis
About a decade ago, every business dreamed of creating an app just for the sake of having one. Startups were more concerned with what they COULD do, then WHY should they do it, so the project analysis stage, or the discovery stage, was frequently underestimated.
Even nowadays, according to a Clutch survey, only 70% of clients go through the project analysis stage with their development team. However, the mobile app market is highly competitive, so the decision to eliminate the first stage can only lead to reputational and financial losses.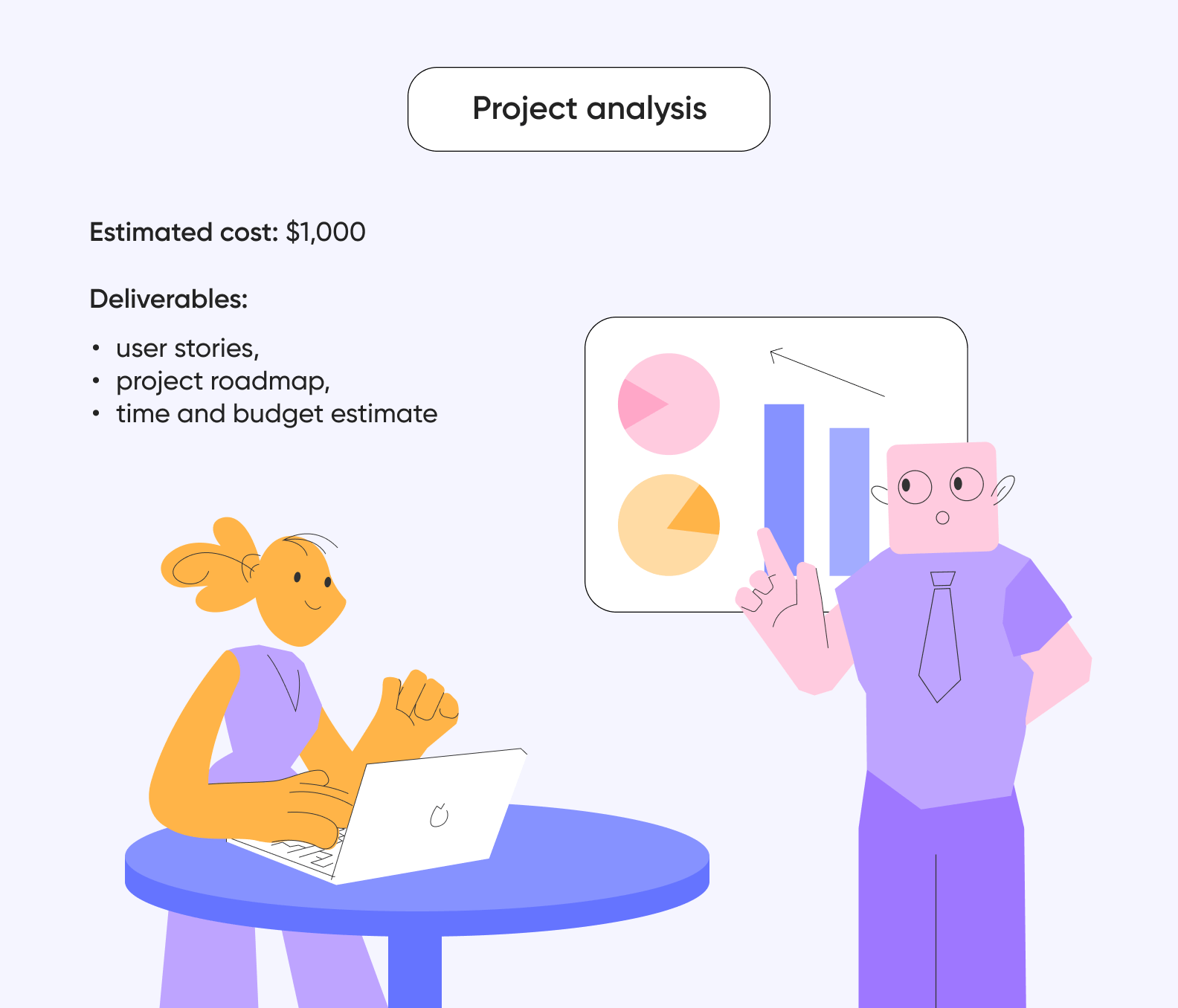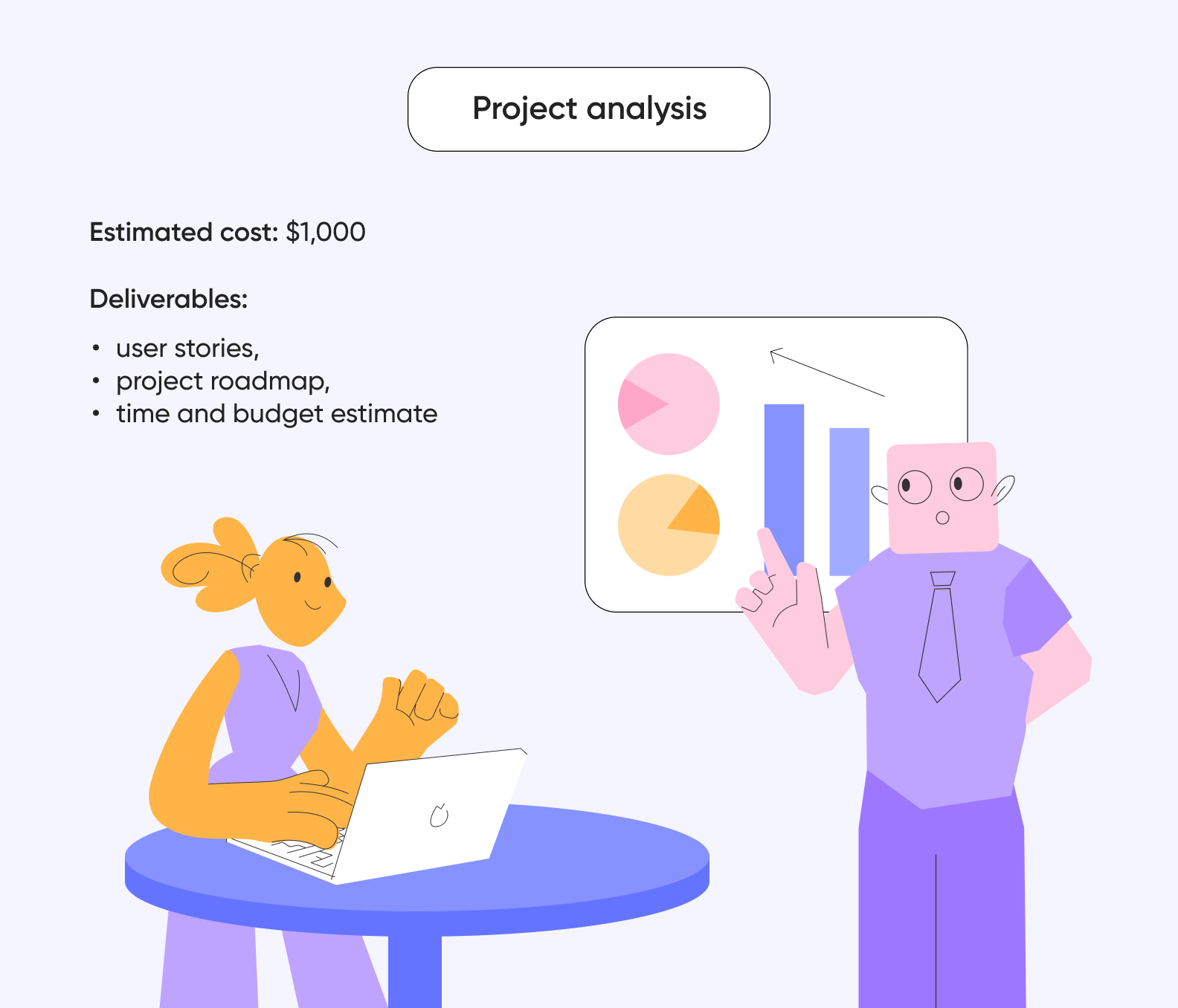 As you see in our own Purrweb's breakdown, the average cost of this stage is relatively low. Yet it can save thousands of dollars in the future. 
So, what are we doing on Stage 1?
You present your idea, budget and the features you wish to see in the app to a project manager.

Together you analyze the market, either by using your own pre-collected information or by ordering a detailed market research. 

You select the desired features. The project manager correlates the demands with your development budget.

Finally, you approve of the cost and timelines of the project. 
Stage 2. UI/UX design
Now, when you have a blueprint of an app, it's time to design it. Cost of UI/UX design may vary depending on the number of screens your app has and the designer you choose. You can also face additional expenses if you change the functionality of the app or the whole initial idea.
What is happening on Stage 2?
All features you listed on Stage 1 transform into a map of the user's behavior and the navigation of the app becomes clear.

Designers develop wireframes and show you mockups that include all buttons, icons, text fields and the way of their interaction.

You get a design concept with several finished screens, which can be shown to the investors.

Finally, mockups of all screens are created. As well as UI-kit — a set of interface elements in your brand style.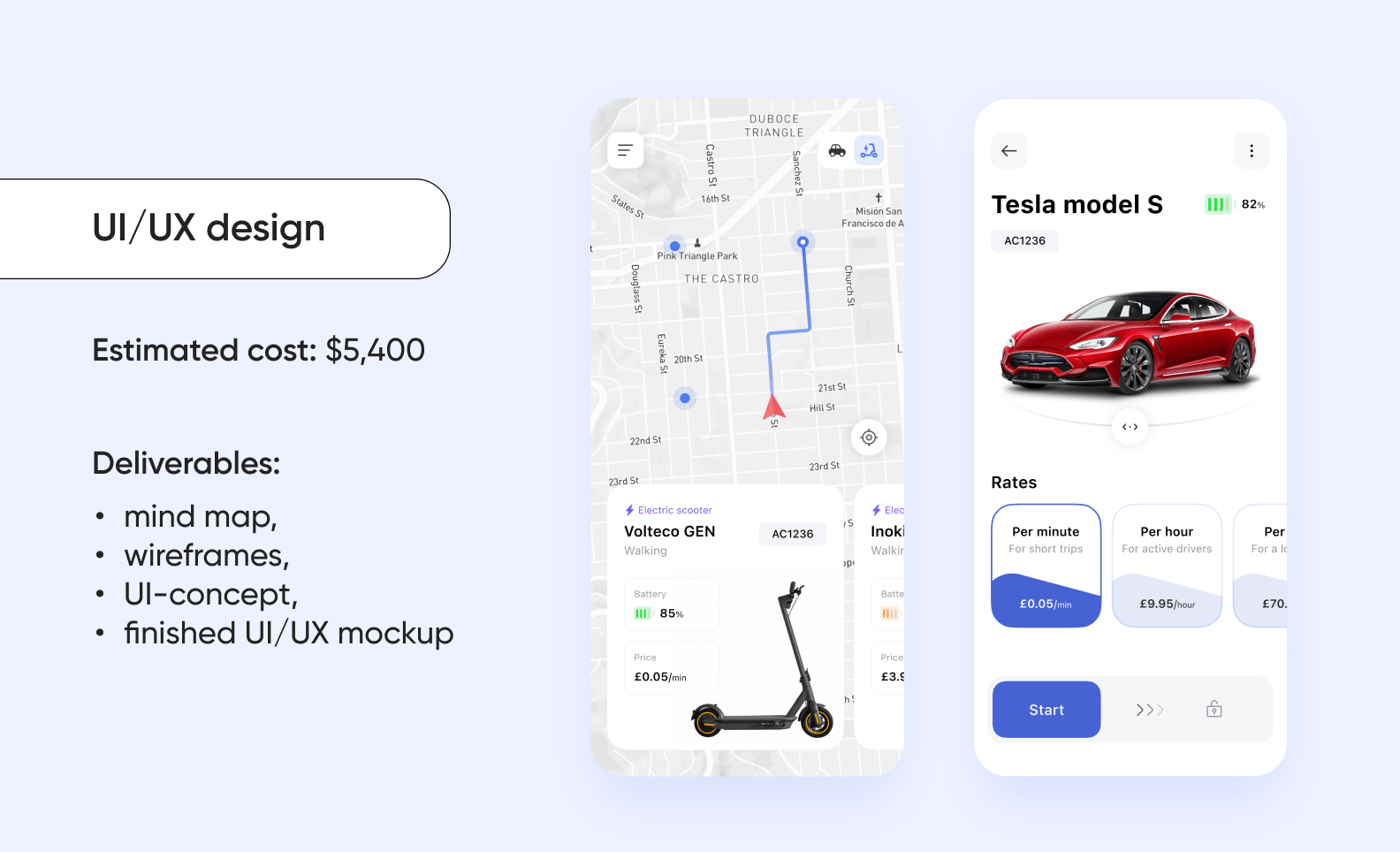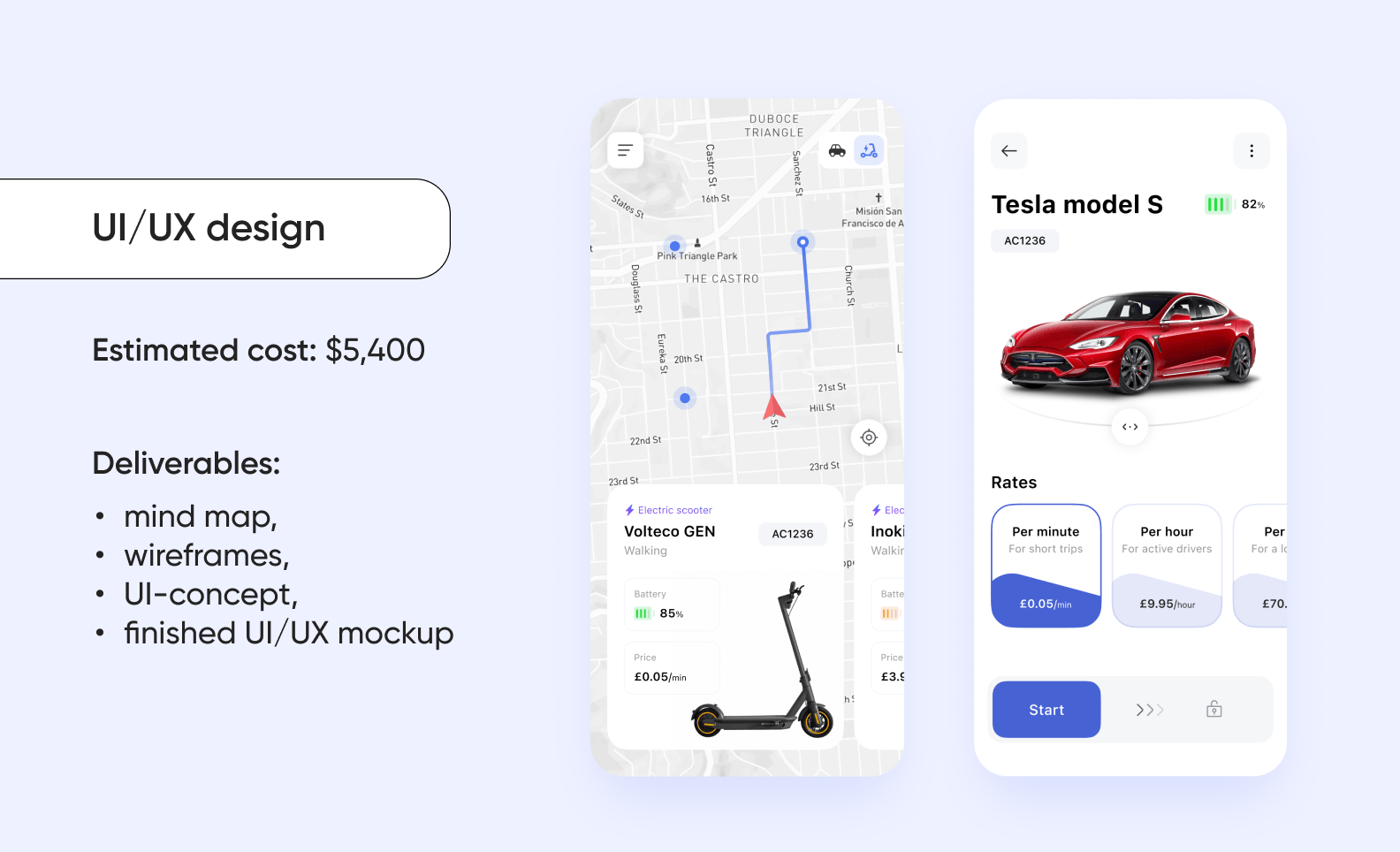 Stage 3. App development stage
This stage is the longest and the most costly. Mobile app development team enters the scene and codes all that you saw at designer's mockups, bringing them to life.
The app development costs here depend mainly on 2 factors. The first one is the number of platforms you choose — iOS, Android or both.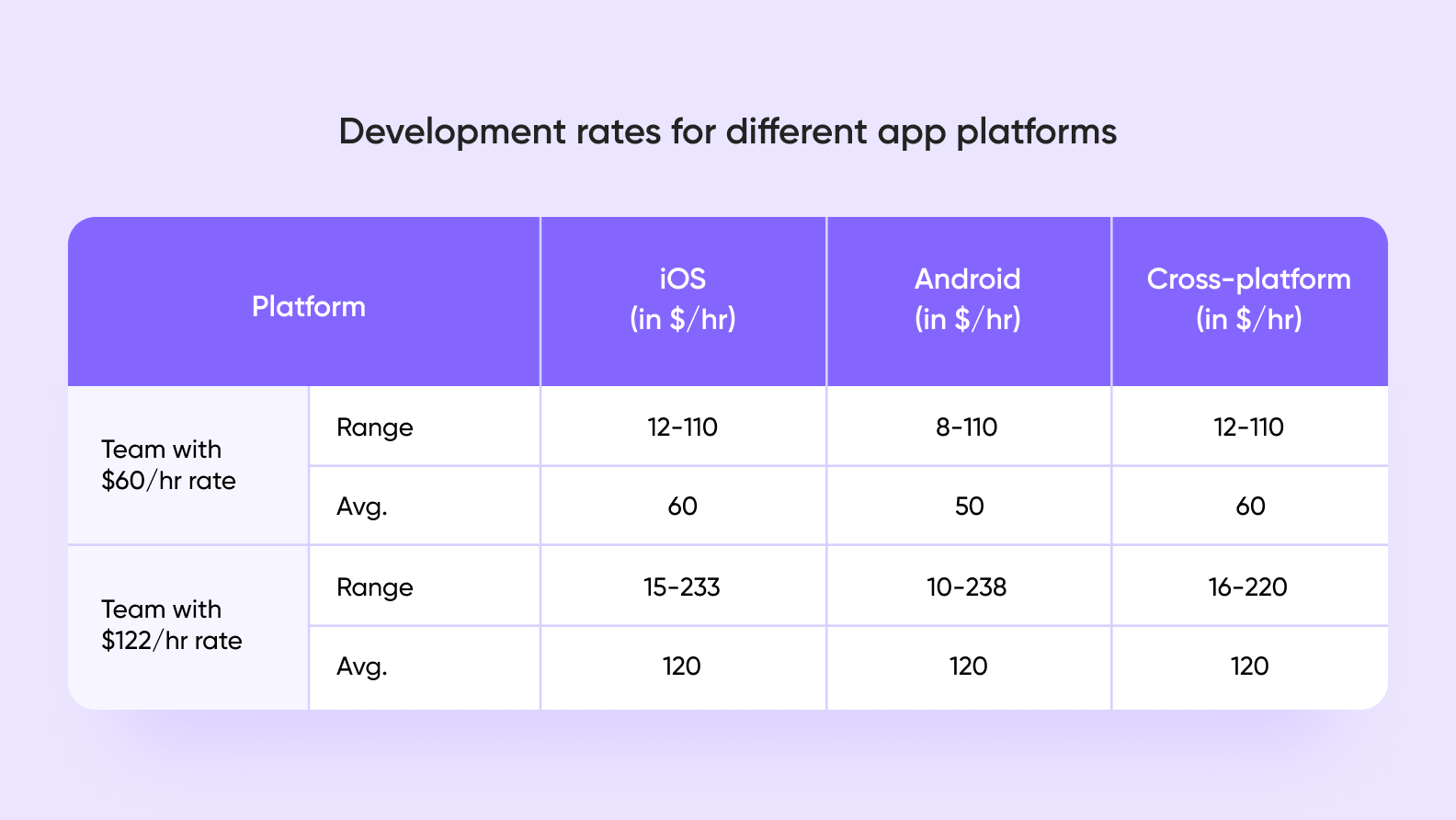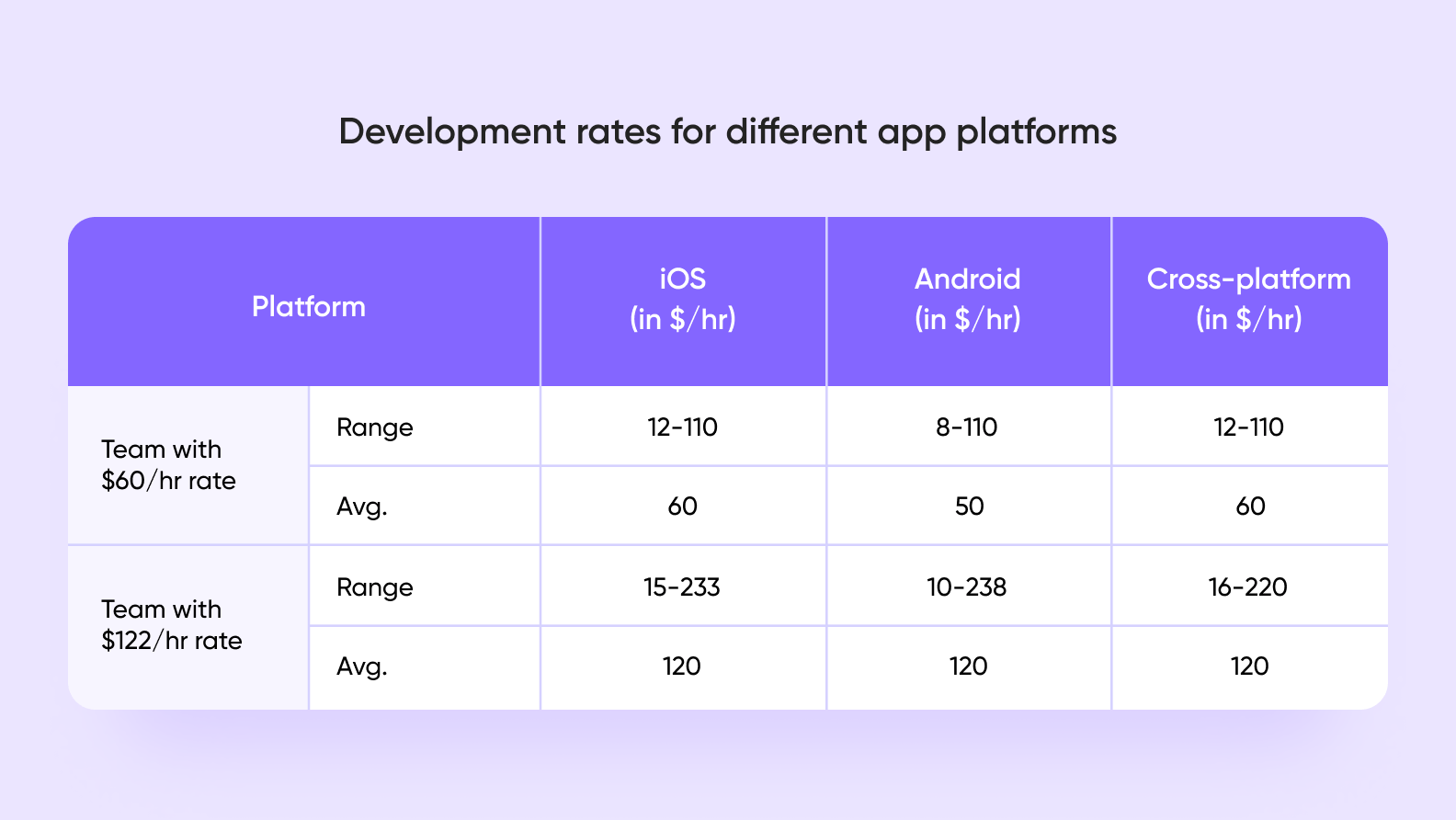 If you want to save money and time, go for cross-platform development. It works mainly on the React Native framework, which allows sharing the code between two applications (iOS and Android). Thus, your app appears on both platforms with the help of only one developers' team.
The second factor is the number and the complexity of features the app will have. Simple features, such as push-notifications and user reviews, tend to cost less, whilst more elaborate ones, such as payment systems development, can be really expensive. 
What is happening on Stage 3?
The development team starts to code! They work in sprints, implementing new features every fortnight.

You get a demo at the end of every sprint, ensuring that everything goes as planned and seeing the intermediate results of the development process.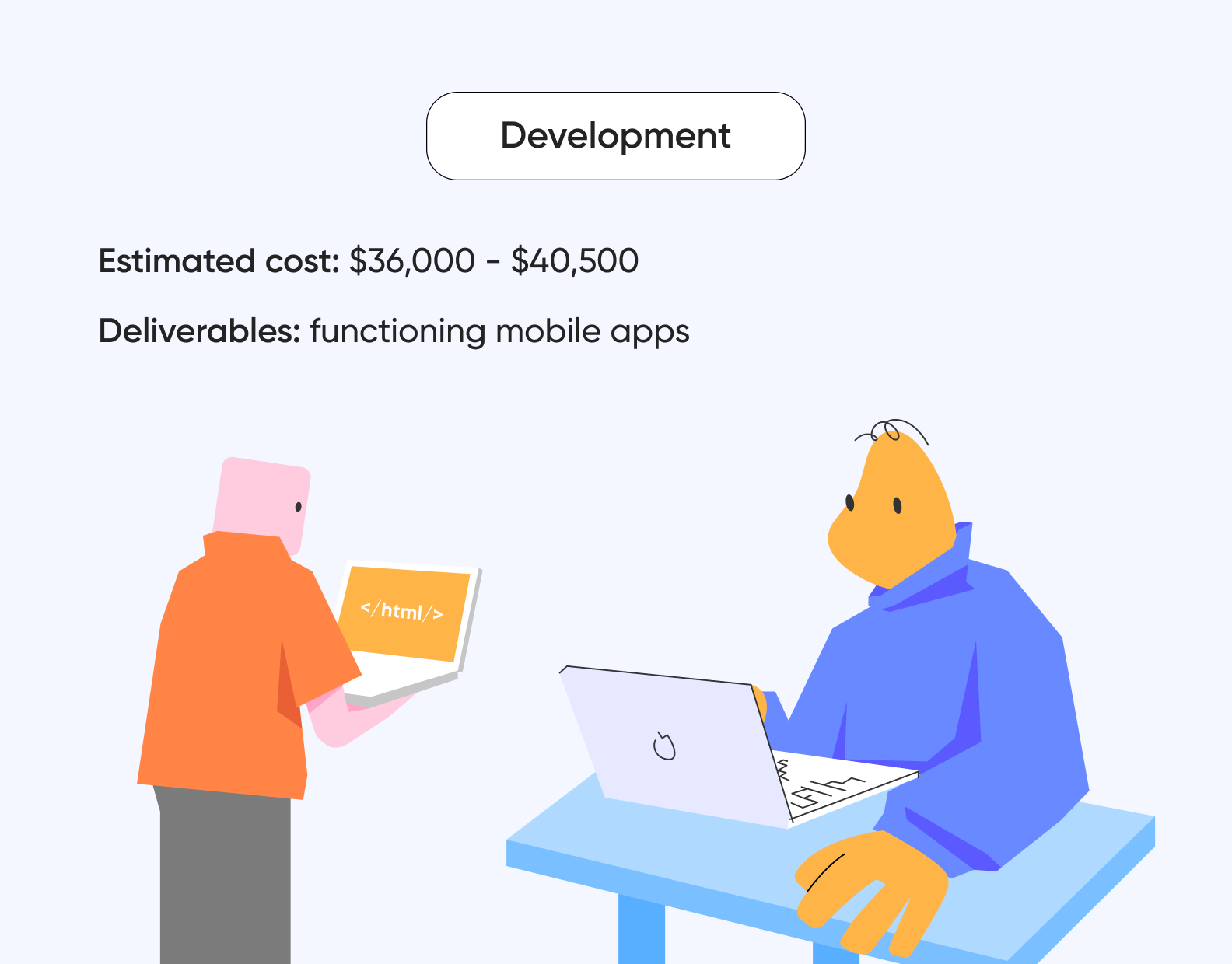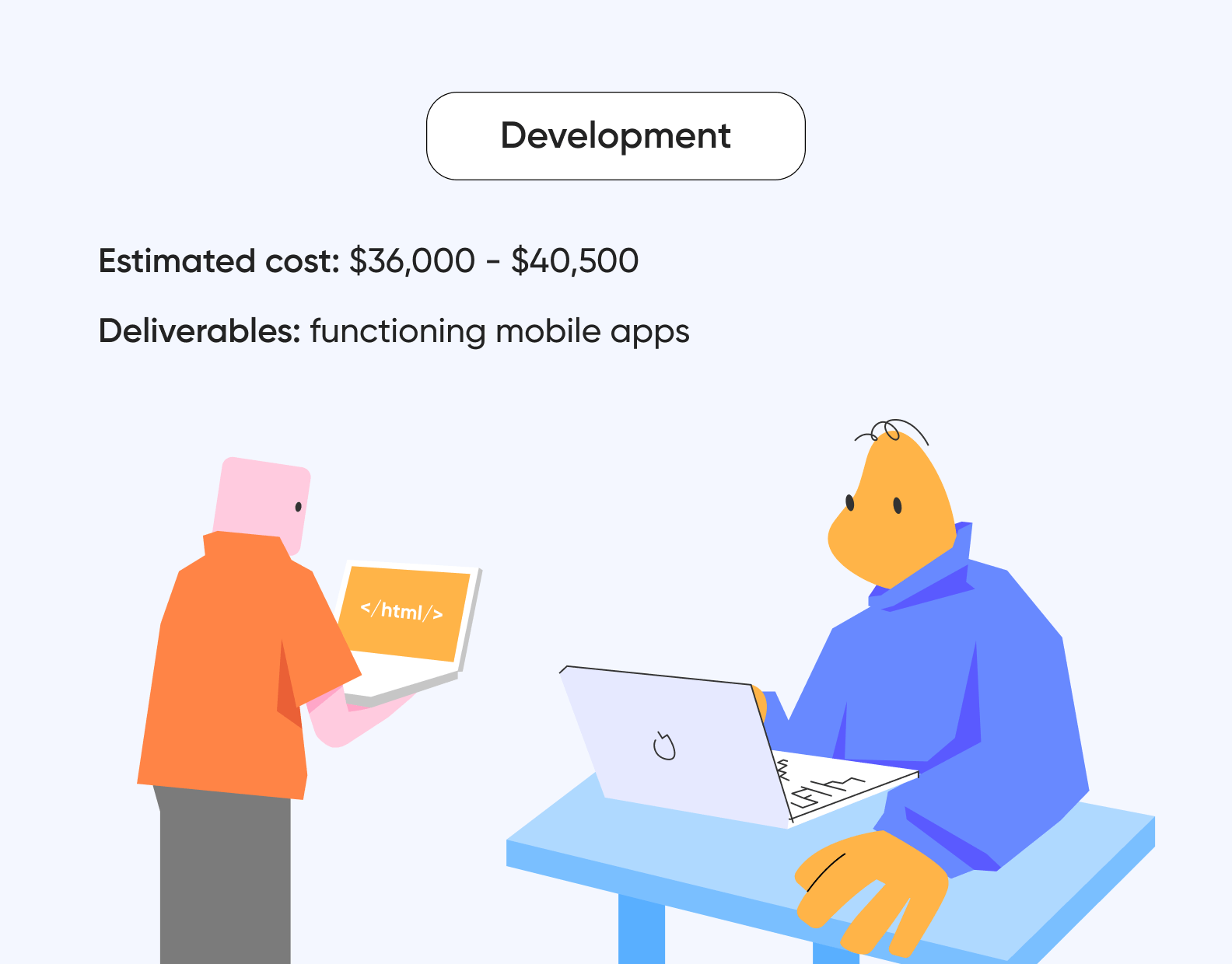 Stage 4. QA Testing
Every time the development team builds a new feature, QA engineers start searching for bugs, so that programmers can fix it.
The cost of QA testing is approximately 30% of the app development cost. Though bear in mind that maintaining an app is not a one time task. After the development, every application needs post-release continuous support.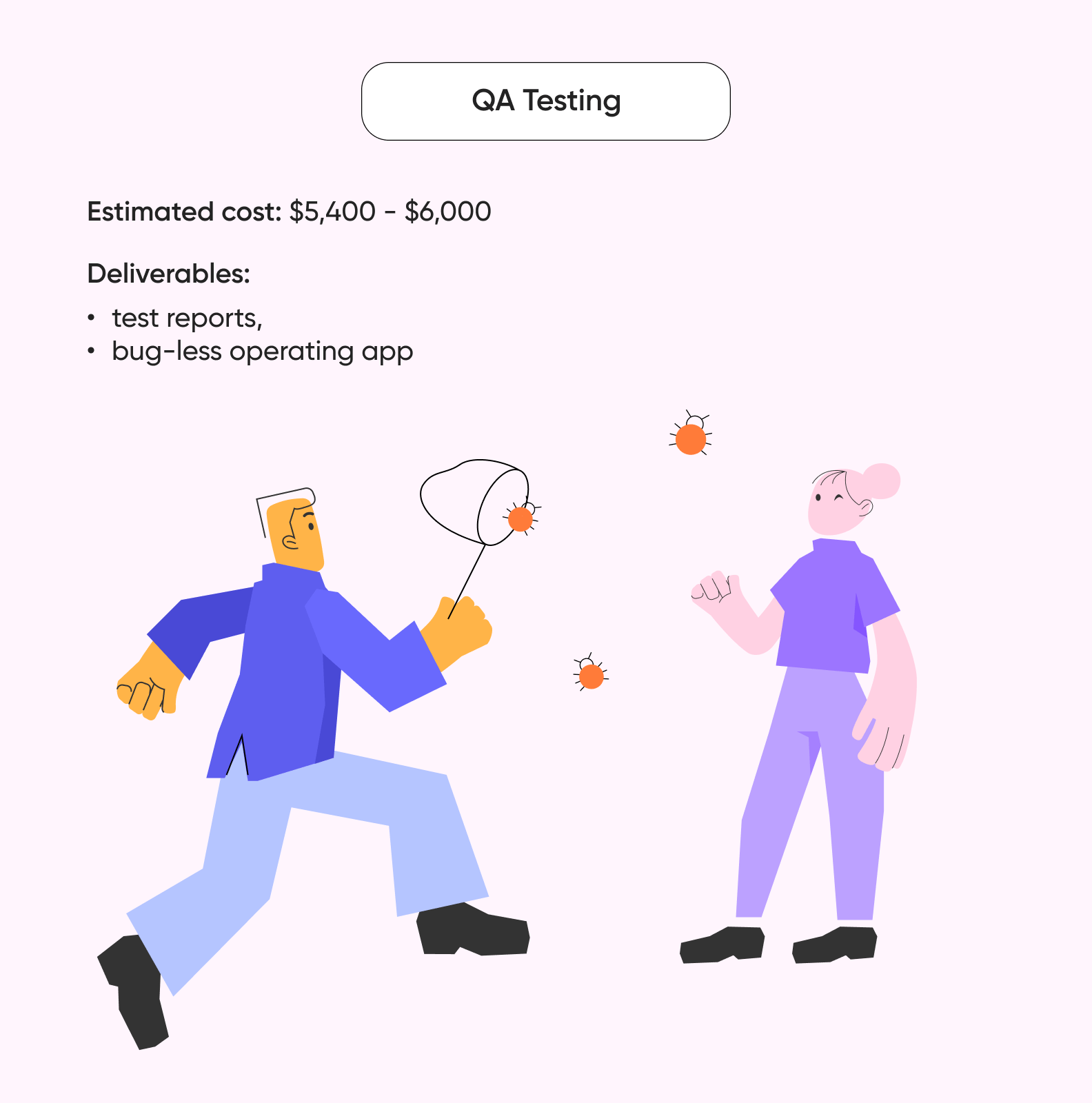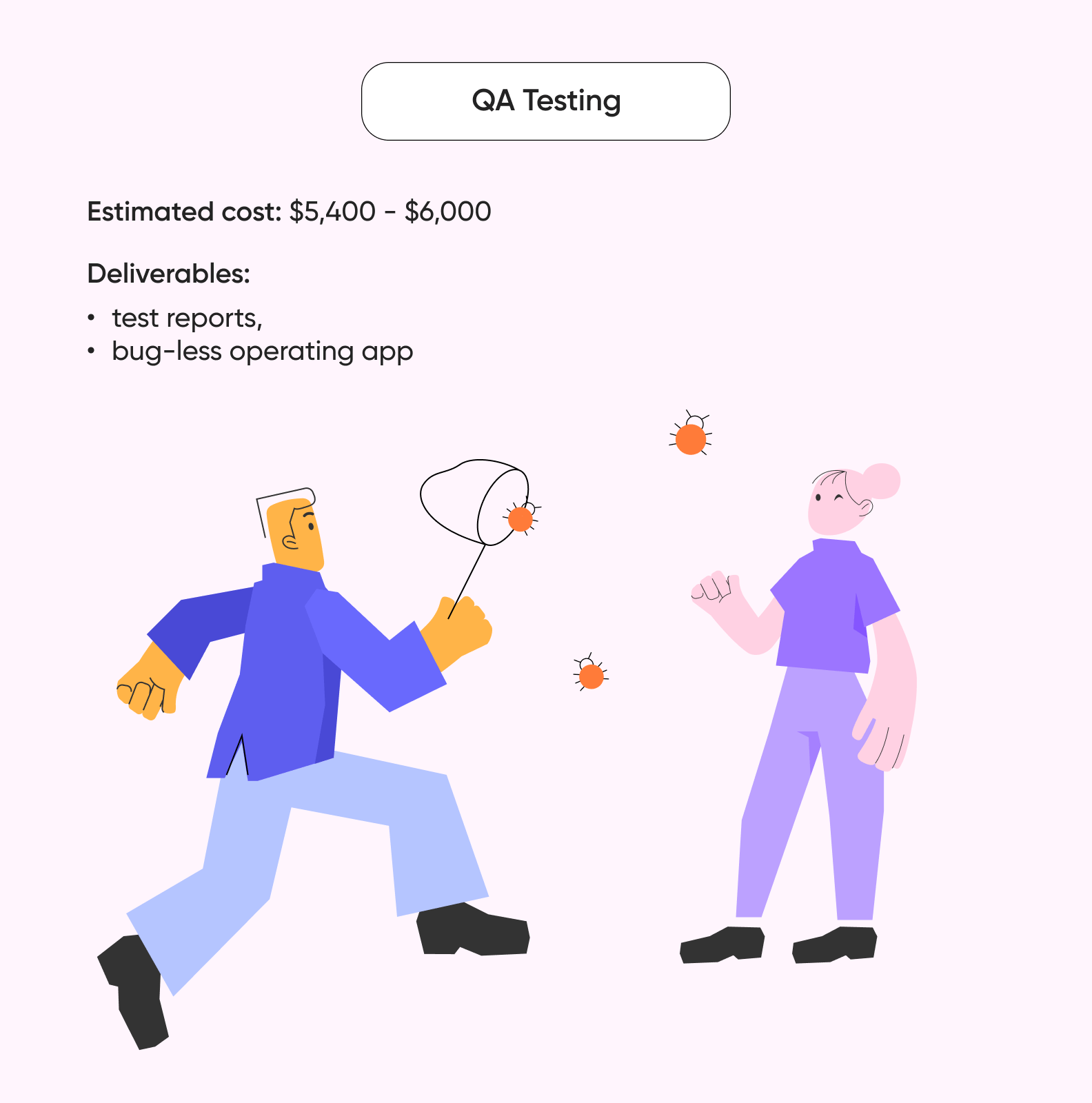 Stage 5. Project management
Project management accompanies the development process from the very beginning until the launch. 
Project manager is a connecting link between you and the development team. Not only do they administer the staff and make all deadlines meet. They also consult the startup along the way and help in decision-making. 
Worldwide hourly rates
Now that we've spilt the beans and revealed our own Purrweb's estimation, as well as the average cost of developing an app worldwide, let's get ourselves comfy and watch how things are going in specific geographical regions.
We mentioned that one of the factors that influences the cost of building an app is the number of platforms you wish to cover. 
Your team's location is also highly important. Hiring specialists from countries with low market prices for mobile development can significantly reduce the cost of creating an app. Consider this option if you're ready to take the overseas communicational risks.
Mobile app developer rates by country
Region
iOS

(Avg. $/Hr)

Android

(Avg. $/Hr)

Cross-Platform

(Avg. $/Hr)

Canada

90 – 120

80 – 140

90 – 120

The USA

60 – 120

60 – 120

60 – 130

Latin America

28 – 90

28 – 90

40 – 160

The UK

60 – 75

60 – 75

55 – 75

Europe

35 – 55

35 – 55

30 – 50

Ukraine

40 – 78

38 – 60

40 – 78

South Africa

45 – 80 

40 – 80

40 – 80

India

22 – 90

15 – 25

20 – 30

Southeast Asia

23 – 55

30 – 45

30 – 45

Asia

25 – 35

20 – 30

25 – 35

Australia

90 – 120

100 – 120

90 – 120
Examples of App Development Cost 
We guess you've already compared your future app with existing ones. We gathered some information on app development costs of famous applications. 
Tinder: $102,688
This social dating app recognizes the user's location and offers profiles of matching users. The signature feature of Tinder is swiping — users can like or dislike certain profiles by swiping them left or right. What else is hidden in Tinder's code? It's Facebook or phone number login, unlimited messaging, video chat, search filters and securing users' profile.
Instagram: $143,728 
A feature-rich app that not only allows users to post and edit their photos and videos, but provides tons of other functions. Live videos and IGTV, direct messaging and in-app phone calls, searching, following and blocking users. There's also a built-in shopping feature and special account settings for businesses. 
Uber: $152,776
The main logic behind the Uber app is recognizing locations of the user and available drivers, connecting the two and following the ride in real-time up to the destination point. Other interesting features here are rating system, chatting, different payment options and accessing user's orders history.
WhatsApp: $184,512
The messenger lets users share texts, pictures, videos, audios and geo-locations, either one-on-one or in group chats. End-to-end encryption feature makes the app valued by the users, who appreciate concern for their security.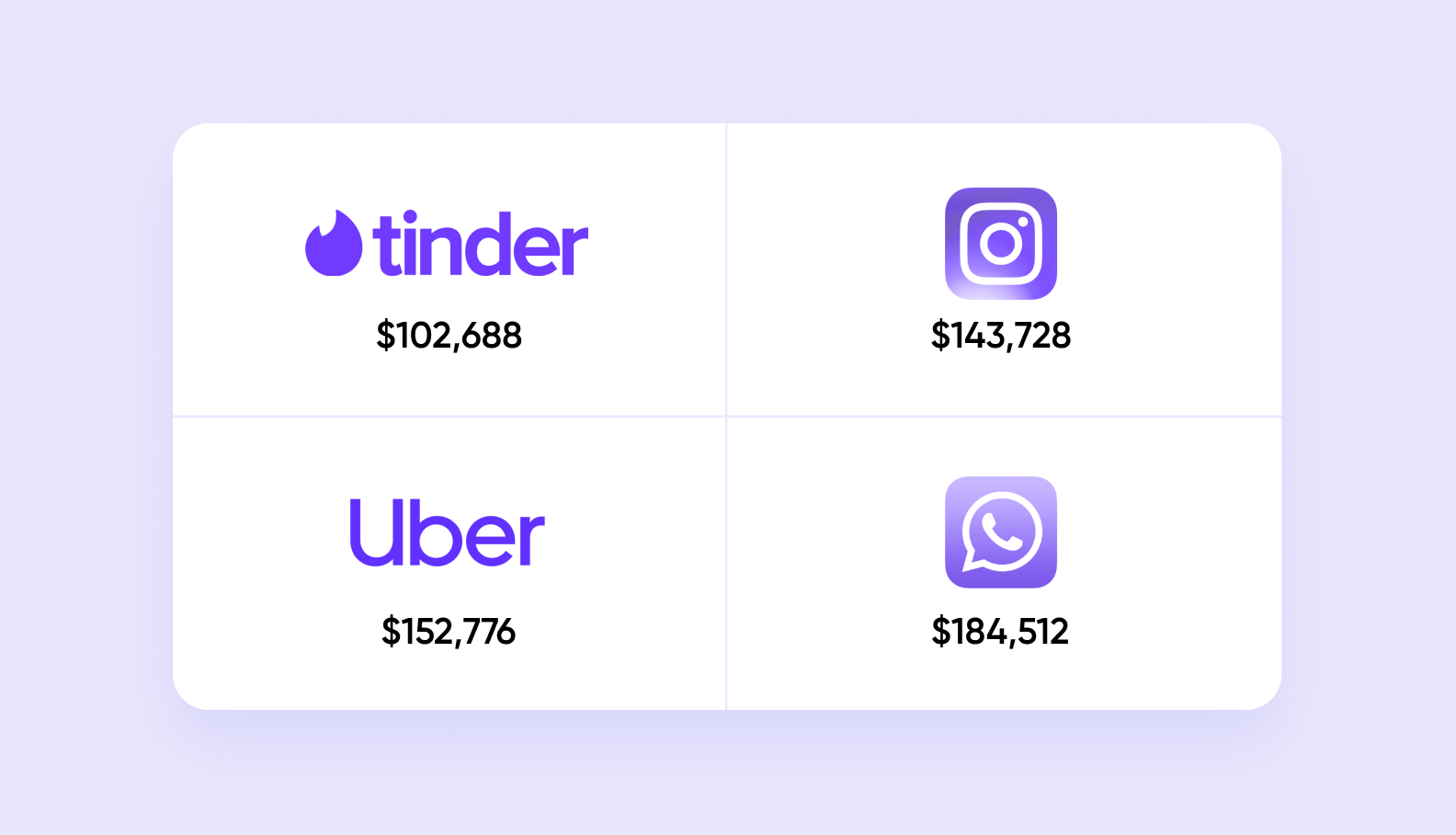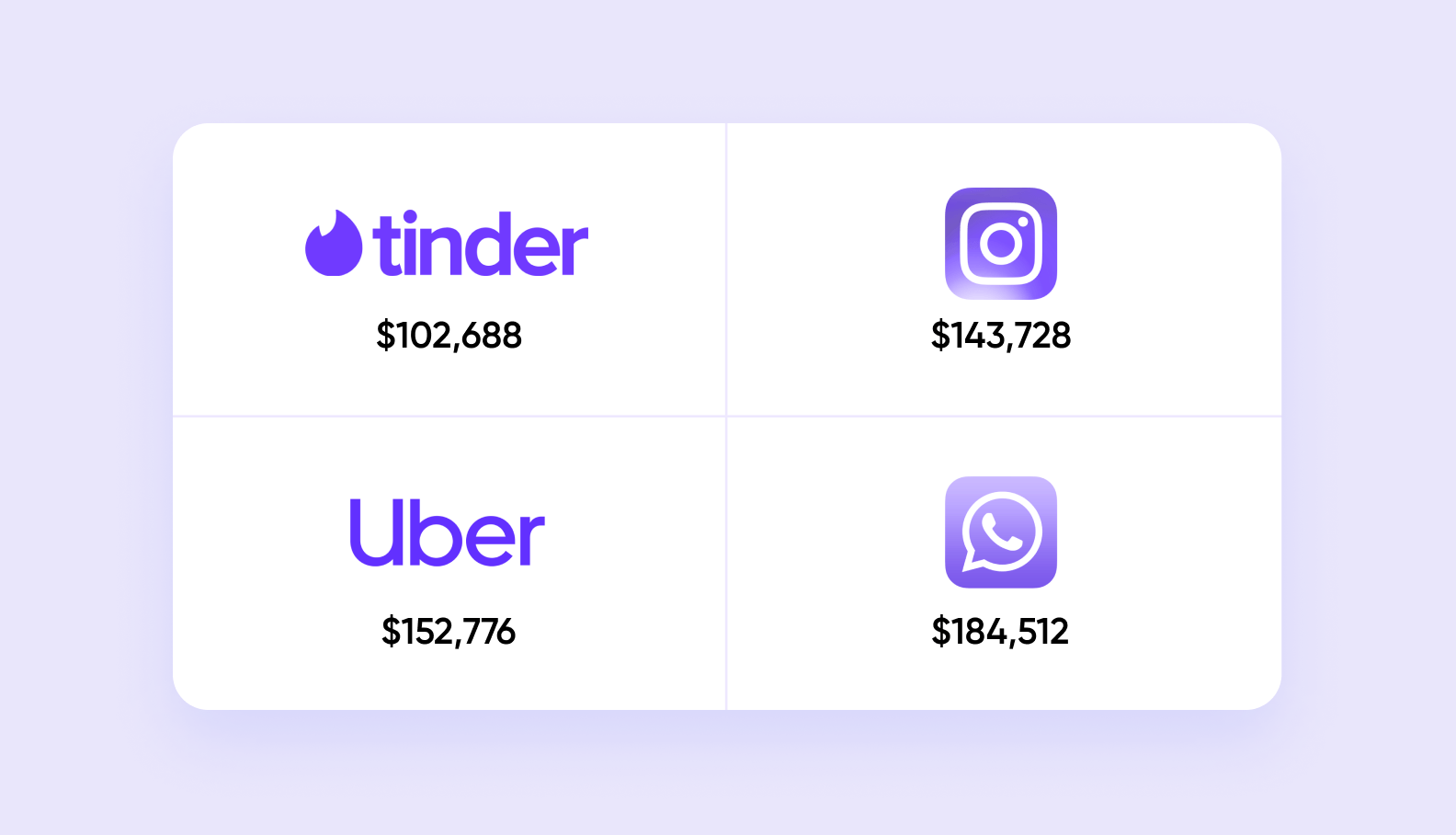 Estimate cost of apps by their type: 8 examples
Different types of applications require developing different logic and features. Let's take a closer look at 8 app types and learn their cost grounding.
Users open these apps every day. They literally become their virtual buddies, counting their calories, putting on favorite music and helping to choose the best restaurant for dinner. An app will become indispensable if it is linked to other software the customer is using.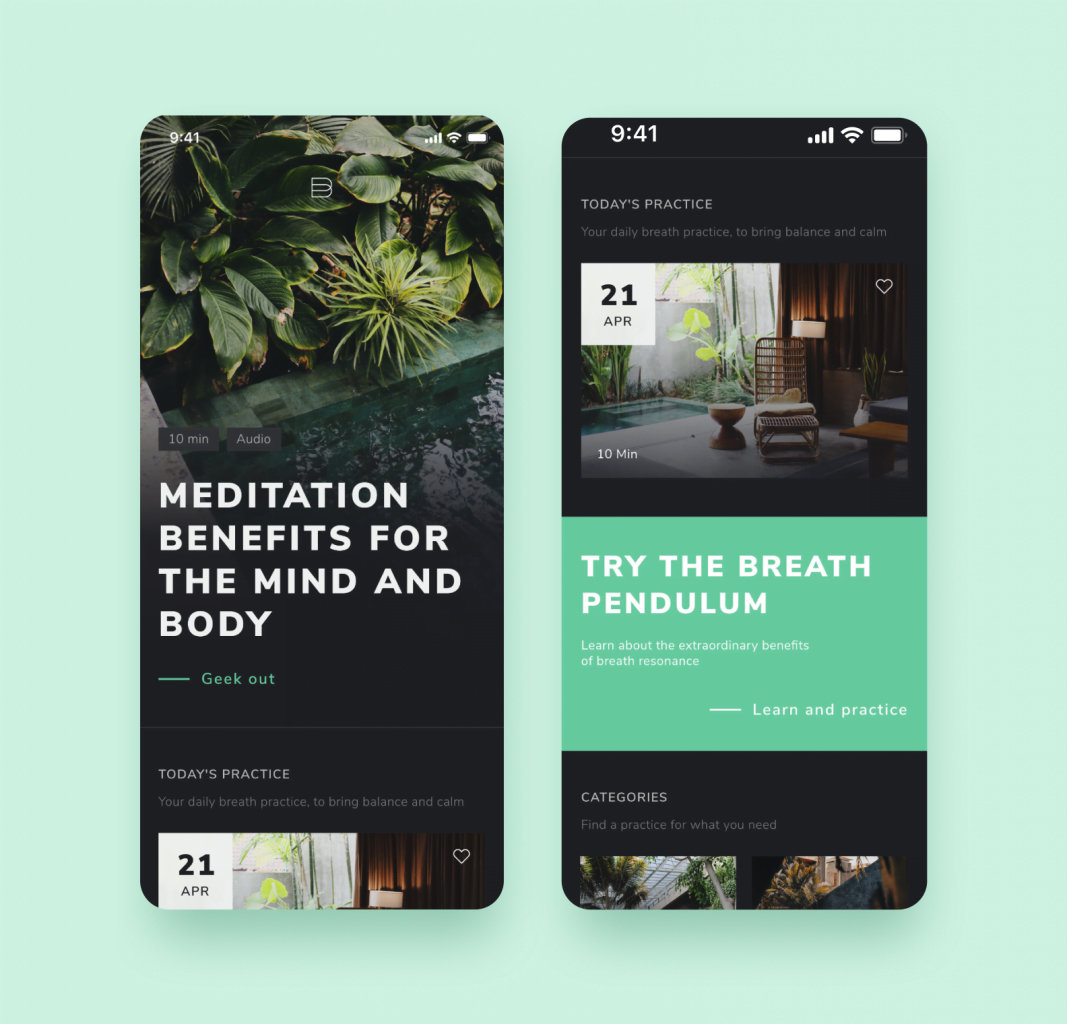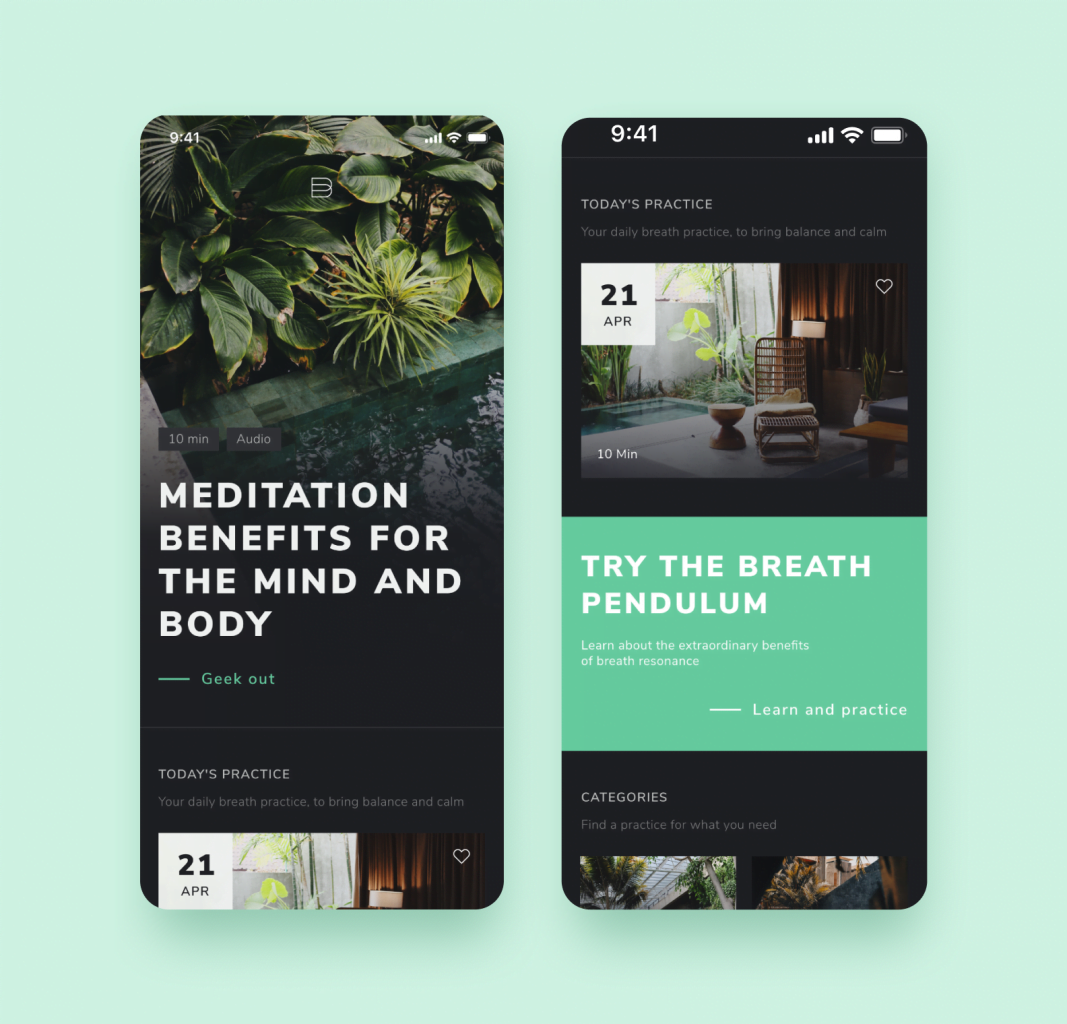 We had this idea in mind when we developed a mental health app Breathmethod, which has Face ID sign-in for user convenience and Instagram posts integration that complements the impeccable design with an individual approach.

Estimated cost: $40 000 to $50 000
The main goal of a social media app lies in its name. The features that are crucial are creating your own content and sharing it. Social media apps should be fast, have a responsive design and frequent updates, so that no bugs ruin the user's experience.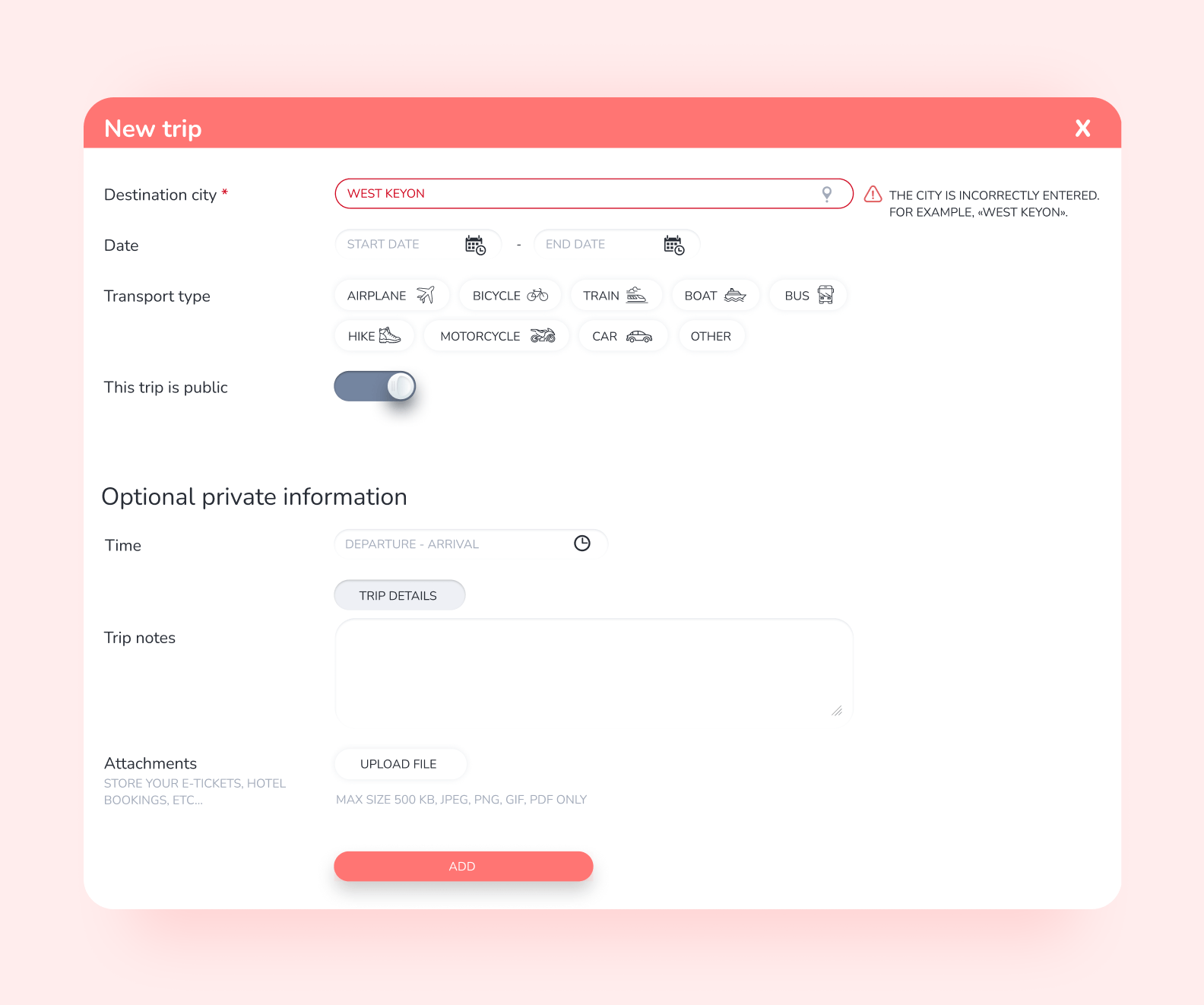 When we made a social travel platform TripChron, we focused on giving users the opportunity to share their travel routes and follow other enthusiasts. 
Estimated cost: $55 000 to $65 000
Online education market is growing rapidly. Users learn foreign languages, get certificates in new professions and pass exams online. What features help them achieve their goals?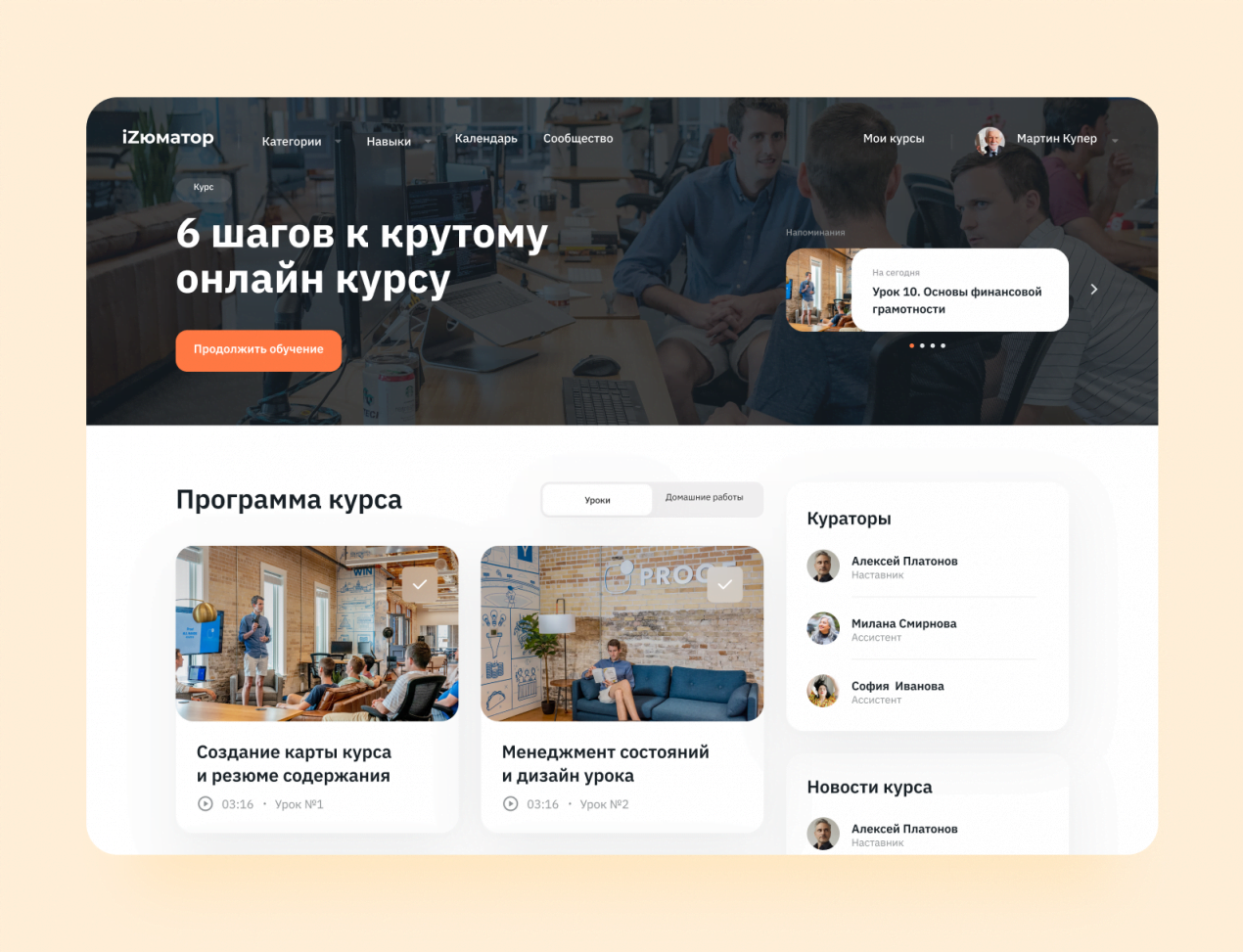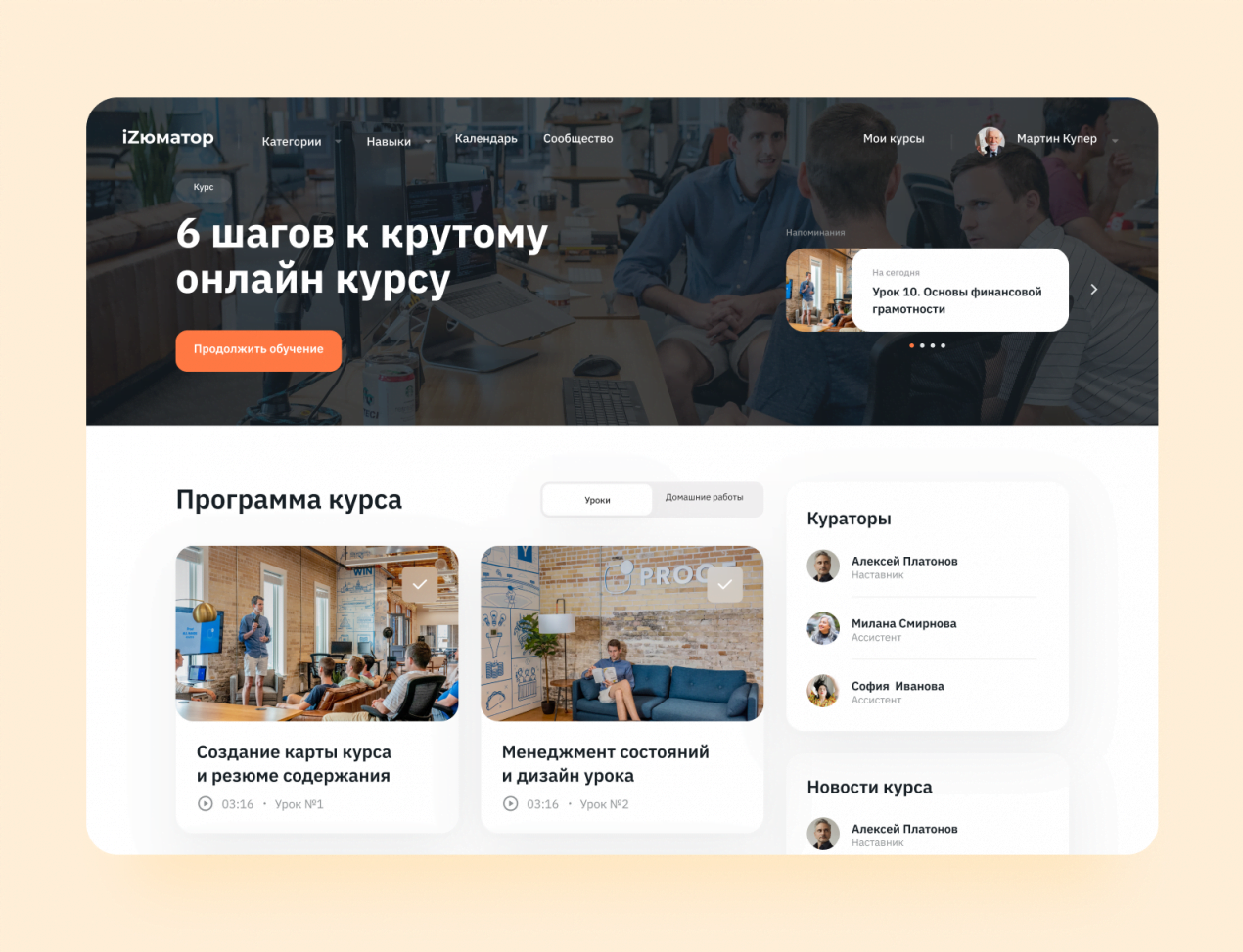 In iZumator, the platform for online education developed by Purrweb, we made a range of roles with different access. Student, mentor, assistant, admin and supervisor each have their own pack of features (viewing courses, creating groups, checking homework, etc.)
Estimated cost: $60 000 to $70 000
Fitness and productivity apps
These apps are indispensable when they really help the user get their job done. The most important features here can be a desktop version, integration with basic utilities such as a calendar, phone book or a GPS-tracker.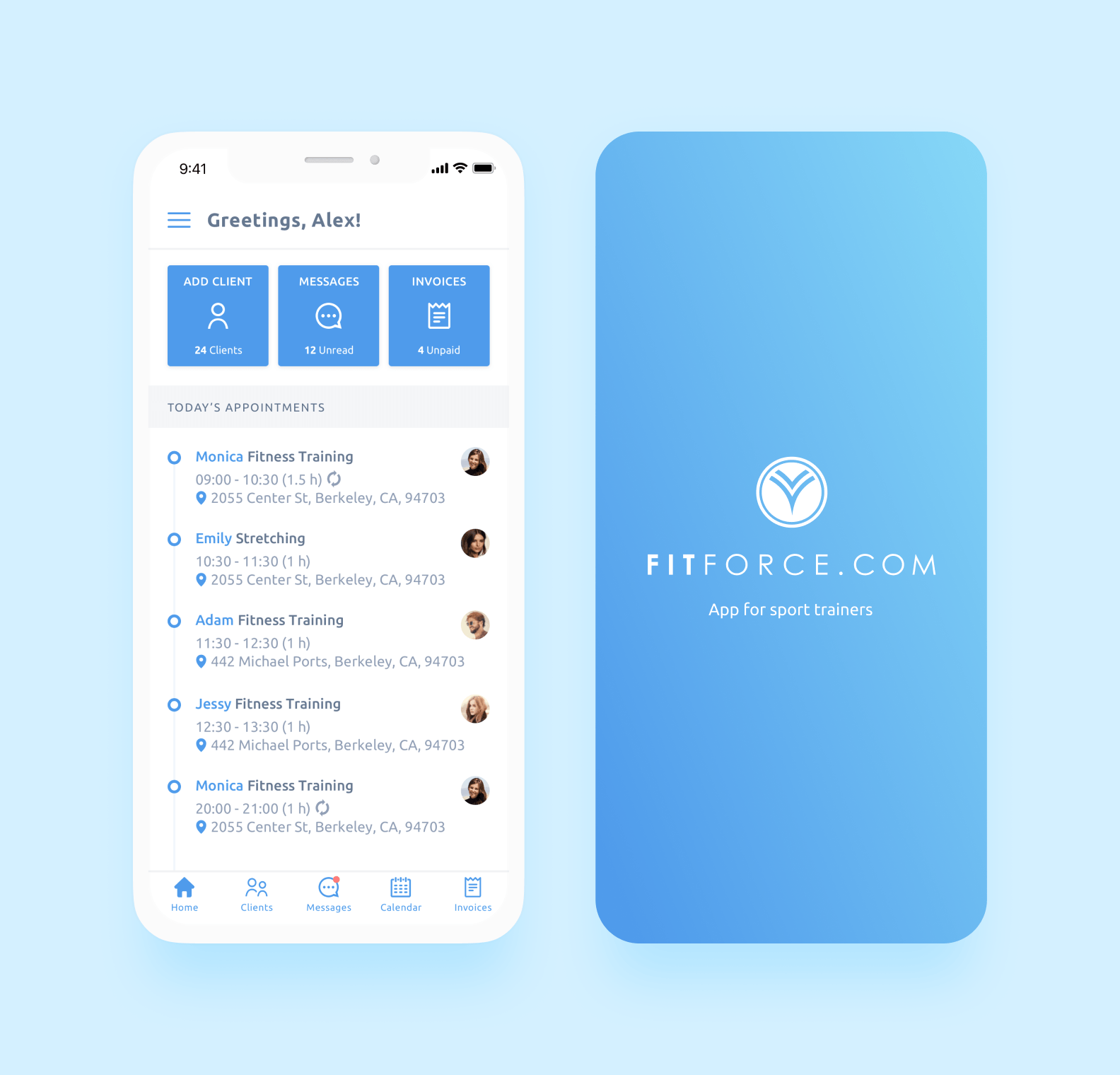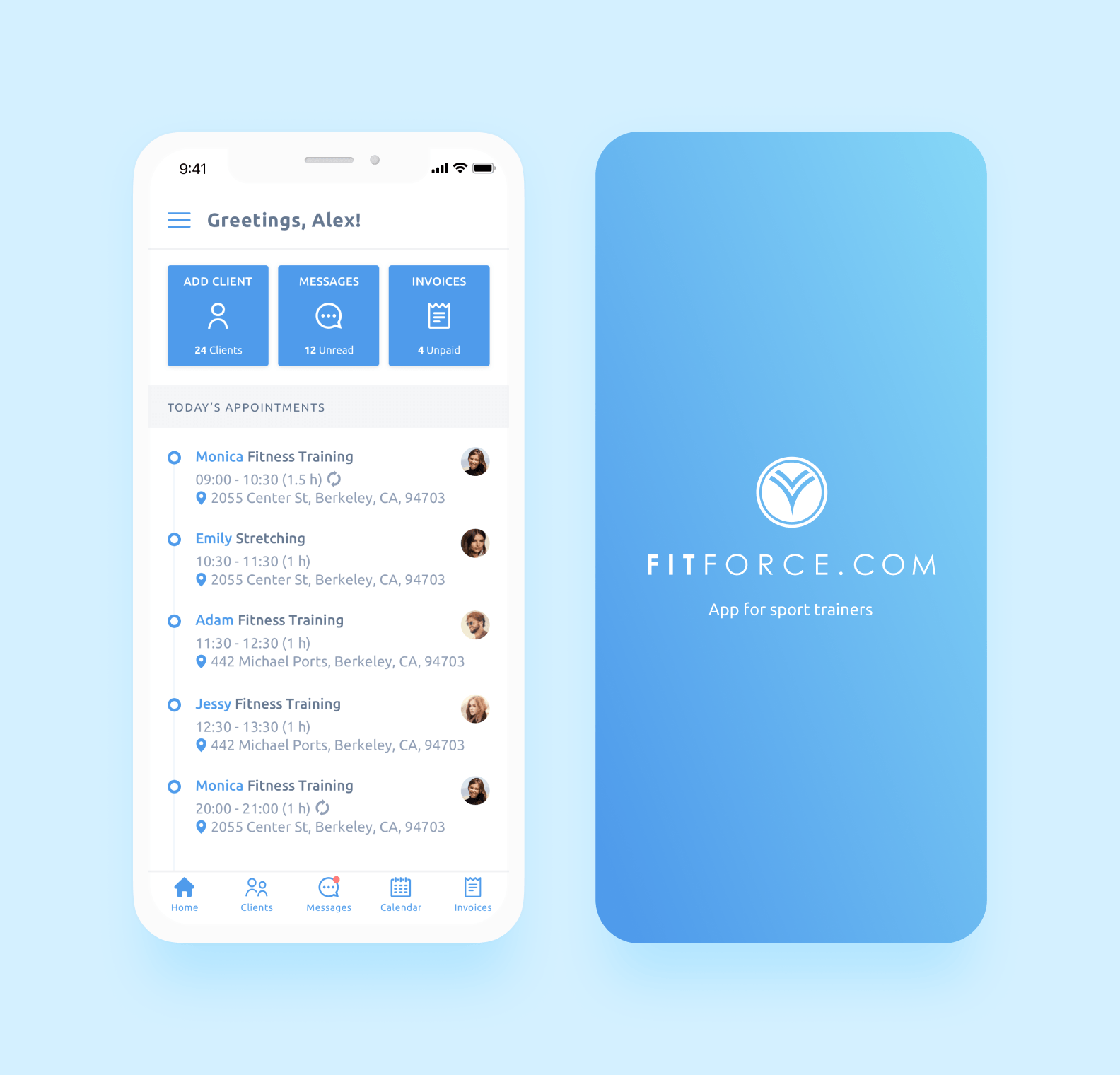 Check our FitForce.com app that helps fitness trainers achieve their professional goals. The app can schedule their sessions, manage invoices, and track their clients' success via phone or computer. It even has a chat-bot!
Estimated cost: $40 000 to $50 000
Professional platforms are tools making the work simpler by covering certain functions that otherwise users would have to do manually. This app needs administrative features: reminders, push-up notifications, calendar and group work chat.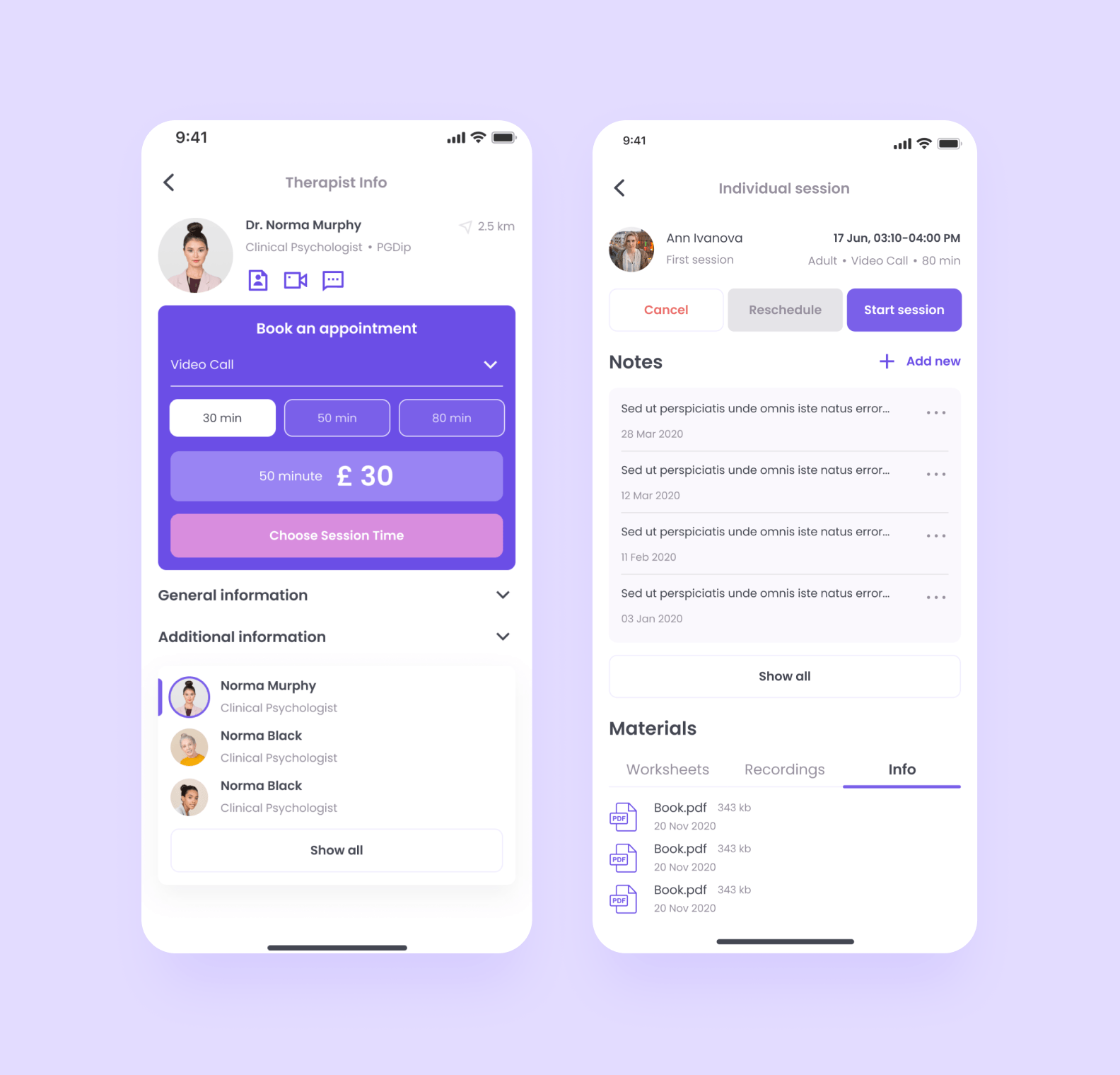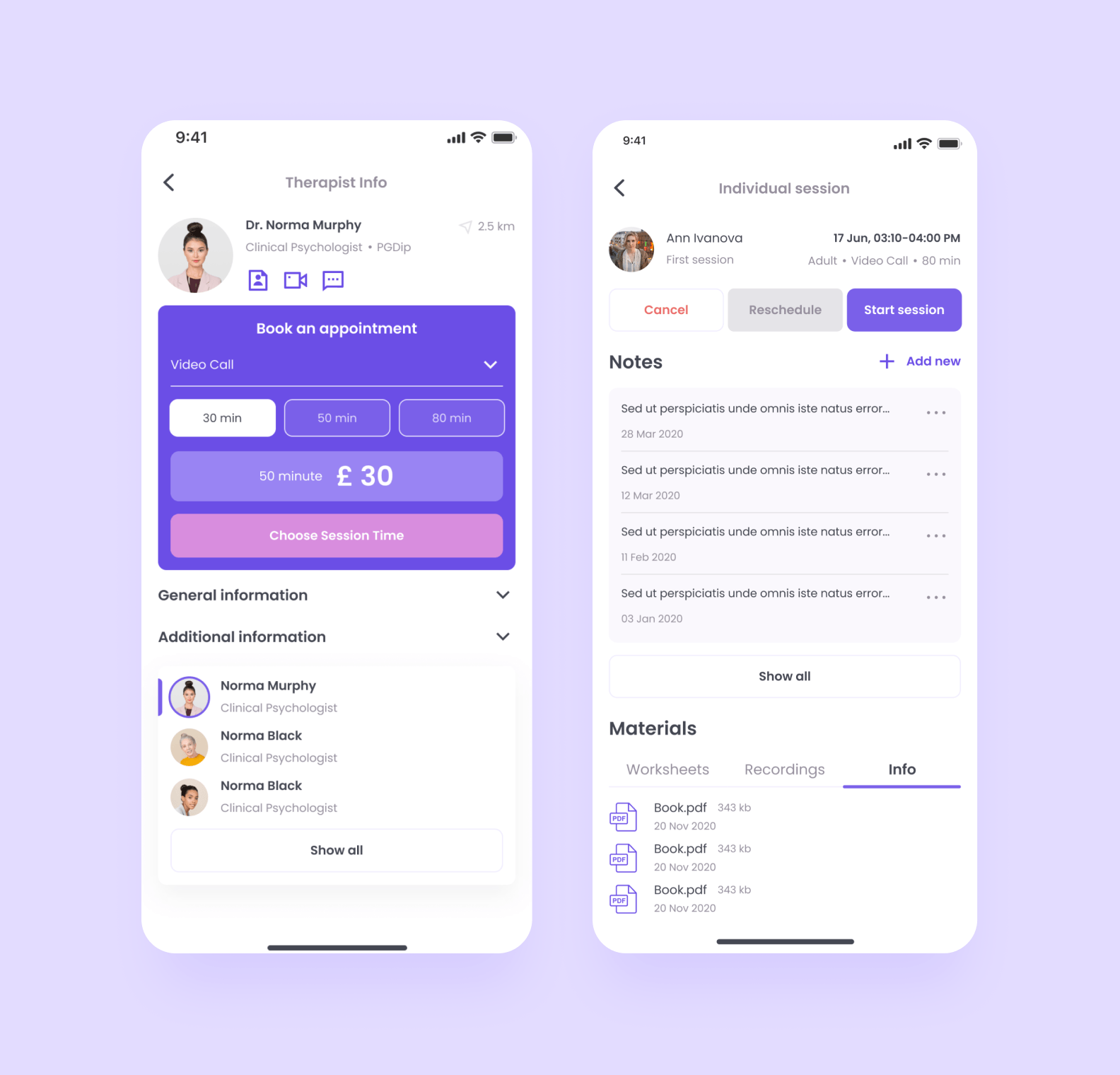 The online psychotherapy app is an example of a highly effective professional platform that we've built. The features kit depends on the account type: people, who are searching for a psychiatrist, get a chat-bot to help in their journey, whilst specialists see features that manage their workload and invoices.
Estimated cost: $55 000-$65 000
The goal of a HoReCa mobile app is to simplify interaction between guests and staff. An app logic should be smooth and transparent as there are often a lot of users involved — both on guest's and on the owner's side. A customer should see a menu, a waiter — his orders, a supply manager — the amount of vegetables left. All these better not be mixed up.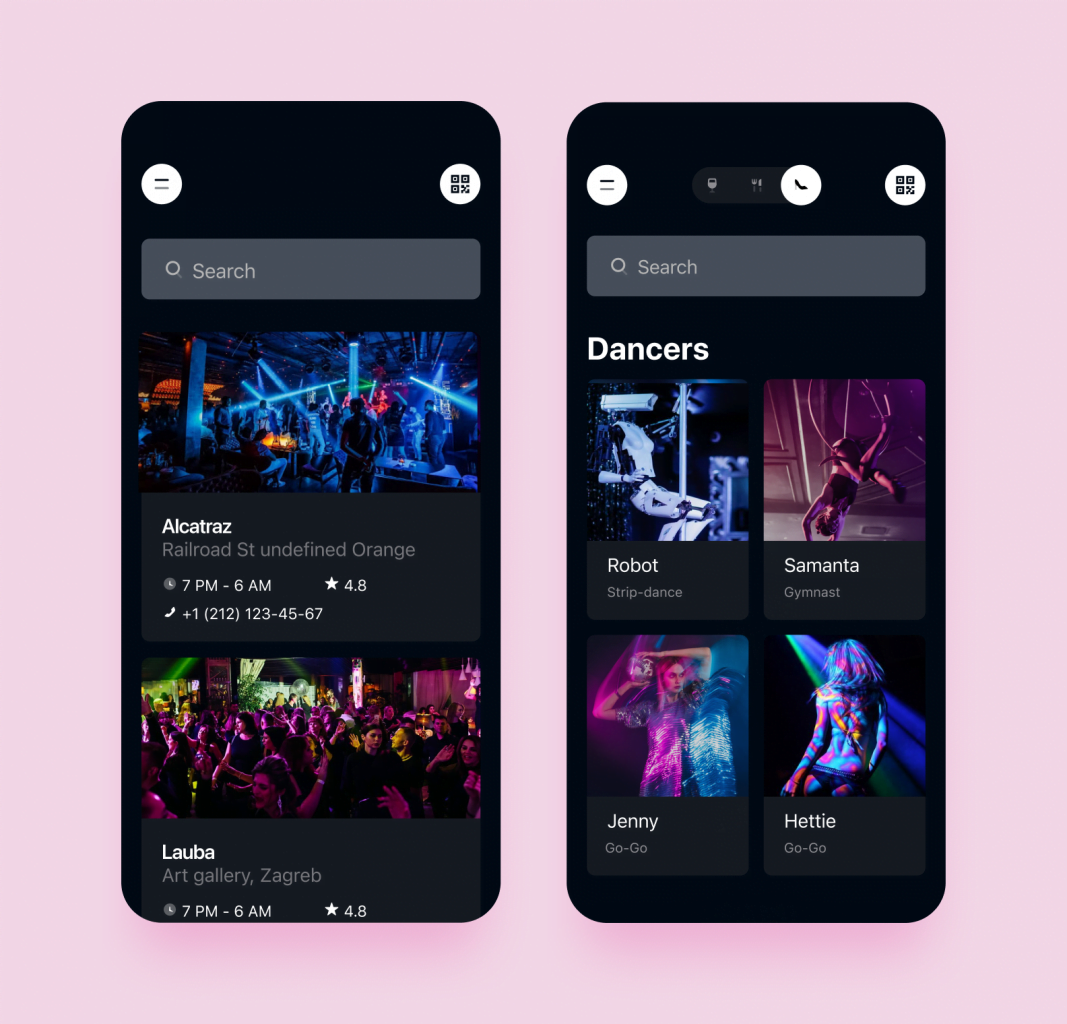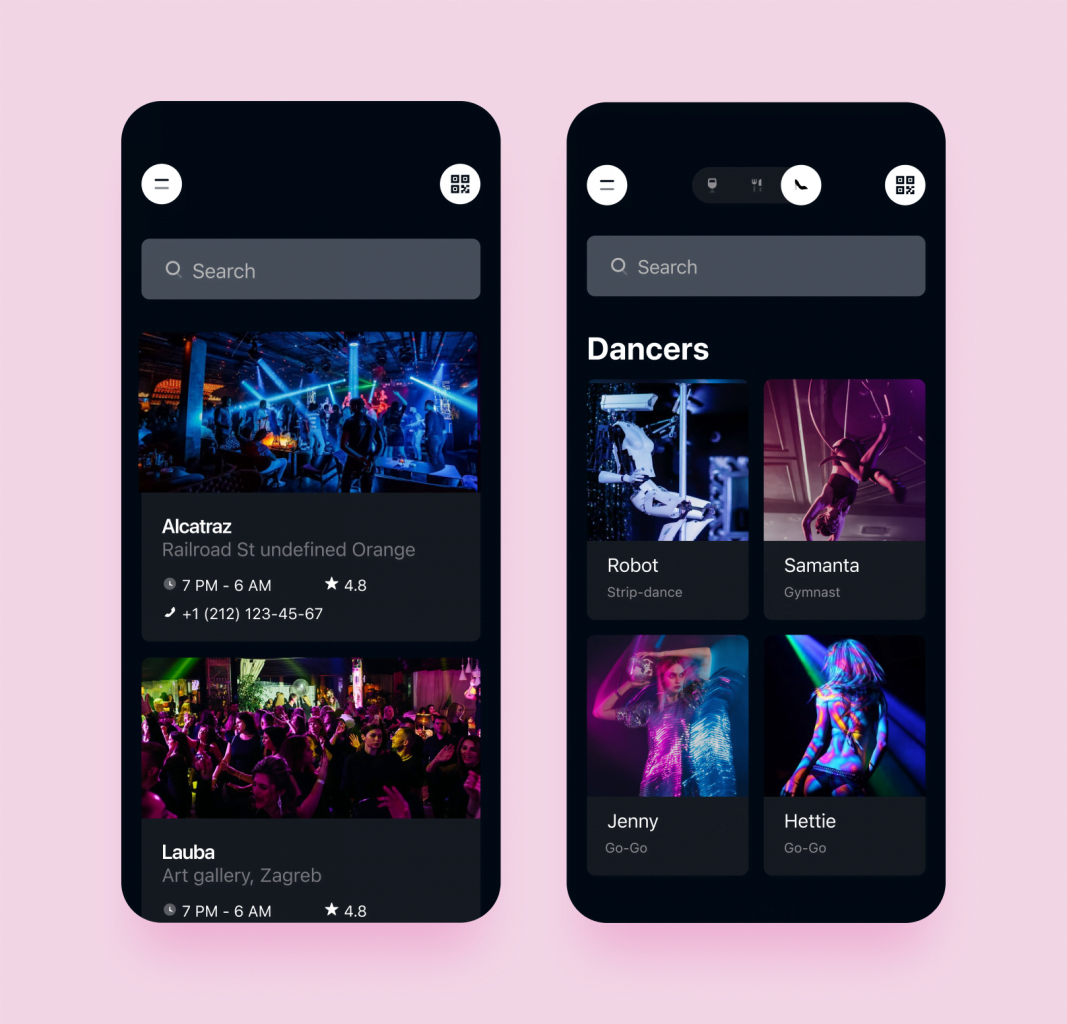 When we created NoTab, an independent ecosystem for nightclubs, we focused on dividing the roles to make an app-kit more effective. Admin, kitchen, staff and guests each got their own platform and a separate number of features.
Estimated cost: $50 000 to $60 000
Finance is a sphere where both a vendor and a user want to feel secure. When planning main features of a Fintech app, think of beginners who are afraid to do something wrong, push unnecessary buttons and lose their money because the app is too confusing.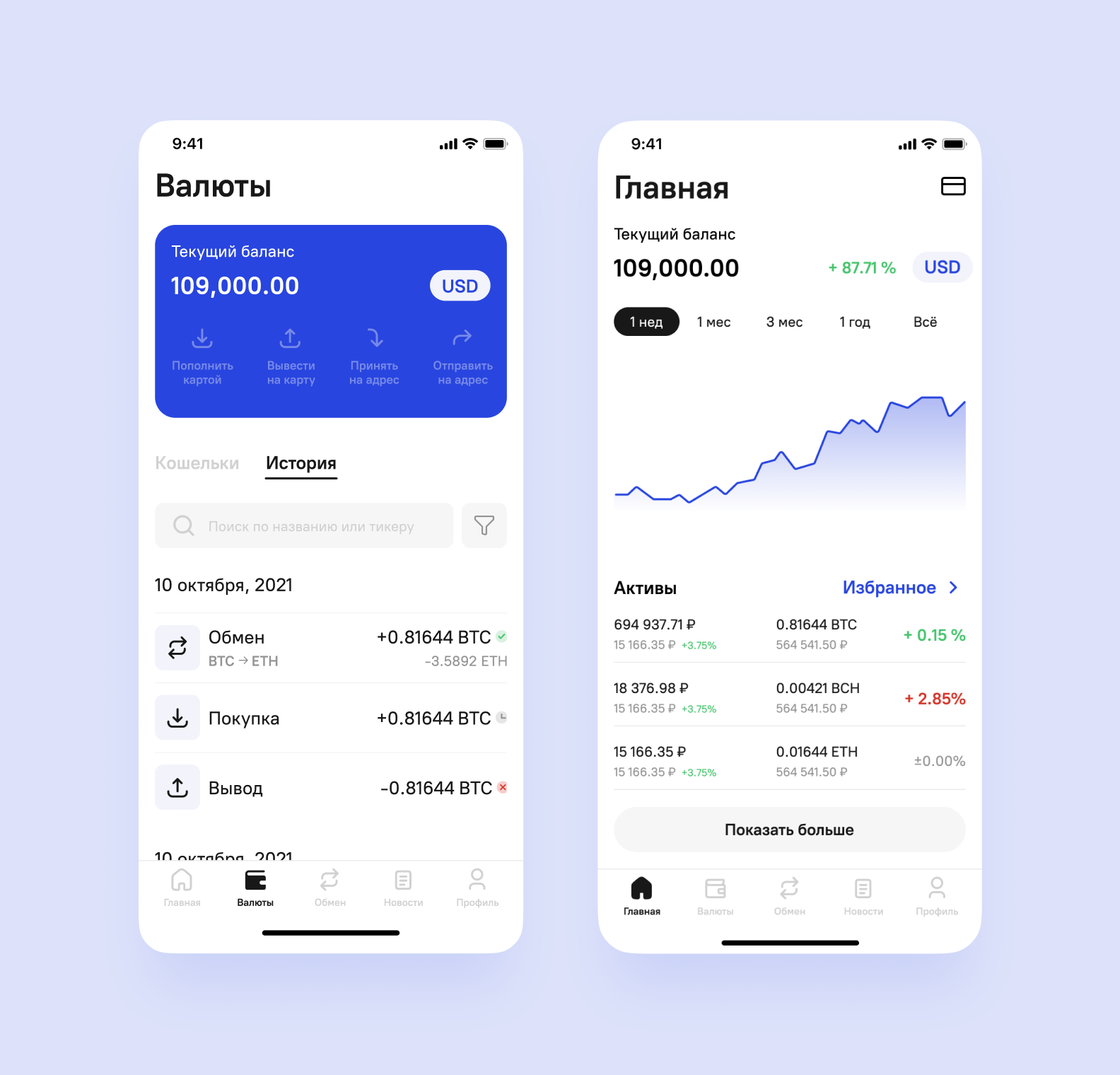 When we developed a multi-currency crypto wallet Broex our goal was to make an easy-to-use tool with intuitive design, navigation, and interface patterns familiar to most users. The created app turned out to be clear and user-friendly, which is a must for a Fintech startup. 
Estimated cost: $75 000 to $85 000
When you buy something online, you have a product catalog, a shopping cart, and a list of delivery options. But what makes an e-commerce app effective is an additional service — push-notifications that will remind the user of his order, parcel tracker and secure payments.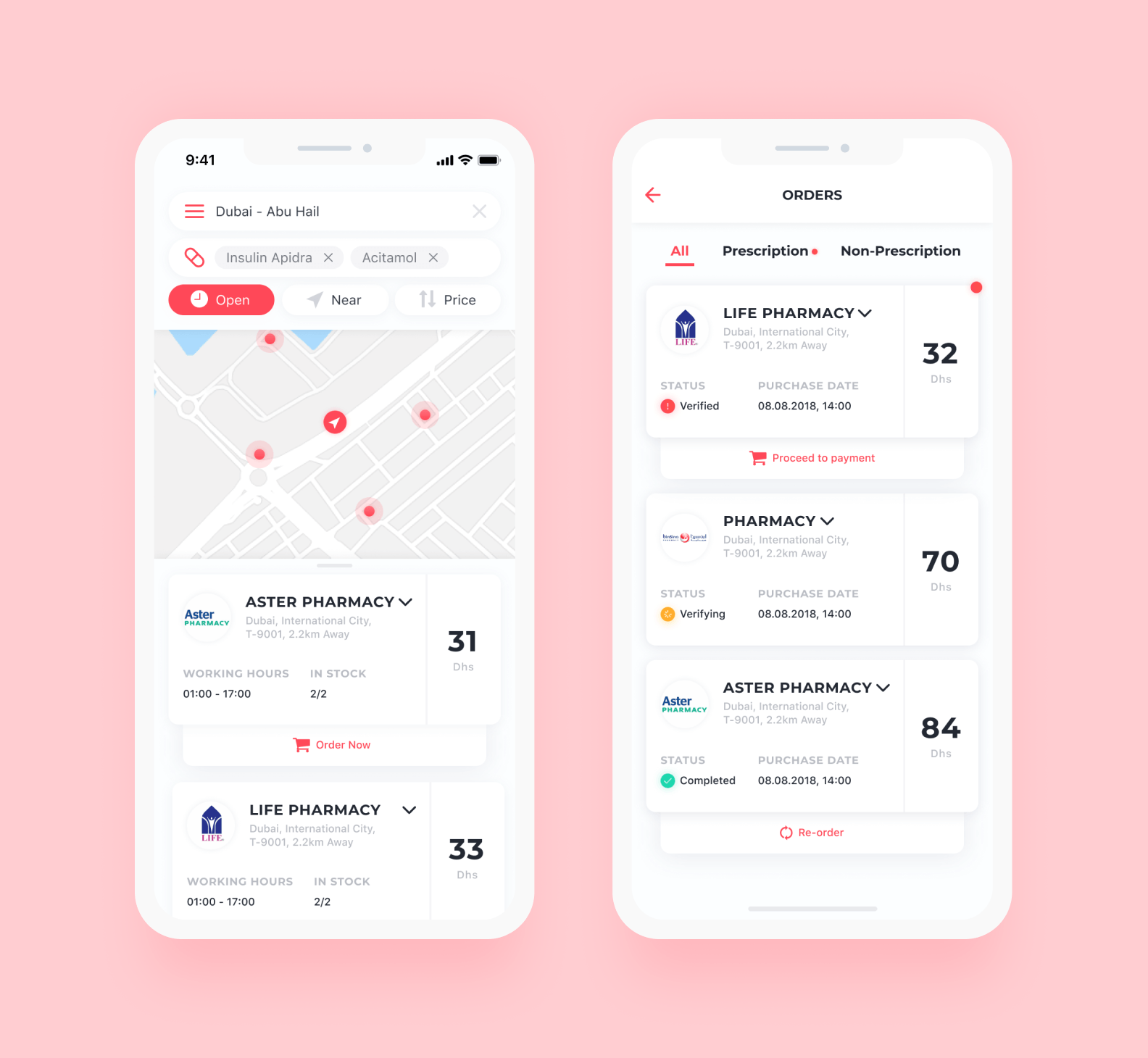 In our pharmacy app, we ensured that the payment process requires only one tap to proceed even for non-authorised guests.
Estimated cost: $40 000 to $50 000
Get free project estimation in 48 hours
300+
startups trusted us since 2014
55+
reviews from happy clients
Book the meeting
Factors that Affect Application Costs
How much does it cost to have an app made? We've discussed a lot of factors that influence mobile app development cost. Here is a quick recap:
Type of app

Features

Design

Number of staff and the means of contracting: in-house, freelance, outsource
Developer's rates

One or both platforms
The most costly factor here is the development team's rates. How much it costs to make an app for your business depends mostly on your team's location. Just look at this map and see it for yourself.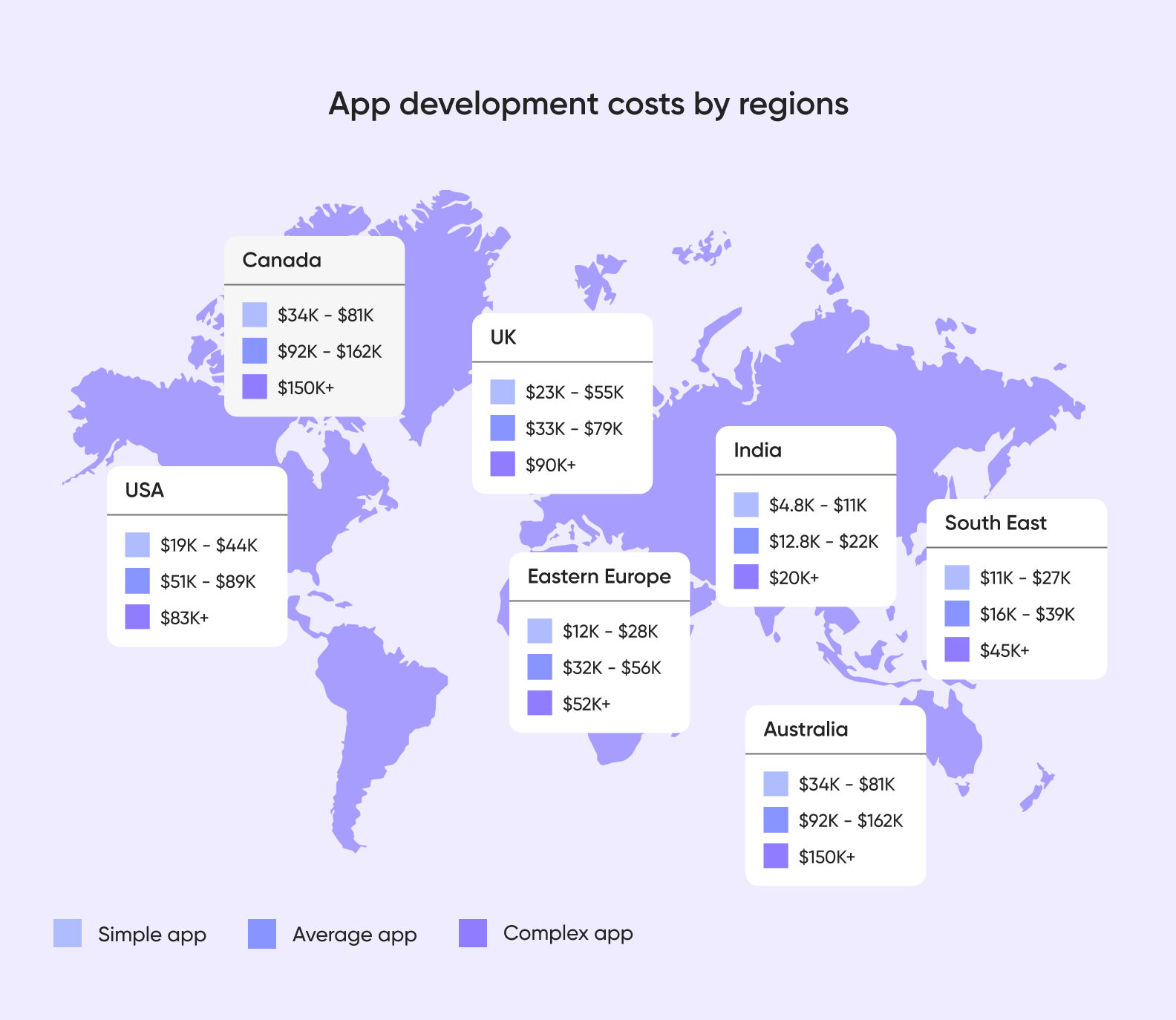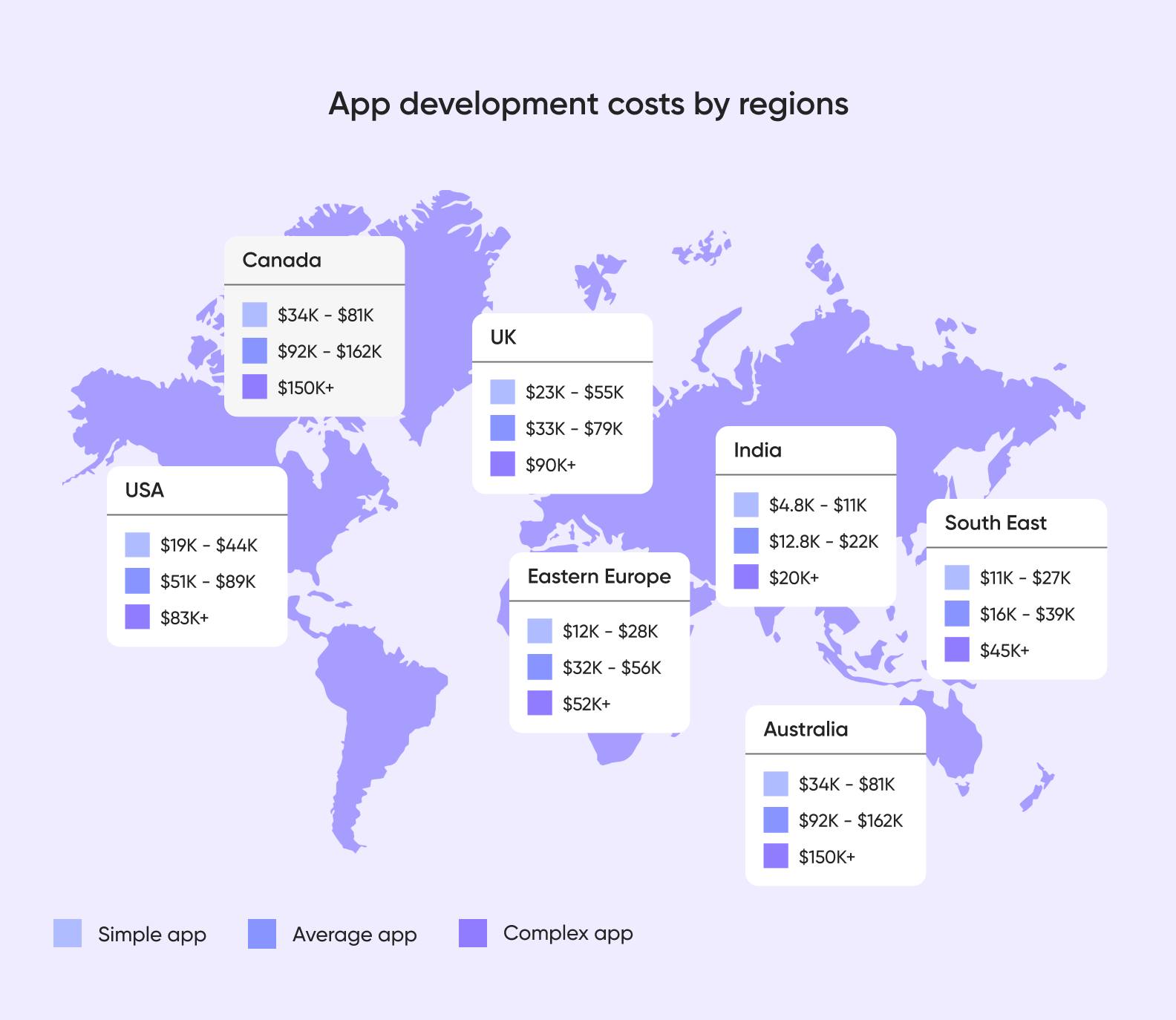 Hidden App Development Costs You Need to Know
If you've already balanced the till and thought that you know how much does it cost to create an app, we should warn you it's not final. There are a few hidden costs that you may not have taken into consideration.
Hidden cost #1: App maintenance
Launching an app is the start of a journey, not its finish. You will have to maintain the app, which can cost about 50% of your total development price in the first year and 25% and less in the next few years. This hidden cost includes:
Bug fixes

Platform updates

New features development

Studying users' feedback

API maintenance
Hidden cost #2: Subscription for services
Depending on the functionality of the app, you may need to subscribe to paid services that will make your features work.
Email senders

SMS senders

Push-notifications

Chat-bots
Hidden cost #3: Infrastructure
The complexity of your project and the amount of data that the app will store and use can add up to infrastructure costs.
Servers

Data and images storage
Hidden cost #4: Marketing
Marketing is highly important, because without promotion it would be difficult for your target audience to get to know your product. This hidden cost has no ceiling — apps that you see on top of their categories are likely to spend hundreds of thousands of dollars on marketing.
Marketing campaigns

Collaborations with brands

App store optimization 
How to decrease your app development budget
We've answered the question of "How much does it cost to make an app?" Now let's discuss two things that can decrease your app development cost.
Option 1. Cross-platform mobile app development
We've already discussed that one of the important factors that influence the cost is the number of platforms you chose to cover. We've also analyzed how much does it cost to build an app on native iOS and Android platforms or on both simultaneously.
If you want to save time and money on mobile app development, go with the cross-platform option despite the cross-platform mobile app developers charging more. You will need only one cross-platform team instead of two native teams to release your mobile app on iOS and Android platforms.
Option 2. MVP development
MVP — Minimum Viable Product — a first version of your app. The MVP approach helps to pay more attention to the features that would distinguish your service from the competitors. How can it help decrease the cost to build an app?
MVP can help you gather valuable user feedback before spending the entire budget on a product that doesn't meet customer expectations.
Investors won't allocate funds on the idea alone. An MVP is a working app and its commercial potential can be seen and measured.
An entrepreneur is not a programmer. They can plan app functionality that is impossible to bring to life from the development perspective. MVP helps to test vital apps functions, its scalability and algorithm realization without large capital injection.
Check out our chef's food delivery app Talentum. We've used users' feedback on MVP to increase the credibility of the product by creating a feature that allowed users to chat with chefs and discuss their diet plan personally.
Wrapping Up
In this article we've shared a detailed mobile app development cost breakdown and highlighted industry insights on hidden costs and ways to decrease your budget. If you need help, use our calculator to estimate your project's MVP cost. Let's discuss, how much does app development cost! Fill the form below and we will contact you in 24 hours.