The generation of millennials has watched several financial crises around the world, and 2020 brought new challenges to experience. After witnessing their parents and grandparents losing all savings in a bank bubble burst, having a secure safety net has become a top priority. That's why a lot of youngsters rely on stocks and, being born with a smartphone in their hands, prefer to do it online through an app.
Millennials' response to the pandemic was to start micro-investing in stocks. According to statisticshttps://financialpost.com/investing/who-knew-fearless-millennials-are-cashing-in-on-stocks-as-frightened-boomers-cash-out, in March online investment service Wealthsimple saw an increase in users by 54%, most of them were aged 34 and below, while the stock trading app Robinhood reported to have the biggest number of deposits in the first three months of the year, with daily trades rocketing up 300% in contrast to the end of 2019. 
Stocks is a trending sector of mobile app development, and right now is the perfect time to jump on the market. This article details how to build a stock trading app without the headache, revealing all the secrets about competitors, monetization strategies, key features, and costs. Enjoy our guide! 
How do stock trading apps work?
To put it simply, a stock trading app is a user-end platform where stocks are being bought and sold. Users download an app to invest in stocks, both long- and short-term, and also, to track the market in a realtime on a smartphone. Brokers secure stock exchanges and make money out of trades. Usually, trading is divided into two types: traditional stock trading, when you buy a company's share, and cryptocurrency trading with Bitcoin, Ripple, Litecoin, and others.
Remember, that finances have a serious safety matter, and to run a stock trading app you have to obtain a license in all countries where you're planning to be represented.
Who else is on the market?
We have to be honest with you, the stock trading market is highly competitive, and in order to build a successful mobile platform, you need to know your competitors. Check our lowdown on the market.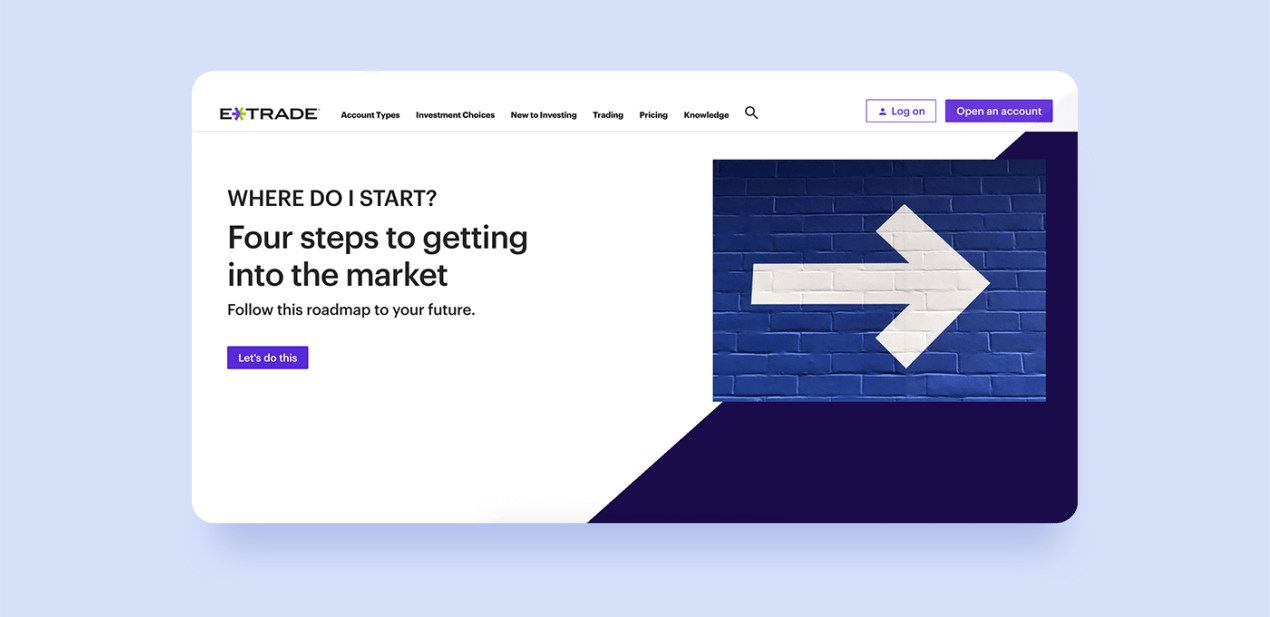 E*Trade
E*Trade is considered to be a founding father of brokers with its online presence. They offer two easy-to-use well-executed apps – E*Trade and the more advanced Power E*Trade, both developed for Android and iOS and allow users to easily manage their stocks, get real-time updates, reports and check the market news. E*Trade offers adjustable performance risk and no commission on stocks and EFTs (exchange-traded funds). Instead, they charge investors per contract, and the fee depends on how frequent you trade.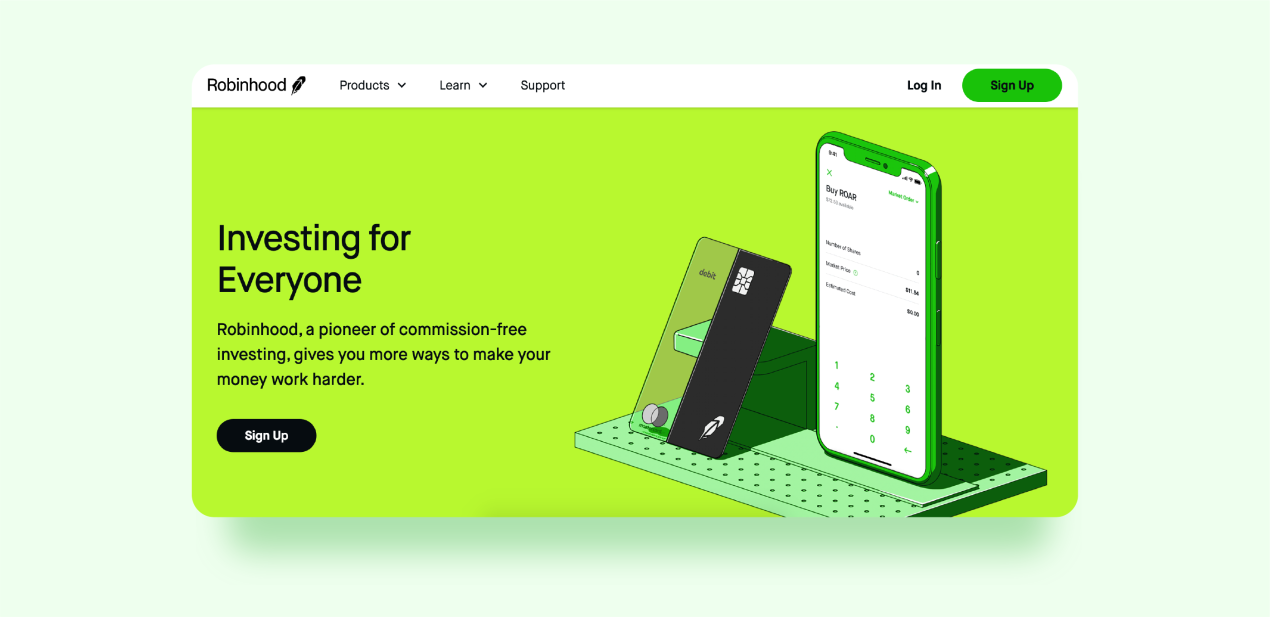 Robinhood
Robinhood is a relatively new company that was founded in 2013, 30 years after E-Trade. They also cover all stocks, options, ETFs, and cryptocurrency deals, but their main deal is no commission per trade. How do they make money then? Find the answer in the next section about monetization strategies. The platform is extremely versatile and tries to keep up with modern trends. For example, in 2019 they launched a follow-up Robinhood Snacks app with 'digestible financial news' and even their own podcast (!), that hit millions of downloads in the first 9 months.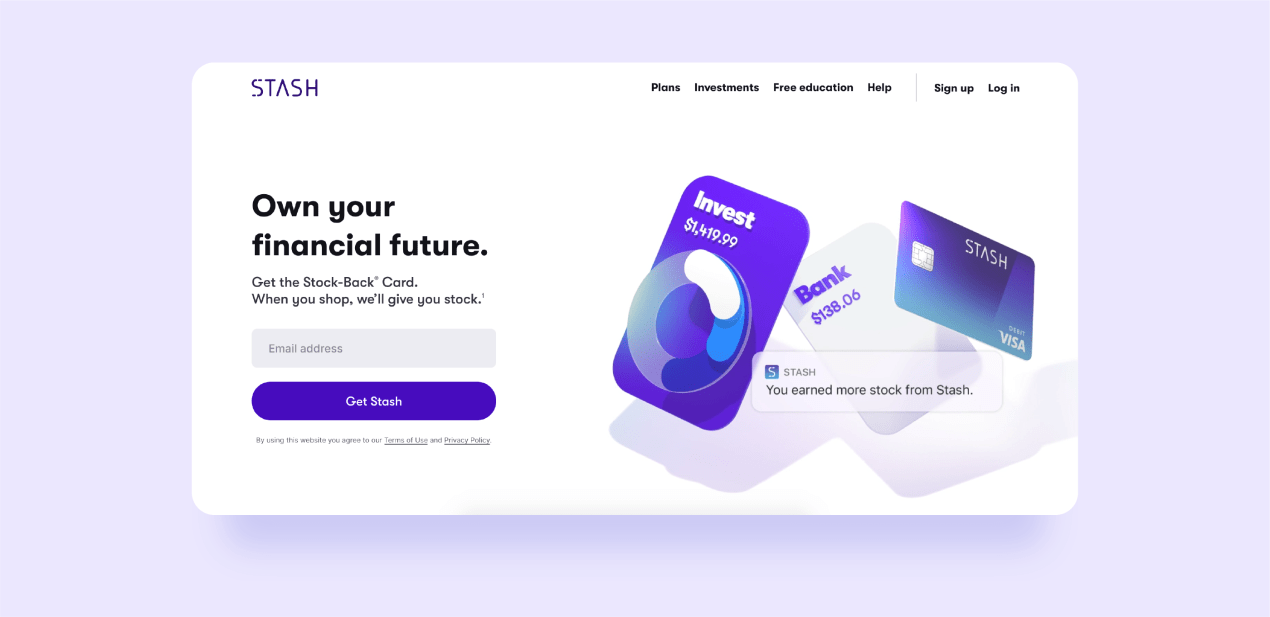 Stash
Stash is also loved because of its educational content, simple interface, and onboarding support – that's why it's considered to be a good option for beginners. To start, the app asks users questions about their goals and expectations to choose risks and the strategy for investments. The company provides stocks and ETFs trading, charging a monthly fee from $1 to $9, depending on your account plan.
How does a stock trading app make money?
Monetization strategy first, execution after. Before thinking about how to build a stock trading app, we recommend defining how you can make money from it and what your business model is going to be. There are numerous monetization options, and in the article, we review the most popular and effective ones:
Interest. For example, Robinhood collects interest from uninvested funds on customer's balance and gets heavily criticized because of that. Yes, users pay extra for it – it's like when a bank collects interest from your cash deposit on the amount you have.

Premium subscription. That's exactly how apps like Robinhood make money – they offer their users a Robinhood Gold account. For $2000 on your balance, you get access to extra stocks, margins, and extended hours of trading.

Fee per trade. Some apps charge a small fee per every transaction investor makes, it's also a strategy to go.
Key features for a stock trading app
When we are asked how to build a stock trading app, a questioner usually means how to pick the main features for an app interface. First of all, we recommend thinking about a customer and its journey through an app – where it is going to tap, scroll, or need help from your side.
Based on our experience, we created a list of must-have features for a stock trading app. Feel free to use them for your platform or just contact us directly if you want to get more insights about it.
Registration form
At the beginning of every stock trading app is a sign-in/login form. The general advice is just to make the page as simple as possible because no one wants to spend time filling all fields in. At the same time, you will be dealing with financial information, and privacy and data safety is very important. Think about an authorization process you want to implement – ID check, social media integration, or phone codes. Also, make sure you provide clear Terms and Conditions and explain that users' data is safe. Experienced UX designers will help you to make sure the page contains everything it needs and doesn't look overburdened. 
Onboarding
It is crucial to help users with orientation and explain how your app works. If you do it at the very beginning, you will prevent users from getting angry or upset, because they can't find a certain button.
Personal profile
Profile page should contain all necessary information about a user – a name, a photo, language preferences.
Dashboard
Dashboard should present the user's portfolio and contain information about the current balance and all stocks and options that a trader owns. This page will have lots of charts, numbers, and sections and constantly update data online, so work closely with your UX-designer to build a clear and easy-to-understand interface.
Trading functionality
This page should display real-time graphs about the market, company profiles, growth overview, and other elements that help users to make a decision to invest.
Payment options
To sell and buy stocks, an app also needs payment options. To build an app like Robinhood, we recommend considering a payment gateway integration to secure transactions and personal data.
Analytic reports
Let users track their own performance, see the stats and analytics. Some apps also send auto-generated reports every once in a while to keep users updated and engaged.
Also, here is a list of some nice-to-have features that will help your app to thrive:
Search engine;

Sorting and filtering tools;

Newsfeed, to keep up with what's going on the market;

Push-notifications when stock changes.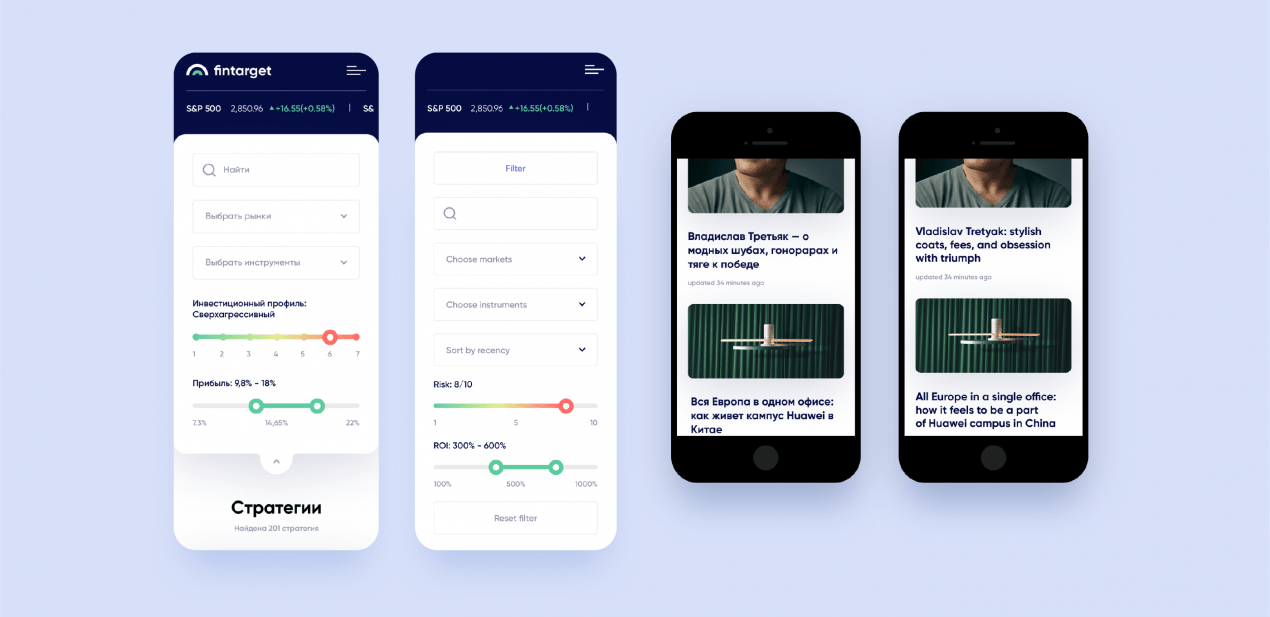 How much does it cost to create a stock trading app?
We have to be honest – if you have been thinking about how to build a stock trading app and make it successful, there is only one winning strategy – to be as user-friendly as possible. When it comes to such a difficult topic like finances, everything should be clear and straightforward – the simpler an interface is, the more people entrust in you and the more often they come back to the app to trade and exchange. That's why we recommend investing in UX/UI design and check the portfolio of our contractor beforehand. Just  Google the company name or check out the Dribble and Behance websites to see their previous works.
Also, we know that time of development is crucial for trending and dynamic markets like stock exchange apps. If you decide to spend more time on UX/UI design to execute the app perfectly, then the development should be reactive. Good news! We work with React Native and we know how to build a stock trading app in 6 months. The framework uses a shared codebase for different mobile platforms and allows us to build both Android and iOS apps with one code. It simplifies the development process, and there is no longer a need to hire two different teams and control two parallel developments. But don't be worried about the interface performance – React Native has a huge library of native UI-elements, that make interfaces scroll, swipe, and act like native ones. 
React Native not just saves a lot of time and money for clients, but it also allows the possibility to focus on UX/UI design, while JavaScript bridge does its work.
Well, but how much does it cost to create an app like Robinhood? Let's do math now!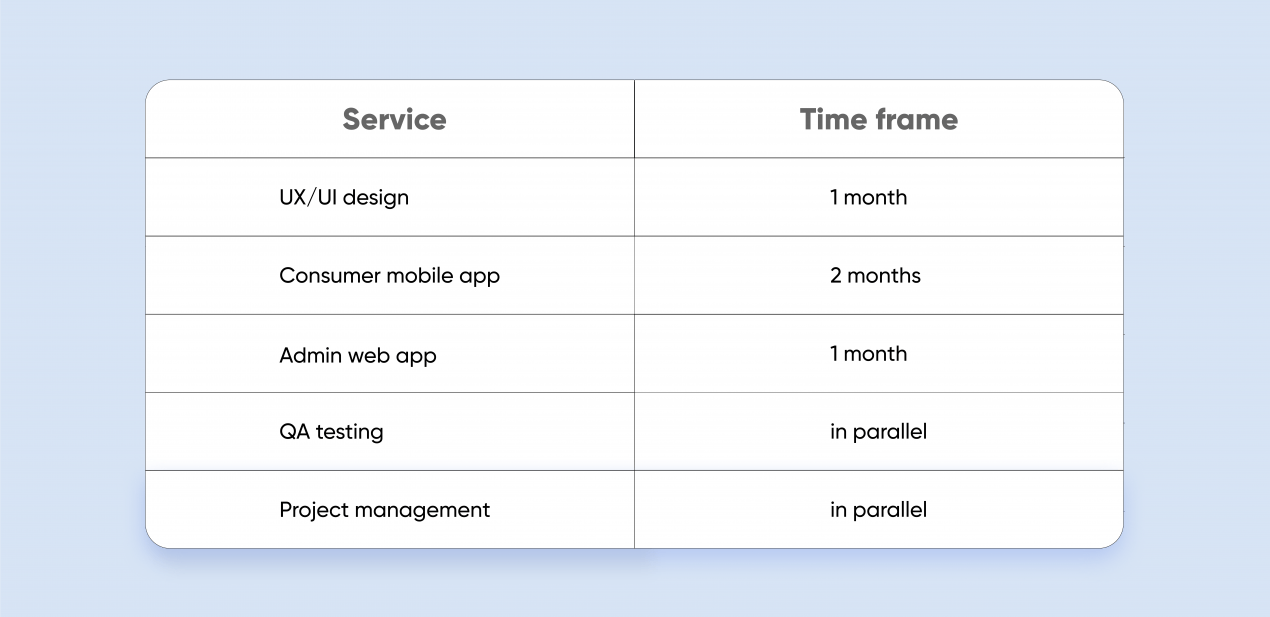 Key in your e-mail address to get a full breakdown of the estimation with all details
Thank you! You will be contacted soon!
Overall, the team of 6 people will work on your trading platform. According to similar projects we have made, the estimated cost of development is from $75,000 to $85,000 for a full cycle of development, including UI/UX design, building a prototype, testing, creating iOS and Android versions, and even more. As a bonus – we will answer all your questions on how to build a stock trading app and share with you tips and secrets about successful execution.