Let me guess, the chances that you have ordered food this week are very high, right? Nowadays our everyday life has completely moved online, including provision of food. According to statistics, before quarantine 60% of American adults got their meals delivered or have ordered a take-out at least once a week.
Since the pandemic has happened and restaurants and coffee shops closed, these numbers skyrocketed. Also, the number of restaurants using delivery services jumped 169% during the first 3 months of 2020. Now experts say the food delivery market grows by 300% faster than the dine-in sector. And it seems like a perfect time for mobile app development of your own app.
The food delivery app market is not only extremely dynamic and fast-growing but also very broad. As they say, there is room for everyone. The marketplace is certainly not monopolistic –  only in the U.S., there are 5 major players that have divided the market between each other – UberEats, DoorDash, Caviar, Grubhub, and Postmates. In the U.K. there are also Just Eat and Deliveroo, while in China, which has the largest food delivery services market in the world, the most used app is Meituan.
So, if you have thought about creating your own food delivery service, it is the perfect time to start executing your ideas. But don't jump in right away – we know, when people want to create a delivery app, they face a lot of obstacles, like what features to pick, how to find a trustworthy contractor, and how to monetize the idea and etc.
Here at Purrweb, we have created the ultimate step-by-step instructions on how to build a delivery app. Wearing our hearts on our sleeves, we have revealed all secrets about costs, timeframes, and key features for a successful app. Enjoy!
Firstly, how does a delivery app work?
Food delivery services are a mediator between a hungry customer and a restaurant. Here is the scheme of how it works.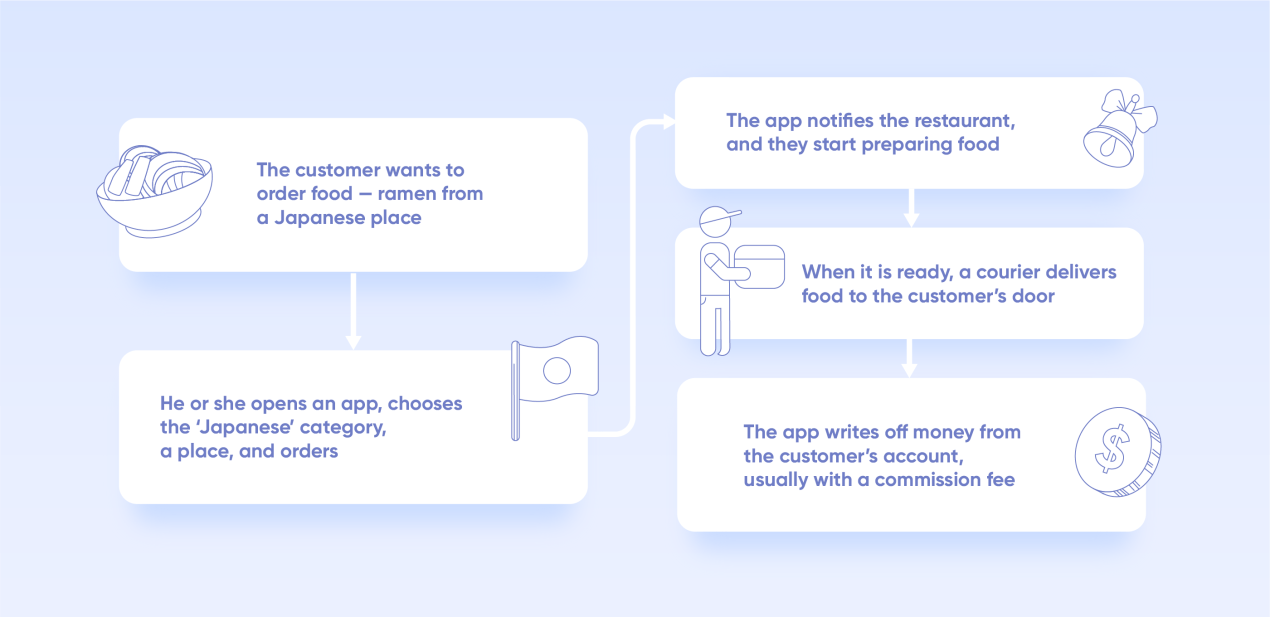 Some big food corporations, like McDonald's or KFC, also built their own delivery apps that work with their restaurants only. It might be useful when a customer precisely knows what and from where it wants, but having a wide choice of restaurants is much more interesting, right?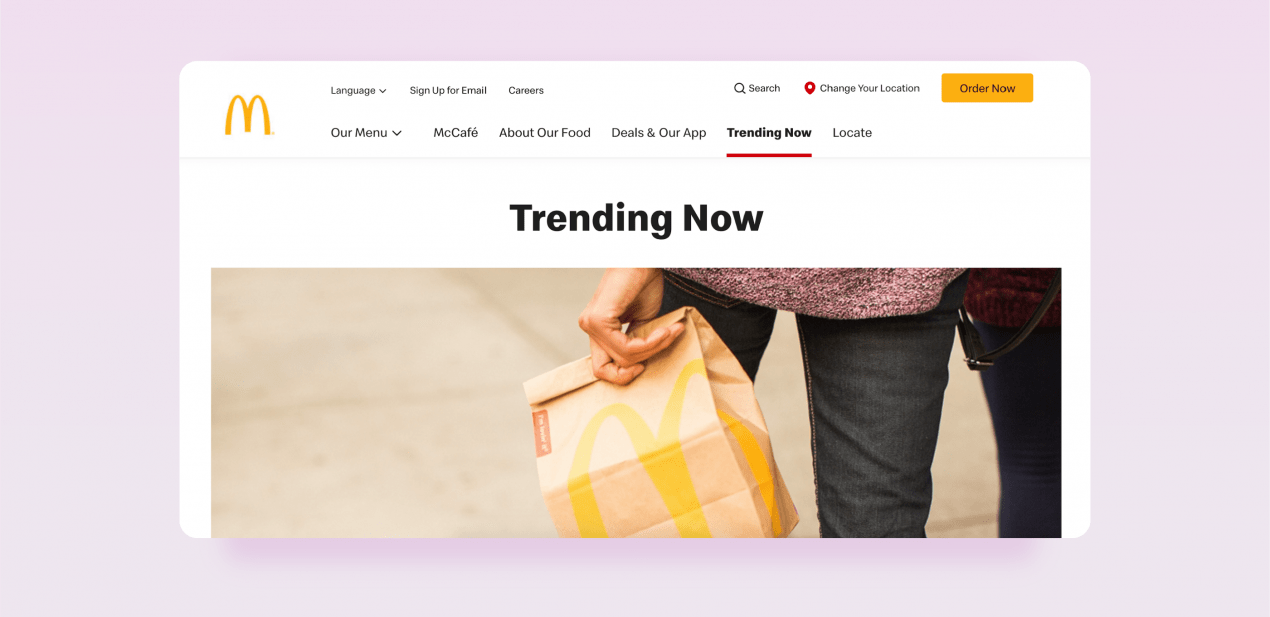 How to build a delivery app that makes money?
Let's talk about money now. The delivery business is profitable and fast-growing. If you don't believe us, just look at the numbers: UberEats' revenue in Q2 of 2020 surpassed $1.2 billion, while Just Eat's Revenue grew by 44% to €1 billion in the first six months of 2020, compared with €715 million in the first half of 2019, processing 257 million orders since January.  There are a few monetization options that are used by major companies, as well as small delivery food services. Here we list the 3 most popular models:
Commission fee.

Often apps charge restaurants a percentage for connecting them to customers who are craving for food. For example, UberEats receives up to a 30% commission fee from each order and restricts eateries from increasing their prices to cover these costs. Expensive commission can be fatal to small local restaurants, and to prevent them from running away from you, we advise considering all parties' interests, come up with a reasonable fee and look at other sources of income for a delivery app.

Delivery fee.

In contrast to the previous option, here customers pay for getting their meals delivered to their front door. Often apps charge a small fee – from $0.99, like UberEats, to even 30%  of the order price like Swiggy. Some services use flat rates, while others generate a fee depending on how far away you are from a restaurant and what your total is. Despite the stability of this type of income, it is difficult to build a fortune on this model alone. We recommend thinking about implementing a mix of different options that work best for you.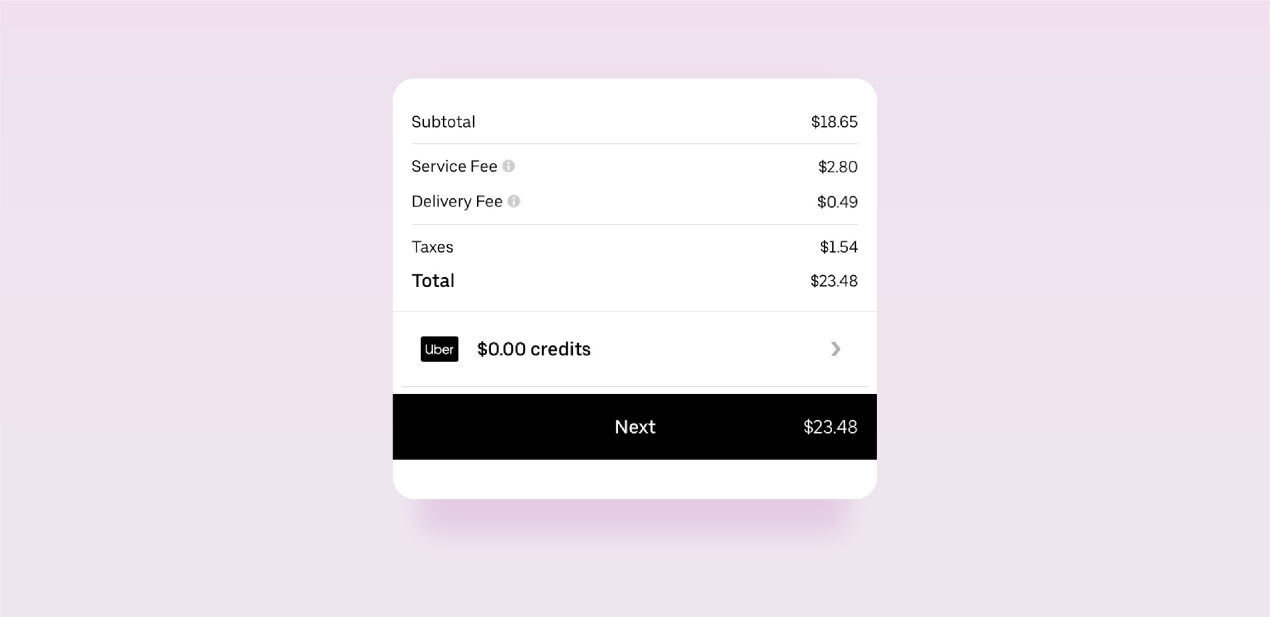 Ads (or marketing fees) is another way for delivery apps to make money. You have probably thought about annoying pop-up windows suggesting you buy something unrelated to food. Absolutely not! More than often, delivery services partner with restaurants to promote them to the top of the list or to advertise them on the main page.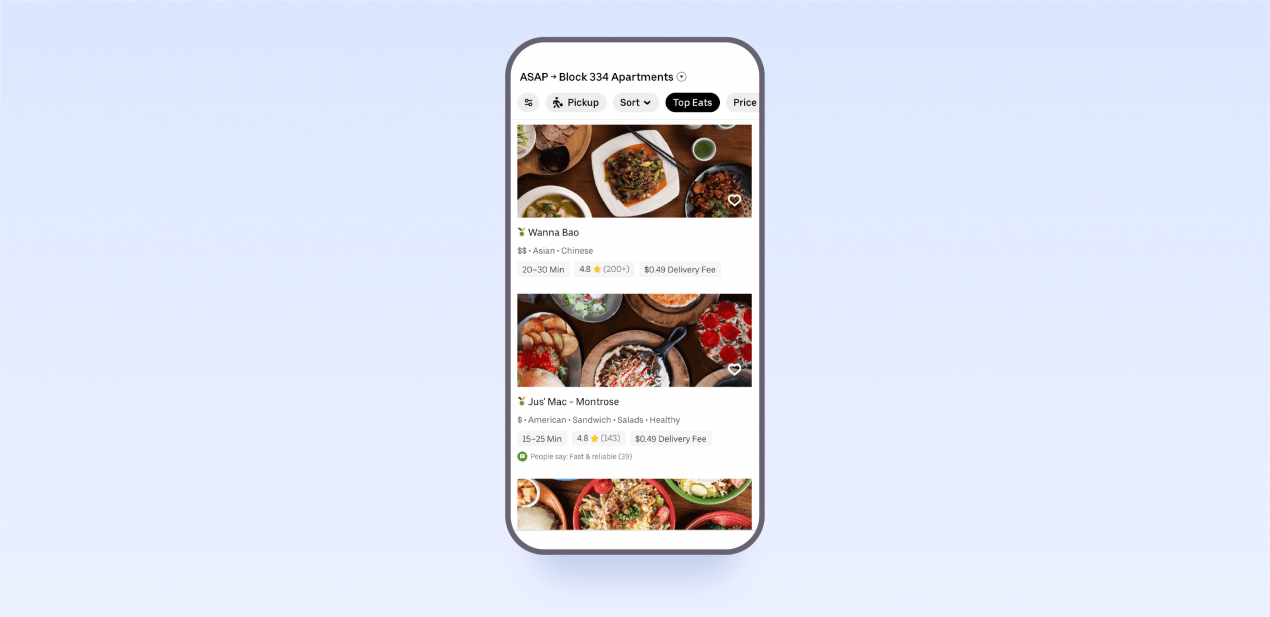 Passes.

The new features have been recently implemented by major players like Uber and DoorDash. Now apps offer monthly passes for a small fee and with benefits, such as free delivery or extra discount.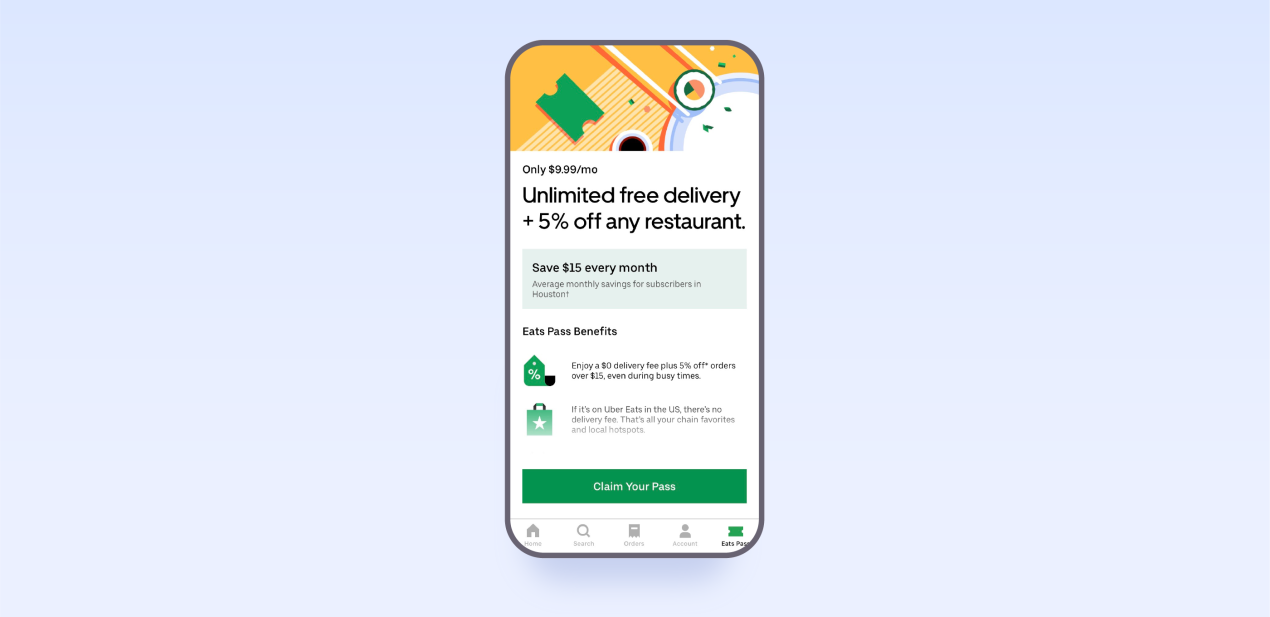 Here is our advice, if you have been wondering how to build a delivery app and make it successful, the key is not to stick to one source of income and mix multiple monetization strategies.
Key features for a delivery app
When you are about to choose the main features for your app, the first thing to do is to define a business model, target audience, and their needs. To help you we created a list of questions you should answer prior start of execution:
How are you going to partner with restaurants?

Will you include grocery stores too?

Will you hire couriers, use a outsource delivery company, or restaurants' drivers?
After you discuss it with your team, it is time to start working on the first version of your delivery app. The majority of services separate apps for customers, restaurants, and couriers for both iOS and Android. But don't be too scared of the number of apps! The good news, we work with ReactNative – the framework that allows us to develop a delivery app really quickly and to use one JavaScript code and one team for both iOS and Android systems. Instead of 6 different apps, we could develop just 3, or even one with different interfaces. We always thoroughly discuss it with clients and find the solution, which is comfortable for all parties. Based on our previous experience, we gathered key features that are crucial for each side's delivery app.
Customer's app
Sign up / Sign in page.

How to build a delivery app

without the registration form? Of course, it's impossible. Just make sure you don't make it too long – users don't want to spend more than 3 minutes filling it in.

Eateries catalog

with search bar, filters, and rating.

Payment settings

with credit/debit card integration, as well as ApplePay, GooglePay, cash.

Delivery location

, that allows you to choose a destination by placing a pin on a map or type the address.

Chat

with a driver or customer support to specify delivery instructions or discuss last-minute updates.

Push-notifications

to keep customers updated where their order is and share promo codes to increase the retention rate.

Order history.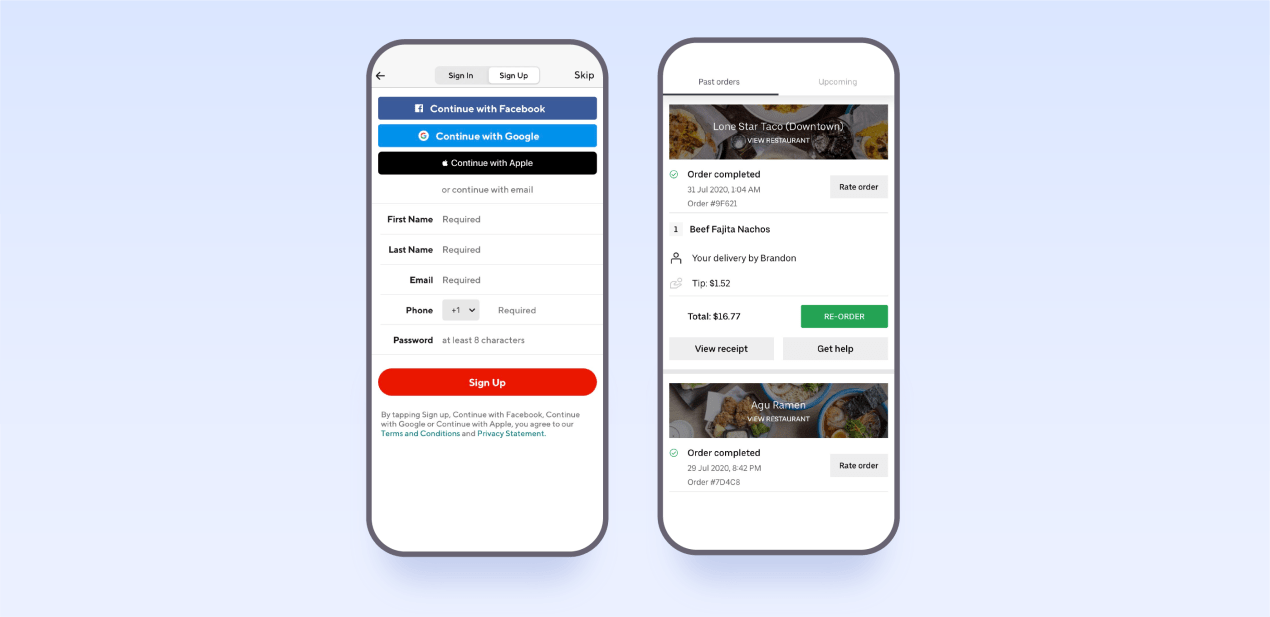 Courier's app
Registration form

(again!).

Actual order base

, where they can book a delivery to do.

Delivery status

of an order, for example, ready for pick-up at the restaurants, on the way, delivered.

Order history to see completed orders and payments.
Restaurant app
Administrative panel

to manage orders.

Push-notifications

to inform couriers when the order is ready for pick up

.
Payment menu

to generate invoices in the app and send them to customers.
How much does it cost to create a delivery app like Grubhub or UberEats?
If you reach this part of the article, then we definitely convinced you that the delivery app market is trending and growing fast. Naturally, after you define a business model, monetization strategy, and main feature, the question about costs is raising. We try to make the process for our clients as transparent as possible, and we always openly discuss all financial and time matters. 
We know how to build a delivery app quickly – for the Purrweb team average delivery app development time is 6,5 months. Let's do math now!
When you create a delivery app with us, you pay for:
UI/UX design

, including all the elements your app needs – restaurant's profile pages, reviews, order history and etc.

Frontend development

. Using React Native, allows us to build both iOS and Android apps with one code and one team, and helps you to cover a larger market by creating two apps for different mobile platforms.

Backend API development

.

Project management

.

QA Testing.
Overall, the team of 7 people will work on your food delivery app. Here is the timeline with prices: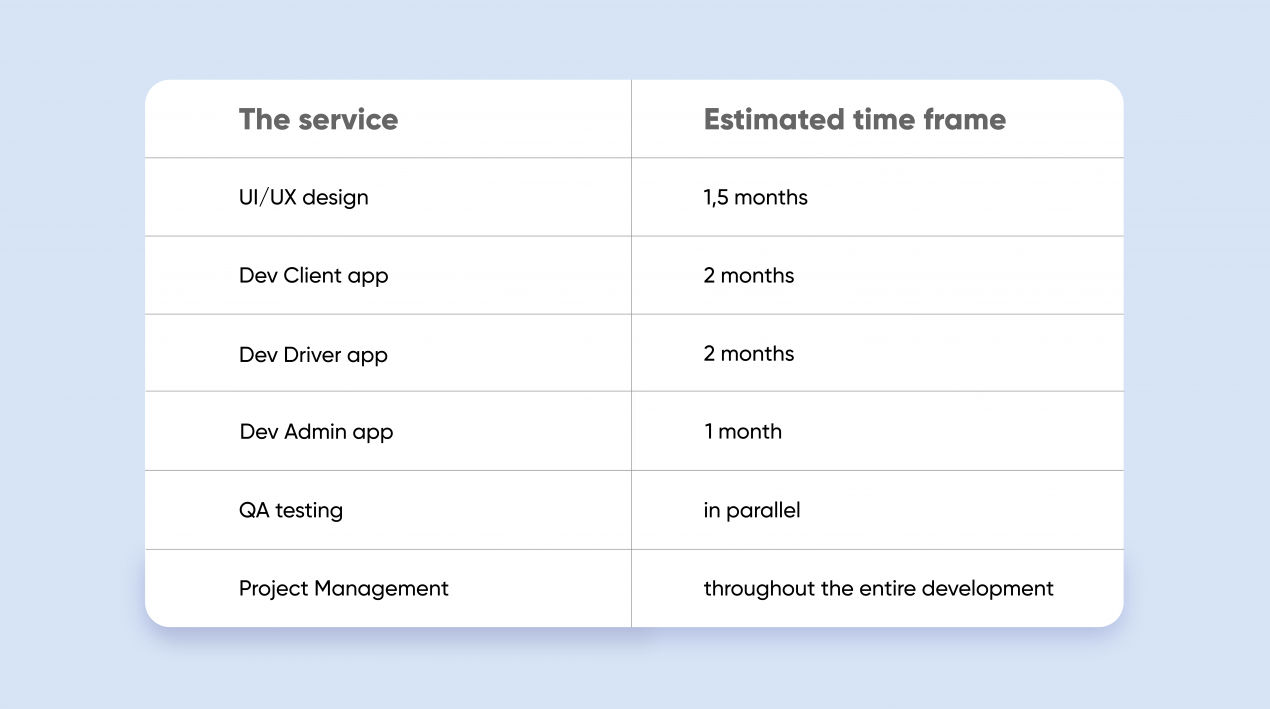 Get free project estimation in 48 hours
300+
startups trusted us since 2014
55+
reviews from happy clients
Book a meeting
According to similar projects we have made, the estimated cost of a delivery app is from $80,000 to $100,000 for a full cycle of development, including UI/UX design, creating iOS and Android versions, and QA testing.
Where to find a trustworthy contractor?
The question is not just 'How to build a delivery app', but also 'Who can execute the app?'. If you decide to develop an on-demand delivery app, an experienced contractor can significantly facilitate the process and offer you the best solutions on the market. We know that finding reliable and trustworthy outsourcers can be a headache for a startup. But at least, you can do these 3 small things to protect yourself before entrusting your idea.
Perform a background check

. First of all, Google a company name and check out their website and client reviews. Then visit platforms like Behance and Dribbble and thoroughly study their design works. Companies who value their reputation care about their online presence and showcase what they can. At Purrweb we even run the

blog

in order to share your knowledge and help you learn about the experience we have in full-cycle app development. 

Think about time.

We strongly advise choosing someone who works with React Native and values your time and money. The framework allows us to create two different apps with one code, while native UI-elements will make them perform like solutions built with Swift and Java. Our experience says if you want to test a business idea, React Native is the perfect solution that saves time and your budget. At Purrweb, the average time required to develop a fully-functional React Native app from scratch is 3 months. Once it's done, go share the product with users and get initial feedback or present it to investors and get financial support. 

Trust your guts. After you read a company's blog and check the projects they've already delivered, listen to your inner voice. If something confuses you about a developer – it's better to keep looking until it clicks.
Get free project estimation in 48 hours
300+
startups trusted us since 2014
55+
reviews from happy clients
Book a meeting
Let's reinforce the main points!
In 2020 food delivery services processed billions of orders on a daily basis. When the pandemic closed all eateries, food delivery has become not only comforting but also necessary. The market expands fast, and if you have thought about executing your own delivery app, it is the right time to start.
We are often asked how to build a delivery app and where to start? The marketplace is big enough for everyone, and before you start, we recommend defining your niche, business model, and target audience. It is also important to think about how you are doing to make money – implementing commission fees, delivery fees, advertisements, all together, or maybe you come up with something absolutely new and creative?
We will help you to execute the ideas and figure out key elements. Remember, that most services separate apps for customers, restaurants, and couriers for both iOS and Android. But you don't have to pay for all 6 apps – React Native uses a shared codebase and allows us to build apps for two mobile platforms at the same time. Also, feel free to use our list of key features your app needs, or just ask us about specific details for your upcoming project.
We know how to create a delivery app in 6,5 months, and we will be happy to help you with the execution. With Purrweb the development will cost you around $85,000.