Key takeaways
In 2021, global investments in startups amounted to an impressive $671 billion — double from the previous year
Main types of investors are: startup accelerator, angel investor, and venture capital fund
There are six stages of startup development: pre-seed, seed, startup, growth, expansion and exit. The chances to get investments increase at the seed stage
Startups that minimize technical, market, and human-related risks are more likely to win over investors
What lures investors to startups
In 2021, global investments in startups amounted to an impressive $671 billion — two times more than in the previous year. But what encouraged venture investment? The reasons trace back to 2020:
low returns on traditional investments (such as deposits and bonds); 

the explosive growth of online businesses in response to the pandemic challenges;

the growing interest in high-tech investments.
Unlike traditional instruments, investing in a startup business carries additional risks, but also promises extra profits.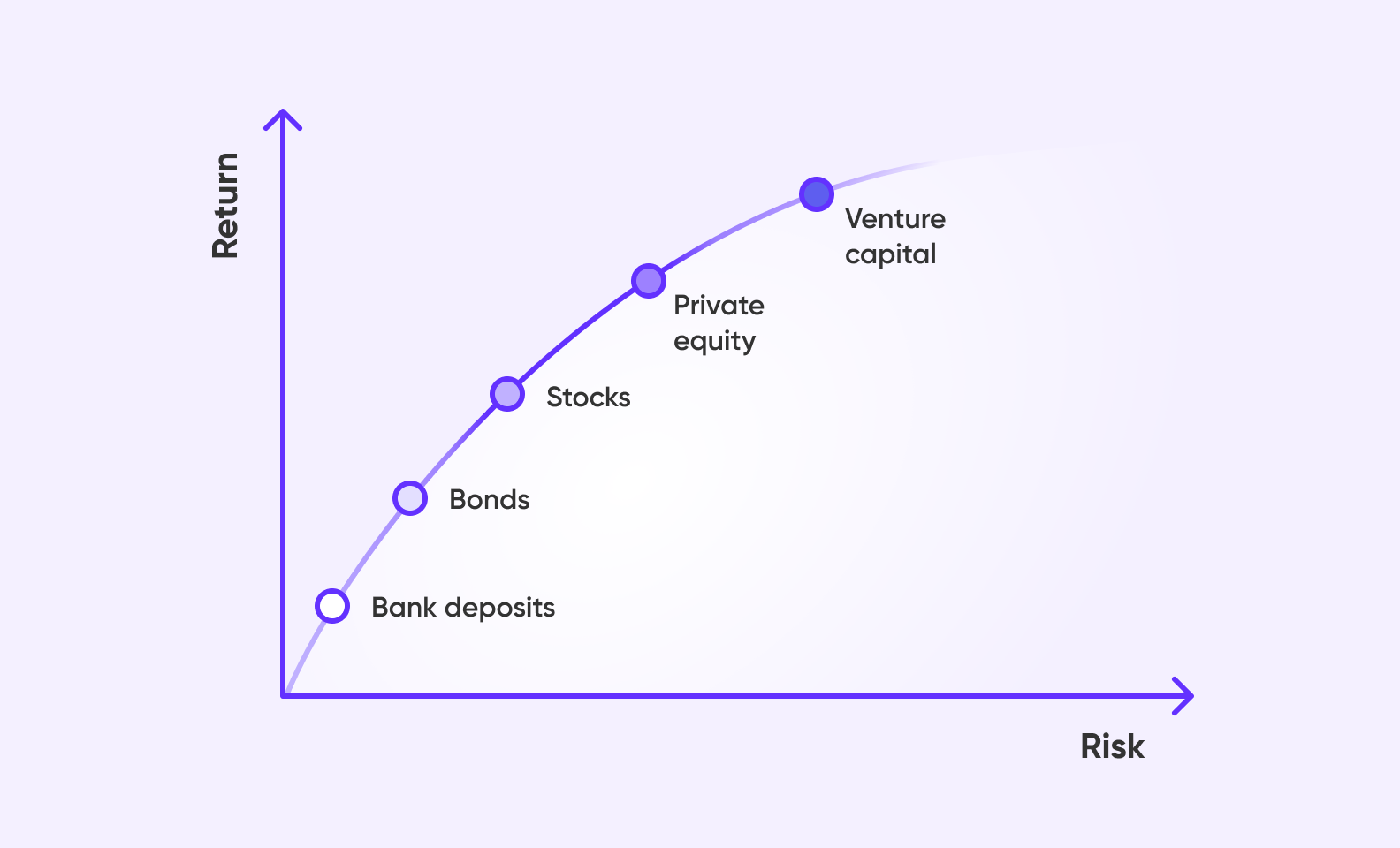 The higher the risk, the higher the potential return
Investors can put their money into an early-stage small business and profitably sell their shares after a few years of growth.
Why is it hard for startups to raise money?
Despite the nice numbers, startups struggle to attract funding. Investing in a startup is a risky business because according to various estimates, from 50% to 90% of all new companies fail. And only 1% will be lucky enough to become the next Tinder or Airbnb.
Investors usually pay attention to the following risks:
Product or technical risk

— the risk that something will go wrong with the product, or the idea will not be feasible at all. 

Market risk

— risk driven by competition and demand, the viability of the product and business model in real market conditions.

Human risk factor

— potential losses related to the hiring process and management mistakes. 
Also, most startups cannot show any tangible results at the earliest stage: an idea is all they have, and it can be too vague for investors to understand. This is another reason why it's so difficult to get funding. Not everyone would agree to buy a "pig in a poke" from a hardly known small business.
The reasons you should get funding
Before we move on to how to find investors, let's see why you'd want to find them. In theory, you can build a startup without any external funding. But is it worth it? After all, a lack of capital is one of the most common reasons small businesses fail. On the other hand, investment opens a lot of important doors to startups.
There are four essential benefits from external investments:
Solid project base

Hiring exceptional talent and conducting extensive research is expensive. More funding from the start means more chances to develop your idea into a successful project. 

Higher speed to market

Additional capital allows you to develop your product faster and increase marketing and sales efforts.

Extra PR

If you attract an investor with a big name, it may get

your business

more media attention. Also, it would make it easier to find more funding in the future.

Additional value

Investors

can offer more than just money. Since your success will be their success, they may share some valuable knowledge and connections.
At what stage can startup qualify for funding
A startup can get investments at any stage. But it helps to know exactly where you are: this way you'd be able to understand your own needs, associated risks, and what type of investor might be interested in your business.
There are six stages of startup development: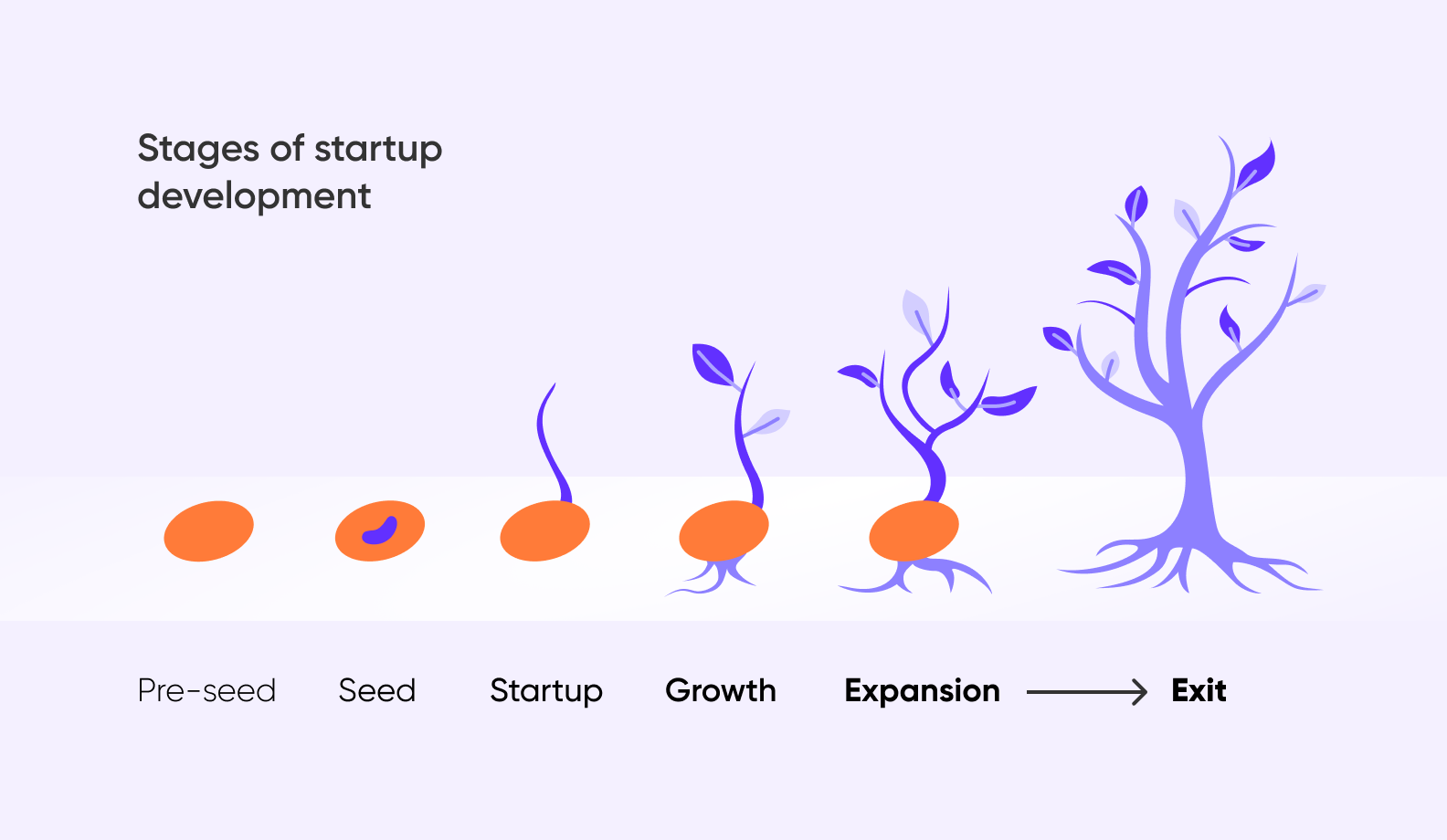 Pre-seed is where the founders have nothing but an idea. The first profit appears at the startup stage, and the exit stage owes its name to investors who take profits by selling their shares in the company.
We will focus on these first three stages: it is here that most new businesses cease to exist, but the potential return on investment is higher.
Stages
Key characteristics
Types of investors

🕳 Pre-seed

Startups require funding to test the hypotheses about the product, to develop and test the MVP.

No income and almost no expenses.

Most funding comes from the founders, their friends, and their relatives.

In rare cases, it is possible to receive money from

Business incubators

Government grants and subsidies

Startup

accelerators

Angel

investors

🥜 Seed

Startups require funding to turn an idea into a functioning business.

No income, expenses are growing.

Startup

accelerators

Angel

investors

Seed venture funds

🌱

Startup

Product launch and the first sales.

Startups require funding for further product development and business growth. 

Expenses are piling up, first income is coming in.

Angel

investors

Super angels

Venture capitalists
It makes sense that the longer a startup exists and the more founders develop the idea, the higher the chances of attracting private investors. At the pre-seed stage, this is unlikely but possible. The chances increase at the seed stage, once MVP is ready — the founders can now turn to startup accelerators and angel investors. At the third stage, venture funds come into play.
What to know about different types of investors
There are two main differences between types of investors: the amount of money they want to invest and the forms of additional support. We'll briefly describe the major ones:
Startup accelerator

. It's a

startup

support program where founders can apply for pre-seed and seed

investment

and receive training or mentoring. There's a standard screening process and a fixed sum of money for each participant.

Angel investor.

A businessman, who invests their own private capital in exchange for ownership equity.

Angel

investors

usually choose industries that they know and, therefore, can share their experience or business connections.

Venture capital fund. A company that manages the funds of other organizations (pension funds, corporations, banks) and wealthy private investors. Venture funds take interest in fast-growing startups that are past the seed stage.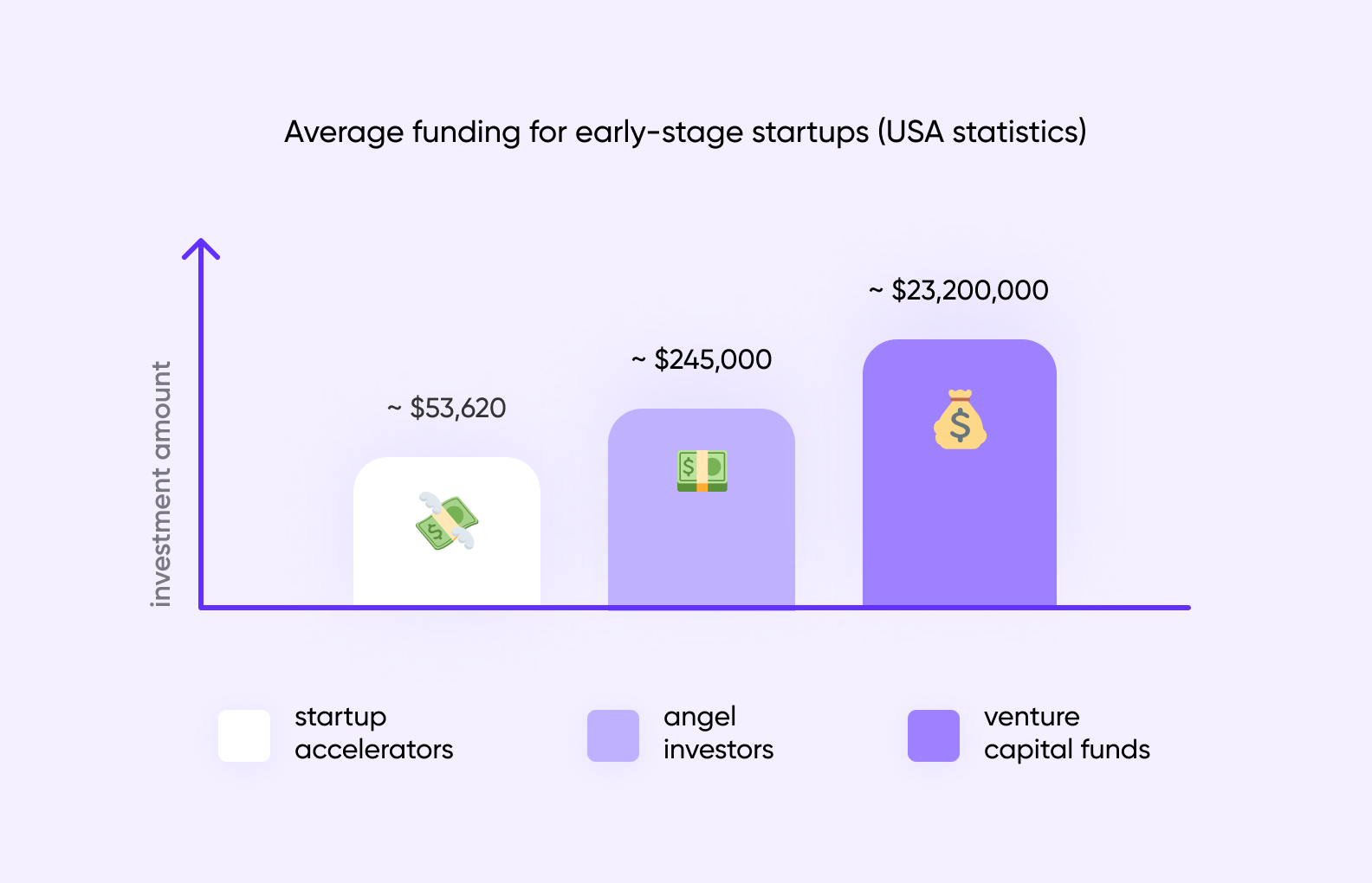 Average funding for early-stage startups (USA statistics)
So-called super angels are similar to venture capitalists: even though they are private individuals, they invest third-party capital.
There's also a special type of fund — a seed venture fund. As the name implies, such funds focus on the seed stage.
As you can see, you definitely can get funding for your startup even at the early stages. However, the competition there is huge. If you want to succeed, you need to prove to the investors that you are aware of the existing risks and have ways to minimize them.
How to lower risks for your business in the early stages?
Startups can help themselves and their potential investors to evaluate and mitigate some associated risks.
Minimize product risks
You should start with developing a minimum viable product (MVP) or a design prototype. A startup that has an MVP is no longer just an idea in someone's head. With a visual representation of the product, you are more likely to convince the investor. You can read more about MVP benefits in our article.
Along with MVP, you should choose your monetization model. It will allow you to start making money sooner.
Estimate market risks
The best way to work around market risks is to conduct market research. There are two options, and we recommend using both if possible:
Preliminary research

. Even before you get to

developing an MVP

, you should analyze your competitors and make a portrait of the potential users. This will help to settle the features required in the app's first version.
We already have an article on the importance of preliminary research. Click on the link below to read about its main stages and most common tools.
Beta testing

. Testing an MVP with real users allows you to improve the app before its official release. Moreover, they can become your first actual customers, and "live" applications are more attractive for

investors

.
Build a strong team
It is important to show investors that you have a strong and reliable management team., for instance, CEO, CTO, and COO. It would be nice if they had entrepreneurial and industry experience.
Also, it won't hurt to have a clear business model, established internal regulations, and corporate procedures in place.
Start shaping your image and reputation
Closer to the startup phase, ensure some media coverage of your project. If people are talking about your company, it is a good sign for investors. This means that potential users already care about you, and there is a high chance that they will buy your product in the future.
Where to find an investor?
You may find investors for your startup through word of mouth, direct emailing, or intermediaries. But investors don't just sit and wait — they are looking for potential startups themselves. So it only makes sense to try and get under the spotlight.
Events for startups
Various online and offline events are held around the world every month: conferences, hackathons, meetups, forums. This is a great opportunity to meet potential clients, partners, and investors, find some support and receive an expert review of your idea.
Pitching sessions
This is a special event where startups and investors come together. Entrepreneurs take turns presenting their projects, and investors contact some of them later. Quite a lot of pitching sessions take place every year — both local and global. 
You can start your research on pitching sessions from:
enormous worldwide events like

Get in the Ring

or

Startup World Cup

renowned European-based pitch competitions like

SevenVentures Pitch Day

events for US startups like

SXSW Pitch

or

U.Pitch
Startup accelerators
A startup accelerator is not only a source of funding but also a whole program where you can learn from experienced mentors.
Accelerator Examples
USA 🏈
Europe 🥐
Asia 🐉

– Y Combinator

– 500 Startups

– TechStars

– AngelPad

– H-FARM (Italy)

– Station F (France)

– Founders Factory (UK)

– Startup Lab (Norway)

– SparkLabs (Korea)

– HAX (China)

– Entrepreneur First (Singapore)

– Open Network Lab (Japan)
Most accelerators hold only 1-2 programs per year, but that gives you plenty of time to get ready.
Your checklist for getting investment-ready
Finding investors for your startup is a lot of work. Of course, each of them may have its own unique requirements. But we can highlight a few baseline criteria that your business should meet in order to qualify for investment at one stage or another.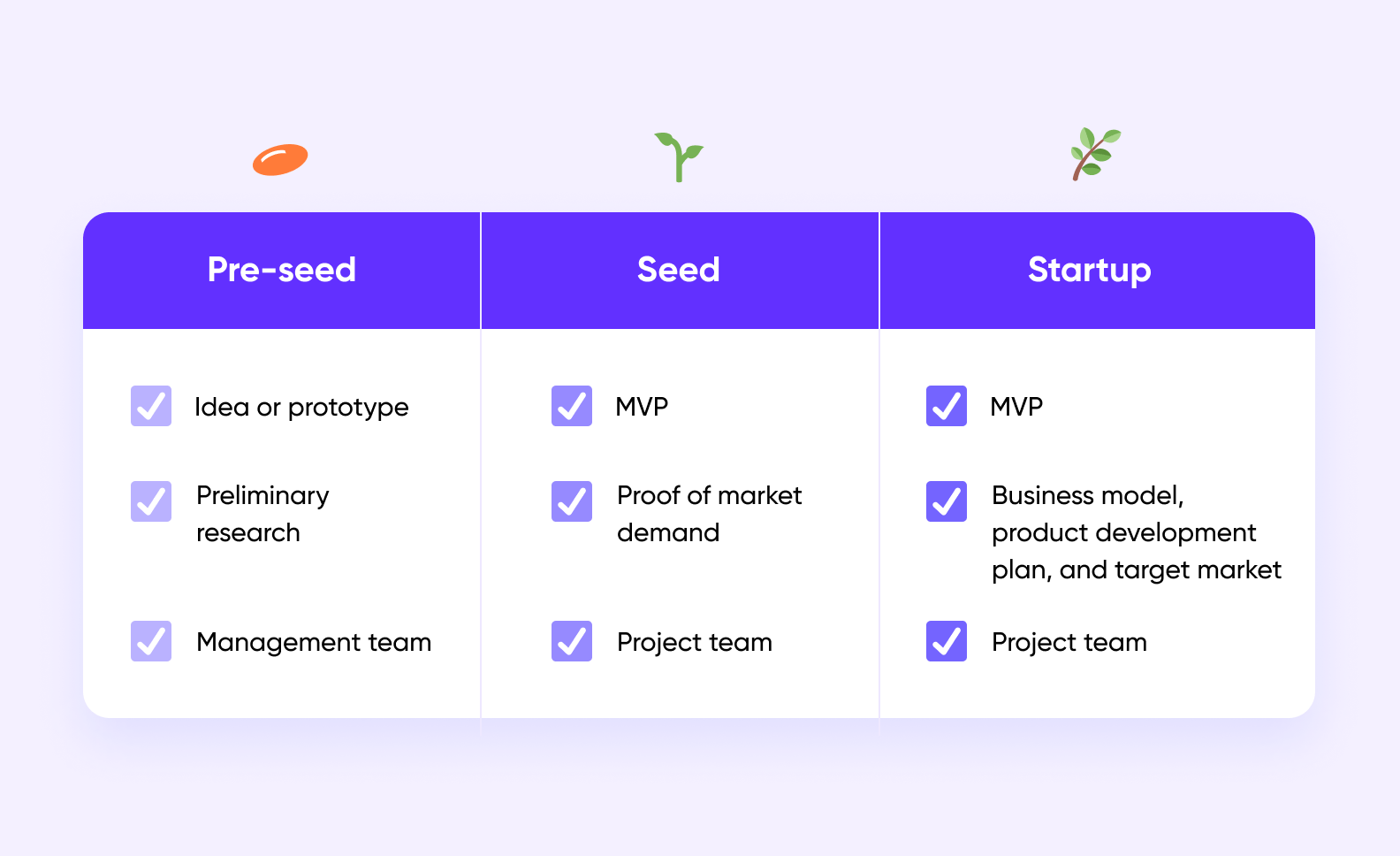 We hope that our checklist will help you while preparing for investor meetings. And a well-designed MVP is a recipe for a stellar project pitch. At Purrweb, we've been helping startups to build the first versions of their apps for 7 years. So, you have an idea? Fill in the form below, and our manager will be in touch!