Key takeaways
Market research reveals the strengths and weaknesses of your project and it's essential for successful investor pitching
It saves your time and money, helps with choosing the promotion approach, and may even tell that your startup needs to pivot
Market research can be primary, which uses data directly from your target audience, and secondary, which uses existing data from reports
Market research is typically done before developing an app, but it can be conducted even after launch.
What is market research in the realm of startups?
Market research is a manner of exploring and evaluating the market your startup is planning to join beforehand. Sufficient market research brings a vision of your project's perspectives, strong suits, and weaknesses. Supporting your decisions with market research is essential to a successful investor pitch and subsequent launch.
Conducting market research you'll use data to: 
Examine trends in the market and in the industry.

Will you gain desired revenue after investing in the industry? How big or small is your market? What segment is it possible to occupy? 

Review market dynamics and carefully time your startup's arrival accordingly.

Are there promising trends or technologies? Maybe there are major changes in the overall approach in the market? How do you turn them to your advantage?

Find your target audience and study their buying behavior.

Are there enough clients for

your product or service

? What's their age, location, etc.? What economic capabilities do they have? 

Identify and examine direct and indirect competitors of your startup.

How many are there? What market strategies and price points do they have? How much money and effort will it require to rise above the competition?

Test the demand for your product or service.

Do people like your offer? Will they buy it?
It's also necessary that market research precedes a mobile app business plan.
What's the significance of market research for a startup?
Market research serves a dual purpose. It allows you to dodge mistakes while ensuring a successful outset of your project. 
Market research
is like a trampoline and a safety net in one.
Market research is a critically significant business instrument. As such it has several benefits. To begin with, it will preserve your time and money. Market research eases the process of finding the product-market fit and ensures that a business idea is feasible. Between the most frequent reasons why startups fail is a lack of demand. Gathering data in advance will stop you from pursuing a shaky idea.
Market research attracts investors as well. Supporting your startup project with data will help them decide in your favor. Market research will demonstrate that your business idea has potential. And it indicates that your entire approach is serious and thorough.
Market research can show that strategic changes are necessary.  It means your findings may suggest your startup needs to pivot. Let's say your concept is a groceries delivery startup. But before exploring this concept in full, you commit to surveying your audience. Maybe the market research shows that your future consumers are satisfied with what already exists. But their aching problem is regular hygiene products delivery, especially for their babies. Taking the information into account, you can decide to scrap the initial project and pivot to a discovered direction. That's how market research for a startup prevents judgment errors and dead-ends.
Finally, market research affects the promotion approach. Understanding your target market and clients well enough, you're able to adjust the marketing strategy. Maybe you'll discover that your potential buyers predominantly drive. Market research showed they also live in megapolises with busy traffic. Combining these two factors, your marketing team may opt for billboards.    
What types of market research for startups there are?
Typically, you can do two types of market research for a startup, depending on how you gather data. If the information comes directly from your audience and you collect it on your own — it's considered primary market research. This includes surveys and expert interviews. If you analyze already available data provided in reports or elsewhere, it's considered secondary market research. One example of this is public databases. 
Let's explore primary and secondary research in detail.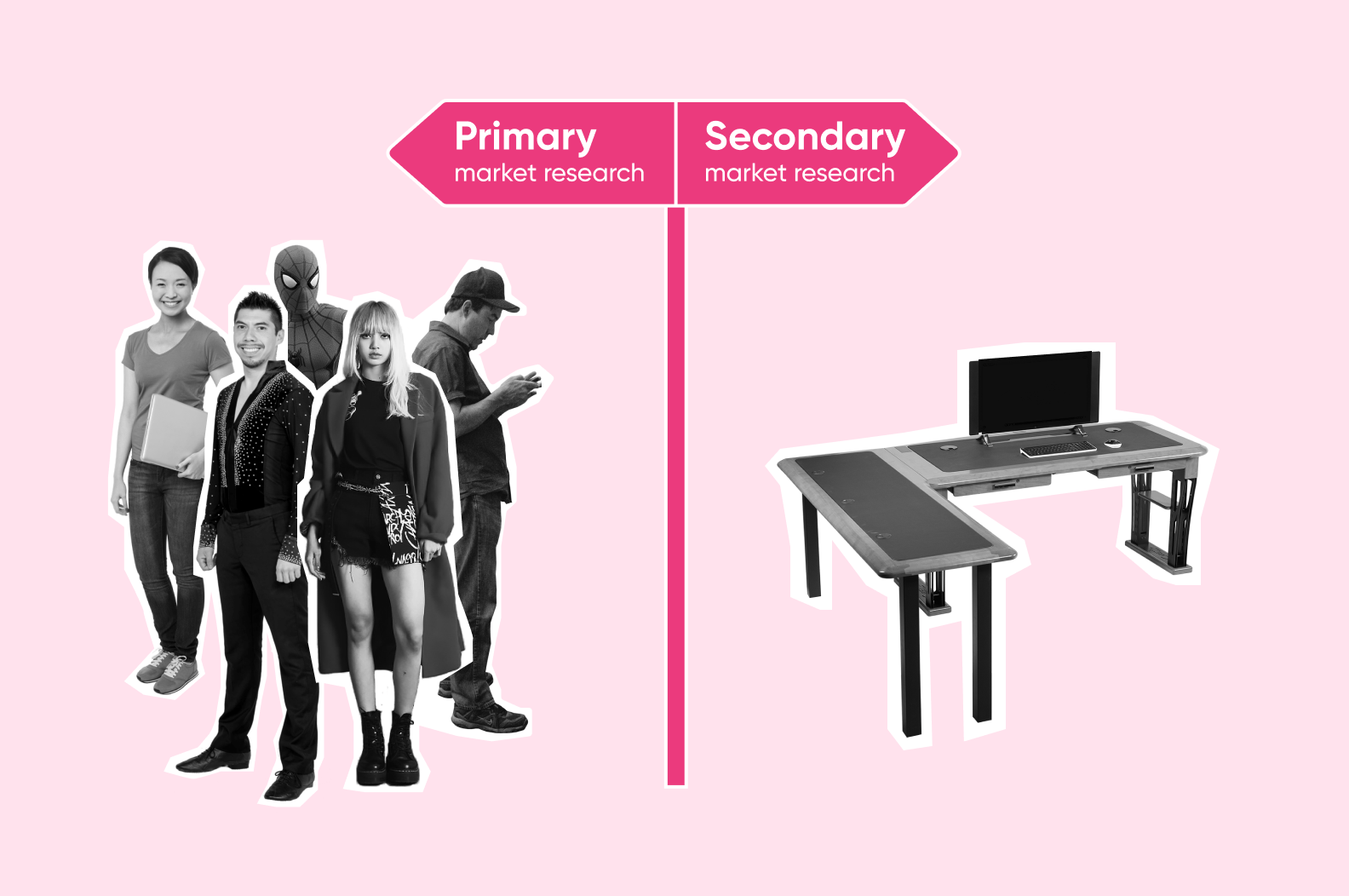 Primary market research
Primary market research's different name is 'field research', since you speak to someone directly. You should find industry experts and regular users, prepare questionnaires and interpret and parse data afterwards. And even with professionals' service, primary market research demands quite some time. 
Ways to perform primary market research: 
Personal interviews.

Video-call conversations or real-life ones help to know your audience better. Freely ask additional questions and also refine answers if needed. 

Focus groups.

When using this methodology, bear in mind that some people may feel uncomfortable in the group setting. This means they may not easily express their opinions.

Surveys, polls, and questionnaires.

A convenient method to reach an audience online and gather quantitative information.

Observation.

An expert analysis of consumer's reaction to your app or service and interaction with it in real-time. Only applicable if an MVP or a full-fledged product is ready.
Primary research methods belong to one of the two groups: qualitative and quantitative. Methods of the first group answer how and why people do something. And methods from the second show how much, how often, and who does it.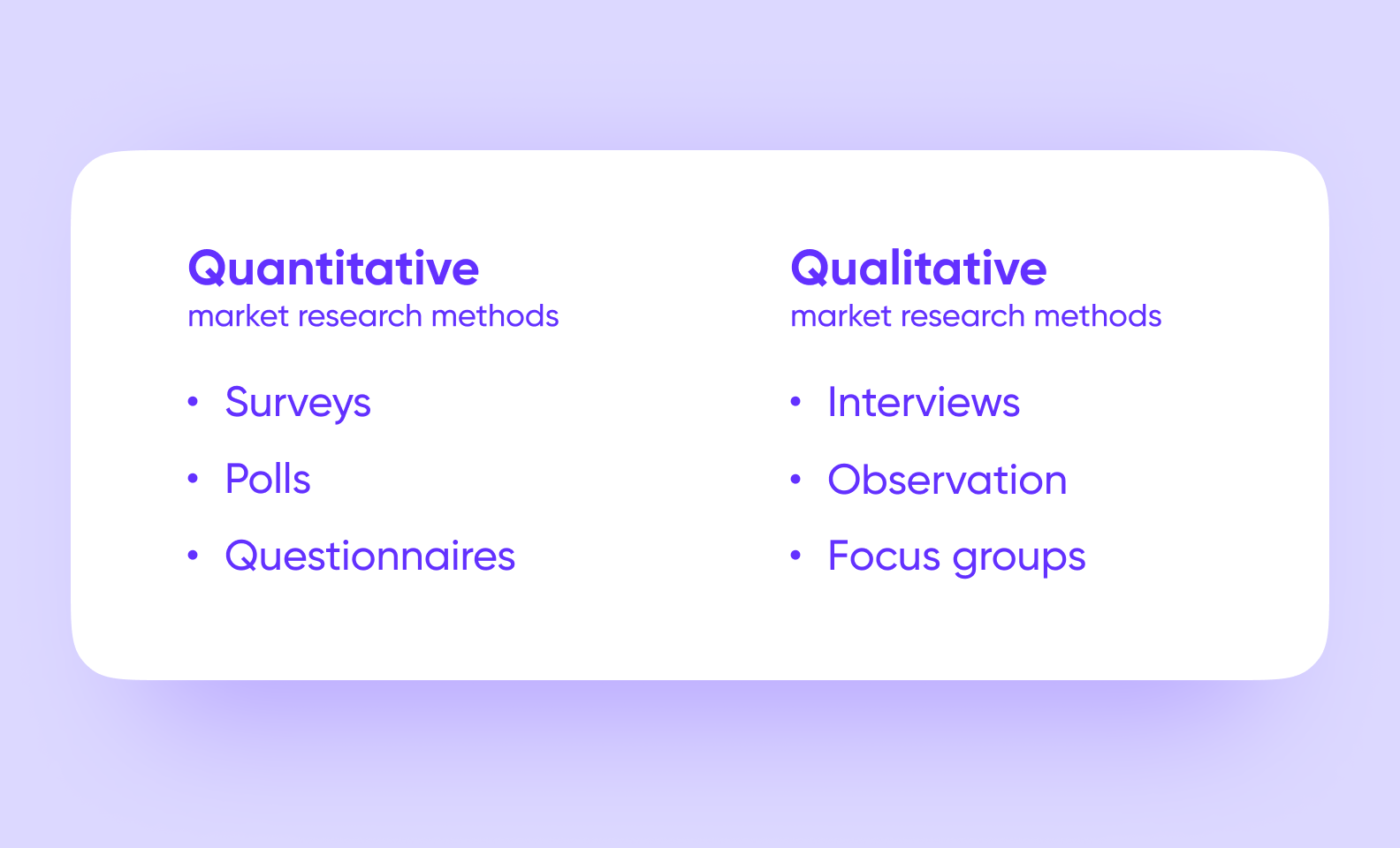 How is primary market research beneficial? 
This method delivers you an understanding about your target audience straight from themselves. Market research is a way to learn more about competitors as well. Imagine your startup project is a booking service, so Airbnb and Booking.com appear to be your primary competitors. But after several interviews, you can learn that your target audience resorts to banking apps for hotel reservations. Such revelation can drastically change your team's mindset and influence marketing strategy. There may not be sufficient reports about super-apps usage, but interviewing potential clients can provide the necessary information.
In addition, primary market research can become deeper or more shallow when needed: the available data has no limits.
Secondary market research
Secondary market research's different name is 'desk research', because it's possible to perform it without leaving the office. Secondary market research is significantly more affordable but only provides other people's findings. That's why you yourself should adapt those to your requests. Even more importantly, you should verify data sources' credibility and avoid others' unfounded conclusions.
Ways to perform secondary market research: 
Evaluate external data.

For example, industry analysts' reports, market surveys, government information, competitors' data. 

Study internal data.

If anyone ran research prior to you, it's helpful to examine its results.

Use research programs and technologies.

You can run a Google Trends search, use Answer the Public, or other services to know more about search changes and peaks of interest in the sphere.
How is secondary market research beneficial? 
This type of research provides instant results. Also, the information in the reports has been already processed by professionals. Secondary market research can reveal correlations between processes and facts and understand industry trends better. Often you're able to easily find the needed information. 
Secondary market research covers diverse subjects and underlying surveys are executed on a larger scale. Through Google Trends research, for example, you learn about people's internet searches not only in the US but all over the planet. It means you don't need to invest millions in interviews with everyone everywhere to find what you seek.
How to decide on a market research type
If you currently lack substantial research funds or time, opt for the secondary market research since it's significantly cheaper. But primary and secondary research are beneficial and perform best in combination. 
One of the popular approaches is to go from larger concepts to specifics. This means you first conduct secondary market research to grasp the industry trends and existing products. And if this step had a positive outcome, go forward with the primary research to further test your startup idea.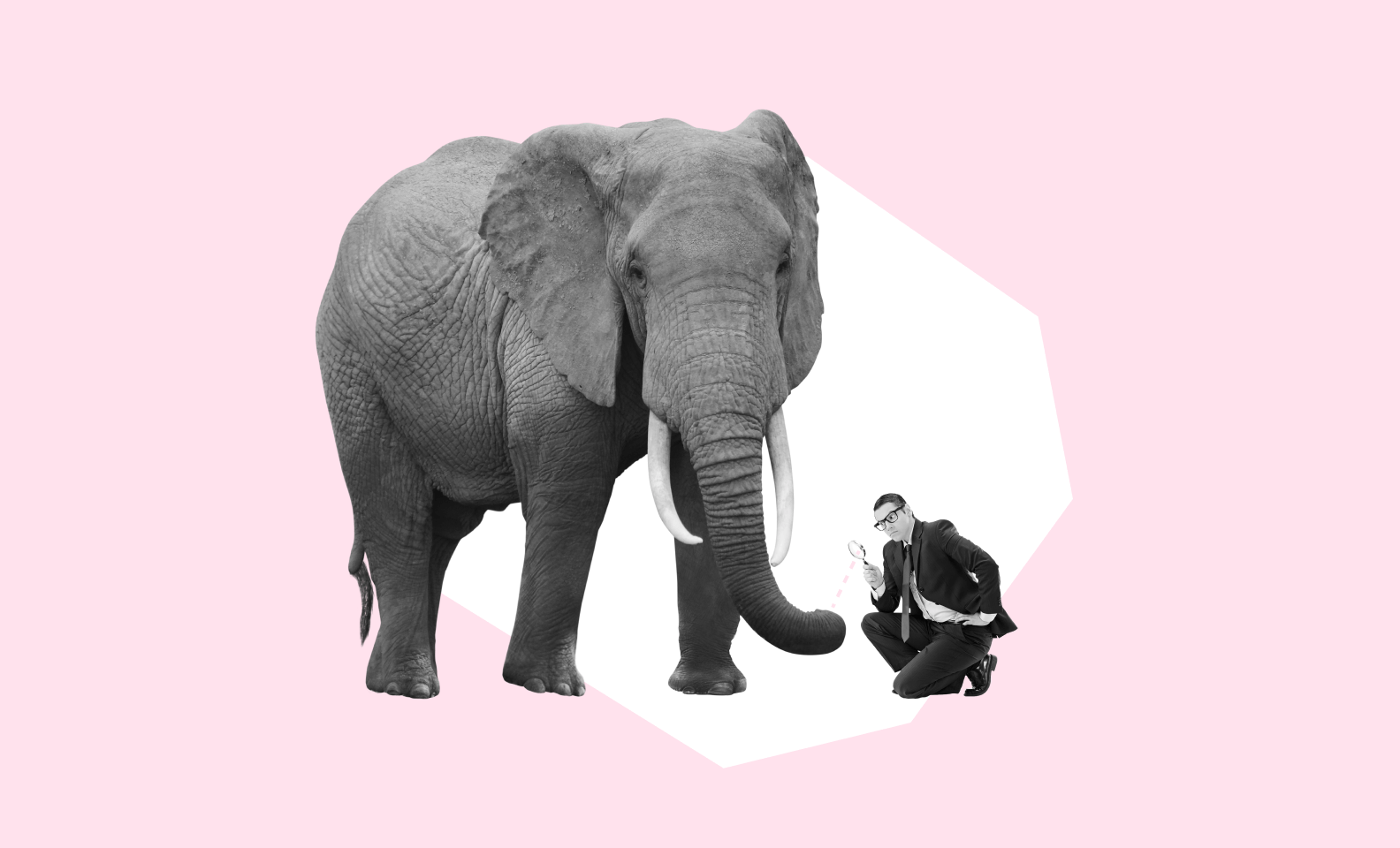 Here's how this process can look like with a room booking app. Based on reports you or your teammates examine, you see an increase of interest in traveling and economic growth in the industry. As it's a positive sign, you proceed to the primary market research. Then your interviews and surveys reveal issues of the target audience that you're able to solve.
The five-step guide to market research for startups
Let's get straight to the bottom of it and find out how to conduct market research for a startup. Go through these five stages to conduct insightful market research. 
Step 1. Specify the objective of the market research
Decide on a goal you plan to achieve by completing the market research. Why do you need it? In what ways will you use the collected data? Determine areas that require special attention because of your research's purpose. Some typical market research objectives are: 
Impressing investors and securing funding. If your app business plan needs real numbers and stats, focus on competitors and industry trends. Your findings should be up to date and relevant.
Brainstorming a startup idea.

If you choose to begin with a problem you can solve rather than a product, focus on the firsthand information. And gathering insights from the audience, explore what other companies are aiming to fulfill this need.  

Proving a concept.

If your

startup

concept is ready,

market research

is a method of testing its viability.
The following stages are identical for any market research goal. What's different is the level of attention you put on each stage. And also in the way the results are used: internally or externally. For this article, let's assume we intend to prove that an apartment booking service we came up with can be successful.  
Step 2. Explore your market
Start by studying the industry you plan to operate in. Focus on market dynamics and trends. Is it growing? What's the average life cycle of projects? What's the total annual revenue of the industry? At this stage, use the combination of primary and secondary research: read industry reports, run Google Trends search and use other instruments, ask experts for their opinion.
Here's what is helpful to explore at this stage for an apartment booking startup:
How often will people travel in 2023? 

Is traveling on the rise or falling compared to previous years?

What are the trends in the industry?

Where do people travel the most?

Where do they prefer to stay?
Findings at this stage provide a clear direction for the following steps. If you discover that personalized offers are becoming a trend, you're then able to check how successfully your competitors use them. If you discover that many people book accommodation at the last moment, you can plan to ask about it in interviews.
Step 3. Recognize your target audience
During this step, you define your target market's demographic while also meeting real users. Here, primary market research is key. 
Firstly, outline your target buyer's persona. Imagine a typical user of your product or service in a determined area. If it's the initial outline of the buyer's persona, start by thinking who can pay for your service? What's their income? Knowing these two factors, estimate their profession and occupation. After that, determine key characteristics like: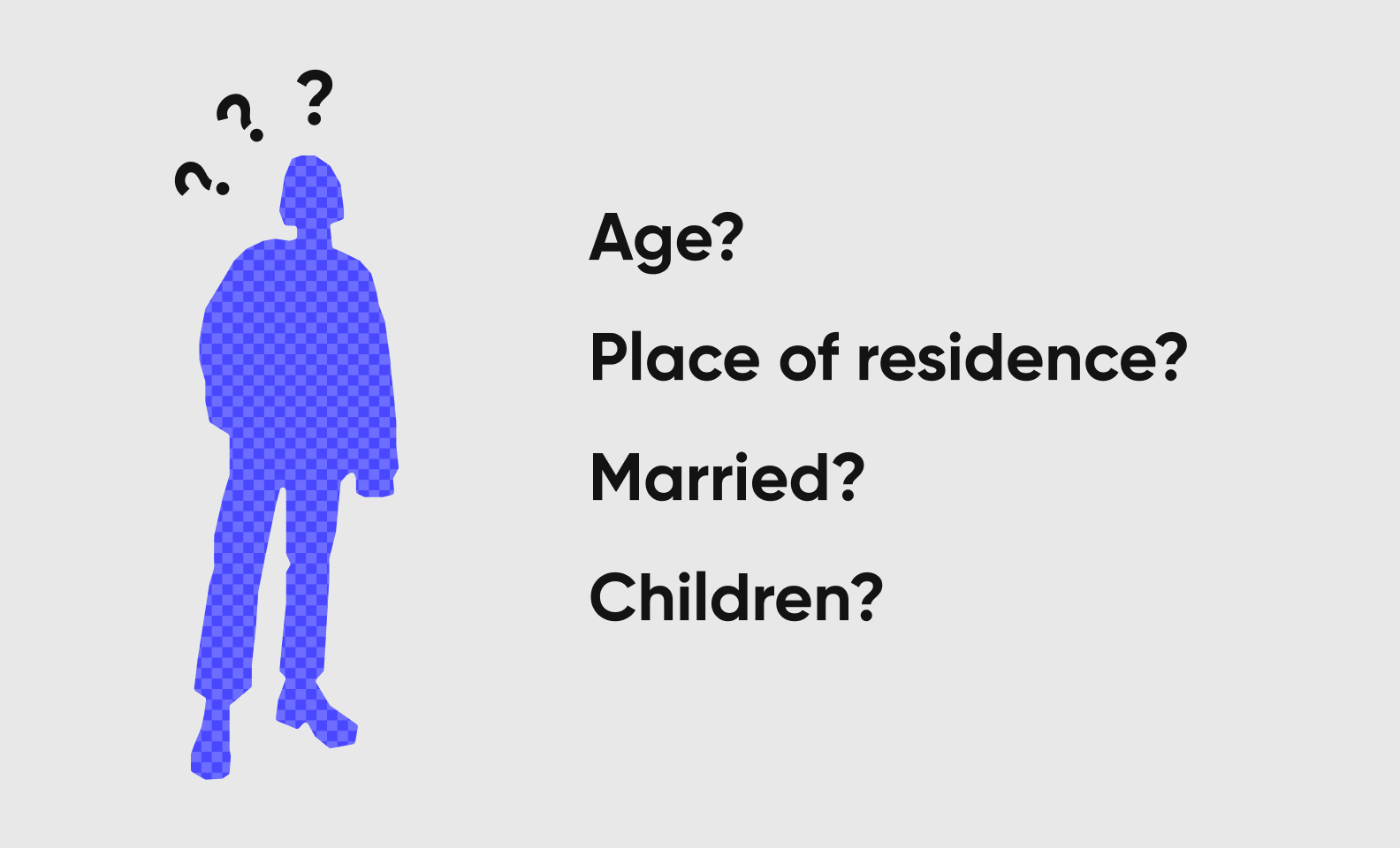 Then find candidates for the survey and additionally check if they suit your research parameters. That preparation helps to guarantee your findings' relevance. If your research is for the booking app, rule out those who never travel or only stay with their friends and family. If your startup will launch in the US, don't invite people living in Europe, etc. 
Here's what we recommend for conducting interviews:
Prepare open-ended questions. 'Where do you stay during vacation?' is a good interview question. And 'Do you book apartments to stay during vacation?' is a yes or no question that won't give you an elaborate answer.

Use neutral language, don't lead your subjects in any special direction.

Question customers about competitors. Explore solutions your target audience prefers. 

Conducting a group interview ensures no one influences others' opinions. 
Step 4. Examine the competitors
Previously, you learned what companies your audience view as your competitors. The next logical stage in the market research for startups is studying them. To conduct a meaningful study you should determine the competitors belonging to every category:
Direct competitors.

It's the businesses that provide a product or service like yours to a similar target market. For an apartment booking app these are Airbnb, Booking.com, etc.

Indirect competitors.

It's the businesses that provide a distinct service in your category to a similar target market. Indirect competitors satisfy the same need your startup is seeking to satisfy. In our example, this category includes traditional travel agencies, long-term rent services, etc. depending on how wide you want to go.

Replacement competitors.

It's companies from completely different categories that can satisfy a similar customer request. What will your audience use to have a vacation apart from previously stated services? Maybe they can buy a tent in a local sports store to stay wherever they plan to. 
Limit yourself to 10 or fewer companies — approximately three in each category. That way, you can study all of them carefully. You'll need to examine their products, prices and general strategy, approach to marketing, and reputation among your consumers. But above all, you should pinpoint their strengths and weaknesses. And then compare your startup idea to existing solutions. How do you plan to differ from them? What potential strong and weak points does your product have? 
Step 5. Review the data
After the market research for a startup idea is done, gather the results and analyze them. We believe it's convenient to lay everything out in Miro. This way, it's easy to see correlations and contradictions. Also, it might be helpful to fill in the SWOT matrix.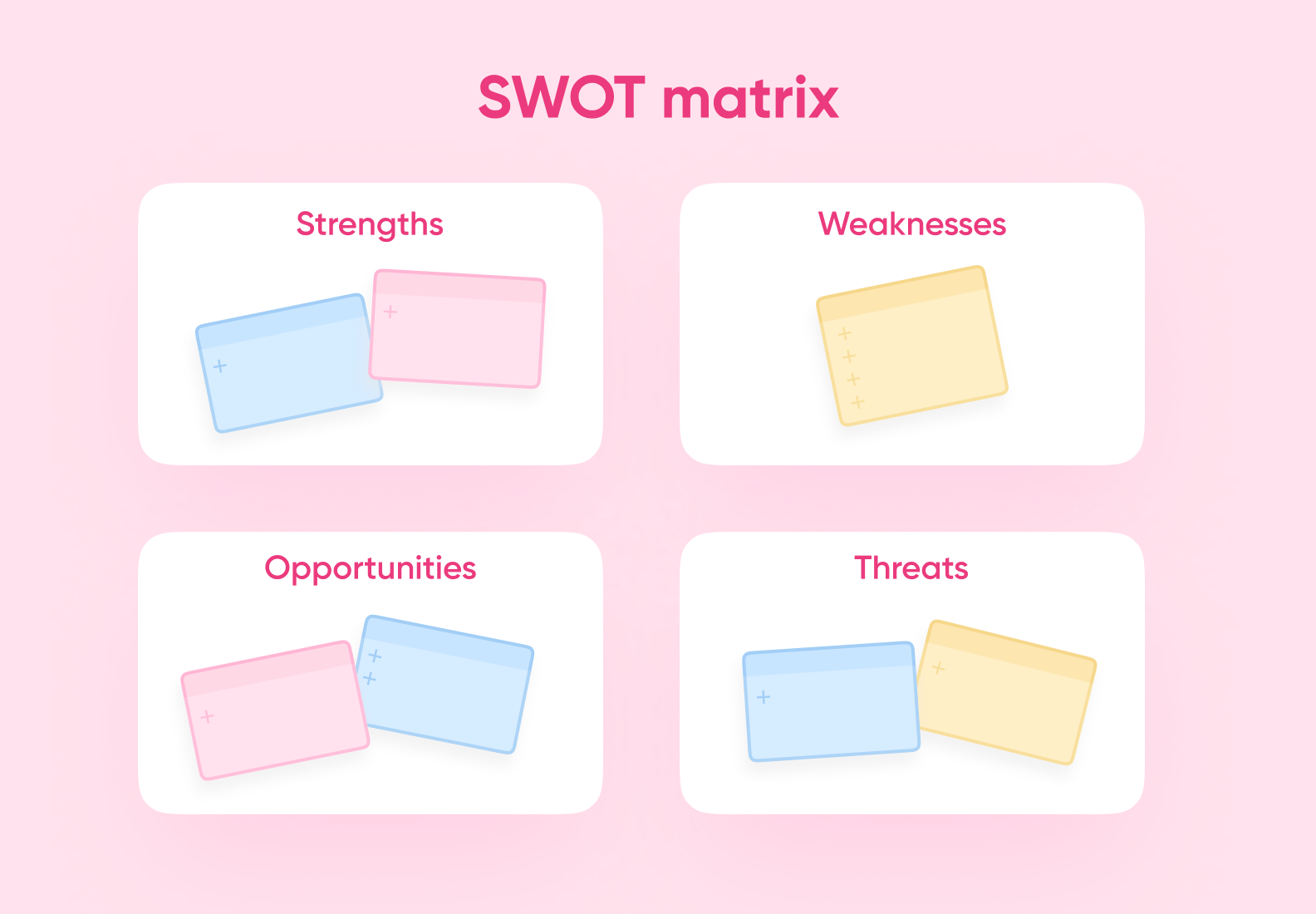 Based on your research, you may decide to pivot because of market saturation and other factors. Or if you have positive insights, write a draft for a business plan for your mobile app. Either way, from now on you can back up your strategic decisions with data. 
When to do market research for your startup
Market research is most common before developing a brand-new solution. Nevertheless, you can conduct one when your product has already launched. Resort to market research whenever you need new insights from the market. 
For example, after discovering their toys cater predominantly to boys, Lego invested in extensive market research with 3,500 girls and their mothers. During the 4 year period, Lego explored what would make their toys more interesting for girls. That resulted in a brand new toy line called 'Friends'. Constant research only helps your startup to iterate and grow stronger.
What comes next?
So you've conducted market research for the startup, then what's the next step? The MVP, of course! Rely on Purrweb's expertise and we'll make it for you. Whether it's a booking app, a food delivery app, a copy trading platform, or mental health service, we did it all. And can do it again for you.
Contact us for all the details.