What is Tiktok?
In a nutshell, TikTok is a mobile application for creating and sharing video content. The platform allows its users to make short, up to 3 minute long videos, then upload them to a profile, and add captions and hashtags.
The app is owned by the Chinese company ByteDance. In September 2016 they launched a local version of the future TikTok — Douyin, an app that targeted the Chinese market. Later, in 2017 TikTok was released for both iOS and Android outside of mainland China. 
However, it only became available worldwide after merging with another Chinese social media service, Musical.ly in August 2018. The apps were similar in the idea of combining a short vertical video and a music track together, but the type of content was different. Musical.ly was focused on dances and choreography, while TikTok had everything — from monologues, movie clips, comedy sketches, to recipes.
Surprising statistics about the TikTok app
Before digging into how to make an app like TikTok, we gathered together a diverse and representative set of statistics about the app. Recently, in summer 2021, the TikTok app hit an important milestone: it officially became the first non-Facebook owned app that users downloaded over 3 billion times.
Here are some other inspiring numbers:
In 2020 TikTok was the #1 most downloaded app

 globally from both iOS and Android marketplaces.

The #7 most used app in the world with

over 689 million active users. Keep in mind that the app is not available in some huge countries and regions. For example, in China or India.
For the Chinese market the company ByteDance has a ' mirroring sister of TikTok' — an app called Douyin that has over 600 million users that can be added to the TikTok community.
TikTok has earned

$34.3 billion in revenue in 2020 and increased by 111%.

Average users open the app multiple times a day and spend there around

52 minutes
The most popular TikToker is Charlie D'Amelio who has over 122 million followers.
How does TikTok make money?
Before we dive into the development process, let's break down the income of the viral service. 'What makes app like TikTok profitable?', you might wonder. The answer is Ads. TikTok's engagement rate is somewhere around 29% and that's why it attracts advertisers.
TikTok has a separate service called 'TikTok for Business' that allows brands and companies to promote themselves on the app and engage with the audience. 
There are several types of ads on TikTok: In-Feeds targeting ads, brand takeovers, and branded hashtag challenges. Usually advertising videos are integrated in a user's feed, so they see them when they scroll the page or pop up when they open the app. 
Here is an example of an in-feed ad video from AfterPay and a hashtag challenge from Walmart.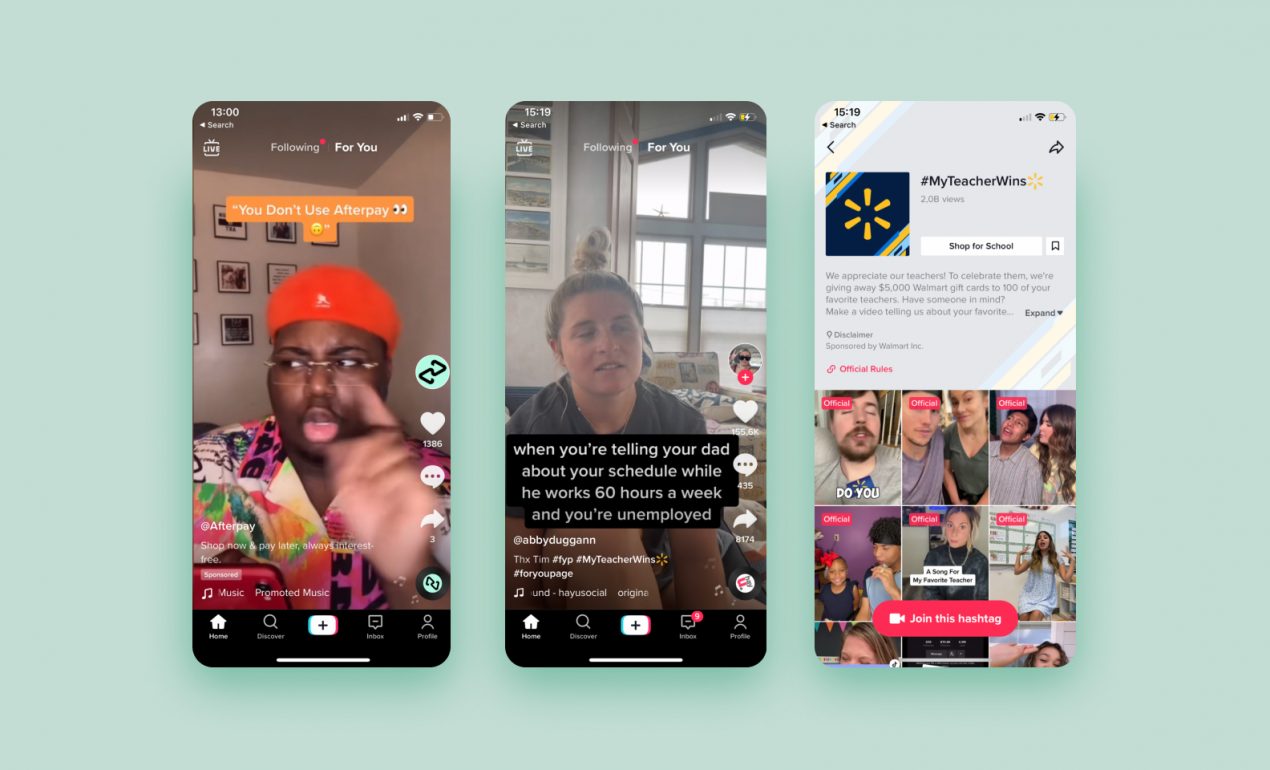 TikTok has not shared its official pricing, but the Internet has some estimates. For example, Voluum has calculated that TikTok's ads cost depends on the ad type and can be anywhere between $10 for impression and $150,000 per week.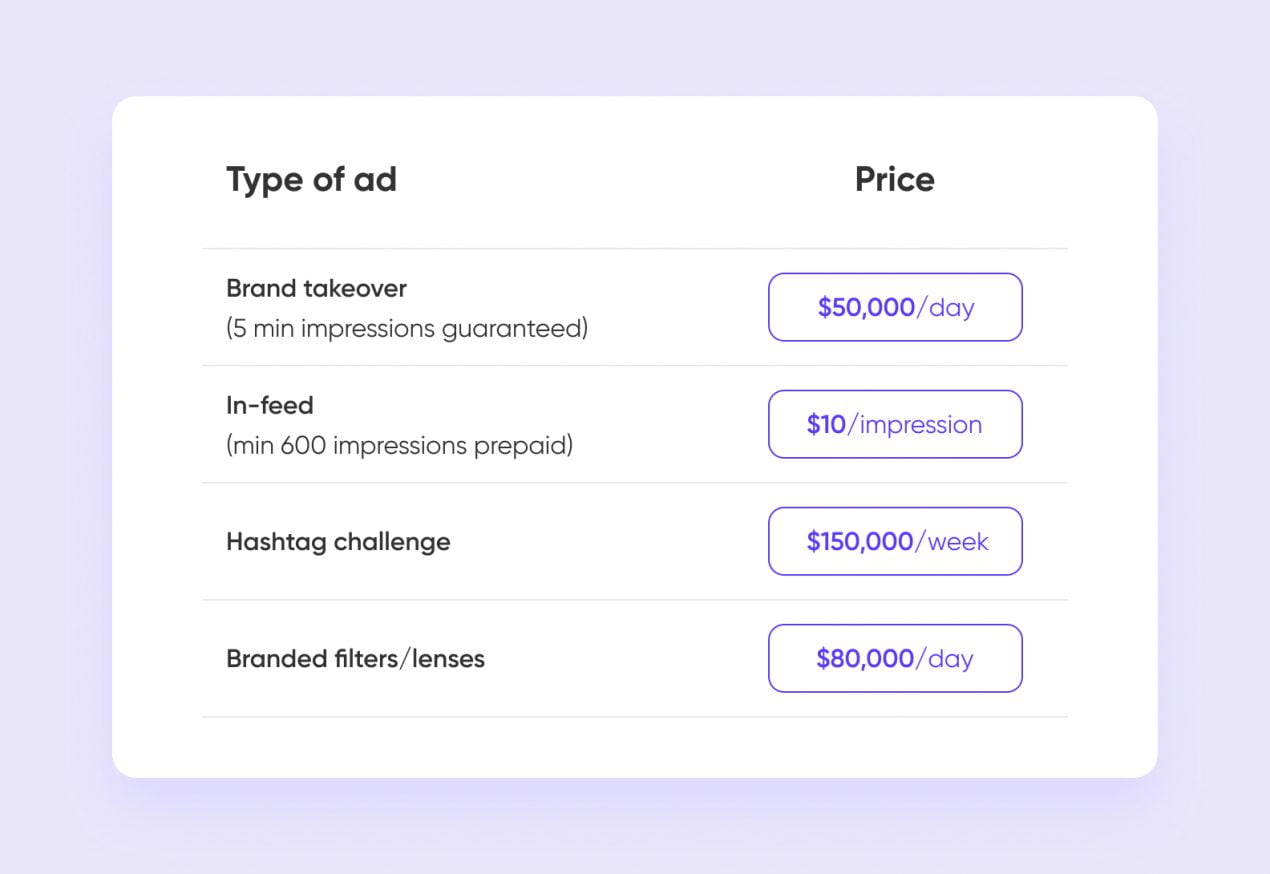 Source: Voluum
Key features of TikTok
Sign-up + Onboarding
The authorization page is as important to an app as the first page to a book — that is how users judge if they are going to use it. We recommend keeping it short and simple and asking for vital information only, as it makes the app straightforward and respectful to the customer's time.
Don't forget about these elements of the page: 
Welcome page to cheer a user up.

Terms & Conditions to explain requirements and limitations.

Authorization process and an opportunity to skip it if possible.

Password recovery.

Choice of preference to pick the type of content users want to see.
TikTok gives users an opportunity to almost skip sign-up. First, users need to create a profile using a phone number, email address, or an account on another mobile app. Then, if a user skips choosing a password or a profile name, TikTok automatically assigns one, which can be changed later.
Below is an example of what the authorization process looks like on the app: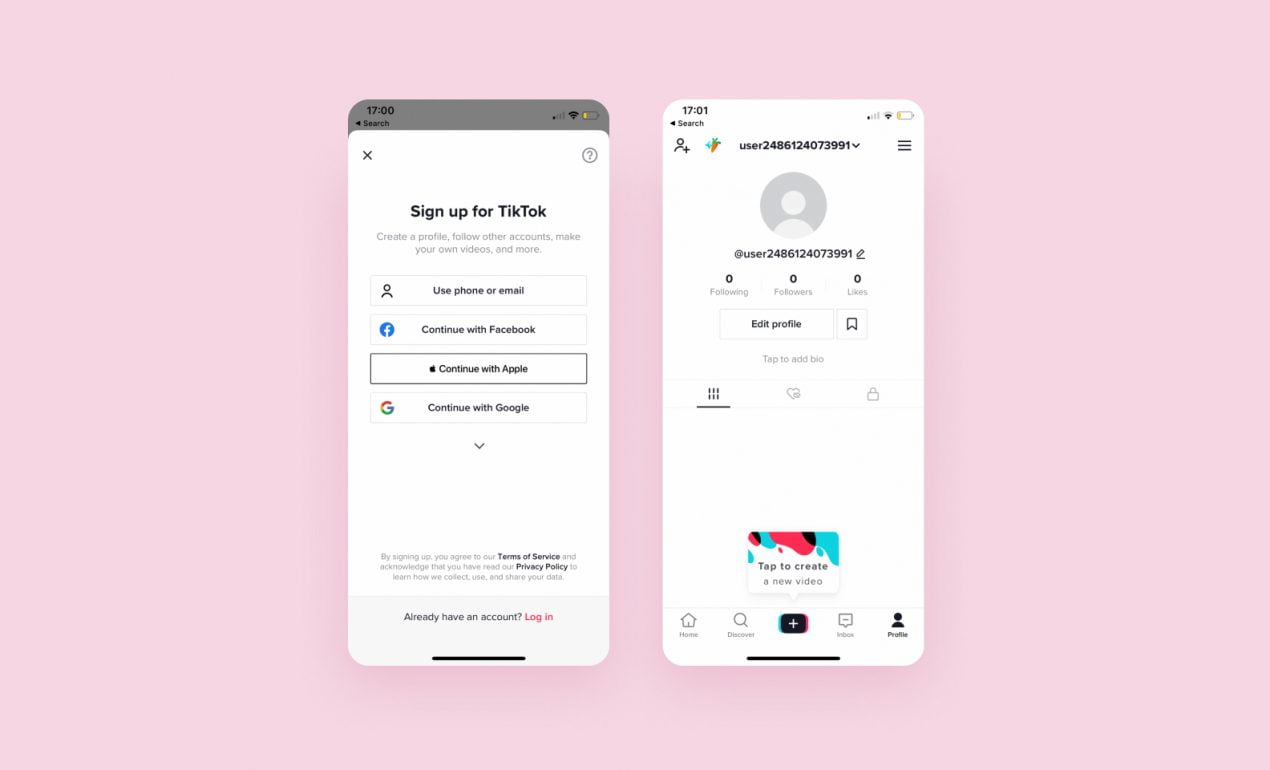 For you page / Browsing content
Basically, the TikTok app is divided into two big parts: the for you page (FYP) and the rest. On the FYP page users infinitely scroll recommended and trending videos. We will
dive into the algorithm further, but if a video makes it to the for you page on the app, it means it went viral — that is how creators measure success on TikTok.
On TikTok, every video on the for you page has hashtags, a caption, and a soundtrack they use at the bottom. As well as like, share, and follow options on the left. The design of the page is very simple, yet clever — it has everything to make app users be up to date with new content and engaged.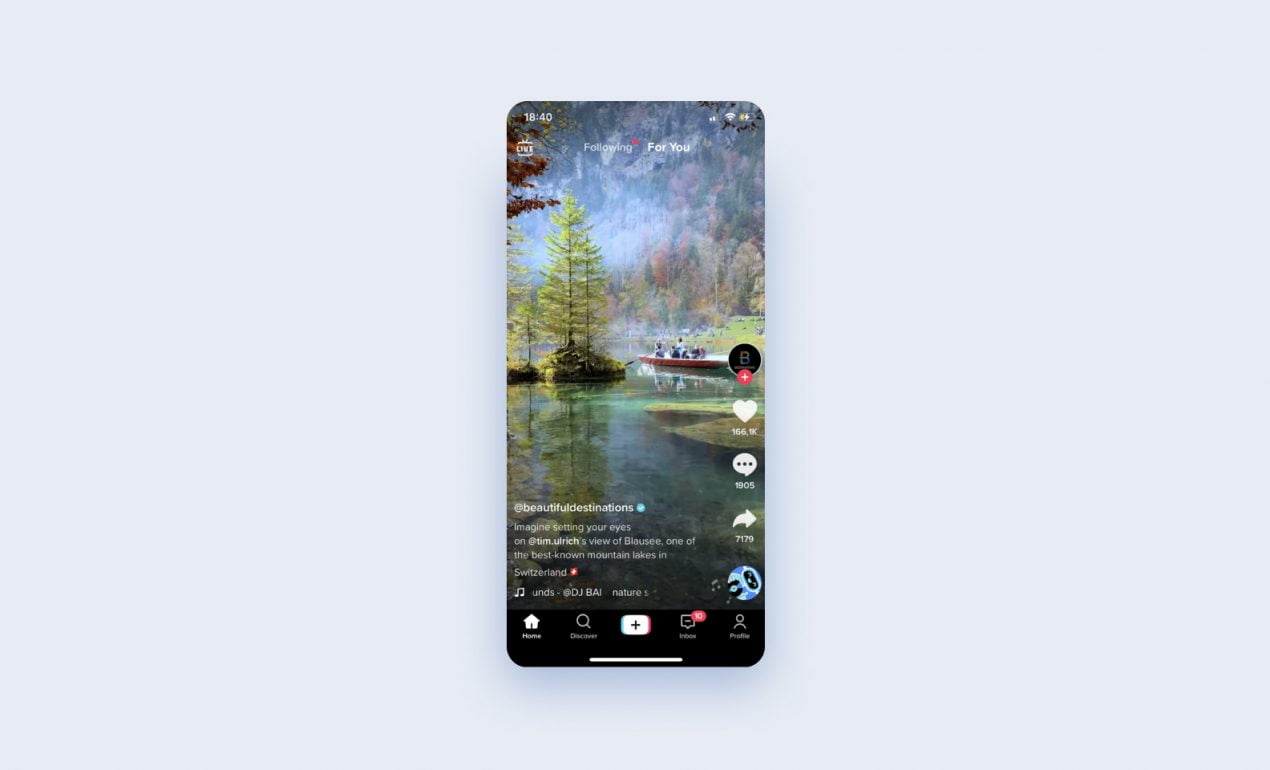 Video Uploading and Editing: filters and effects 
Apps like TikTok allow users to create and edit videos in the app, like adding filters, effects, stickers, text, sounds, and captions.
Here is an example of these features layout on TikTok: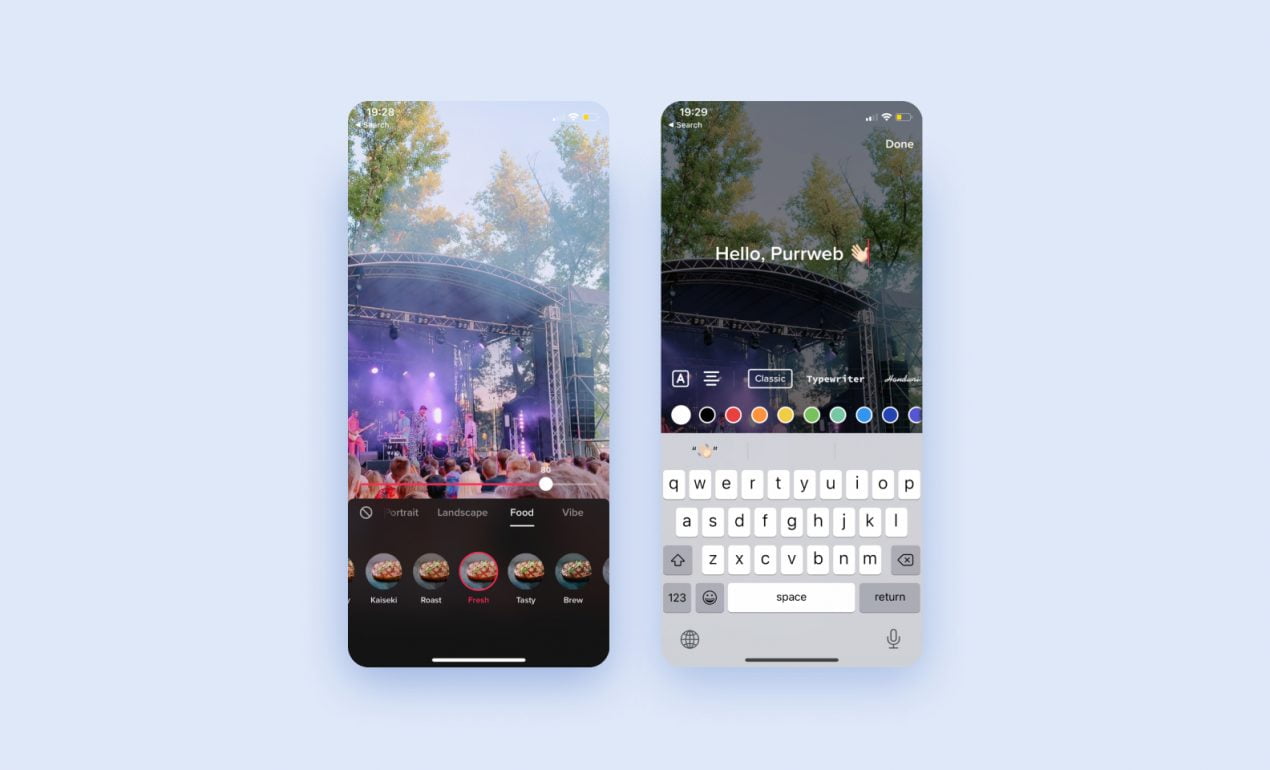 Reactions: sharing, likes, and comments
TikTok's engagement rate is over the moon and the reason for that is the opportunity to actively interact with content by adding video to favorites, leaving comments, sharing with friends, or proceeding to an author page and digging deeper. 
The core of the TikTok app is the simplicity of interactions — everything a user needs on one page. Reactions are icons with no descriptions, and they are easy to understand for people from different regions.
Moreover, TikTok displays the number of reactions: views, likes, comments, and shares on the for you page. Taking these details into account, users can quickly form an opinion about a video. 
The rule is simple: the more likes and shares it has, the higher the chance it is good enough to watch and spend a couple of minutes with. Reactions are valuable: creators usually try to get as many reactions as possible because that is how their content will be judged by users on the app.
The last important thing to say is that TikTok has Third-Party integration with other social media platforms and allows users to share content on Instagram, Facebook, or iMessages. But this feature is tricky: for example, since Instagram introduced a competitor with Reels, there is information they can shadowban users with for posting content with the TikTok watermark.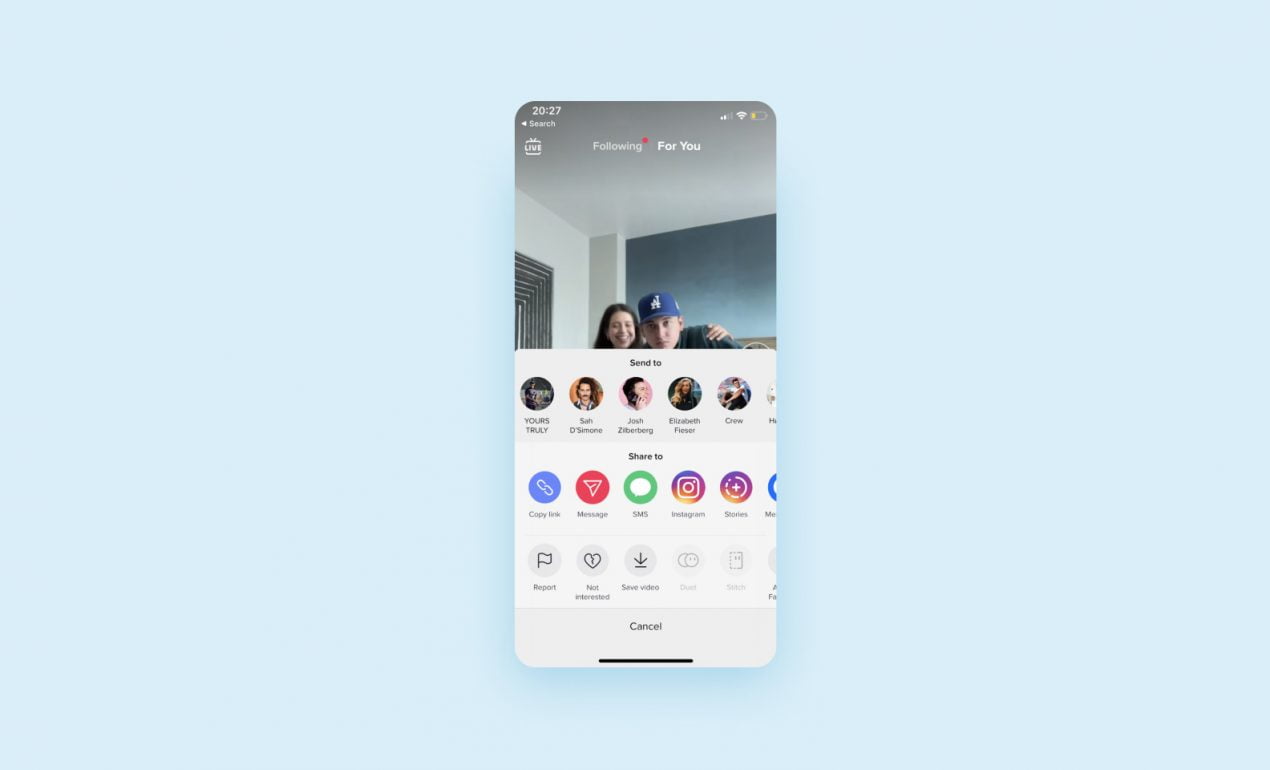 Push-notifications 
There are two types of push notifications on TikTok: in-app notifications and outside ones. Here is how it works: when the app is not open, a user just receives a regular banner at the top of the screen, and when the app opens there is a visible pinkish or red icon at the bottom.
If a user clicks the icon, it takes them to the Activity page that shows follow requests, live notifications, and previous interactions with comments or content a user has posted. The feature helps users stay updated and involved in what is going on in the app.
Also, there are settings for notifications where a user can choose the frequency and type of things they want to get notifications on. It makes app more audience-oriented and helps to enhance the user's experience by allowing them to pick categories to update them on.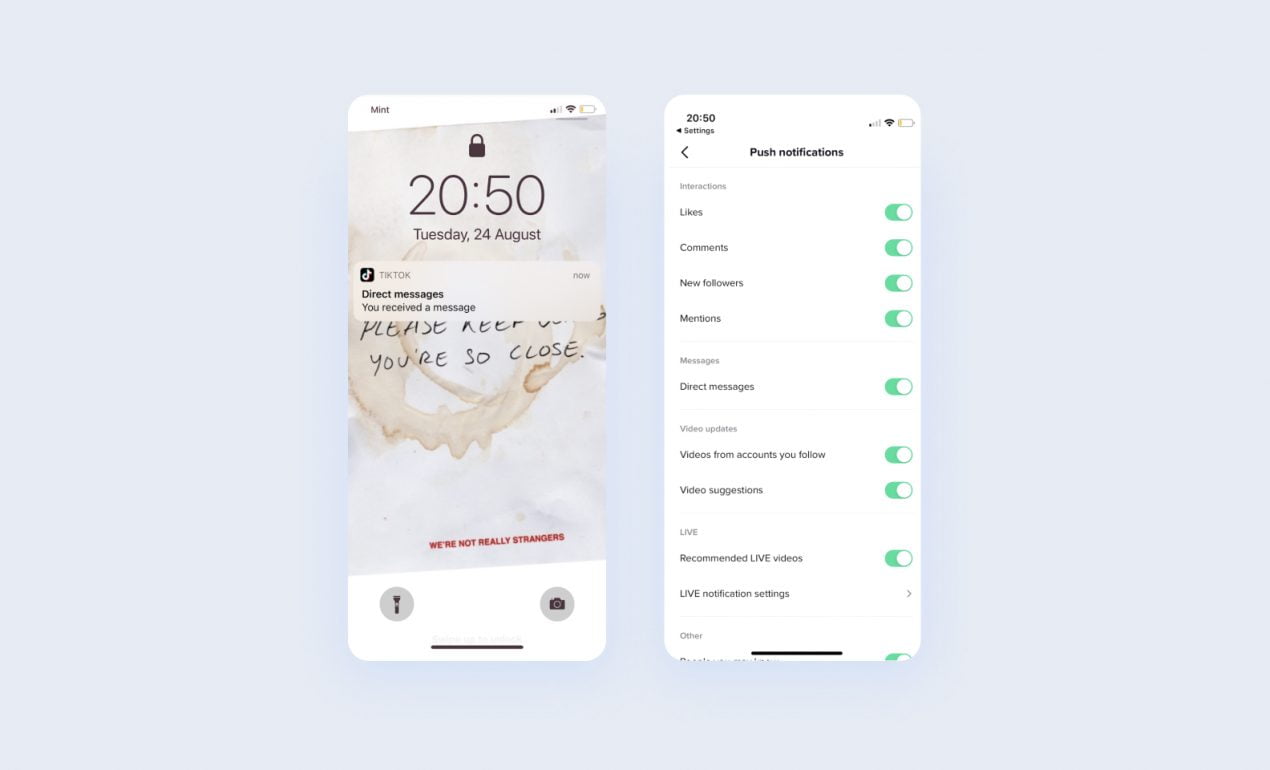 Duets / Stitches
These functions let users base their own on another user's or brand's content on TikTok. The difference is tiny: Duets allows users to display another person's video alongside with their own, while with the Stitch feature users can clip and integrate separate scenes from another user's video into their own.
Before each duet or stitch, users add a related hashtag, for instance, #stitch or #duet, and then indicate the name of the user whose content they record their video on. These examples will help you understand the difference as well: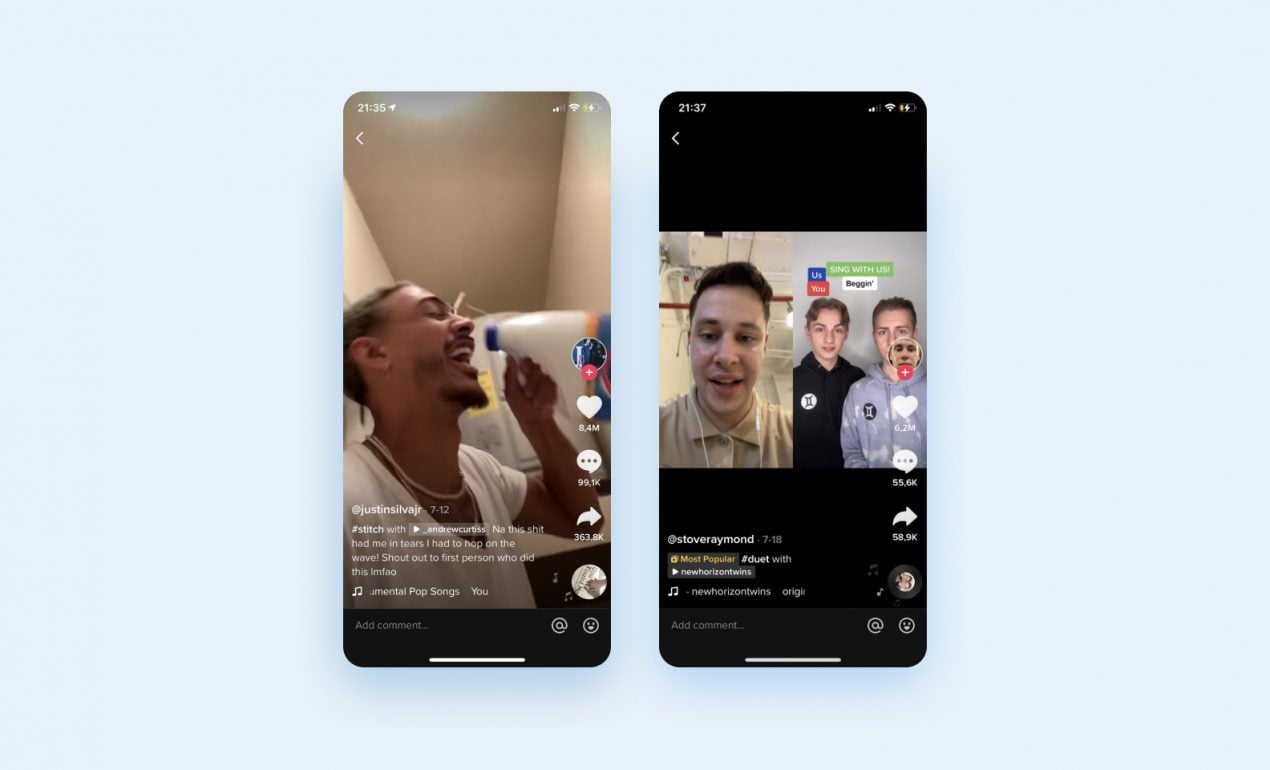 Direct messages
It is a basic feature that allows users to communicate with each other and stay longer on the app. Direct messages are located in the 'Inbox' section of the app and have an icon that looks like a paper plane. Inside there are recent chats with a minimalistic and simple UX/UI design of the page.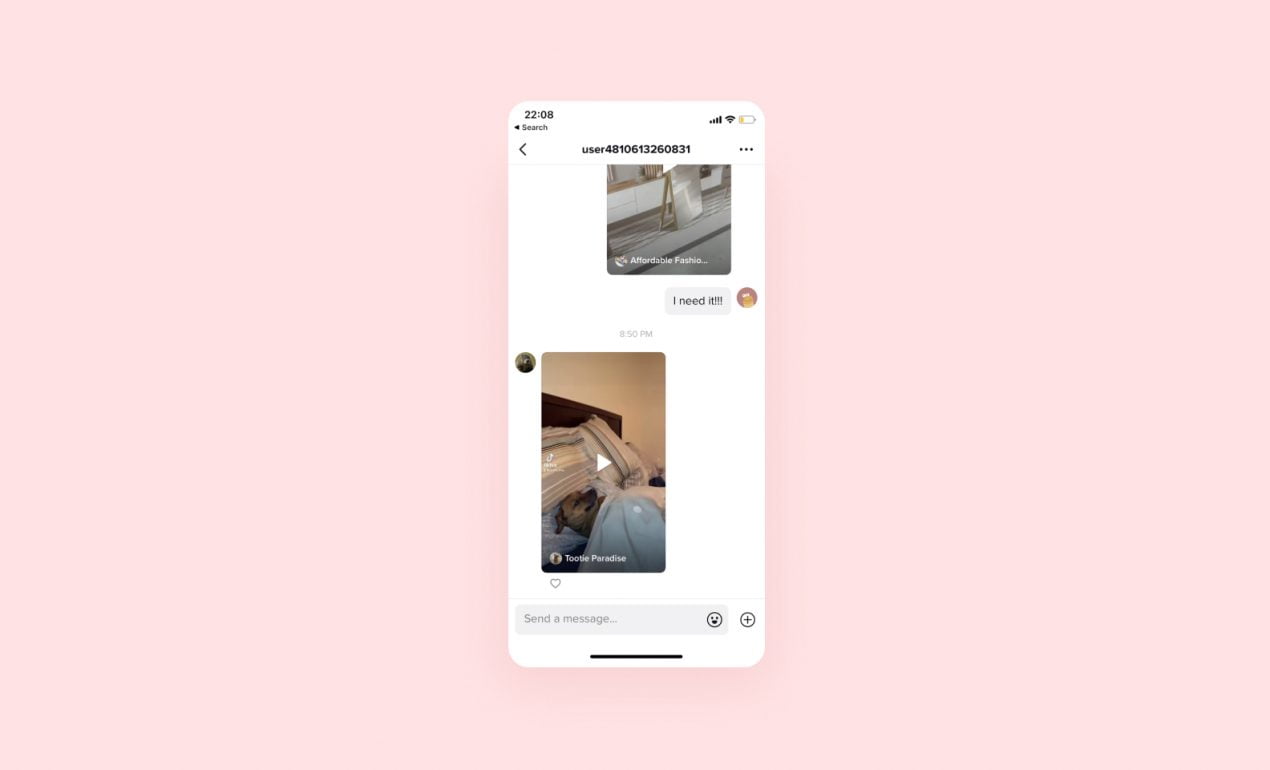 TikTok algorithm
One of the secrets of how to make an app like TikTok is the algorithm. The more you watch, the more personalized your feed becomes. For a long time no one really knew how videos wound up on the For You page — the criteria were fully covered up. Creators came up with several conspiracy theories on how to make a video viral, for example, it should be precisely 6 seconds or be posted at exactly 12:45 pm.
Not that long ago Tik Tok in their blog article broke this secret down. The algorithm uses the method of an exponential distribution. Once a video is posted, it is shown to a small segment of the audience that is expected to like it based on their previous interactions. Then, if users are engaged with the video — like it, share, or watch until the end — TikTok expands the audience and shows the content to more people with similar interests. Gradually, step by step, it ends up on an FYP of millions of users.
Long story short, the algorithm works like a sort of digital word of mouth: the more buzz your content generates, the more viral it becomes.
To determine if the chosen audience is going to like a post, TikTok tracks how a user interacts with the video, what caption/sounds/hashtag it has, what type of device is used, and what the profile language is.
5 things to consider when you make an app like TikTok
TikTok is a chameleon app: its interface is easy-to-navigate, its UX/UI design looks simple and minimalistic, and its feature set is reasonable and on point. But behind those things, there is a complex structure with an exponential algorithm. 
To give some direction to those who want to make app like TikTok and become viral in 2022, we came up with 5 factors to contemplate before.
Research the market
When you have an idea to make app, but do not know where to begin, start with market research. First, identify what problem your future mobile solution will solve and how it will benefit potential users. Then research the competitors, inspect their advantages and disadvantages and note what problem they solve. If their solution is targeted at the same customers, we advise startups to learn what user experience and customer service competitors provide, to know how different your app will be.
Write down these brief results, as they can be a direction where to go and set goals and a strategy for the mobile app development.
Know your audience
After that, it is time to meet people who will use your app. For example, TikTok currently has an audience from more than 150 different countries, speaking over 75 languages. It is quite a big area to start with for an MVP — that is why instead, we recommend segmenting an area you want to work with and start with a local audience.
TikTok was also initially released on the Chinese market only, and then it started expanding. So, first, start with one or a couple of countries and 1-2 languages, and after the first wins and growths, initiate the localization process.
Design matters
Robust UX/UI design is what hooks users and can make app viral. The way an app welcomes and onboards new customers, creates new habits and enhances the behavior, significantly contributes to the success of the mobile solution.
TikTok is a very straightforward app that offers no distraction to users: short onboarding, opportunity to skip sign up, choose a name later — everything to make app authorization process shorter and ease access to the content. The TikTok app chose it as the golden rule and stuck to it on every process of the user's journey.
We recommend doing the same: make the registration process quick and easy, create UX/UI design with the user in mind and come up with features, like an infinite autoplay feed, that will keep a person in the app for a long time.
Find a professional team
Making app without a good team of experts is not easy. If you pick wisely, you will seal the deal with experts who already know how to perform market research, map a users' journey and execute dope design concepts.
Plus, frontend and backend developers from the team will execute the solution that allows users to navigate through the content, interact with it, customize a profile, edit and post a video, and much more.
We always recommend outsourcing mobile app development, instead of hiring in-house experts: it will save you time and money. The ready full-cycle team doesn't need to be onboarded, it usually takes only one or two meetings to learn about a project and start creating. 
Moreover, a professional team will have diverse and versatile sets of experts who will help with different aspects of the app. For example, to make app like TikTok, the project will require a lot of people: frontend and backend developers, UX/UI designers, copywriters, QA analysts, and project managers.
Start with an MVP
If someone asks us 'Do I need an MVP to make app work and succeed?', our answer is always a yes. MVP is a first fully-functioning version of the product that helps many startups test the idea, get feedback from real users and see if your project correlates with what the market needs today.
MVP prevents business owners from spending all assets on a solution that might end up unwanted on the market and unclear to users. Instead, with a minimum viable product, you can try out your idea for less time and costs, without serious risks.
How to make an app like TikTok
As we mentioned before, the TikTok app has a complex architecture and a long user journey. We pulled all steps together and calculated an estimate of how much a similar app can cost.
No more talking, let's get straight to the point. Here you can find an overview of how much it is to make app like TikTok can cost and how long it will take for the Purrweb team:
Side note: The estimation is provided by our team and may be different from company to company. This is how much time it will take us to make app.
Stage
What are we doing
Estimation in hours
Estimation in weeks
Approximate costs

Initial meeting

Discuss the idea of your app

1 day

–

no costs

UI/UX design

Map users' journey, come up with design concepts for each step, and present them to you

152 hours

5

$7 600

Development

Work on architecture and the interface on both client and server-side

1361 hours 

16

$68 050

Administration tools

Create features for an administrator to manage profiles, edit in-app texts, recover passwords, etc.

406 hours

5

$20 300

QA Testing

Look for any possible bug and fix it before it even occurs

530 hours 

Alongside development

$9 540

Project management

Manage the

mobile app development

project and solve administrative tasks

26

Alongside development

$4 575
Overall, the mobile app development process for an app like TikTok will take around 7 months and will cost $110 065.
The prices include all services that cover your app from head to toe: user page, for your page, video creating functionality, search and results browsing, profile, and the rest of users' needs.
Wrapping up
In 2022 the TikTok had an audience that is more than 2/3 of the planet's population and it keeps growing. The app uncovered a major trend for short videos with music that slowly overtake other types of content.
Everyday users come to TikTok to catch up with recent trends, take some time off and unwind, read a message from their friends or even look for dinner receipts using different hashtags.
But how to make an app like TikTok and get that much of a customer's attention? The key is personalization and care for users. TikTok has a quick and smooth sign-up/log-in process that brings newcomers straight to the content. Then it memorizes their interest and customizes the feed to engage users and keep them on the app.
5 factors to take into account before you create an app like TikTok
Research the market and analyze the competitors

as it helps to set goals, understand the uniqueness of your product, and define the strategy.

Learn about people who will use your app and section

. First, define your audience, think of where they live, what language they speak, and what they prefer. Then chose a small local market to test the waters and validate the hypothesis.

Value UX/UI design

. The intuitive and eye-pleasing visual aspect of a mobile solution directly influences the user's satisfaction and the amount of time they spend on the app.

Find a skillful team

. Right experts will help to fulfill all your dreams and execute the wildest business ideas. Want to be able to sort videos by trends or tags and have very private profiles, so no one can see what you liked, commented, or saved? Our developers will complete any task that supports your hypothesis. 

Don't skip the MVP stage

. Before diving right into the idea and

making app

right away, starting with a minimum yet a workable set of functions. MVP will help to launch an idea faster and without securing complete funds until you make sure it meets markets' needs and is aimed at the right audience.
Where to find the team
At Purrweb we work with different types of app development, including content creation and sharing solutions. Our goal is to provide straightforward and cutting-edge UI/UX to level up user experience with your company. 
To create an app, we always start with MVP for future bigger solutions and then provide optional post-launch services to scale up and update the solution. With us, to make app like TikTok will take approximately 7 months and will cost around $110 065.
Wanna move forward and get a personalized estimation of your app idea? Fill in the quote below and we will get back to you with more info!