Key takeaways
Instagram was so successful, because it was launched at the right moment, implemented social features of other popular apps, and gave users great monetization opportunities
Essential features of an Instagram-like app are: authorization, feed, content creation, editing, profile, search, notifications, DMs, and support
6 steps of developing an app like Instagram: research, finding your USP, UI/UX design, develop, test, release and support
MVP for an Instagram like app would cost around $74,000
Keys to Instagram's success
The right moment. The time was right for Instagram founders. In 2010, they ran a social media app with a photo-editing feature for iPhone. Old Instagram had a feed, user profile, search, photo filters, and social features. There wasn't an app with all of those in it at the moment. So Instagram broke through into the audience's hearts and gained the first million installs in two months.
Feature adoption. Instagram famously implemented social features of other apps that were gaining popularity. The most notable are Snapchat Stories, Periscope broadcasts, and TikTok video feed. Instagram provides the user with every feature essential for a social life in one app.
Monetization opportunities. There are a lot of ways to earn money on Instagram. These vary from paid subscriptions and badges to brand deals and commercial accounts. All manners of money savvy users flock to Instagram in hopes of making an extra buck. So Instagram isn't just a social media. It's a multipurpose platform that allows people to make a living off of it.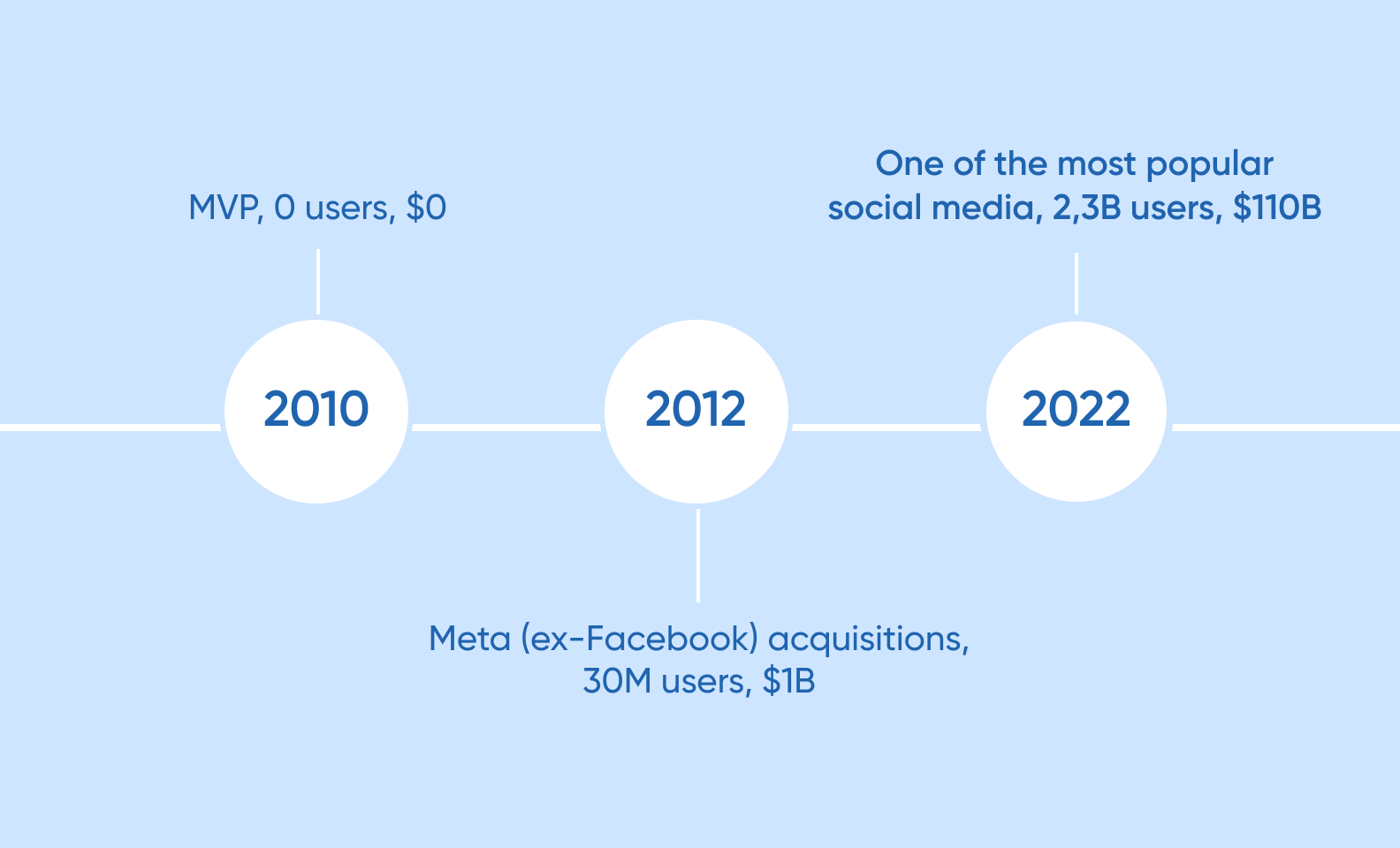 Essential features of an app like Instagram
It's hard to imagine Instagram without such features as authorization, feed, content creation, editing, profile search, social features, and notifications. Let's explain why.
Authorization
A user creates an account to use social media. They sign up via email, other social media apps, or a new login and password.
Most social media apps try to be as accessible as possible but there is a notable exception. Chat room app Clubhouse required the user to get an invitation from a friend. Otherwise, the user can't get access. The air of exclusivity proved to be very enticing for users in 2021.
Feed
This is where users interact with content. It's an endless scroll of posts that embodies the core user experience.
To make the user spend more time in an app like Instagram, you can make a feed based on recommendations like TikTok. It takes into account the user's behavior such as views, comments and likes. The feed shows you the type of content that you'll likely enjoy based on your previous activity.
Content creation
Users not only watch other people's content but can also create themselves. Instagram allows you to take pics and vids from the app or upload them from the library. The latter was originally unavailable for users, much to their dismay. The creators listened and added library uploads. You don't need to repeat their mistake and allow this from the get-go.
Editing
Video and photo editing are critical for users who want to express their personality and style. You may implement video filters, with a preview of the result and customization settings. But at the same time, the list of options shouldn't be too extensive. Otherwise, you are risking drowning your users with too many choices.
A good example of concise editing is VSCO. It's an app like Instagram, where the user can apply custom presets, add visual effects, and adjust skin tone.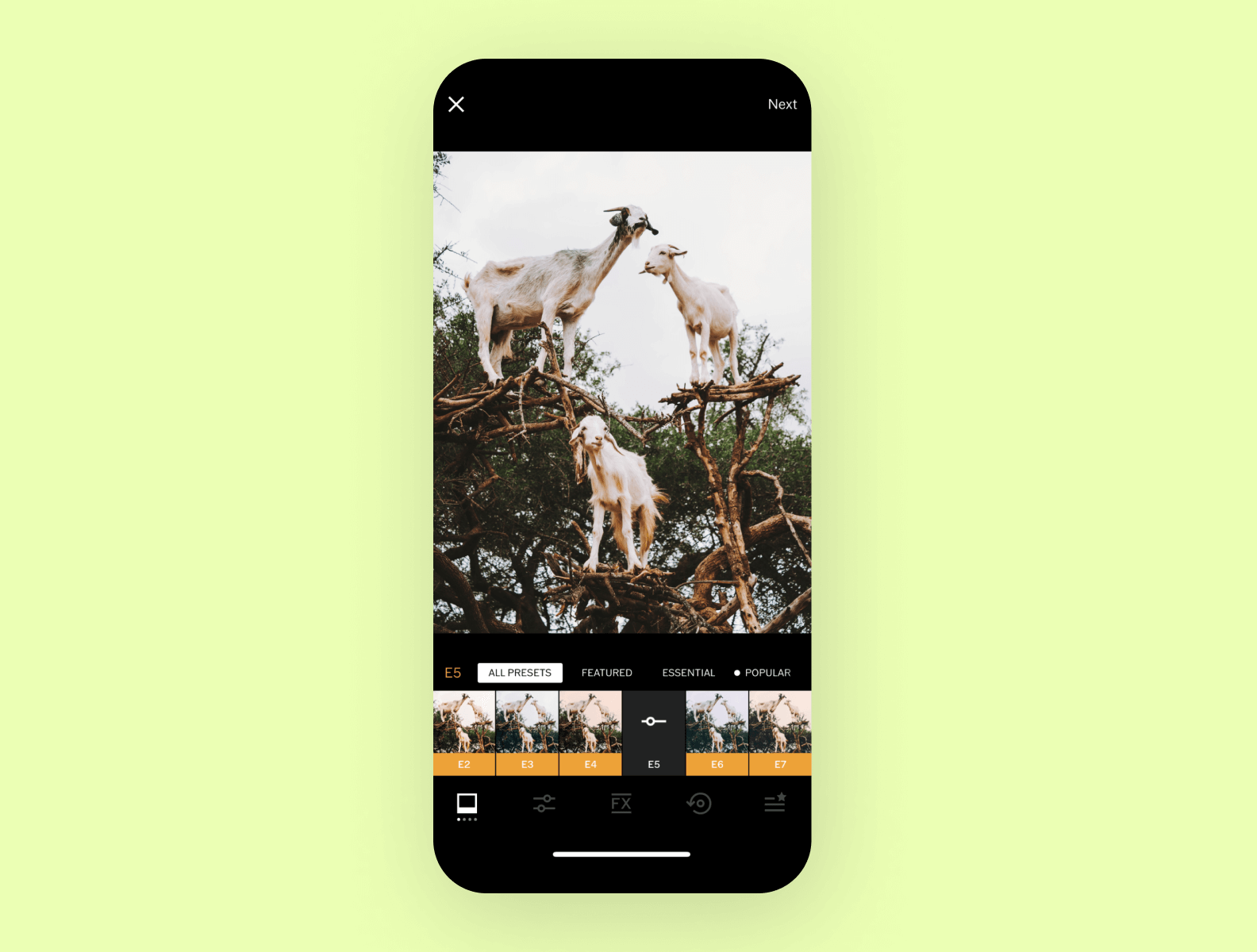 Profile
All the posted content and user info are on the profile. Some basics: a user avatar, bio, content feed, and contact button. The user should be able to customize their profile but, again, don't overdo it.
Profile screen may become a home for some advanced features. For example, Twitter users can send donations by interacting with a button in a profile.
Search
This feature is perfect for finding friends and discovering new users. Users can search for posts, accounts, or anything that's under a specific tag like "food" or "Kim Kardashian".
Users may make typos, and it might prevent them from getting what they want. It could be alleviated with search suggestions, so the user flow is more fluid.
Social features
Like, comment, and share. Lots of photo-sharing apps have these buttons to interact with content and share it with followers. It's impossible to develop and grow a social media app without it.
During the UI/UX design, make sure that the social buttons are convenient for a thumb so there is no strain. Because the more users are willing to tap on these buttons, the longer they will be on your app.
Notifications
Remind users to respond to friends' comments. Or use any other call to action that encourages to open the app. This will increase user retention. It's also convenient for your audience — they want to see their social updates in time.
BeReal went further and linked interaction with notifications to take and share new photos daily. The user has 2 minutes to take and share photos with both cameras at once.
Additional features
That's all for the essential features for your social media app. But there are still some less conventional features left for you to consider. Some of them aren't implemented in Instagram yet, so they might give you a competitive edge.
All-new formats 
When you create an app like Instagram, you might think of a unique content format. It will highlight you from competitors' apps.
To create a new experience, you could rely on emotions, limits, and combinations of new features. You could put some spin on photo masks like on Snapchat, new content challenges like on TikTok, or conversation rooms like on Clubhouse.
Direct messages (DMs)
Over time Instagram users began to feel that there is not enough communication in the comments, especially since it doesn't allow content sharing. After that, developers introduced DMs to the app to provide a new communication space. Also, you may even add voice calls and video messages.
Geolocation
Expanding the application's capabilities, users can use geolocation to find new places.
During development, it is crucial to consider whether users can mark that geolocation manually if the connection is weak. Constant tracking will also come in handy to offer relevant content depending on the location or track friends' movements like on Zenly.
Support
Sometimes users have some difficulties and need to contact support. It is best to make it one of the buttons in the settings where other essential features are located. The user can read the knowledge base or ask for help from the support manager.
If you launch your product internationally it is better to hire specialists who will answer users' questions in shifts. This way you provide round-the-clock support for your social media app.
How to make an app like Instagram in 6 steps
Step 1. Conduct the research 
Run marketing and competitor research to determine the market size, the target audience's portrait, and development forecasts.
Step 2. Find your USP
To stand out from competitors and attract a potential audience, breathe a unique selling point (USP) into the app. You can use the following questions that will help find the right USP:
What do users like and dislike?
Where are they? Who are they?
How to solve user's pain points?
How do users interact with similar apps? Which features do they use the most?
After answering the questions, form an app concept. Ask yourself: how to make sure your vision meets the needs of the audience? To do this, ask friends or a focus group, test your hypotheticals.
Step 3. Create an unique UI/UX design
After research and USP, you'll need to determine the functions for your social media app. Envision the app's interaction logic before implementing the design of all the elements, icons, and texts on the screen.
This is when a UI/UX designer creates all the buttons, icons, text fields, and the way of their interaction. Here at Purrweb this step results in ready-to-develop app layouts + UI-kit for developers.
Step 4. Development Stage
Now it's time to code your social media app. This step will require a proficient team of mobile developers if you want it to be quick and of good quality.
The platforms your app will work on affect this step drastically. You can develop for iOS and Android separately or you can opt for cross-platform development. This will win you time and money while slightly decreasing performance. If you want to reach a large audience and save your budget our React Native development team will help you accomplish just that.
Step 5. Fix bugs and smoothen performance
You need to test the application builds for all functions to work properly. To do this, the QA team will check the app for bugs and fix them.
Step 6. Release and support
Release an app and collect feedback. Find out what users like, dislike, and whether they will use the app.
You can plan further fixing and new feature updates based on this information. Your users will enjoy frequent updates and quality-of-life improvements.
Сost to make an app like Instagram
The cost of developing a social media app depends on several factors. For instance, the features, the complexity of the design, and the platforms you aim for. Be mindful about the time needed to implement special features. Also, remember that the cost of MVP will be much lower than full-fledged traditional development. Let's see what we need to build a photo-sharing app.
| | | | | |
| --- | --- | --- | --- | --- |
| Stage | What we do | Hours/weeks | Weeks | Cost ($) |
| Project analysis | We analyze the idea of a social media app like Instagram, estimate the cost, and approximate development time. | 12 | 1 | 0 |
| UI/UX design | We create a unique brand design in a single style, show the stages of production daily, and approve them based on the vision for the app. | 142 | 6 | 5 300 |
| App development | We develop a high performed app on iOS and Android. It has clean code without kludge, and others developers could work with it based on thoughtful code review. | 1 050 | 12 | 55 450 |
| Testing (Quality Assurance) | We find bugs and fix them. Users will get a well-working app. | 360 | — | 7 200 |
| Project management | We make sure that the team keeps a single vision and manages to do tasks on time. | — | — | 5 300 |
This is a basic assessment. If you want to evaluate your app idea accurately, we can prepare an individual assessment. To do this, fill out the form below.
How to promote and grow a social media app
Acquire an audience after launching an app. You will always do this, so pay attention to several ways.
Community building
You should captivate users with the app so they can recommend it to their friends. Consider your audience, adopt a suitable tone of voice and endear yourself to your customers. Establish your brand in social media and help like-minded people find a sense of community over your app.
Situational marketing
Look for strange news, link it to the app, and share it on other social media apps. Boom, you're trending!
For instance, if Instagram servers went down, it's time to open Twitter and post about the cool features your app has and Instagram doesn't. People will search for the info related to Instagram servers shutting down and likely will stumble onto your post.
Content branding
Add a logo to the content that users may share outside the app. This way, their followers will notice the app name and are more likely to install it. Consider the way Snapchat QR-codes have their logo in the middle.
Creators program
Enlist creators with an existing fanbase on other social apps to make unique content on yours. They'll share links to your platform with their fans. If everything goes right, their audience may gradually switch to your app to reach new social experiences.
Ads
For example you might promote a photo-sharing app with Instagram ads. Show you killer features in short videos to engage the target audiences so they download the new social media app.
Conclusion
A social media app like Instagram requires a unique feature. Users should like it so that they choose your application over more wide-known competitors. If you've found that unique selling point — get a development team and follow your vision. Create, enhance, promote and who knows, maybe your app will become the next social media titan.
If you are going to build an app like instagram, feel free to contact us. We are a full-cycle development team that will help make mobile, web, and desktop apps from idea to release. We have a staff of 200, and have been on the market for 8 years. So we will gladly provide our expertise to make your ideas reality.