All these reasons to buy and sell goods make apps like OfferUp a good business idea. You can create your own e-space for people to sell their unnecessary belongings and buy something they want. We have developed a guide to the world of sites like OfferUp for you. We will start our journey from a market overview, then dive into the functionality of buy and sell apps and look through a plan with precise cost to develop such an app.
How do buy and sell apps work?
Working mechanics of apps like LetGo and OfferUp are simple:
a user registers, fills in basic personal information,

a seller lists their goods to sell: adds pictures, description and price,

customers search for goods they want,

if needed, a customer can connect a seller via chat and discuss the specifics of a good,

a customer buys goods they chose or barters with a seller.
This kind of app is an electronic version of a market: people have an opportunity to buy and sell goods among each other without companies ruling the market.
Buy and sell apps market overview
Ecommerce is a fast-growing market: Emarketer report shows a 16.8% increase in buying and selling online all over the world. Moreover, the global ecommerce market is expected to total $5.55 trillion in 2022 with 21% of all sales made online. That's a lot!
Peer to peer marketplaces are also a promising sector. As stated by Future Market Insights, this ecommerce segment amounted to $1 bln in 2021 and, more than that, is expected to grow fivefold by the year 2032. Cumulative annual growth rate of 15.5% makes it an attractive opportunity to develop an app like OfferUp or LetGo. However, there are several confident competitors to consider before the start.
Apps like OfferUp and LetGo: differences matter
There are several buy and sell apps on the market. They all have the same basic functionality, however differ in details. Let us dive into each of them for a better understanding of the apps like OfferUp.
OfferUp
OfferUp is the biggest marketplace app for local users. It works in the USA, excluding Hawaii, Alaska and Arkansas. Developers of the app pay great attention to security with safe deals and authorisation services. Also, both customers and sellers can rate each other and provide deal feedback.
A hallmark of the app is the creation of digital communities. That is the key to its popularity: users spend on average 25 minutes per day on the app, same as Instagram or Snapchat.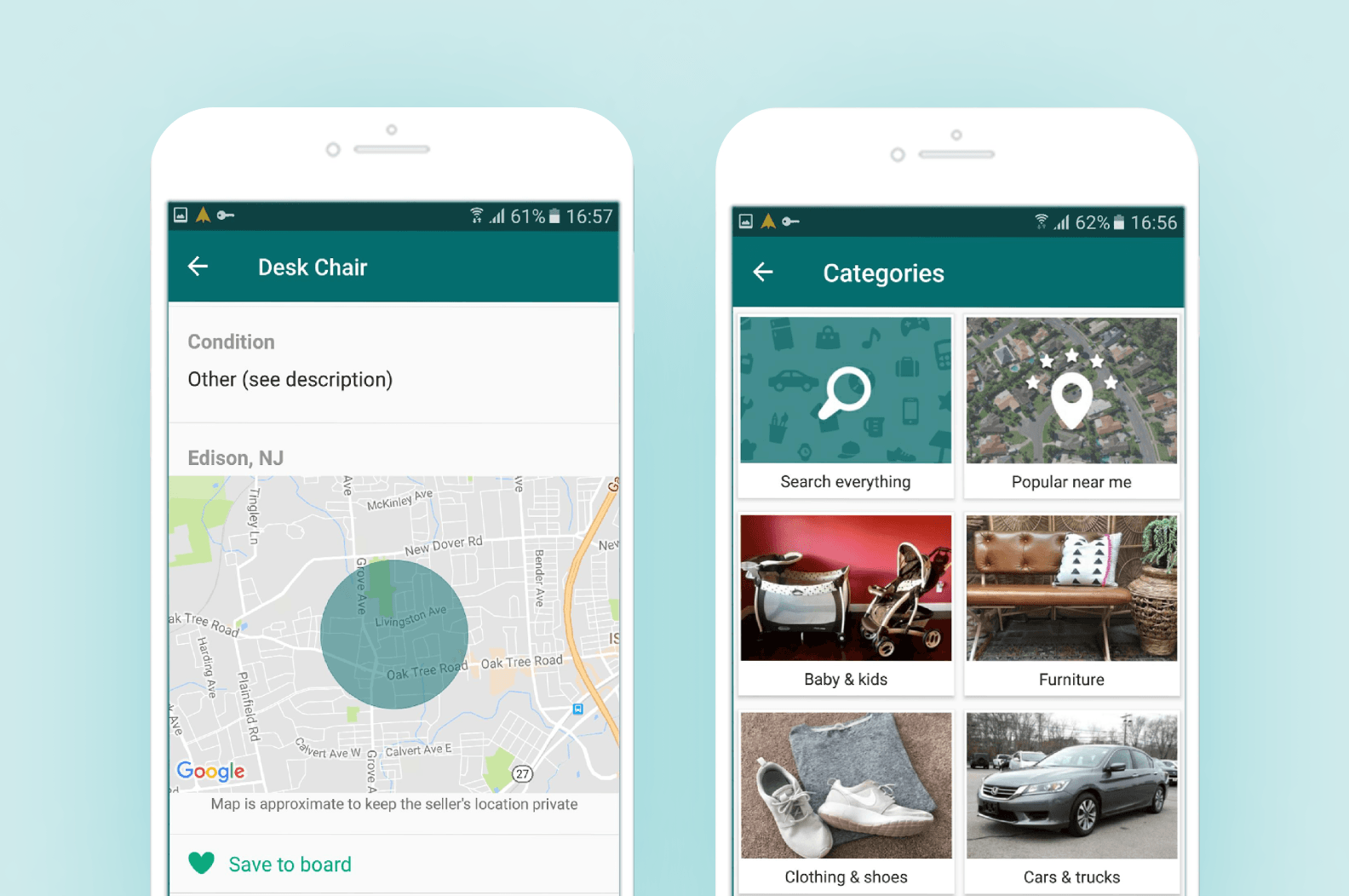 OfferUp's interface: choose goods near you to buy
LetGo
In 2020 LetGo became a part of OfferUp. It has some strong features you should consider to develop in your own app. First, sign up with a Facebook account: it makes the registration process easier and helps to verify user data for security. Second, location-based advertising of goods. Sellers can place ads and broaden the audience without extra spendings. 
However, the app has a huge limitation as there is no built-in payment system, the users should define the payment terms on their own. Not only is it inconvenient, but also unsafe for both parties.
eBay
Although it's a US-based marketplace app, eBay is well-known across the globe for almost worldwide delivery. It is a huge competitor of all local buy and sell apps, since you can look for the product in a particular region with a zip-code filter. eBay has a vast variety of goods categories, PayPal integration and simple interface, however it lacks round-the-clock customer support.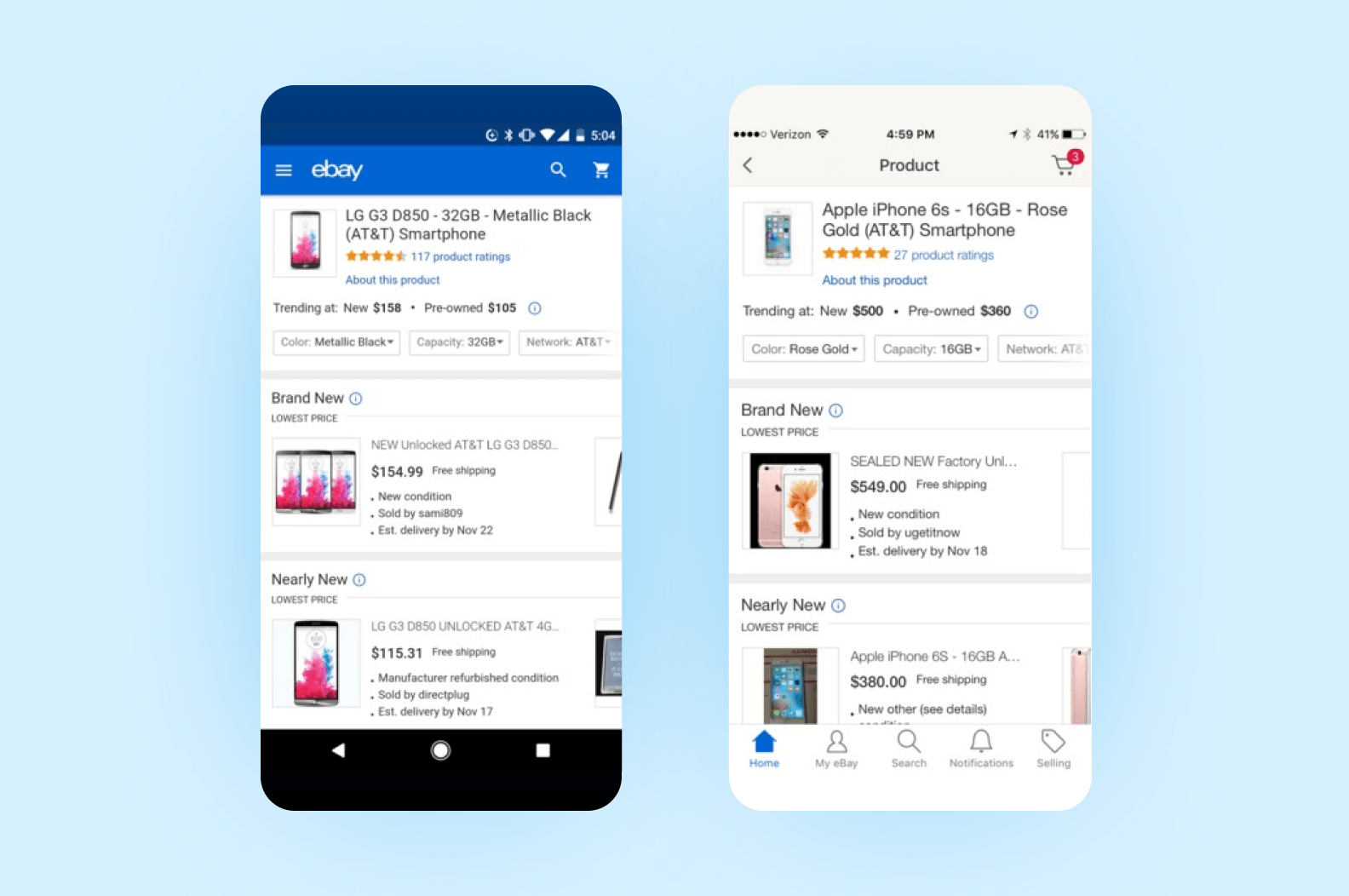 eBay has lots of filters to help you find the right good
Craigslist
This marketplace app works in 70 countries and serves 55 million users. The number of product categories is also huge and includes real estate and vacancies, which is a rare feature for a buy and sell app. It has secure transactions as the main competitive advantage. Craigslist positions itself as a fee free app, however, listing in some categories will cost you 3-4$.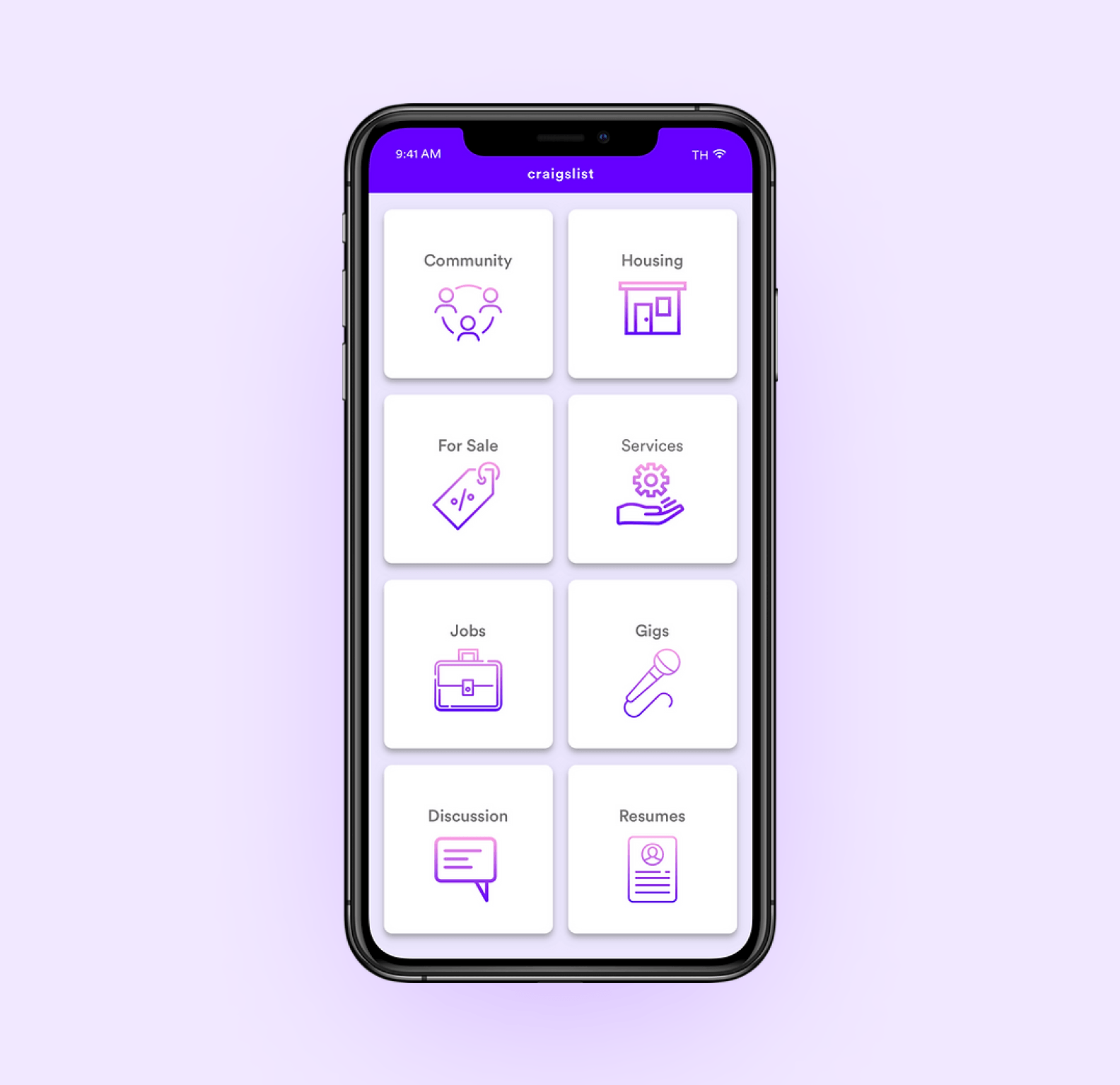 Craigslist has something for everyone
VarageSale
As stated by the name, this is an app for online garage sales. Users can search for goods only in a small geographical area which creates the atmosphere of the neighborhood. The security is supported by registration with real Facebook accounts. The app has a killer feature: all goods are manually inspected to protect users from scam and fraud. 
Listia
A unique feature of Listia is an internal credit system: users pay for the goods with Listia credits instead of real money. There is an alternative way to earn credits: users can list items, give goods away, invite friends into the app or sign in with social media accounts.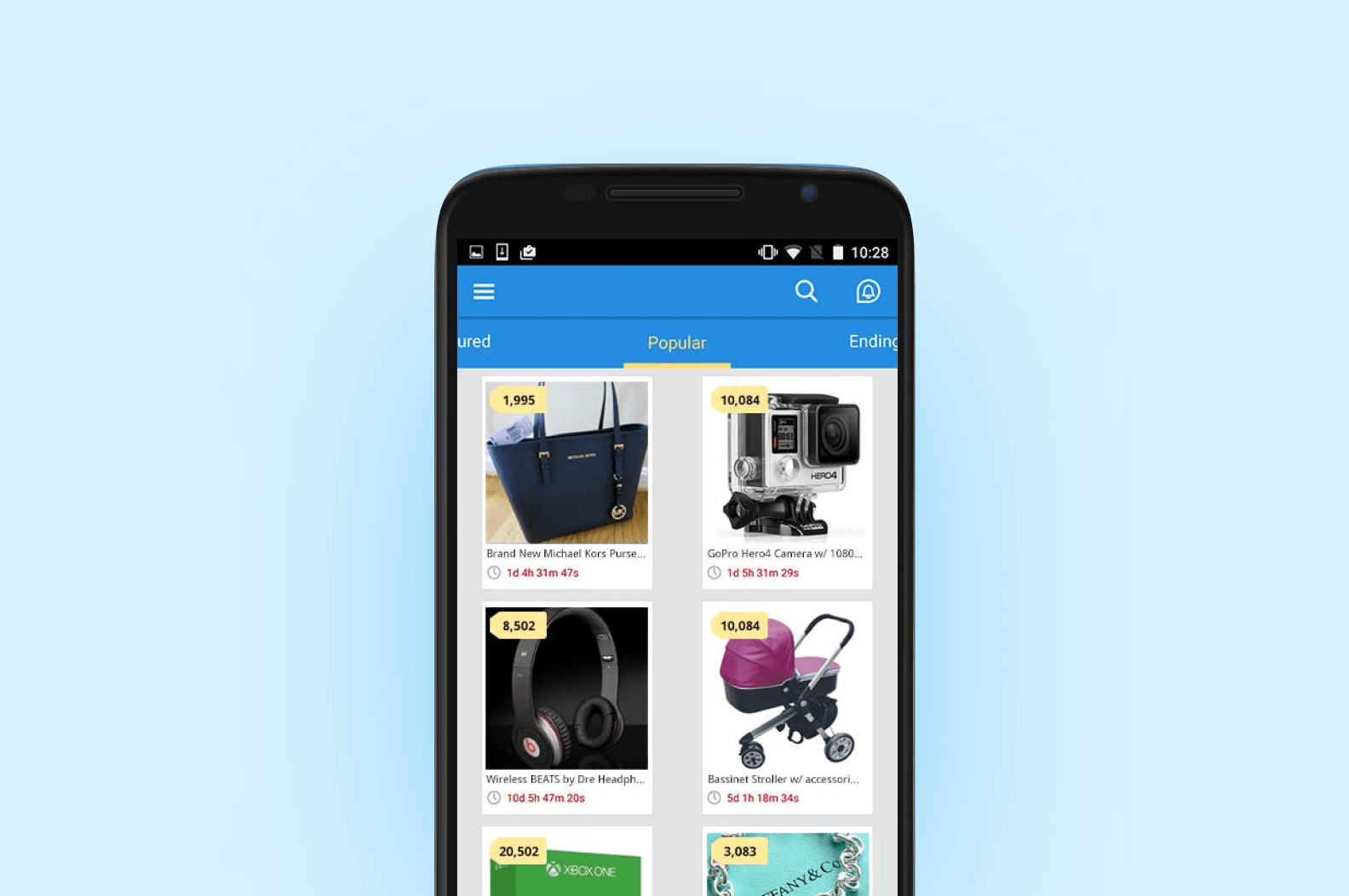 The prices aren't in dollars. They are in Listia credits
How apps like OfferUp make money?
Person to person marketplace apps have a similar business model. Ordinarily, these apps are free for download and registration. However, they can take a fee for several in-app actions or make a profit through its audience coverage, for example by showing ads to users. For your buy and sell app you can choose from this list of app monetization strategies
Internal Ads
You can offer in-app ads for sellers in order to promote their goods and make deals faster in apps like OfferUp. It works efficiently with an internal recommendation system and the ability  to create special offers and discounts.
Member Fee
This type of monetization strategy creates two ways of business:
you can provide some special functions on a commercial basis. For example, placing the ads on top of all search results or showing ads during calls;

or you can create common fee or subscription plans. For example, we created 3 subscription plans for Contentplace, a video content marketplace.
Seller Fee
Some of the buy and sell apps charge a commission from the seller for listing. Generally, the fee is between 1 and 5% of the price. However, you can create your own scale for the commission and, for example, charge small traders less. Please note that this business model will work if your app provides a significant value for sellers and makes their interaction with customers easier.
Transaction Fee
Fee for a transaction is the most common way to profit from an app. You can include commission (fixed cost or a percentage) for a buyer in every deal made through your service, just like OfferUp.
External Ads
When your app audience is huge enough, you can make the app free for users and generate profit from external advertisers. You can attract companies to include their banners in your app interface. Use your own resources for external communication or delegate it to an advertising agency.
Basic features of apps like OfferUp
Your future buy and sell app should include these must-have features:
signup through email and social media, 

cart, 

built-in payment system,

camera, 

chat for buyers and sellers, 

technical support,

push-notifications.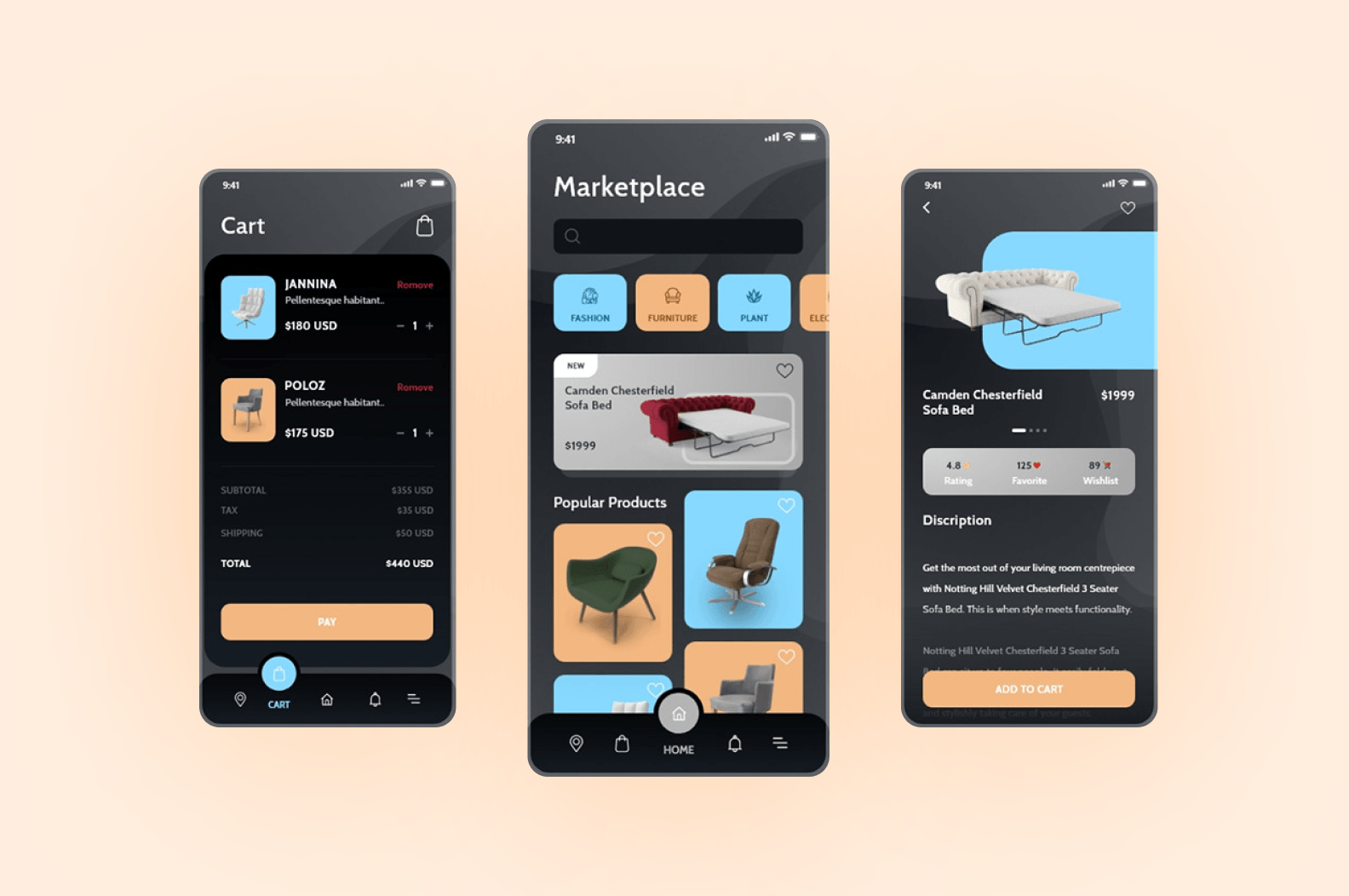 Basic features of a marketplace app: product card, search, cart
However, it is not enough for a pleasant customer experience.  To build an app like LetGo or OfferUp, one should develop a product card with all necessary fields. Best practice is to include:
photos, 

description, 

price, 

place of deal, 

delivery options, 

and whether the goods are new or used.
Experts also recommend to include an advanced search engine into a buy and sell app with lots of categories and subcategories and comprehensive filters. This will help to improve user experience as potential buyers can find just the item they want in terms of color, size, type, brand, etc. 
We have created a marketplace app for home rental with plenty of tags. Learn more about it as an inspiration for filter creation.
You should also consider rating and feedback mechanisms because they motivate users to be fair in their deals. Especially since the feedback is a two-way street.
Extra features of marketplace apps
Additional functionality can create unique customer experience and brand ambassadors for your app. 
1. Sophisticated recommendation systems
Search with photo scanning and price comparison can speed up the goods search. Also, you can offer hot deals based on favorite goods and previous purchases in your app. 
2. Virtual try-on
You can also enhance user experience by adding virtual try-on in your buy and sell app. It is an almost obligatory feature for beauty and clothing marketplaces as it helps to select goods that suit perfectly to the buyers' needs.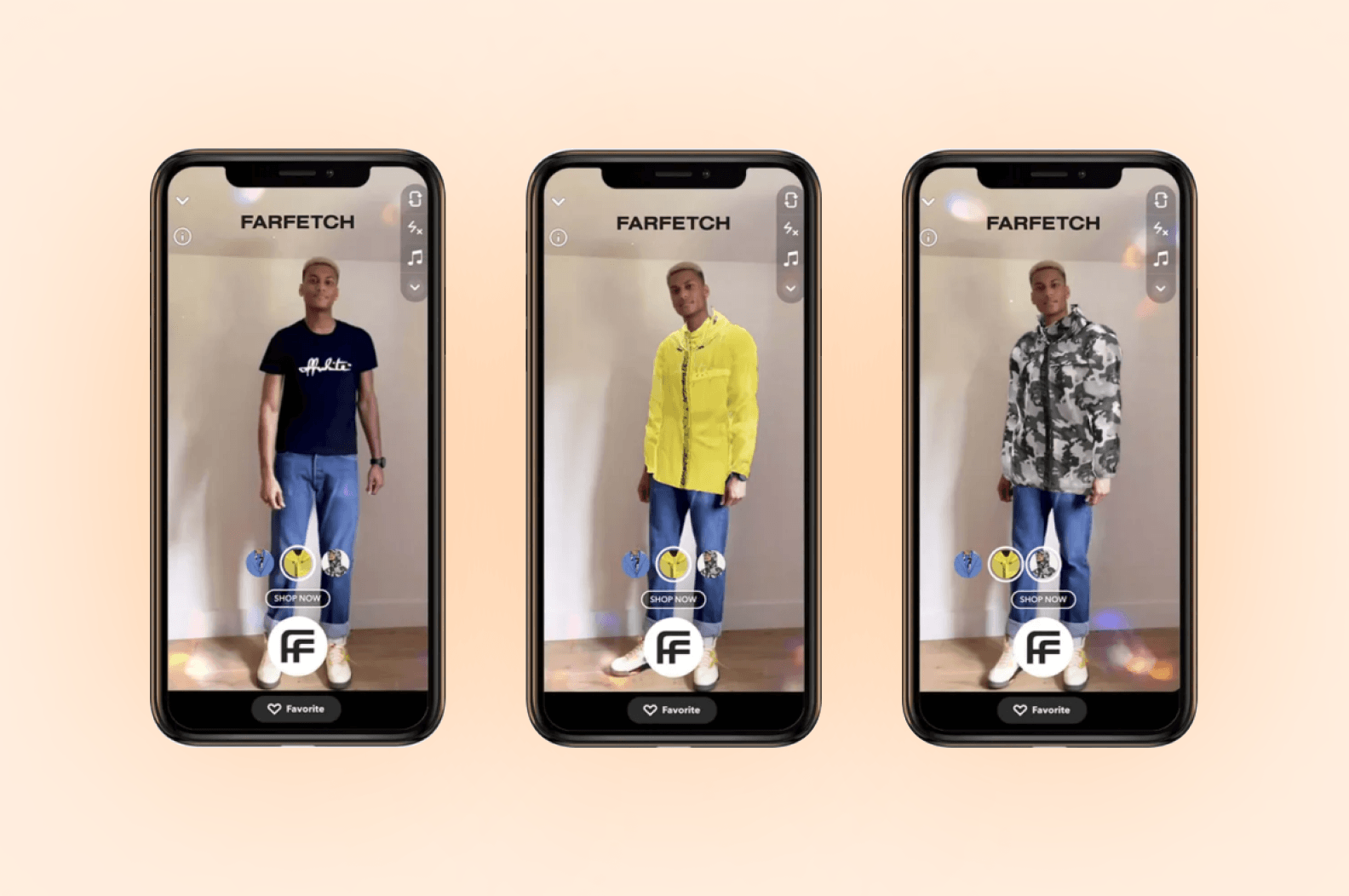 Users can try clothes on using AR
3. Integrations
Some people would appreciate built-in delivery or integration with post services as it is more convenient to push one or two buttons in an app instead of going to a post office and arranging the delivery. By the way, it is one more way to monetize your app like OfferUp or LetGo and raise your profit.
4. Safety
App security is one more way to improve your service. Either manual or automatic, fraud protection will help to build trust with your users and can be a decisive factor when a person chooses a buy and sell app for themself. 
4 steps to create a buy and sell app
Creation of a marketplace app has the same structure as any other mobile app development. However, there are several details to consider on every step for apps like OfferUp.
1. Market research
Learn how other apps like LetGo or OfferUp built their business model and what kind of features they have. Try to get the experience of both buyers and sellers. Put attention to inconvenient interface or illogical menu: all these mistakes should be avoided in a buy and sell app.
2. Finding a developer agency
If you don't have a team of professional developers, you may choose a development company for your future app building. Start your search from companies' portfolio: an agency should have a number of relevant cases. Put an attention to clients' references and reviews as a clear indicator of the company's approach to relations with customers. 
3. Building an MVP
MVP (minimum viable product) is a comprehensive prototype of your future buy and sell app with all features in their basic performance. Creation of MVP helps you to test the water early and minimize the cost to develop, as well as collect feedback from real users for future marketplace app development.
The agency you've chosen will help you with development.
4. Release and Maintenance
After a buy and sell app's release starts a huge phase of maintenance and development. The more users use the app, the more feedback you will get. This way you'll learn how your app satisfies the users' needs. And that is a great opportunity to connect with your users and create a better app for them. Do not hesitate to engage the development team: they know your app better than anybody and will help you to further improve the functionality and design.
How much will it cost to develop a local marketplace app?
We prepared a rough guideline on time and money needed for mobile app development.There are four key stages:
Project Estimation
You and your development agency will discuss the app idea and estimate the time and costs for development. This stage is normally free of charge.
UI and UX design
Design includes not only visual representation, but also key functions of your app. In this stage, we plan everything you want to see in your future marketplace app from sign in to delivery. 
To develop design for a buy and sell app you need:
⏰ 130 hours
💰 $7000
Development
We use React Native. It helps to save time and money, since we develop both iOS and Android app in parallel. This is the most time-consuming stage. The team develops the architecture, the interface on both client and server sides.
⏰900 hours.
💰 $44500.
Here is what you get for your buck feature-by-feature:
| | | |
| --- | --- | --- |
| Feature | Time for development, hours | Cost of development, $ |
| Social sign-in | 60 | 3000 |
| Product card | 60 | 3000 |
| Cart | 80 | 4000 |
| Search engine | 60 | 3000 |
| Payment system | 40 | 2000 |
| Chat | 300 | 15000 |
| Notifications | 24 | 1200 |
| Goods filters | 40 | 2000 |
| Rating and feedback mechanism | 40 | 2000 |
QA Testing
Testing is important. Аll the bugs should be identified and cleaned up before the launch. Our QA engineers will work it up for you.

⏰ 300 hours.
💰 $7500.
There is one more additional spending item — project management. A professional manager assigns tasks, control deadlines and costs of development.

💰 $5000.

The total spending for an app development is $67700.
Summary: takeaways and the first steps
For your convenience, here is a recap of essential statements:
all current apps in the market have quite a similar functionality with email and social media registration, goods description, ecommerce tools, notifications, chat, built-in camera, support, rating and feedback;

there are 4 steps to

build an app like LetGo or OfferUp

:




1) market analysis,




2) development of an MVP,




3) release,




4) maintenance.

total expenses for a marketplace app are around $

67700

.
Even before local market analysis, you can make a first step for your future app creation. It can be a free consultation with a Purrweb specialist on how to develop an app like LetGo or OfferUp. We can discuss your expectations and time frame for mobile app development. Moreover, we will give you some recommendations based on our experience in app creation for your market and industry. Contact us or fill out the form hereby.