What is a cryptocurrency wallet? 
Let's start with the basics. A crypto wallet is a service or application where users can keep cryptocurrency, buy, sell, send and receive digital assets. It also saves transaction records. The crypto wallet itself is not the storage of assets, but it provides users with access to their cryptocurrency located in the blockchain network. The crypto wallet app is usually installed on a smartphone or desktop, but it can also be a browser extension or even have a physical form. 
Truth be told, operations related to the transfer of crypto assets are transactions with information, not with the cryptocurrency itself. Participants transfer ownership rights of a certain cryptocurrency to each other.
But is a cryptocurrency wallet app secure? Each wallet contains a security key or private recovery phase (seed phrase) that strengthens asset safety. The crypto wallet makes transactions using public and private keys. Let's make a bank analogy. The public key is similar to a bank account number. It is the address of the wallet. The wallet user can share this key with other people or financial organizations. The private key works like a PIN code to the bank card. The private key provides the user with access to assets on the wallet. It must be securely stored to avoid wallet hacking or stealing funds.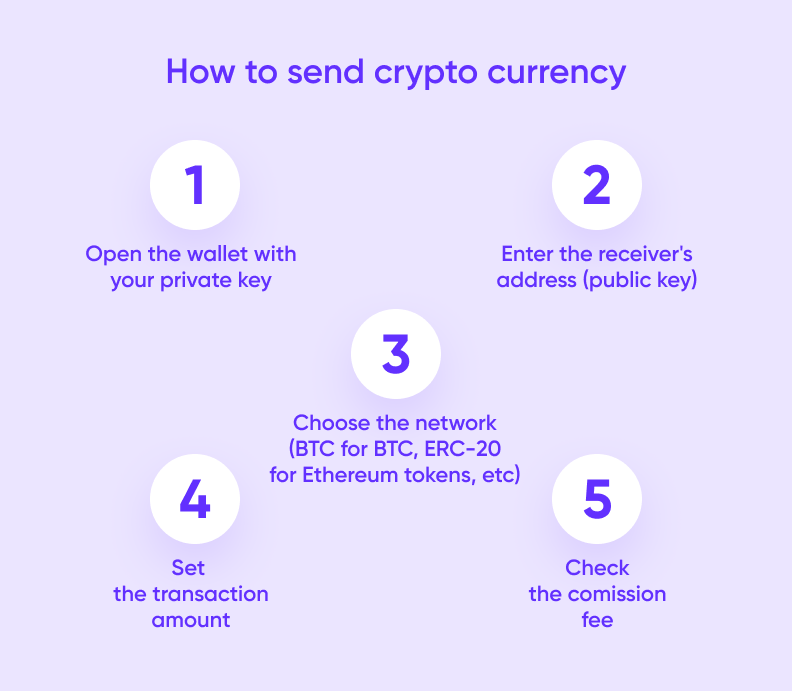 Standard flow of crypto assets transferring
Types of crypto wallets
The choice of a wallet application is based on several criteria, such as ease of use, protection level, the number of available cryptocurrencies, wallet format, and some extra features. Let's look at some of the wallets to understand what their peculiarities are.
By format
Based on how the wallets work, there are hot (software) and cold (hardware) cryptocurrency wallets. Hot wallets include web, desktop, and mobile applications. Cold wallets have a physical form, these are special devices that can be connected to a PC.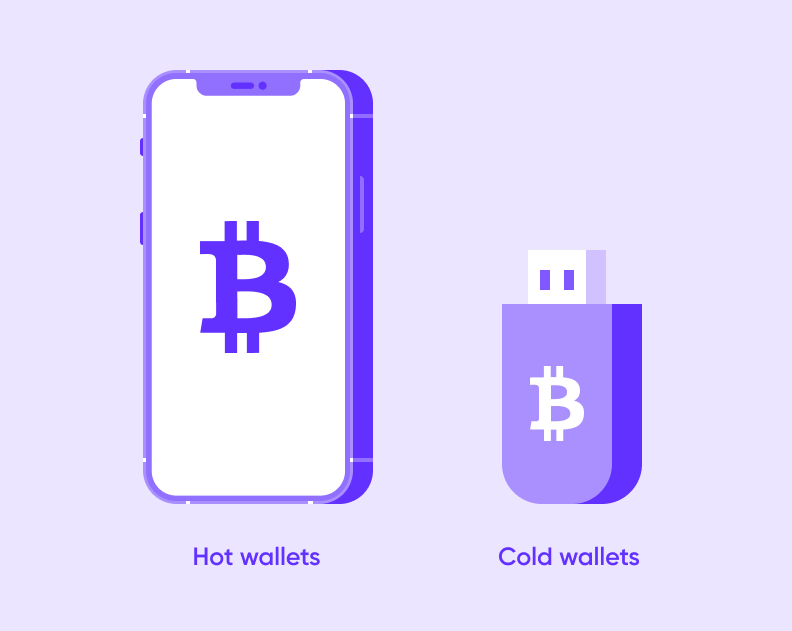 Examples of hot and cold wallets
By governance
We can distinguish a separate category by the criteria of managing and storing the user's public and private keys: by their governance, cryptocurrency wallets can be divided into two groups: custodial and non-custodial.
Custodial services, such as a cryptocurrency exchange, store public and private keys on the company's servers. What's more, data backup is also the responsibility of the developer. This type includes crypto exchange wallets and some software wallets. 
Non-custodial wallets let the users store keys on their devices. When creating an account in such a wallet, the user specifies a recovery phrase, so they can access the cryptocurrency even if the keys are lost. The reality is that storing crypto on centralized custodial services is less secure than on non-custodial alternatives.
By the device used
The most common crypto wallets are non-custodial, so let's learn more about them and their types based on devices people use them on.
1. Desktop wallets are the most popular type among users. It is an application that should be installed on the PC. All information about the cryptocurrency and private keys are stored in the user's computer memory, so experts advise taking care of additional protection, for example, using two-factor authentication and a security program. The desktop wallet stands out from other software wallets because of its high level of protection. Therefore, it is actively used in staking.
2. Mobile wallets are an alternative to desktop wallets with advanced functionality. Mobile cryptocurrency wallet applications are installed on a mobile device. They are perfect for everyday transactions and purchases, as such wallets provide quick access to assets. Experts recommend encrypting the mobile crypto wallet with a strong password and creating a backup copy of the file with login data.
3. Web wallets can be used with a regular browser without installing any software. This storage option is not considered reliable enough. To prevent funds from theft, users should think about protecting their web wallets. They can use two-factor authentication and anti-phishing encryption. 
4. Paper wallets are an alternative to cold storage. It is a piece of paper containing keys for the wallet in the form of QR codes. The printed data can be scanned when making transfers. Such a method of storing crypto funds is quite safe since the cryptocurrency is reliably protected from fraudsters. They cannot steal private keys or any data while staying online. 
5. Hardware wallets are somewhat similar to flash drives. They are considered the most reliable type among all currently existing ones. Hardware wallets generate private and public keys automatically. They are independent gadgets that do not have access to the internet. This type of storage is suitable for users aiming for long-term investments. Many crypto whales also prefer hardware wallets to store a large amount of money.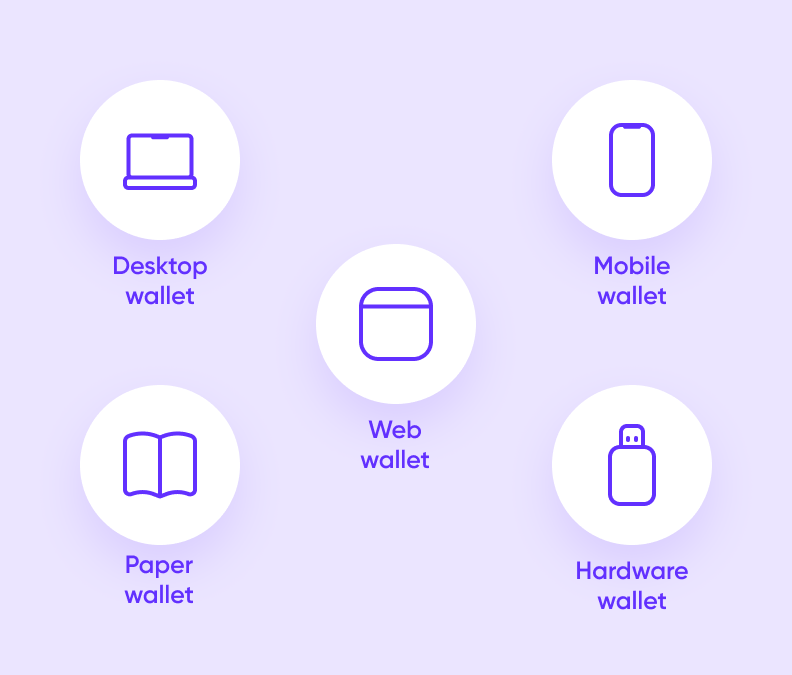 Examples of wallet types based on the device they use
At Purrweb, we have developed two mobile crypto wallet applications. Study our cases: Broex and cryptocurrency wallet.
Top 5 crypto wallets
Let's look at some of the most popular cryptocurrency wallets. We have selected both hot and cold wallets. These apps and devices attracted millions of users around the world, and their features can serve as an example for creating your bitcoin wallet or multi-currency wallet.
MetaMask 
This is one of the most popular decentralized cryptocurrency wallets. It is built on the Ethereum blockchain and serves for storing, transferring, and receiving tokens of the ERC-20 and ERC-721 standards. The feature of the wallet is that it is convenient for working with decentralized exchanges, smart contracts, and DeFi applications. MetaMask has high compatibility with hardware wallets.
📱 The MetaMask wallet is an extension for Google Chrome and a mobile application.
🔒 MetaMask supports BNB SmartChain (BSC), Polygon, Harmony, and a few more blockchains, and approximately 200,000 tokens of ERC-20 or compatible with the ERC-20 token standard.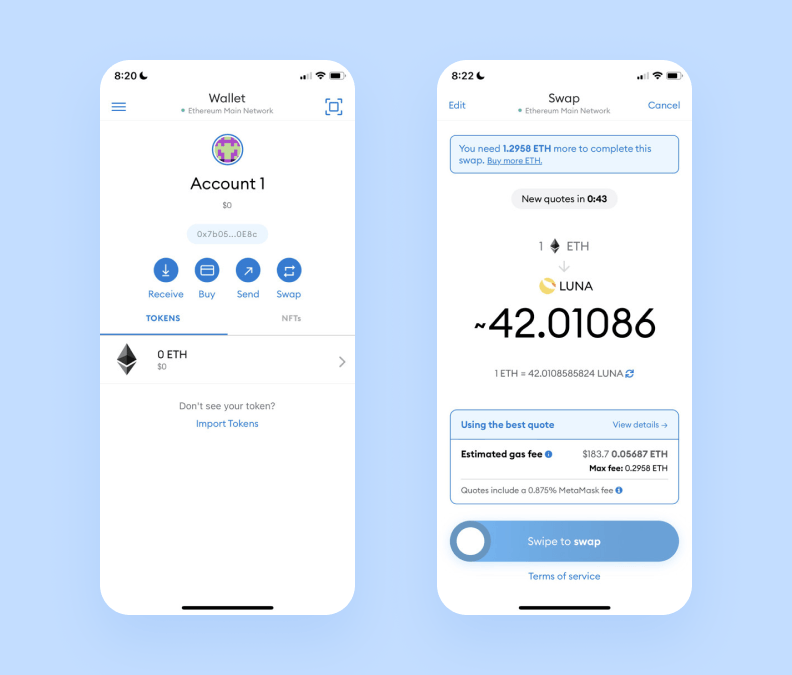 MetaMask wallet screen
Check out our article, if you want to dig deeper into how to build blockchain application.
Exodus 
The Exodus wallet is a hot wallet where users can buy, sell, and exchange cryptocurrencies. The wallet has a nice and simple design and great functionality, and there are regular automatic software updates. Exodus encrypts private keys and transaction data on the device. It is compatible with the Trezor hardware wallet.
📱 There are desktop and mobile application options. 
🔒 Exodus supports Bitcoin, Ethereum, Litecoin, XRP, and a few more blockchains, the ERC20 token standard, and over 150 cryptocurrency assets.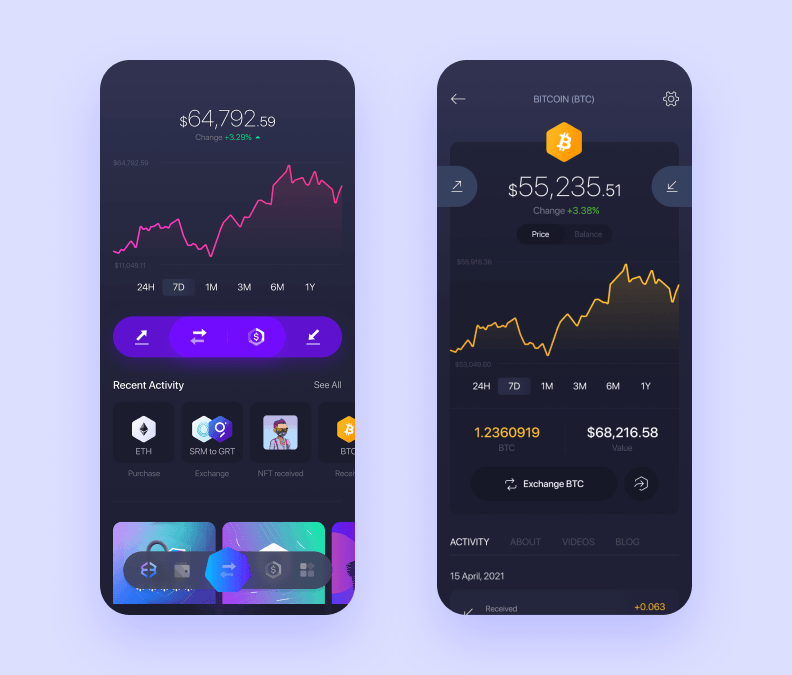 Exodus wallet screen
Trust Wallet
Trust Wallet supports ERC-20, BEP-2, and BEP-20 token standards, NFT tokens, and DApps. Trust Wallet includes a built-in Web 3 browser. The wallet created by Binance is compatible with all services of the platform.  
📱 Trust is a hot mobile wallet application available for iOS and Android.
🔒 Trust Wallet crypto wallet supports more than 40 blockchains, including Bitcoin, Ethereum, Litecoin, Solana, and Polygon, and more than 4.5 million crypto assets.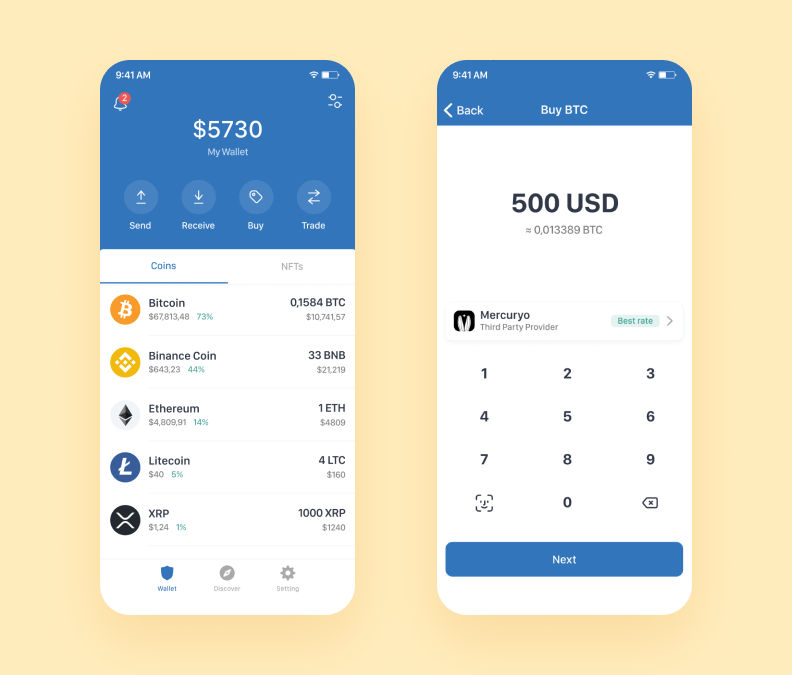 Trust wallet app screen
Ledger Nano
There are two types of cold Ledger wallets: Nano X and Nano S. 
Ledger Nano X is a device that can be connected to the smartphone via Bluetooth or to the PC via USB. This hardware multi-currency storage is popular among long-term investors.
Ledger Nano S is a bit cheaper than the Nano X and does not support Bluetooth, but still provides a high degree of protection. Although this model was released in 2016, it still is one of the most popular hardware wallets.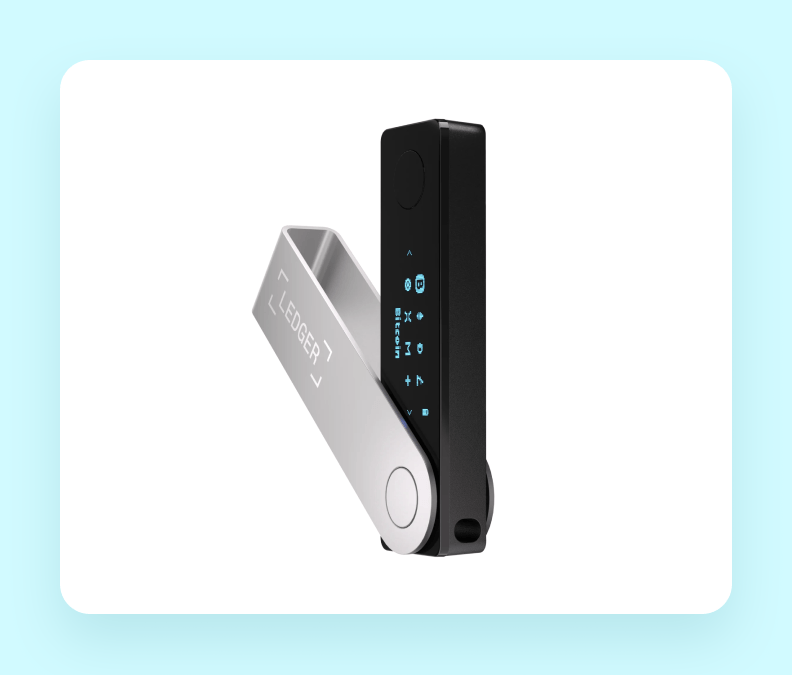 Ledger Nano photo
📱 The user can manage digital assets through the Ledger Live desktop or mobile application available for iOS and Android.
🔒 Ledger supports more than 5,500 cryptocurrencies and tokens.
Trezor Model T
Trezor is a cold hardware wallet. It is one of the most popular devices on the market. The wallet provides an isolated environment for signing cryptocurrency transactions offline. Trezor is equipped with a touchscreen and has a convenient interface, which makes it easier to use. You can send transactions to multiple recipients at once and use universal two-factor authentication to protect your assets.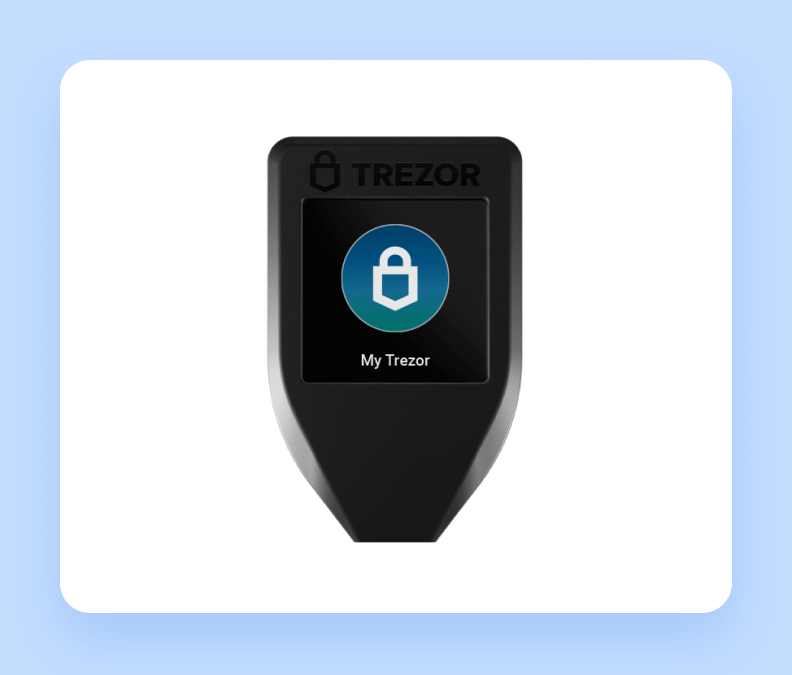 Trezor Model T photo
📱 Trezor is compatible with Ethereum-based web- and desktop wallets. 
🔒 Trezor Model T can store more than 1800 different cryptocurrencies and tokens.
Why is there a need for cryptocurrency wallet development?
In the last few years, we have witnessed a rapid growth of the cryptocurrency market. Total market capitalizationpeaked in 2021 and continues to surprise traders and investors today. The involvement of both companies and ordinary users in the cryptocurrency market increases, which means that more and more people in the world get access to this financial instrument. As a result, the demand for high-quality and reliably protected solutions for storing crypto assets rises.  According to ZionMarketResearch, the market of crypto wallets is expected to grow to 686 million in the next 6 years.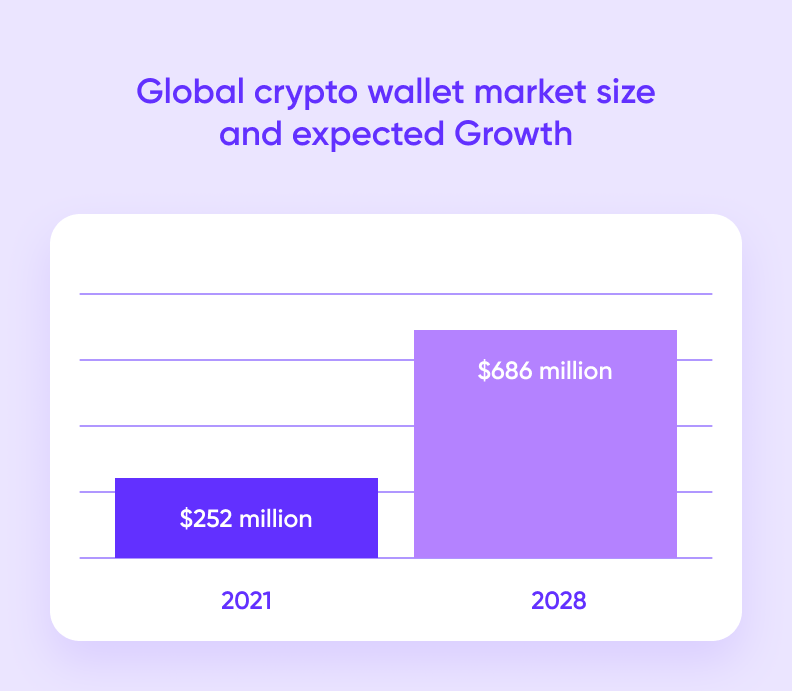 The statistics expect the market to grow
The crypto wallet is designed to solve current problems, such as unreliable token storage on exchanges, and complex transaction and conversion systems. In a high-quality cryptocurrency wallet application, tokens can be transferred from one address to another or converted in just a few clicks. The internal security protocol takes care of the security of the funds, and seed phrases and strong passwords, which only the user has access to, create an additional layer of protection.
From a developer's perspective, it's profitable to make a
cryptocurrency wallet
application because they can earn money on commissions during transfers and conversions of currencies and advertising. That's why the idea
to create a cryptocurrency wallet
today seems promising.
Core features 
What functions should a cryptocurrency wallet application have? As a rule, it is created to avoid problems that are associated with trading and storing funds on the crypto exchange or marketplace and to enhance asset security. Based on this, the main requirements for the application are:
A unique access key. Every wallet should provide its users with unique public and private keys. There should be an opportunity to add a personal password or two-factor authentication. 
Session duration. You need to limit the session duration for security purposes. This practice exists in banking applications. When some time passes without user activity, the application closes automatically. To resume the session, a user needs to re-enter the login password.
Several supported cryptocurrencies. There are single-currency crypto wallets, such as Bitcoin wallet or Ethereum wallet, but now their popularity is not as high as that of multi-currency alternatives. It is often convenient for investors and traders to have a diversified portfolio of assets and store them in one place. The most efficient crypto wallets constantly add new tokens to their list due to the growing demand from the crypto community.
Buying and selling cryptocurrencies. The crypto wallet application should make it possible to buy and sell cryptocurrency assets, execute buy and sell orders, and organize trades between users.
Transaction options. You need to allow sending cryptocurrencies to other wallets using the wallet number (public key). The transfer of cryptocurrencies from one user to another is an integral part of every cryptocurrency wallet application.
QR codes. QR codes simplify functions such as making a transaction, receiving a transfer of assets to your address, logging into the crypto wallet app, securely authorizing a user on the platform, or confirming any other actions.
Push notifications. Notifications may include one-time codes to confirm transactions, as well as information about successful crediting or debiting assets or an error. The push notification is important for maintaining security. If some assets have been debited from the account without the user's consent, the notification will immediately inform the owner about it.
Constant updates of the conversion rate. Due to the high volatility of crypto assets, the exchange rate is constantly changing. Crypto wallets allow users to transfer money in different ways, for example, in Bitcoin or altcoins. Your application needs to synchronize with the blockchain network and show up-to-date information about conversion rates at the time of the transaction. 
Сompatibility with iOS and Android. Launch the app simultaneously on the most popular operating systems: iOS and Android. You can achieve it with React Native that helps developers use one code base to develop two apps.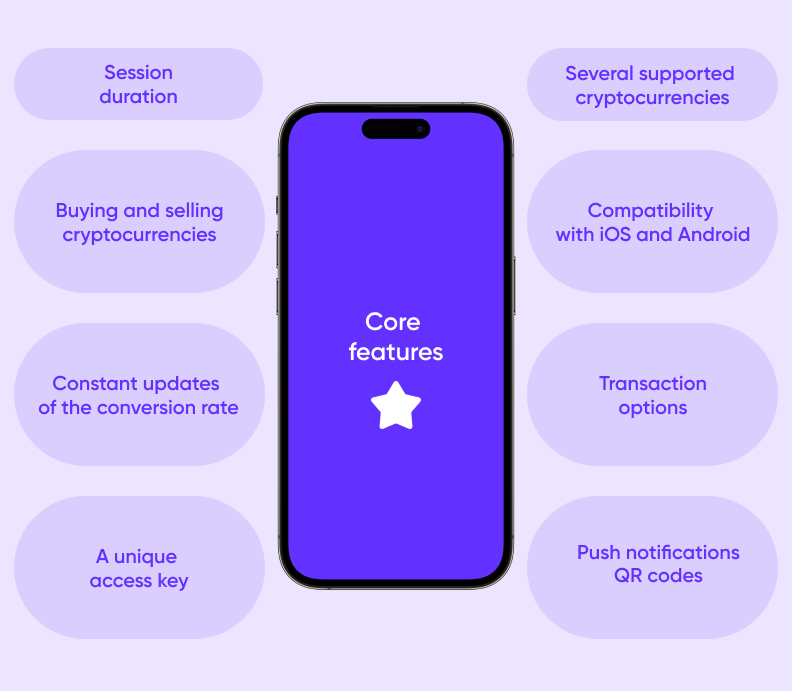 Cryptowallet core features
Nice-to-have features 
Besides the main mandatory functions, you can also stand out from the competition by adding the following features:
Commission calculation. Some crypto wallets have a field for calculating the commission or they automatically show how much you need to pay depending on the transaction amount. This feature adds convenience to the user and makes the system more transparent.
Conversion of fiat into cryptocurrency. Not all wallets allow you to convert US dollars or other fiat currencies into cryptocurrencies. However, such a feature can add popularity to your wallet and perfectly suit beginners in the world of crypto.
Payment gateways. A crypto payment gateway is a tool that allows users to pay with crypto for goods and services and merchants to accept crypto payments. Advanced crypto payment providers offer to automatically convert assets into fiat currencies.
Collaboration with cryptocurrency exchanges (DEXes). Many wallets need to be connected to the web version of a decentralized exchange or NFT marketplace to buy and sell assets on this website. A simplified or automatic connection to popular exchangers will be a great addition to your service. 
Several accounts for cryptocurrencies. To diversify the portfolio, investors and traders buy and store several different cryptocurrencies at the same time. You can add the ability to create multiple accounts for different currencies to your crypto wallet application. So there will be a division between assets. 
Staking. Many platforms, including Binance and Coinbase, have added the ability to stake cryptocurrencies using a cryptocurrency wallet. Storing cryptocurrencies to maintain network performance and receive rewards for this is a popular passive income among crypto enthusiasts.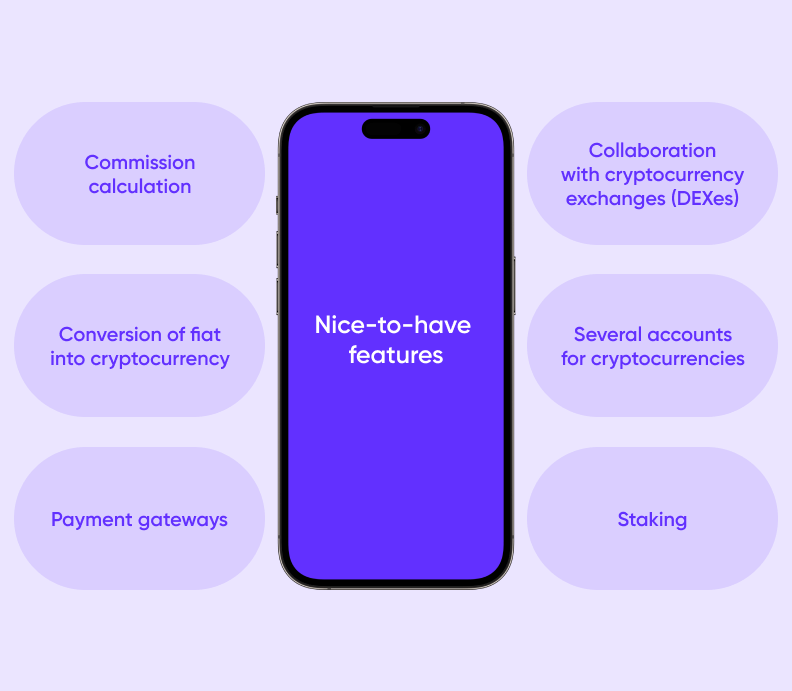 Tech stack for crypto wallet development 
To develop a crypto wallet application, you will need to choose either a desktop, a web or a mobile app. Let's explore some useful and advanced technologies that can be used for every type of app. 
Electron.js for desktop apps. Electron.js allows developers to create native cross-platform desktop applications with JavaScript, HTML, and CSS. This open-source framework uses Chromium and Node.js. It makes it possible to build apps compatible with Mac, Windows, and Linux. Useful Electron JS features include automatic updates, crash reporting, debugging and profiling.
React.js and Node.js for web apps. React.js and Node.js are open-source JavaScript libraries for web applications. React is a popular frontend library for creating interactive user interfaces. It offers regular updates and a convenient toolset. Node.js is a backend development environment that allows specialists to create scalable web applications with high performance, flexibility, and interoperability.
React Native for mobile apps. React Native is a framework used to create mobile applications for iOS and Android. It makes it possible to develop apps for the two platforms using a single code base. Powered by React.js, React Native allows developers to use a set of user interface components to quickly compile and launch mobile applications. It also offers an important live update function and a user-friendly interface.

Most professionals agree that these technologies are the best choice for application development. The Purrweb team is no exception, which is why we create desktop apps with Electron.js, web apps with React.js and Node.js, and use React Native when creating mobile applications.
How to build a crypto wallet in 5 steps
Let's take a look at the crypto wallet app development stages. 
Step 1. Analyze the project. The development of both simple and more complex crypto wallets begins with the analysis of available data adjusted for user requests. Share your idea, define a target audience, choose the app's features, define and set the terms of reference, and set timeframes and a budget for the crypto wallet development. 
Step 2. Create a design. You need to find design references, set your expectations for the future app, and design the crypto wallet application with your UI/UX team.
Step 3. Develop a web or mobile application. Find developers for your startup that will work on architecture and the interface on both the client and server sides. 
Step 4. Test the app. Testing will allow you to control all aspects of the application. You need to have the QA testers look for any possible bugs and fix them before the app is released.
Step 5. Release the app and get feedback. Launch your crypto wallet app and receive feedback from the first users. Then, you can come up with ideas to improve the app.
Of course, if you have the right skills, you will be able to create a wallet yourself, but if not, it is easier and more reasonable to seek help from professionals. If you are a startup or you have a cool idea, a desire to grow and you need technical help, the Purrweb team can be useful to you.
How much does it cost to make a
cryptocurrency wallet
? 
The application development market offers many solutions of different price categories. Our company can share examples of ready-made crypto wallet applications. 
The Purrweb company estimates the cost of the project from the first day of the customer's request. We need to discuss all aspects of the work, app functions, preferred design, and personal wishes. If you are going to develop applications for a crypto wallet, you should familiarize yourself with the action plan. Based on the core features discussed above, our team estimates the pace and timing of crypto wallet development as follows: 
| | | | |
| --- | --- | --- | --- |
| Stage | Estimation in hours | Estimation in weeks | Approximate costs |
| Project analysis | 0 | 0 | $0 |
| UI/UX design | 137 hours | 5 weeks | $6 840 |
| App development  | 1050 hours | 12 weeks | $62 100 |
| QA (Quality Assurance) | 360 hours | in parallel with the development | $7 200 |
| Project management | during the whole project | during the whole project | $4 950 |
Overall, the cryptocurrency wallet development will cost you from $80 000 to $85 000 To get more information and an individual offer, please contact us.
Wrapping up
Now you know how to make a cryptocurrency wallet in several steps. We hope that our article was useful for you. If you want to build a cryptocurrency wallet, you can familiarize yourself with our cases of the development of such applications. Leave a request and our manager will contact you to discuss the project, the stage of its development, and the costs. We will be happy to help your idea come true, and our experienced team of developers guarantees the creation of convenient and high-quality applications. 
Launch and improve your project with Purrweb.