What Is an NFT Marketplace? 
An NFT marketplace is a platform that sells non-fungible tokens of various owners and creators. For example, OpenSea, which is the world's first and largest NFT platform, displays individual pictures and their collections. Here users can create and launch their own NFT collection or a single NFT. They also can sell and buy digital assets for collectibles or further resale. The owner of the marketplace receives commission fees from the launch of a collection and its sales.
NFT Marketplaces Trends 
The NFT Marketplace sector is growing: in 2021, according to The Block Research, the trading volume of NFTs was more than $13 billion. The volume has grown almost 400 times compared to $33 million in 2020.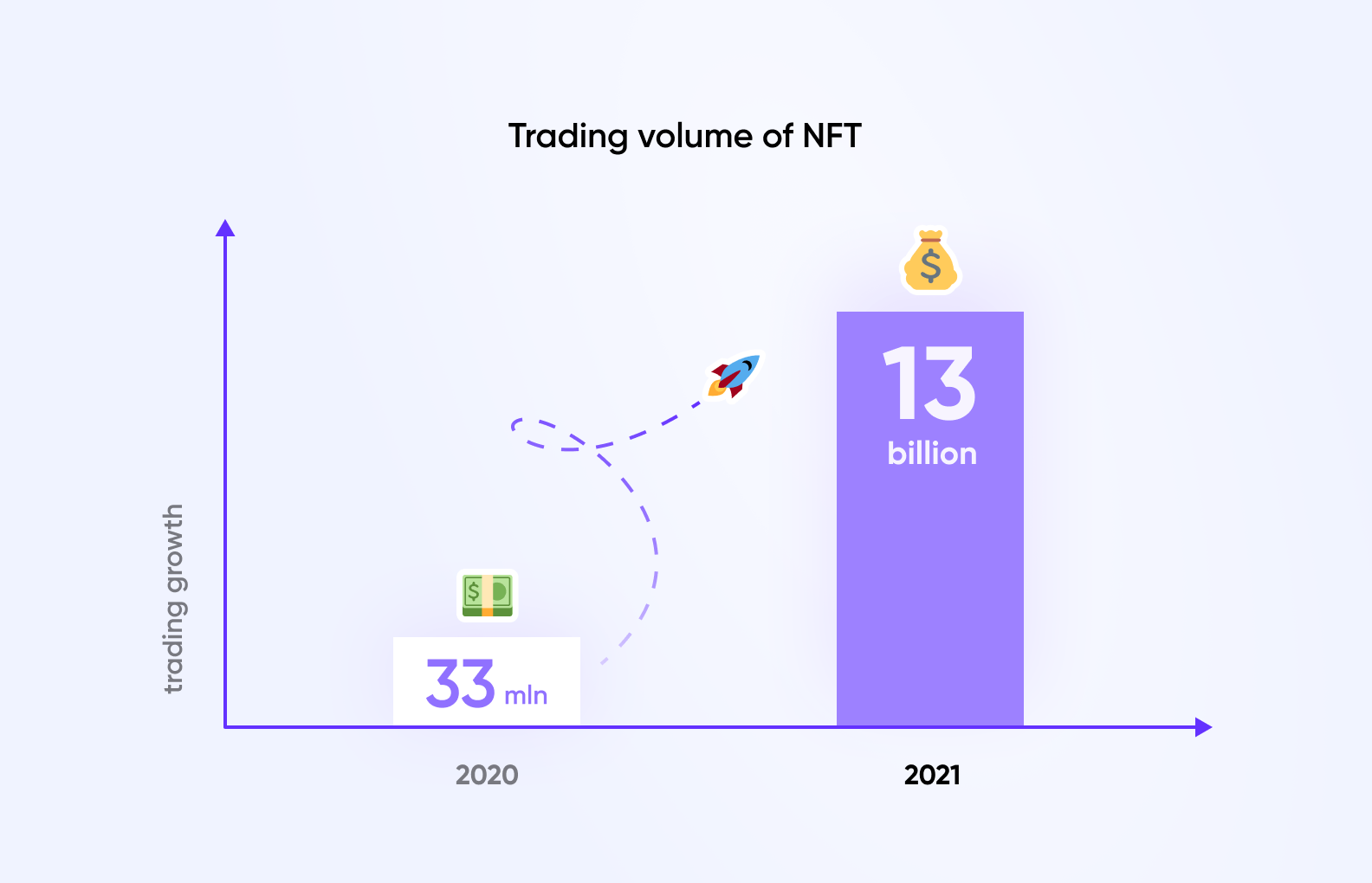 The numbers show that many people want to develop and launch an NFT project, so there is a space for new platforms to host and display their collections. On an NFT platform, artists and enthusiasts are looking for suitable conditions, convenience, and the opportunity to grow and compete. If your marketplace is the most consistent with their expectations, people will choose it as the place for the mint, and you as the owner will benefit from the launch, sales, and advertising. Based on this, we can say: to create an NFT marketplace today is a promising idea. 
The expanding NFT marketplace development sector brings great opportunities for specialists to take part in the creation and trading of NFTs. Today, blockchain technology provides users with the security of their digital assets, which increases interest and trust. Moreover, it becomes safe and reliable to store your tokens on a modern crypto wallet. That's why NFT platform developers can successfully and profitably offer in-demand solutions for creating, issuing, or exchanging non-fungible tokens.
Get free project estimation in 48 hours
300+
startups trusted us since 2014
Book the meeting
Top 5 NFT Marketplaces 
Among the NFT trading platforms, we choose several that either lead the world in popularity and numbers, or interest and inspire people with new experiments and developments. These platforms attract users' attention and are role models for new projects.
OpenSea
This is one of the largest NFT marketplaces that allow you to create non-fungible tokens, buy, and sell them. The platform was founded in 2017. The Block Research experts claim that 88% of NFT's trading volume in 2021 was provided by the OpenSea marketplace. 
This marketplace offers several categories like art, sports, collectible cards, audios, domain names, and even 3D objects. Everyone can create an NFT on OpenSea. 
🔒 The marketplace supports Ethereum blockchain, Solana, Polygon, and Klaytn blockchain. MetaMask, Coinbase Wallet, and Portis crypto wallets are integrated into the platform.
💸 The standard commission is 2.5% of the cost of the NFT. The fee is charged to the buyer. Token creators pay gas for the first placement.
Binance NFT
Binance NFT can boast high liquidity, a large volume of NFT trades, and assistance in building a community for new projects. To issue an NFT on Binance, a user must pass verification and have at least two subscribers. First, you need to create a collection and then get confirmation.
The Binance NFT marketplace supports several categories: IGO (Initial Game Offering), mystery boxes, and standard tokens. 
🔒 Binance NFT supports BNB Chain (formerly Binance Smart Chain) and Ethereum blockchain. If we talk about a crypto wallet, it is best to use MetaMask, Trust Wallet, MathWallet and Binance Chain Wallet.
💸 Binance NFT has a comparatively low trading fee of 1% for both NFT authors and sellers.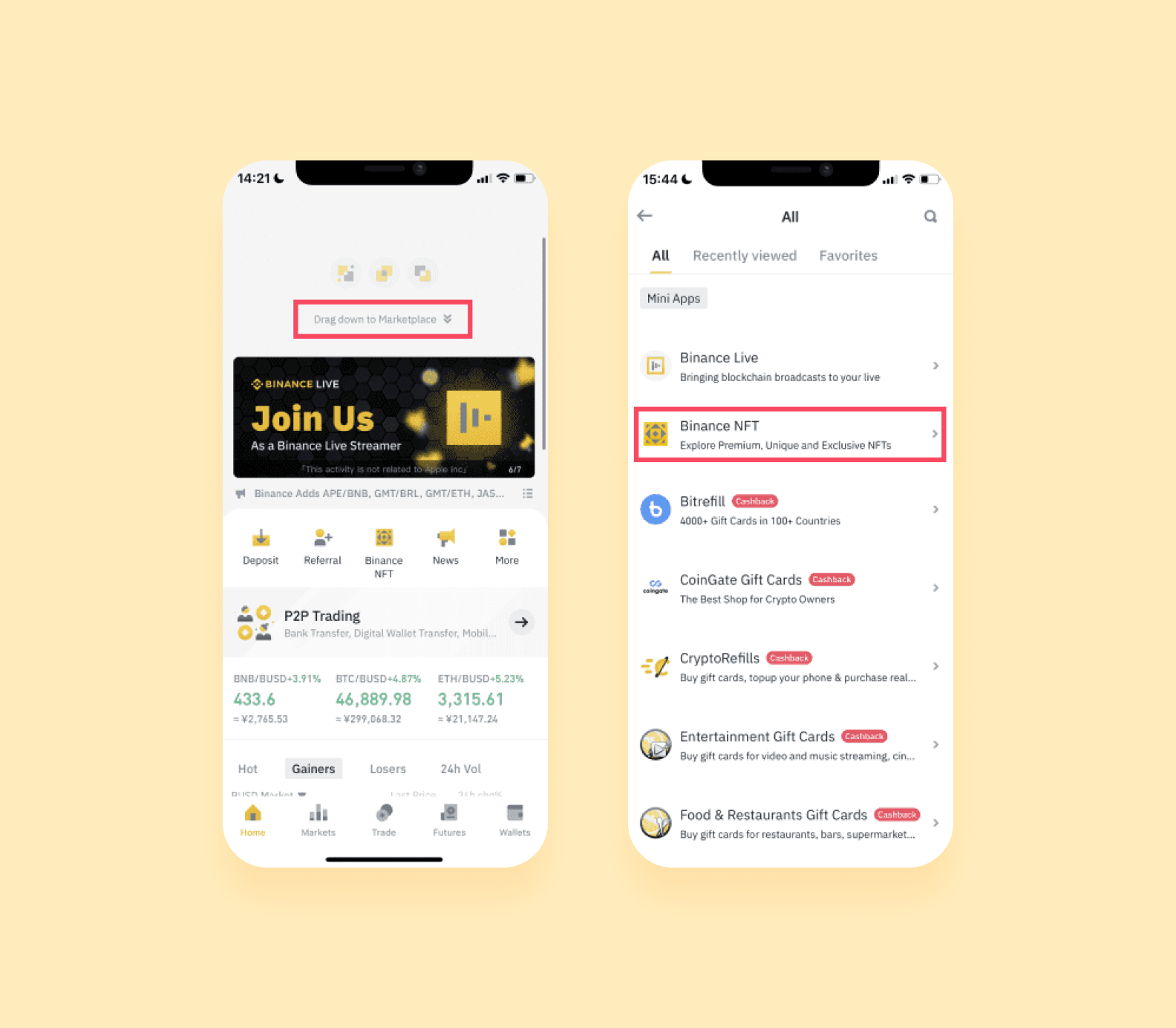 Rarible
Rarible has been gaining popularity since 2020. It is a platform for launching NFT collections, trading, and collecting. 
Along with OpenSea and Binance, it includes various NFT categories. Everyone can list their NFTs on the Rarible platform. 
🔒 It supports Ethereum blockchain, Solana, Polygon, Flow, and Tezos blockchain. 
💸 On Rarible, both the seller and buyer pay a standard fee of 1%, and there is no listing fee.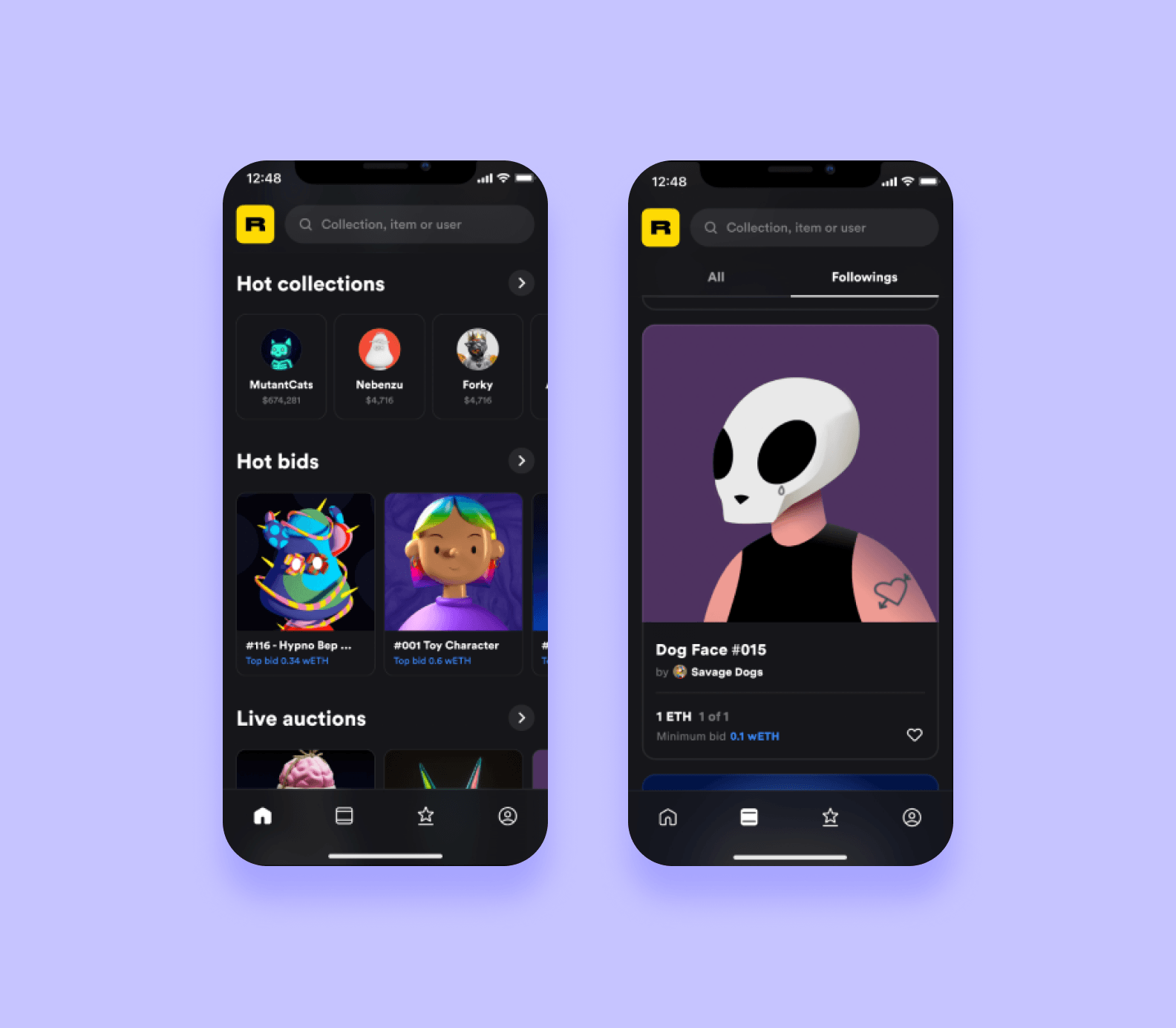 Axie Infinity 
Axie Infinity was first launched in March 2018. The project uses the Play-to-Earn concept. The gameplay takes place in a virtual environment populated by Axie creatures. The Axie platform allows you to earn AXS tokens with real value. Players earn by winning battles and selling virtual creatures. On the official marketplace, you can find Axies, Land, and various items used in the game. 
Unlike many other non-fungible tokens trading platforms, Axie does not sell anything except characters and items from its ecosystem. It's impossible to create an NFT or your collection there. 
🔒 Axie Infinity supports the Ethereum blockchain. 
💸 The fee of 5.25% is charged from the seller.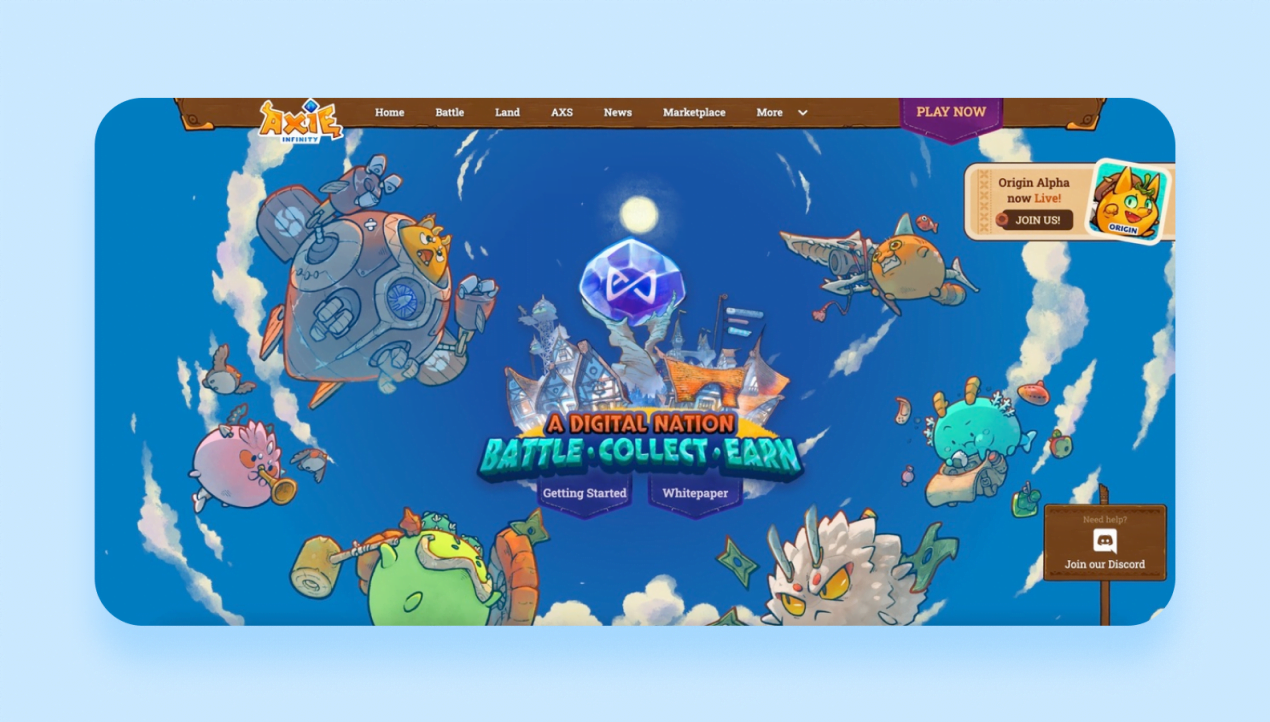 NBA Top Shot
NBA Top Shot is a marketplace with NFT under the license of the National Basketball Association. Each NFT is a "Moment", which is a digital collectible of NBA and WNBA players or plays, specifically from the NBA tournaments of the last two years. They differ in rarity and price.
Unlike others, NBA Top Shot doesn't have the classic suppliers: it only pays for the license. Users cannot create their own digital assets but can buy and resell them.
🔒  NBA Top Shot NFTs are built on the Flow blockchain.
💸 On the NBA Top Shot marketplace, the seller pays a 5% fee for each NFT sold.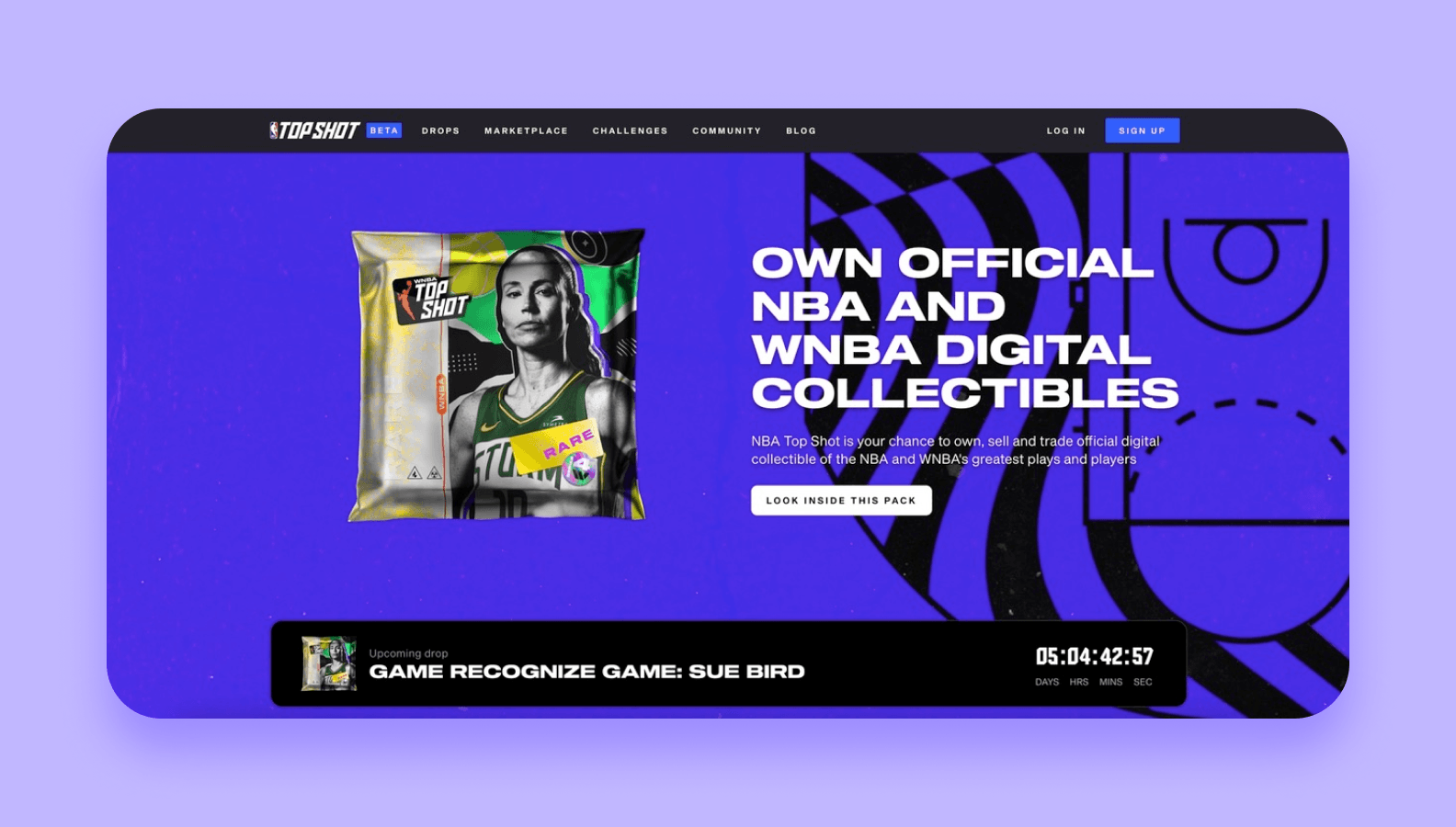 Must-Have Features 
Now that you know about popular platforms and their features, let's talk about creating your own marketplace. When creating an NFT marketplace, you need to take care of the core features your website or application will have. You need to create the main page and additional ones, as well as think about the vivid and attractive design. Don't forget to care about the platform's utility.
Feature 1. Buy NFTs, sell them, or place a bid. Each purchased NFT must appear in the personal account or on the buyer's crypto wallet. It is important to understand copyright issues and to clearly establish the terms of sale of NFT, as it can help to avoid possible conflicts.
Feature 2. View the NFT details. Every collectible should have its price. The platform should also show the floor price of the collection and the trading volume, as they serve as an indicator of the popularity and liquidity of the collection. Additionally, you can specify the history of previous purchases and sales. 
Feature 3. Search function and filters. You need to include such functionality for users to find the category, name, and author, or to choose a price category quickly. 
Feature 4. Established payment support. The platform should have the ability to carry out payments in fiat or several cryptocurrencies and an ability to connect a crypto wallet or pay from an account on the platform.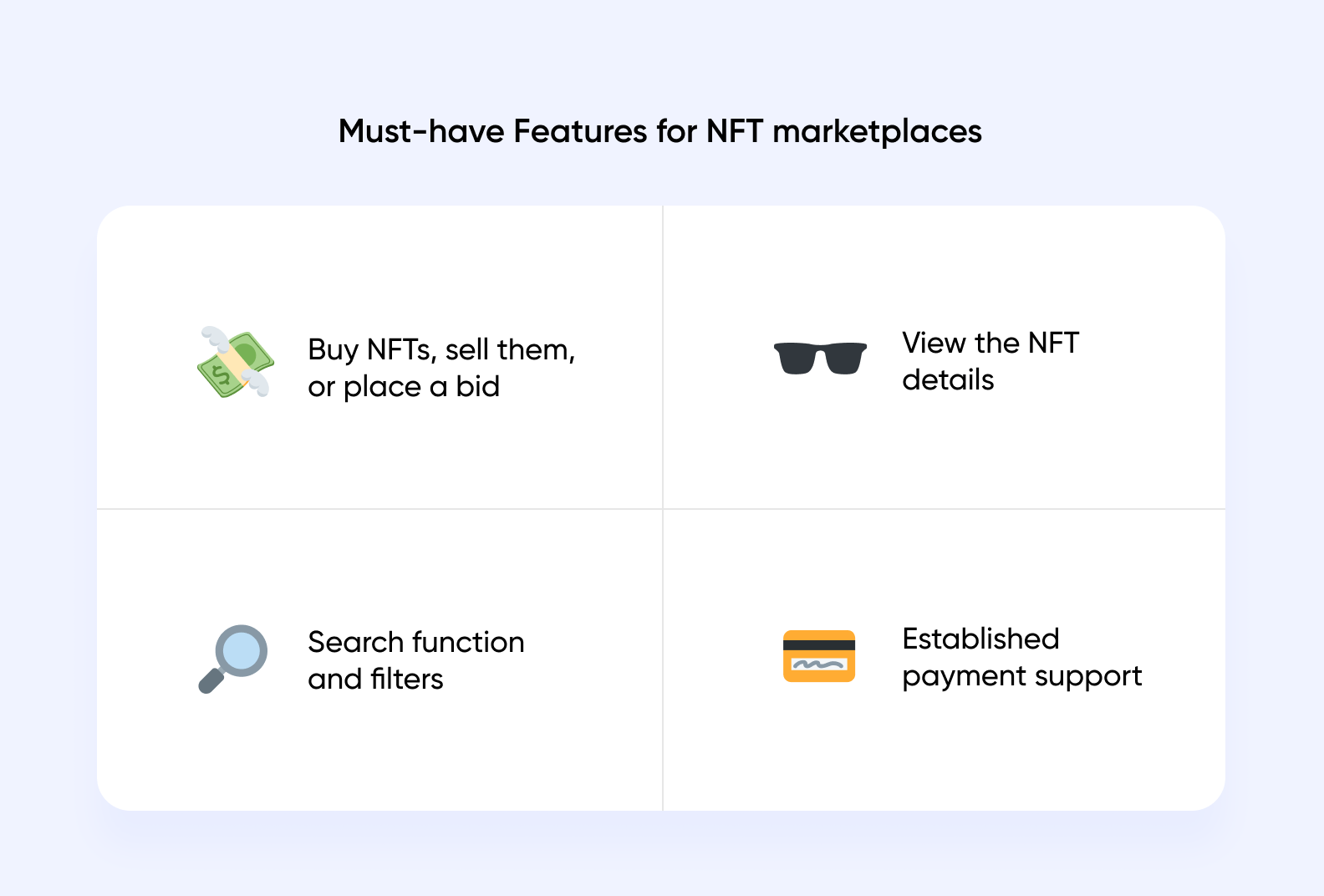 Nice-to-Have Features 
Trying to make your platform unique and stand out from others is a great way to outperform competitors. To motivate your customers and increase the user base, you can provide the following functionality:
Creating new NFTs.

Some platforms provide an opportunity for users to create their own collectibles, while others allow them to purchase and sell only NFT from the ecosystem of the game or application. The most famous platforms like Rarible and SuperRare allow users to

create an NFT

.

 

Multi-chain support.

Multi-chain networks not only allow projects to work simultaneously on two or more blockchains, but also support accelerated chain building. In the Huobi (one of the largest exchanges)

report

, multi-chain networks are considered a key factor for the development of

blockchain

, thanks to security, decentralization, and scalability.

Templates for a quick and simple NFT launch.

Templates greatly simplify the process of creating NFT for users. It should be functional, intuitive for beginners, and have everything necessary to fill in the field with the NFT details. The template can be simplified by adding drop-down options if possible. 

Airdrops.

Airdrop means a distribution of NFT. Users can receive NFT tokens of the project for performing simple actions, such as downloading and installing the application, registering an account, passing verification, comments and reposts, and so on.

Rewards for NFT purchases.

Rewards can be in different formats, for example, you can provide additional content for NFT owners or compensation of the commission for the purchase.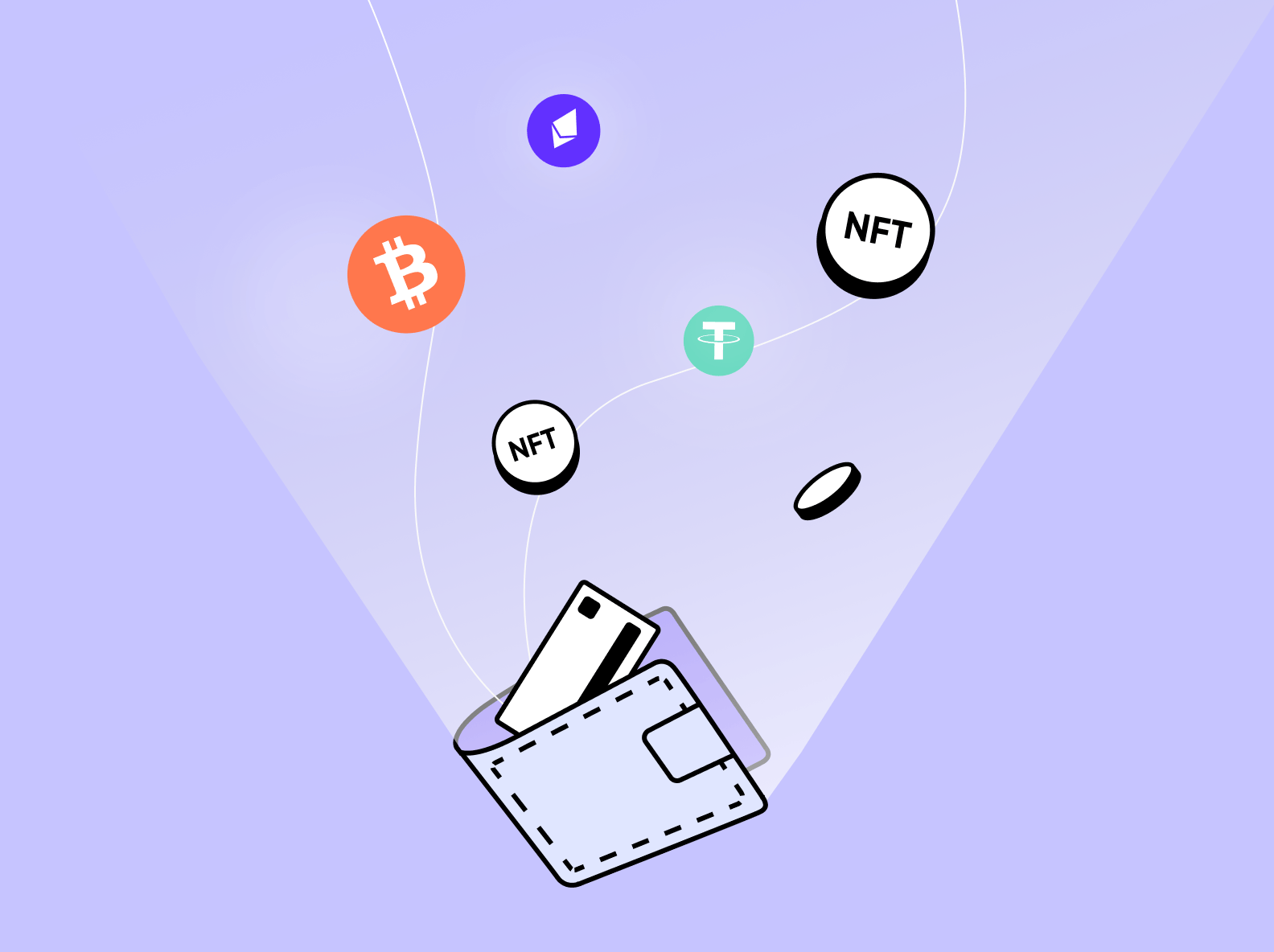 How to Make Money with NFT Marketplace?
An NFT Marketplace usually profits. Several monetization models can be combined, or you can choose one.

Commission fees

. The marketplace takes a commission of 1 to 5% from sales, as well as gas (listing fees) for the release of a single NFT or collection.

Governance tokens.

Some NFT marketplaces, for example, Rarible, have their own governance tokens. They are mainly used to reward users who buy or sell collectibles or hold NFT.

Registration fees.

Large and popular platforms may charge account registration fees.

Advertising. The marketplaces help new artists or projects gain an audience, so they can make money from advertising. Advertising third-party resources on an NFT platform is also possible and very profitable. You can also increase your client base by adding blogs and guides.
NFT Marketplace Development Best Practices
Just like in the development of any product or application, there are pitfalls in creating an NFT marketplace. Here are top practices when creating a service:
1. Work with companies that have experience in the niche. Otherwise, the NFT marketplace development will take longer;
2. Use an agile approach to development instead of a waterfall to have a better grip on the development process;
3. Develop an MVP marketplace and check your idea with real users; 
4. Test the application before launching with a target beta-testing user group and collect their feedback.
Here at Purrweb, we genuinely follow the practices described above. We've accompanied many startups on their way to the market launch. Here's our case of marketplace development: 
How to Create an NFT Marketplace in 5 Steps:
Without experience and skills, it is possible to create a quite complex app yourself, but it is hard, time-consuming, and software bugs could occur. If you are a startup owner with a cool idea, a desire to develop and you may need technical assistance, our team may be useful to you. 
Step 1. Analyze the project. Share your idea, define a target audience, choose the app's features you would like to have, and set a budget and timeframes for the development.
Step 2. Create a design. You need to find design references and set your expectations for the future app. Then, design the NFT marketplace with your UI/UX team.
Step 3. Develop a web or mobile application. Find developers that will work on architecture and the interface on both the client and server sides. 
Step 4. Test the app. You need to have the QA testers to look for any possible bugs and fix them before the app is released.
Step 5. Release the app and get feedback. Launch an NFT marketplace and receive feedback from the first users. Based on it, you can come up with ideas to improve the application.
Get free project estimation in 48 hours
300+
startups trusted us since 2014
Book the meeting
Tech Stack for NFT Marketplace App Development 
To create an NFT marketplace, you can choose either a web or a mobile application. We will tell you about the most advanced technologies for both types of applications. 
Web app with React.js and Node.js. These are the open-source JavaScript libraries for web applications used to create user interfaces and server-side apps. Node.js helps to increase performance, flexibility, and interoperability. React.js is easy to maintain, it regularly updates all the elements and has a great developer toolset.
Mobile app with React Native. This framework is used to create mobile applications. With minimal effort, developers can create different versions of the app that work without bugs both on Android and iOS. It also has a live update function for optimizing and a user-friendly and convenient interface.
According to the majority of developers, these are the most efficient and convenient technologies, and the Purrweb team is not an exception. During web development, we use React.js and Node.js., and when creating a mobile application, we prefer React Native.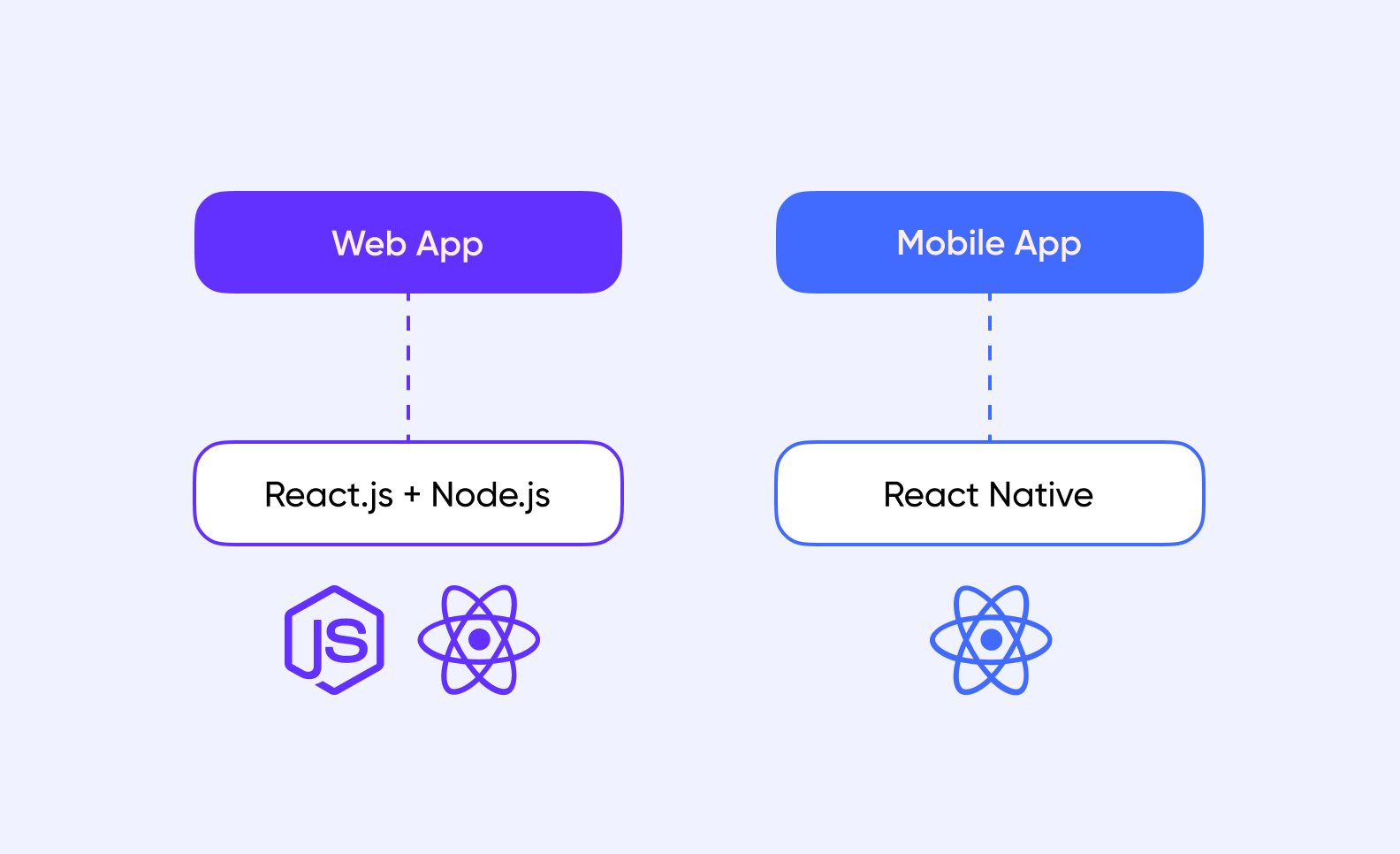 How Much Does It Cost to Build an NFT Marketplace? 
All companies developing web and mobile applications or MVPs are different, and there is no average price in the market. That's why we can only say about ourselves. At Purrweb, we estimate a project cost at the discovery stage. If you want to create your NFT art marketplace, you should know for sure all the parts of the development. Here's how our team estimates timeframes and rates of future development:
| | | | |
| --- | --- | --- | --- |
| Stage | Estimation in hours | Estimation in weeks | Approximate costs |
| Project analysis | 0 | 0 | $0 |
| UI/UX design | 130 hours | 5 weeks | $5 850 |
| App development stage | 578 hours | 10 weeks | $26 010 |
| QA Testing | 200 | In parallel with the development | $4 000 |
| Project management | during the whole project | during the whole project | $3 200 |
Overall, the development of an NFT Marketplace will cost you $39 060.
For a more accurate estimate, please contact us, and we will provide you with a personalized quote.  
Wrapping Up
Now that you've read our guide, you probably realize what to do if you want to create an NFT marketplace app. We hope it was helpful for you. Of course, creating a web or mobile app for the marketplace is not a simple matter. But, at Purrweb we are ready to simplify this process. We have already helped startups in the cryptocurrency and content marketplace niches. 
We can take your idea, design an interface for an app, develop and launch it. If you want to conquer the NFT market, don't hesitate and go for it. To get Purrweb support in building your NFT marketplace, you need to fill out a form, so we will develop an MVP for the project and discuss the details directly. 
Launch and improve your project with Purrweb.