What are blockchain apps
First, let's look at the blockchain itself. A blockchain is a network that stores the data received into it in chronological order in blocks. As soon as a transaction occurs on the blockchain network, it appears in the public domain of all network participants. Blocks of data are stored in a chain, and once they are added there, they cannot be changed. This makes the blockchain extremely difficult to breach and steal data.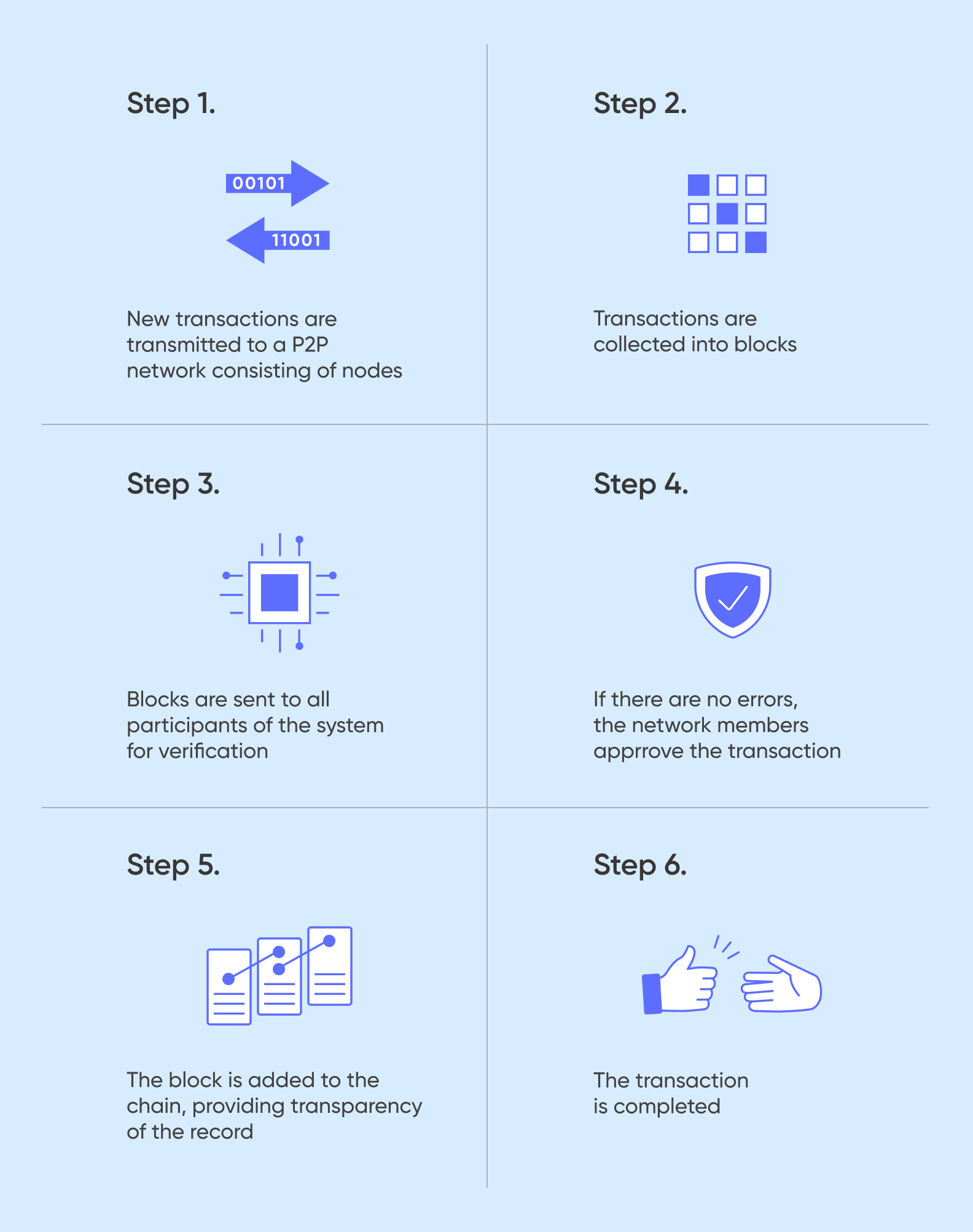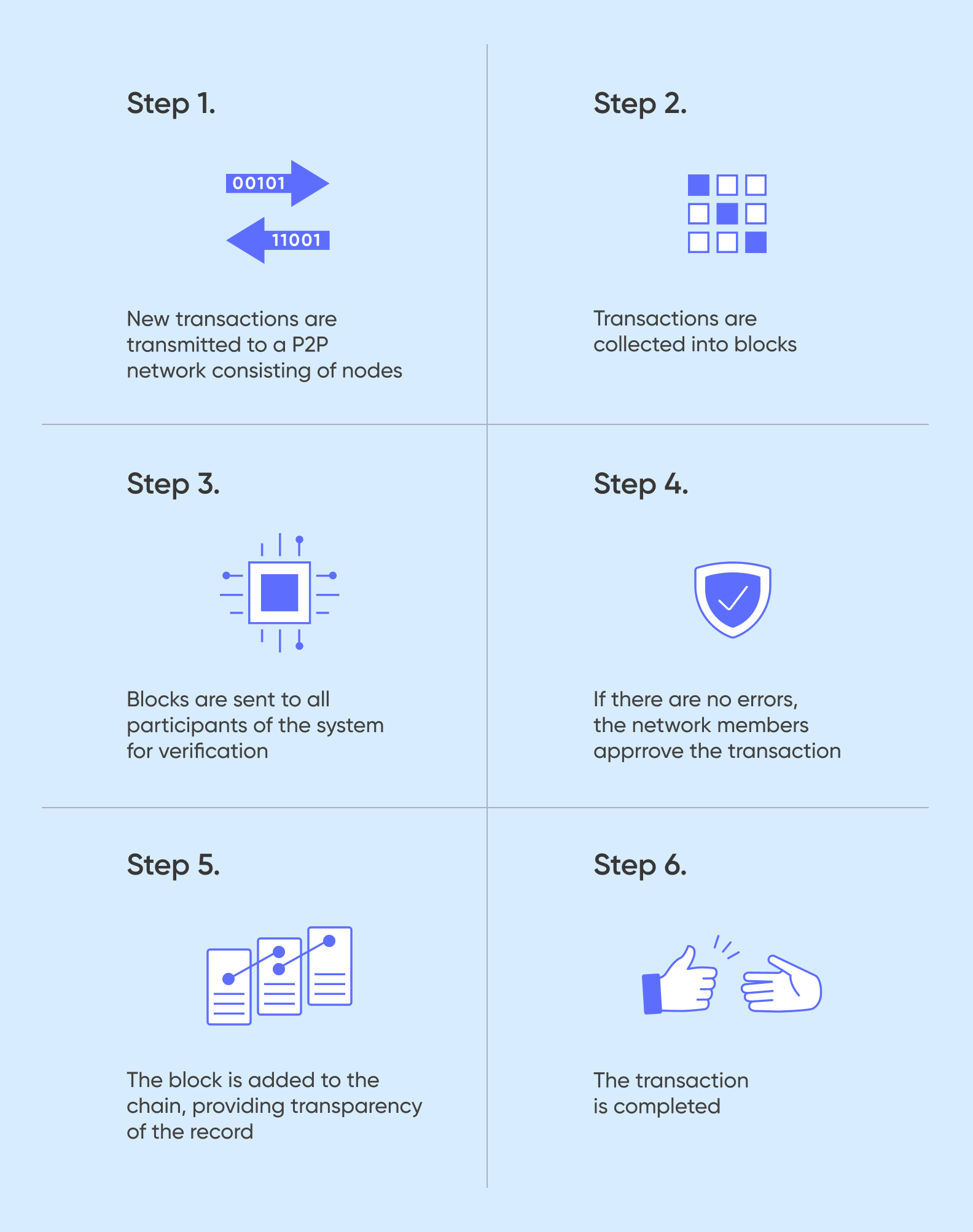 How does blockchain work?
Blockchain applications are often referred to as decentralized applications, or DApps. DApps are based on the blockchain and have their unique features different from traditional apps. These are applications built on peer-to-peer decentralized networks. There is no center on the blockchain that would play the role of intermediary between users exchanging data or money.
In the development process of a traditional, centralized app, you need to run the backend code on centralized servers. Unlike the ordinary apps, decentralized applications run their backend code in a peer-to-peer network.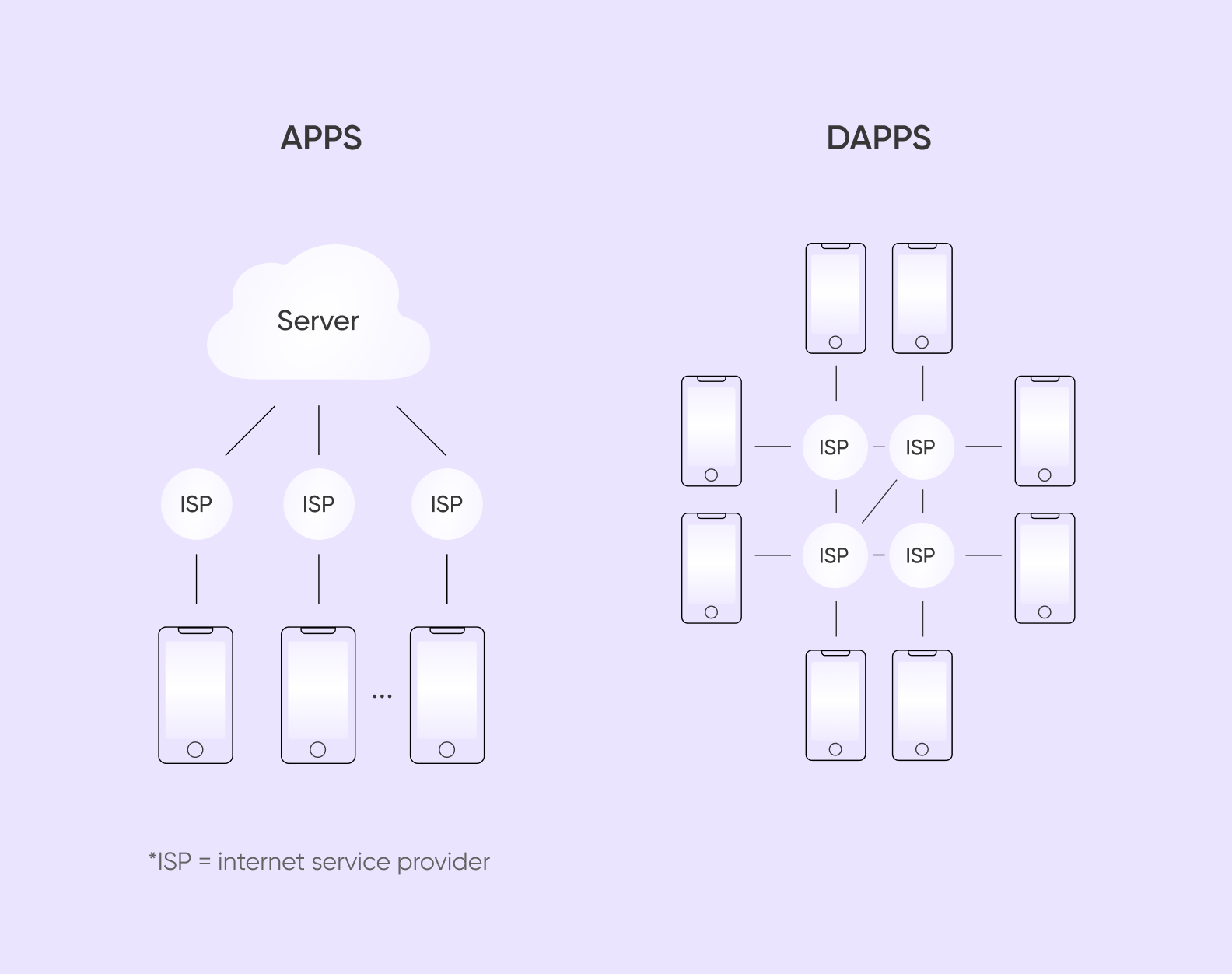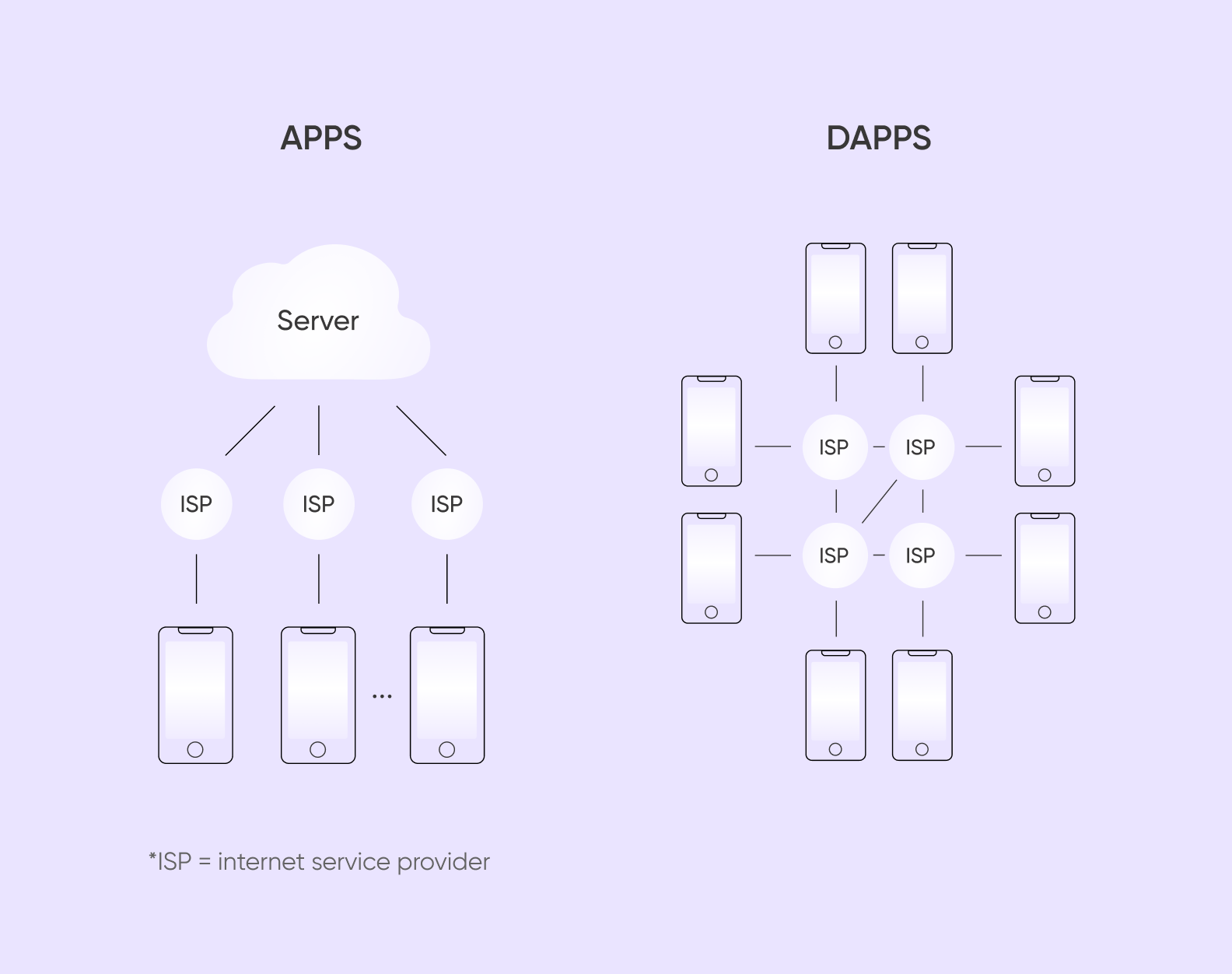 Traditional Apps VS decentralized apps
From the user's point of view, blockchain applications look just like traditional applications. So this technology doesn't scare people and we use them as ordinary apps, but having all the advantages of working with blockchain.
Blockchain apps market overview
Let's look at the unprecedented introduction of blockchain technologies in figures and statistics.
According to the

State of the DApps

https://www.stateofthedapps.com/stats

, there are currently roughly 4,000 DApps in the industry. 

In 2018, the blockchain market was about $1.57 billion in size, whereas, according to

Dot Com Infoway

https://www.dotcominfoway.com/blog/growth-and-facts-of-blockchain-technology/#gref

, it is forecasted to cost $20 billion in 2024.

As

Grand View Research

https://www.grandviewresearch.com/industry-analysis/blockchain-technology-market

 showed, the volume of the global

blockchain technology

market in 2020 was estimated at 3.67 billion US dollars. The compound annual growth rate (CAGR) is expected to be 82.4% between 2021 and 2028.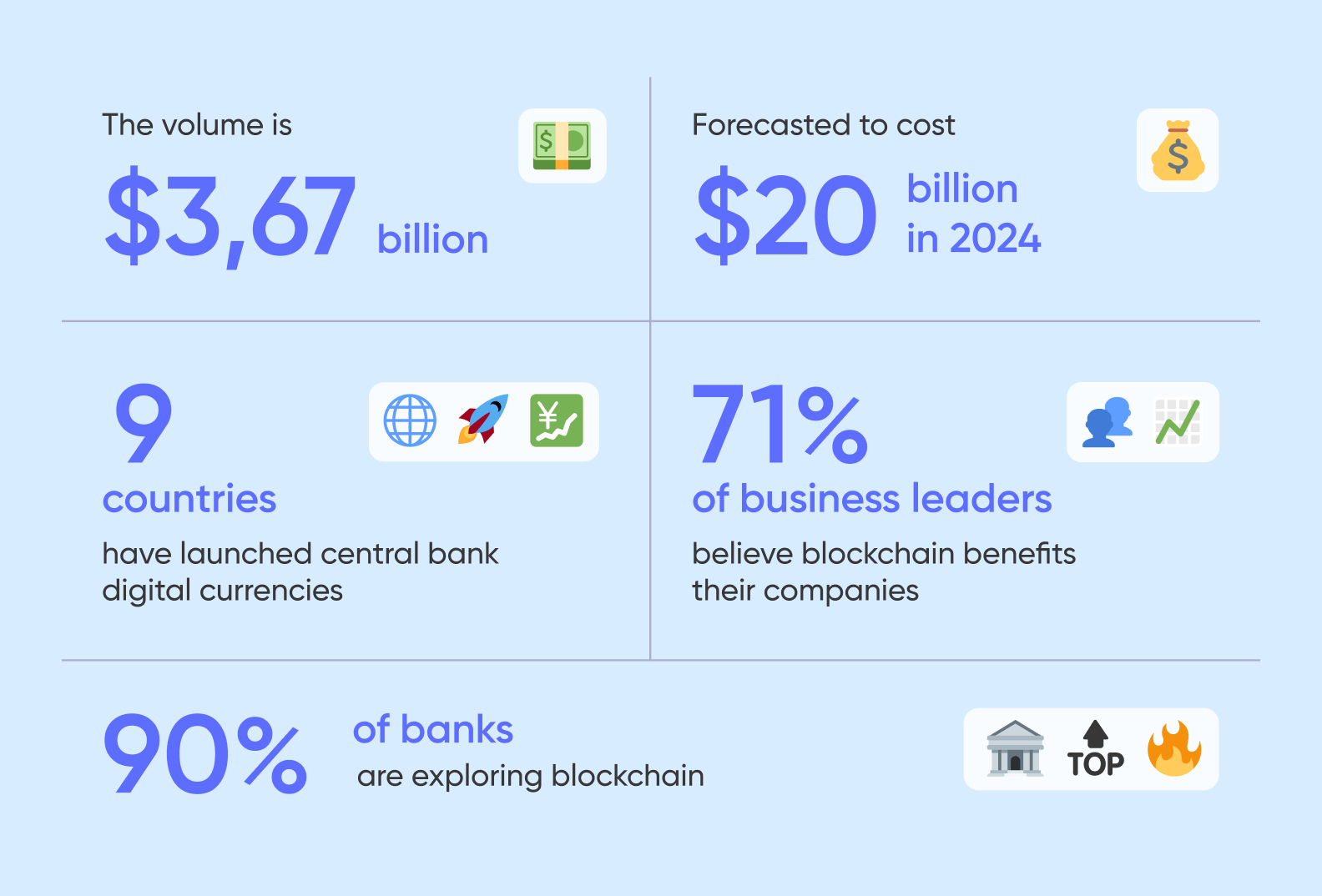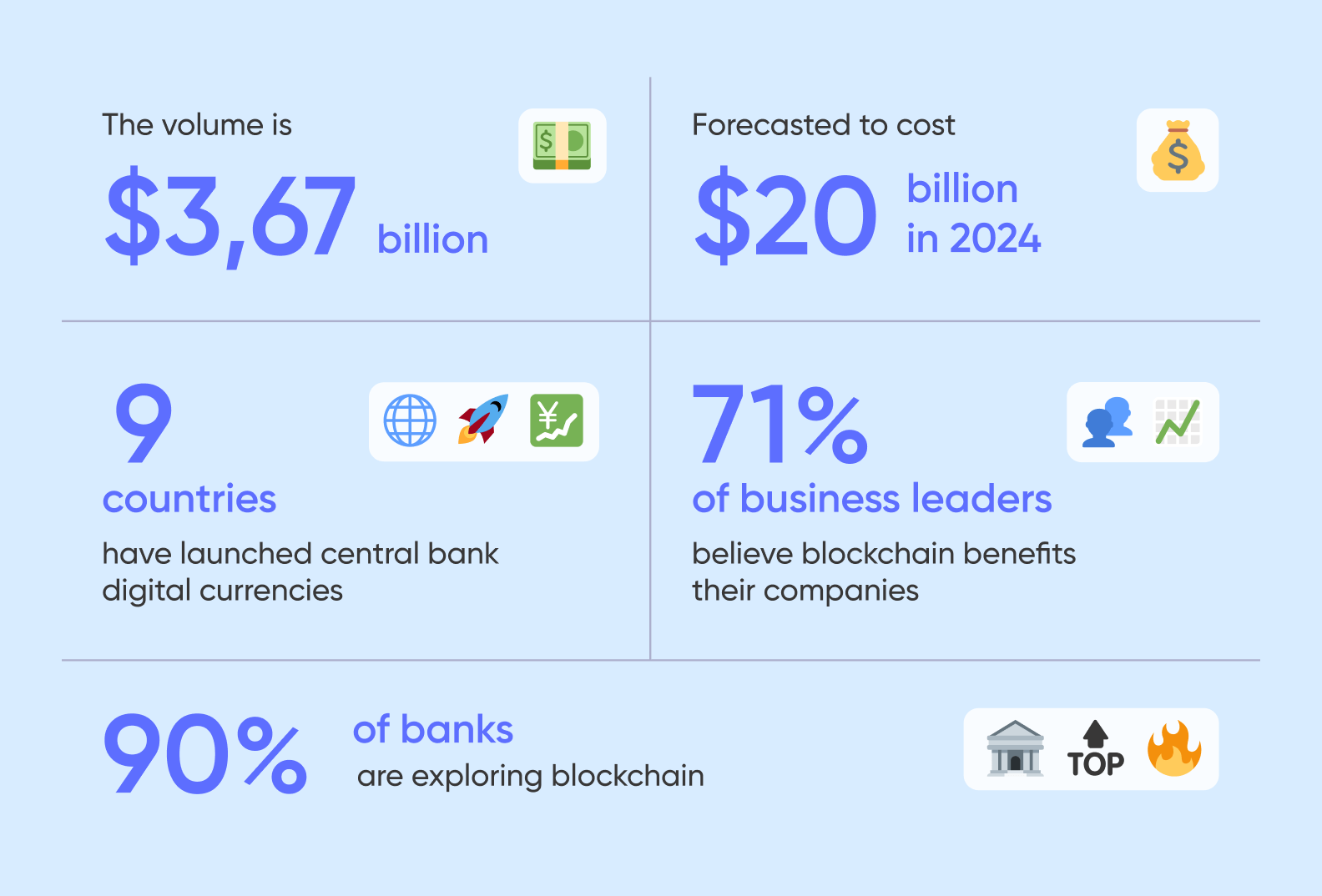 Blockchain app trends
The most popular blockchain app development platform is Ethereum since it offers smart contracts that are commonly used for DApp development. Looking at such a performance of technology and overall blockchain app trends, we can assume that blockchain software development now is a promising idea.
Types of blockchain apps 
As we have already found out, blockchain is a useful modern technology that can serve in many industries such as banking, logistics, and business. There are many applications competing in the number of participants and, to stand out from the competition, developers are implementing new blockchain solutions. Let's look at specific narrow areas where blockchain can be applicable.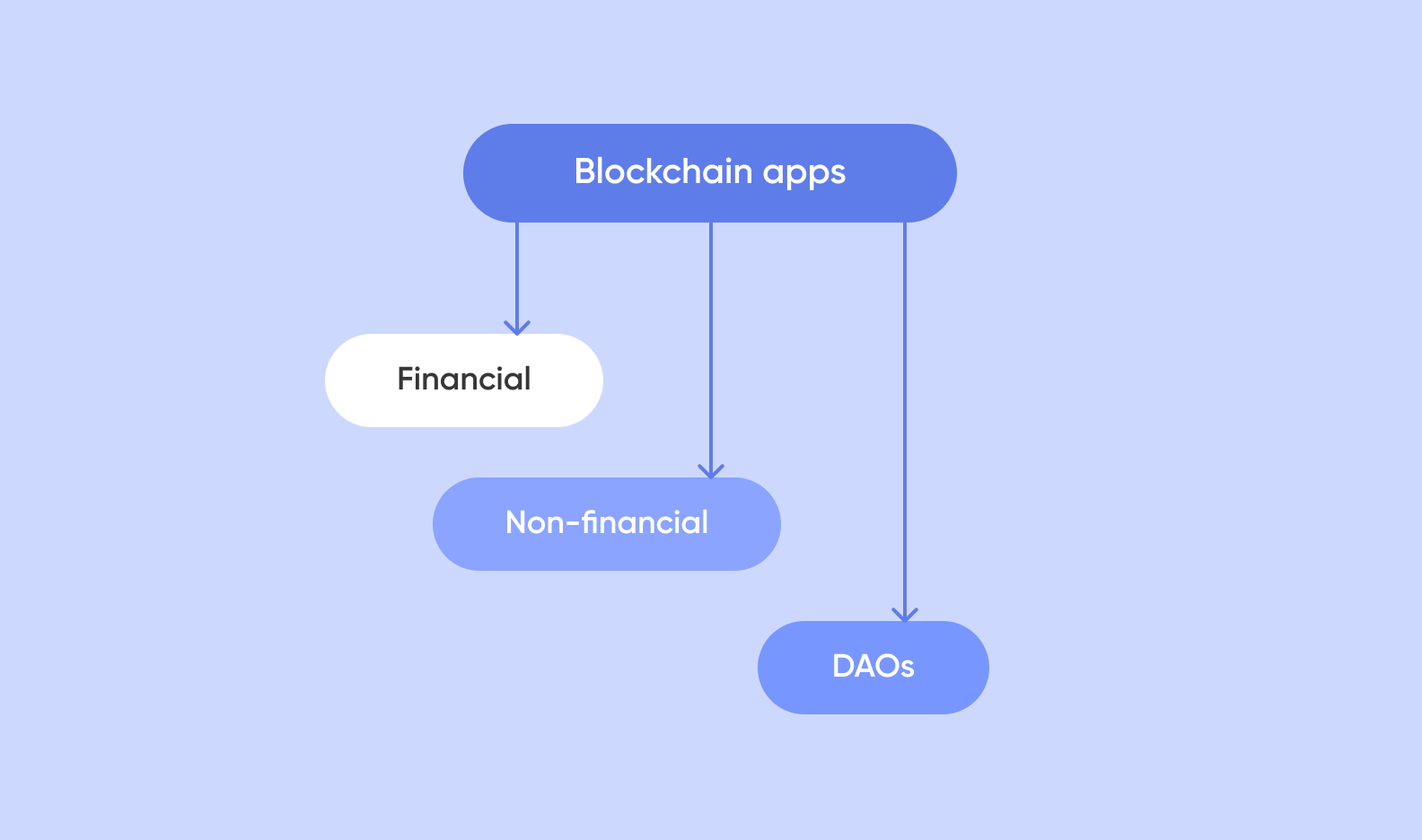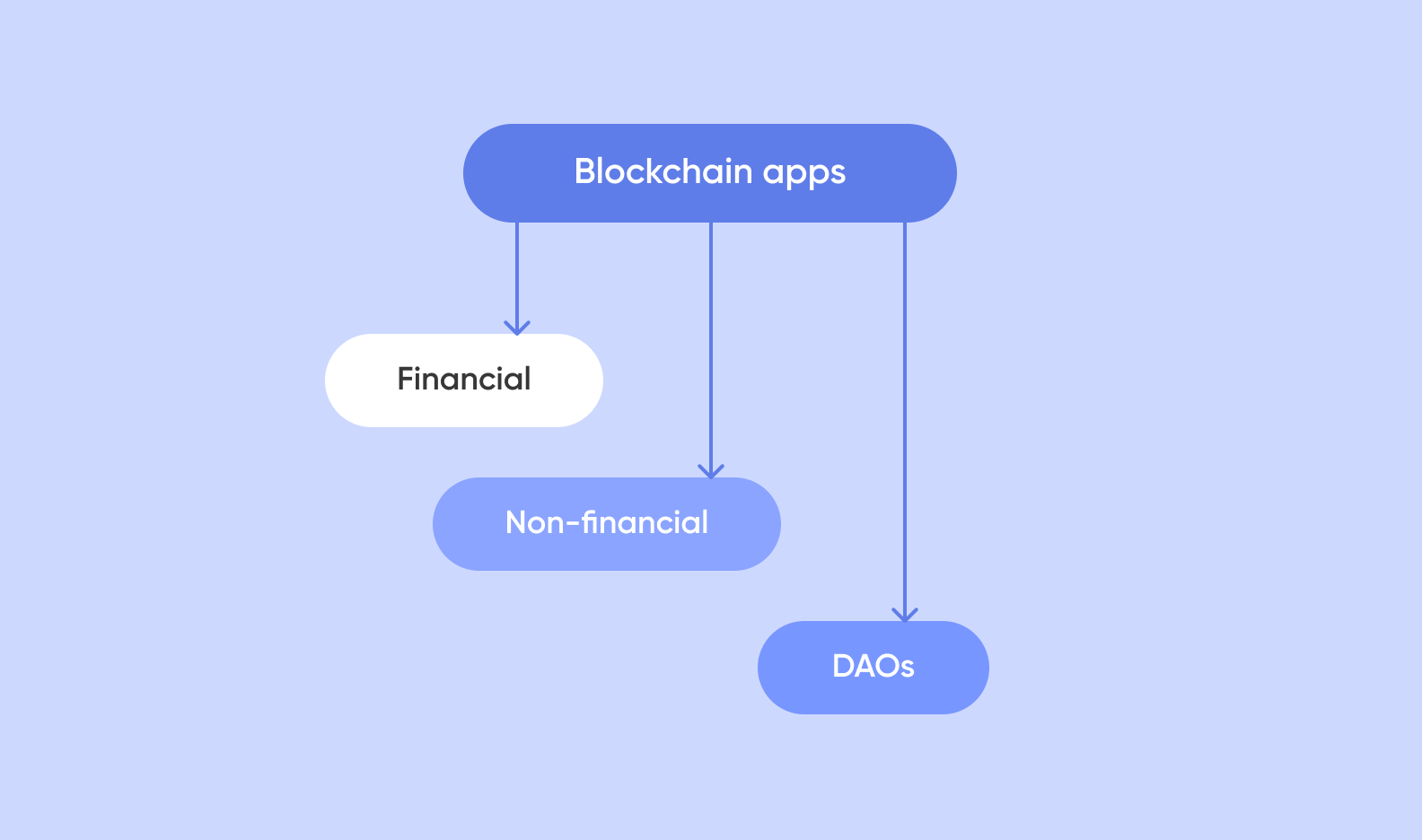 Diagram of types of blockchain apps
Financial blockchain apps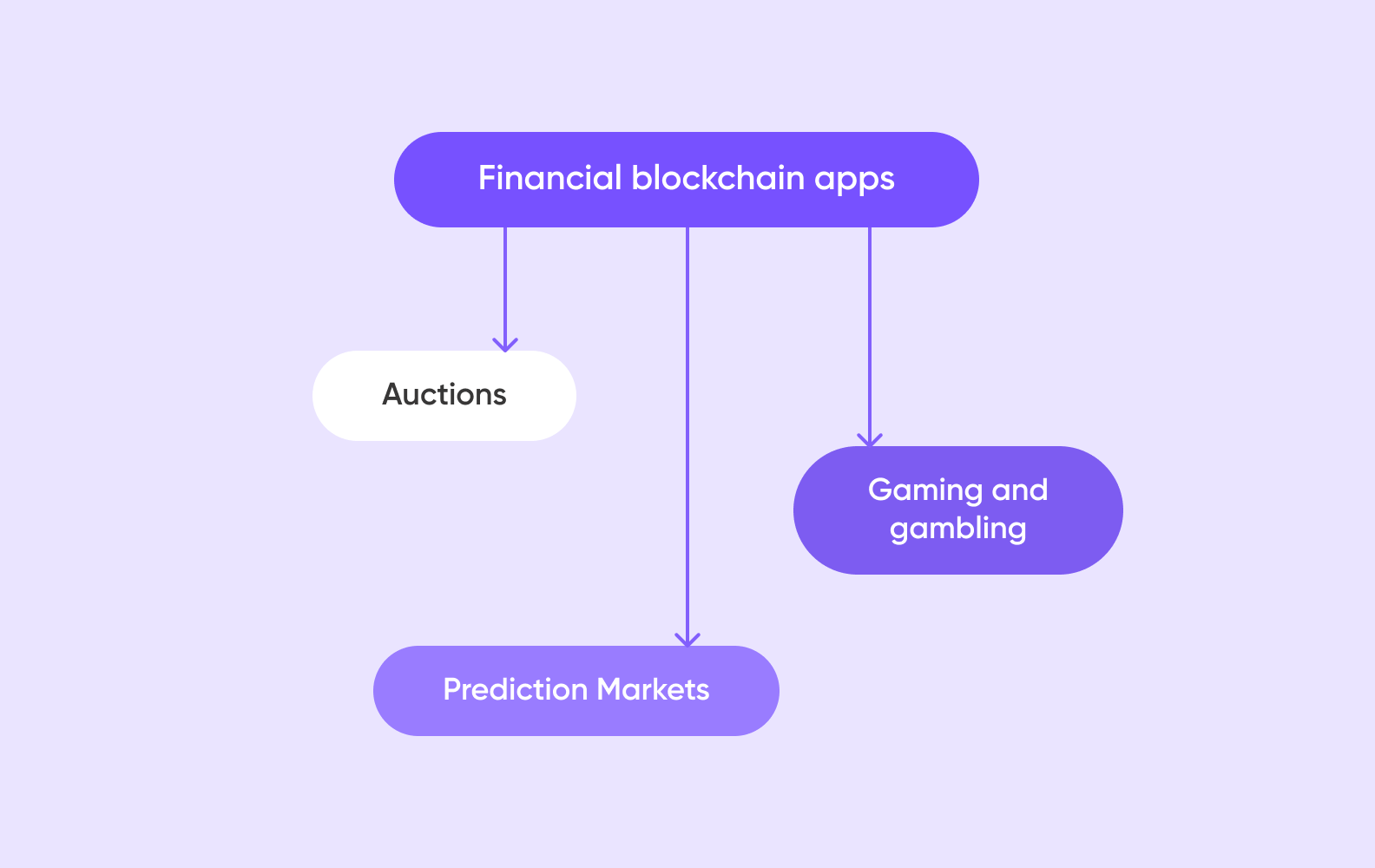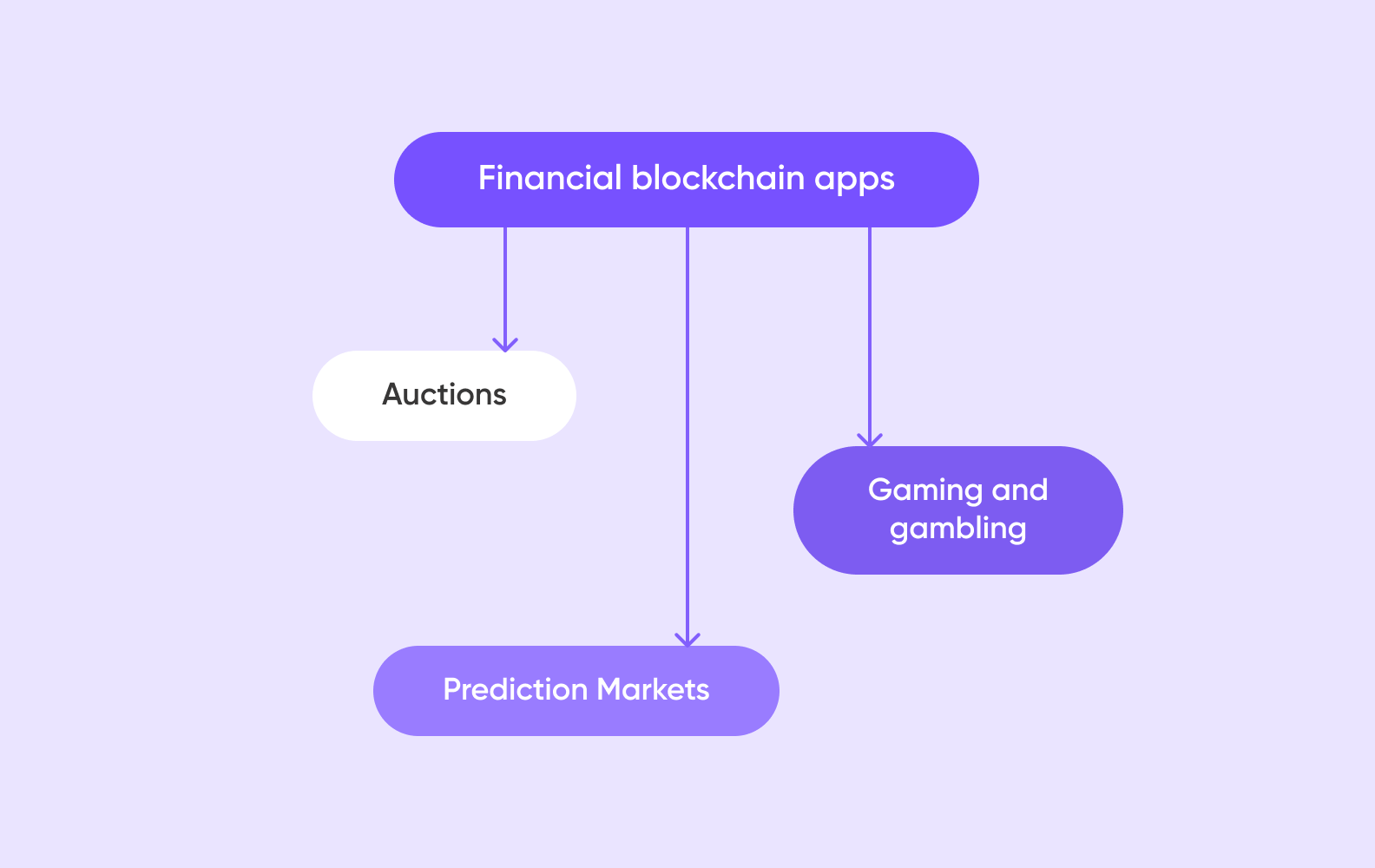 Diagram of financial blockchain apps
DeFi applications, short for "decentralized finance", are tools for making money transactions. These include decentralized exchanges, exchange services, and other applications and blockchain platforms designed to interact with cryptocurrency. The most common types are:
Auctions. Transparency is a determining factor for conducting online auctions. DApps allow to guarantee the invariability of bids and strictly fix the time they were made, eliminating the possibility of any manipulations. Therefore, online auctions are a promising segment for blockchain applications. Auctions can work with non-fungible tokens, allowing the creation of auctions and placing bids in real time.
Prediction Markets. Prediction markets are stock exchanges where the objects of trading are not goods, but the results of various events, such as sports games or even presidential elections. Let's draw an analogy with a futures contract: when trading futures, you also bet on the rise or fall of the asset price. DApps allow users to make their predictions on the market, and not just vote for events offered by the blockchain platforms.
Gaming and gambling. Thanks to the trend of creating play-to-earn (p2e) blockchain games, where users can receive tokens with real value while playing, gaming and gambling can classify as a part of DeFi. Using DApps, users can avoid the opacity of purchasing in-game assets and the lack of user control over their bids. Now blockchain games ensure reliable storage of users' funds. 
There is an uptrend for game blockchain development: already at the beginning of July 2019, DApps from these categories occupied the top 5 places in the rating of popular blockchain applications. One of the first games, CryptoKitties, was released on the Ethereum platform at the end of 2017. 
Non-financial blockchain apps
Non-financial applications have nothing to do with money transfers. One of the most common types is applications for user identification. 
User identification services. They are becoming more and more relevant with expanding remote services, for example, online banking. Decentralized applications provide secure and reliable storage of user data. Using DApp, only you will have access to your data, the information will be securely encrypted, and for anonymity, you will be provided with a unique address or ID number. From the point of view of the organization, transparency and honesty are established during identity verification, because one user cannot create several verified KYC profiles.
Sharing disks or computing power services. There are autonomous data storages and communications networks, which provide users with tokens that can be exchanged or received in exchange only for disk space or computing power. Among the main advantages are anonymity, transparency, and security. The SAFE Network was the first service of such a type; it uses Safecoin tokens, which are not sold anywhere.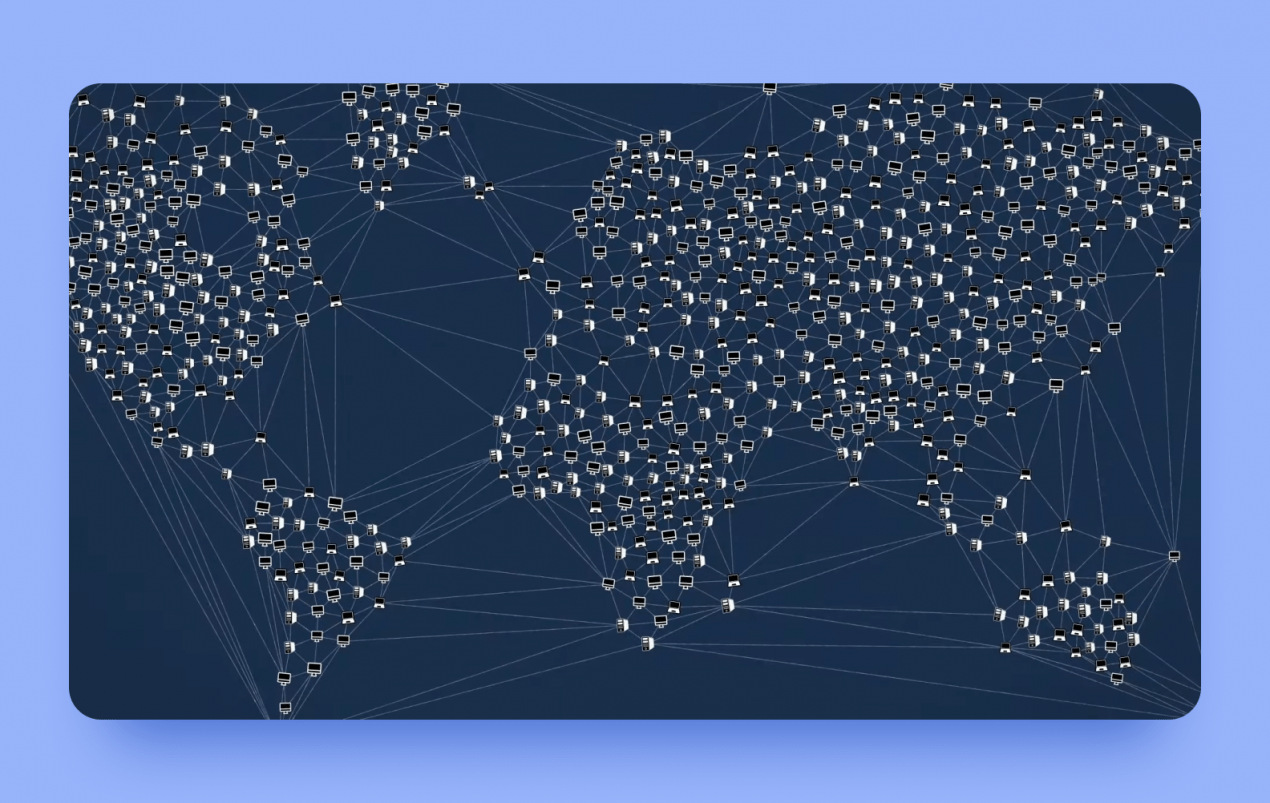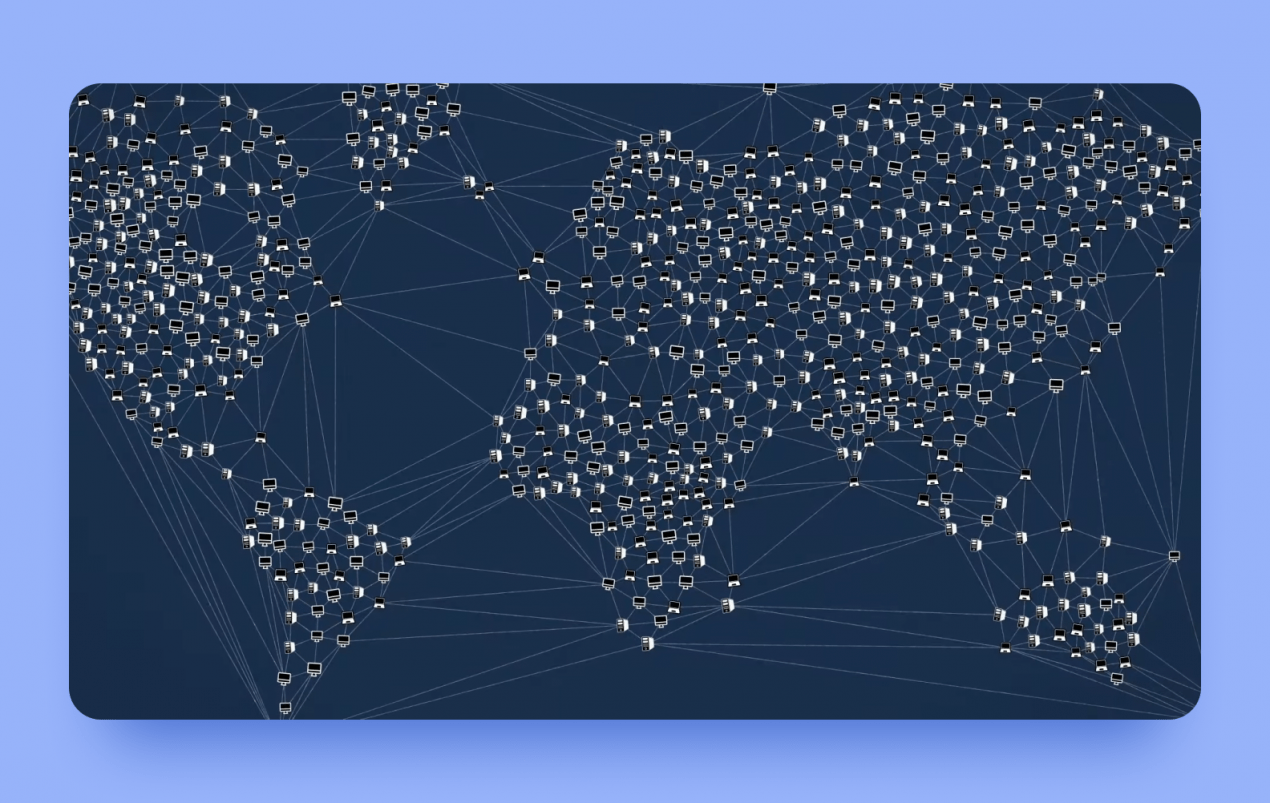 Global decentralized network for your cloud storage security
DAOs
Decentralized autonomous organizations (DAOs) are particularly ambitious DApps in the crypto world. Their goal is to form a company without a leader. They program rules on how members can join, vote, or issue company funds in the development stage. In the crypto industry, DAO's operation is based on smart contracts, that's why the infrastructure for DAO appeared thanks to Ethereum.
It is important to note that DAO is not a platform, but a management system. For example, it is wrong to call Uniswap crypto exchange the DAO, but its decentralized managementhttps://gov.uniswap.org/ system is the DAO. Automation of management helps to get rid of a huge staff, lawyers, and accountants, as well as to minimize the human factor and corruption.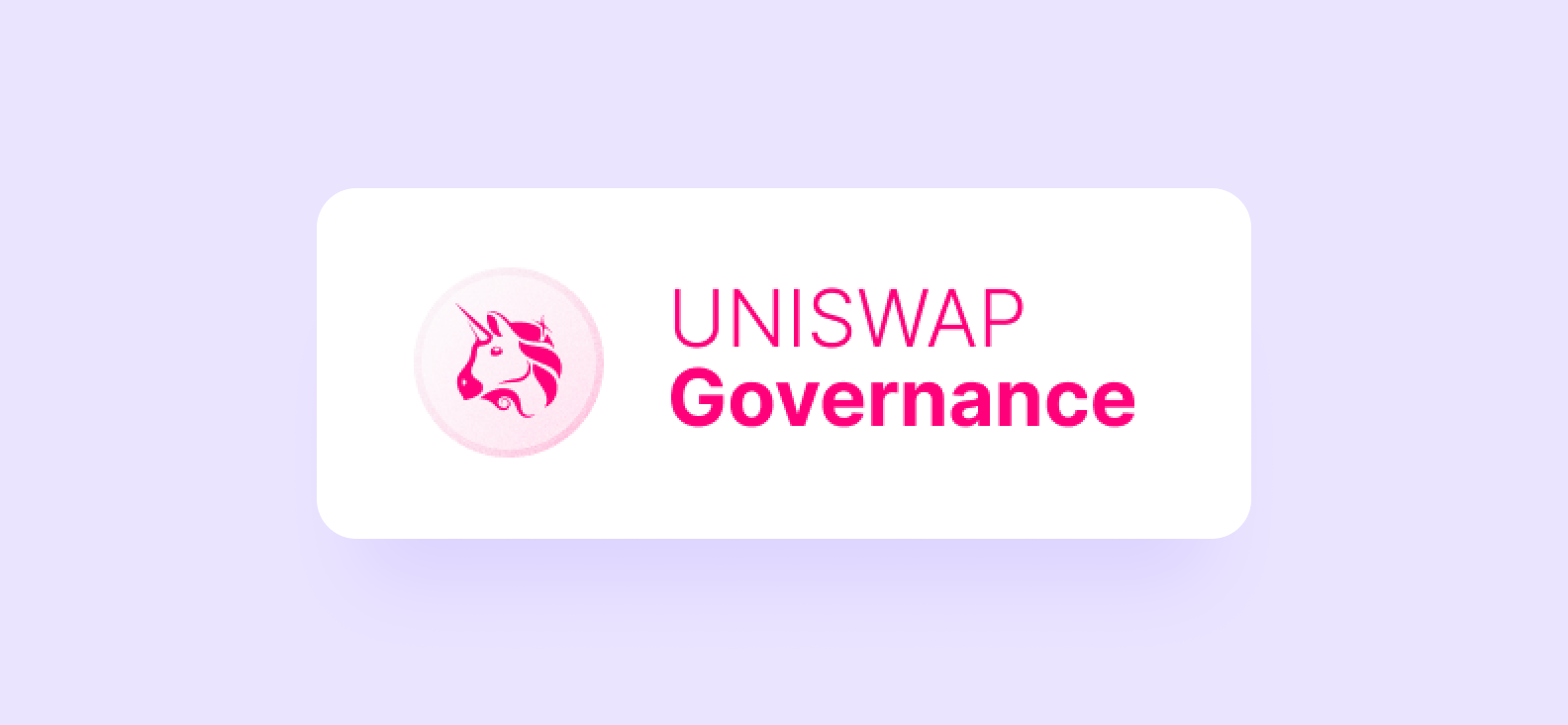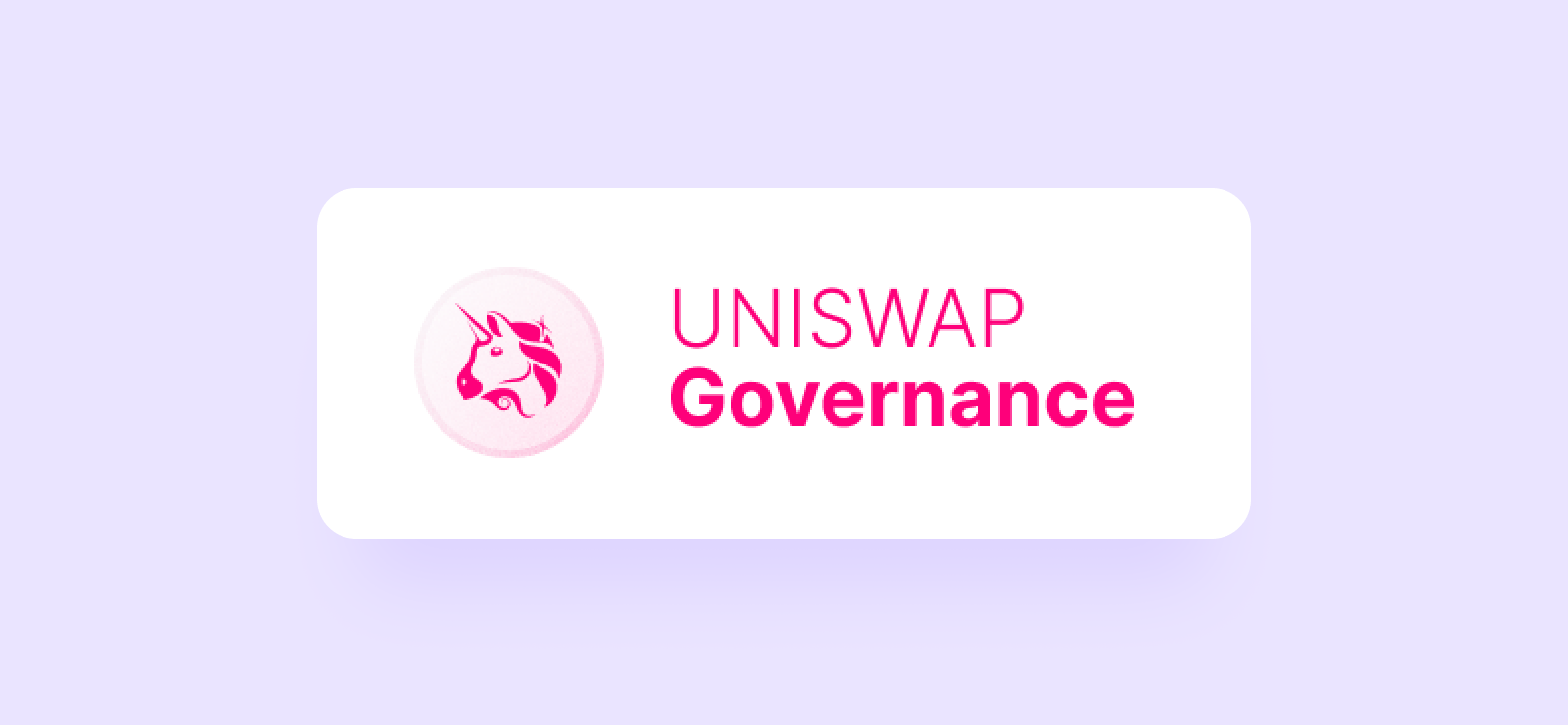 Uniswap Governance is the DAO
If you are interested in any of the types of applications, we can share an expert opinion on its development. Purrweb's team knows how to build decentralized applications, including data transfer apps, cloud storage, marketplaces, and much more that is connected to the decentralized system and requires writing smart contracts. We also have experience working with crypto wallets, which you can check out here.
Top 3 blockchain applications 
According to the data of DappRadarhttps://dappradar.com/rankings, the most popular applications by the number of users belong to the gaming sector, but there are also DeFi apps and marketplaces included in the top 2022. Let's check out their features.
Alien Worlds
Alien Worldshttps://alienworlds.io/ is an NFT Metaverse built on the WAX blockchain where users can play with non-fungible digital collectibles. The platform offers staking — receiving rewards for placing funds in a blockchain wallet for a certain time, and unique Planet DAOs — decentralized autonomous organizations with client portals. There are also trading opportunities using game cards.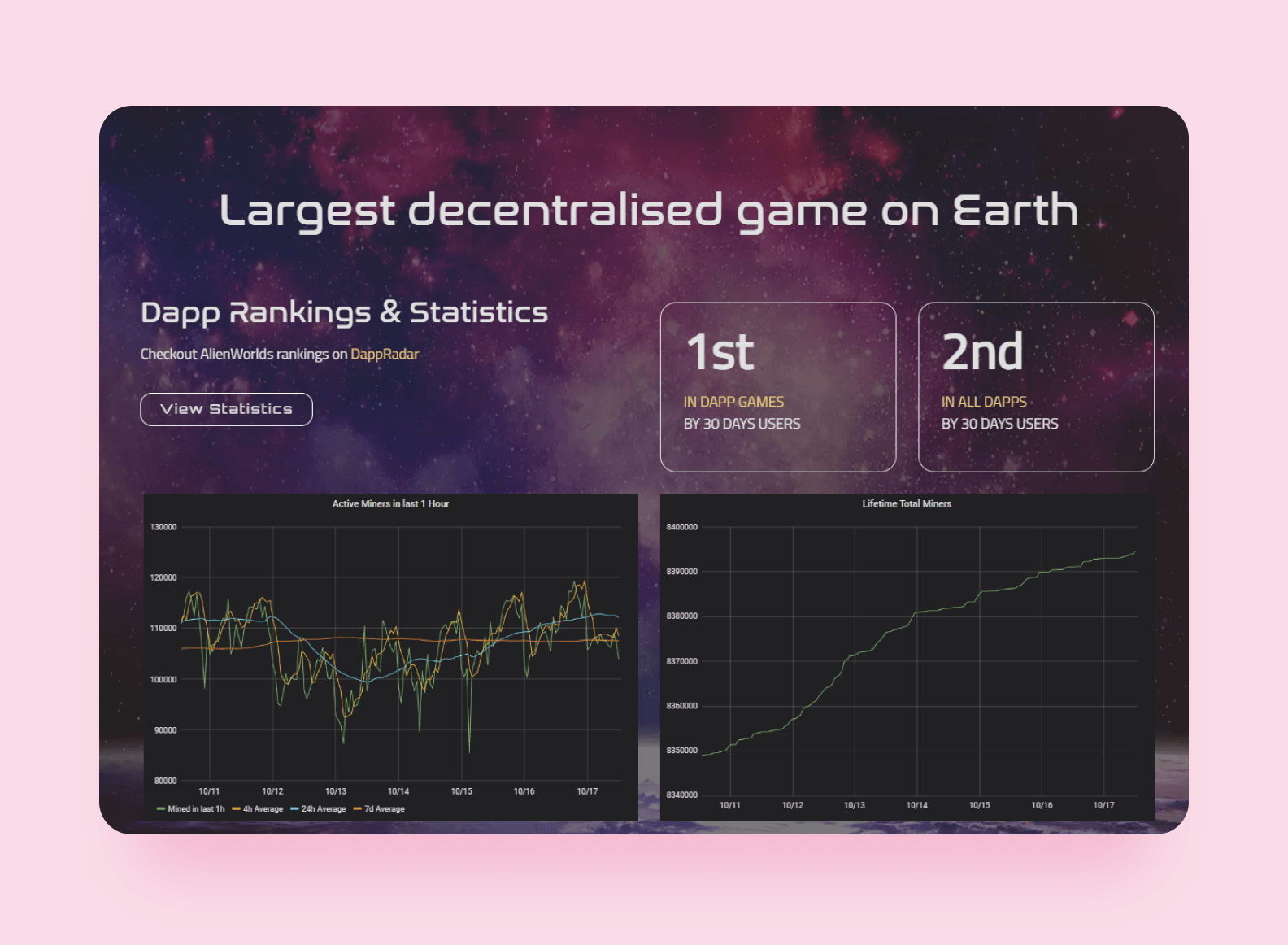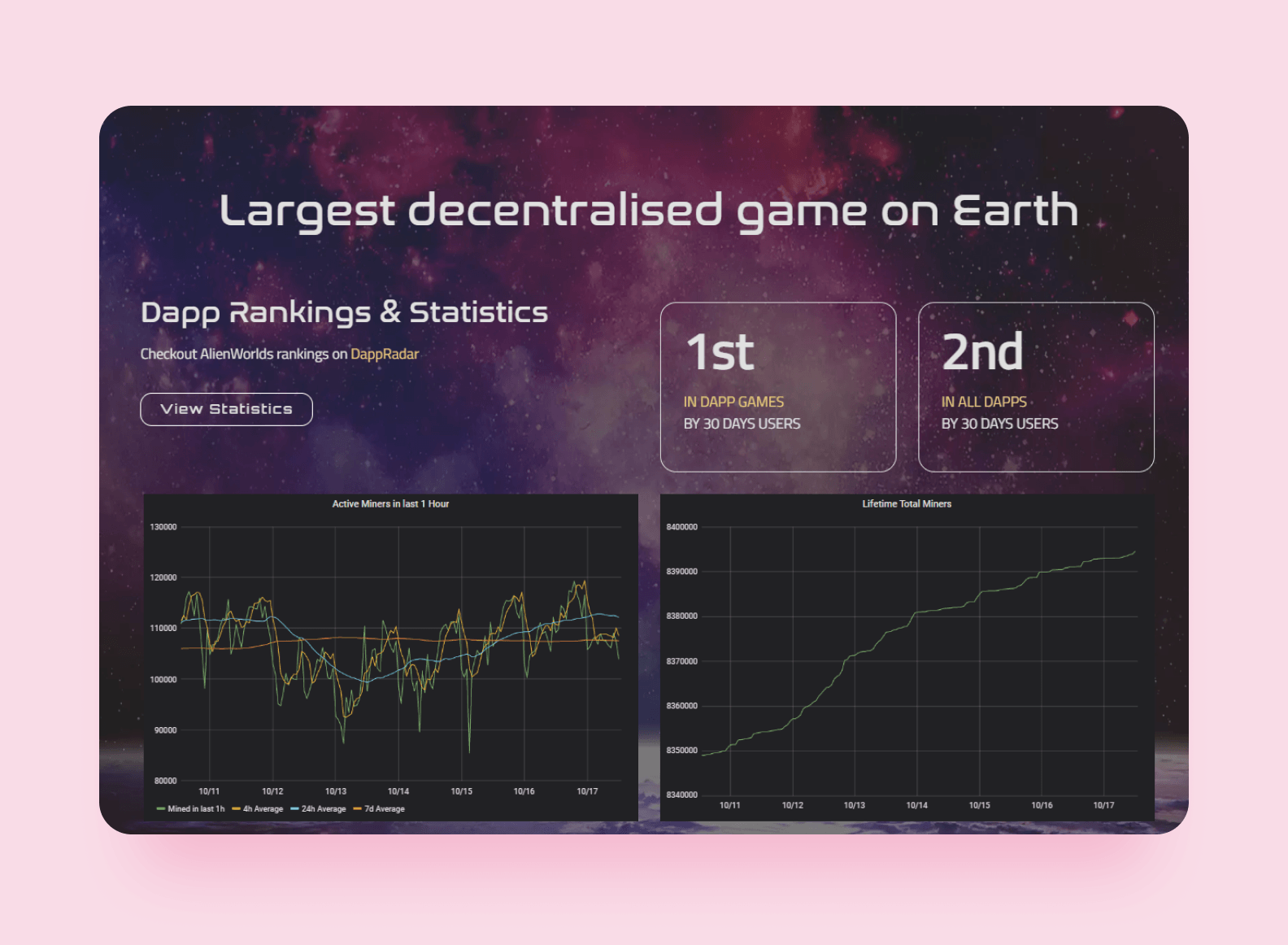 Screenshot of Alien Worlds NFT Metaverse
PancakeSwap
PancakeSwaphttps://pancakeswap.finance/ is a decentralized exchange (DEX) based on Binance Smart Chain (BSC), launched by Binance in September 2020. On the platform, users can trade, earn, and win cryptocurrency. The exchange has more than $4.1 billion in funds and regularly hits the headlines.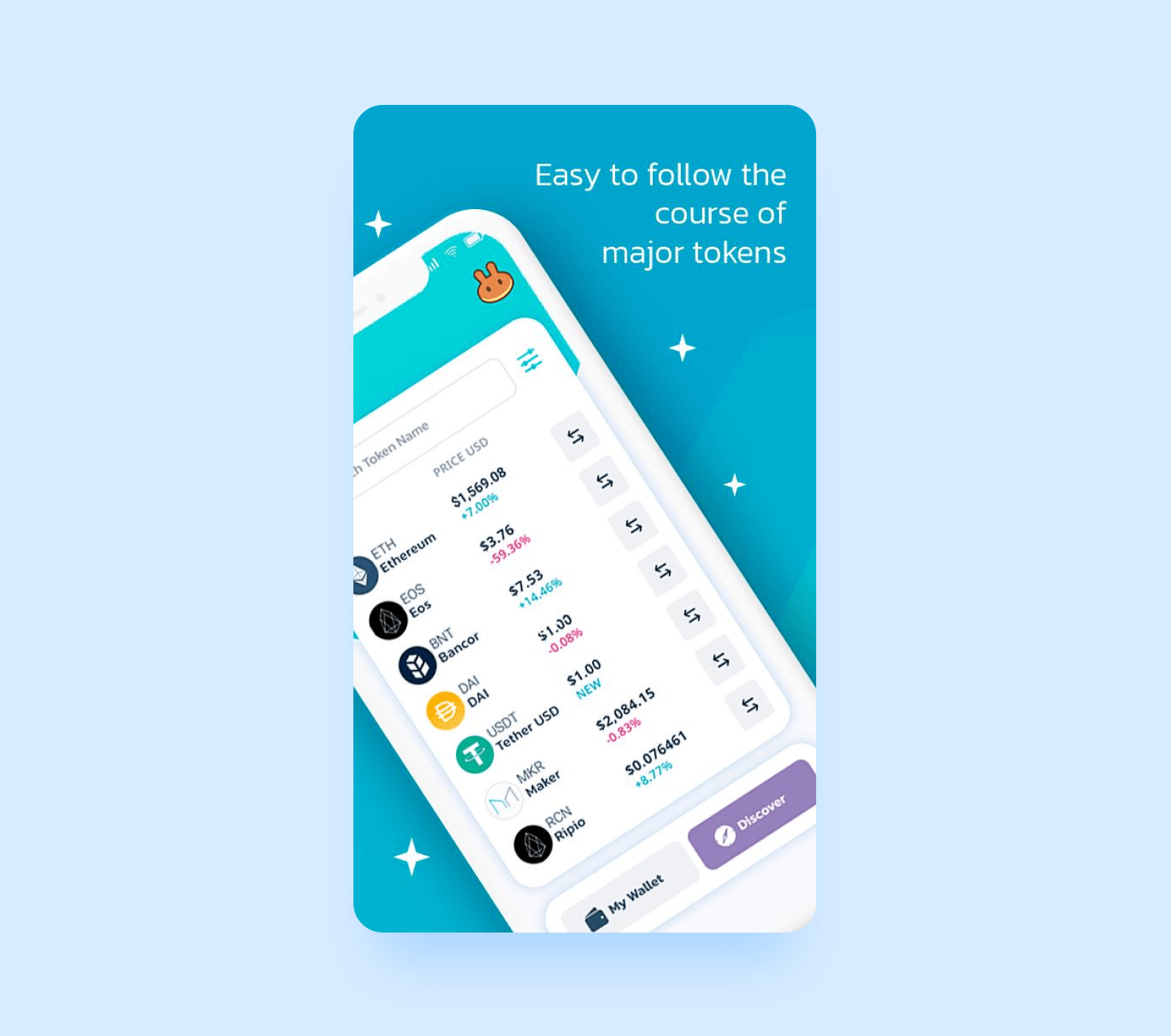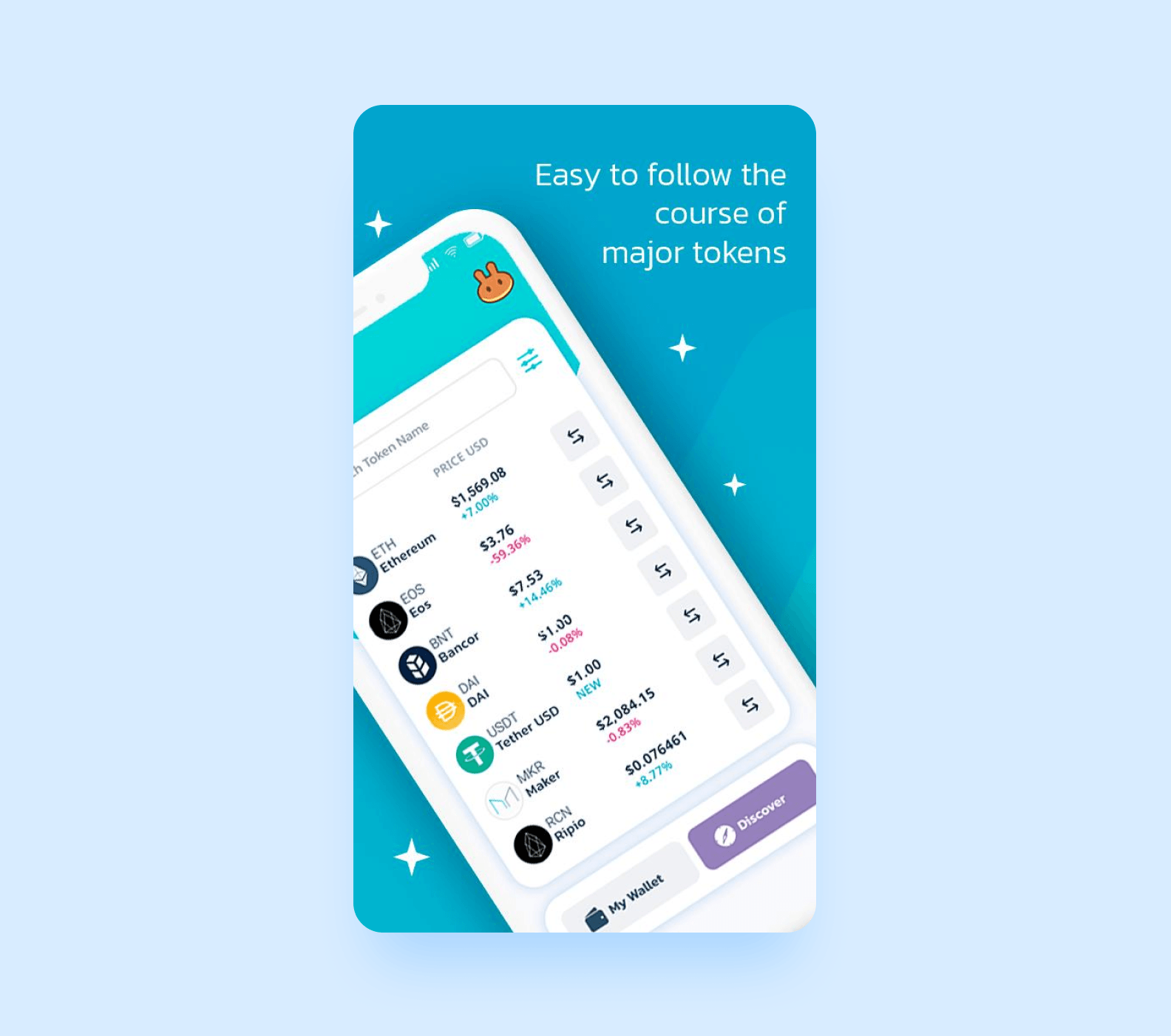 Highly secure, fast and convenient token conversion
Splinterlands
Splinterlandshttps://splinterlands.com/ was launched on March 25, 2021, and has rapidly gained more than 185k users. This play-to-earn game also actively uses unique in-game assets, which can be traded and exchanged. The users collect card decks and participate in battles or convert cards to crypto.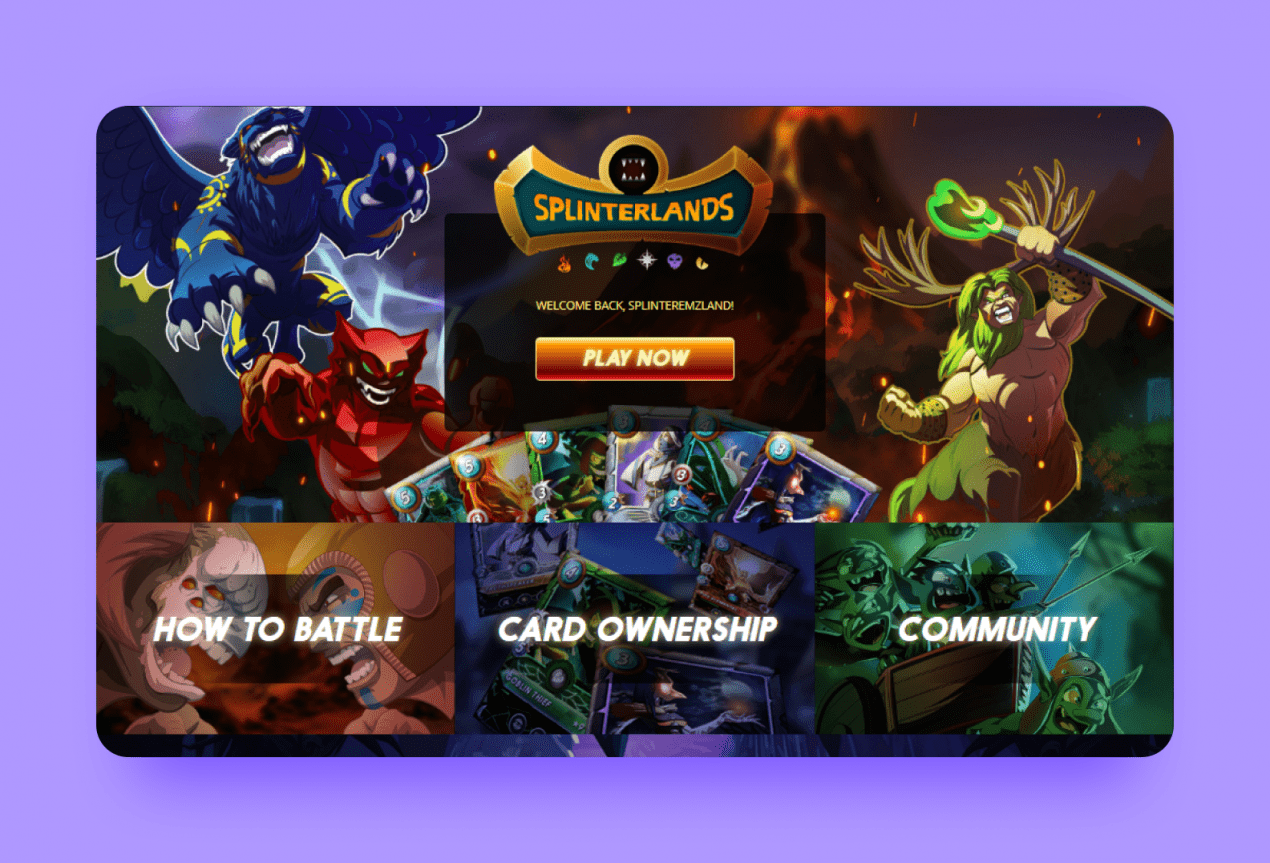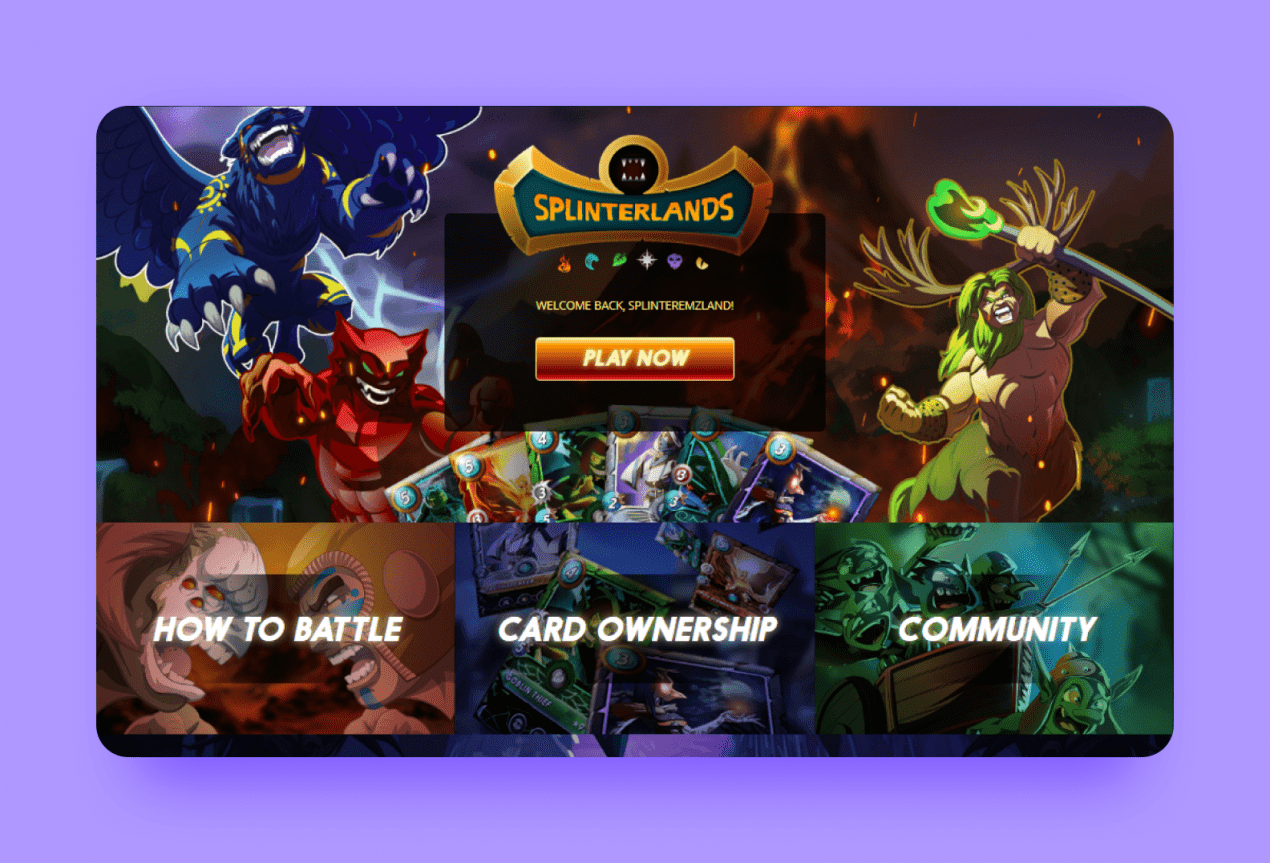 NFT-based card game with real rewards
You can find more recent industry news in the DappRadar Blockchain Industry Report – August 2022.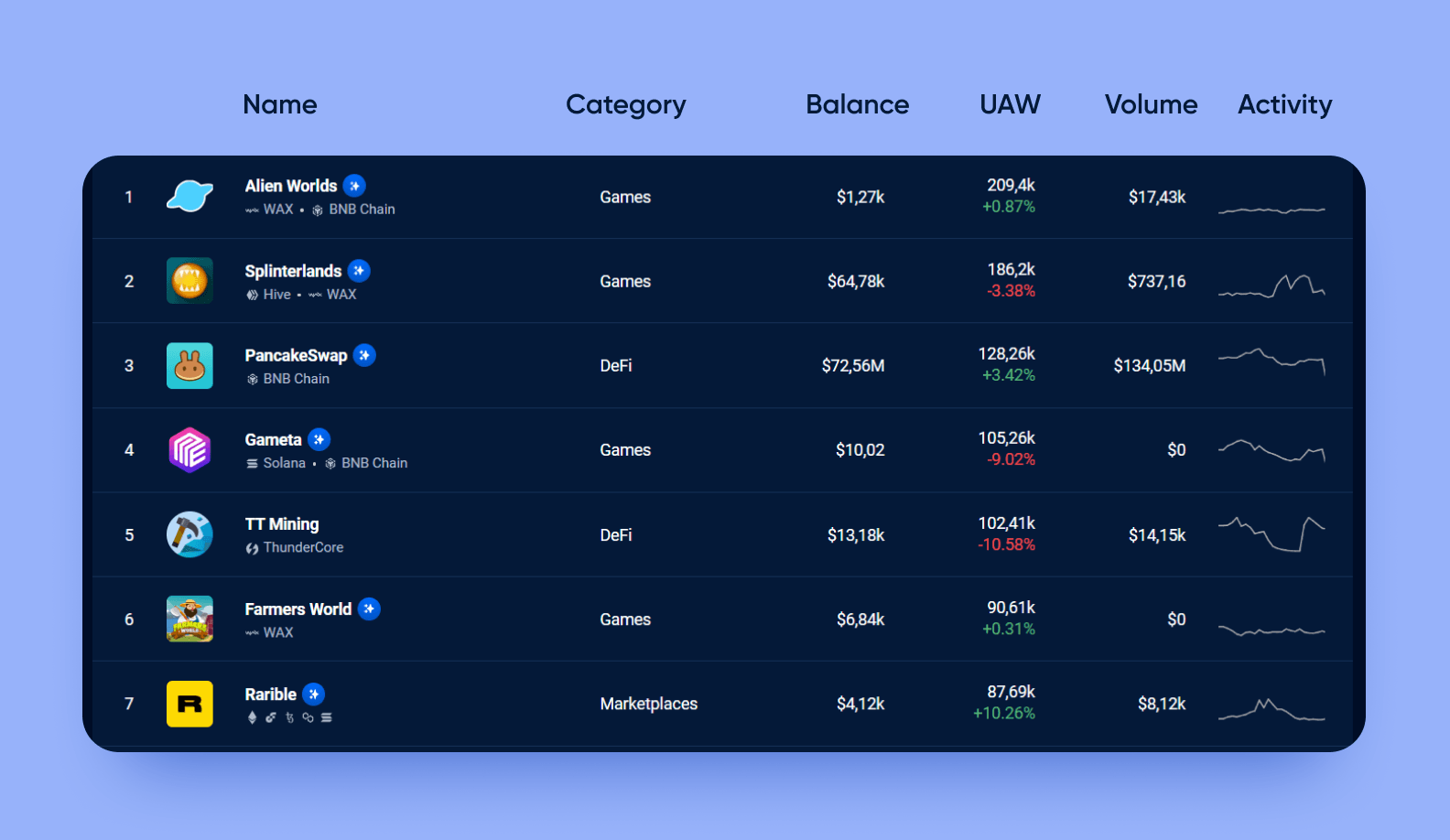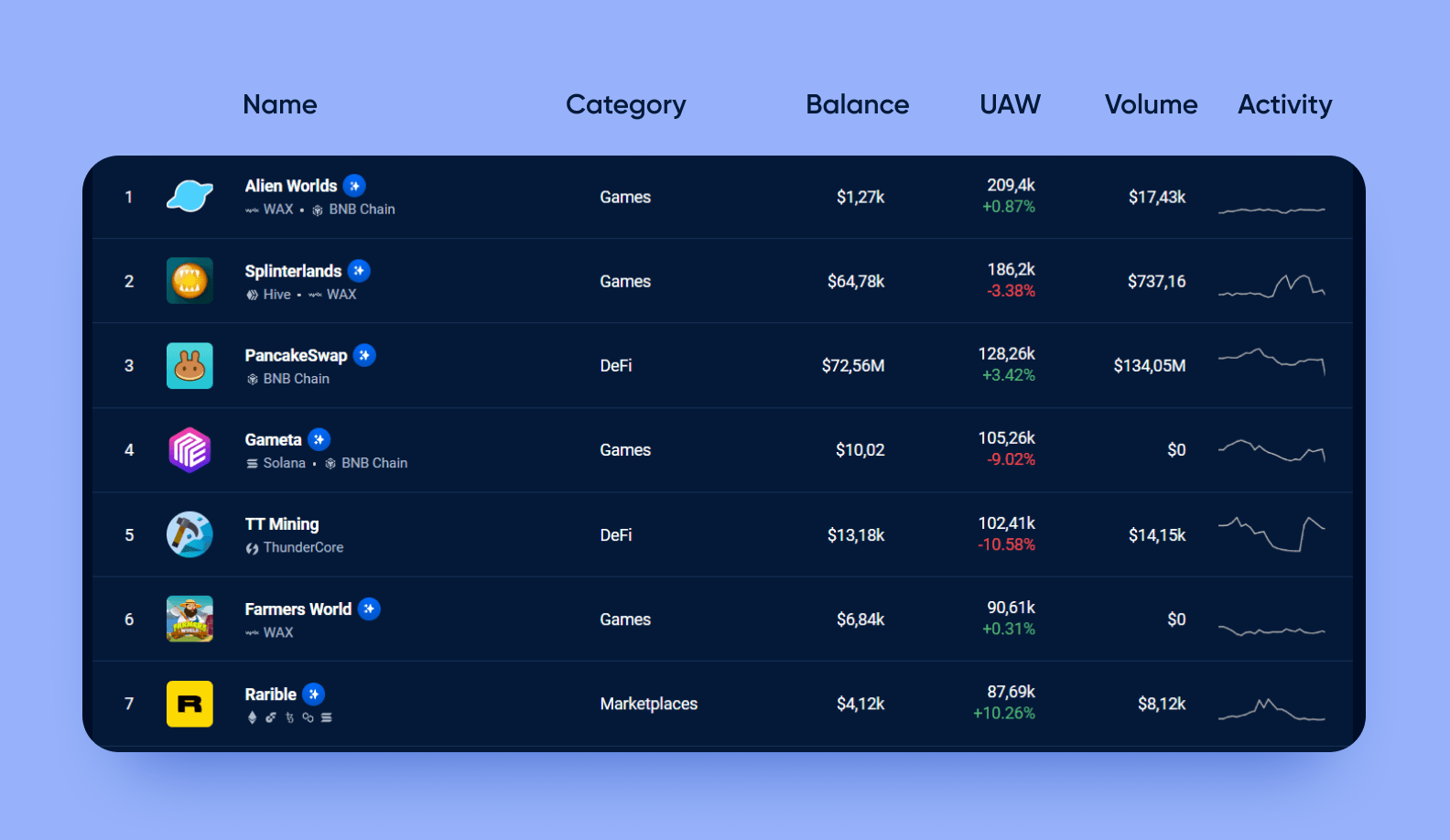 The most popular applications Dappradar screenshot
Benefits of blockchain apps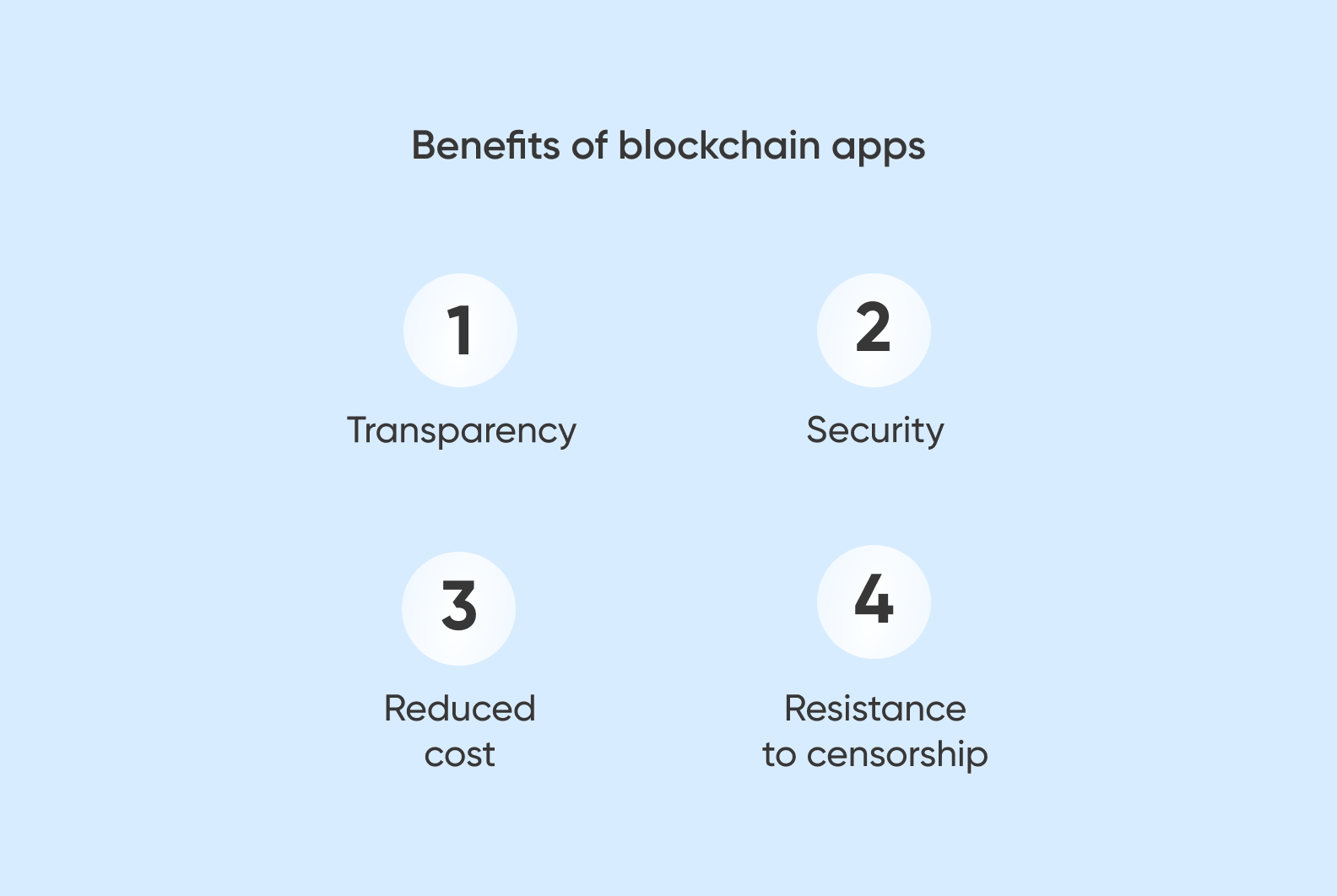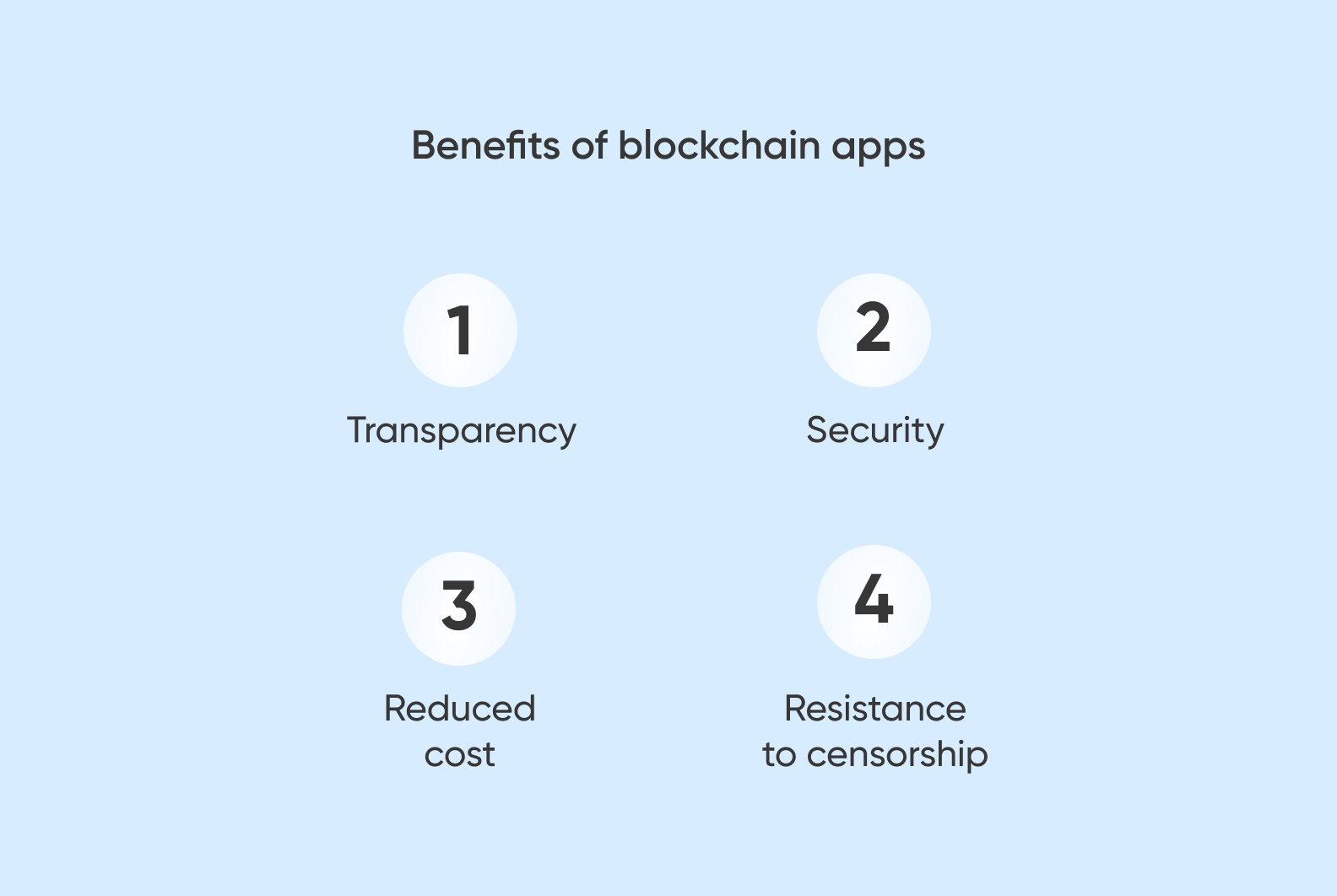 Benefits of blockchain apps
Blockchain applications bring tangible value, namely, they reduce business operational costs and increase users' security and autonomy. Users gain more control over their finances and personal data, as they do not need to trust someone else to store and protect their information. Let's consider the major benefits of blockchain apps that will gain users' attention. 
Transparency
Users can learn how a blockchain application works any time they want because of the transparency of the system. Everything is saved in the open ledger, it is clear, and this is often one of the main reasons for choosing such apps. For example, the development of a blockchain application can help two companies interested in cooperation to reach a new level without additional overheads.
Security
A DApp is by default more secure than any conventional app, simply because of the core blockchain technology functions. Blockchain implementation brings strict encryption and safety mechanisms that prevent data erasure or forgery, and any update of the application requires the agreement of all users of the application.
Reduced cost
The blockchain-based application aims at enhancing business processes by eliminating any intermediaries and third parties from the work processes. A vivid example are peer-to-peer transactions — payments that users make directly to one another using a payment service. Consequently, the cost of offering the same services is reduced when using fewer resources.
Resistance to censorship
Without unified management, it is challenging for the government or influential individuals to control the network. It will also not be possible to influence the mechanisms programmed in advance from the outside. Thus, censorship in the application is not possible.
Factors to consider in blockchain app development 
What you need to consider when developing an application is that the result hugely depends on the instruments, platforms, and technologies you choose. But how to build blockchain application in the most efficient way? 
It's better to start by selecting a blockchain, which supports DApps, and comparing the advantages and disadvantages of the available networks. There are 4 basic factors you need to carefully choose:  
Blockchain technology

. You need to analyze the popularity and the level of trust in the particular blockchain. For example, Ethereum is the most popular one, while GoChain and OST are almost unexplored. 

An OS

. You should select the type of the application — web, mobile, or desktop — and the operating system you want to work with, for example, iOS or Android, Mac or Windows, or all of them.

A monetization model

. This is how your app will make profit. It can be the sale of assets initially introduced into the system, transaction fees, or advertising.

Developers.

Developers play a key role in making your

blockchain app work

, so you need to find professionals who can write proper smart contract code in a high-level programming language.
Tech stack for blockchain app development 
To develop a blockchain based application, you will need to choose a desktop, a web or a mobile option. Let's explore some advanced technologies and programming languages that can be used for different app types.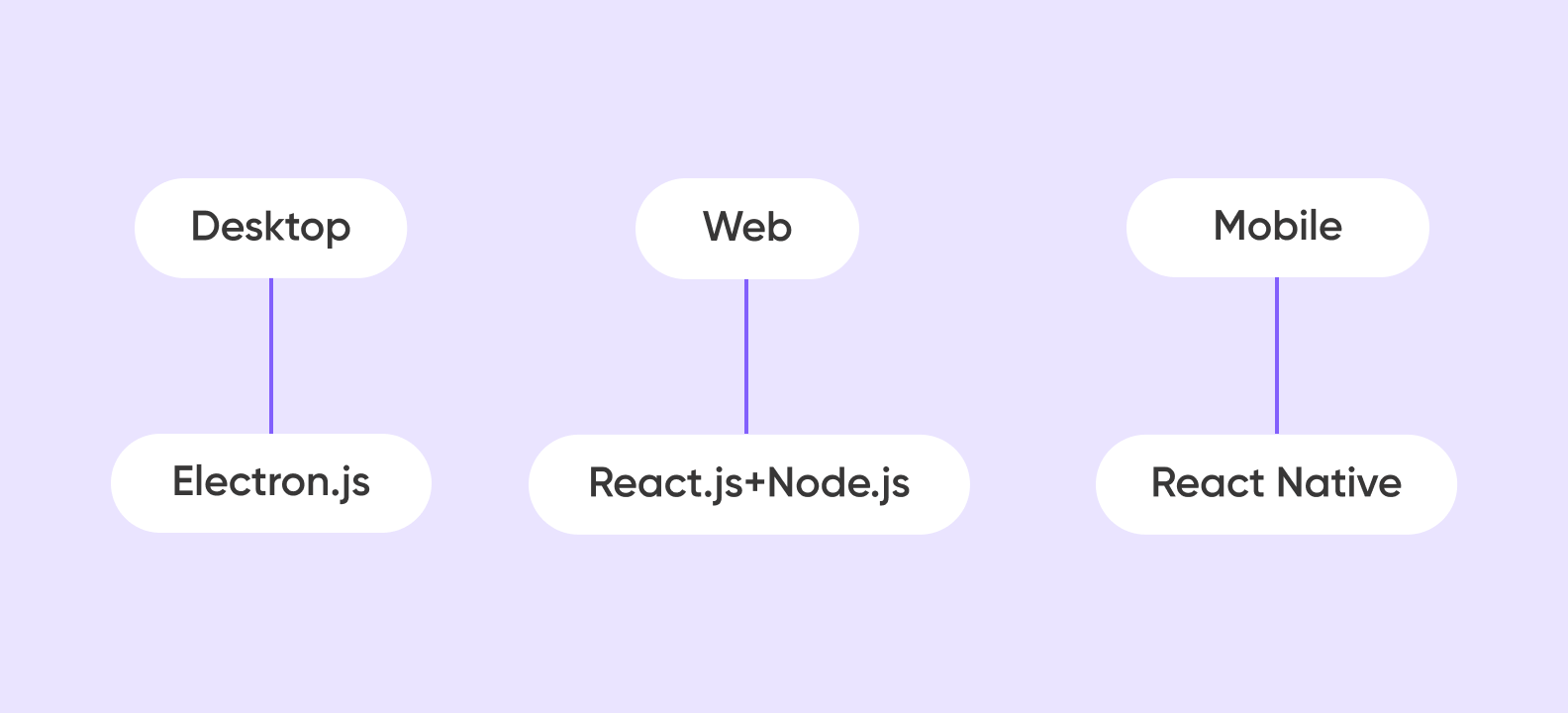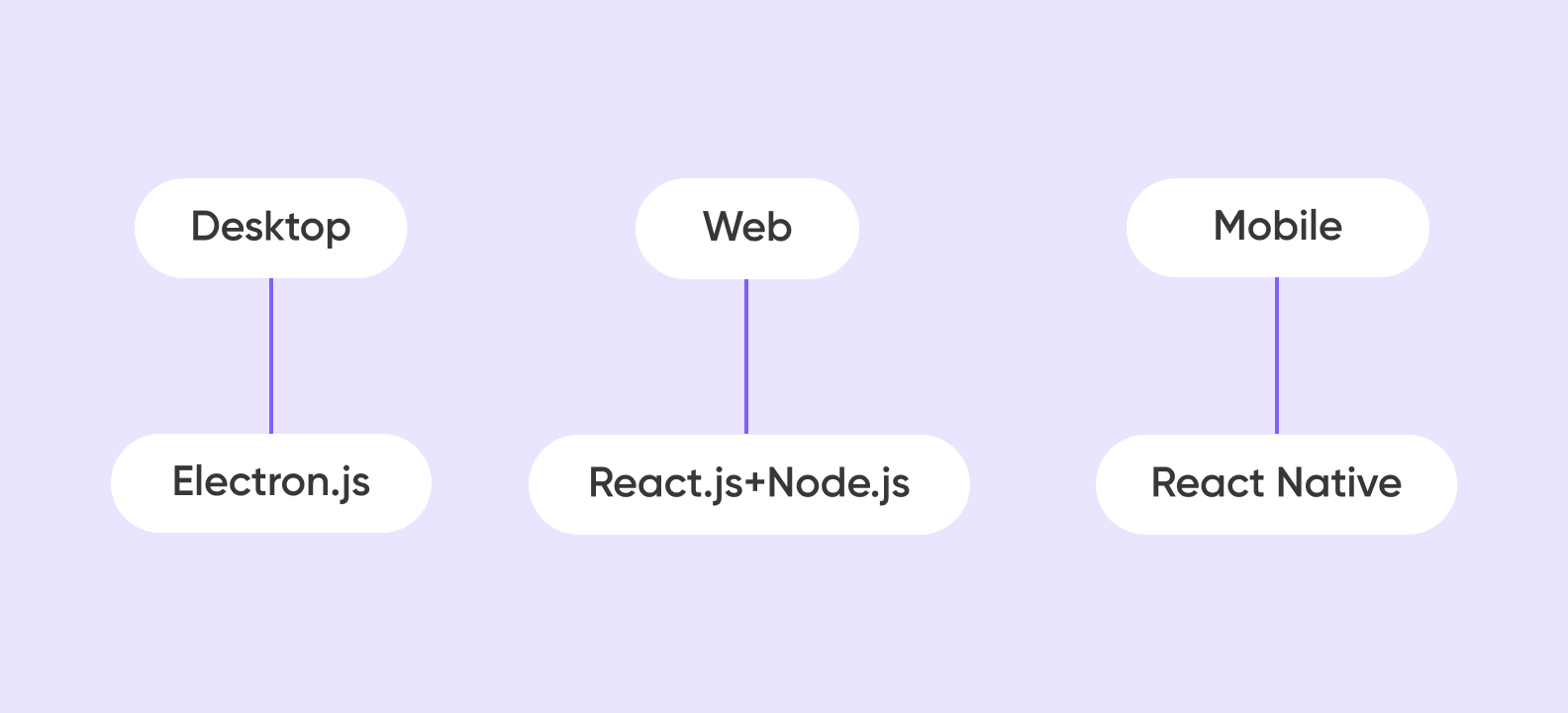 Electron.js for desktop apps. Electron.js is an open-source framework that helps to create native cross-platform applications for desktops using JavaScript, HTML, and CSS. It uses Chromium and Node.js. Electron.js apps are compatible with Mac, Windows, and Linux. 
React.js and Node.js for web apps. These are JavaScript libraries for web applications. Node.js is a backend development environment that is used to build scalable and highly flexible web applications with high performance. React is an open-source frontend library for creating user interfaces with a convenient developer toolset. 
React Native for mobile apps. React Native is used to create mobile apps for Android and iOS. Using a single code base, this framework helps develop applications for both platforms with only one team and save time and money on the software development.
Remember that you need to write smart contracts on the back. The best programming languages for decentralized applications are Solidity, Java, Python, JavaScript, SQL, and others. Any coder will not develop a DApp, as blockchain development is quite specific. This is their difference from the regular applications. At Purrweb, we can work it out.
How to build a blockchain app in 5 steps
The answer to the question of how to develop a blockchain app is simple. You just need to go through the following stages of development. 
Step 1: Analyze the project. Pay attention to the market analysis and project evaluation, then define the project scope, budget, and deadlines.
Step 2: Create a design. Find references, define your personal visual preferences and develop a design with the UI/UX team.
Step 3: Develop the app. Think over the features of your application, the logic of work, the possibilities of interaction with the user, and internal services. Coordinate all your ideas with the development team and create a product.
Step 4: Test the app. A test run will allow you to check all aspects of the correctness of the application and avoid errors in its future operation. 
Step 5: Release the app and get feedback. Launch the application and collect feedback from the first users. Come up with ideas to improve your blockchain app.
How much does it cost to build a blockchain app? 
If you want to know the average costs of creating a blockchain app, we'll be glad to tell you the secret. We do not claim that all agencies offer the same price and only speak for ourselves. 
Let's look at the timing and cost of creating a prediction marketplace as one of the crypto blockchain applications that we described earlier. Considering these estimations, you can get the approximate software development cost. 
Here's how we estimate rates and timeframes of blockchain app development:
Stage
Estimation in hours
Estimation in weeks
Approximate costs

Business process

project analysis

40 hours

1 week

$800

UI/UX design

211 hours

7 weeks

$9 695

App development stage

1305 hours

14 weeks

$65 475

QA Testing

630 hours

In parallel with the development 

$12 600

Project management

during the whole project

during the whole project

$5 950
Overall, blockchain app development will cost you $93 000
For more information and an individual offer, please contact us.
Wrapping up
We hope this guide has answered all your questions about the development of a blockchain application. Now that you know how to build a blockchain app, you can decide whether this application option is right for you. DApps are in demand because the technology has many advantages, such as transparency, security, autonomy, and cost reduction. 
Should you have any questions, you can contact Purrweb experts for advice. We will be happy to help your idea come true. Fill out the form here and we will contact you.