What is a UI dashboard?
90% of the information our brain receives is visual. That is why we have learned to process it 60,000 times faster than texthttps://cyberleninka.ru/article/n/estetika-vizualnogo-kontenta-v-marketingovyh-kommunikatsiyah. To handle even bigger chunks of data, people came up with the idea of presenting it through tables , graphs, and diagrams. It helps to more easily understand numbers, such as the company's monthly expenses or department performance indicators. Dashboards appeared in software programs, applications, and websites where it was necessary to reflect this information.
A dashboard is a tool that presents analytical data in the form of charts, graphs, and tables. The main kick of UI dashboards is that they are interactive and updated based on the collected information. Dashboards are used both on corporate platforms and in mobile applications for individual users. For example, in bank apps, the dashboard shows you your monthly expenses. Based on the history of transactions, such apps display information about how much money you spent and for what: travel, shopping, food, entertainment, and others.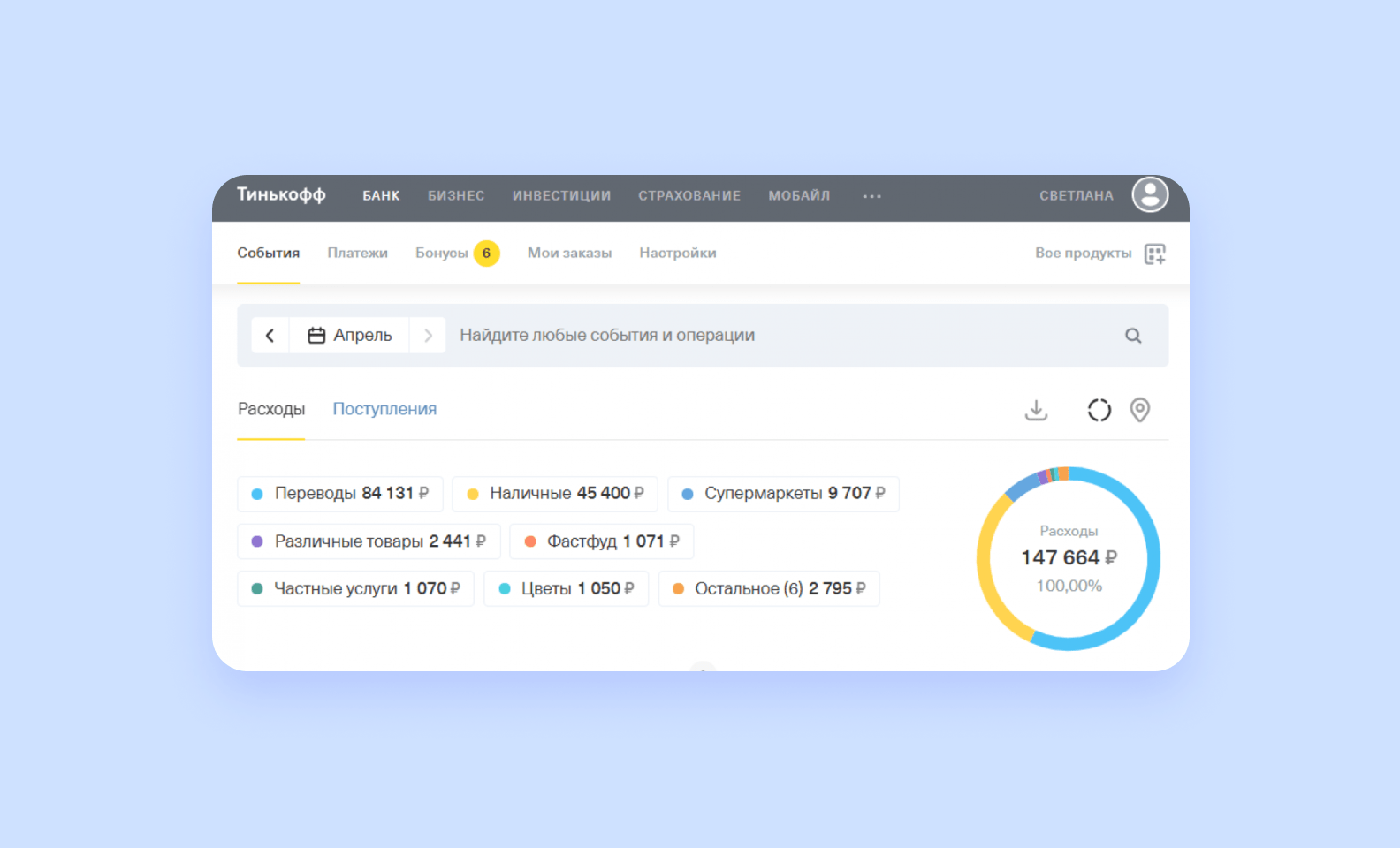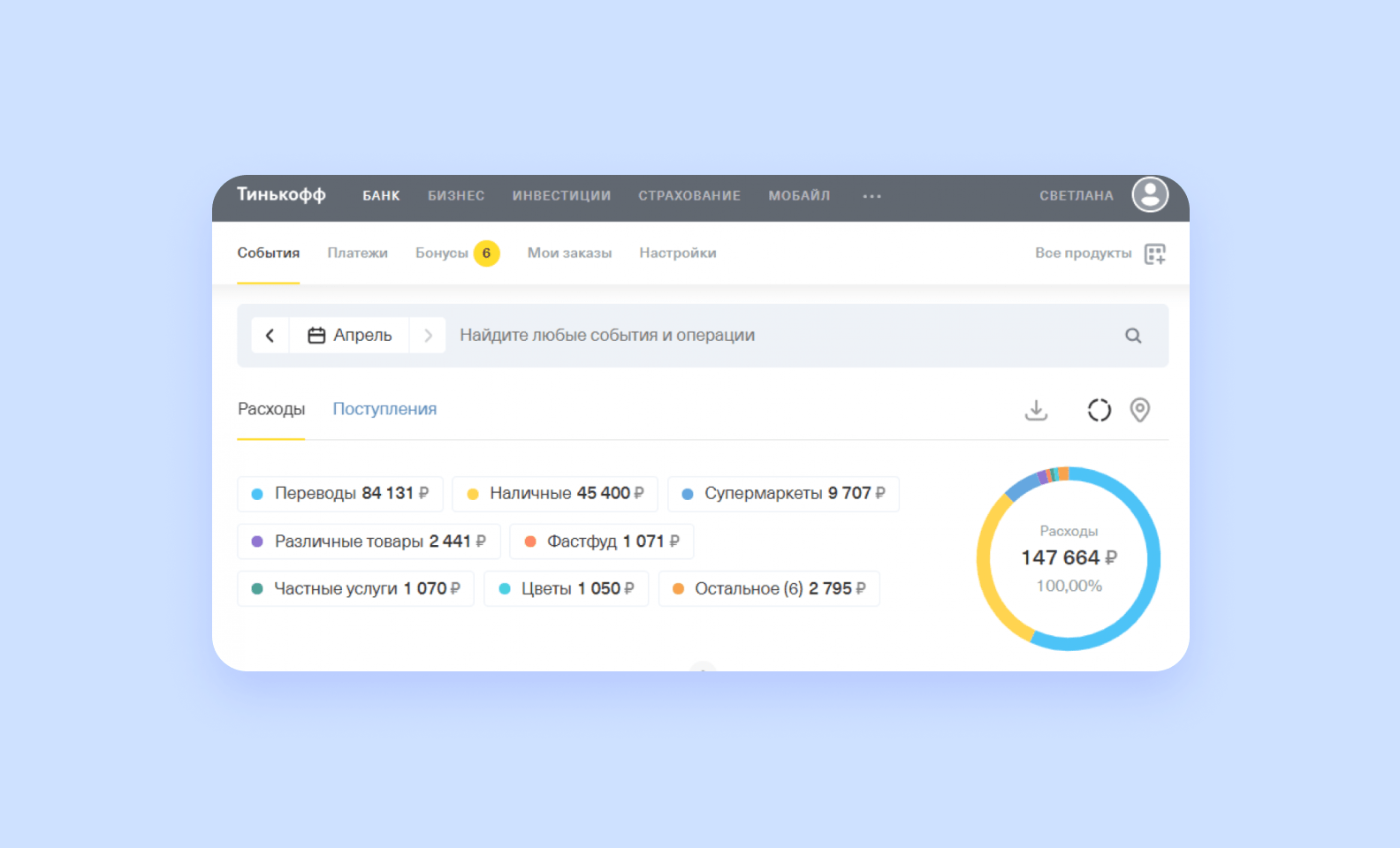 What UI dashboards are used for?
In many industries, people work daily with a large array of information that is difficult to process and understand in text form. Let's take a look at the same example with banks. Imagine you want to see how much money you spend on food per month, but the app just gives you a history of all transactions during this period. To get to the desired data, you would need to go through every charge manually and calculate the total amount spent on groceries. Sounds complicated and tedious, right? What if the analyzed numbers are even bigger, for example, you analyze the expenses of a small business?
UI dashboards not only simplify your experience but also save time and make your work more efficient. Dashboards are essential in many fields:
Marketing.

The dashboard is the main tool in many marketing analytics services, such as Google Analytics, or MixPanel. These platforms collect data about website traffic, user behavior, and advertising campaigns and present information in simple and clear graphs.

Management.

Where to find the monthly KPIs of an employee or the whole department? How to measure how much time was spent on each task? If managers use programs with

UI dashboards

, they can get this data quickly and easily.

Project management services such as Trello, ClickUp, and Jira monitor the worktime and productivity of each employee and present them in the form of interactive charts and diagrams. Dashboards are also developed for accounting services, such as My CPA Dashboard, so that the chief executive can immediately see the status of the company's accounts, and plan the budget accordingly.
Education.

Schools and universities create internal dashboards to track students' progress and attendance. Such visualization tools are also used by education authorities, for example, to measure the implementation speed of a new studyprogram and check how it affected the learning process.

Health.

Dashboards also appear in apps targeted at common  users. For instance, the Health app for iPhones tracks and consolidates data about physical activity over several days. Another example is Lifesum, which helps with counting calories: the platform displays the daily intake in graphs and shows how much more you need to meet the goal.
For a dashboard to really help you work, it must be visually clear. What other characteristics should a good dashboard have? And how do you know you are looking at a high-quality interface? Let's find out.
How (and why) to discern a good UI dashboard from a bad one
First things first, let's focus on "why" — why should designers spend time and effort on making the dashboard of high-quality?
Let's imagine you are a social media marketing specialist in a company, and your role is to collect analytical data, adjust advertising campaigns based on the analytics results, and set the launch dates of new products. You open an app that collects necessary information: analyzes users' needs and their interest in the product, calculates the numbers, and presents them on the dashboard. At first, everything seems to be in order — there are a lot of bars, graphs, and other UI design patterns. The colors are nice and contrasting, but none of the indicators are titled. As a result, you can't interact with the dashboard. Moreover, the last time the stats were updated was a month ago. The page is beautiful, but absolutely useless, because old numbers can't help improve the performance of advertising campaigns.
The main goal of the UI dashboard is to reflect up-to-date information. At first glance, a user should be able to read and understand all the indicators in order to quickly react to their fluctuation.
There are three signs of a high-quality UI dashboard.
1. Updated current information
If you can quickly assess the situation based on the dashboard data and make changes to get to the desired result, then the screen works as it should and pulls it off.
2. Well-balanced UI UX design elements
Dashboard users face a challenge to interpret visual elements and assess a large amount of information. Therefore, all elements and numbers must have a meaning and a purpose . Also, there should always be space between the blocks and bars, so the brain can easily read the UI design patterns. Moreover, dashboards should avoid distracting effects such as background gradients and 3D graphics.
3. Colors and fonts
The correct colors in the dashboard are just as important as numbers. The color palette should be a visual cue that helps you connect information and sections. A little tip from us: if you don't want to confuse the user, the dashboard should not use too many colors, the ideal number is 3-4 contrasting colors and only one font.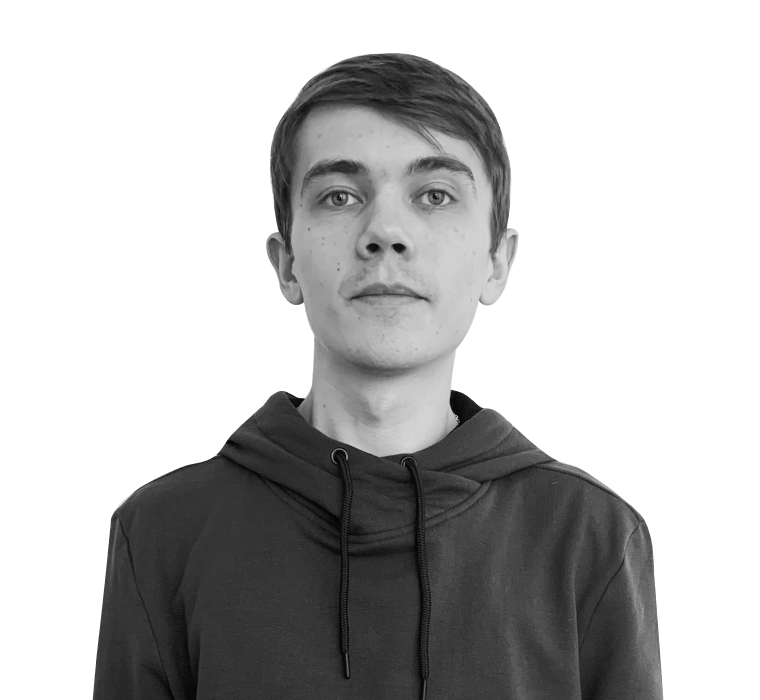 Also, a good UI dashboard is customizable and can be changed in any way you want. For example, when managing a team, one day you can have one primary focus and it takes the most of the screen, while tomorrow it's a different one. So, we just easily rearrange elements and change their sizes as we want and as it is convenient for us today.
To support these statements by examples, let's take a look at some real cases and break down if they have good or bad dashboards. This will help you to independently evaluate dashboards in the future, for example, if you need to create mobile app design and supervise an outsourced UI UX design agency.
Examples of successful and unsuccessful UI dashboards
To evaluate dashboards, we will again call our fictional assistant Max, a startup owner, who already helped us judge UX portfolios. He will frankly say what is wrong with the examples of failed dashboards and how to fix them. Meanwhile, our lead UI/UX designer Zhenya will comment on high-quality screens and break down their key features and advantages.
Dashboard role models
Family budget Applications
The mobile apps have less space than the desktop screen but it is still possible to create a mobile platform with a good UI dashboard.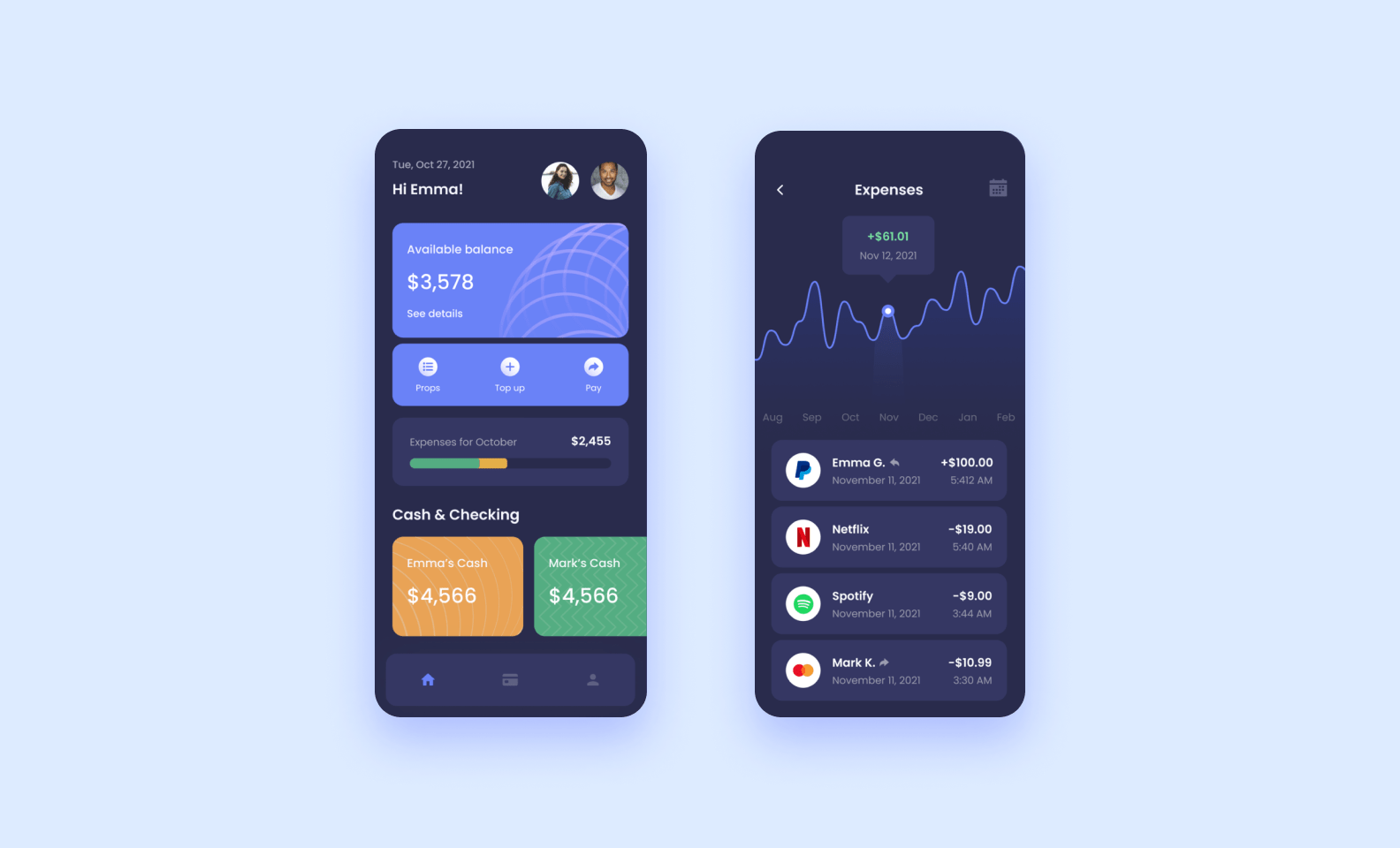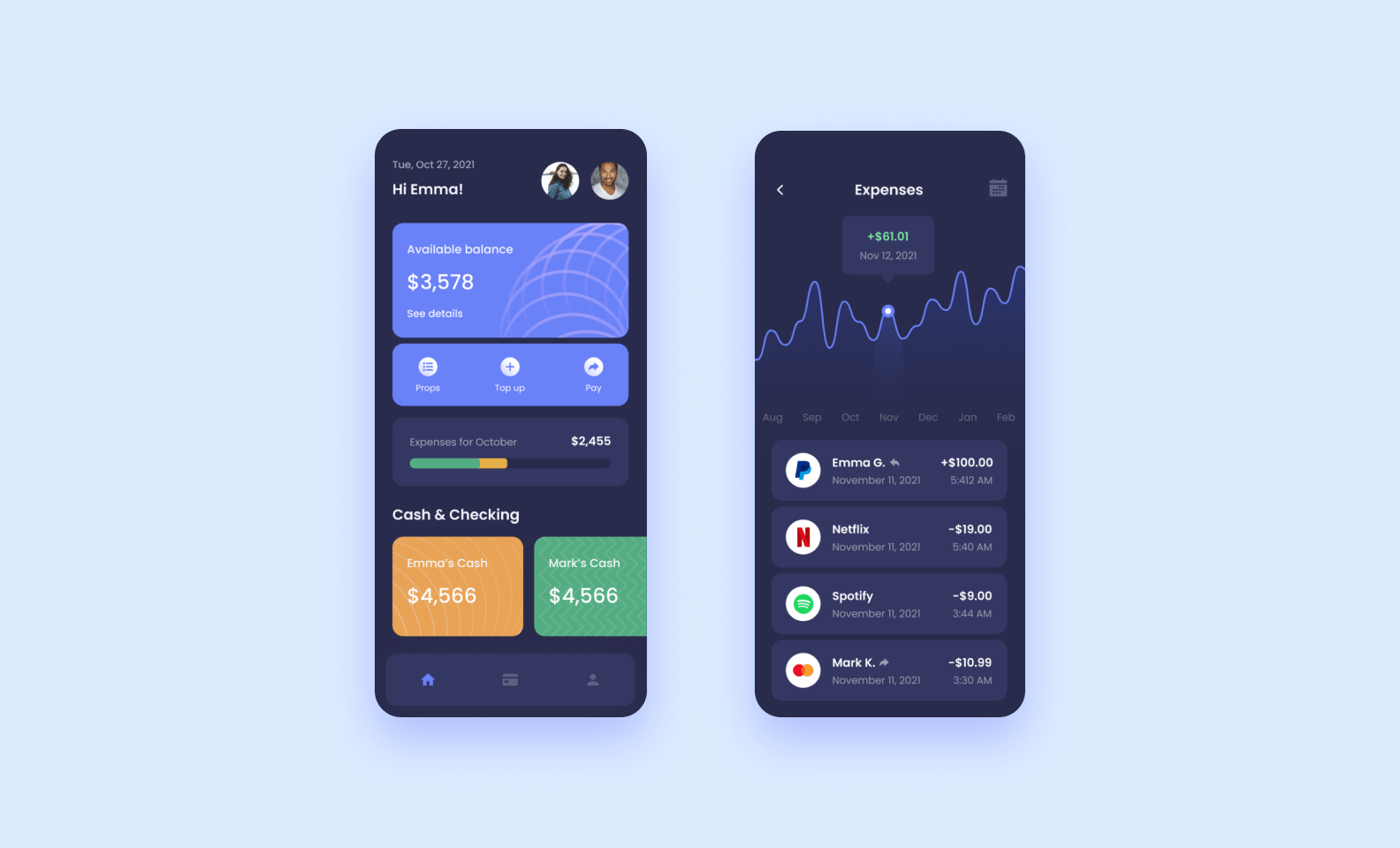 Look at the example. Each partner's account is highlighted in a different, contrasting color. The same coloris used in the expense scale, so even without a description, it is clear who spent more in a month. The screen on the left shows the ratio of expenses over several months and displays a list of approved transactions and transfers. By analyzing the comparison graph, a user can easily adjust the budget for the next month. 
Unlike the examples below, the interface background is dark, which makes the bright colorful bars stand out even more on the small smartphone screen. There is also a good balance between graphic elements and UI design patterns, and information is grouped into logical blocks: the first screen contains data about balances, the second one shows transactions. The dashboard is intuitive — and this is one of the keys to a high-quality product.
HR platform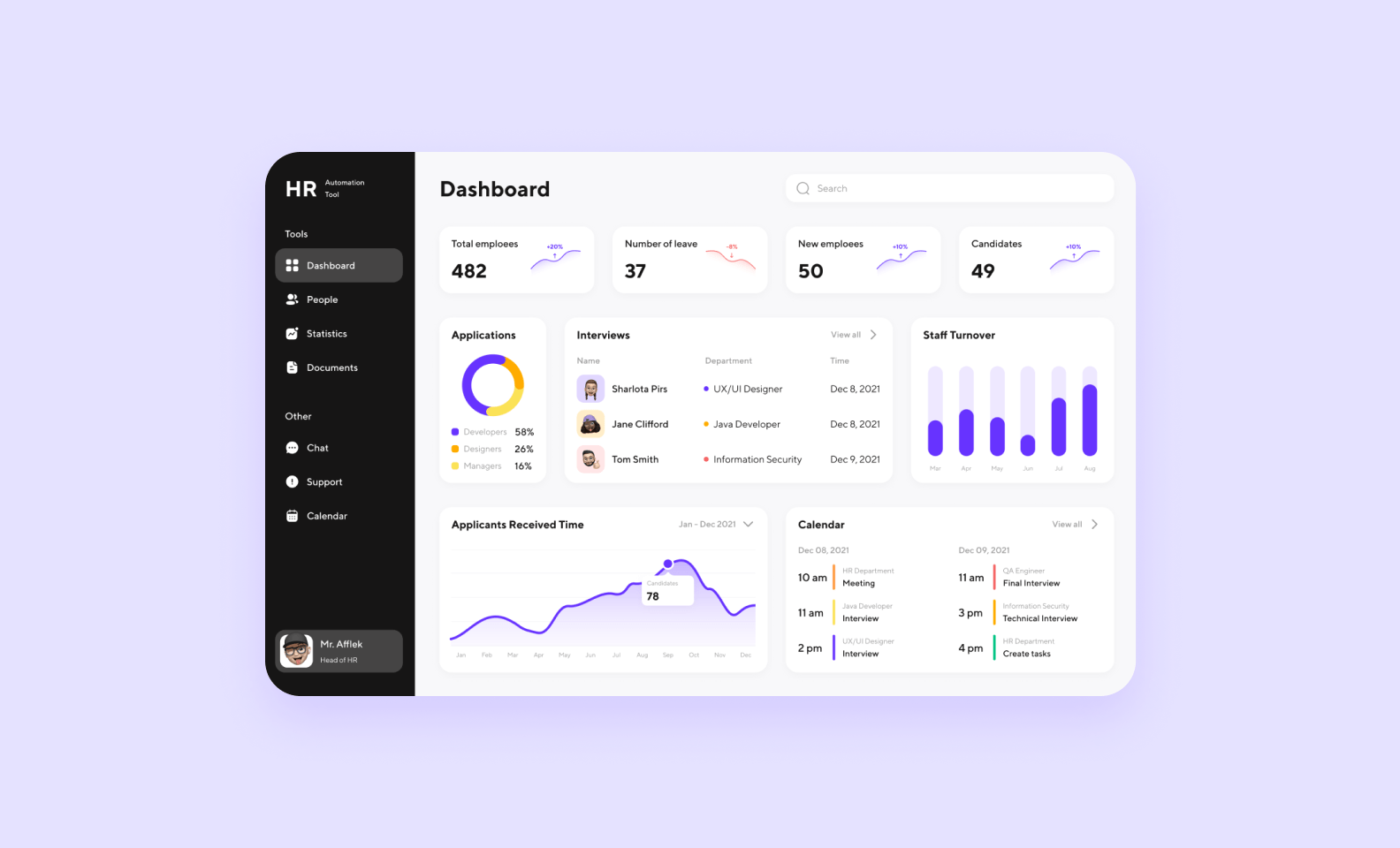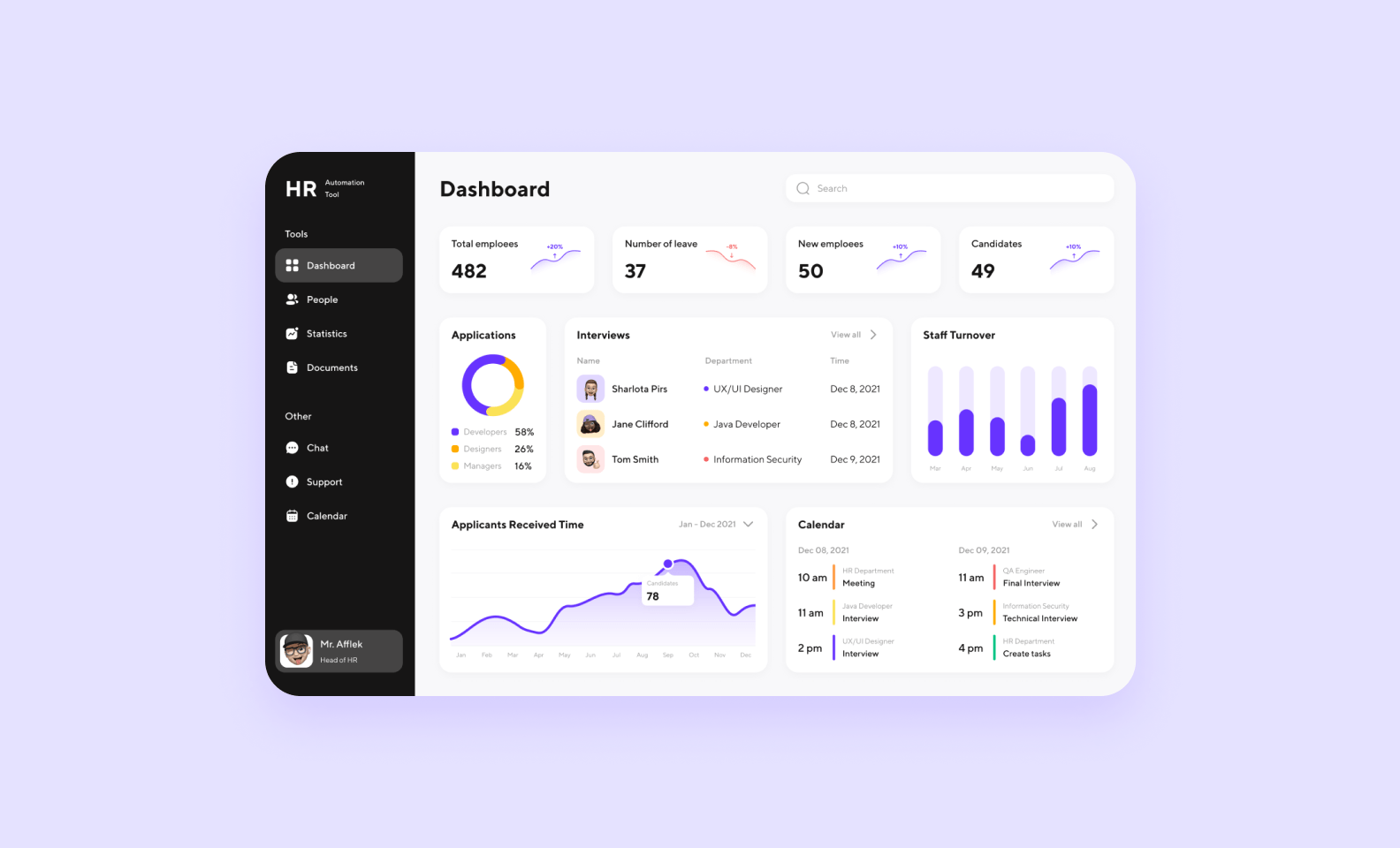 This minimalistic dashboard displays all the data an HR needs on a single screen. There is no visual or informational overload here: only 3 colors and bold numbers that immediately catch the user's eye. 
Using a pie chart, an HR specialist can understand the ratio of candidates and quickly react if there is a shortage of candidates in one of the application categories. In the bottom right there is a calendar with scheduled interviews, exact times, and desired positions. 
Here users have everything they need at arm's length: from indicators of the company's HR situation to their current tasks. To get more information in each section, a specialist can click the "view all" button and open the full data. 
Restaurant Management App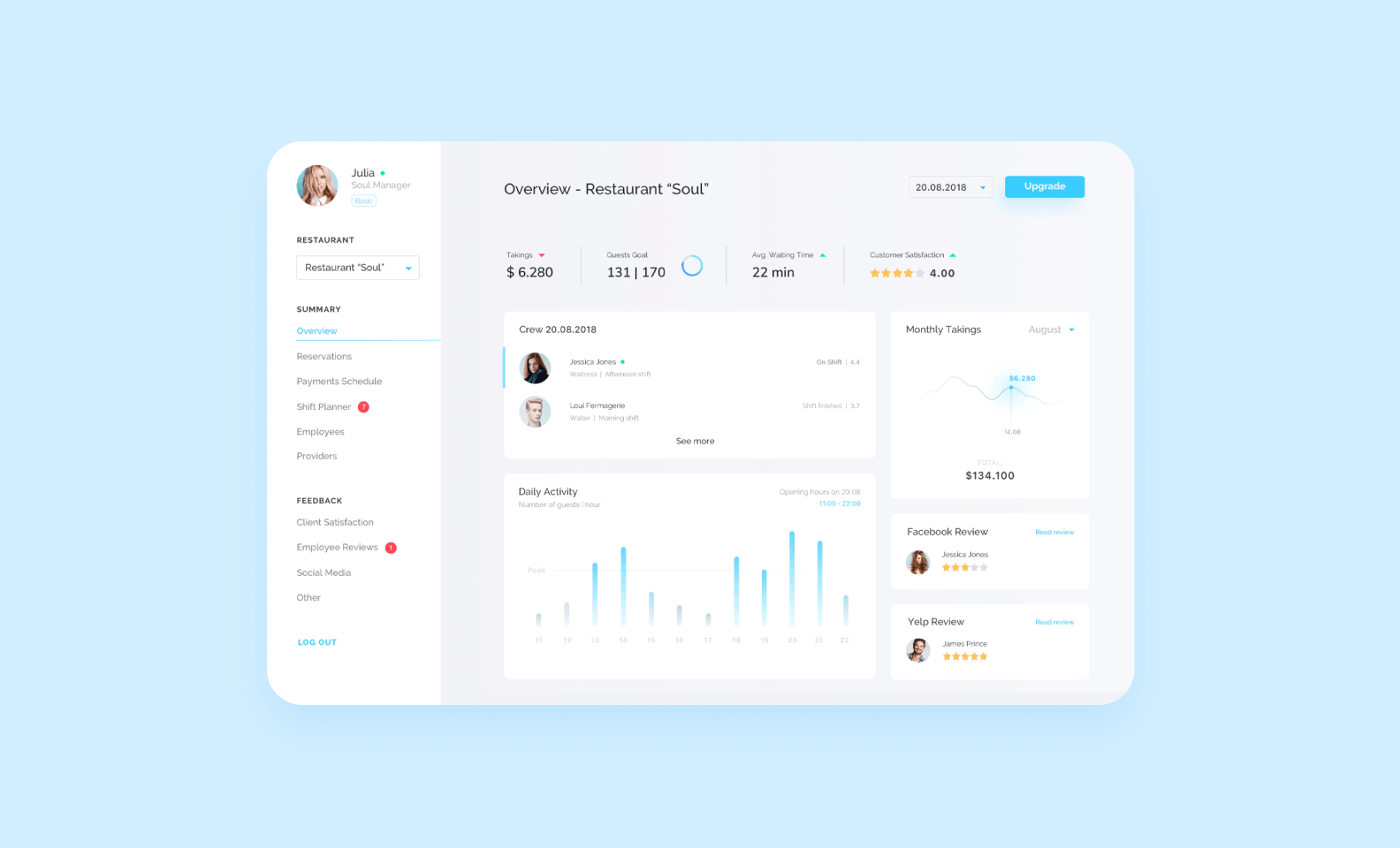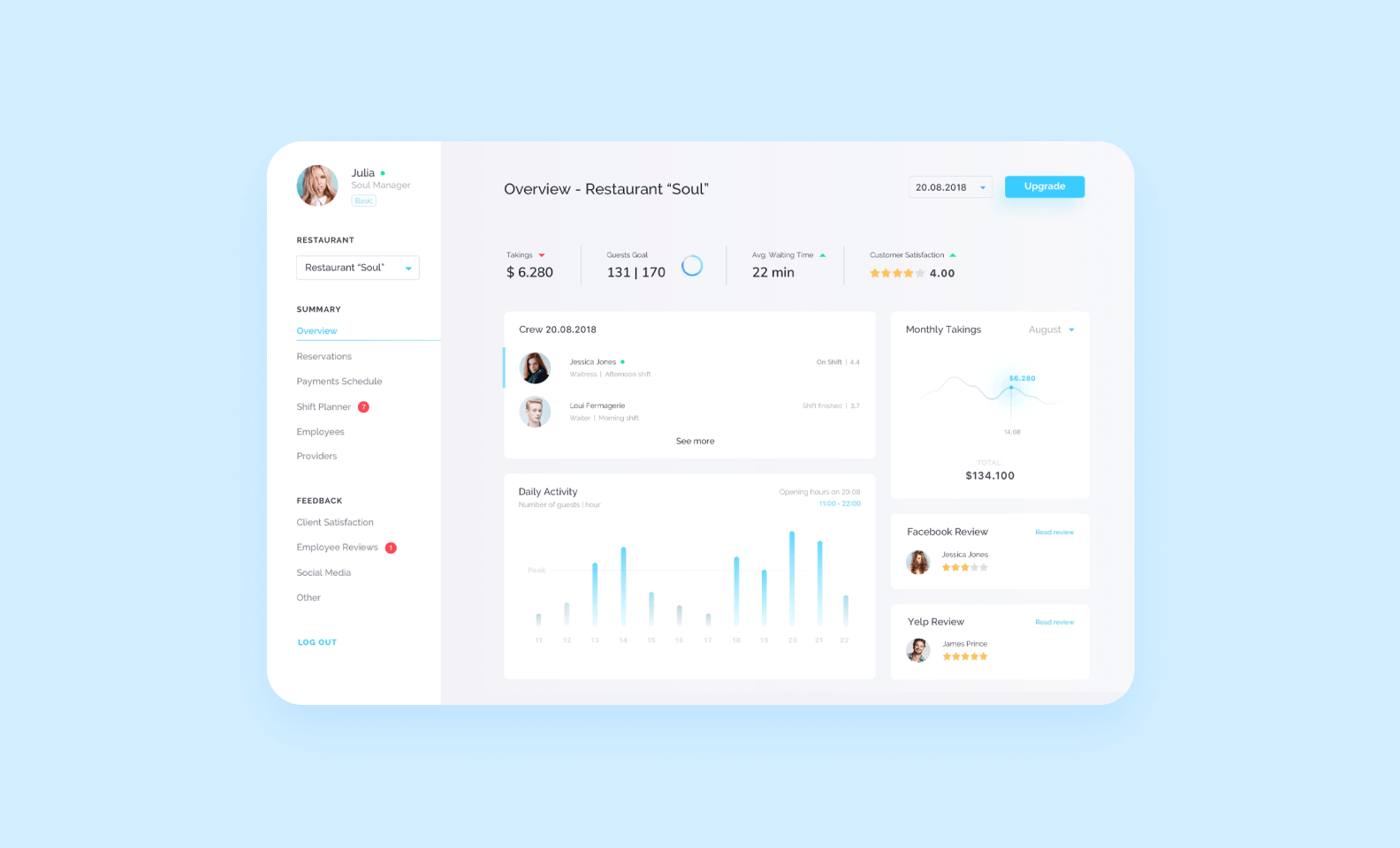 The platform uses a minimalist color palette, so UI UX design doesn't distract a user from the numbers. You can notice the space between each block and the lack of extra elements, it all helps the brain focus on important indicators. At the same time, information posted on the dashboard is quite detailed and extensive: reservations, restaurant employees, the number of guests, and their activity. 
The dashboard provides the restaurant manager with real-time information, so they can quickly assess the situation and adapt. For example, the number of waiters in the restaurant depends on how many tables are reserved and how many guests are in line. These indicators are emphasized with the help of UI UX design.
If it is a chain, the manager can also easily switch between different locations and see the key indicators of each of them.
Dashboards that need improvements  
Covid-19 stats on the City of Chicago website
Let's begin with something topical. Now many regional governments create websites with dashboards to show statistics about COVID-19 and keep residents informed about the epidemiological situation. Some of these UI dashboards are designed well, while some are not. For example, the web page of the City of Chicago, unfortunately, turned out to be in the second category.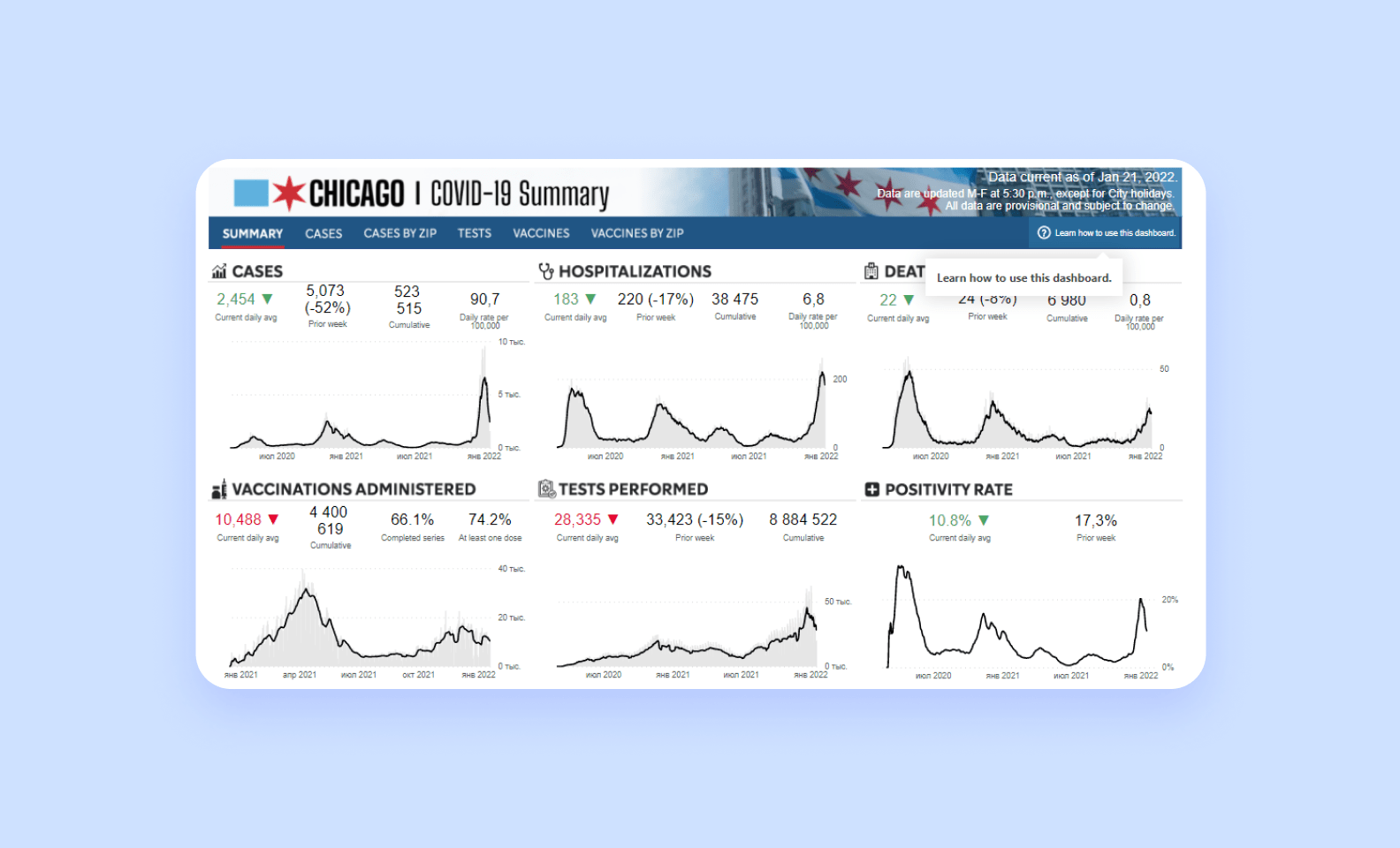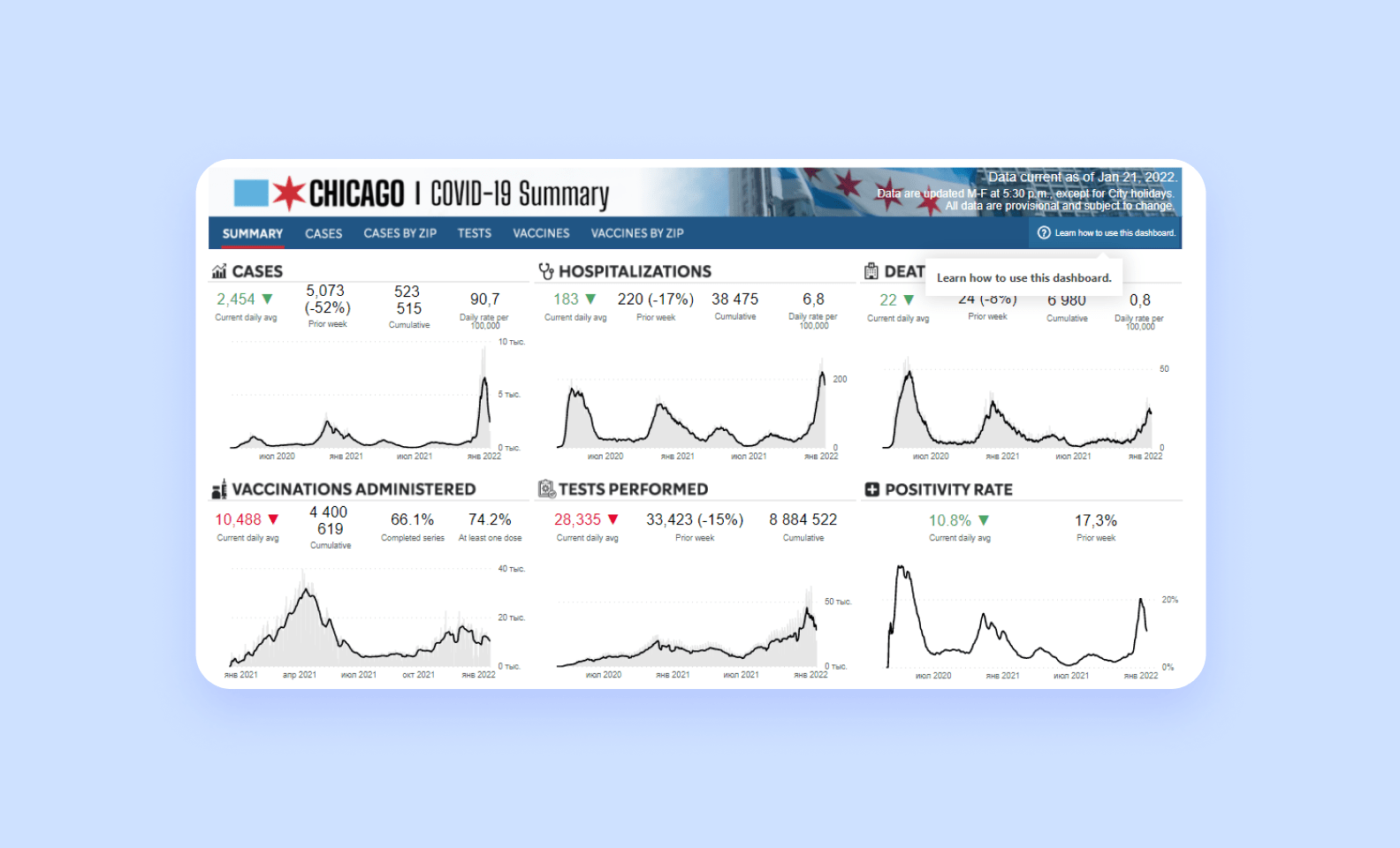 In this UI UX design, there are no visual accents at all. There is nothing to catch one's eye: there are no colors, except green and red but even they are barely noticeable. The blocks are monotonous and very small, and it is difficult to single out which indicator is the most important one.
Startup owner Max jumps in: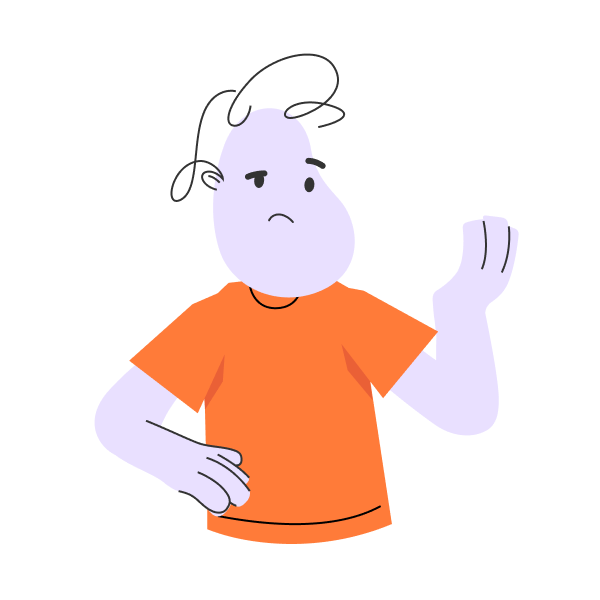 Let's imagine, I want to plan a trip to Chicago next month, so I study this dashboard to make a decision. First, I need to compare the numbers, see how many people got sick recently and how many of them were hospitalized, whether these indicators are growing or declining. Separate bars with different indicators are not enough for me. Based on how elements and months are located, it seems the dashboard wants me to compare the numbers by myself; however, this is its task.
Also, this board lacks interactivity. To interact with charts you need to click anywhere on the graph. A dot will appear there and a date bar will open. But you can call for this indicator only at one graph per screen. Click on another graph, and it will move there. Moreover, it takes several seconds to load before the dot changes its location. In general, this dashboard does not perform its functions. It gives a person figures that are difficult to understand and does not simplify their analysis.
Sports App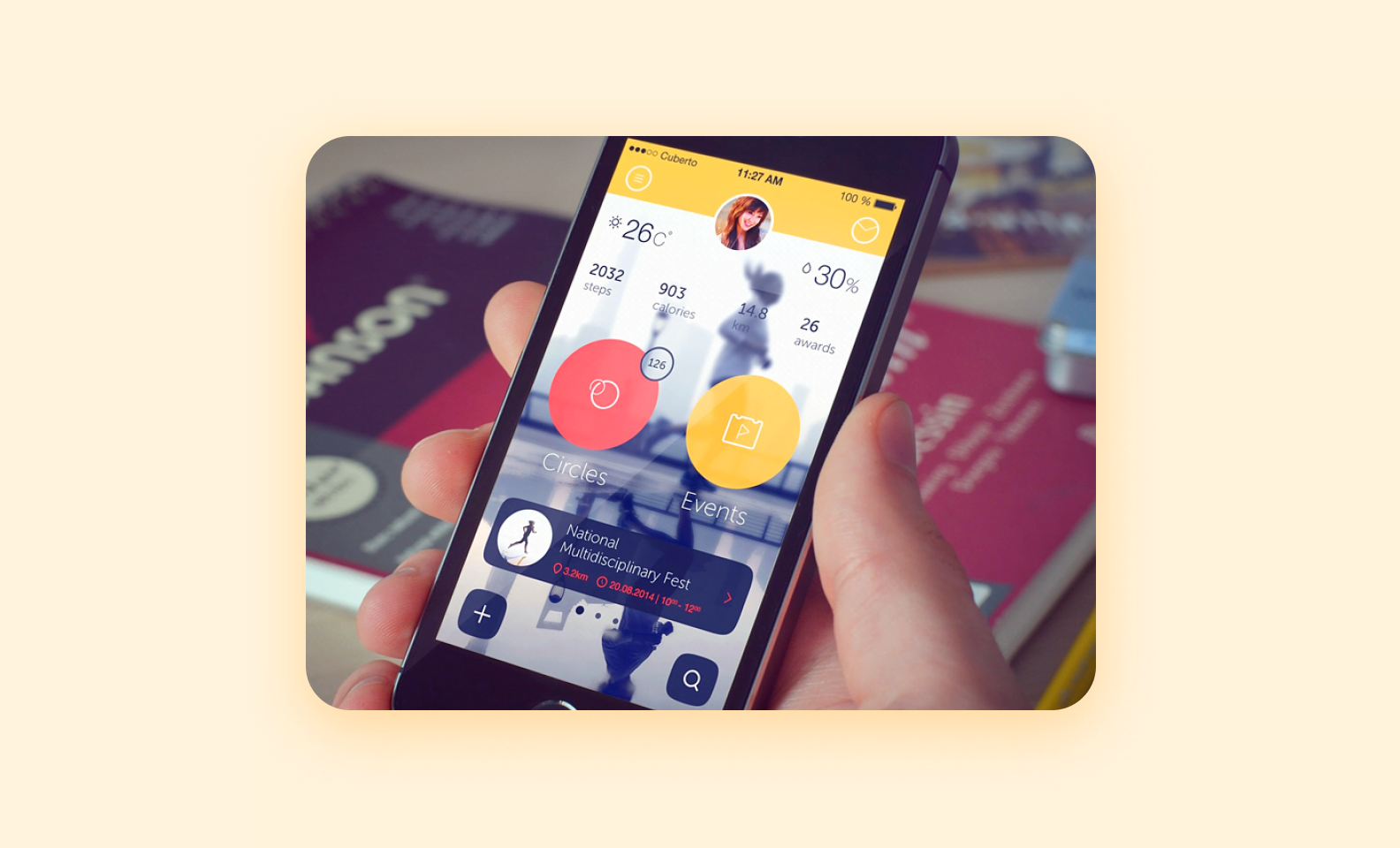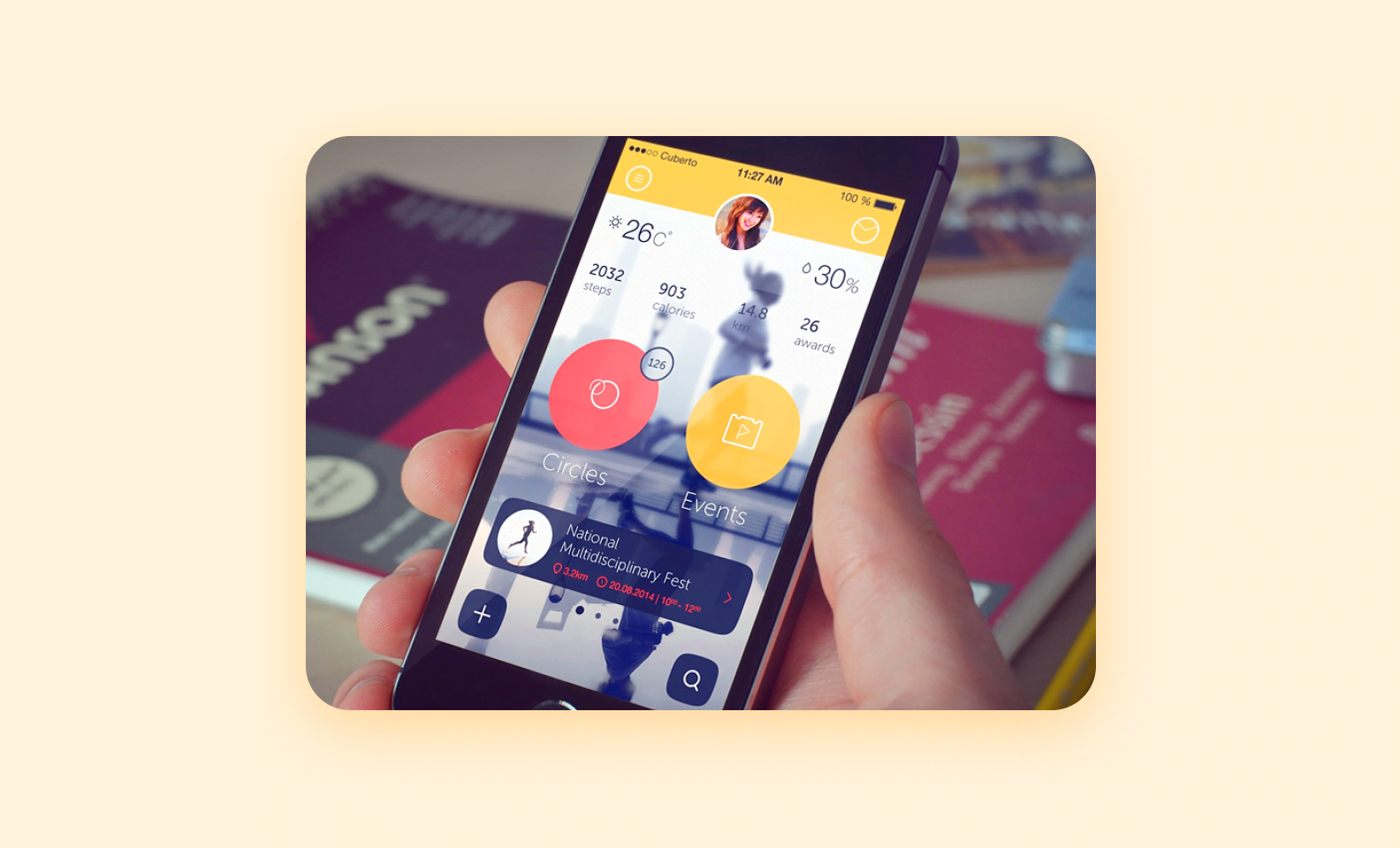 The logic of the elements' layout is not very comprehensible. Two large central circles distract users from the numbers. It would be much better to recompose the blocks and insert something useful, for example, a visual graph comparing today's and yesterday's activities.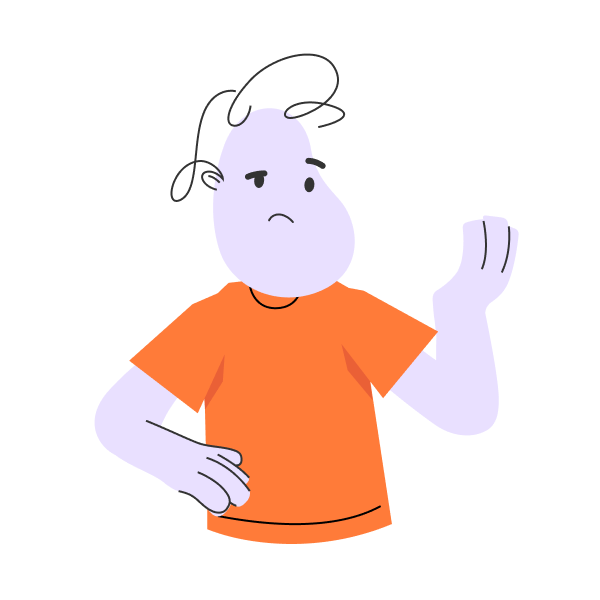 If I hired a UI UX design agency and they put together this dashboard for me, I would hardly be satisfied. The interface is overloaded with design, although there are not many elements. The multicolor background creates this feeling and makes it difficult to read numbers and inscriptions on the screen.
There are also doubts about icons and the pie chart. It is not entirely clear what each indicator means exactly, although everything should be intuitive on the page. This dashboard definitely needs to be updated.
HR software dashboard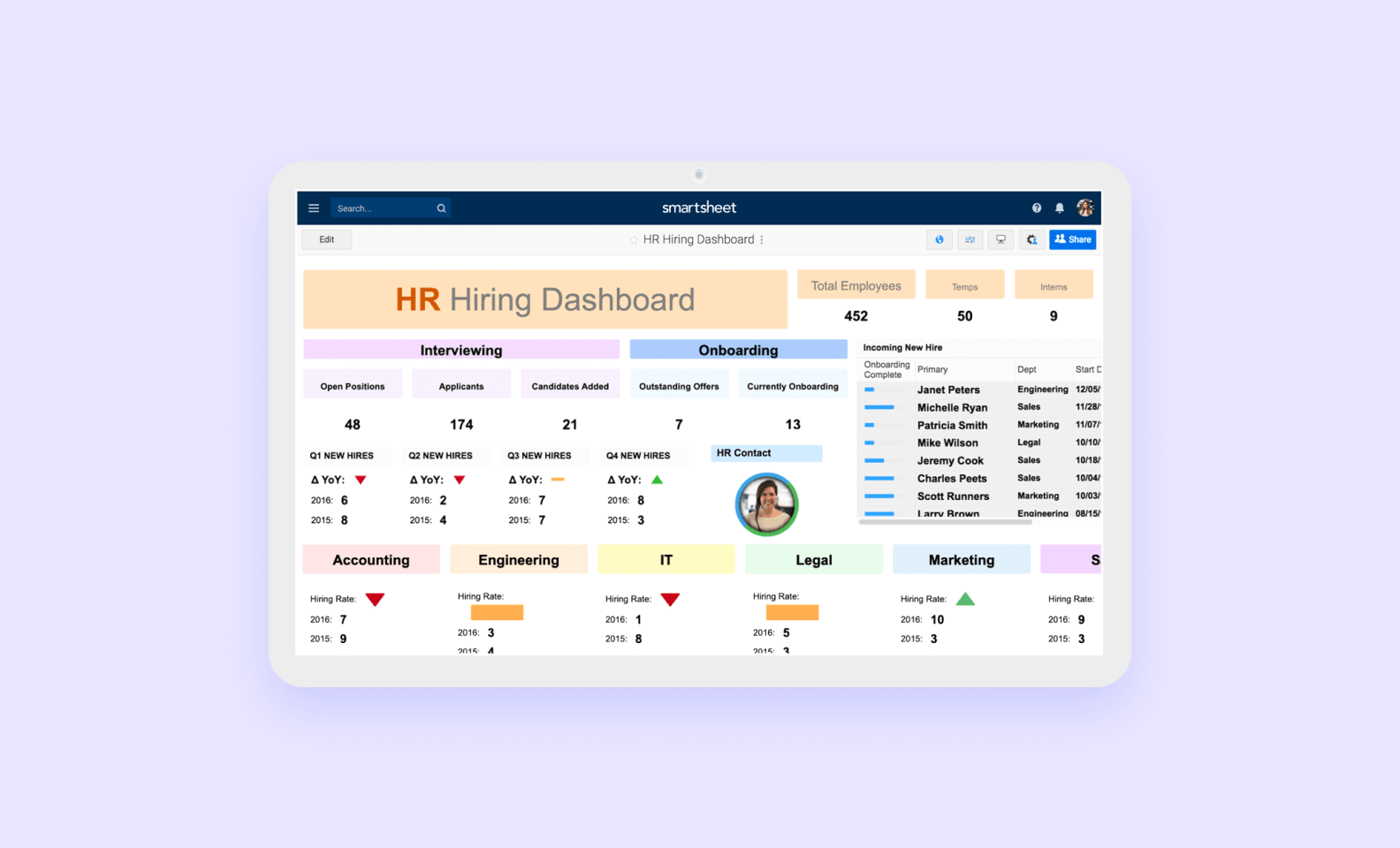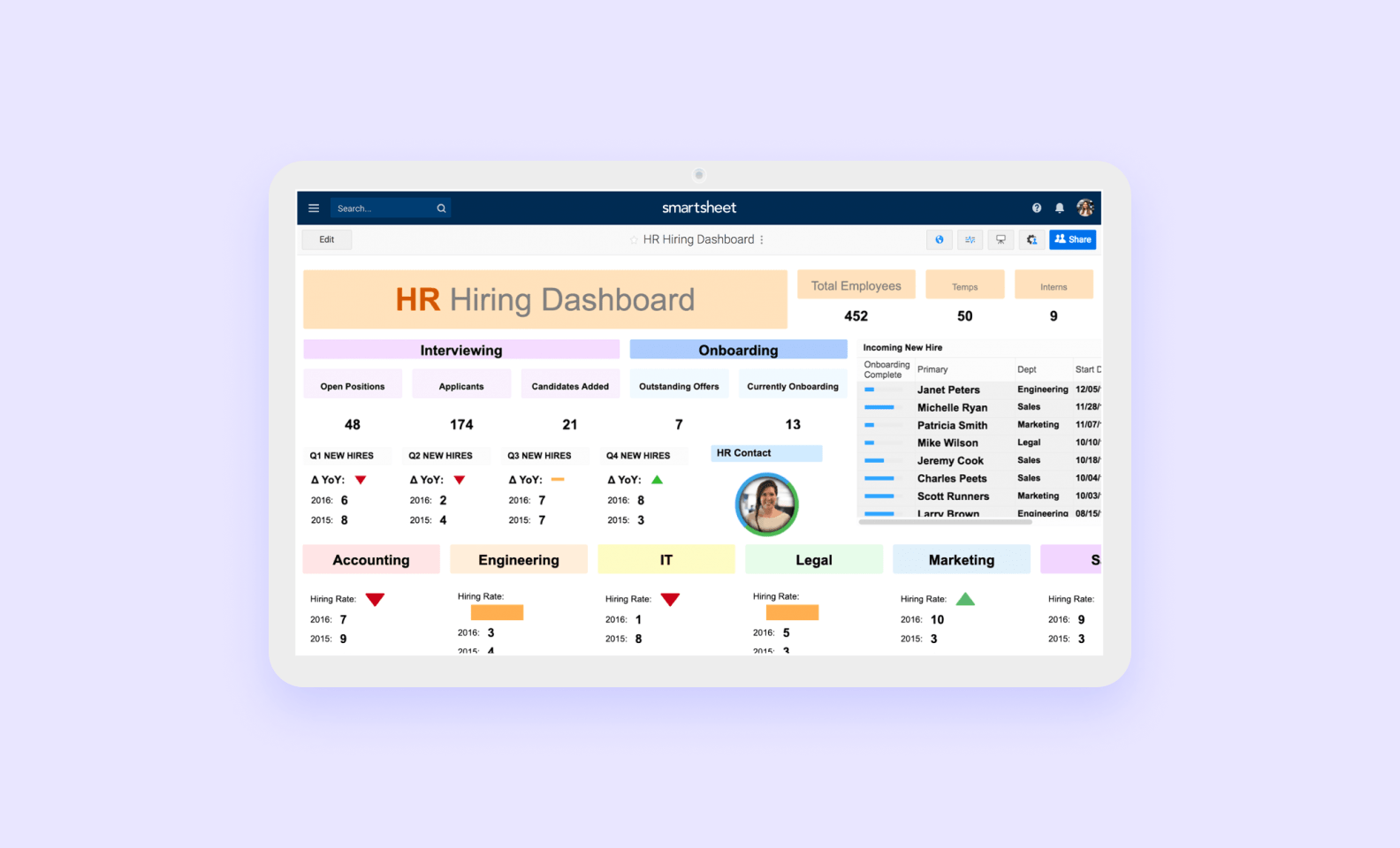 On the left side, there is a block with a horizontal scroll. Adding such elements to the dashboard seems to be a dubious idea, it is better to rearrange the indicators so that they fit on one screen. In situations when all the data should be in front of your eyes, it's infuriating having to  scroll through the screen. This may fit a mobile app design because of the lack of space on the screen but cannot be accepted in a desktop like in the example above.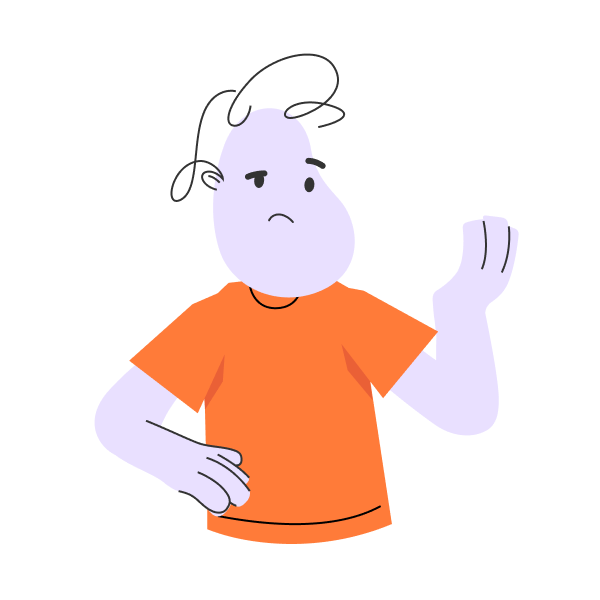 Here, the interface is overloaded with colors. I counted 8 on one screen. Yes, they are muted, but it still looks too bright and my eyes are trying to focus on everything at the same time. There is space between blocks, which is a plus, but the bars themselves are monotonous, designed in the form of simple columns of numbers. Accents in the form of red and green triangles do not work because of the diversity of the UI UX design around — the brain simply does not notice them.
The biggest and most common problem with dashboards is incomprehensibility. As we saw in the examples above, the screen can be unclear for many different reasons, but all of them lead to the fact that the dashboard becomes useless.
Now you know what a high-quality dashboard looks like
Let's summarize what characteristics are especially important for a good, easy-to-use dashboard.
1. Up-to-date information
To quickly respond to changes in performance indicators, for example, make up for the lack of personnel in the department or adjust expenses.
2. Built-in logic and correct accents
To easily navigate through the data and not waste time searching for the necessary information.
3. Easy to understand
To quickly highlight the main idea and not get distracted by colors, patterns, and bars.
These criteria will help you evaluate the dashboard from both a user and professional point of view. Now you can't make a mistake and approve a low-quality product if you hire a UI UX design agency to create a web platform and mobile app design.
If you already have an idea for your own project, get in touch with Purrweb. We have experience developing dashboards. For example, we did one in the Cargo app for shipping companies and another one for the Fintarget copy-trading platform. It's easy to reach out to us — just fill out the form below and our teammate will call you back to discuss the idea.