Any project requires well-coordinated teamwork. It means that you need someone to manage all the tasks properly. What if there's no such person on your team? The good news is that many development companies offer project management services. You can put your project in the hands of experienced professionals who will manage your project without risk and deliver success.
Maybe you didn't think about hiring a project manager or decided to take on the role yourself and then realized that you're not competent enough. As a result, you have many tasks to do — it's hard to handle all of them on your own.  
Many people don't understand what exactly project management as a service is and why planning is so important. Usually, when a person thinks about a team working on a project, they imagine UI/UX designers, developers, and QA engineers and for some reason forget about project managers. Let us tell you why you need to have one.
Who is a project manager
A project manager guides the team members and controls their workflow to deliver a project on time, under budget, and meeting quality expectations. Having a project manager in a development team is key to the successful implementation of your product.
A good project manager has subject matter understanding and excellent technical and communication skills. These abilities help them to get the job done more effectively.
Understanding the process of project management
Whether it's just a design concept or full product development, it takes a long time and includes a lot of tasks and activities — all types of projects require scoring, proper task prioritization, and planning. Let's have a look at how we organize the process at Purrweb.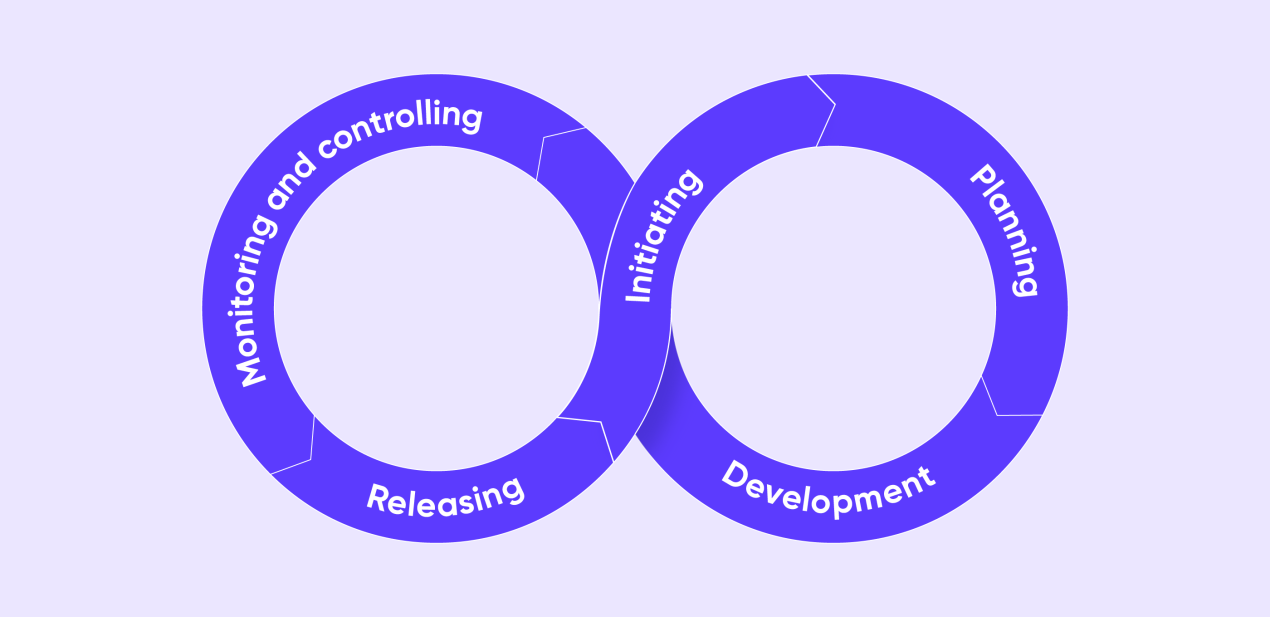 1. Initiating
When a client contacts our company to get UI/UX design or development, it's up to a project manager to talk to the client and figure out the overall idea of a product, understand all requirements and give them an accurate project scope estimation. As a result, the client receives a document that contains the project estimation and outlines the number of working hours of every specialist.
2. Planning
After the project is analyzed and estimated, the next step in project management as a service is planning. The PM meets with a team leader to discuss all difficulties and the future work structure. Together they create a project plan. This process includes the following steps:
Defining communication channels.
The project managers establish proper channels to keep clients in the loop. They take clients' emails and phone numbers and add them to a Telegram chat or a channel in Slack. It depends on which method is more comfortable for the client.
Preplanning & mindmapping.
Project managers analyze resources and calculate the time needed to develop the product. Along with a team leader or a lead designer, they build a project team depending on the client's needs and develop a schedule — to do that, they find out which specialists are available and can already start working. Then they can distribute tasks. To select the must-have features of a product, we use techniques like MoSCoW and User Story Mapping. These methods help us define which features are vital and which we can put off until the next release.
Prioritizing and assigning tasks.
The next step in project management as a service is to determine which tasks are the first priority and when we have to perform them. A project manager defines the scope of every sprint and creates a task plan for every member of the project team. Our PMs also use project planning software like Jira and Trello to coordinate everyone's efforts and improve teamwork. They use such tools to see an overall picture of a project: what is done and what still needs to be done.
Knowing how the work is organized, clients will be able to track the process of development and make adjustments. Without a plan, it's impossible to tell if the project is moving in the right direction.
3. Development
This phase takes the longest of all and is the most vital and demanding. To run a project effectively, professionals use approaches like Lean, Waterfall, Agile. At Purrweb, we use a combination of Scrum and Kanban frameworks. Both methodologies have advantages and disadvantages but by combining these techniques we get the best of two worlds.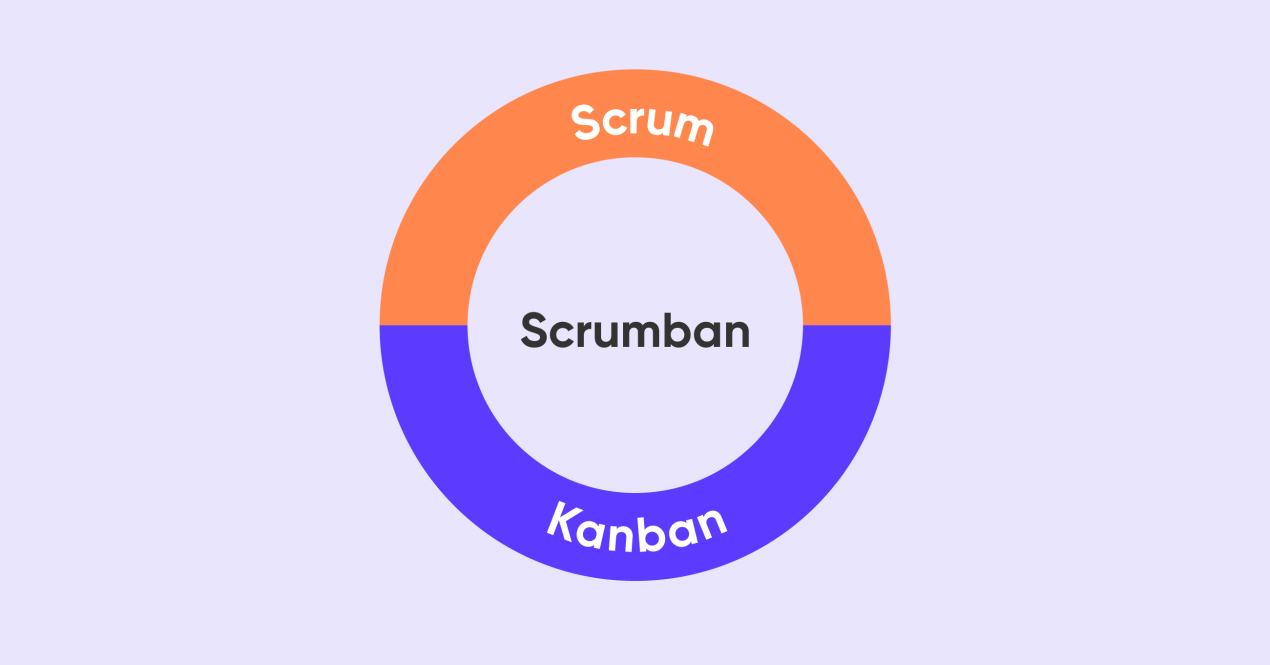 Project management as a service is like a bridge between the client and the development team: if there are any problems, PMs inform the client and offer possible solutions.
Designers and clients do not always have the same vision of quality and might disagree on what looks good and functional. For example, a client is confident that a particular combination of colors will fit their app perfectly, while a designer thinks that it's not the best design solution. At this point, the responsibility of the project manager is to ensure clear communication between them: explain the designer's idea to the client and help them come to an agreement.
Among other qualities, project managers have good technical skills, they understand technical aspects of development and can explain certain terms and concepts to the client. While the team is developing software, QA engineers are simultaneously tracking and fixing bugs. Our project managers not only plan hours for testing and fixing bugs but also participate in bug finding themselves.

4. Monitoring and controlling
It's important to monitor and control the project's progress to achieve the goals within the established schedule. How can project management as a service help you? The task of a project manager is to oversee the work process, compare the results with the initial plan, and manage potential risks. If the project deviated from the plan, the manager will find out what led to this and make corrections.
5. Releasing
After the project deliverables have been produced, project managers, team, and clients analyze the complete work and decide whether the outcomes match the original goals.
If everything is alright — we can release the product, if not — make adjustments and improvements.
The successful release of a product doesn't mean that the work is finished. When people start using your software, they will certainly find bugs and request more or different features. A project manager can reserve the working hours of developers so that they can update software and fix the bugs after the release.
What are the benefits of project management as a service?
The first and most obvious benefit is that it saves you time and money. If there's no project manager on the development team, you have to assume their responsibilities and manage the project on your own. A manager will do this job for you and you will have time for other things like coming up with a business strategy or finding investors.
Our project managers have solid experience to keep the project organized and on track. With the application of knowledge, techniques, and tools project managers increase the team's productivity and help to achieve the desired results.
No matter how well the project is planned, there's always a chance for potential risks. Project managers help prevent risks from becoming issues and minimize the negative impact it might have on the project.
The goal of project management is to do as much as possible in as little time as possible. If your project is structured and the work is organized properly — the team is focused on their craft and the quality of work goes up.
Our project managers support clients throughout the project and keep them posted. They communicate with clients through video calls to discuss the current status of the project, answer their questions, and notify them about all milestones. At the end of each sprint, Purrweb clients get a report that contains details of spent hours and accomplished tasks. Plus, our team provides a demo of a project so that clients can test everything and give their opinion.
Conclusion
Without project management as a service, you have to deal with unclear objectives, inefficient use of resources, unrealistic planning, and missed deadlines. In the long run, you're likely to end up wasting your time and money. If you're not experienced in project management, it's better to rely on professionals with a good track record.
Project managers are experienced specialists who monitor and control the project from its initiation to the release of the finished product. They ensure the successful delivery of your project within the established budget and schedule. If there's a project manager in the development team, you know for sure: your project is in the right hands.