What is MVP development for startups?
MVP (minimum viable product) is an approach to test a business idea and collect feedback on the future product. Long story short, MVP is a basic minimalistic version of the product that contains only essential features that help the app operate. The viability part means that even with limited functionality, it should still be viable and beneficial for users.
The MVP stage will help you: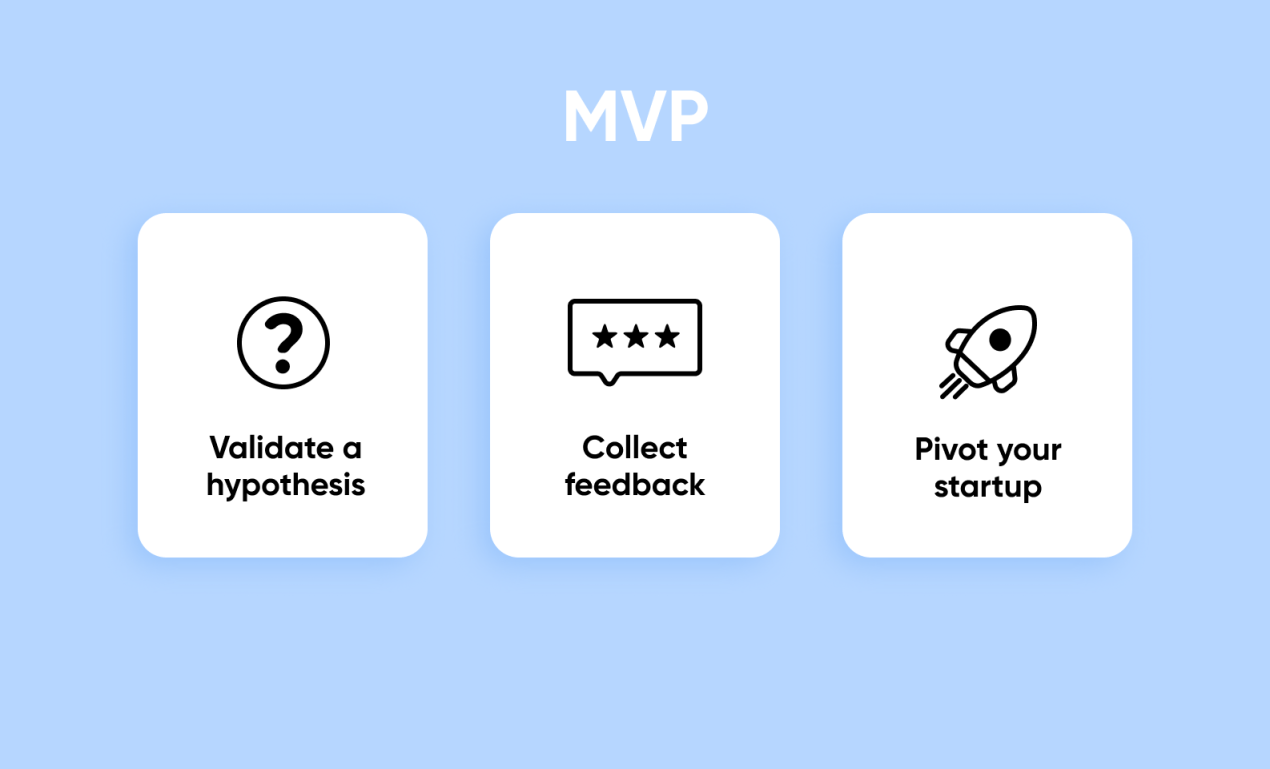 Prototype vs. MVP: what is the difference?
There is a misconception: MVP and a prototype are the same things. That is totally incorrect! Let's break this myth down and find out what the difference between these two approaches is.
The prototype is a sample or a raw draft of your product or service. It explains how you will build the solution and what it will look like, while an MVP is a fully functioning version that contains only main features. 
Also, prototypes are typically used internally as an outline for a larger concept, while MVPs are released publicly to receive real market feedback.
Here is an example. Imagine you just purchased a piece of land and would like to build a brick house on it. As a prototype, you create a floor plan of your house and decide how spacious it will be and how many rooms you want. As an MVP you build walls, a roof, and stairs to see if there are no mistakes in the construction and that those brick walls are thick enough to store the warmth. After that, you can make some improvements and decorate the house inside, and it will be the final release of your project.
Is it common to outsource the MVP development for startups?
Now, let's get back to MVP development. In the early days, many companies, like Alibaba, Slack, Google, and others outsourced their solutions to developers across the world. Overall, in 2021 more than 50% of tech companies admitted they have outsourced the development or its parts. The majority of them said they were satisfied with their third-party partners according to stats.
For these companies 'Why outsource for startup MVP development?' was never a question. They choose to externalize the work on different parts of an MVP development service to reduce costs and to get an outside perspective.
5 reasons why outsource for startup MVP development to a MVP development team
There are three ways to bring your idea to life and execute an MVP: find a freelancer, hire an in-house developer or choose an outsourcing team or a company. Frankly speaking, we highly recommend picking the last option. 
With a freelance developer, you will spend a lot of time controlling task progress deadlines, plus the quality might come as a surprise. On-site employees are a good idea when your startup can stand on its own two feet, but for the early stages, it is time-consuming. You will spend weeks finding and interviewing a developer, onboarding them, and buying the necessary equipment.
Here we came up with 5 reasons why outsource for startup MVP development to an experienced team is the best option for a startup. Spoiler alert: you will only benefit from this partnership!
1. Professional support
When you hire a skilled team, you will get full-time competent support on your project. Their work is systematized and they know exactly what questions to ask to dive into the idea and how to bring the most fruitful results to your business. 
For example, everyone knows that a messy and unclear interface can drive users away and kill your brilliant startup. But only qualified UI/UX designers know what to do with an app and where to put elements in order to bring higher engagement and retention rates to your solution. 
Also, the MVP development team has a well-trained eye and tons of experience to bring fresh eyes. They can provide a second opinion on app features and revise the list of essential parts and components to choose only the core elements.
2. Quick turnaround
The whole MVP development team will be working on your project, so the development will take less time than for a set of freelancers. Usually, a team of 5-6 people works on each project in the agency, including Frontend and Backend developers, UI/UX designers, a QA engineer, and a project manager. 
On average, 3-4 months is enough for an MVP development, but of course, each case is unique. After the first interviews, developers will be able to dive into your MVP idea and tell you how much time the project development will take for us.
For example, at Purrweb, 3 months is the timeframe we try to work with. We start the MVP development process alongside with the UI/UX design execution as soon as the concept is approved to reduce the timeline and bring your MVP to market as soon as possible.
3. Project management
Imagine, you hired a freelancer for an MVP development, agreed on a deadline and then they just disappeared with your project. Or they got back, but a week later than you agreed on while you already missed investor meetings because the MVP was not ready. Sounds like a nightmare for a startup, right?
If you work with a team, you don't have to think about deadlines and managing developers. We've got you covered! In every team there is a project manager that keeps an eye on tasks and deadlines and makes sure every step is completed on time.
There is zero chance that anyone will miss the deadline or forget to complete a task. Plus, you will have time to focus on developing your strategy instead.
4. Structured process
The work of the outsourcing team is well-organized and has a clear structure of the MVP development process. It means you will be aware of every stage beforehand and get reports on our achievements. 
For example, here is how it works at Purrweb. We assume clear and transparent communication is the key to a successful collaboration. That is why we keep our clients up-to-date and send daily reports on the progress of your MVP development. When we complete every sprint, we show features that have been created, write a more detailed report and plan the next stage of development.
5. Scale-up possibility
Last, but not least, the reason why outsource for MVP development to a professional MVP development team is great for a startup is that you will receive long-term support for your app. Every startup inevitably expands and needs larger solutions in the future.
For example, when you develop a web app and in the foreseeable future decide to scale it up and turn it to a mobile solution, you will thank yourself for choosing a team. There are several pros to that.
First of all, the post-scale-up service will cost you less than a full MVP development process, because developers will already have shared parts of apps and the code. Secondly, a full-cycle team will have versatile developers who have experience working with both web and mobile solutions, in comparison to on-site developers, who usually work with only one type of app development.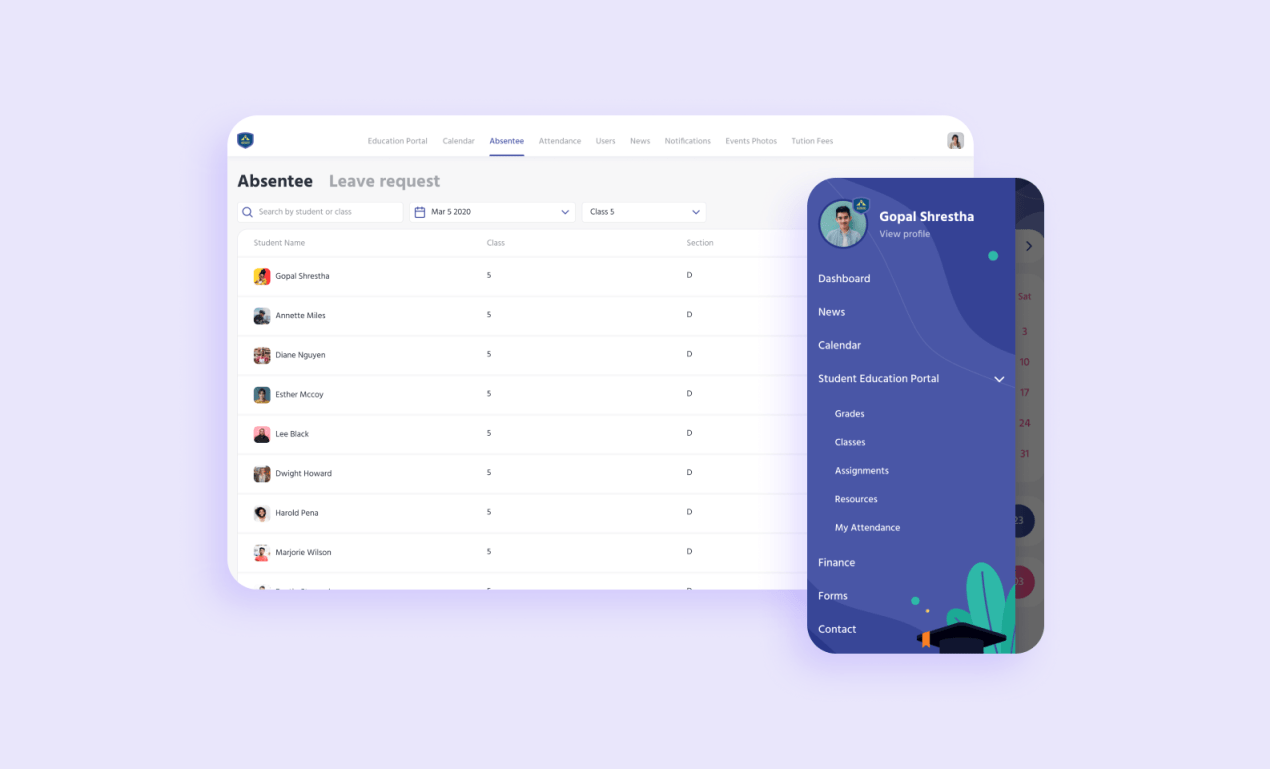 Let's wrap things up
Don't let your idea down with a raw and sloppy execution! Pick your MVP developer wisely in order to get valuable feedback and reduce both the cost and time of development. 
If you don't want to juggle between freelancers or spend time and money onboarding in-house developers, give priority to a MVP team. 
At Purrweb, we professionally build Web, mobile and desktop solutions with a focus on robust UI/UX design, and we build an MVP in 3-4 months. We are a full-cycle team, meaning we have on-site developers, UX designers and copywriters, testing engineers, and project managers, so you don't have to hire anyone else to complete a comprehensive MVP. 
Want to know how much your MVP development will cost if you outsource it to a team? Get in touch with us today!