Key takeaways
Software development can be done in-house or outsourced to an agency or freelancers.
An outsource partner is the best option, because it is cheaper than having an in-house team, and safer and more reliable than hiring freelancers.
A perfect mobile app development partner should: strive for the best UI/UX, conduct preliminary research, build prototypes — and do it fast, develop for different platforms, support you after release and have a great track record.
Why outsourcing beats in-house production for startups
There are two primary ways to approach software development: building an in-house team or outsourcing. The latter means working with an established team on a project basis. Both options have their pros and cons, but when it comes to startups we don't recommend hiring your own developers.
In-house development requires extra effort, time, and money for
headhunting;

interviewing;

paying salaries;

offering social packages;

managing;

motivating.
The time factor is especially important since many mobile startups simply cannot afford to stall. When you are developing a corporate website, you may have a luxury to pace yourself. But with a novelty mobile product on a highly competitive market? Not really. Had Uber taken longer to launch, there could have been another taxi app with a different name and by different founders.
If you'd like to have a deeper look at in-house vs. outsourcing battle, check out our article ⬇️
Agency vs freelancer: what's best for mobile development
Hiring freelancers is risky, mainly because it's difficult to evaluate their skill level when you are not a developer yourself. But with regard to mobile app development, there's one more reason: even the tiniest app calls for a whole team of specialists. Meaning, you'd face some of the same difficulties that come with in-house production. For instance, the modern no-code solution allows building simple websites with help of a single full-stack developer. But a mobile app like that would be a prototype at best.
The choice is also influenced by the nature of your app and corresponding requirements. When the end-product is complex, involves users' personal data, requires special security measures or needs a team of unique specialists — turning to app development companies makes a lot of sense. 
Why it doesn't have to be a specialized mobile studio
There are app development companies that focus on mobile apps only and then there are agencies with a broader list of services. Isn't a specialized agency a better choice?
No, specialization doesn't guarantee higher expertise — same as quantity doesn't mean quality. The only real benefit — a higher chance to find a relevant case in their portfolio. Otherwise, both can have great talent on the team. Both can have experience with your app's key features.
The perfect case would be a company that doesn't limit itself to mobile development, but whose experience in that field is diverse and strong. There is also an advantage: a software development partner like that can bring more ideas to the table. Who knows, you might need a desktop version of your app, a landing page for online promotion, or even a Smart TV app!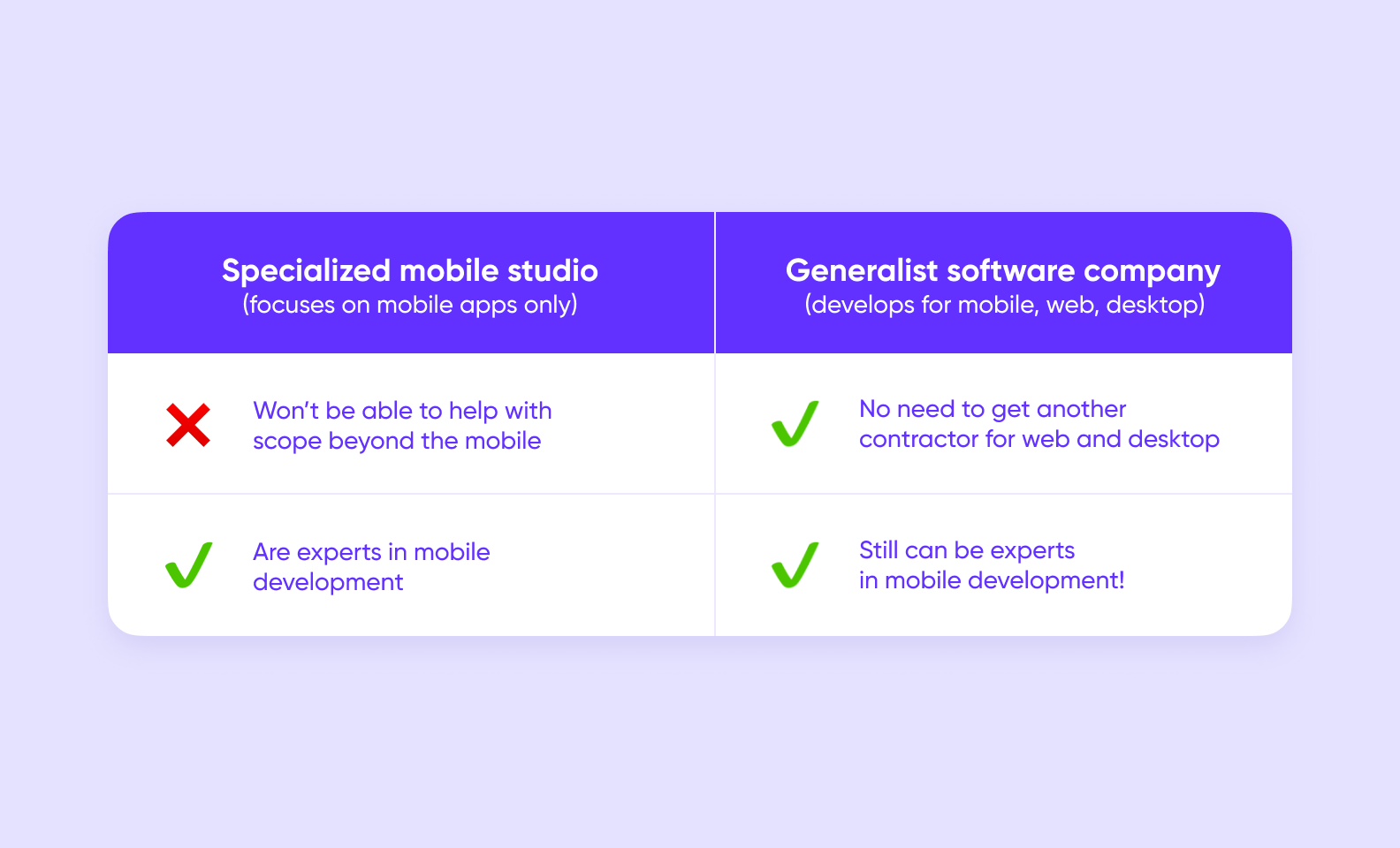 Now let's have a look at what distinguishes mobile development and what key requirements we need to consider.
How to spot a perfect mobile app development partner
Strives for the best UI/UX
When it comes to mobile apps, the users are as close to your product as possible — they are literally touching it with their bare hands, unlike desktop apps, where manipulators (keyboards and mouses) are used. This brings the importance of usability to a whole new level.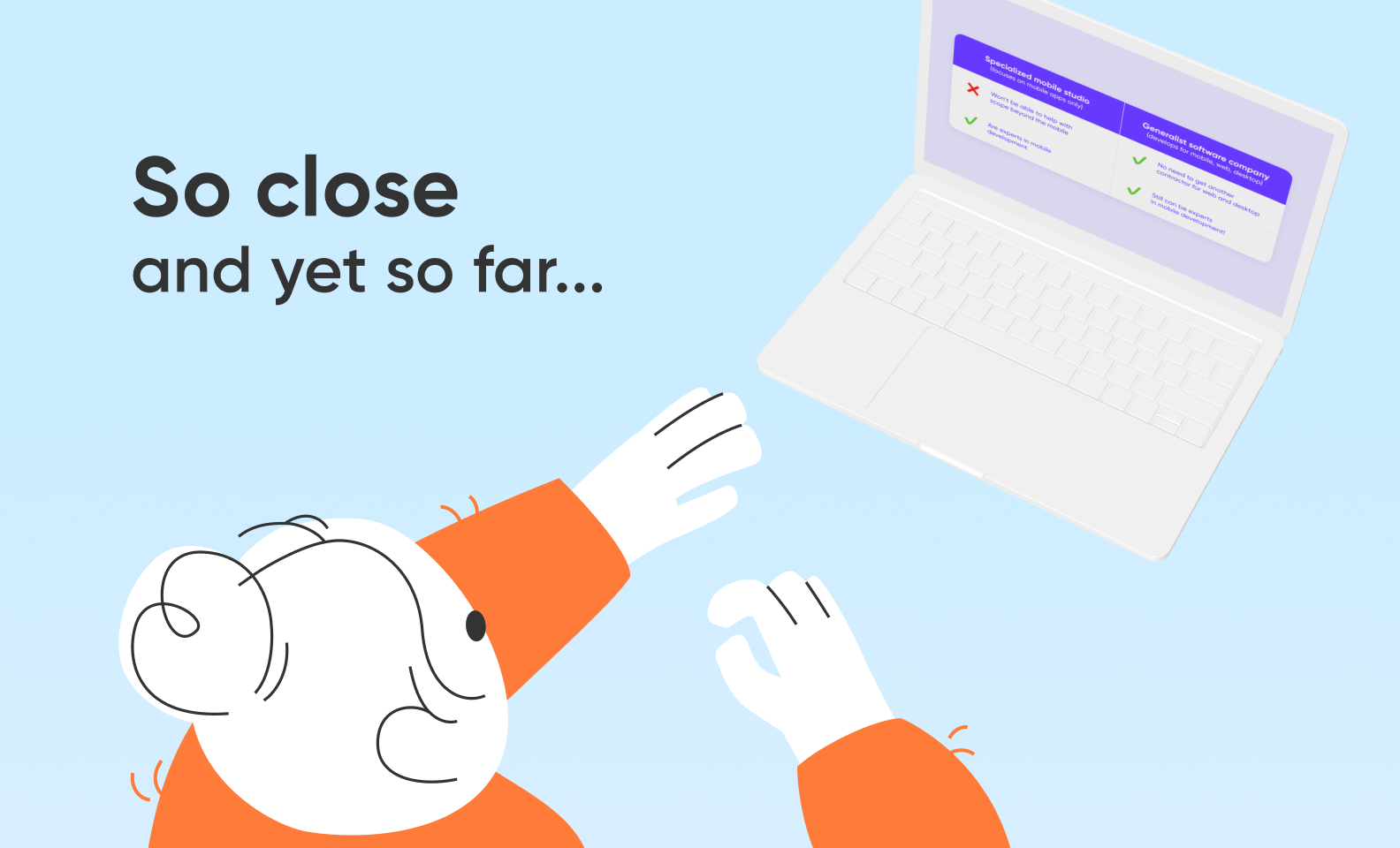 Good app design is more than just a pretty interface: it needs to be intuitive, engaging and in tune with what users need and expect. There is also a large variety of devices and screen sizes to consider. For design professionals, this should come without question. Still, it is a good point to discuss with your app development partner.
One of the simplest ways to get an idea about the company's design expertise is to look at user reviews on their apps. Search for critical remarks on usability: poor navigation, too many steps to get things done, unclear or overcrowded interface and design inconsistencies.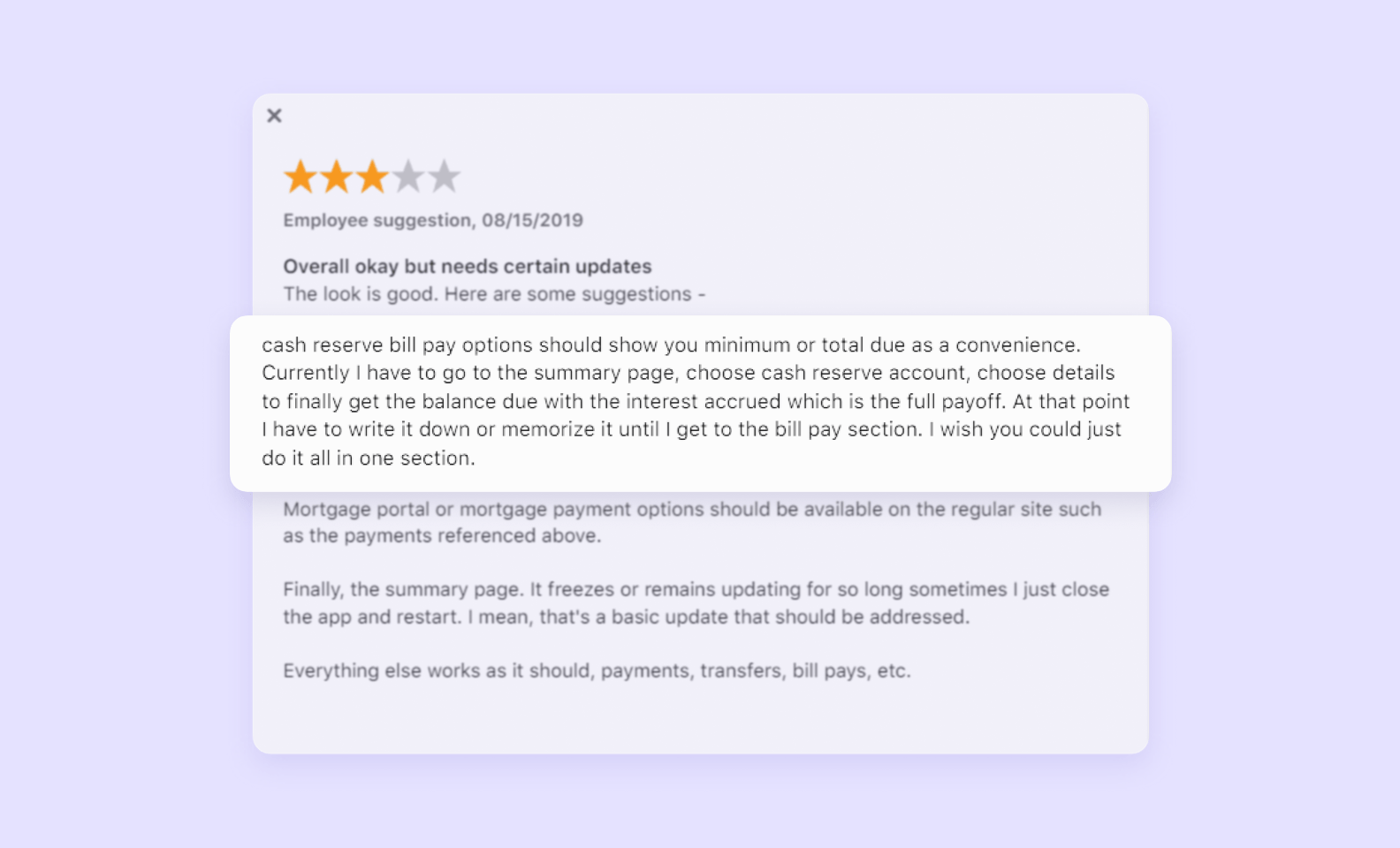 An example of a user frustrated by a series of unnecessary steps
Dissatisfaction with some particular feature, on the other hand, shouldn't reflect on the design team as it can be purely business-driven.
Conducts preliminary research
App research is the market assessment that comes before app development. It usually includes competitive analysis and different kinds of user studies. The results may affect your UI/UX decisions, monetization approach, or even turn your app idea on its head.
Since it is usually more difficult and time-consuming to make changes to mobile apps than it is to websites, it's better to do things right from the start. Don't overlook this stage and seek an app development partner who doesn't as well. While you are at it — have a look at our fresh article on app research. 
Builds prototypes — and does it fast
A prototype is an interactive model of an app. Look at the diagram below: it represents how a prototype is influenced by research insights and how it is essentially a part of a UI/UX design process.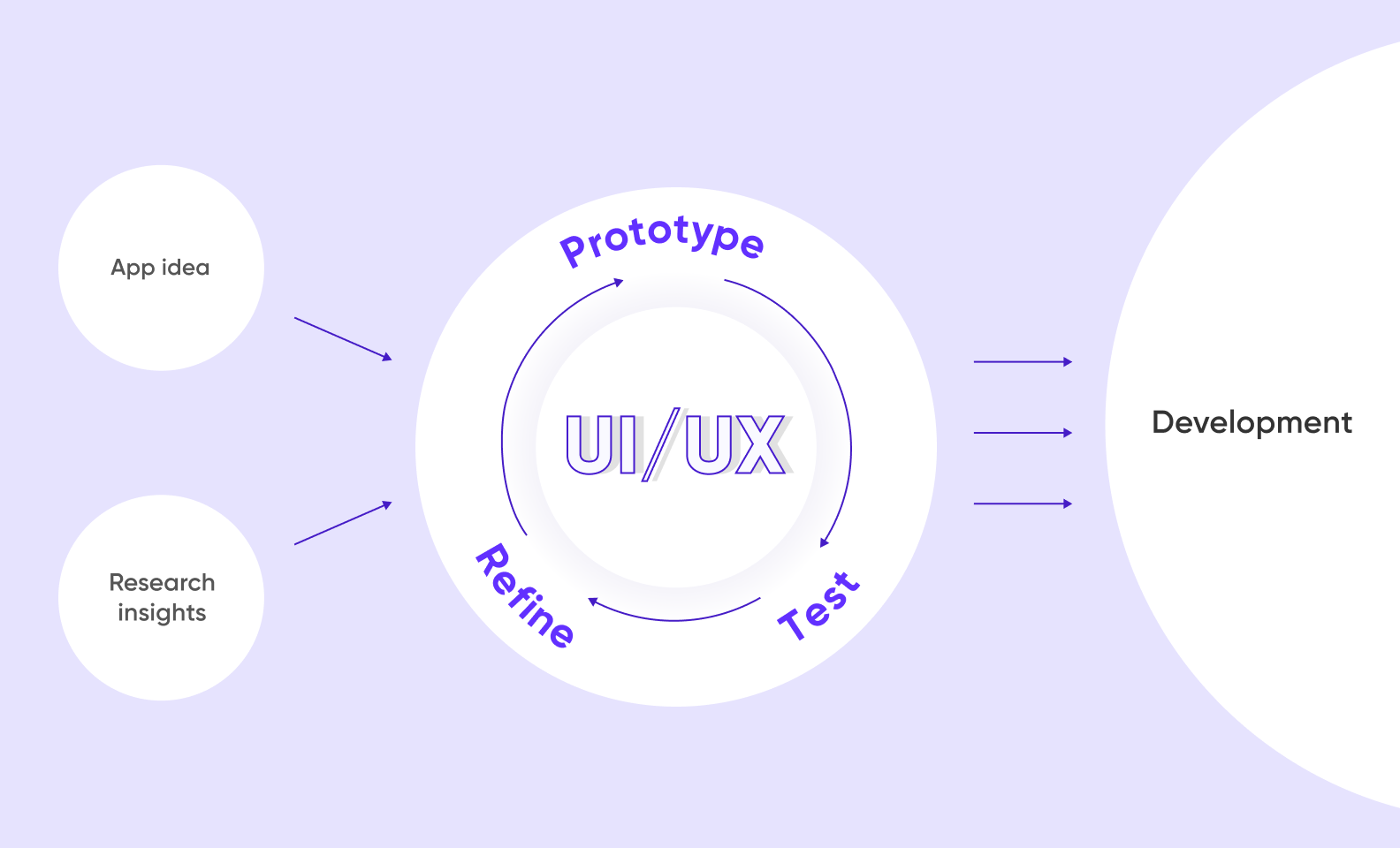 The point is to test it against the market and refine the design or functionality before moving on to development. So, as you are interviewing app development companies, don't forget to run this idea by them.
Develops for different platforms
If the app is built for Android specifically, it won't run on iOS, and vice-versa. This means that the outsourcing development team should either have a cross-platform development expertise or provide you with both iOS and Android native developers.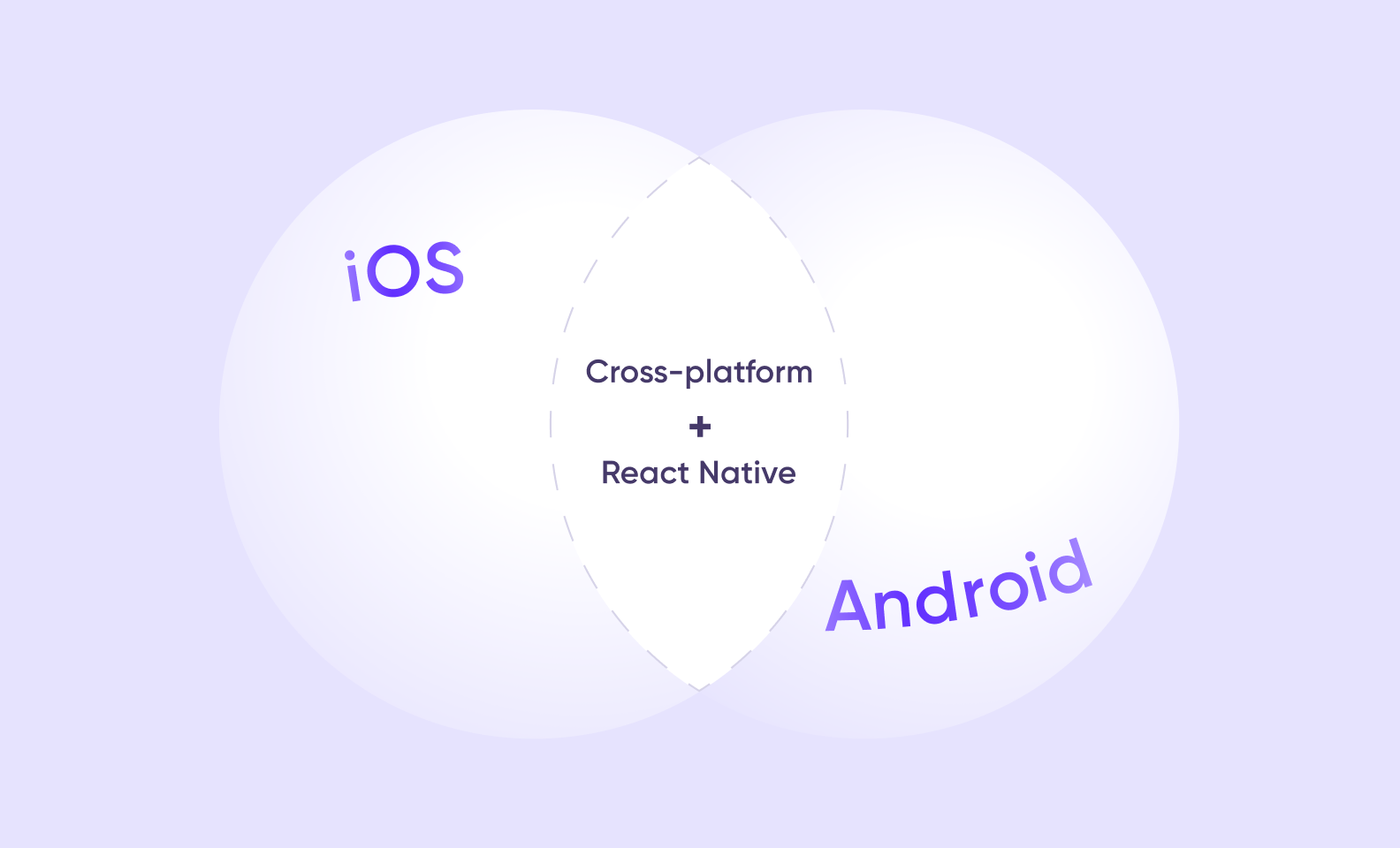 It's a good sign if they can explain their choice of tech stack in relation to your app. However, more often than not, cross-platform development is beneficial for startup businesses. It contributes to speedy launch and saves your budget, while you get what looks and feels a lot like native applications — thanks to modern frameworks like React Native. For more details on cross-platform vs native debate — see the following article.
Supports you after release
With each new iOS or Android version, your app might face some technical glitches, and it's important for an app development partner to offer post-production support. Make sure there will be a proactive team to make necessary changes and fix bugs.
Has a great track record
As you can see, a good track record won't be enough, but it doesn't mean it's not important. What is there to check while looking for an outsourcing development team?
Portfolio of cases.

Relevant experience can be very beneficial to the project. The developers might even already know some pitfalls and potential challenges. 

User reviews in app stores.

We've mentioned this one as a way to evaluate the company's design expertise. Same with development — you can check if there are any persistent bug complaints. But don't forget that people tend to complain more than they are to praise. So a few bad reviews are normal, especially with thousands of active users.

Client references.

Ask for references or do your own digging — either way, it's good to hear some tips from a fellow startupper.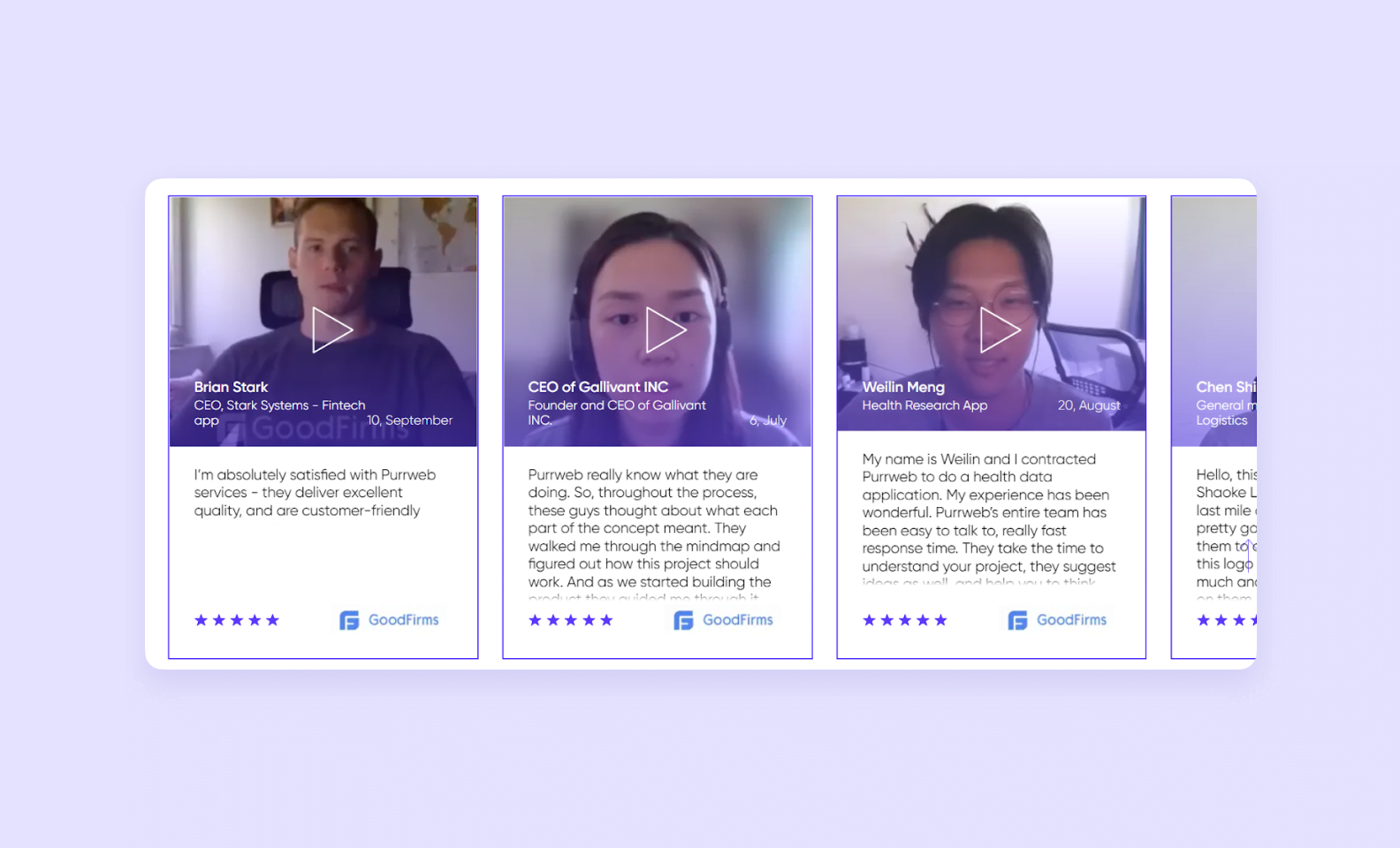 Client video reviews are legit — you can't fake those
An impressive portfolio and perfect reputation are universal points, whether you're building an app or a website. But they are still helpful for choosing a mobile agency, and if you'd like more ideas like that — have a look at our other article on a similar topic.
What else to find out
When you are looking for an app development partner, there are a couple more nice-to-know things.
What cutting-edge technologies do they work with?

AR, VR, beacons, machine learning — it's possible that the development company has already adopted new tech that your app will benefit from.

Can they propose a monetization model?

Where profits are concerned, it is very important to be in tune with your

app development partner

. Experienced vendors will not only ask your opinion on that one but also offer advice.

How do they handle testing?

Testing ensures that everything works properly. There are many kinds of tests, and it's good to know if the developers can recommend something for your app.

Will they submit your app to the app stores?

Some

app development companies

include it in their price and some may ask for an additional fee. Still, better leave it to the developer, who's familiar with official guidelines.
Your checklist for a stellar app development partner
Mobile development stands out against web and desktop development. And it's not only a question of technologies and platforms, but also the way users interact with apps. For your convenience, we prepared a checklist that combines the key points of looking for an outsourcing development team in general and an app development partner in particular.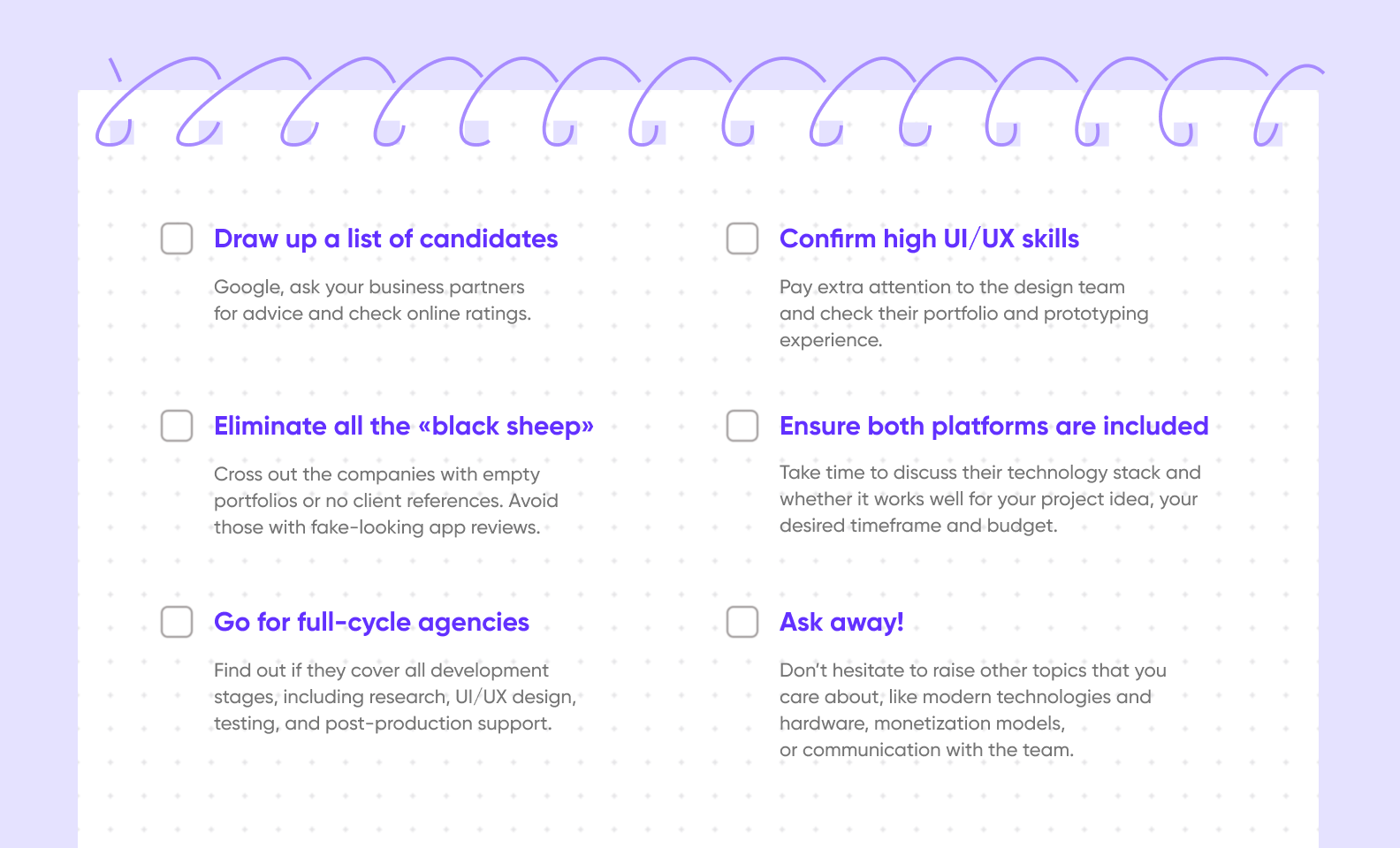 A good vendor won't shy away from all those questions and will make sure you have a stress-free development and a successful launch. Because in the end, shared views and goals are what makes you partners.
For 7 years Purrweb has been a proud app development partner to many mobile startups around the world. If you'd like to get more insights into app development or run your requirements by us — our experts are just a click away. Fill in the form below and we'll be in touch within 24 hours.