What is MVP?
Don't keep the basics underrated! Let's start with minimum viable product definition — that is what letters MVP stand for. It is the first version of a solution that has only the necessary features for functioning.
Imagine,
MVP product
is like a tasting sample of the fancy multi-tier wedding cake. Before ordering it for an event, you get a couple of pieces to choose biscuits and frosting, provide your feedback and let the baker make corrections.
Here are what any companies of different sizes use MVP for:
Validate their hypothesis;

Сollect feedback from real-time users; 

Adjust the future solution.
The minimum viable product starts with the hypothesis that you want to corroborate with some real-time data and experience. Let's say you want to open a flower delivery service and bring bouquets to customers within 15 minutes from the ordering time. But is it going to be in demand? MVP is an excellent way to check the waters with a tight budget and timeframe before investing money into a full-on app.  
How to know what features are suitable for your MVP? Easy-peasy! You will need to include must-haves only — those features that make the idea alive. Usually, this set contains onboarding, a search bar, a chat with customer support, push notifications, + specific features. For example, if it is an MVP of a food delivery app, you will need a sign-up/log-in page, eateries catalog, delivery settings, and payment so that users can place an order.
What MVP is not?
Important thing: sometimes people confuse an MVP and a prototype, thinking it is the same thing. Ni, it is not, and here is the difference: a prototype is a sample or a basic plan of your product or service. Typically, companies use prototypes internally to explain a larger concept.
Minimum viable product is not a plan or a draft. Instead, it is a fully functioning version that is ready to go on the market. MVPs are released publicly to receive honest market feedback and to pivot in the right direction.
Minimum viable product template
A minimum viable product definition comes from two words: 'minimum' means a solution has a limited set of features, but 'viable' means they are enough for the mobile app to function well. 
To plan your MVP product development, you can use our template and perform a brief competitors research and overview of your idea: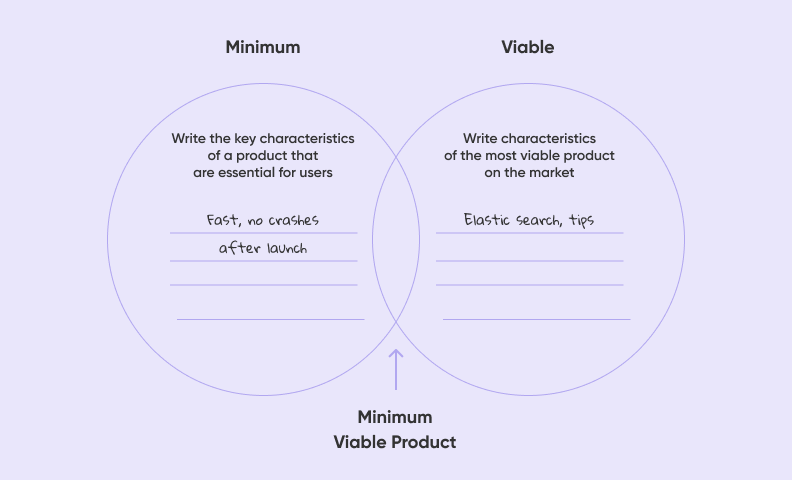 Top 4 types of MVP
To better understand why certain minimum viable product examples skyrocketed, first you need to understand what type of an MVP they used and what they started with.
There are many approaches to MVP product development. To save your time, we picked the 4 most popular minimum viable product templates, broke them down, and described how startups would benefit from them.
Wizard of Oz MVP is the half-manual, half-functioning solution. Users think they use an app when in reality, the core functionality relies on humans or 'wizards' behind the curtains.' Humans can't deliver many features simultaneously, so usually, such a minimum viable product template is used for focusing on 1-3 main sections of a solution.
👍🏻 Best for: testing the representation of the solution itself with a limited number of features.
Piecemeal MVP is a way to test your idea with already existing services and platforms without pulling extra resources. Let's imagine you want to build a marketplace to sell pet goods. Before developing the solution, you can check other marketplaces already out there and see an actual demand in the area. 
👍🏻 Best for: introducing the solution to the market with a tight budget.
Concierge MVP is human-based. Within this type, most solution functions are replaced with people, or 'concierges,' that serve customers and collect their feedback on the idea.
👍🏻 Best for: checking if an app is relevant to the market needs.
Single Feature MVP is also called 'One Painkiller.' This minimum viable product template works like this: you just pick one key feature that will be a painkiller for your target audience and solve their problems. Usually, these single features correlate with a unique selling point of a startup.
👍🏻 Best for: verifying the technical feasibility of an app.
6 apps that started like MVPs
Let's get right to the minimum viable product examples. The beginning of any startup is the business idea validation, and that's why you can not skip the MVP development stage. To inspire you, we collected stories about 6 different solutions that started as an MVP.
Amazon
Amazon is one of the most successful minimum viable product examples. Jeff Bezos started the marketplace in the early 1990s as an online bookstore. The website was a one-painkiller MVP: Bezos began brainstorming a list of ideas that he could sell successfully on the internet. From 20 different options, he went down to five products, which included videos, books, software, computers, and even compact discs.
Eventually, Bezos decided on books as the most profitable and demanding product online. He started Amazon that now became the #1 eCommerce platform with millions of various products.
Airbnb
Airbnb began with an air mattress, bed, and breakfast. In 2007 two product designers Brian Chesky and Joe Gebbia struggled to pay for an apartment in San Francisco and rent extra space. They launched a minimum viable product of a room-exchanging platform with their house and made an $85https://www.bloomberg.com/news/articles/2020-12-10/airbnb-s-47-billion-value-faces-debut-test-in-doordash-s-wake million company.
Dropbox
Dropbox had a revolutionary idea to create online storage for files. Instead of paying a fortune for a file-sync solution and building an architecturally complex app, they started with a simple explanatory video. By the way, it is one more way to create an MVP that we did not cover here.
The 3-minute video showed how Dropbox worked and what functions it had. The minimum viable product strategy was effective, and the number of signups increased 5 times overnight, without an actual product yet. Just the experience of seeing a video about the product was enough to sell the idea.
Facebook
Mark Zuckerberg's initial idea was to connect everyone on campus. He started with Facemash, a website where users compared two pictures and decided who was 'hot' and 'not.' 
Then it evolved to the website called Thefacebook, an actual MVP of the social networks. It was rolled out in 4 top American universities — Harvard, Stanford, Columbia, and Yale. After a year of testing on the segmented audiences, they opened access to everyone, and that is how the history of Facebook started.
Zappos
Zappos is a marketplace for branded shoes and clothing. The concept of shopping online seems obvious now, but back in 1999, Nick Swinmurn had to find a way to test the hypothesis that customers were ready to buy shoes on the Internet.
To start, he chose 'Wizard of Oz' MVP. Swinmurn went to the local stores in the San Franсisco area, took pictures of shoes they sold, and uploaded them to the website. When a user would place an order, he would go to a store, buy the pair and ship it over.
Long story short, he manually performed all functions to prove that people in America were ready to engage in shopping retail online. After launching the minimum viable product, Swinmurn found partners and released a fully-functioning solution that earned over $1 billion in sales and was purchased by Amazon in 2009.
Groupon
Groupon is a minimum viable product example of how the idea can be changed on the go to meet the market's needs. The app began as a platform that helped people gather together and run crowdfunding or boycott some negligent stores. As a next step, users started helping each other and sharing specials and promo codes they found in the area.
The team of future Groupon manually posted information about sales and, when someone subscribed, sent an e-mail with all information. The MVP stage helped the company modify and pivot the idea.
MVP development stages
As minimum viable product examples show, speed matters. The faster you release an MVP and collect feedback, the more chances you have to succeed before someone else executes the same idea.  
At Purrweb, we know what a sensitive issue time is. And it is the reason why the average timeline for delivering an MVP for us is 3 months.
👆🏻
Note: that's our timeline, and for some other companies, it might take longer.
MVP product development process consists of 5 steps:
We meet up with you and learn about your idea;

Research competitors and note their strengths and weaknesses;

Determine the target audience and check what users need;

Create a roadmap and design concepts;

Develop the solution.
Let's break each step down!
👟1️⃣ To start, any developing team needs to dig deeper and get to know your idea to calculate the time and costs of the solution. The main goal of this step is to dive in and learn about every corner of your project. It takes us 2-3 days on average to get the full context and start creating.
👟2️⃣ The next phase is to see what the market already has and what are advantages of competitors' apps there are. If you have any thoughts on that or references, please, share them. For example, you tried to use another company's solution, and you liked onboarding and texts but hated the interface as it was messy. Make sure to let your developer know about it!
👟3️⃣ Then, the team turns to the users' side. To start, they usually define main usage scenarios for your minimum viable product — how your customers will use the solution, where they will click, and what problems they can face. After that, it is time to prioritize features for the app, define must-haves, map the user's journey and plan the interface. 
👟4️⃣ Fourth step is to create a roadmap of the MVP product development process and master the workflow. We decide what to work on first and what can be executed later. At the same time, UI/UX designers and copywriters generate ideas for an interface and present their ideas to you.
A little addition: At Purrweb, we always start with building a solution as soon as you approve our design ideas. This fact allows us to fall with a 3 months deadline. However, the exact timelines depend on how complex and deep your idea is.
👟5️⃣ Almost there! In the last step, the team actually develops your app, turns concepts into a robust interface, and tests it. QA engineers search and close all bugs before the launch.
But that is not the end!
➕ Also, to ensure your software runs smoothly, app developing teams usually offer post-launch service for reduced costs. For example, after your MVP is released, developers from an original team will dedicate some time every week to supervise the app's code, keep up with further updates and requirements of AppStore and GooglePlay, and fix bugs that users can occasionally experience.
Wrapping up
MVP is a fast and cost-efficient way to validate a hypothesis you have and see what customers think about your solution. Like Amazon, Zappos, Facebook, or Airbnb, every startup begins with the first version with a minimal set of features. The world knows many minimum viable product examples when a big innovative project had been initially a small, crazy idea to make life easier.
If you decide to build an MVP, you can find and onboard an in-house developer or outsource the process. We always advise choosing an off-site team for MVP product development. Two reasons: it is seamless and budget-friendly. 
The diversе Purrweb team includes 150 in-house experts: developers, UI/UX designers, QA engineers, copywriters, on-site illustrators, and project managers. So every corner of your project will be covered.
Overall, the MVP developing process takes up to 3 months, and you can count an average cost using our calculator.
If you want to start working on your MVP today and deliver an app in 3 months, fill in the quote and we will get back to you shortly.