What are educational apps?
Educational apps help to learn a subject, master a skill, or even organize a learning process for others. They can be just mobile apps, desktop services, online platforms, and more.
Educational apps
are like modern teachers or assistants: they know almost everything and they can work with you day or night. 
Types of educational apps
There are two main types of educational apps based on who the user is: educational apps for teachers and apps for learners. 
While teachers are skilled professionals, learners are of different ages and their knowledge levels can differ. Let's explore who these various learners are.
Who uses educational apps to learn:
Children.

Users of tablets and smartphones are becoming younger and younger. And so various apps now cater to teens and even toddlers. For example, the Busy Shapes app helps three to seven-year-olds develop logic and reasoning. 

Students or applicants.

An

educational app

is useful for exam prep and can also serve as a reference source. Some universities also use online courses as part of the education process. An online platform edX offers over 2.800 courses in different subjects.

Anyone interested.

There are those who use

educational apps

just for themselves. Language

learning apps

like Duolingo are so popular because education can be easy and fun!

Specialists.

Deepening knowledge, acquiring qualifications or company onboarding are reasons

an educational app

can attract professionals. For example, we at Purrweb created an onboarding educational platform for a corporate client.
You may wonder about actual educational apps for teachers and apps for students. We're going to give some examples in the next section.
Educational apps for teachers
Teachers use educational apps to diversify their classes, make them more interactive and interesting. A snappy test or easily accessible graphic materials makes a world of difference for students' activity and motivation. 
A dedicated educational app can also help teachers organize information, conduct, and structure the lesson, as well as track students' progress. 
Three educational apps for teachers 
Kahoot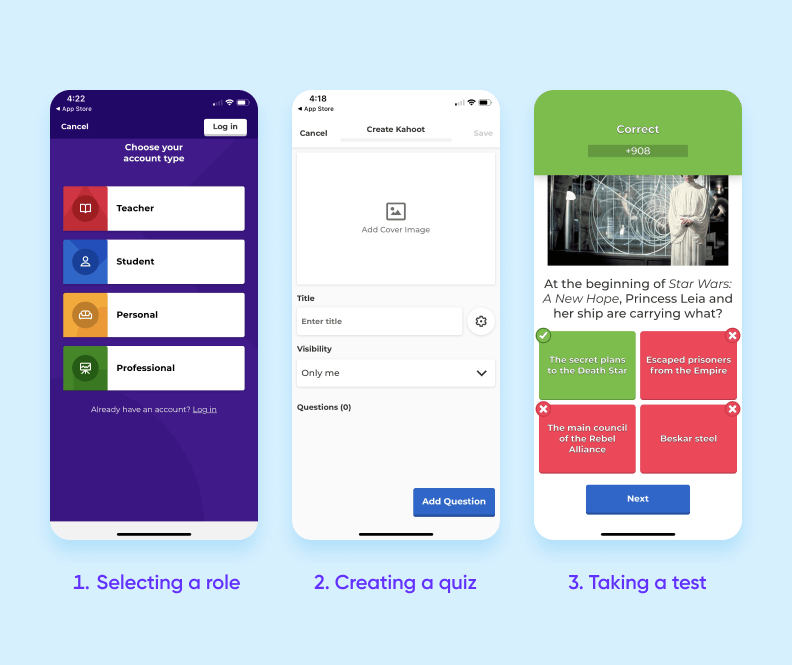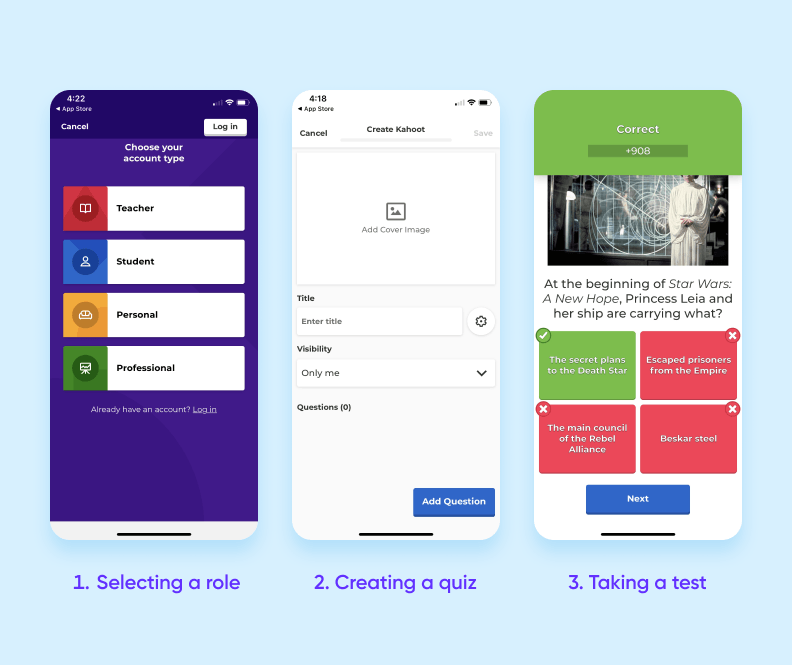 Kahoot is an online platform and an app on iOS or Android. It allows teachers or other presenters to create quizzes that students can take on their phones. Kahoot is great for testing students' understanding of the subject, reaching those staying at home, and even collecting opinions with polls. 
Google Classroom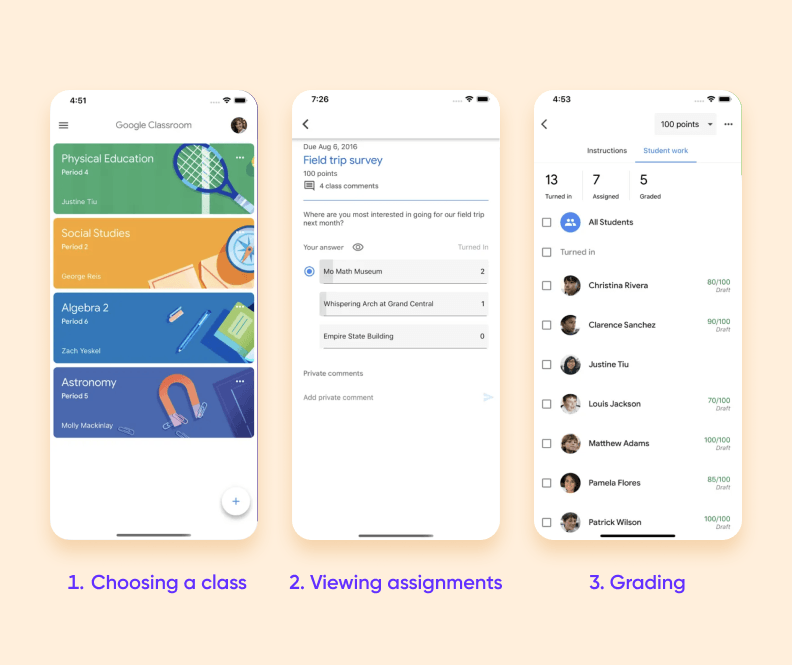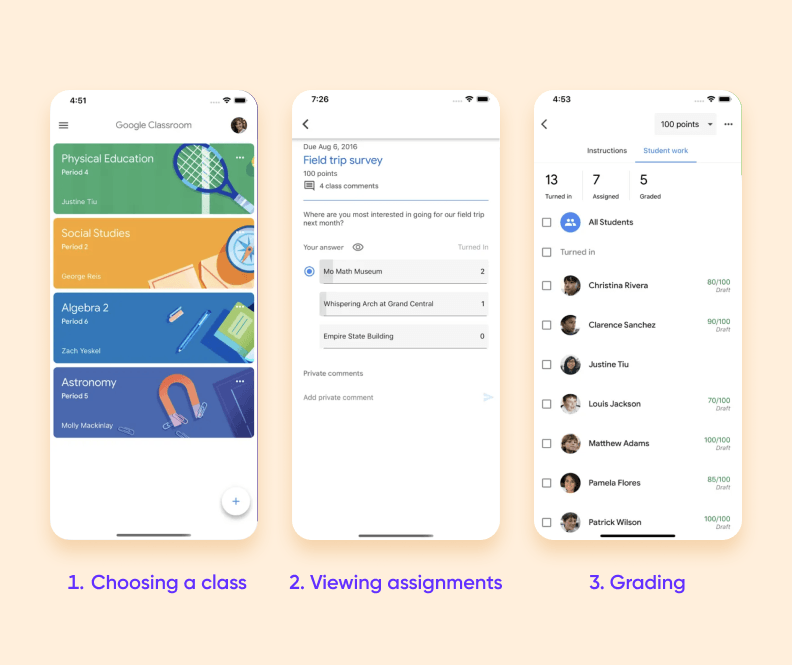 Google Classroom is a multifunctional service for video calls, creating courses and assignments, and evaluation. Teachers can also provide various materials like YouTube videos and surveys. Everything is available online in real-time. 
Remind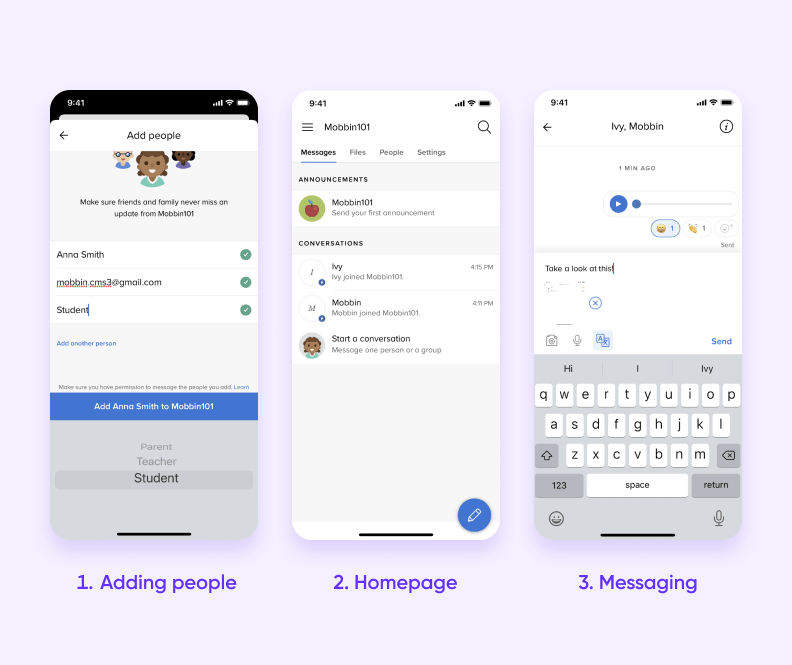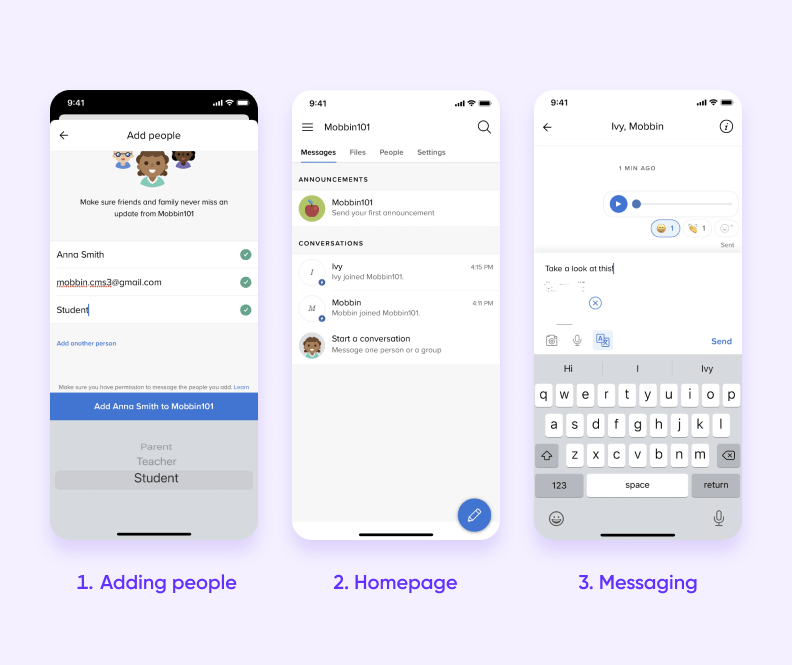 Remind is a dedicated messenger for teachers, tutors, and schools. It connects educators with students and their families via text and calls. Remind users choose their roles (student, teacher, or parent). Communication can have restrictions (students can only message students or everyone can only message admins) and even be one-sided with broadcasted announcements. In the US, 80% of schools use Remind for communication. 
Educational apps for learners
Educational apps for learners vary in themes and approaches. They can help to learn a language, distinguish plants, understand anatomy, and much more. 
Besides the variety of subjects, educational apps for students are easy to use and accessible. The classes are right on your device, you can learn anywhere, anytime. All of that made educational apps for students as prominent as they are today. 
Three educational apps for learners 
Udemy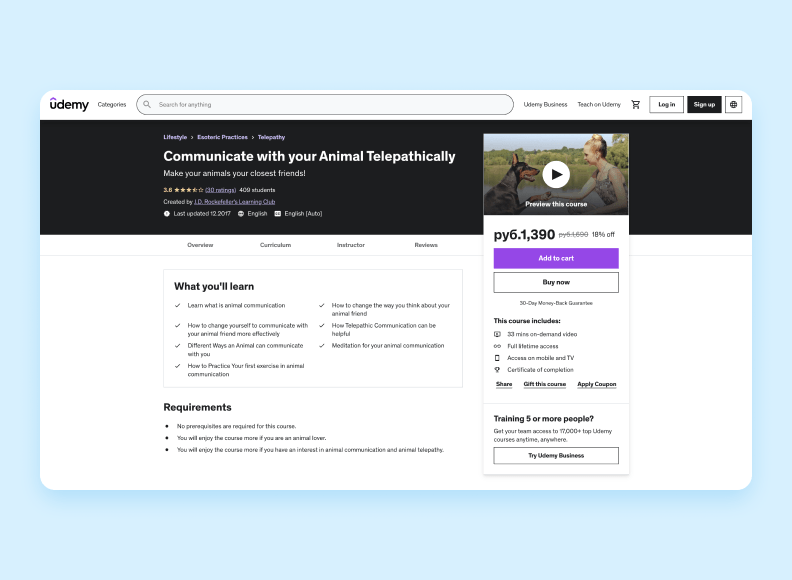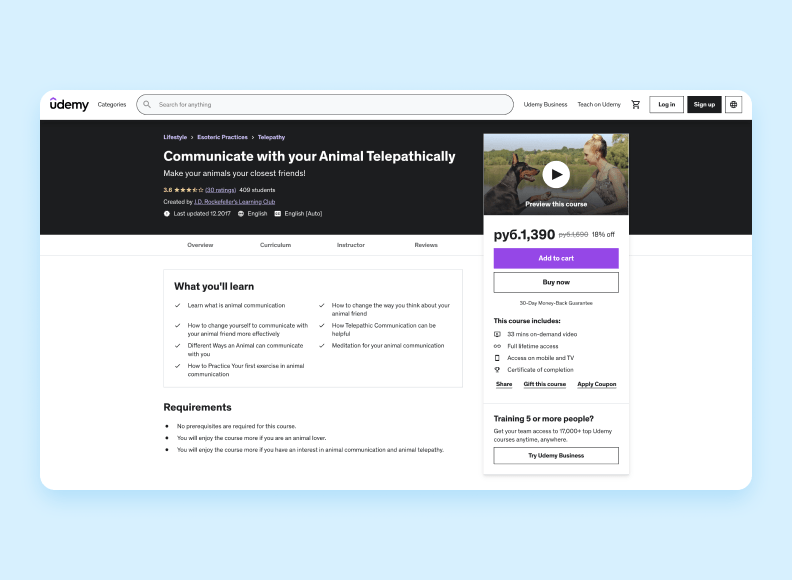 Udemy offers free and paid online courses in design, development, marketing, and more with online courses. The platform is available for personal and corporate use.
Duolingo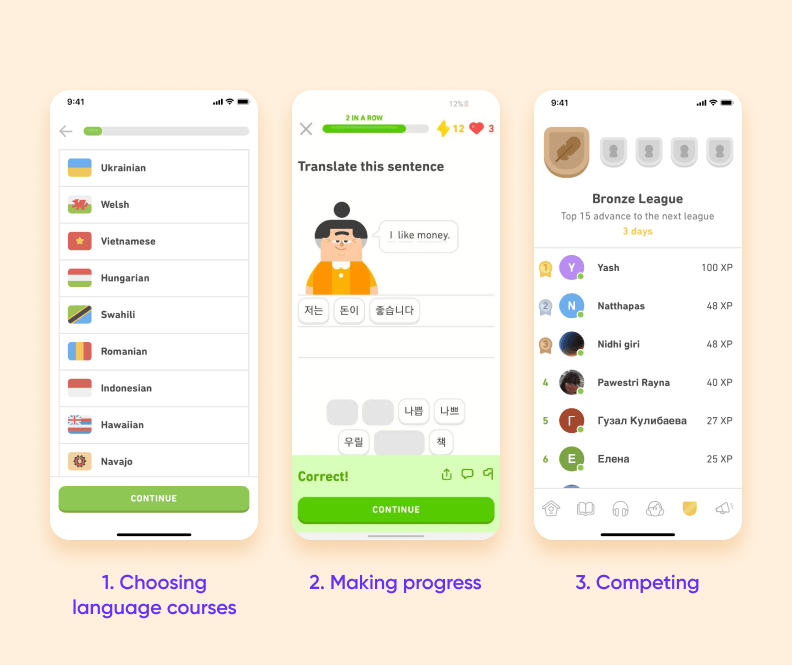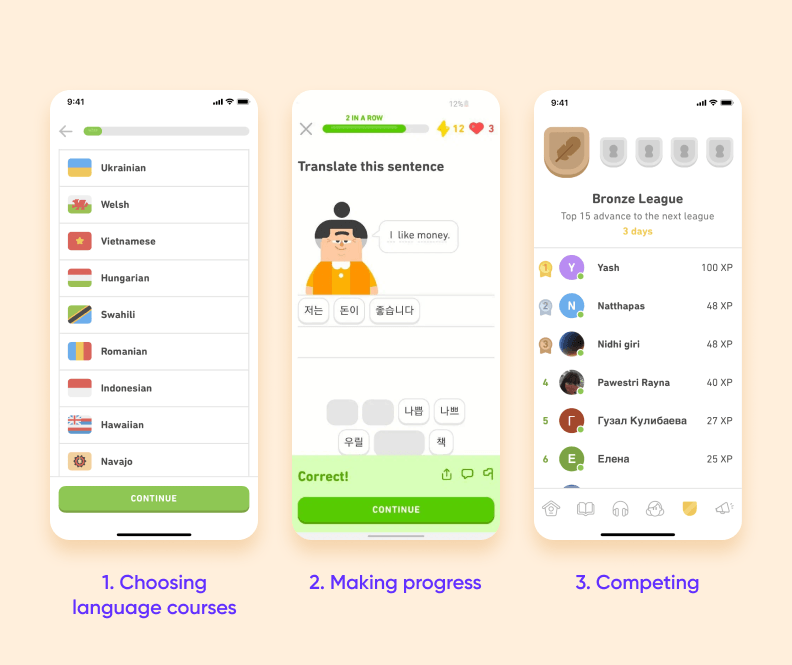 Last year, this language learning app was downloaded more than 12 million times in the US only. Duolingo is extremely popular, and for good reasons. Its users can freely practice reading, speaking, writing, and listening comprehension.
Photomath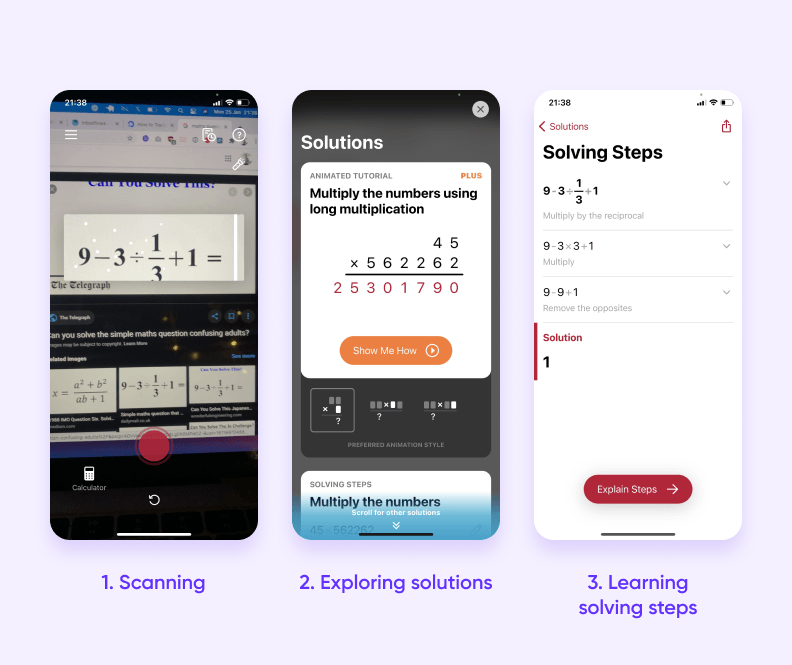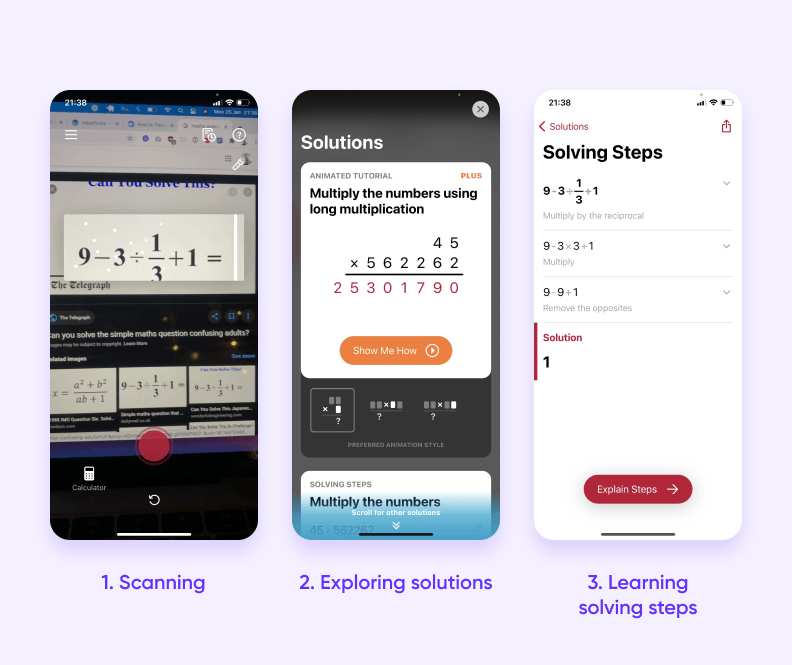 This is an innovative app to study math. Users can scan problems off the paper and see different solving methods explained step by step or run a built-in calculator. Photomath works not only for algebra but for trigonometry and geometry too. 
What to consider when developing an educational app
If you want to make an educational app, it's important to keep up with the trends. Using industry best practices and growing technologies will make your project stand out and attract users.
Let's use a language learning app as an example and explore educational apps' trends and how they can be beneficial. 
Gamification
User engagement and retention are the key factors for any app or service. Thanks to game mechanics like levels, competition, or points, users have fun and stay motivated to keep learning. And that's why they keep using the app and coming back for more. When you plan to make an educational app, think about gamification.
Some of the common gamification techniques are:
Badges and rewards.

These are visual awards that users can get for achieving a certain goal. They can either be visible to everyone or only in the user's profile. Customization or character changes are also a kind of reward.

Levels.

Microlearning can take down the pressure of education and break down the path to the end goal into smaller steps. Levels can be part of the story which engages users even more.

Leaderboards and scores.

A competition element can motivate users to spend more time on the app to boost their points and placement. This feature will work great with social mechanics like adding friends.

In-game currency.

'Gems' or 'coins' support monetization. Users exchange real money for a bulk of in-app currency that they can spend on extra lives or bonuses. Usually the amount of 'gems' can't be divided by items' costs without a remainder. So users are motivated to buy extra currency to spend it all completely. 
A language learning app can include all these features. Duolingo, for example, also has a cast of characters and users' performance charts with 'streaks' that users can break if they don't practice.
Flexible, personalized learning
Educational apps attract more and more people with different backgrounds and working hours. So a strict schedule and standard programs won't work. To cater to more users, educational apps tend to make learning more flexible and personalized. That means an educational app's content accounts for the user's age and knowledge level. The speed of learning also isn't limited as it's possible to take multiple lessons in one go. So to build an educational app you don't need to tie each lesson to a particular date: let users decide for themselves.
That kind of freedom is common for language learning apps as well. For English courses, Busuu allows users to choose the goal of education and the level at which the user currently is. At the end of the onboarding personalization, the app reveals when users will achieve their language goals.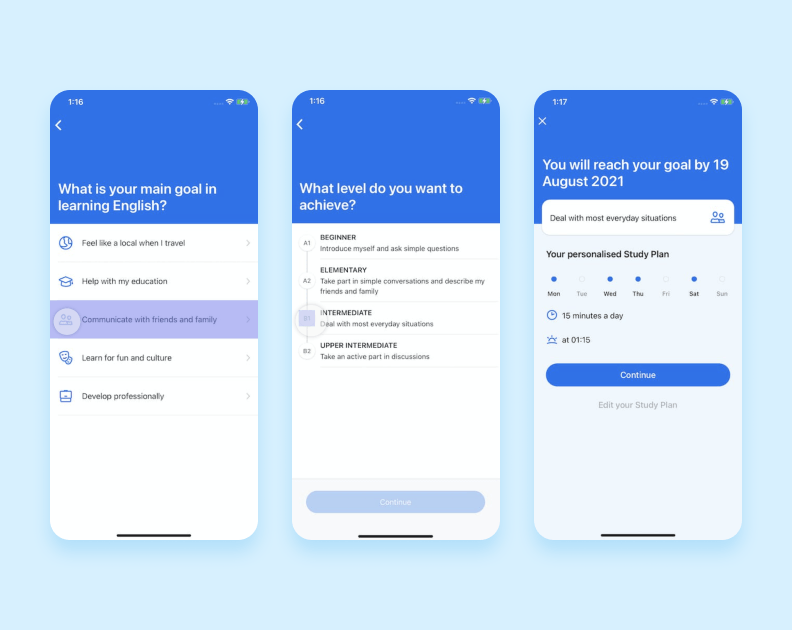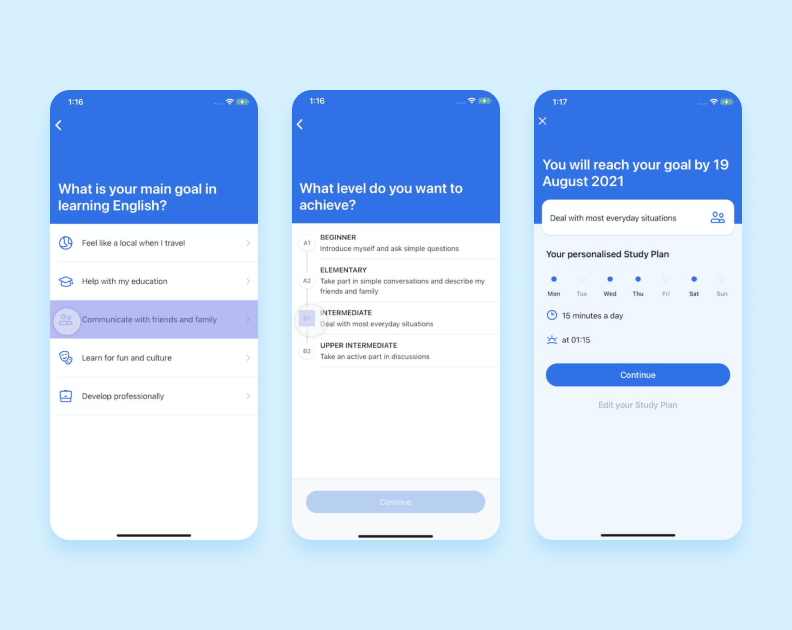 Adjusting the learning process
Video content
To develop an educational app with a life-like learning process, video content is the key. Seeing a teacher explaining a concept rather than reading about it is more engaging. With the popularity of short-form video content and TikTok especially, educational apps need to compete for users' attention even more. And if you opt for animation, it can form the project's identity. For example, Duolingo is known for its friendly owl named Duo.
For language learning apps, video content can be used to showcase pronunciation or for other tutorials. In the Babbel app, experts even share insights into the culture. For Spanish, the app offers a kitchen tour and a video explanation of food culture.
Artificial intelligence (AI)
AI helps to automate app processes and provides instant results. Various technologies can grade students' work, create personalized assignments and answer questions. 
Artificial intelligence is widely used in language learning apps. Most common examples are machine translation, speech recognition, and 'smart' chatbots. Rosetta Stone, for example, features a speech engine that reviews users' articulation.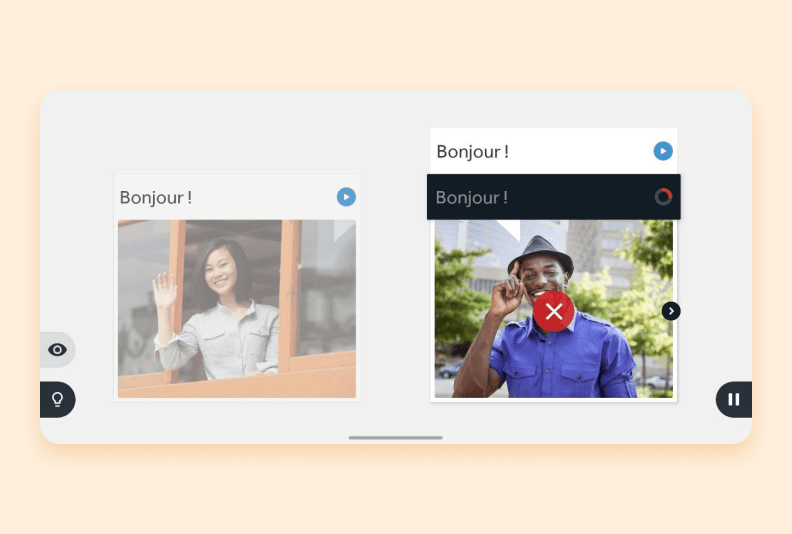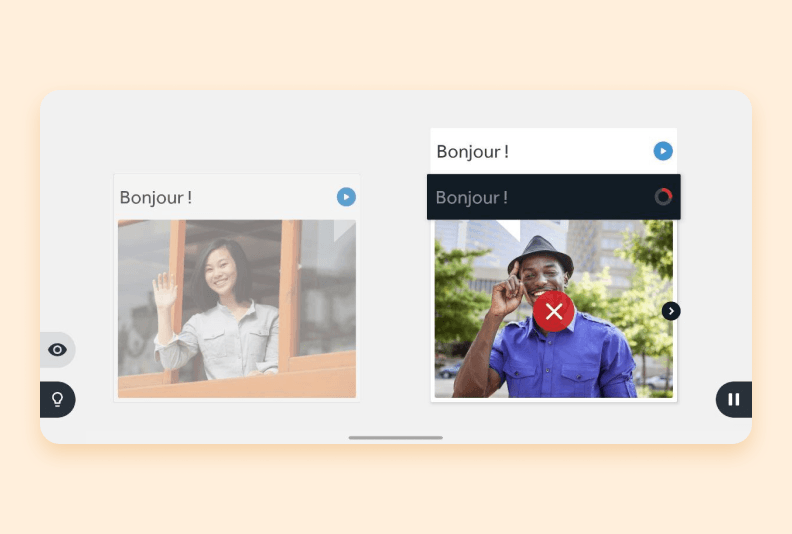 Immersive learning and virtual reality
Augmented and virtual reality technologies expand the educational process. They allow students to conduct virtual experiments, explore places and environments that are inaccessible in real life. Walking through ancient ruins and seeing the human skeleton in detail is now possible for everyone. AR and VR are also helpful in distance learning.
If you plan to develop a language learning app, you can follow the example of Mondly. The app offers a virtual assistant that makes education more interactive. 
There's also virtual world language learning. It's an immersive approach that places students into specially designed 3D worlds. One of the examples is 'The Secret of Puffin Cove', which is available as a demo. This is an adventure created to help people learn and practice English.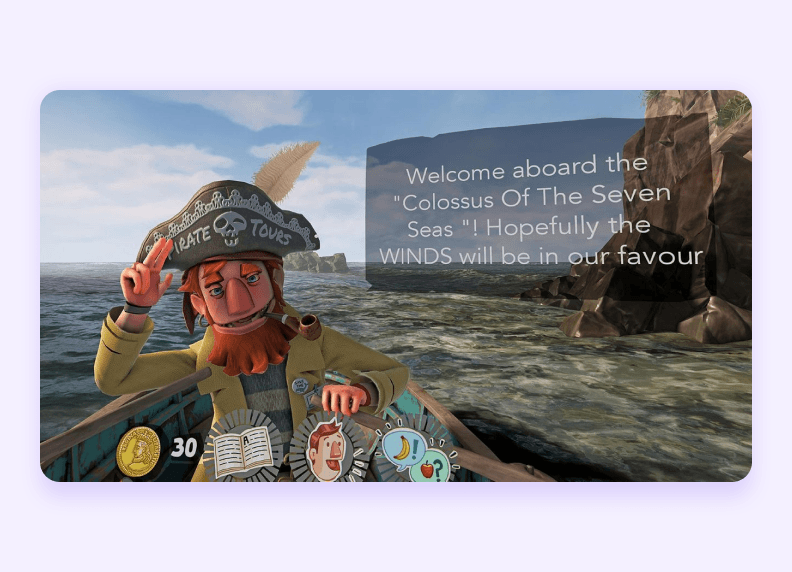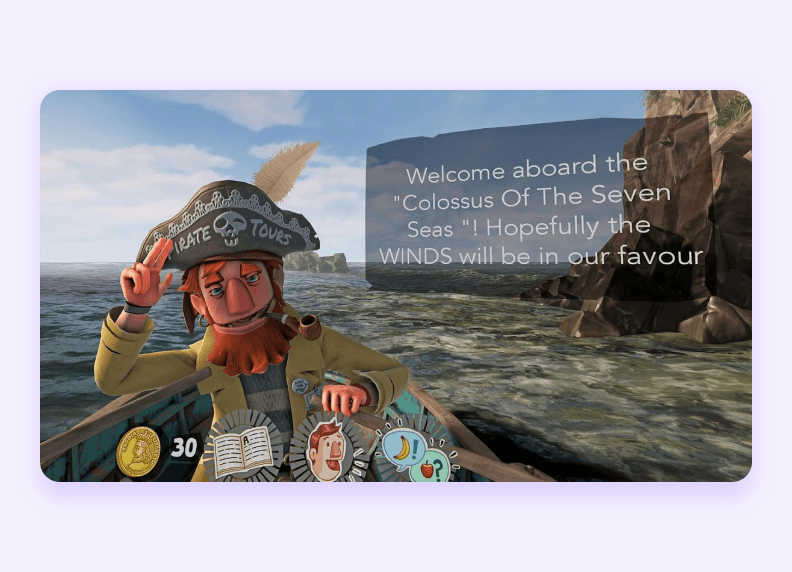 'Pirating' the language learning
Deciding on an educational app concept
How to make an educational app? If you want to create an educational app, start with some questions. What kind of app do you want to create? Who will your audience be?  
First, decide on an app concept. The concept of an educational app is like a genre of a book. It dictates the app's primary function, use cases, and design. The app concept doesn't have to limit your creativity and ambitions. It's meant to guide you and streamline the idea.
Here are 7 common educational apps concepts:
Flashcard apps.

Old-school learning and memorizing techniques made modern. Some apps offer a set of expertly created flashcards and some allow users to make their own. For example, Chegg Prep has millions of free flashcards and even covers narrow subjects like mitosis in biology.

Educational games.

Games can teach adults just as well as kids. The app Elevate makes memory and attention training fun, with lots of different puzzles and speed challenges.

Dictionary apps. Made to increase users' vocabulary, dictionary apps are numerous. Some of them have additional functions like the Merriam-Webster app with games and the word of the day.
Language learning apps.

Popular casual

education apps

that help to memorize words, practice writing or speaking, and more. There are language

learning apps

for one language (Chineasy) and for several languages (Memrise).

Special learning apps.

These serve one purpose, whether it's mastering handwriting or coding. Many apps of this type cater to kids, like Otsimo, which helps children with autism to communicate better.

Exam preparation apps.

Mimicking exam structure, timing, and themes, these apps prepare students for SAT and other tests. For example, BARBRI provides materials and quizzes to train future lawyers for the bar exam.

Educational platforms.

Apps and services made by schools or universities for their students. These apps can have invite-based access and many functions: video lectures, assignments, profiles with grades, etc. 
After choosing your educational app concept, the app-making process begins.
How to develop an educational app
We at Purrweb are experts at building apps and MVPs. Startups trust us with their unique ideas and we make sure they're executed perfectly. We've created iZumator — a platform for online education, and we're ready to bring your educational app project to life. 
Imagine you have a language learning app in mind. To reach the widest attainable audience in the field, let's add several languages and cater to people from 12 to 45+. Here's how Purrweb will build your educational app:
1. Project evaluation
We carefully prepare for the app development. We'll start by examining your project and requirements. We prepare a roadmap to make the process as clear and predictable to you as possible. Our managers also help you prioritize the app's features to lower the production cost. 
To make a competitive language learning app, we may need to add:
sign up/login function

— to save users' progress;

personal profile

— to show all language courses the user chose and the learning statistics;

course screen

— the screen with completed and upcoming lessons for each course;

lesson screens

— screens with various assignments and mechanics;

voice recognition

— a crucial feature to have for better user experience;

achievements

— a ranking of users or personal goals accomplished;

in-app shop

— depending on the monetization strategy, here you can offer subscriptions or virtual currency.
2. UI/UX design
We start by working out the internal logic of the app and creating a mindmap. Then transfer it to black and white wireframes. When the logic is coordinated, we determine the app's style. Then polish the details and create a UI-kit for fast and convenient mobile development.
For language learning apps the design is very important. It sets the tone for the user's experience and helps the app to stand out. Whether it would be a playful style with lots of illustrations and animation (like in Duolingo or Chineasy) or a simple one with photos and videos (like in Babbel) — is up to you.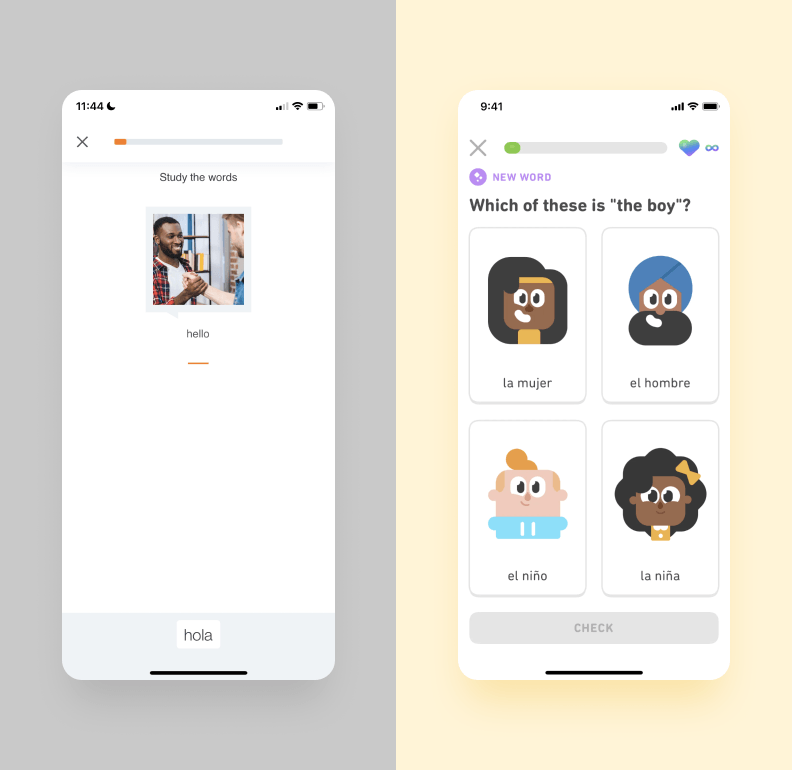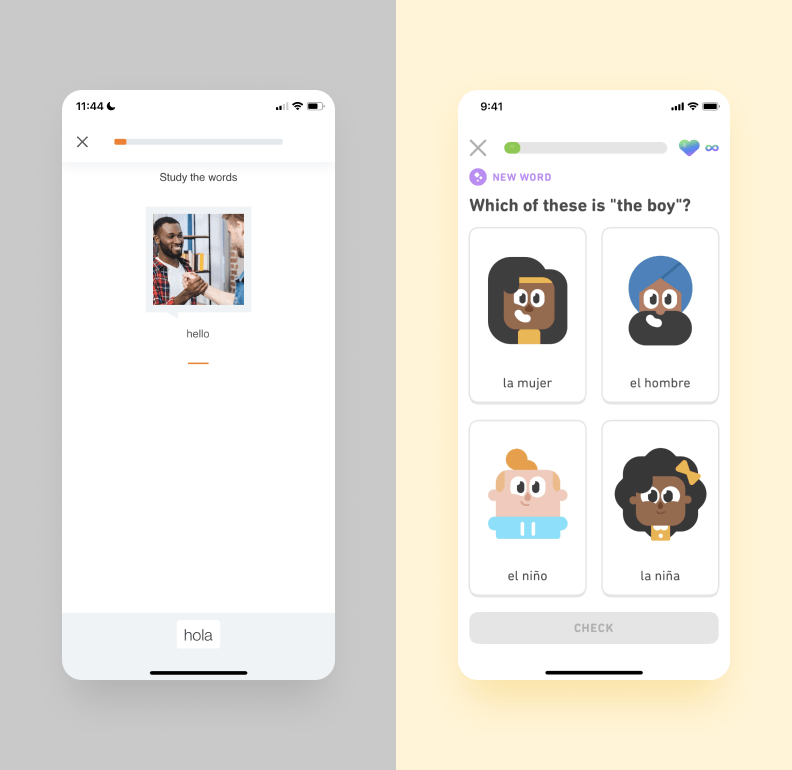 Serious or playful. The choice is yours.
3. App development
Our team includes a project manager that looks after the whole process, a UI/UX designer who did a great job at the previous stage, 2-3 developers for iOS or Android, and a QA specialist.
We divide the entire app development process into 2-week sprints. This allows to see the progress and make changes quickly. We do beta releases on TestFlight and Google Play to test how the app works on real devices.
For reference, the development of an MVP usually takes us up to 3 months. And we can bring to life a project as complex as a streaming service in 10 months. Educational app development is somewhere in between, depending on the complexity of the project. 
4. Testing
We use manual and automated testing to ensure the app's quality. We carefully review all the user scenarios and look for any and every potential bug. 
5. Release and support
We know all the nuances of the App Store and Google Play's policies and we always see our project through release. And after your app is accepted and published, we provide the needed support. In case you decide to scale up, we do that too.
What will you have at the end? A working app that is available on systems of your choice and is ready to compete for its success. 
How much does it cost to build an educational app?
If you want to create an educational app for smartphones and the whole brand design with features that we've previously set, at Purrweb the project will approximately cost $78.700. But that's the case for a language learning app. 
Educational apps can be very different. The definitive cost is different for each project.But if you are interested we can always calculate it for you.
Start with the development of an MVP — it's an industry-standard practice that helps to test the idea. Both big companies and small startups can benefit from this approach. The realization of your idea is just a click away. Fill the form below, and all of Purrweb's expertise will be at your service!