What is a dating app?
A dating app is a mobile platform that connects people with certain interests — romance, casual sex, or friendship. The software usually allows users to browse photos and contact each other through chats and video calls.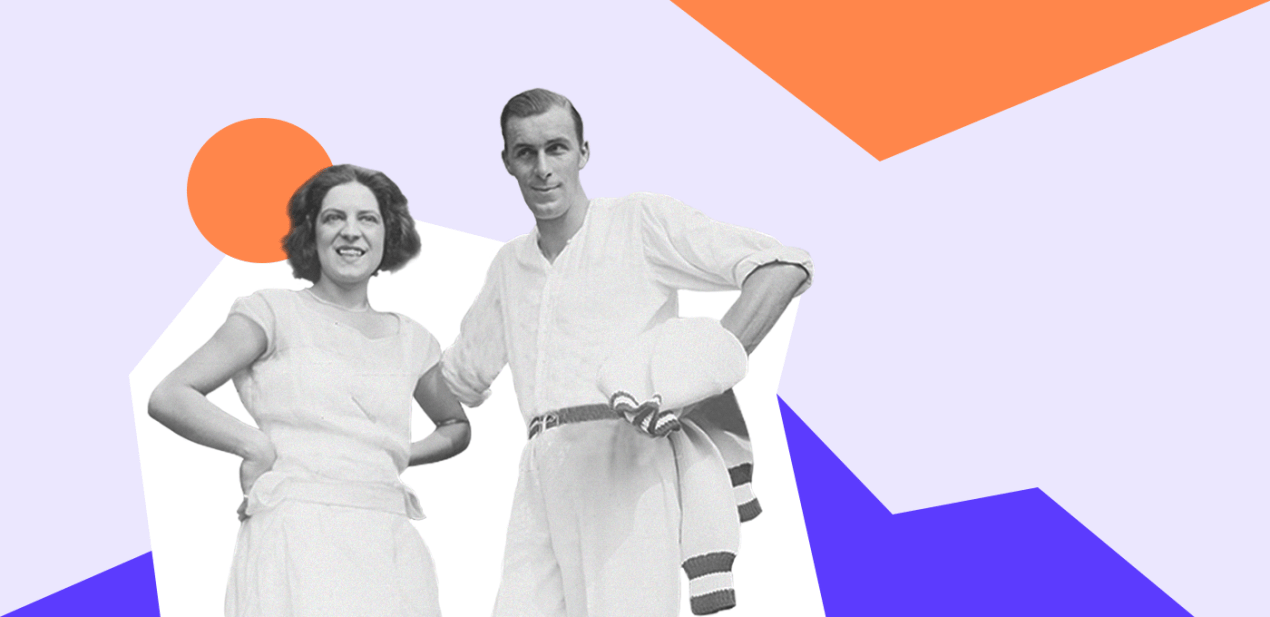 In the beginning, there were dating websites. In 1994 kiss.com was launched, followed by match.com in 1995. After the era of mail-bride order services, it was a revolution. Before the first website, women listed themselves at a special agency and men received a catalog by mail to select one for marriage. Now it sounds so outdated, right?
Dating websites removed a middleman between partners-to-be and left them with tons of options on their own. Since match.com was released, 75 million people have registered on the website and more than 1.78 million of them pay for their subscription. Then there were eHarmony, PlentyOfFish and OkCupid.
Tinder's appearance in 2012 revolutionized the market and stimulated the development of online dating platforms, especially mobile apps. The company turned a process of searching for a partner into a fun game. Users were offered to swipe cards with photos of the candidates — to the right if they want to connect, or to the left if they prefer to dismiss. Now people spend hours looking at the profiles of potential partners, reading their bios and swiping the cards.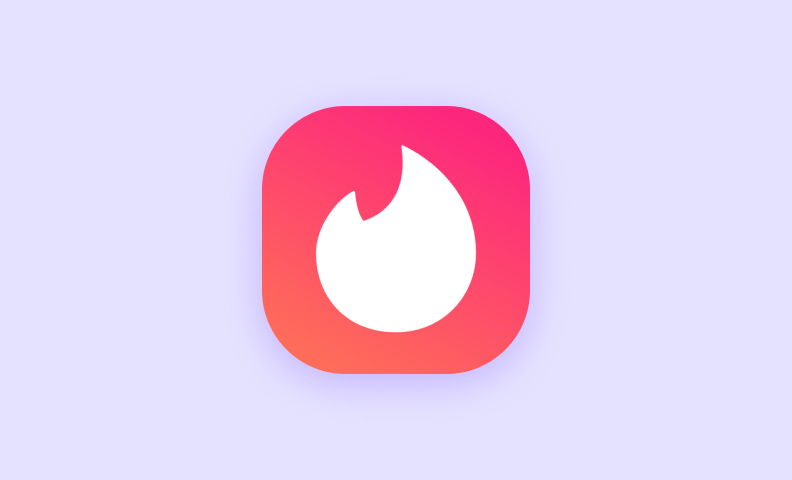 Statistahttps://www.statista.com/outlook/372/100/online-dating/worldwide says today around 196 million people around the globe use various online dating services. By 2024 it is expected to increase by 80 million users, alongside growing interest from the investor's side. That is why if you have been thinking about the idea to create dating app, it is the time.
Why are dating apps booming now?
Dating apps are not just a passing trend. They completely shifted the way we socialize, make connections and find a perfect partner for life. Today you can hardly find a couple that met at a bar or was introduced to each other by mutual friends. Singles rarely start a conversation at a local coffee shop or hit on someone at a park. Instead, they hop on a dating app.
Researchers say, now more than 39% of people find their significant others online. A recent studyhttps://web.stanford.edu/~mrosenfe/Rosenfeld_et_al_Disintermediating_Friends.pdf conducted jointly at Stanford University and the University of New Mexico says that using a dating app like Tinder or websites like match.com is the most popular way for American adults to meet their partners, especially now, when 2020 and coronavirus have completely changed the dating game.
Nowadays we mostly look for love online. This is why the global dating service market is growing rapidly and, according to

data

https://www.prnewswire.com/news-releases/global-dating-apps-market-is-expected-to-surpass--8-4-billion-by-2024--300967392.html

, it is expected to surpass $ 8.4 billion by 2024. 
Because of the pandemic, all romantic things have moved online, and they are not going to bounce back. People prefer to see and evaluate their potential partners on video chats before meeting them for the first time. Why waste time when you can just do a dating app with video functions or voice chat like Bumble, Badoo, The Intro, etc., and see if there is chemistry between you two?
Let's see what the numbers say. We gathered some interesting statistics and facts about dating apps:
❤️ According to a recent study, 56% of responders plan to continue or start using dating apps more in the upcoming years.
❤️ Users under 30 spend at least 10 hours a week swiping on a dating app.
❤️ Tinder observes over 6.5 million downloads every month and remains the most downloaded dating app in the United States.
❤️ United States, India and China generate the biggest revenue on dating apps.
❤️ Investors are interested in dating apps targeting the Asia region, especially China. In recent years several Chinese companies received funds from venture capitalists: Tantan got $70 million, while Bluedraised a Series D of $100 million.  
❤️ It was reported that Tinder has over 6.03 million paid subscribers. 
Overall, there are 7.9 billion people on the planet and existing services do not cover all diverse age segments, regions, and interests. If there is the best and most profitable time to launch and develop a dating app and hire a development team, it is right now.
Who uses dating apps?
Let's talk about the target audience. For successful mobile development of an app that will become popular and eventually will draw the attention of investors, you need to know who will use a solution and why. We researched multiple studies on the demographics and user experience of dating platforms and created a portrait of a perfect swiper. You will be surprised to hear that, but dating apps are popular among various age groups: from 16 to 65+.
Dating apps are popular among various age groups: from 16 to 65+.
An average user of a dating app is 25-34 years old,male, single and lives in a city. Usually, by that age, people already graduate from college and get a job, some of them even make it to the senior level. It means only one thing: this audience is able to pay for premium services and extra features.
According to a studyhttp://www.wired.com/2015/05/tinder-users-not-single/amp, 62% of dating apps' audience is male and only 38% are female. Most of them are not in a relationship, but not all — 30% of users are married and 12% are in a relationship, statistics say. Surprise!
76% of users belong to the urban population, while 17% live in suburbs and 7% reside outside big cities and towns. As we mentioned, age groups are different and lay out like this.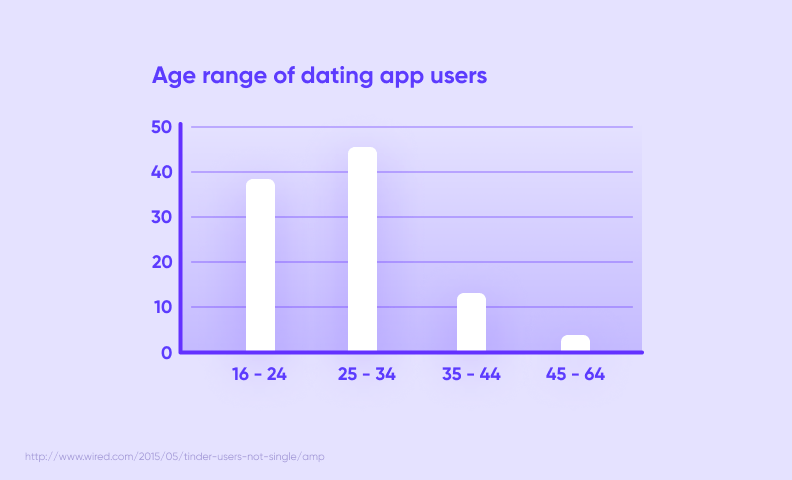 In general, dating apps are the most popular among millenials who are looking for meaningful connections online. Demographics show that users on the platform usually have enough income to pay for extra features and engage with the content more. We recommend considering this data when deciding how you are going to market your mobile application on the market.
Where to start building a dating app?
Dating mobile app development is not easy. Even though the market is fast-growing, it is also saturated. That is why the first thing you should do is market research in order to analyze user experience and find the right niche. Maybe you want to build a dating app for dog lovers and match them by breed they prefer? The key to success with such services is to find your audience and target them with your app. Define your potential users and the dating app type to start mobile development.
Existing dating services roughly fall into 4 categories based on what they use to connect people:
Geolocation network

that matches you to people who are in a certain geographic location. For example, Tinder with customized proximity that allows you to set if you want to see people who are no more than 5/10/20/50 kilometers away. The Bumble app also uses the same idea.

However, if you want to expand your geography and look for people in other cities and countries, it is also an option, just need to pay for an upgrade

😉

Questionnaire-based.

Matching algorithm-based apps ask their users to complete a survey about their values and expectations. Then, a machine algorithm uses the answers to match people. That is how eHarmony's site and app work. Also, there is a Tastebuds.fm app that matches people based on their music preferences. 

Traditional dating apps

platforms look like an online catalog to scroll. For instance, the website OkCupid and their app that fully replicate the browser version.

Niche-based.

Such apps are targeted to a specific group.  You probably know about Pure — an anonymous app for hookups. As they say on their website: "Pure is for when you're looking for an after-dark adventure, not a relationship. It is quick, direct, and discreet." That is the perfect description for the niche they have occupied. 
Current apps are usually a mix of all these types, but we recommend using this classification when defining the audience and main features for your app.
| | |
| --- | --- |
| App category | Example |
| Geolocation networks | Tinder, Bumble, Hinge |
| Questionnaire-based  | eHarmony, Tastebuds.fm |
| Traditional | OkCupid |
| Niche-based | Pure, Grindr |
Key features of a dating app like Tinder
After you figure out the category of your dating app, it's time to think about key features of dating mobile app development. 'What to include?' has always been the question, and we have the answer. Here is a list of 5 features you should definitely implement when you make your own dating app.
A personal profile is the first impression on a dating app, therefore users spend a lot of time choosing a profile picture, writing a smart and funny bio, or picking their hobbies. Some apps even went above and beyond and came up with unusual features for a user profile. For instance, Tinder allows users to sync up with their Spotify accounts and add favorite artists to the profile description.
Another example is Hinge that introducedhttps://www.theverge.com/platform/amp/2021/10/27/22746297/hinge-voice-notes-prompts-profile voice chats and prompts in the bio in October 2021. With this feature, everyone can add a short audio clip, up to 30 seconds, to a personal profile to help people know you better and decide if they like your voice before a first date.
The launch of the voice prompts impacted the engagement and the marketing strategy of the dating app. The feature wenthttps://www.theverge.com/platform/amp/2021/11/30/22809684/hinge-voice-prompts-tiktok-shortform-audio-viral viral on TikTok, attracted new users, and brought attention to the update — around 46% of the audience have tried the prompts and 13% of newcomers skipped the onboarding to go straight to the audio.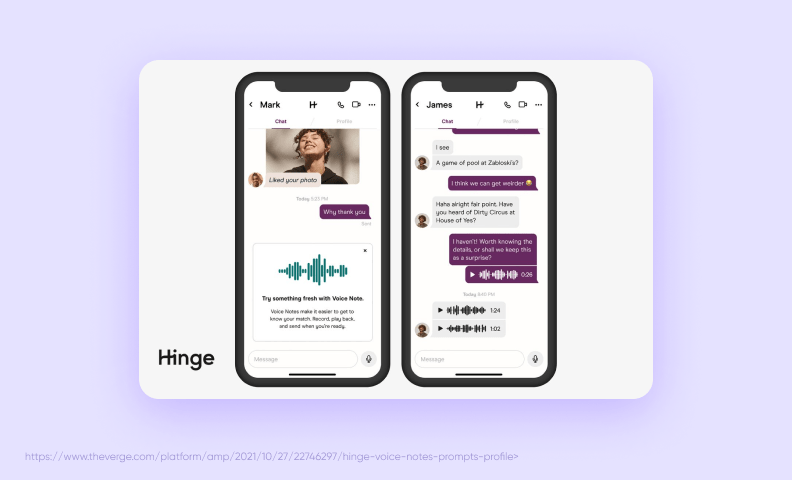 Social media integration. We recommend thinking about privacy and reliable background checks beforehand. Generally, apps like Tinder implement social media integration and thus pass the buck to Facebook. In the best-case scenario, you can find people's real names, schools and friends list there. Some apps, like The League, rely not on Facebook, but on LinkedIn. Others require identification. When it comes to dating and personal data, safety is one of the major concerns, and background checks are crucial. Users entrust their photos, location, and sexual preferences to you, and they expect it to be secured. You should figure out what works best for you and how you want to authenticate users on your dating app – with a mobile number, social media account, ID, or reference code from someone they personally know – options are unlimited.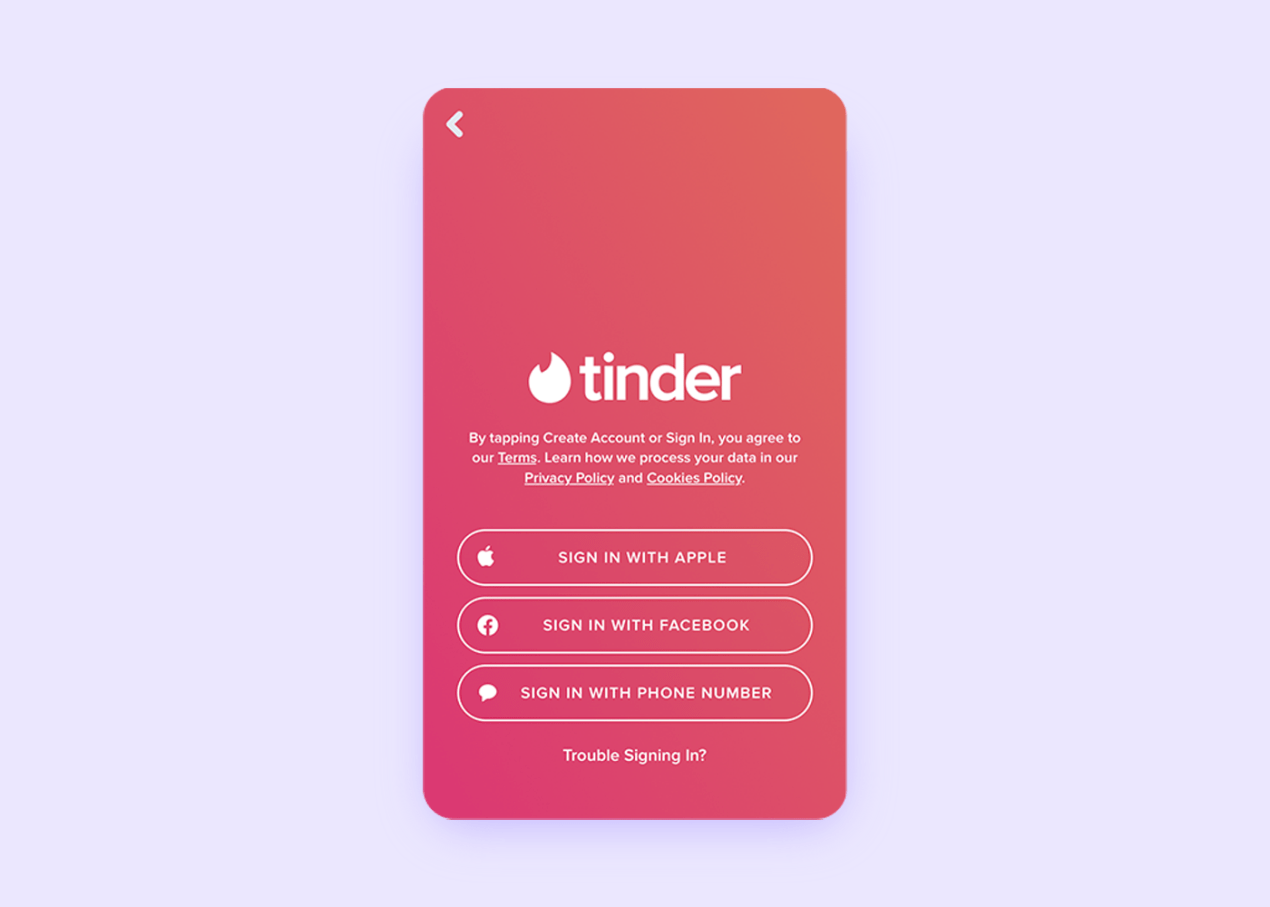 Geolocation features. Let users decide how far they want their match to be. Maybe, their dream partner lives in France, Spain, Mexico or even Bali? Don't limit the choices. Implementation of this feature will also help your dating app increase the customer retention rate (CRR) — with enlarging the area people will discover new accounts to look at and swipe. To identify user location, Tinder utilizes the smartphone's GPS or data from the WI-FI network connection.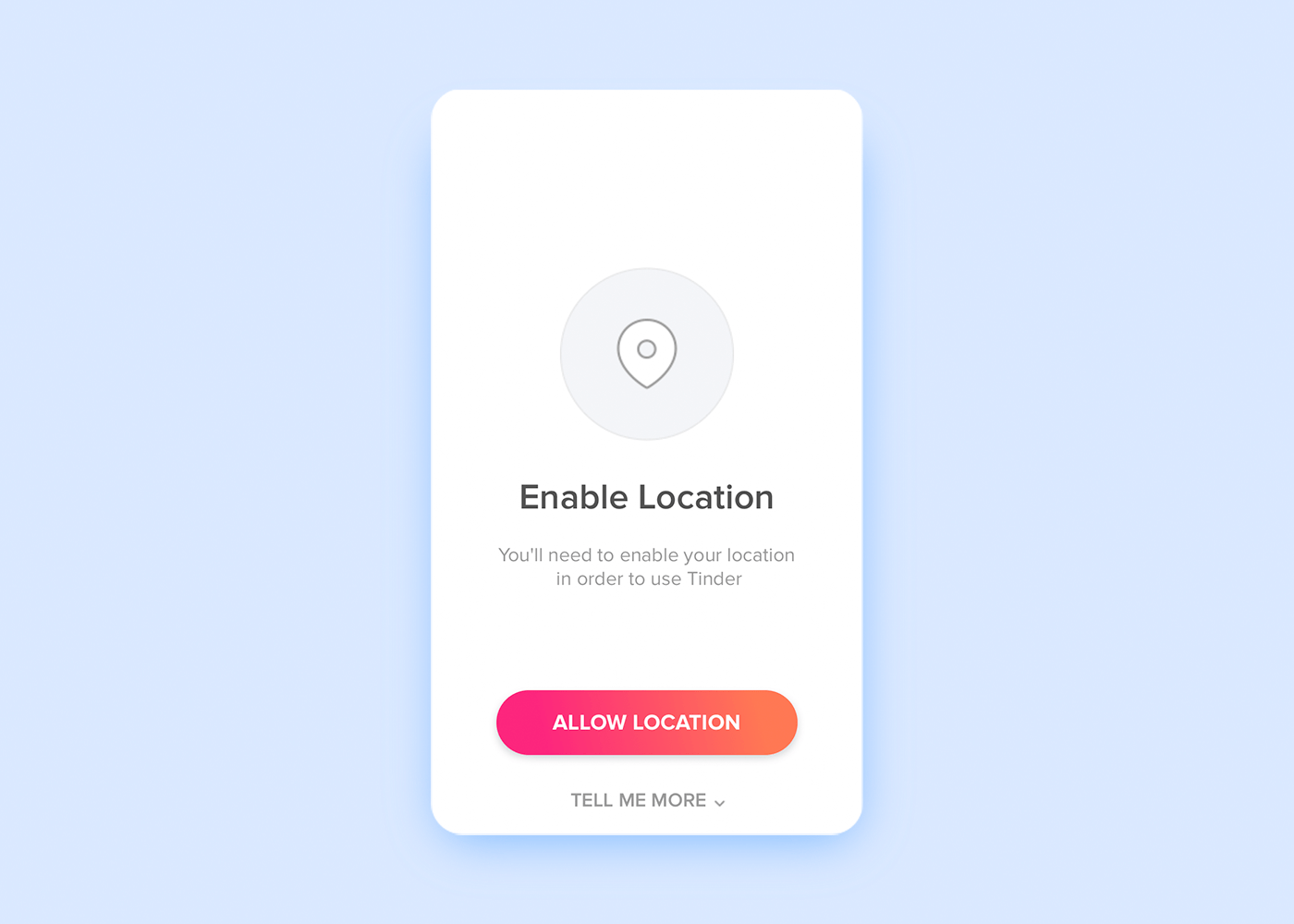 Matching algorithm. Two things should be defined before you start dating app development – how to match and how often to match. For instance, some apps use survey-based algorithms, based on questionnaires people fill in about their lifestyle, hobbies, work, romantic preferences, and goals to achieve. Tinder uses a user-driven swipe – to the right if you like a person, and to the left if you want to move on.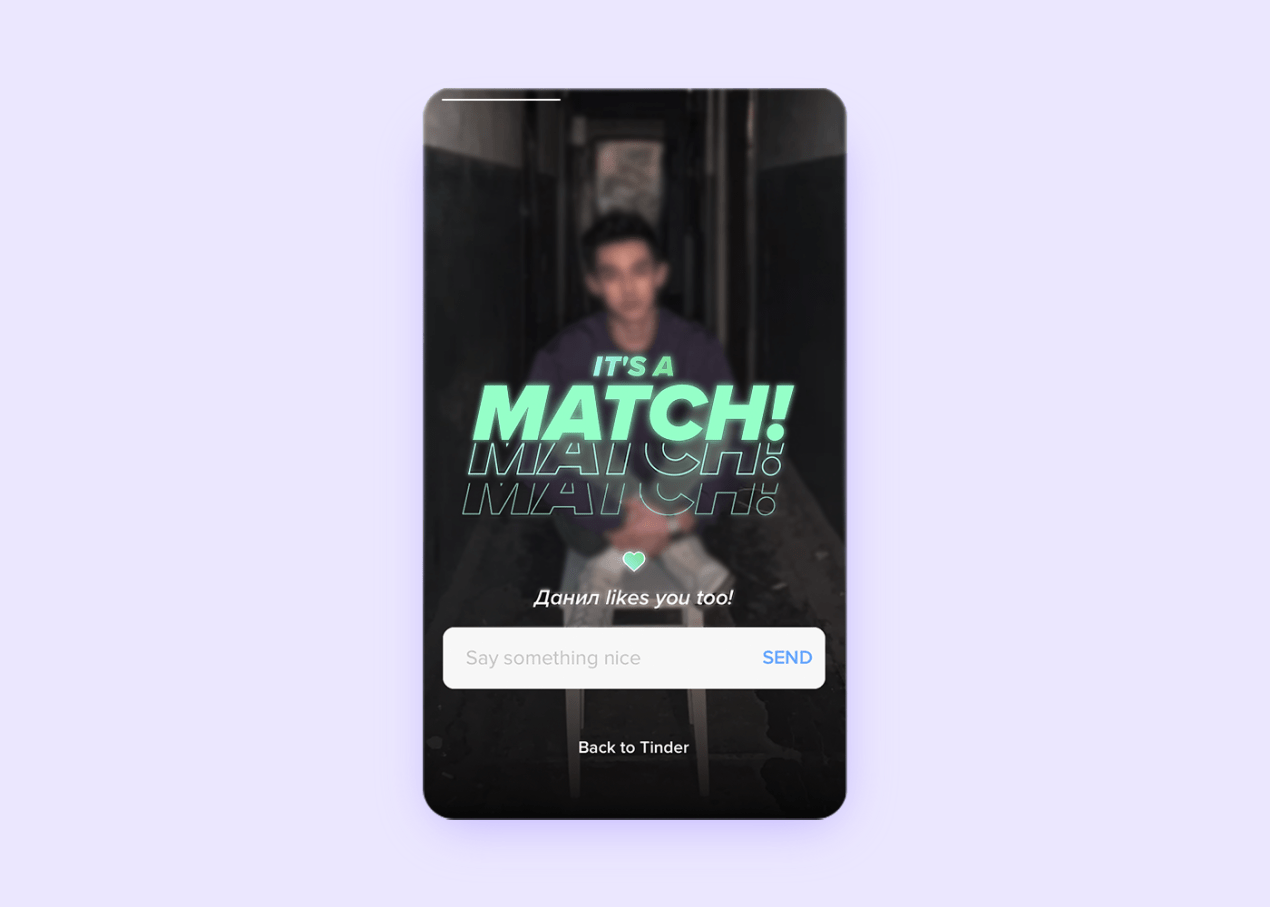 Push notifications help to increase a dating app's engagement. It can be notifications about a new match, a new message, or just a friendly reminder to check the app.  As a provider, we recommend using Apple Push Notifications Service for iOS, and Google Cloud Messaging (GCM) for the Android app.
Messaging functionality is essential for a successful dating app. Apart from the ordinary chatting interface, it is important to keep in mind that many people are stressed out about starting a conversation. So UI/UX design and copywriting of your solution should help them with that problem and spark an interest in sending a text first. Try to keep it positive and empathetic — relationships are related to the emotions, and that is where users tend to feel anxiety and lack of assertiveness. 
To help users start a conversation, you can suggest some questions to ask a potential partner. For instance, "What is your favorite day of the year and why?", "If you win a million dollars, what would you spend them on?" or "What is your dream getaway?". This will give customers ideas what to ask about and will make them feel more comfortable and even thankful to your dating app.
Premium options are a way to earn money. Apps offer users to pay fees to unlock some extra features. For example, the basic plan on Tinder allows you to see people who are up to 100 km away from your current location, but with Tinder Gold, you can choose any location and look for your perfect match in specific places like Paris, Istanbul, Los Angeles or Seoul.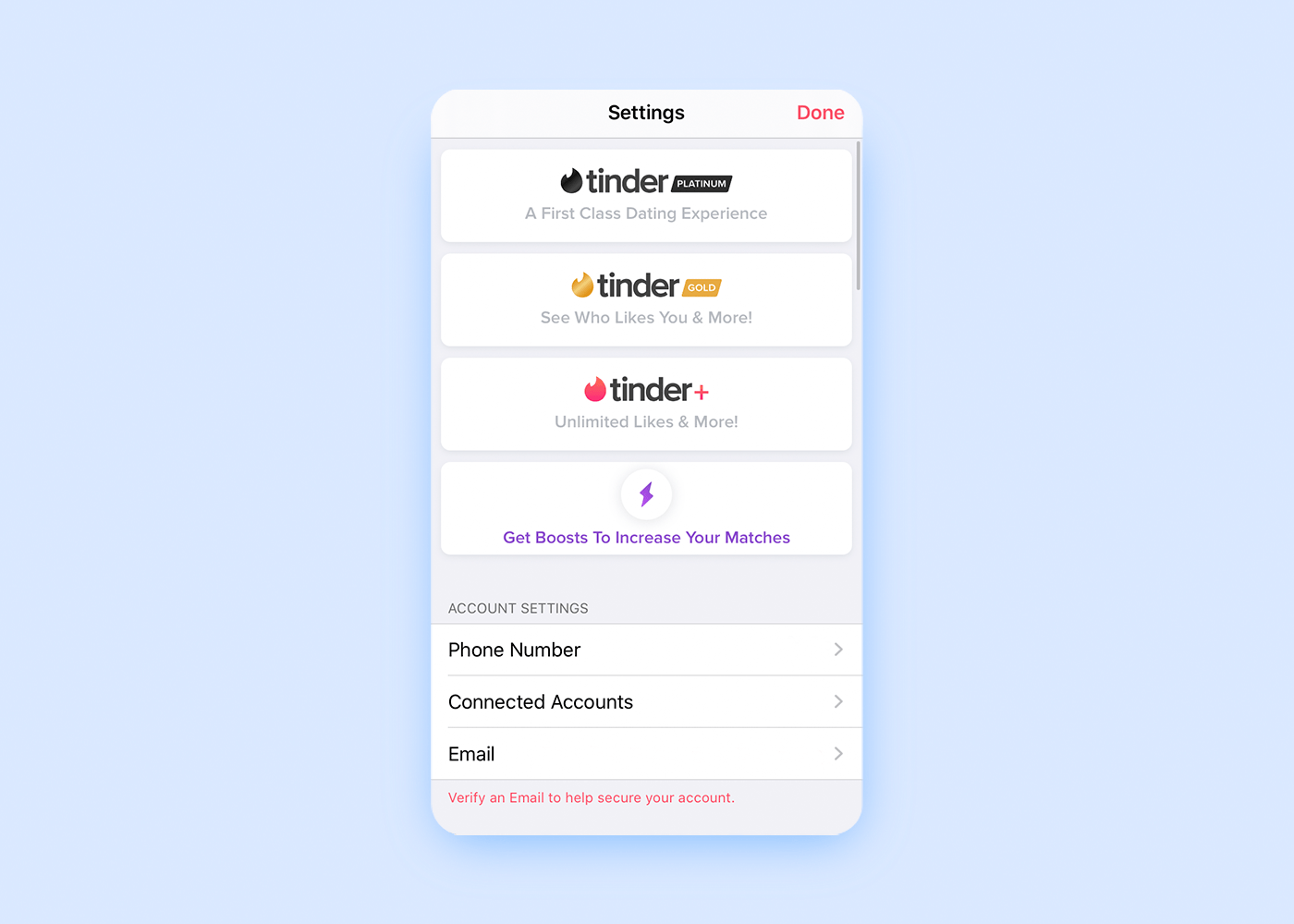 Let's talk about money. How do dating apps make money?
There are numerous monetization strategies if you decided to make your own dating app. Recently Tinder revealed their earnings  reporthttps://ir.mtch.com/news-and-events/press-releases/press-release-details/2020/Match-Group-Reports-Fourth-Quarter-2019-Results/default.aspx for 2019 – the company made $1.2 billion on swipes and matches. The app has several ways of making money:
Profile upgrade.

There are three options: Tinder Plus, Tinder Gold, and Tinder Platinum, and each of them has its own benefits. Let's take Tinder Gold as an example – the upgrade allows users to enlarge the searching area, look for people in different regions, and see how many likes they have gotten. The cost of this feature varies from $ 15, 00 to $ 83.99, and depends on location, age, and gender. The app gives you a choice – you can subscribe, or make a one-time purchase.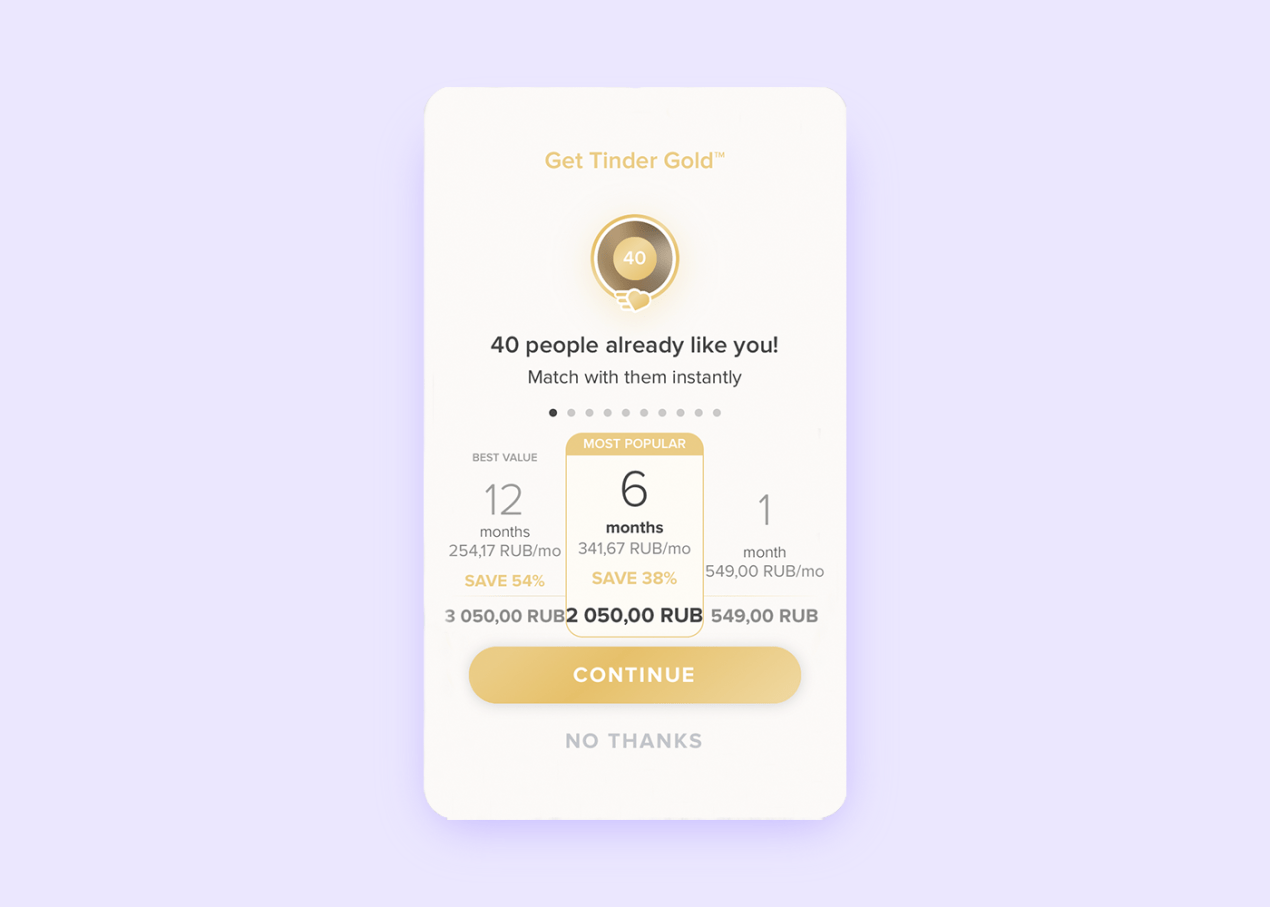 Interface upgrade

. Same idea – if you accidentally swiped someone to the wrong side and want to rewind, Tinder will offer you to upgrade your plan to access extra features like rewinding.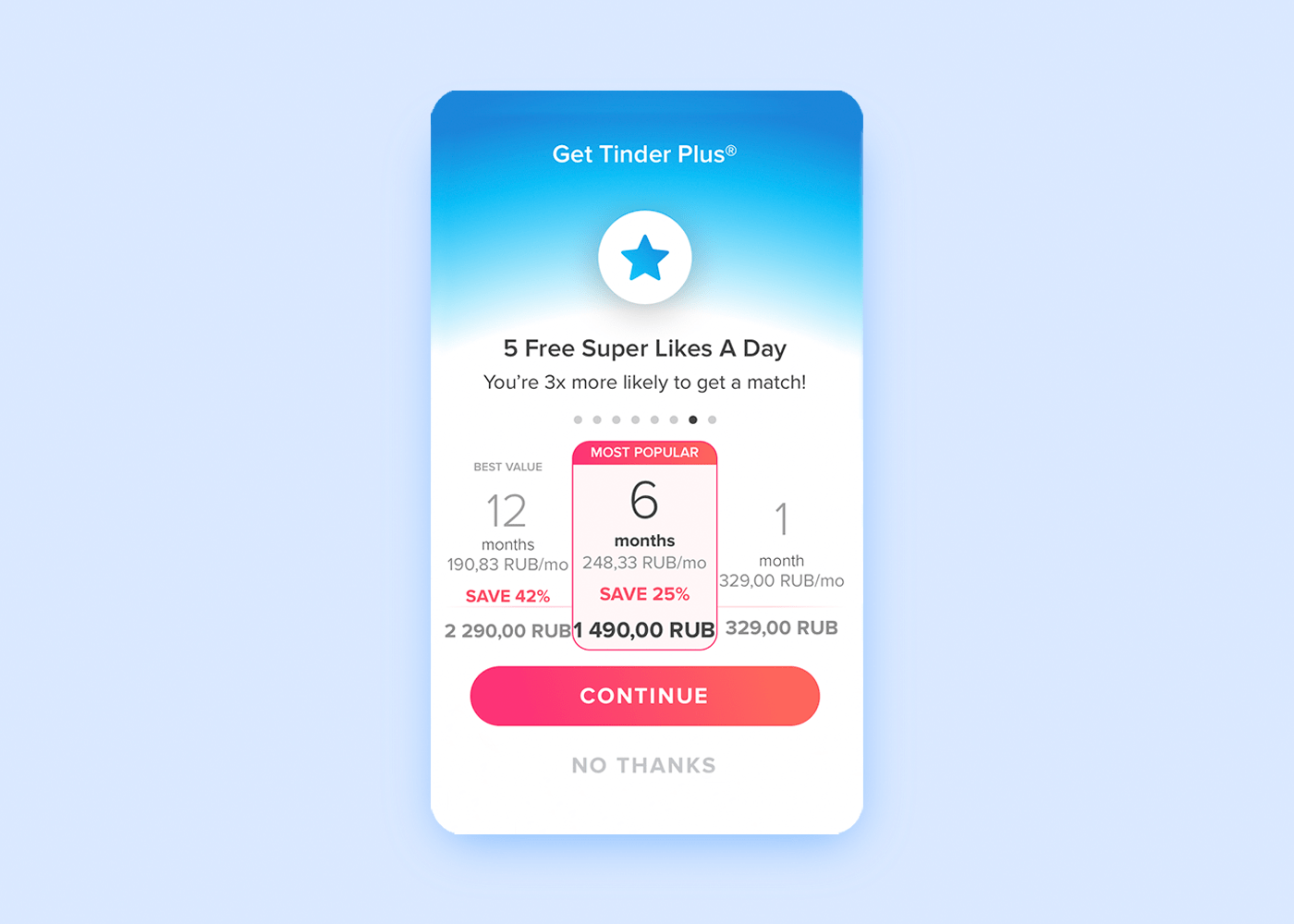 Ads that occasionally pop up between swipes. Dating apps serve as perfect marketplaces for brands because you can collect and analyse users' data and their behavior in order to suggest advertisers a suitable selection of target audiences for their product needs.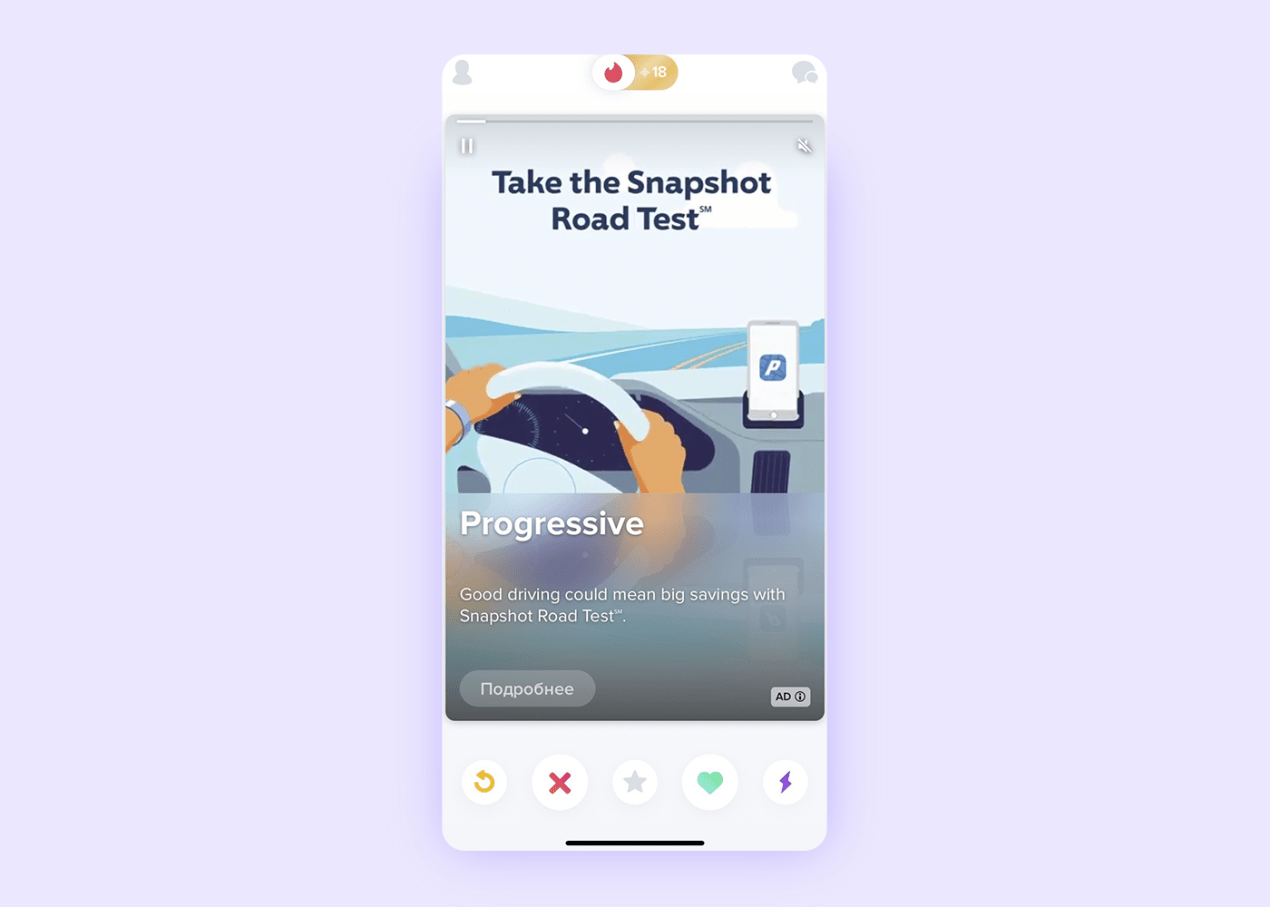 How much does it cost to create app like Tinder?
If you got to this part of the article, then we definitely convinced you that dating apps are a trending sector of mobile platforms, and the perfect time to hire a development team and create one is now. Let's discuss the budget and calculate how much money you need for dating app development in 2022.
The general rule is the bigger development team you hire and the more complex an app you want, the more you have to pay for dating app development.
Well, the good news is at Purrweb we work with React Native framework that allows us to make a dating app like Tinder really quickly and to involve one team and reuse the majority of the code for both iOS and Android operating systems. This approach saves tons of time and money for our clients.
Our mission is to try to make the process of dating app development for our clients as transparent as possible, and we always openly discuss all future steps. The average dating app development time for the Purrweb team is 4 months. Let's do math now!
When you create dating app with us, you will pay for:
UI/UX-design (including  everything you want — from gamified elements like swipeable Tinder cards to quizzes on an idea about a future partner)

Frontend development (we use React Native to cover a larger market by building an app for both iOS and Android)

Backend development

Project management

(to distribute the tasks over developers, supervise all of the elements are finalized on time and to reports to our clients)

QA Testing

(to perform tests on every part of a mobile app, find any possible bug that might occur, and get rid of it before the official launch)
Overall, the team of 6 people will work on your dating app development. 1 UI/UX designer, 1 backend engineer, 2 frontend engineers, QA engineer, and 1 project manager. Here is the timeline with prices:
⚠️ This is an estimation for an average dating app with a basic set of functions built by the Purrweb team. If you decide to develop an app with us, we will recalculate the final costs of the development several times. Why would we do that? In case you want to add or take out extra features when approving concepts or mock-ups.
Stage
What we are doing
Estimation in hours
Estimation in weeks
Approximate costs

Project estimation

We discuss an idea of your dating app and estimate the costs and time needed

20 hours

–

no costs

UI/UX design

We map users' journey, come up with design concepts for each step, and present them to you

140

5 weeks

6100$

Development stage

Our team works on the architecture, the interface on both client and server-side and the admin panel

820 hours – app

200 hours – admin panel

10 weeks – app

In parallel with dev – admin panel

40800$

QA Testing

We search for any possible bug and fix it before launch

250 hours – in parallel with dev

10 weeks

4500$

Project management

Assign tasks, controls deadlines and removes any bumps from the road

In parallel with project

In parallel with project

500$ – design

2500$ – dev
Overall, if you have an idea of a dating app, the development services will cost you around $54,400 and will take approximately 4 months.
Each function timeline break-down
As we already talked about key functions and why they are important for a successful dating app, here comes the time to talk about how long they take to develop and what the price consists of.
Below you can find an estimation of how long it would take for our team to develop each feature for a dating app for both iOS and Android 👇🏼
⚠️  It doesn't include the architecture, code reviews, matching list and store publications. Only the key features. Settings and Admin panel were not described in the sections above as they go by default in such apps.
| | | |
| --- | --- | --- |
| Feature | Back | Front |
| Social sign-in | 24 | 24 |
| User profile | 40 | 40 |
| Geolocation | 24 | 12 |
| Matching + Swipes | 72 | 48 |
| Chatting | 80 | 80 |
| Push notifications | 40 | 8 |
| Settings | 24 | 24 |
| Admin Panel | 100 | 100 |
The final set of functions for a dating app will depend on your idea, target audience and use case scenarios. We will discuss what your solution needs and help you define must-haves and will-not-haves.
Key in your e-mail address to get a full breakdown of the estimation with all details
Thank you! You will be contacted soon!
According to similar projects we have made, the estimated cost of a dating app like Tinder is from $80,000 to $100,000 for a full cycle of development. 
Where to find a  developer for my dating app?
We know that finding a reliable and trustworthy contractor is never easy. If you make a wrong choice, your launch might be delayed, the idea stolen and budget thrown down the drain. Who wants that?
That is why it is crucial to do research and learn about who you are going to work with. We came up with three well-known but often forgotten tips on how to do a background check on an outsourcer for your dating app.
Before hiring someone to

develop dating app

, we recommend Google a company name and check out their website and client reviews. Then visit platforms like Behance and Dribbble and thoroughly study their design works. Companies who value their reputation care about their online presence and showcase what they can. At Purrweb, we run the blog in order to help you learn about the experience we have in full-cycle app development.
Choose outsources who can

develop dating app

using React Native. The framework allows us to create two different dating apps with one code, while native UI-elements will make them perform like solutions built with Swift and Java. Our experience says if you want to test a business idea, React Native is the perfect solution that saves time and your budget. At Purrweb, the average time required to develop a fully-functional React Native app from scratch is 3 months. Once it's done, go share the product with users and get initial feedback or present it to investors and get financial support.
Trust your guts. After you read a company's blog and check the projects they've already delivered, listen to your inner voice. If something confuses you about a developer – it's better to keep looking until it clicks.
To learn how to choose a contractor and make sure they do not steal the startup ideas more, check out our article with the instructions.
Final thoughts 
The dating app market is a fast-growing and profitable place to begin your startup in 2022. The pandemic taught us to date online and existing services crave for new features like voice clips, video messages and calls and mutual online activities. It can be an option to watch a movie together, schedule a sweet and special message for morning or order flowers right in the app.  If you have been having an idea to develop an app like Tinder, the perfect time to start executing it is now.
If you are still on the fence, look at stats — the dating app audience is rocketing, and in 4 years it is expected to reach 270 million people across the world. Tinder made $1.4 billion in 2021 — more than Reddit, VSCO, Shazam, and millions of other apps.
In order to create dating app like Tinder, the first thing you are advised to do is to define your niche. Who do you want to lure to your network and why? Then figure out key elements – feel free to use our list of 6 features your app needs, or just ask us about specific details for your upcoming project.
About us
Purrweb provides high-quality solutions and the fastest time-to-the-market. Our main expertise is MVP, a minimum viable product, that helps startups validate a business idea and collect feedback for real-work users.
We will be happy to help you develop dating app. With us, it will take you 4 month to create app like Tinder and will cost you around $54,400. You can check our portfolio with previous projects and reviews here.https://www.behance.net/search?search=purrweb If you're ready to start, fill in the form below and we will contact you within 24 hours.