What makes online dating apps so popular?
A dating app is a mobile platform that connects people with certain interests — romance, dating, casual sex, or just friendship. The software usually allows users to browse photos and contact each other through chats and video calls.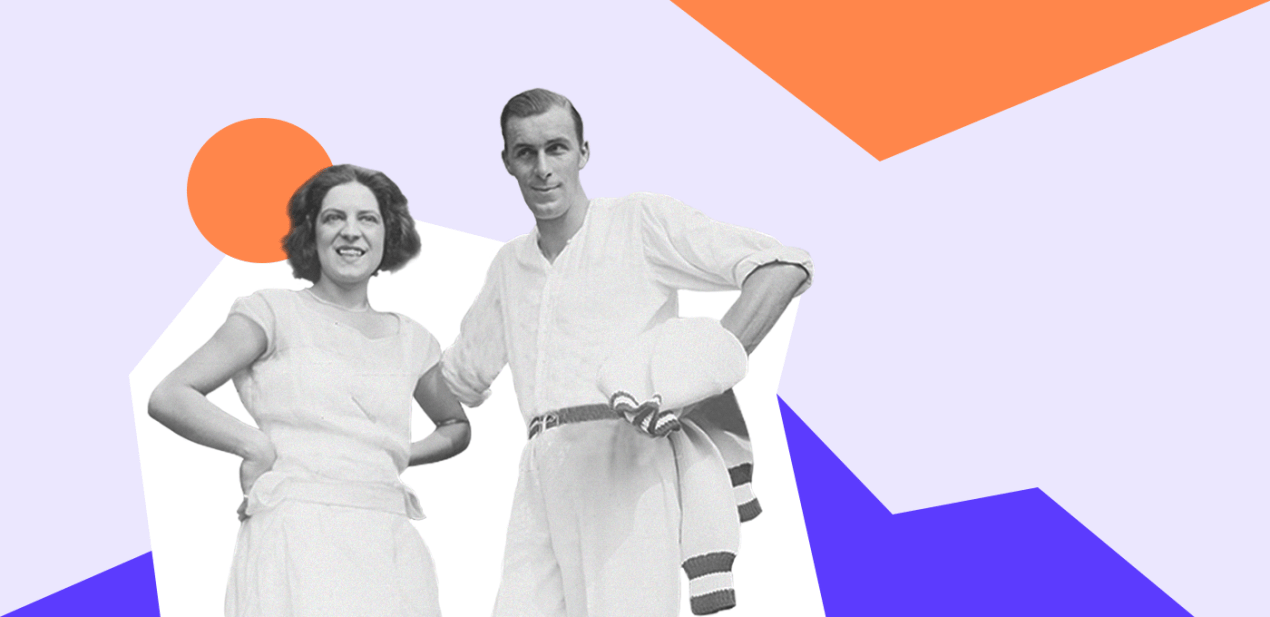 In the beginning, there were dating websites. In 1994 kiss.com was launched, followed by match.com in 1995. After the era of mail-bride order services, it was a revolution.

Dating websites removed a middleman between partners-to-be and left them with tons of options on their own. Since match.com was launched, 75 million people have registered on the website and more than 1.78 million of them pay for their subscription. Then came eHarmony, PlentyOfFish and OkCupid.
Tinder's appearance in 2012 revolutionized the online dating market and stimulated the growth of online dating platforms, especially mobile dating app development. The company turned a process of searching for a partner into a fun game. Users were offered to swipe cards with photos of the candidates — to the right if they want to connect, or to the left if they prefer to dismiss. Now people spend hours looking at the profiles of potential partners, reading their bios and swiping on profiles.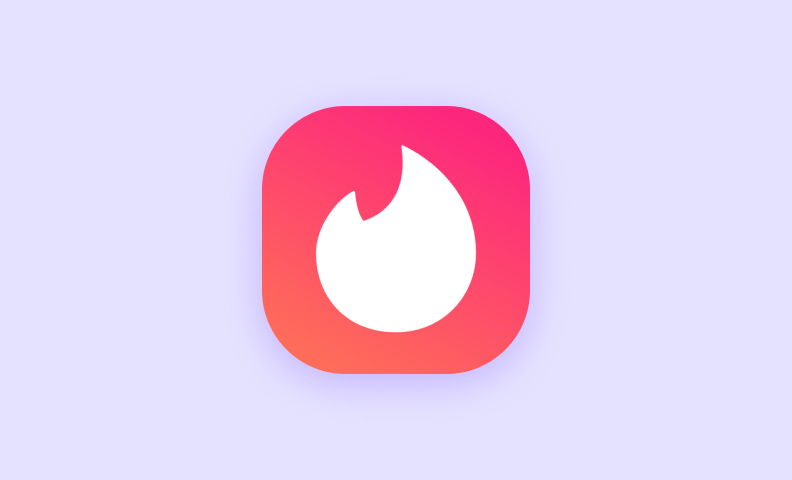 Statista says today around 300 million people around the globe use various online dating services. By 2024 it is expected to increase by 352 million users, alongside growing interest from the investor's side. That is why if you have been thinking about the idea to create a dating app, now is the time.
Researchers say, now more than 39% of people find their significant others online. A recent study conducted jointly at Stanford University and the University of New Mexico says that using a dating app like Tinder or websites like match.com is the most popular way for American adults to meet their partners.
The global dating service market is growing rapidly and, according to data, it is expected to surpass $ 8.4 billion by 2024. 
During the pandemic, romantic connections moved online, and they are not coming back. People prefer to see and evaluate their potential partners on video chats before meeting them for the first time. Why waste time filtering candidates on first dates, when you can just open an app with video or voice chat like Bumble, Badoo, The Intro, etc., and see if there is chemistry between you two?
Let's see what the numbers say. We gathered some interesting statistics and facts about apps market:
❤️ According to a recent study, 56% of responders plan to continue or start online dating more in the upcoming years.
❤️ Users under 30 spend at least 10 hours a week swiping on an app.
❤️ Tinder gets over 6.5 million downloads every month and remains the most downloaded in the United States.
❤️ The United States, India and China generate the biggest revenue on online dating apps.
❤️ It was reported that Tinder has over 6 million paid subscribers. 
Overall, there are 7.9 billion people on the planet and existing services do not cover all diverse age segments, regions, and interests. If there is the best and most profitable time to launch and develop a dating app and hire a development team, it is right now. So, here's the things you should know, before you start to create a dating app of your dreams!
Wondering how much does it cost to develop your dating app?
After 300+ completed projects, we can design an app in any niche — from dating to IoT. Contact us, and get a free project estimation in 48 hours.
Contact us
Target audience of dating applications
Let's talk about the target audience. For successful mobile development of an app that will become popular and eventually will draw the attention of investors, you need to know who will use a solution and why. We researched multiple studies on the demographics and user experience of dating platforms and created a portrait of a perfect swiper. You may be surprised to hear, but online dating is popular among various age groups: from 16 to 65+ everyone uses some kind of a dating application nowadays.
An average user is 25-34 years old, male, single and lives in a city. Usually, by that age, people have already graduated from college and got a job, some of them even make it to the senior level. It means only one thing: this audience is able to pay for premium services and extra features.
According to a study, 62% of the most popular dating apps' audience is male and only 38% are female. Most of them are not in a relationship, but not all — 30% of users are married and 12% are in a relationship, statistics say. Surprise!
76% of users belong to the urban population, while 17% live in suburbs and 7% reside outside big cities and towns. As we mentioned, age groups are different and lay out like this.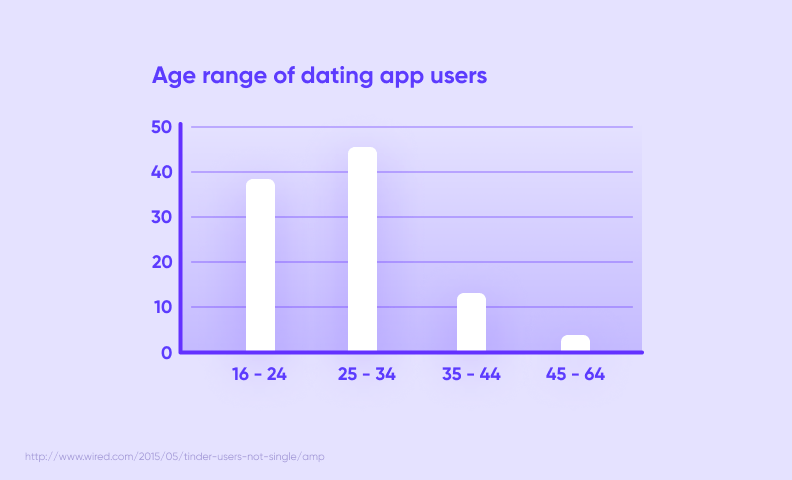 In general, dating apps are the most popular among millennials who are looking for meaningful connections online. Demographics show that users on the platform usually have enough income to pay for extra features and engage with the content more. 
Dating mobile app development is not easy. Even though the market is fast-growing, it is also saturated. That is why the first thing you should do is market research in order to analyze user experience and find the right niche. Maybe you want to build a dating app for dog lovers and match them by breed they prefer? The key to success with such services is to find your audience and target them with your app. You can do that through things like: polling other dating app users, communities, Google Analytics, e.t.c. Define your potential users and the dating app type to start mobile development.
How do popular dating apps work?
The main idea of the dating app is to connect people who are looking for love or other pleasures. How to match them up? There are lots of ways but they all can combine into 3 general categories. You can choose one of them or create your own algorithm and build a dating application. 
Geolocation.

It matches you to people who are in a certain geographic location. For example, Tinder with customized proximity that allows you to set if you want to see people who are no more than 5/10/20/50 kilometers away. The Bumble app also uses the same idea.

However, if you want to expand your geography and look for people in other cities and countries, it is also an option, users just need to pay for an upgrade

😉

Questionnaire-based.

Matching algorithm-based apps ask their users to complete a survey about their values and expectations. Then, a machine algorithm uses the answers to match people. That is how eHarmony's online dating site and app work. Also, there is a Tastebuds.fm app that matches people based on their music preferences. Basically, there are infinite ways to create a new user experience, you just need to find what's important for people. 

Niche-based.

Niche dating apps are targeted to a specific group.  You probably know about Pure — an anonymous app for hookups. As they say on their website: "Pure is for when you're looking for an after-dark adventure, not a relationship. It is quick, direct, and discreet." That is the perfect description for the niche they have occupied. 
Current apps are usually a mix of all these types, but we recommend using this classification when defining the audience and main features for your app.
| | |
| --- | --- |
| App category | Example |
| Geolocation networks | Tinder, Bumble, Hinge |
| Questionnaire-based  | eHarmony, Tastebuds.fm |
| Niche-based | Pure, Grindr |
Essential features of Tinder-like dating apps
After you figure out the category of your dating app, it's time to think about key features of dating mobile app development. 'What to include?' has always been the question, and we have the answer. Here is a list of 5 features you should definitely implement when you make your own dating app.
A personal profile. It makes the first impression in online dating, therefore users spend a lot of time choosing a profile picture, writing a smart and funny bio, or picking their hobbies. Some apps even went above and beyond and came up with unusual features for a user profile. For instance, Tinder allows users to sync up with their Spotify accounts and add favorite artists to the profile description.
Another example is Hinge that introduced voice chats and prompts in the bio in October 2021. With this feature, users can add a short audio clip, up to 30 seconds, to their personal profile to help people get to know them better and users can decide if they like the sound of their voice, before a first date.
The launch of the voice prompts impacted the engagement and the marketing strategy of the dating app development. The feature went viral on TikTok, attracted new users, and brought attention to the update — around 46% of the audience have tried the prompts and 13% of newcomers skipped the onboarding to go straight to the audio.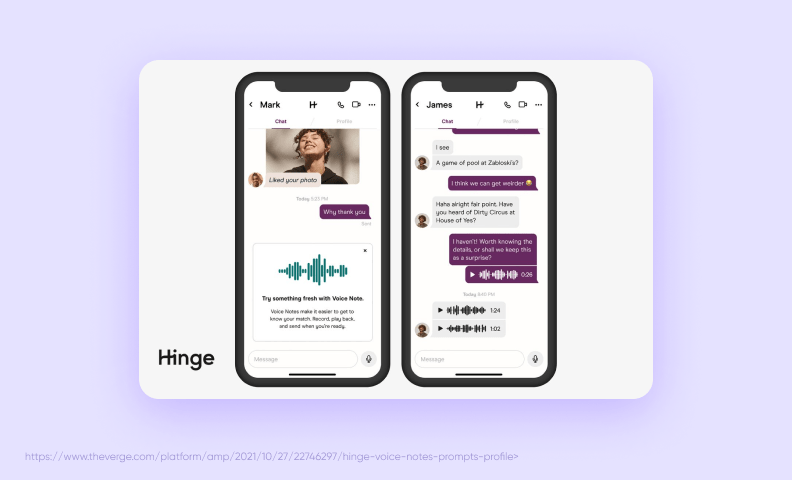 Social media integration. We recommend thinking about privacy and reliable background checks beforehand, and one of the best ways to do that — is social media. Generally, apps like Tinder implement social media account integration and thus pass the buck to Facebook. In the best-case scenario, you can find people's real names, schools and friends list there. Some apps, like The League, rely not on Facebook, but on LinkedIn. Others require identification. When it comes to dating and personal data, safety is one of the major concerns, and background checks are crucial. Users entrust their photos, location, and sexual preferences to you, and they expect it to be secured. You should figure out what works best for you and how you want to authenticate users on your dating app – with a mobile number, social media account, ID, or reference code from someone they personally know – options are unlimited.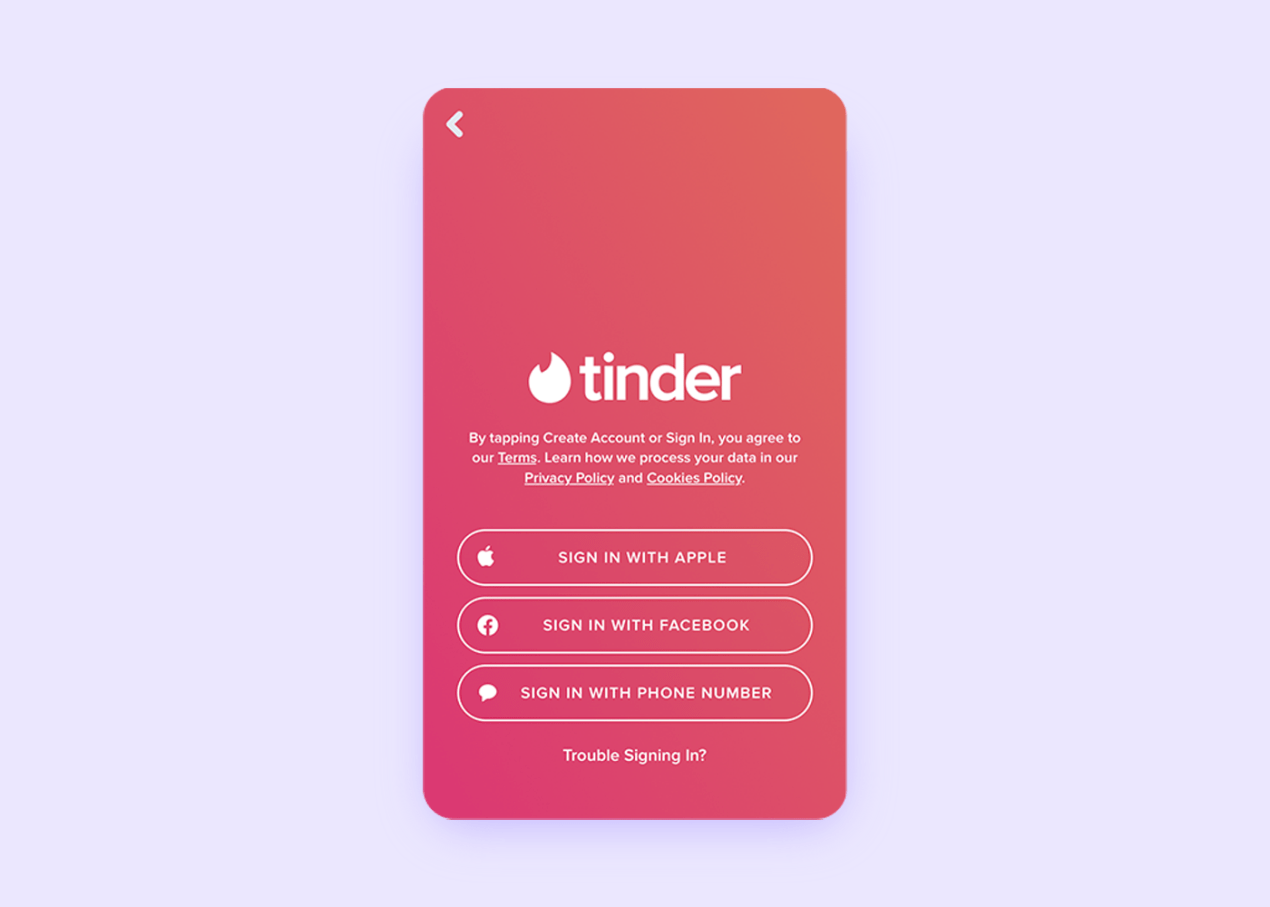 Geolocation features. Let users decide how far they want their match to be. Maybe, their dream partner lives in France, Spain, Mexico or even Bali? Don't limit the choices. Implementation of this feature will also help your app increase the customer retention rate (CRR) — with broadening the area in which people can discover new dating app accounts to look at and swipe. To identify user location, Tinder utilizes the smartphone's GPS or data from the WI-FI network connection.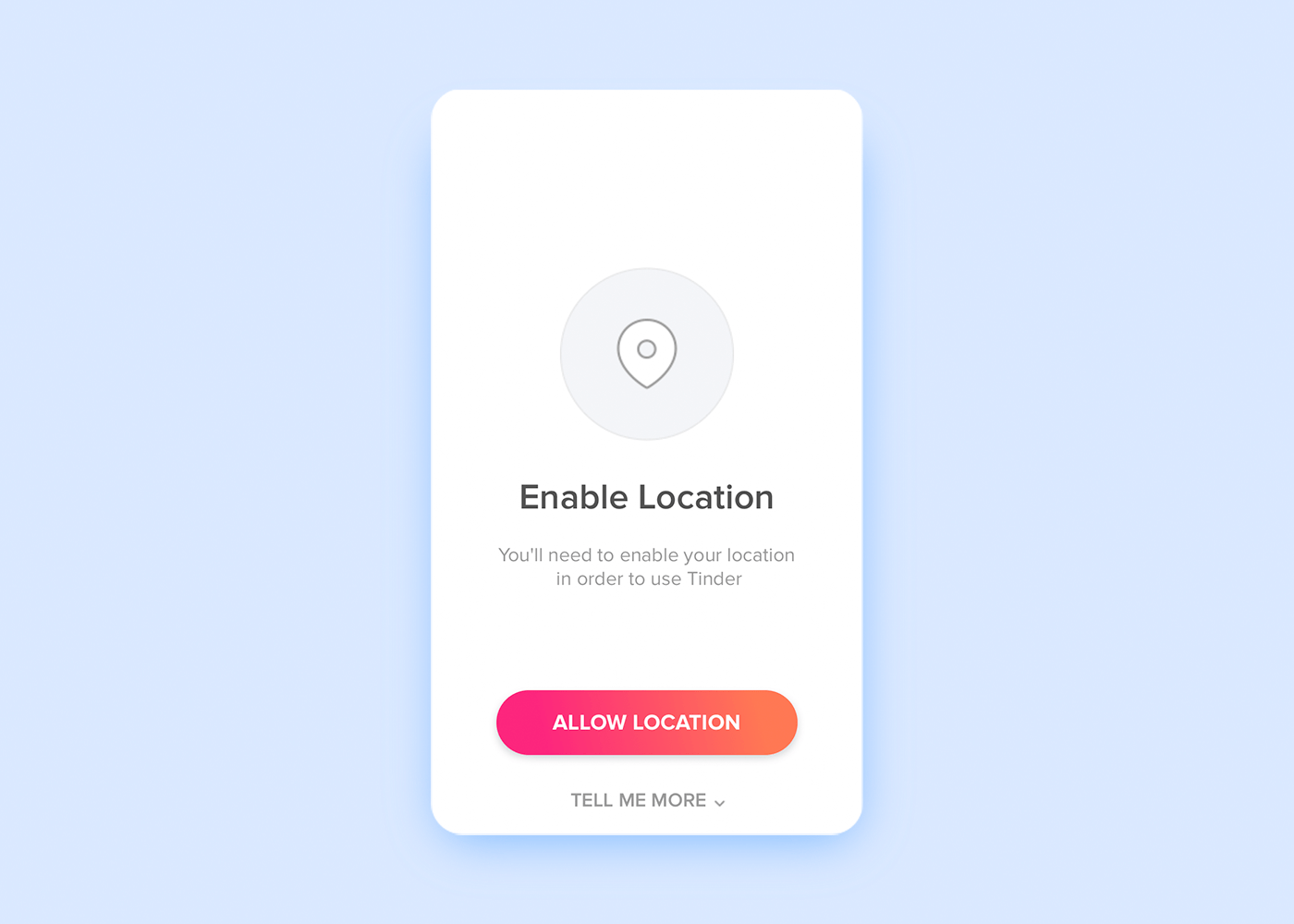 Matching algorithm. Two things should be defined before you start dating app development – how to match and how often to match. For instance, some apps use survey-based algorithms, based on questionnaires people fill in about their lifestyle, hobbies, work, romantic preferences, and goals to achieve. Tinder uses a user-driven swipe – to the right if you like a person, and to the left if you want to move on.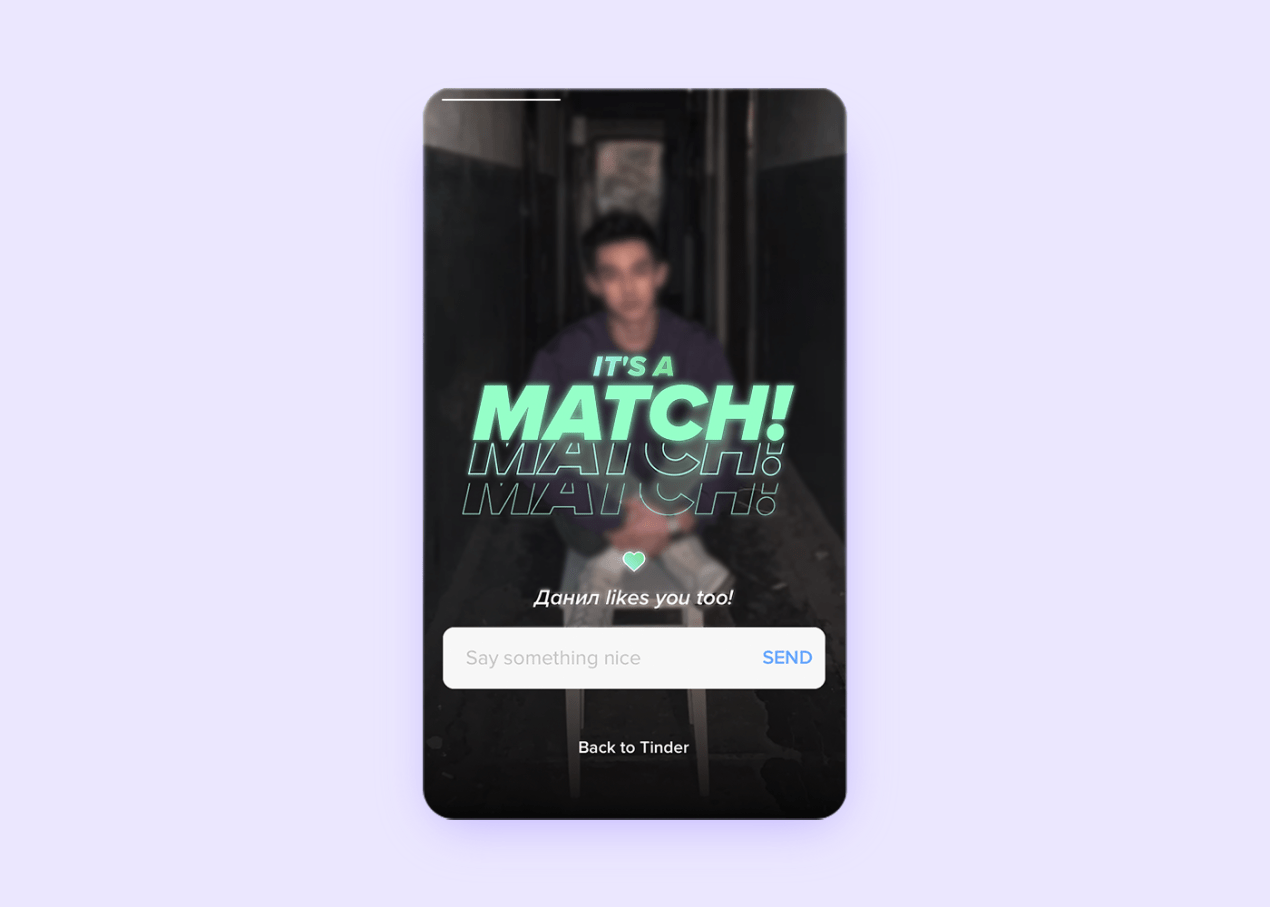 Push notifications. They help to increase a dating app's engagement. It can be notifications about a new match, a new message, or just a friendly reminder to check the app.  As a provider, we recommend using Apple Push Notifications Service for iOS, and Google Cloud Messaging (GCM) for the Android app.
Ice Breakers. In-app messaging functionality is essential for a successful dating app. Apart from the ordinary chatting interface, it is important to keep in mind that many people get nervous or anxious about starting a conversation. 
To help users start a conversation, you can suggest some questions to ask a potential partner. For instance, "What is your favorite day of the year and why?", "If you win a million dollars, what would you spend it on?" or "What is your dream getaway?". This will give users ideas of what to ask about and will make them feel more comfortable and even thankful to your dating application.
Also UI/UX design and copywriting can be your solution that helps users with the communication problem and spark an interest in sending a text first. Try to keep it positive and empathetic — relationships are related to emotions, and that is where users tend to feel anxiety and lack of assertiveness.  Also, you can try to utilize voice and video calling features to push the communication possibilities to the next level.
Premium options. They are a way to earn money and offer users to pay to unlock some extra features. For example, the basic plan on Tinder allows you to see people who are up to 100 km away from your current location, but with Tinder Gold, you can choose any location and look for your perfect match in specific places like Paris, Istanbul, Los Angeles, or Seoul. Or maybe voice and video calling can become your stand-out premium feature. For people that don't want to waste time on dates, if there's no chemistry with the other person.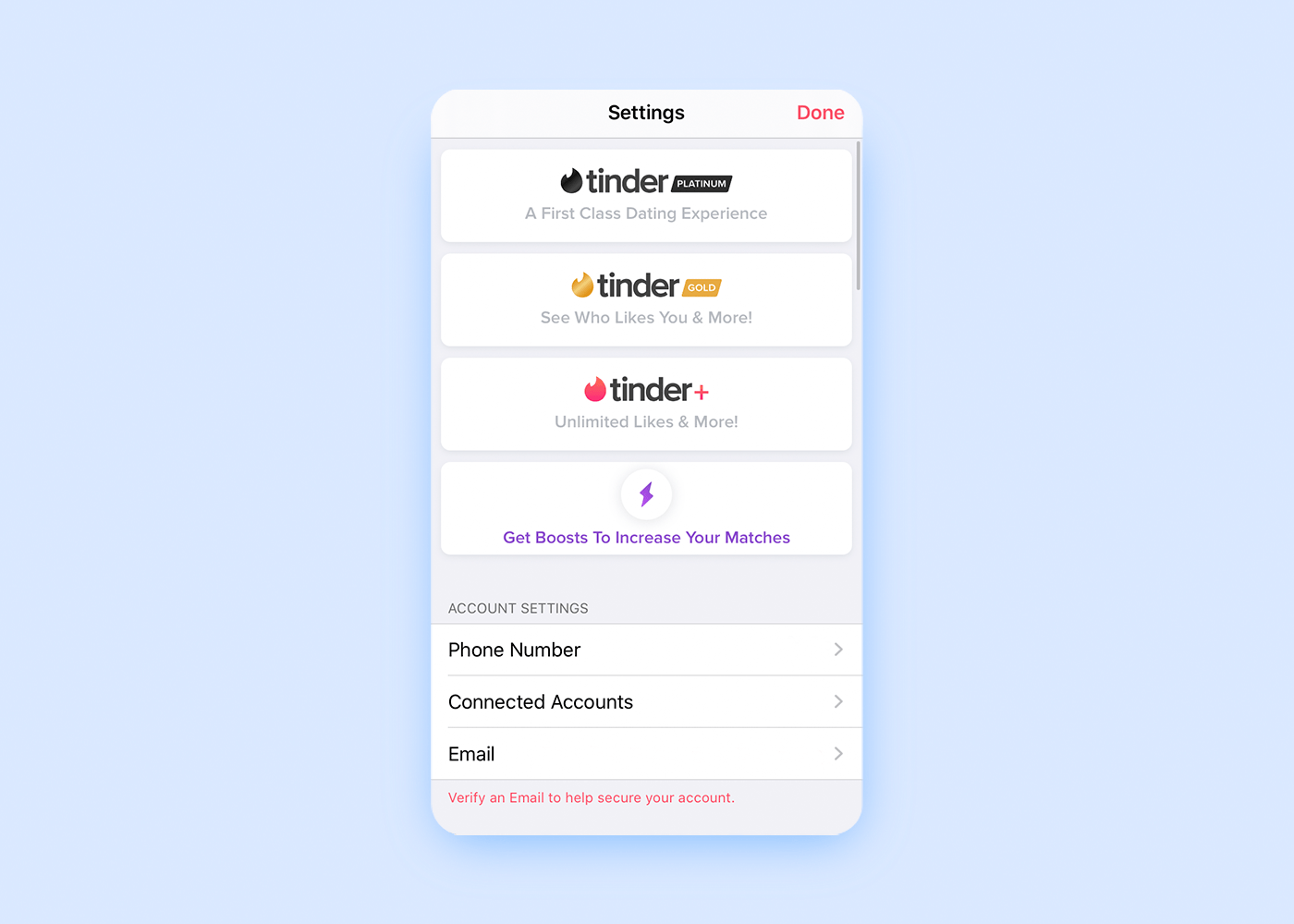 How to monetize your dating app
There are numerous dating app monetization strategies if you decided to make your own dating app. Recently Tinder revealed their earnings  report for 2019 – the company made $1.2 billion on swipes and matches. There are several ways of boosting your app purchases:
Profile upgrade.

There are three options: Tinder Plus, Tinder Gold, and Tinder Platinum, and each of them has its own benefits. Let's take Tinder Gold as an example – the upgrade allows users to enlarge the searching area, look for people in different regions, and see how many likes they have gotten. The cost of this feature varies from $ 15.00 to $ 83.99, and depends on location, age, and gender. The app gives you a choice – you can subscribe, or make a one-time purchase.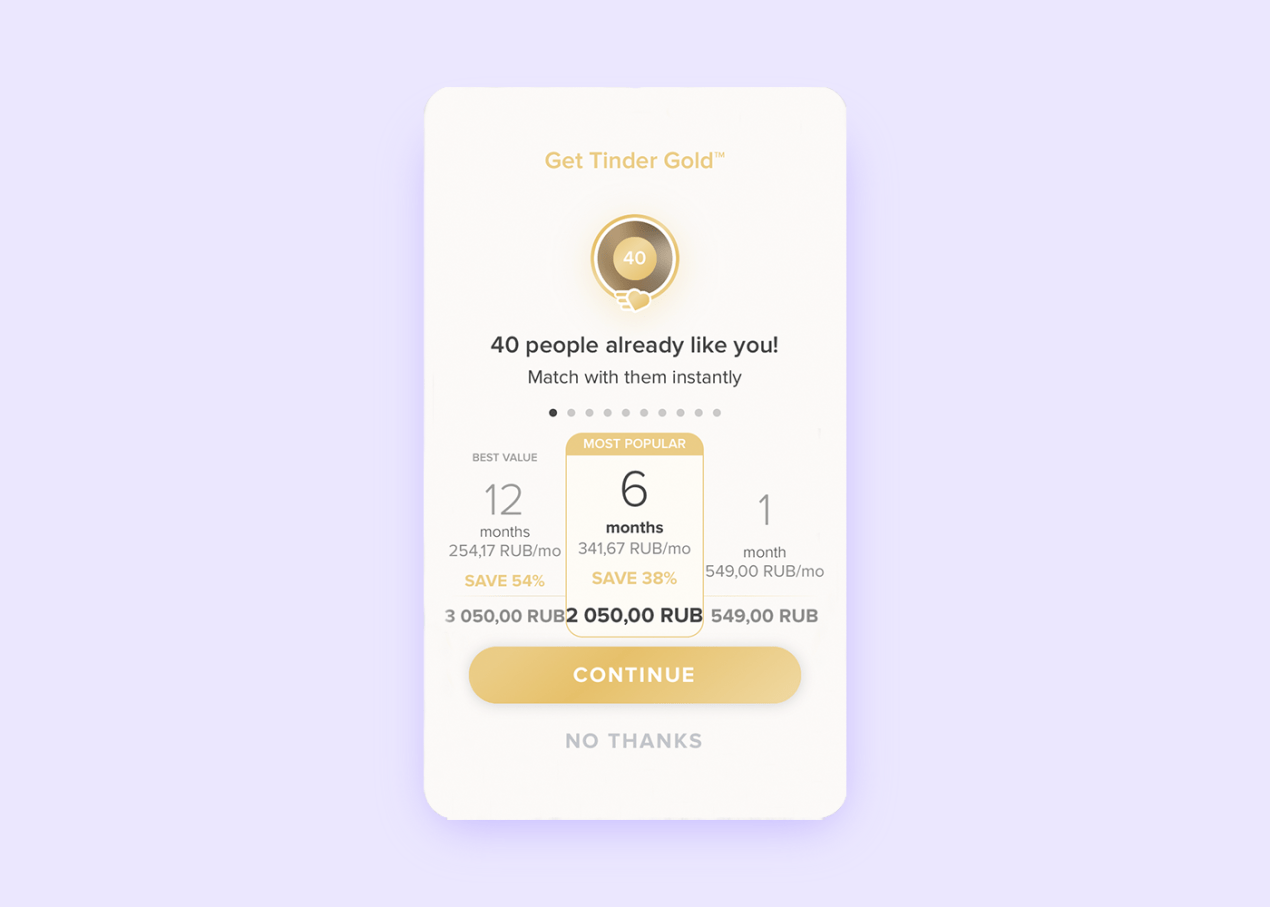 Interface upgrade

. Same idea – if you accidentally swiped someone to the wrong side and want to rewind, Tinder will offer you to upgrade your plan to access extra features like rewinding.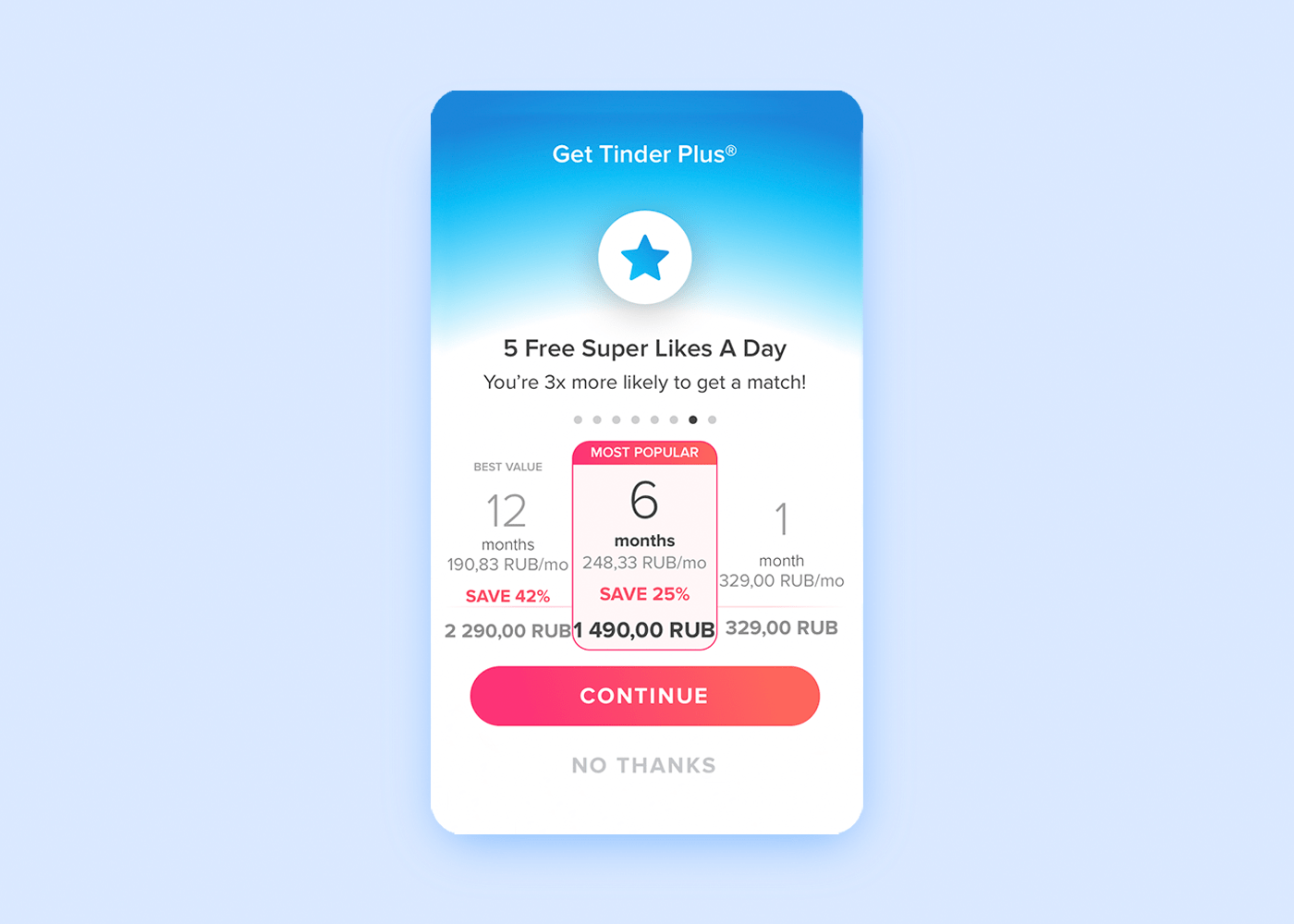 Ads that occasionally pop up between swipes.

Dating apps

serve as perfect marketplaces for brands because you can collect and analyze user

behavior

 

and their

data

 

in order to suggest advertisers a suitable selection of target audiences for their product needs.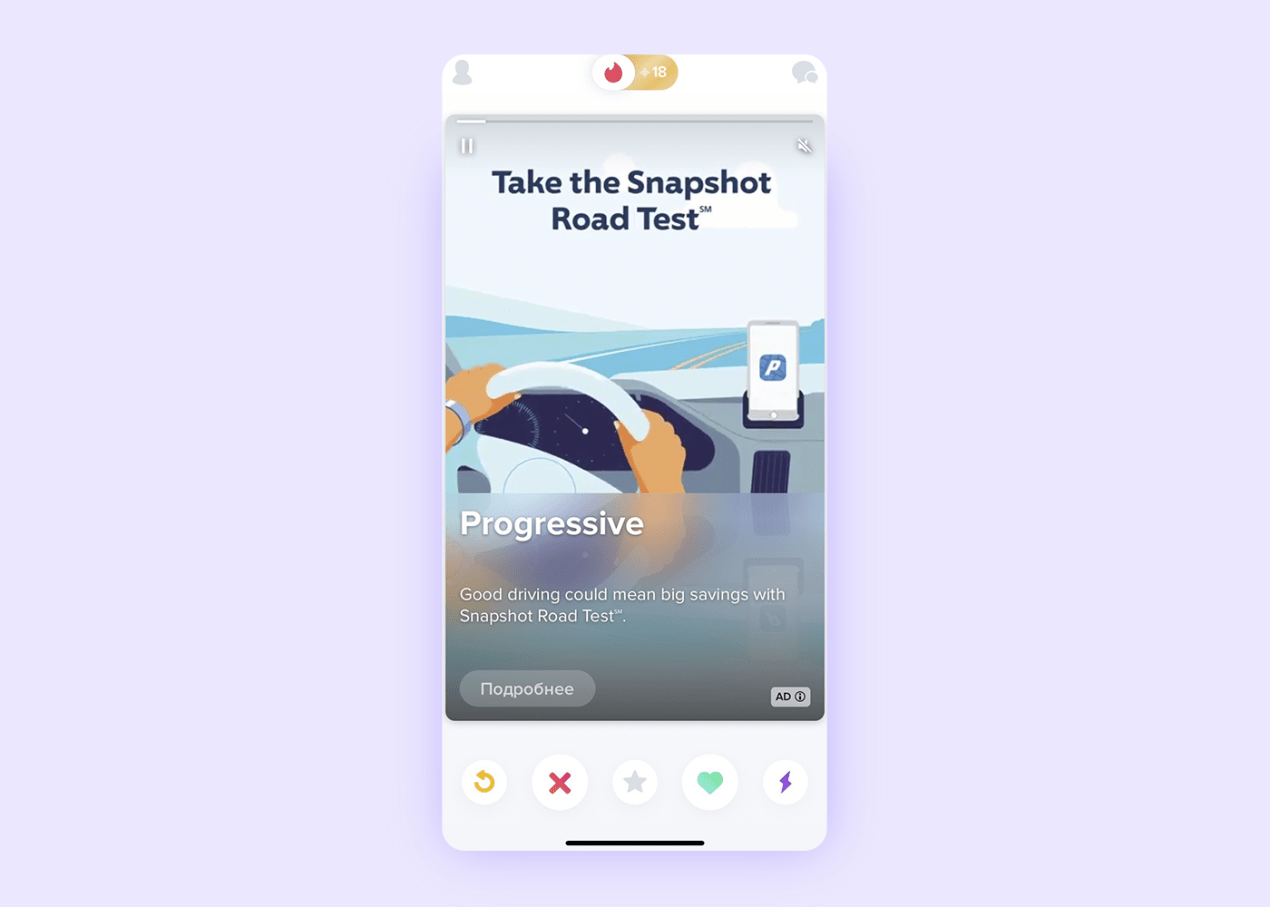 How much does dating app development cost?
If you got to this part of the article, then you agree with us that dating apps are a trending sector of mobile platforms, and the perfect time to hire a software development team and create a dating app, is now. Let's discuss the budget and calculate how much money you need for dating app development in 2023.
The general rule is the bigger mobile app development team you hire and the more complex an app you want, the more you have to pay for the development.
Our mission is to try to make the process of dating app development for our clients as transparent as possible, and we always openly discuss all future steps. The average development time for the Purrweb team is 4 months. Let's do the math now!
When you create a dating app with us, you will pay for:
UI/UX-design (including  everything you want — from gamified elements like swipeable Tinder cards to quizzes on an idea about a future partner)

Frontend development (we use React Native to cover a larger market by building a location based dating app for both iOS and Android)

Backend development

Project management

(to distribute the tasks over developers, supervise all of the elements, to ensure they are finalized on time and to reports to our clients)

QA Testing

(to perform tests on every part of a mobile app, find any possible bug that might occur, and get rid of it before the official launch)
Overall, the team of 6 people will work on your dating app development. 1 UI/UX designer, 1 backend engineer, 2 frontend engineers, QA engineer, and 1 project manager. An average dating app with a basic set of functions built by the Purrweb team costs around $54,400. We develop minimal viable products because it is the faster and more safe way to check if your idea works. If it turns out to be in demand, you can always put additional functions and develop the application to the ideal. To create a dating app that's fully packaged is several times more expensive and has more financial risk if something goes wrong. 
We can recalculate the final dating app costs of the development in case you want to add or take out extra features when approving concepts or mock-ups.
| | |
| --- | --- |
| Stage | Approximate costs |
| Project estimation | no cost |
| UI/UX design | 7000$ |
| Development stage | 45000$ |
| QA Testing | 7200$ |
| Project management | 9900$ |
The best technology stack for developing a dating app
Fast development speed is fundamentally important for any dating app startup. To achieve it, consider what technology stack you choose. At Purrweb we work with the React Native framework that allows us to make a dating app like Tinder, quicker than if we used other technologies. Thanks to React Native we also don't need to involve two teams in building a dating app for iOS and Android. Instead, we create two different dating apps with one code, while native UI-elements will make them perform like solutions built with Swift and Java.
For React Native, there is a huge library of native UI elements that make a dating app as native as full-format versions. It also works with real OS functionality, such as camera, microphone and GPS. Your users won't feel any difference. Moreover, React Native has a large community and a wide ecosystem. This allows you to quickly eliminate errors and expand functionality.
Our experience says if you want to test a business idea, React Native is the perfect solution that saves time and your budget. At Purrweb, the average time required to develop a fully-functional React Native app from scratch is 4 months. Once it's done, go share the product with users and get initial feedback or present it to investors and get financial support.
To learn how to choose a contractor and make sure they do not steal the startup ideas more, check out our article with the instructions.
Tips on design and architecture of dating apps
To make a successful dating app UI/UX design, you need to embody your audience. Think about what's important to them, because every decision you make will revolve around it. To better tailor your app to your audience, look into:
User profiles. Profiles are the most important part of every dating app, since users will spend most of their time looking at them. Think about the balance between personal information and user photos. It makes sense to prioritize appealing images on a casual dating app like Tinder, but not so much in an app for people who look for their soulmate.
 Communication methods. Communication is the main feature of a dating app, so make sure to think about a way to encourage the conversation and help people create meaningful connections.
Gamification. While it might seem unimportant, gamification can be very beneficial. The most used gesture in mobile apps is a swipe, and where do you swipe more than a dating app? Tinder is an obvious example of gamification in dating UI/UX design. The process can be very stimulating and rewarding, if you can spare some budget for these features.
If you want to learn more tips on how to make your dating app design better — check out our article on it.
A step-by-step dating app development guide
It's easy to create a successful app when you know your target audience and their requests and have a dating app development team that you can trust. If you dissect this big task into small steps, it will make the process even easier. Here is a step-by-step guide on how to make a dating app.
Step 1. Find an idea
For that, you need to understand what people are missing now in dating apps. Research or even your personal experience will help you figure this out. The main thing is that the problem should concern a lot of people, and your idea really solves it.
Step 2. Plan the project
In this stage you define the app's functionality, choose the way of mobile development (MVP or full packaged app), find a team, and budget the cost of dating app development.
Step 3. Create a design
You need to think about how your dating app design. It is better to offer the team a number of references that will help them more accurately implement the idea. UI/UX designers will then check how usable it is. It is important to make the user experience as simple and comfortable as possible.
Step 4. Develop the app
The team, using different programming languages and frameworks, will develop the filling of the app: the frontend — what is visible to the user and what he can use, as well as the backend, which stores all data on the server.
Step 5. Test the app
Before the release of the app, it is necessary to give it to QA testers. They will find possible bugs and report them to the dating app developers for fixing.
Step 6. Release the app and get feedback
Now when everything is ready, launch the app in the App Store and Google Play. Don't forget to collect feedback from users after some time. This will allow you to improve the app, add important features and as a result increase the audience even more.
How do dating apps create matches?
Dating apps use algorithms to create match suggestions. With the information you provide, including personal info (like geolocation and age), preferences you set, and how active you are on the app — these apps try to find the best possible match for you.
Many say that dating applications are limited exactly because of their algorithms, since romantic relationships are almost impossible to predict. Others still think that with the amount of people on the planet — we shouldn't waste our time on a random chance, and start with finding the best match possible.
So what exactly are the most widely used dating app matching algorithms? We've broken it down below:
Elo rating system
Originally created to rate chess players, the Elo rating system served as the foundation for the Tinder algorithm. As revealed in a 2019 blog post, an "Elo score" was formerly used by Tinder's algorithms to measure how well other profiles engaged with yours. Tinder "scored" you according to the way potential matches swiped on you, in addition to recording your individual Likes (right swipes) and Nopes (left swipes).
However, the Tinder blog claims that the ELO score is no longer used. According to the blog post, actually using the app is the user's most crucial action. The longer you use Tinder, the more information the app has about you, which should allow the algorithm to learn more about your personal preferences. The more time you spend using the app, the more often prospective matches will see your profile.
Gale Shapley algorithm
Hinge is a dating app with a slogan: "designed to be deleted", so it doesn't have swiping, or an Elo rating system. Hinge's director of relationship science, told Vice that Hinge uses the Gale-Shapley algorithm. This Nobel-prize winning algorithm was created to use in "trades" that can't be done with money. Things like organ donations and assigning medical graduates to their first hospitals.
It works something like this: How can we pair up 10 single women and 10 single men? Let's tell one group to pick their first choice, if they get rejected — they move on to their second choice. This will continue until there's no one left who wants to get matched.
One of the algorithm's major advantages is that it creates a stable matching, where none of the unmatched elements prefer each other over their current partners. This eliminates scenarios where two people are matched but have a mutual preference for another person.
Like with Tinder, Hinge's matching algorithm is not about the profiles you swipe on, it's about how potential matches interact with your profile. And, just like Tinder, the more you use Hinge the more the algorithm understands who you're interested in, which can get you better matches.
Hybrid methods
OkCupid is one of the oldest dating sites that has the most robust user profiles of all its competitors. Before OkCupid date matching went one of two ways:
A search function presented users with a series of profiles to read based on their preferences.

Only a small number of randomly selected profiles were presented to users each day by the algorithm.
OkCupid went with a hybrid of these two methods. They used a matching system that also gave users the option to search through profiles and even had their compatibility percentage with other users, displayed right on their profiles. 
On OkCupid, you can build the most thorough profile, with over 4000 questions and over 60 sexual orientation and gender options. If it's important to you — you can display it, so your best possible match can find you.
Using the answers you provided, OkCupid calculates a match percentage with other users to see how compatible you are. Basically, you'll have a high match percentage if another user shares your search preferences and question-response patterns and is seeking the same things in a romantic partner. 
You can see your match percentage with the other person on every profile, so you can immediately have an understanding of how like-minded you are.
| | | | |
| --- | --- | --- | --- |
| | Elo rating system | Gale Shapley algorithm | Hybrid methods |
| How it works | It scores users according to how potential matches swiped on their profile, in addition to recording their own likes and dislikes. | It tells one group to pick their first choice, if they get rejected — they move on to their second choice. This continues until there's no one left who wants to get matched. | Combines features of different algorithms, in order to get the best possible result for the user. |
| Pros | Easy to implement, straightforward and the most commonly used | Creates a "stable matching" scenario | Completely customizable and a perfect fit for niche apps |
| Cons | Ratings heavily rely on user's appearance, which can ruin their experience with the app | Hard to find a reliable way for users to quickly get to know each other and make the right decision | It can take a lot of time and money to fully develop and implement |
Let's start the dating app development process today!
We look forward to hearing from you. Contact us for a free project estimate within 48 hours.
Начать
How to attract new users to your dating app
You can get new users to your app through many different sources. The main ones are organic and referral traffic, and social networks like Reddit or Facebook. Let's get deeper into each source.
Organic Traffic Strategies
Generating organic traffic involves making your app's presence and content as appealing as possible to consumers without the use of overt advertising. To draw users in a genuine way, it's essential to use strategies like app store optimization (ASO), high-quality content creation, social media engagement, influencer marketing, and encouraging user-generated content.
Referral Traffic Techniques
Users recommending your app to their networks are what drive referral traffic. Your traffic can be greatly boosted by setting up a well-organized referral program. To do that, you can start working with companies with similar target demographics, and form partnerships with influencers. These tactics encourage current users to spread the word about your app and tap into larger networks, increasing user acquisition and building a sense of community involvement.
Leveraging Reddit and Community Engagement
You should be careful and respectful when you start using websites like Reddit. You can tap into Reddit's user base, by: becoming an active member of relevant subreddits, sharing anonymized success stories, offering valuable insights, and occasionally advertising in alignment with subreddit guidelines. This strategy positions your app as a solution within the community, encouraging trust and recognition among potential users.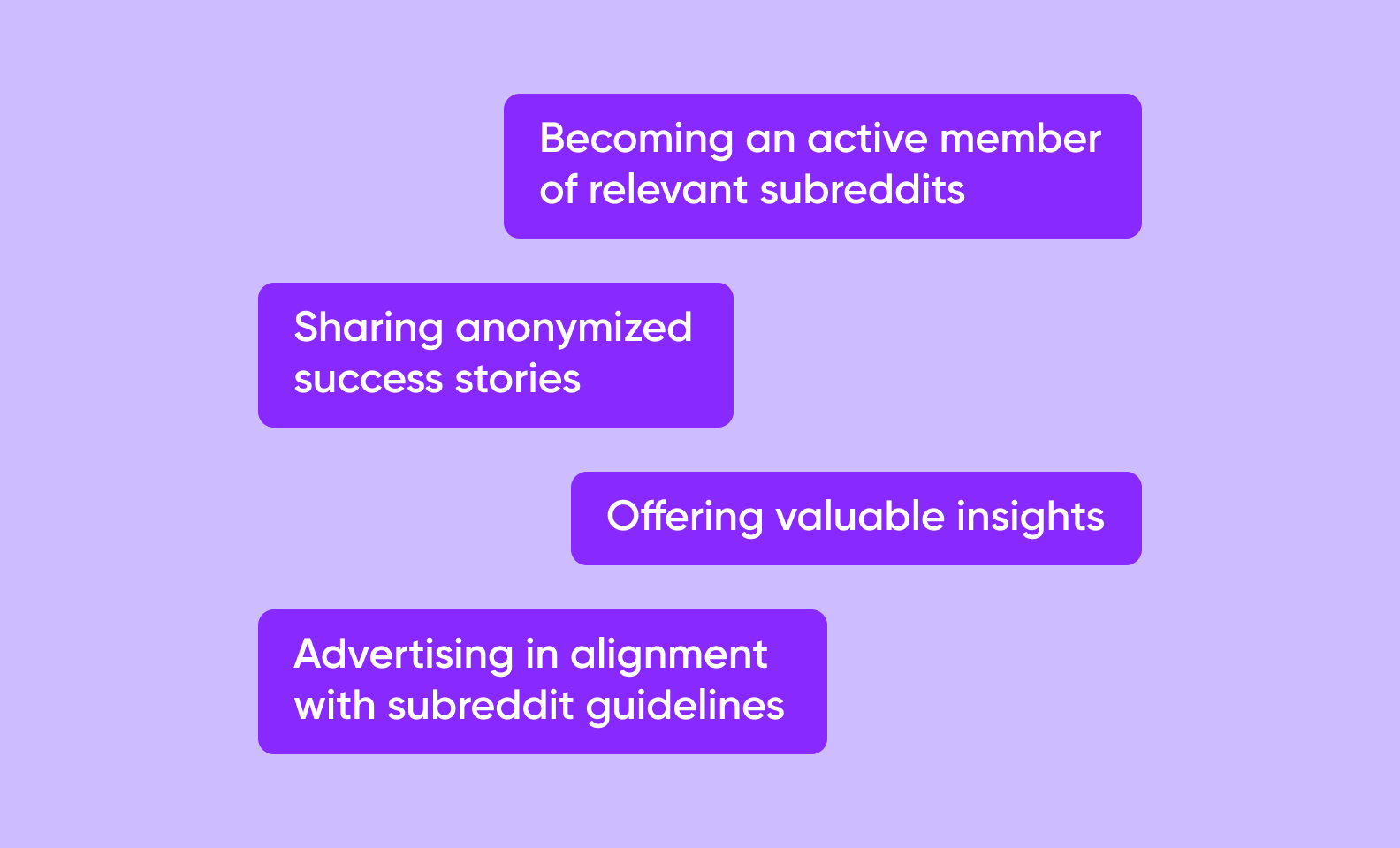 While each of these strategies can be very effective, only combining them will ensure an ongoing stream of new users for your app.  
Develop your Cross-platform dating app with Purrweb
The dating app market is a fast-growing and profitable place to begin your startup in 2022. The pandemic taught us to date online and there is an appetite for new features like voice clips, video messages and calls and mutual online activities. It can be an option to watch a movie together, schedule a sweet and special message for morning or order flowers right in the app. If you have an idea to develop an app like Tinder, the perfect time to start executing it is now.
If you are still on the fence, look at stats — the dating app audience is rocketing, and within 4 years it is expected to reach 270 million people across the world. Tinder made $1.79 billion revenue in 2022, an 8% increase on the year prior.  More than Reddit, VSCO, Shazam, and millions of other apps.
In order to build dating app like Tinder, the first thing you are advised to do is to define your niche. Who do you want to lure to your network and why? Then figure out key elements – feel free to use our list of 6 features your app needs, or just ask us about specific details for your upcoming project.
We will be happy to help you develop a dating app. With us, it will take you 4 month to create an app like Tinder and will cost you around $69,100. You can check our portfolio with previous projects and reviews here. If you're ready to start, fill in the form below and we will contact you within 24 hours.