What is Snapchat
Snapchat is a social media platform that allows users to share disappearing "snaps,"  such as photos, videos, or drawings, as well as to tag location, send messages and add new friends. It started in 2011 with the idea to make an app for disappearing photos and videos. It launched onto the market as an iOS-only app called "Picaboo." After several months of testing, the founders relaunched the platform and changed its name to Snapchat.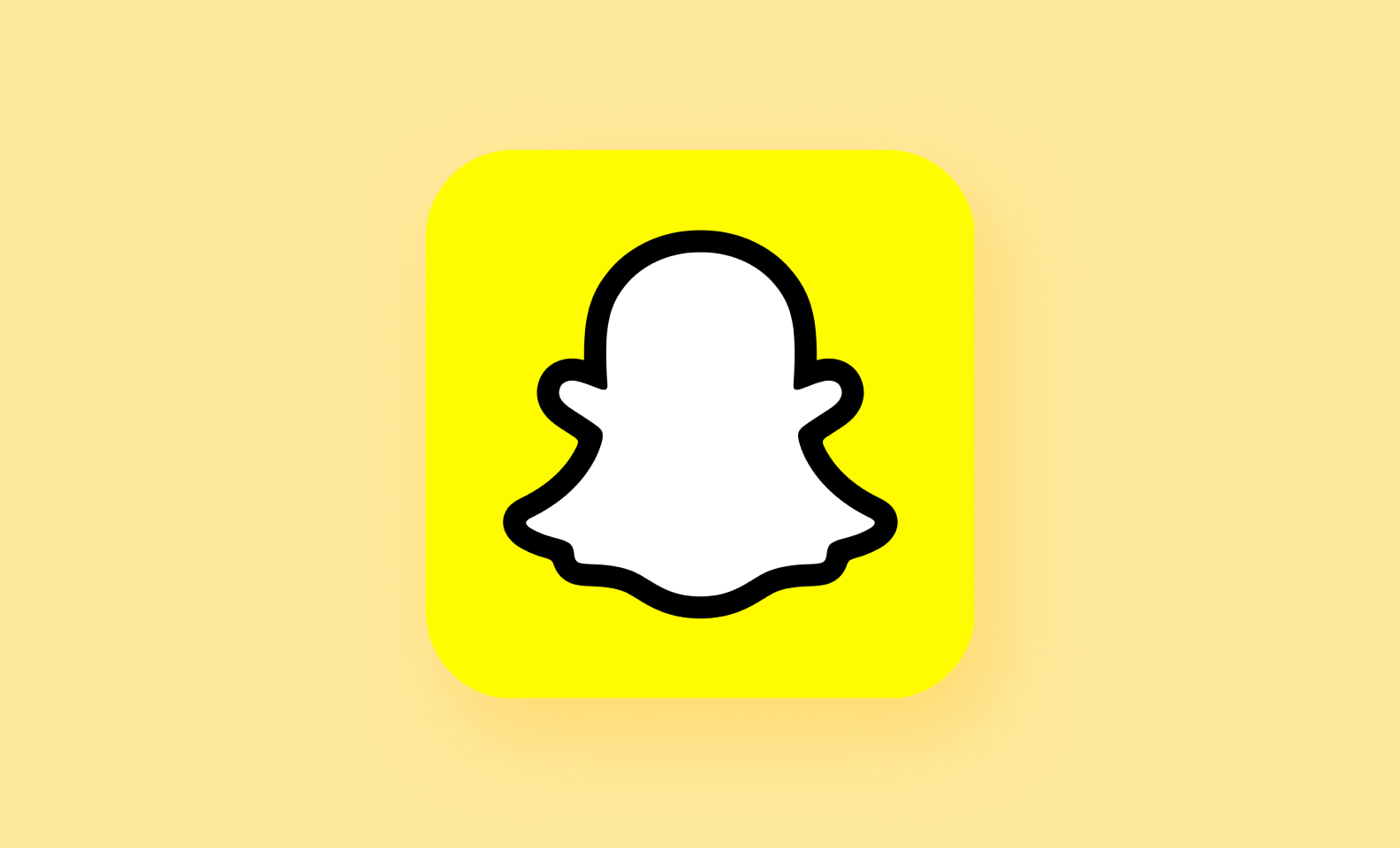 The founders named the logo "Ghostface Chillah", after a rapper Ghostface Killah from Wu-Tang Clan.
First, users could send only disappearing pictures that were available for 1-10 seconds. But as their mobile app development advanced, the team added new features, for example, video snaps, memories, direct messaging, and others. The app grew very quickly, and within one and a half years, the startup gained 10 million users with 20 million images sent per day.
If you want to know how to develop an app like Snapchat, we should discuss what attracted users to the platform and who they were. Let's dive in and break it down!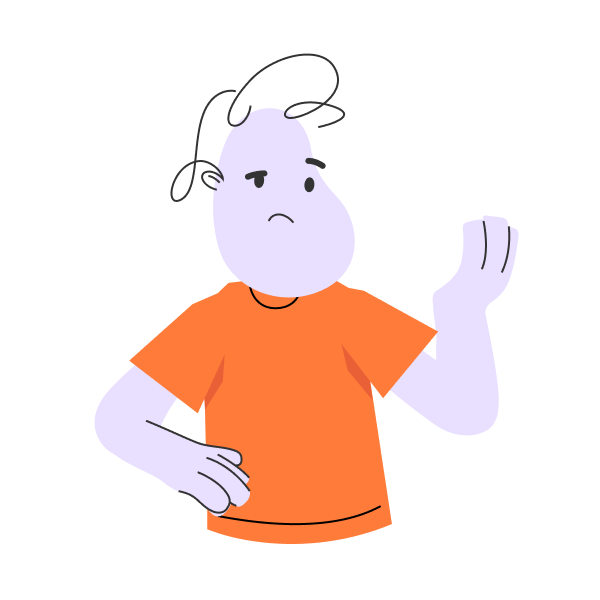 Snapchat isn't about capturing the traditional Kodak moment. It's about communicating with the full range of human emotion—not just what appears to be pretty or perfect
The core of Snapchat is its unique business model. It is based on content that can be seen only one time and disappears after a few seconds. This feature appeared way before Instagram introduced view-once direct messages, and was innovative and revolutionary for the time.
Originally, the founders thought about how to make it less stressful to post your life publicly. So, they positioned the app as a solution to unforgetful permanent social media. For example, if Facebook users regret they posted a photo and want to delete it later, they would have to spend time going through albums and selecting pictures. Snapchat users didn't have this problem, because images there don't stay permanently.
But some users disagreed and argued that disappearing photos cause fear of missing out. Over the years, Snapchat came up with another distinctive shtick — personalization. The app allows users to customize the content, and create their own look-alike avatars.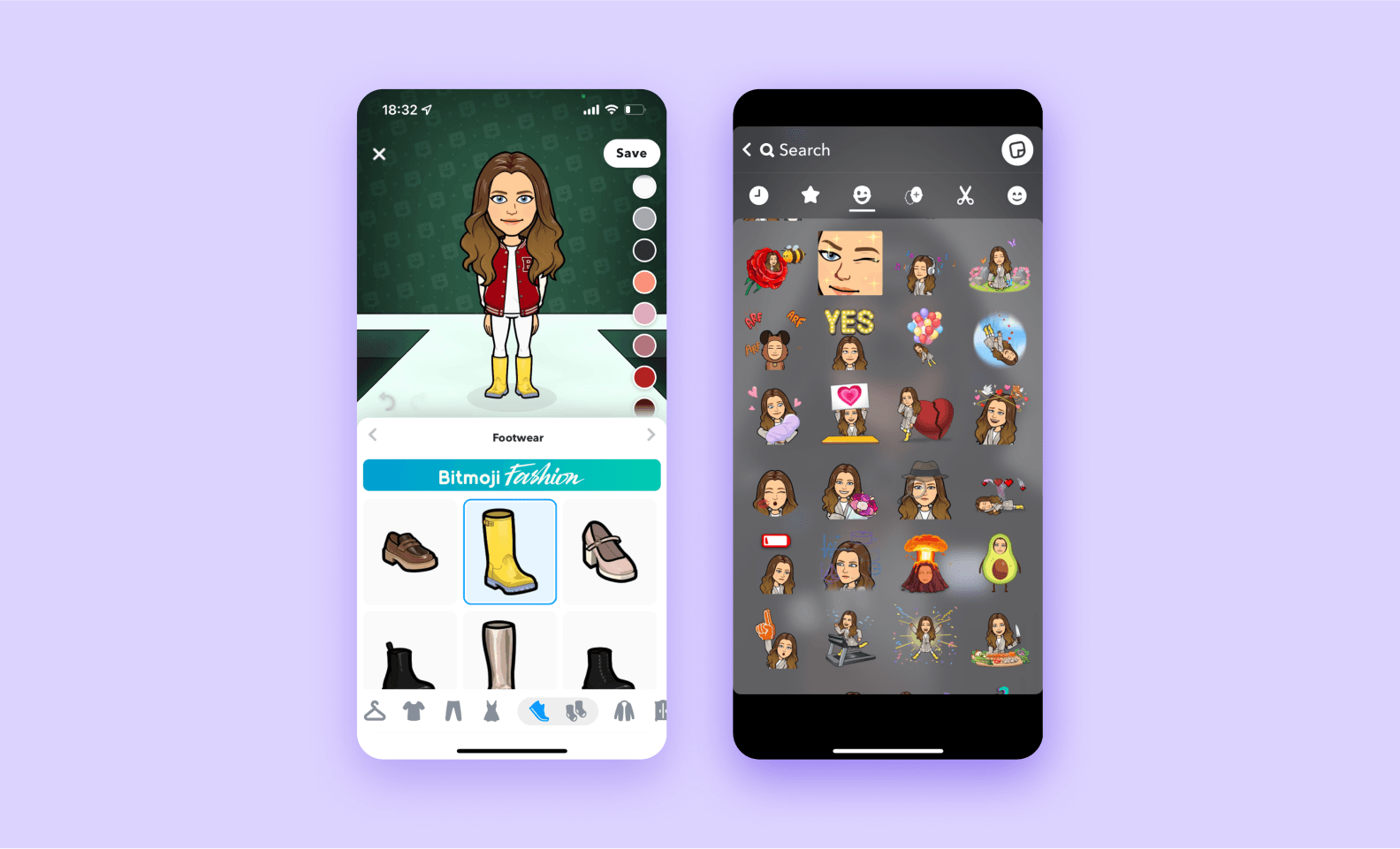 Here is how users can create their own Bitmoji avatar and turn it into stickers for photos and videos.
Who is Snapchat's audience?
If you are wondering how to develop an app like Snapchat and succeed in the social media industry, the key is to know your audience. Snapchat regularly launches global research and surveys to better understand who uses their app and how to make the platform more user-friendly. As of now, Snapchat has 319 million users globally.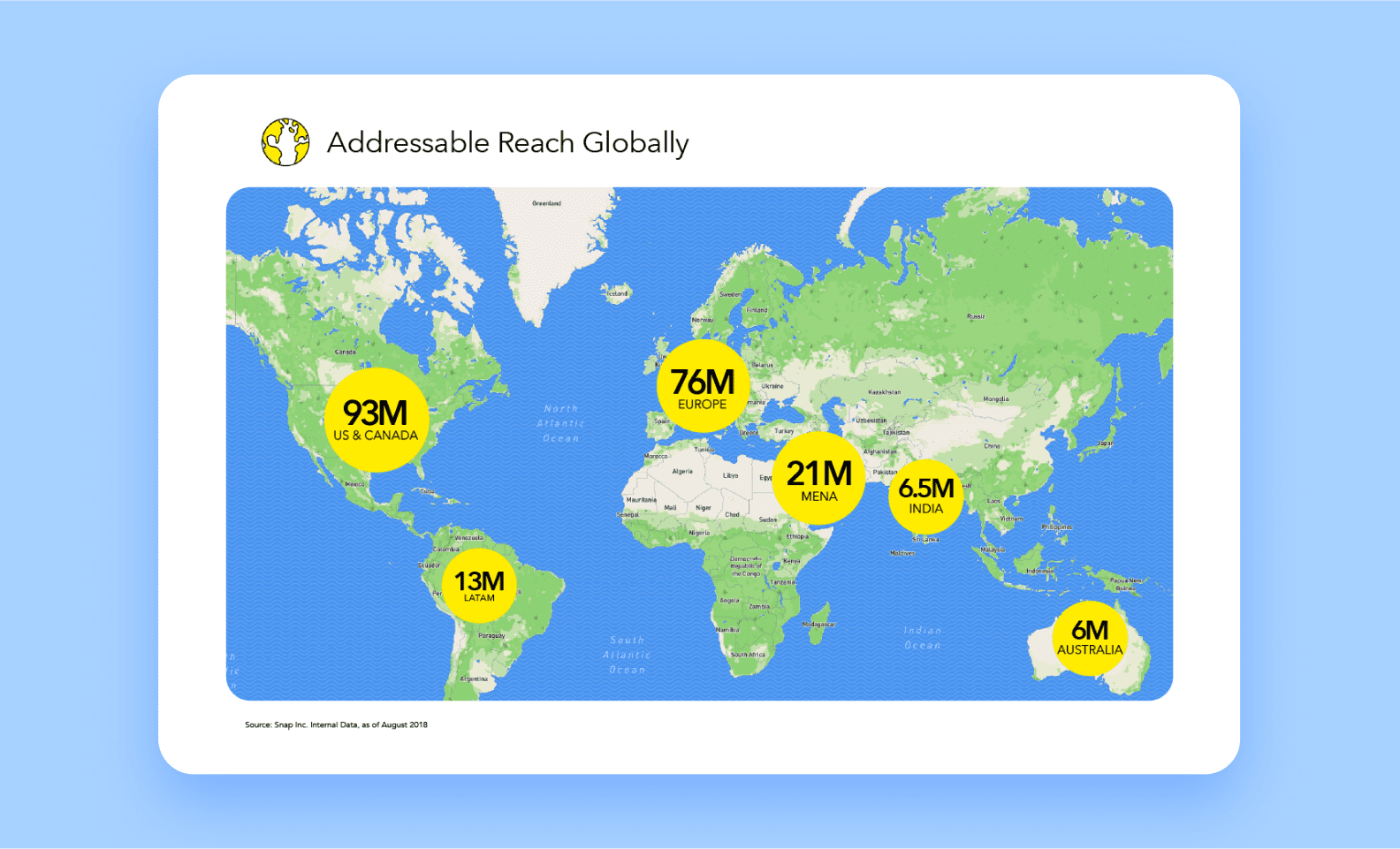 Snapchat's research on the global usage of the app.
As of now, most Snapchat users are from 18 to 29 years old and live primarily in the United States, India, or France.
The majority use the platform to post snaps and direct messages. However, some people take Snapchat as a dating app — a
study revealed that 55% of single respondents prefer the app for flirting over other social media.
According to data, 60% of Snapchat users tend to make impulsive purchases. The company is not only aware of these statistics but also uses them for its own benefit to create personalized ads and attract advertisers.
How does Snapchat make money
When you think about how to develop an app like Snapchat, it is important to consider how you plan to make money. Every year Snapchat grows its income and is on track to become profitable in the near future. Only in 2021, the app's revenue was $4.1 billion which was almost twice as much as the previous year.
99% of the income came from online advertising, while the remaining 1% was earned by selling smart glasses Snap Spectacles with a digital camera in the lens that records what a wearer sees.
Snapchat has an Ads Manager platform, similar to Facebook, where advertisers can create an ad, set up an audience, and budget, as well as track results, and check the analytics. To narrow down the right audience for their products, advertisers can adjust age, location, gender, choose typical behavior, influencers users follow, and content users interact with.
Overall, there are many types of ads on Snapchat. We will cover two of the most popular ones to give you an idea of how Snapchat's advertising works.
Sponsored lenses and filters
The growing number of active users draws brands to Snapchat to create their own lenses that will boost engagement and raise the awareness of the company. The flow is very simple: a brand uploads its lens or filter, promotes it to the relevant audience, and users can post snaps and stories using it. 
While the costs of advertising on Snapchat start from $5 per day, the development of a high-quality lens can be quite expensive and cost anywhere between $5,000 to $750,000. So, to attract more advertisers and make this type of ad more accessible to small businesses, Snapchat released the Lens Web Builder, a platform that allows users to create a lens directly in the Ads Manager now.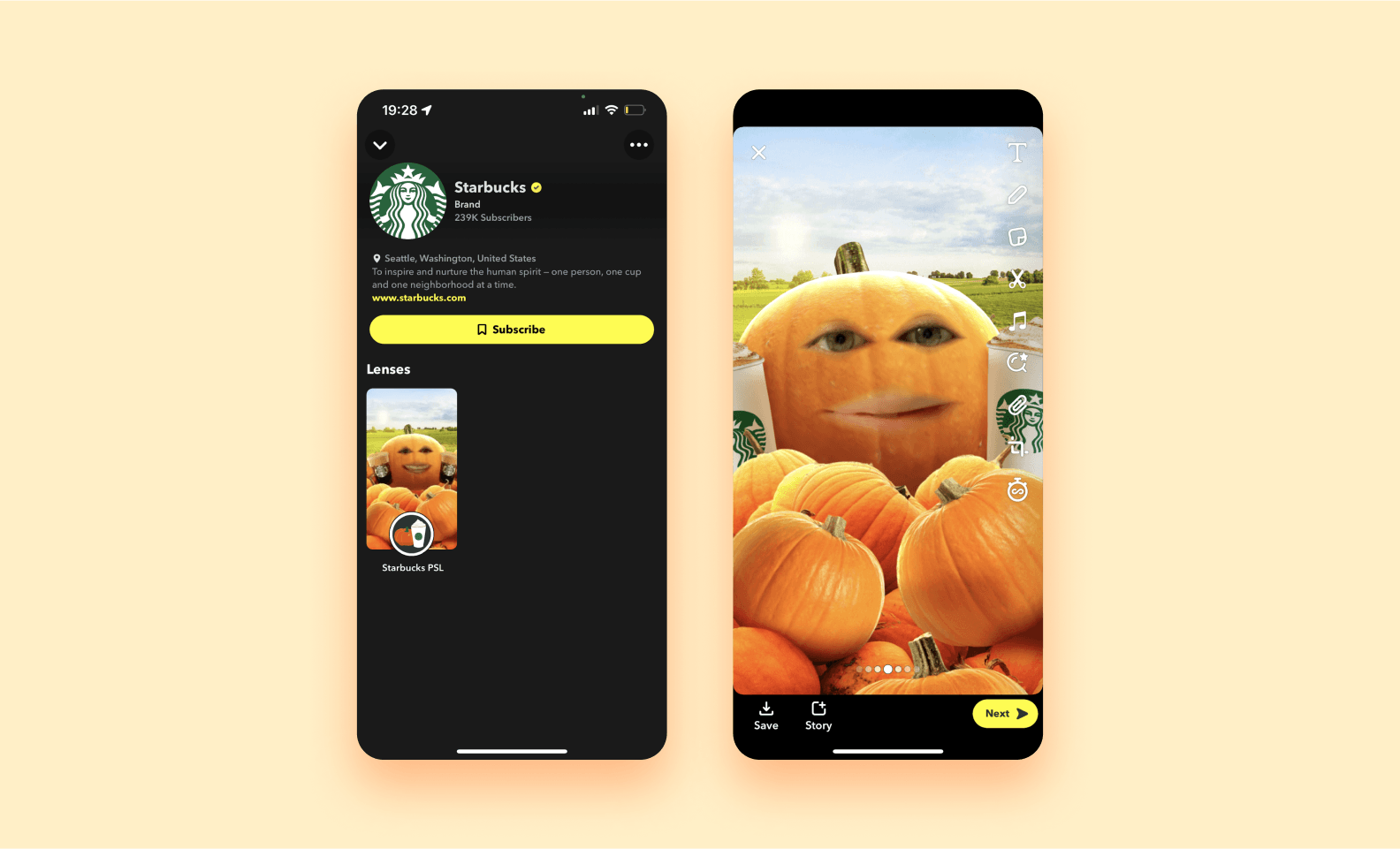 Starbucks brand profile and sponsored lens on Snapchat.
Snap Ads and Story Ads
Snap Ad is a photo or video full-screen ad up to 3 minutes long that appears in between user-generated content, for example, user stories. It contains a swipe-up link to direct the audience to a product page. Advertisers of Snapchat can set their own budget and adjust it based on their goals and performance.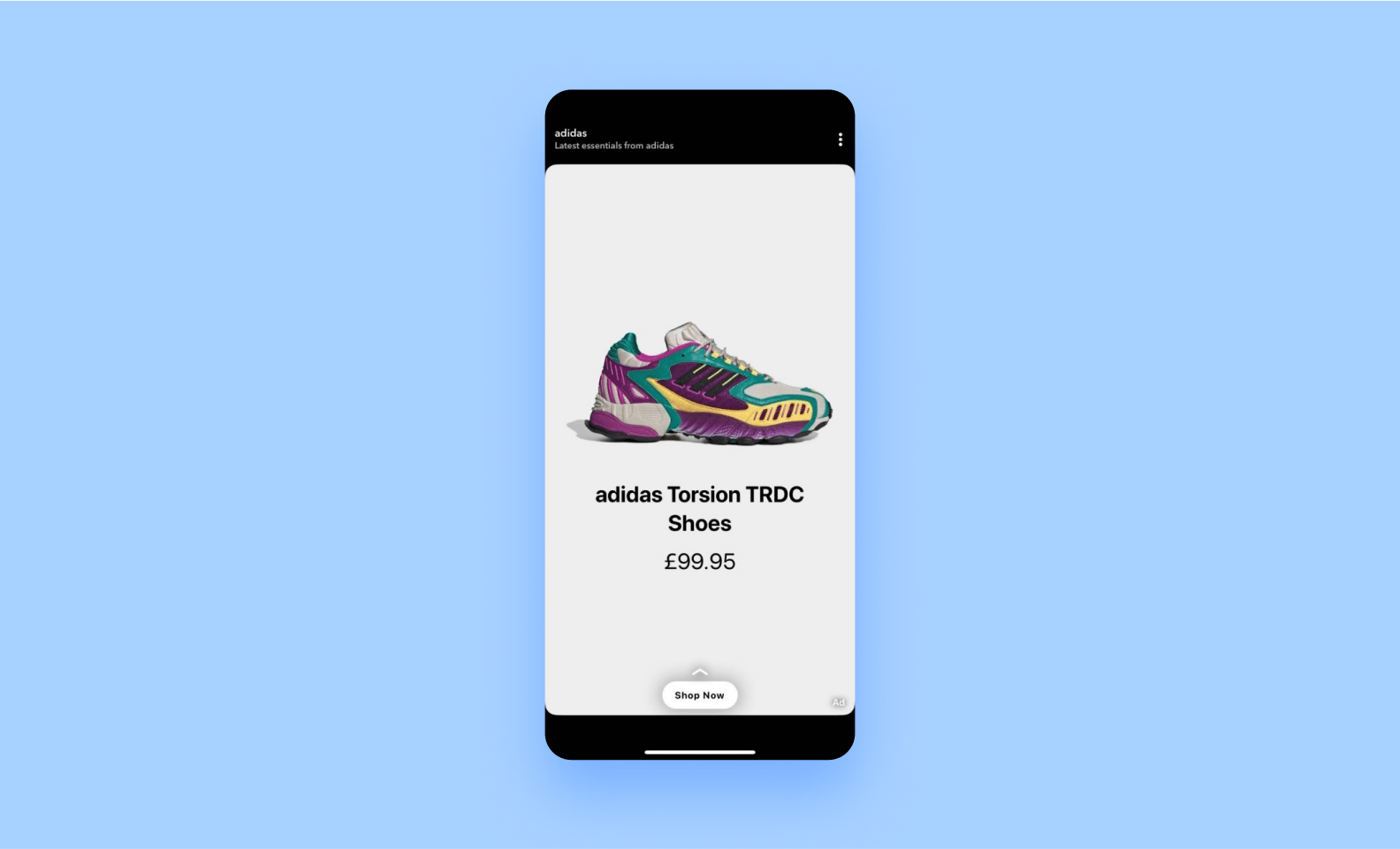 Source
Story Ads are similar to Snap Ads, but there is one difference: there is no swipe-up link that redirects users to the page with more information. Therefore, Story Ads have to be more engaging and memorable.
5 key features of Snapchat
To better learn how to develop an app like Snapchat and recreate its success in the social media industry, it is essential to know what is at the core of Snapchat's functionality and what makes an app they created so engaging and user-friendly. 
We made a list of 5 key features of Snapchat and broke down what they look like and how they meet the needs of the users.
1. Camera interface
To create any type of content, including snaps and stories, users will need the camera interface. While creating a custom camera screen is not complicated or unusual, there are several important details to consider during mobile app development.
First, a designer needs to create a layout for an in-app camera with icons for customizable filters, stickers, text, and other effects. Then, a developer needs to write a code that will capture images or videos and save the result. Moreover, your app will need to ask for permission to use the device camera, storage, location, and mic access to create audio recordings. Also, not to forget: after using the camera, the app should release it for other applications to use.
Snapchat has a very minimalistic camera layout with the main button in a thumb-friendly area, an in-app menu at the bottom, and effects on the very right of the screens. After taking a picture or a video, users can customize it without leaving the screen.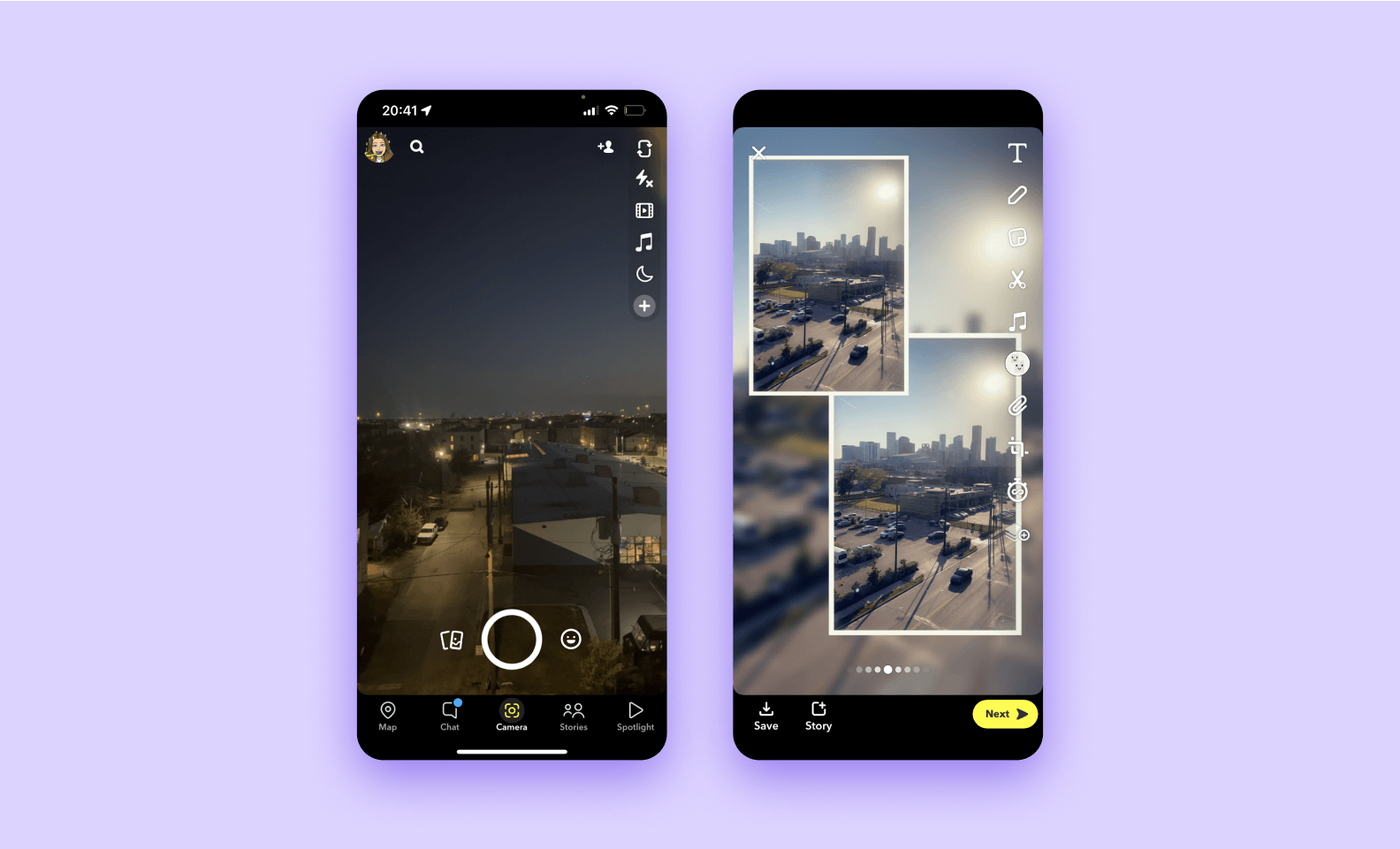 Two examples of camera screens on Snapchat.
🤔📸 Sounds like a lot to take in? That is why when someone asks us how to develop an app like Snapchat, we always recommend working with an agency or a freelancer with relevant experience who will make sure all these small yet crucial elements are not overlooked when they make an app.
2. Filters and lenses
AR (augmented reality) filters and lenses are immersive digital effects that can be superimposed on real-life images. They use original photos or videos as a background and add an extra layer of imagery. For example, make-up effect with long eyelashes and blush, or mustache and glasses.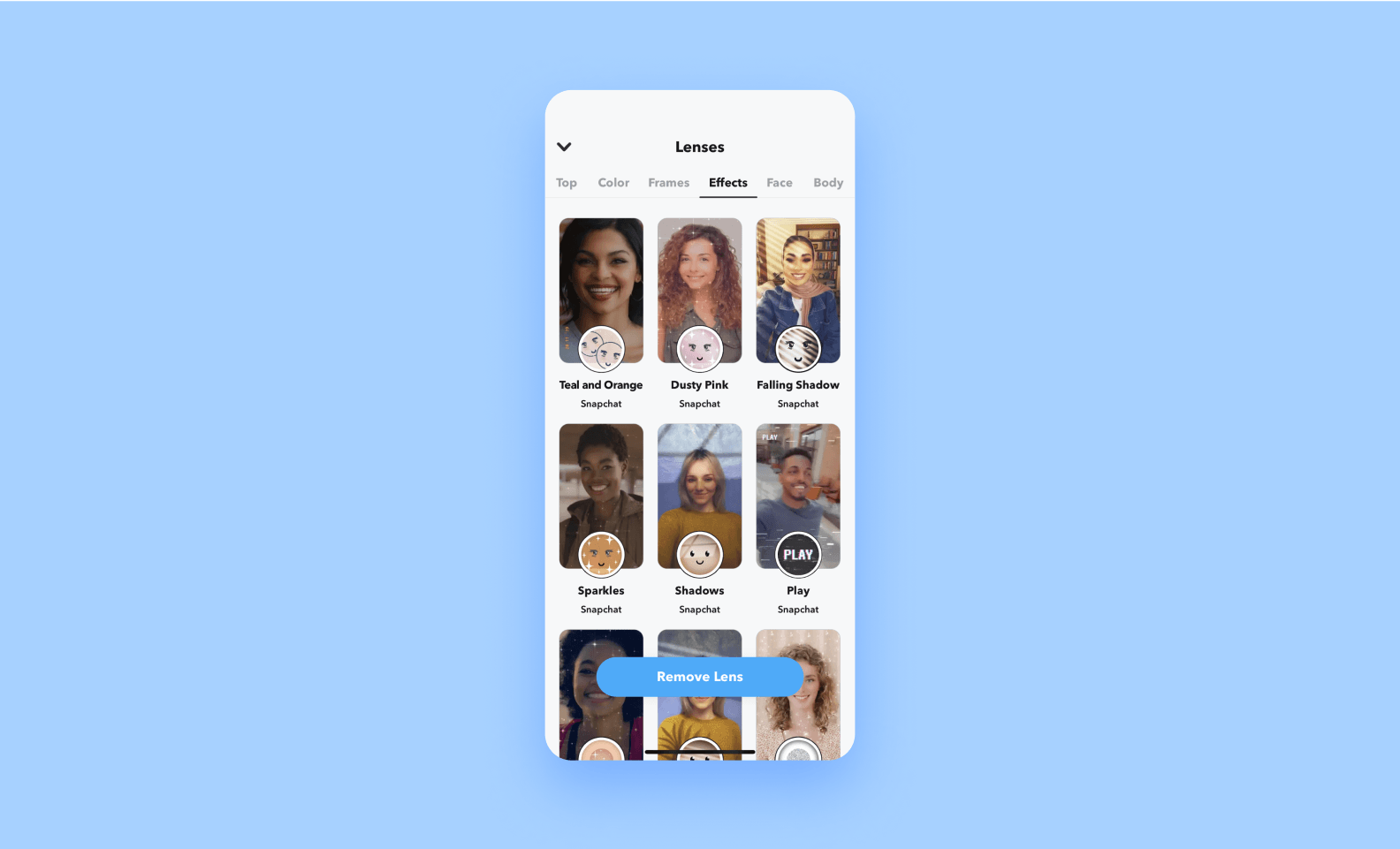 Snapchat has an extensive catalog of visual effects.
Snapchat has its own filters and lenses, as well as brand-sponsored ones, allowing users to tweak their content as much as they want. The personalization opportunities for the content directly correlate with the engagement rate of the app. A user spends time on the platform, browsing the filters and looking for the right one that reflects their mood. The more filters and lenses are available, the more time the user will spend in the app. The longer they stay on Snapchat, the longer the average session is — the determining factor for advertisers. 
Brands don't want to place a sponsored ad on an app where a user spends 2 minutes daily on average. Instead, they are looking for platforms where users stay for longer and engage with an interface. For example, an average Snapchat user spends 30 minutes on the platform daily.
However, designing AR elements can be expensive, especially for startups in the early stages. Therefore, for starters you can make an app with just a few filters and leave the floor open for users and brand profiles, letting them upload AR filters, masks, or lenses if they want to. This will increase the engagement rate of the app without stretching your budget in the very beginning.
3. Voice, text, and video chats
Messaging functionality is also important for engagement and conversion rate. If a user receives a text or a snap from their friends, they have a reason to come back to the app and stay there to reply and chat for a bit.
Snapchat has a regular chat with text messages that get deleted by default when you close it, as well as voice and video chats. To start a conversation, a user needs to tap on an existing thread or choose a recipient from the friend list. They can exchange snaps (camera access again), text messages, Bitmoji stickers, or initiate a live chat. Snapchat will invite users back to the app by informing them when someone is typing or about new messages.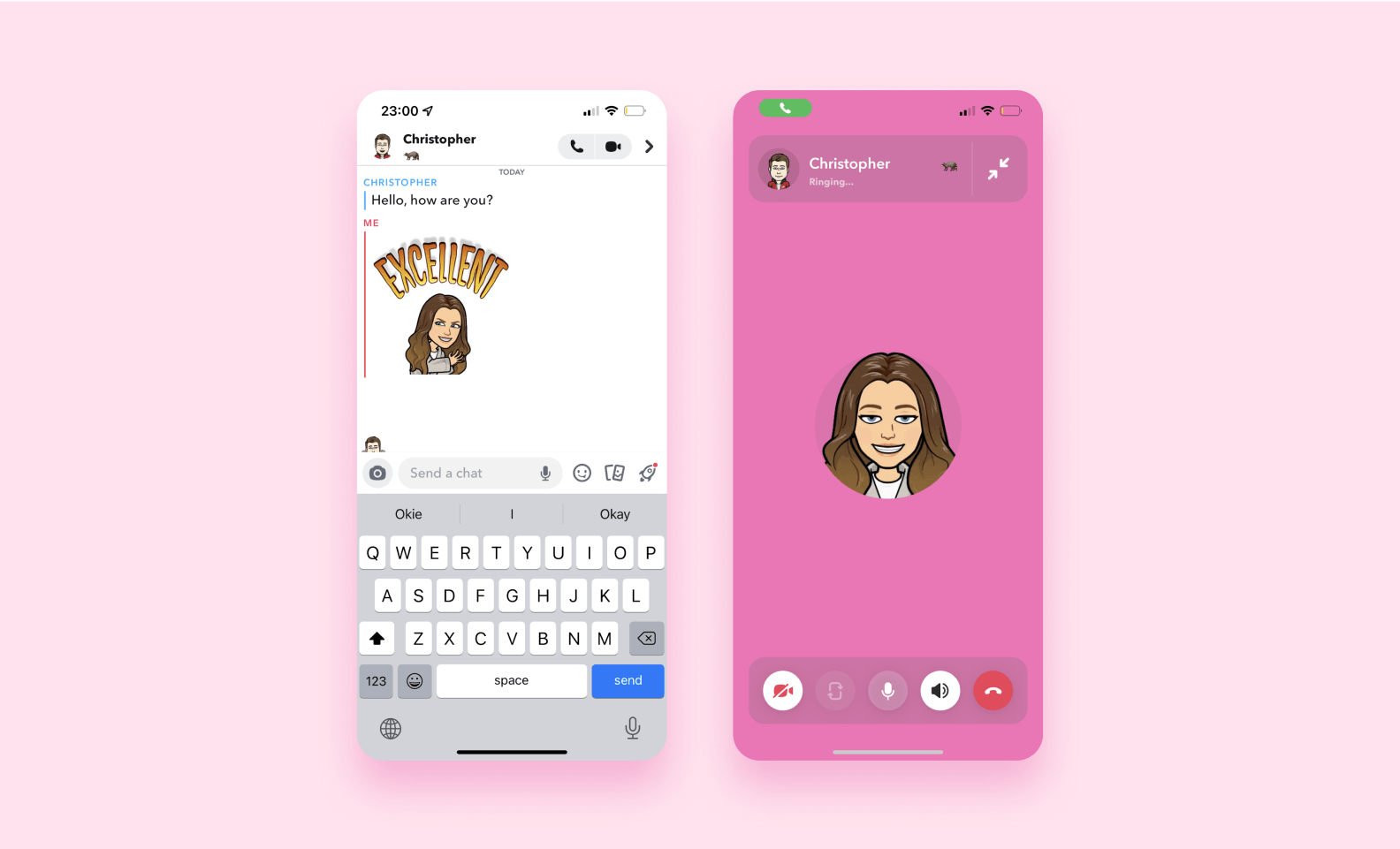 Voice and video chat icons appear on the top right.
4. Snapcodes
When you explore how to develop an app like Snapchat, there is one more distinctive feature to learn about. Snapcode is a unique automatically generated QR code for a user to share and make their profile more discoverable. To add this feature to mobile or web application development, you will need to embed a code and link generator with the necessary buttons. The key here is to make the design as user-friendly and seamless as possible. That way, it will intuitively encourage users to share their Snapcodes on other platforms and receive more exposure for the app.
Snapcodes have a very simple, but recognizable design. They are created with yellow brand color and a clear layout to make it easy for users to share the code and find each other using this feature.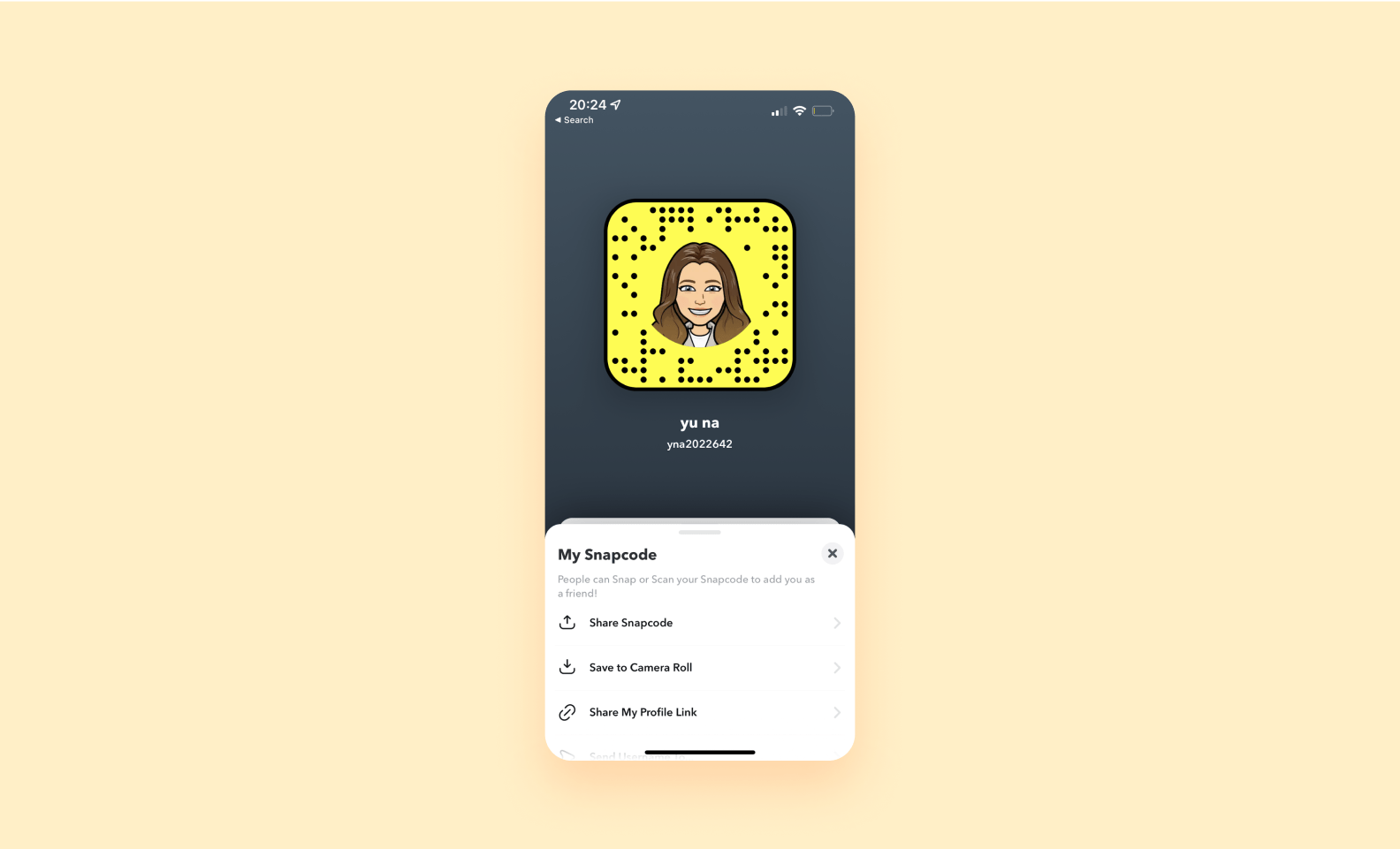 Snapcodes can be shared as a picture or as a link.
5. Friend lists
For this feature, Snapchat, like many other applications, accesses contacts to find friends who already use the app. Users can add and remove friends and exchange messages or images. Also, people can post stories or snaps privately, in friends-only mode. Apart from mutually added friends, Snapchat users can also follow brands and influencers to watch their content and stay on top of main trends. But they won't be able to see private snaps posted by influencers for friends only.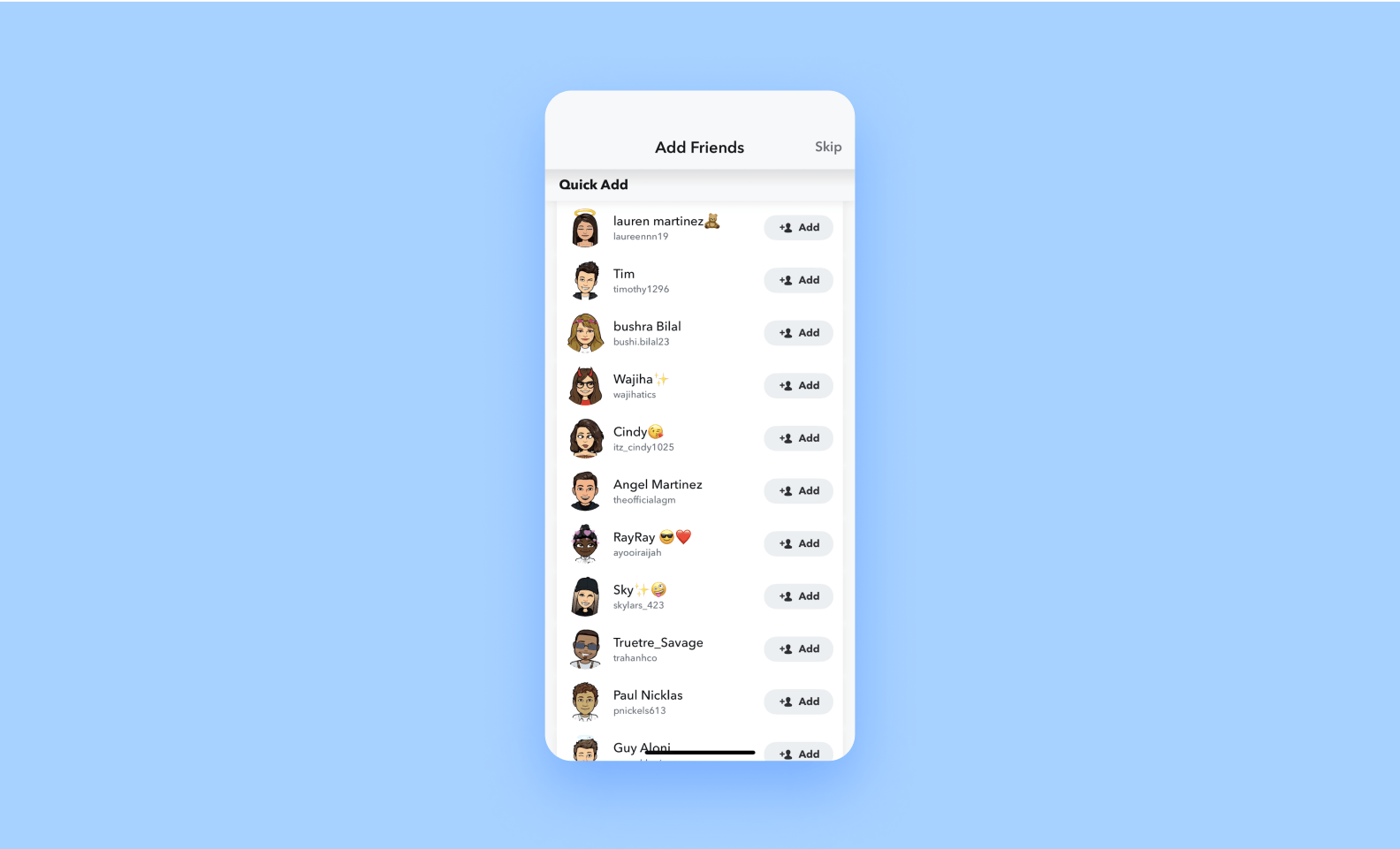 The quick add feature sources users from the device contacts.
For the safety of its users and their images, Snapchat recently released a new feature that reminds people to check their friend lists and delete outdated connections. Imagine, you added someone you met at a party once and forgot about it, but that person still watches your content and can take a screenshot when something goes south. The reminder prevents leaks and shows that the app cares about the users and their privacy. During mobile or web application development, think about how your app can show that you put customer experience first.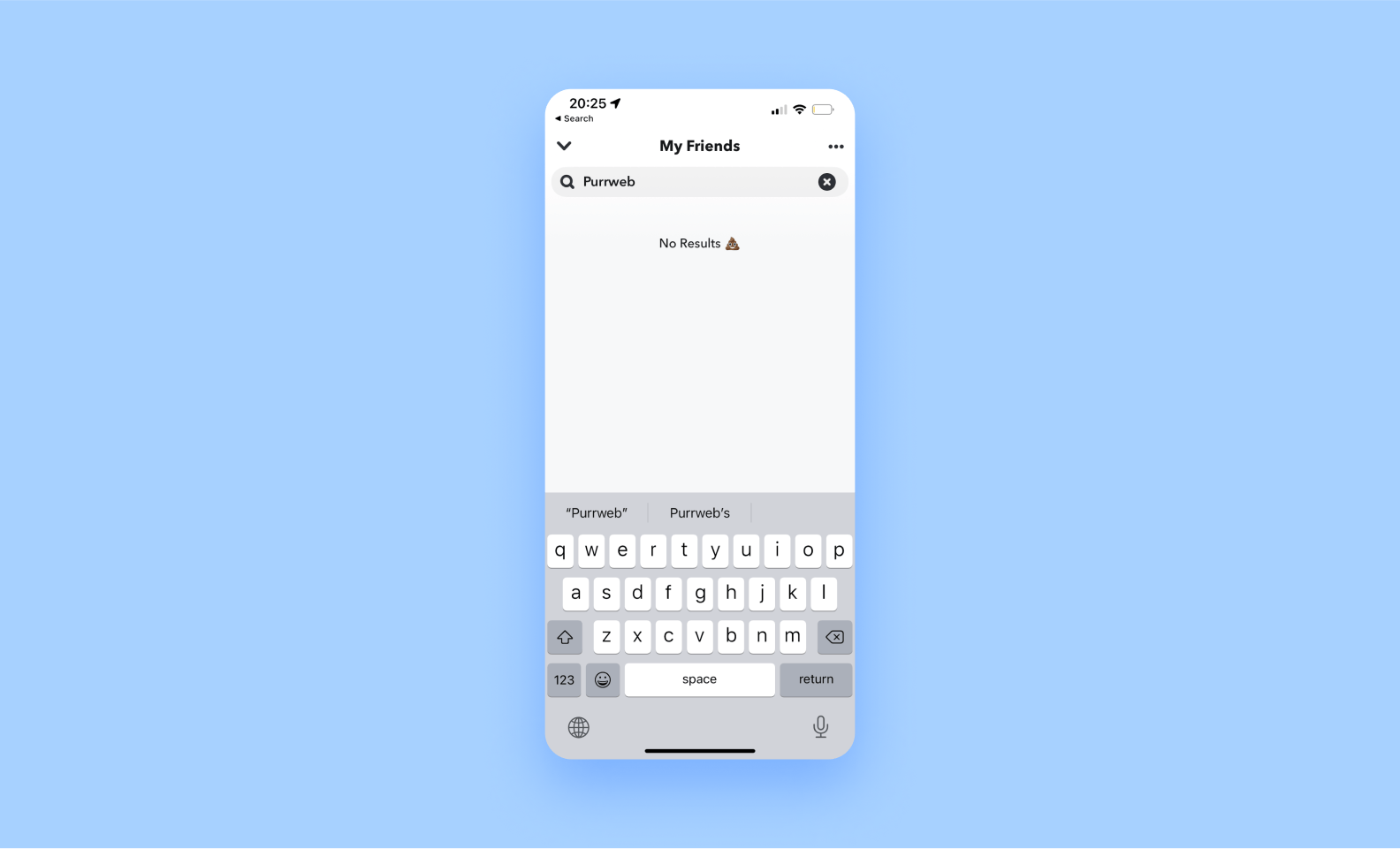 Snapchat is known for its user-friendly UI/UX design and copywriting with a bit of humor. 
3 must-haves when you make an app like Snapchat
If you got to this part of the article and are still confused about how to develop an app like Snapchat, and where to start, no worries, we got you. To begin with, make sure you have these 3 elements for a successful mobile app development process.
👩🏻‍💻 Reliable developer. To knock out the competitors, you will need someone to make sure that your app runs seamlessly and provides a top-notch experience for all users. Your choice of a contractor will directly impact the final result. If you pick someone who doesn't have relevant experience, constantly misses deadlines, and disappears in the middle of the process, your app will end up raw and sloppy. So, even if you read thousands of articles on how to develop an app like Snapchat, without a good professional developer, there is no guarantee of success.
👩🏻‍⚖️ Lawyer. When you deal with user-generated content, it is a must to think about who owns the rights to the images and videos. You also need to learn local copyright laws in the country or the state where you operate. Usually, the apps include this article in the terms and conditions and rule it in the favor of the platform, defining that it owns all the rights to the content. To avoid any potential loopholes for lawsuits and liability issues, we recommend consulting with a professional lawyer who knows the details and will help you craft a conditions agreement for the app.
📝 MVP stage. Don't skip it — MVP is necessary to test the idea and assess the market before the full release. Don't mix it up with a prototype, MVP (minimum viable product) is a finalized fully-functioning version with a limited set of key features that provides the entire experience to check the waters before investing the full budget.
How to choose the right developer
As we mentioned, having a skilled and competent developer is the key to having a secure and robust mobile app and minimizing the number of bugs. It doesn't matter if you are interested in how to develop an app like Snapchat android or iOS, Java or React Native development, the process of looking for the right person will be similar.
1️⃣ Choose if you want an agency or a freelancer. This will help you to narrow down your options. Consider how complicated your mobile application will be and how many people you will need for the development.
2️⃣ Check their portfolio, client references, and their UI/UX on previous cases. Turn into a private investigator for a bit and do your cyberstalking to check their credibility and expertise.
3️⃣ Ask if they offer post-release support.​​​​ To stay relevant and trendy, you will need to continue using development services after launch. For example, to release updates, fix some bugs or scale up and add new features. Make sure your developer won't disappear and will be there to help you with new versions.
How much does the development cost
Here we reached the most important part. How to develop an app like Snapchat on a tight budget and is it even possible?
Let's break down how much mobile or web application development costs for a similar project.
🚨Disclaimer: These are our estimations and we don't guarantee other companies have the same costs or timelines. The following is valid only if you make an app with us.
Stage
What are we doing
Estimation in hours
Estimation in weeks
Approximate costs

Initial meeting

Discuss the idea of your app

1 day

–

No costs

UI/UX design

Map users' journey, create and present you interface mock-ups

180 hours 

6  weeks 

$8 100

Development

Work on architecture and the interface on both client and server-side

1500 hours(

17  weeks 

$67 000 

QA Testing

Look for any potential bug and fix it 

510 hours 

Alongside the development

$10 200

Project management

Manage the

mobile app development

project and solve administrative tasks

–

Alongside the UI/UX design and development 

UI/UX design –  $900




Development –   $5 950
Overall, the development of an app like Snapchat will cost you $ 92 000 and will take approximately 6 months.
Wrapping up
In the article we discussed how to develop an app like Snapchat step-by-step and provided some insights on key features, costs, and timeframes. 
Сreating a social media app is complex and challenging, but everything is possible with the right developer who has relevant experience and pays attention to detail. At Purrweb we work with mobile and web app development, providing straightforward and cutting-edge UI/UX to level up the user experience for your customers.
Wanna move forward with your app idea and consult our developers? Drop your email and we will get back to you soon.