What is a video streaming website?
It is an online platform loaded with movies, news, shows, documentaries, and clips. There are several types of such apps depending on who created the content:
Original content;

User-made videos;

TV programs.
Netflix, Hulu, YouTube, HBO Max, Amazon Prime Video — it is just a small part of the long list of video streaming websites. If you used any of those, you have already had first-hand experience with such platforms.
YouTube is one of the biggest streaming platforms with user-generated content, which means users can upload their own videos and watch clips created by others.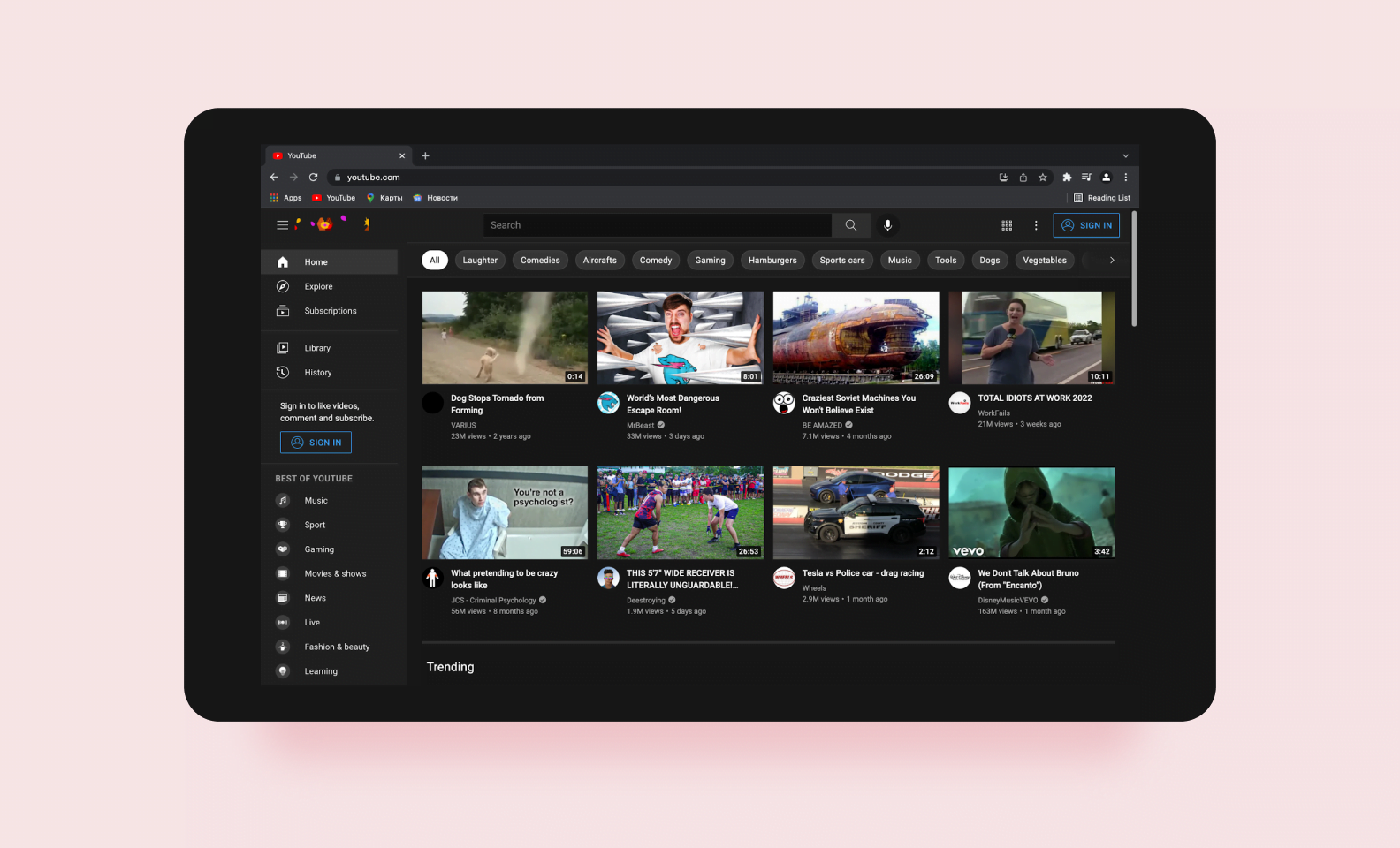 Interface of the main page
If you're looking to find out how to make a website like YouTube, it is worth reading their story. Here is a recap. The video-sharing tech startup was founded in 2005 by 3 guys who worked at PayPal: Chad Hurley, Steve Chen, and Jawed Karim. First money they got from venture capitalists. The service quickly became popular, hit millions of views and in 2006 was bought by Google. By that time YouTube had only 65 employees. After that, the corporation invested a lot into the web site development: they started Partner's Program for creators, apadapted interface to other countries and added paid content like movies and TV shows. With that YouTube started rapidly growing and became one of the main video streaming platforms globally.
Interesting facts about YouTube
Now probably everyone knows how big and popular YouTube is. But we are used to dealing with facts and numbers, therefore we found and collected impressive and jaw-dropping statistics for YouTube. 
In 2022 YouTube remains

 the second most visited website after Google. The average time users spend on the platform is 21 minutes.

The first money YouTube received from venture capitalists, the largest sums were $11.5 million and $8 million

 during early rounds.

In 2006 Google bought

 YouTube for $1.65 billion.

In March 2013 YouTube registered

 1 billion monthly active users (1/7 of the world's population!).

YouTube is available

 in 80 different languages.

Every minute around 500 hours of video is uploaded

 on the platform.

The first video uploaded to YouTube was called "Me at the zoo" and is still available on the website:
As you can see, YouTube went from a small startup to one of the largest websites in the world. How to make a website like YouTube, that will attract investors and users? Let's break web site development down!
Key functions of YouTube
Now it is hard to believe, but YouTube was not the first video streaming website — Vimeo was founded a year earlier, in 2004. But something about YouTube made investors see the potential and invest millions during the first year. What was so promising about the website? The answer is in its functionality.
Here are 4 essential features of YouTube:
Search
How to make a website like YouTube without the search and navigation tools? Impossible! At the top of every page the platform has a search bar with predictions.To find a video, users type in their request and then can filter results based on lengths, number of views, upload date and others.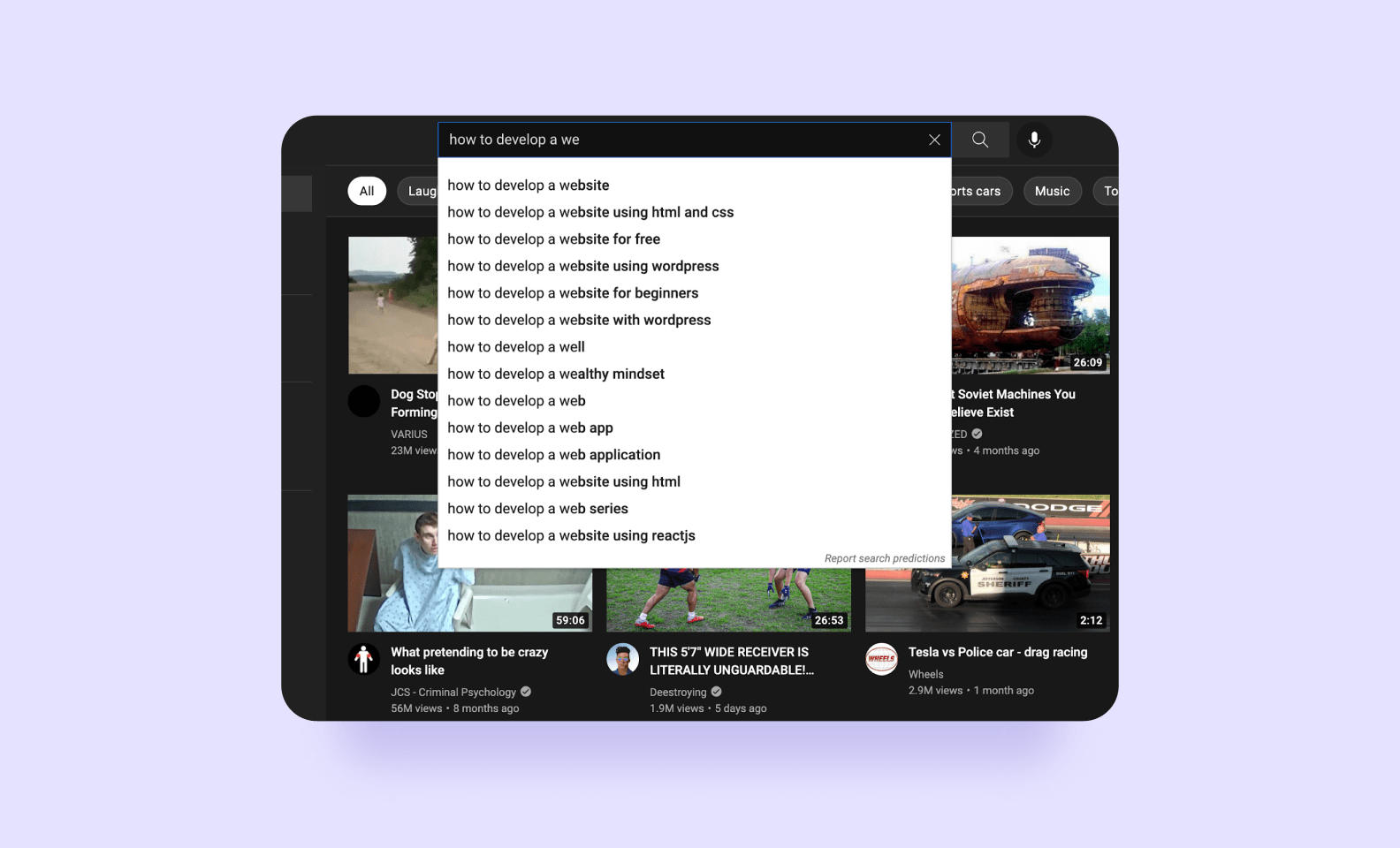 Search prediction function
Of course, every creator wants their video to be #1 in the search results. For that, YouTube has its own Search Engine — a program that predicts what people are looking for based on keywords and rank the videos. For a video to be in the top results of a search, it needs a right description and title — just like on Google. 
Creators have access to the Search Insights — this section gathers data about what words their followers and general audience are searching for. 
Developing your own search engine software can cost a fortune and is not essential for early-stage startups, but search functionality is a must. Talk to your development team to learn how to make a website like YouTube with a search bar, predictions and filters.
Profile
YouTube allows users to watch videos without sign-up, but if you want to leave comments and likes, follow channels, and get personal recommendations — please, create a profile. As we mentioned before, the website is owned by Google, therefore the sign in process is synced up with the Google system. Basically, everyone who has a Gmail account is already registered on YouTube.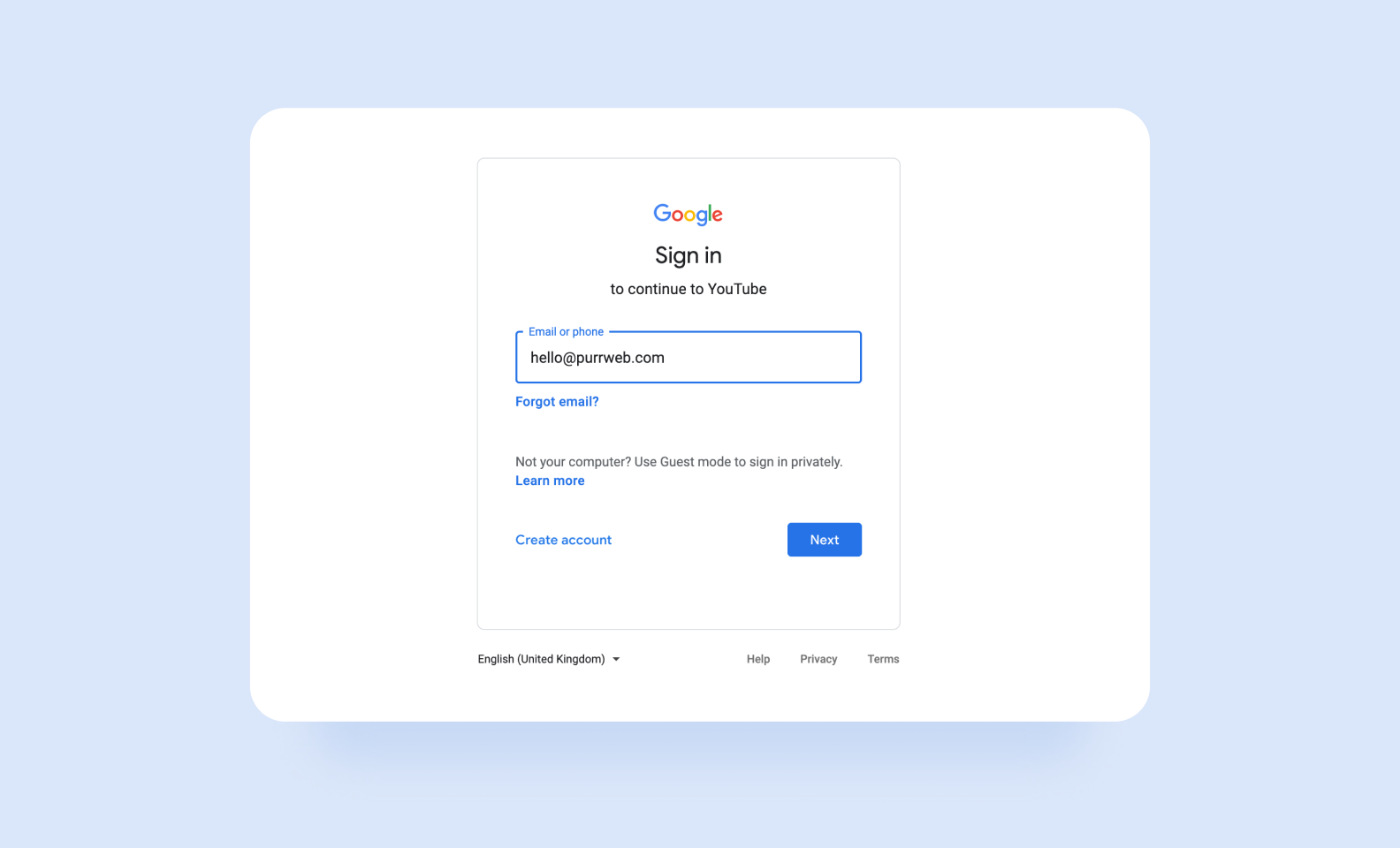 YouTube sign-in
If you are interested in how to make a website like YouTube with personal profiles from scratch, think about your audience and what information from them you will need? The basic set is: name, e-mail address, age for legal restrictions in some countries and optional picture.
Admin panel for creators
How to make a website like YouTube self-generate content? Build a special page for creators. On YouTube it is called YouTube Studio, this section helps users manage and grow their channels. For example, with Search Insights, Channel Dashboard and Video Performance stats.
YouTube has the same access levels and functionality for both viewers and channel owners. Everyone can log in as a creator and start uploading videos, but to enroll in a monetization program and earn revenue from the content, bloggers need a certain number of followers and views. 
Commenting
The comments section is the way how to make a website interactive and engaging. On YouTube, registered profiles can leave their own comments, reply to others, as well as like or dislike them.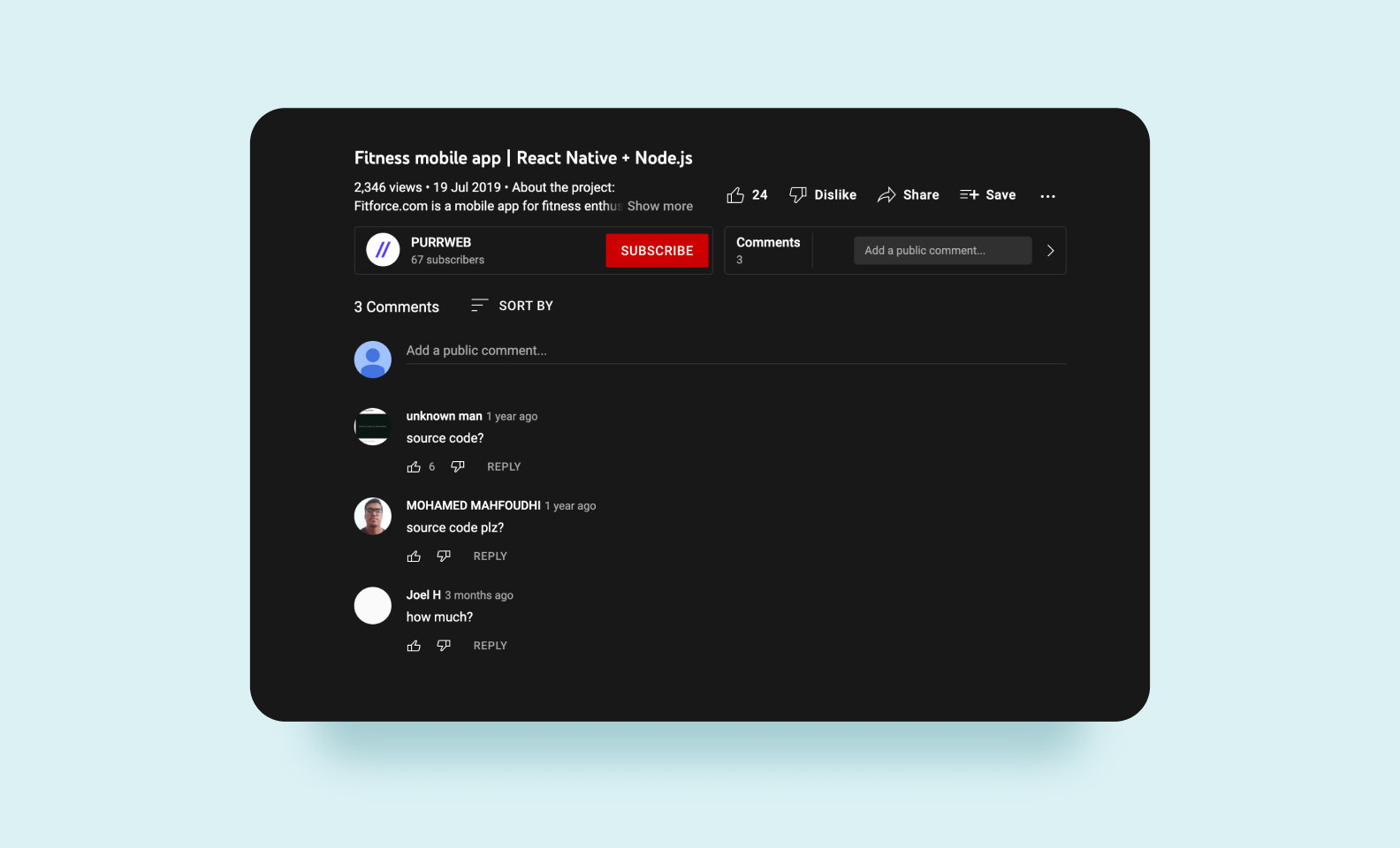 Comments on YouTube
However, as with any post, comments need automated moderation to remove offensive messages and hate speech. YouTube is now testing a new feature — they let random bloggers set guidelines for a comment section on their channel. Definitely worth keeping an eye on the results of this experiment and using it as an inspiration for your startup idea.
7 steps to nail the web site development
Developing a video streaming website with a freelancer is nearly impossible. Platforms like YouTube are complex applications that require several specialists — front and back end developers, UX designers, QA engineers. 
If you are wondering how to make a website like YouTube with an outsourced team and what the work process consists of, we got you. Here are 7 steps of the development if you decide to work with us and what you need to prepare for each one. 
🤔 Disclaimer: this is how the development process looks like in Purrweb. To guarantee you won't skip any step and your project will be well-executed, get in touch with us.
1. Take care of your content
The first step is defining what content you will use — user-generated or licensed videos. If you are going to use third-party clips, make sure to properly leverage all movies and shows to avoid copyright problems. Here you will need help from a legal team, and IT specialists will join during the next step.
2. Find the developers
The question is not how to make a website, but who will do it. When choosing a team, check their reviews and portfolio to get an impression about their experience. We also recommend paying special attention to previous cases — has the team worked with similar projects and tech stack that is needed for the development.
3. Provide references, discuss use case scenarios and key features
To learn about your taste and preferences, your development team will ask about references. Just gather everything you saw and liked — links, screenshots, and app names will work. Then, the team will map the user's journey and define key features to understand how to make a website like YouTube with a focus on usability and customer experience.
4. Approve user-oriented UI/UX design 
At this step, the team will prepare b/w wireframes to clarify the logic of the app and the visual concept to see the final result and get the UI kit assembled. It will help to make the future development process smooth and clear. The team will present materials to you and you will have a final say about how to make a website.
5. Check the results every 2 weeks
Most of the teams, Purrweb included, work in sprints — basically it means that in a short, time-boxed period we focus on one feature, develop it from top to bottom in 2 weeks, and, in the next sprint, move to another one. It helps us to define priorities and stay organized. After every sprint, our project manager will show you the intermediate results, so you can stay up to date and quickly make corrections.
6. Test the website before you launch
How to make a website that will interest the investors? First thing, make it bugless. No one will like errors in the website — they will only make users frustrated and annoyed. That is why testing before the release is a must. The QA engineers on the development team usually check everything and find any possible glitch before it even occurs on the platform.
7. Develop a marketing strategy to attract users
The guide on how to make a website like YouTube doesn't end with the release. To constantly grow the relevant audience and strengthen the website positions, you need a solid marketing strategy. If you outsource the development to a team, you will have plenty of time to come up with the promo activities — we guarantee.
Timelines and costs
If you got to this part of an article, you probably wonder how much does it cost to develop a site? Our team prepared a detailed breakdown of price and timeframe:
Stage
What are we doing
Estimation in hours
Estimation in weeks
Approximate costs

Initial meeting

Discuss the idea of your app

1 day

–

no costs

UI/UX design

Map users' journey, come up with design concepts for each step and present them to you

180 hours

6 weeks

7200$

Development

Work on architecture and the interface on both client and server-side

1600 hours

18 weeks

64000$

Administration tools

Create features for an administrator to manage profiles, edit in-app texts, recover passwords, etc.

200 hours

in parallel with dev

8000$

QA Testing

Look for any possible bug and fix it before it even occurs

450 hours

in parallel with dev

8100$

Project management

Manage the

mobile app development

project and solve administrative tasks

In parallel with project

In parallel with the project

600$

4500$
If you decide to build your video streaming service with us, the web site development will cost you around $92000 and will take approximately 5 months.
Wrapping up
We hope our guide on how to make a website for video content will help your startup to find where to start from.
Purrweb is a skilled team that helps developing MVPs with a focus on reliable users' experience and usability of the platform. If you are interested in custom developing and want to know how much does it cost to develop a site based on your idea, we can help you.
Fill in the quote and we will get back to you with an estimation shortly.