Key takeaways
The global market size of online music streaming is expected to reach $24 billion by 2027, which makes it a promising segment for investments.

There are several ways to monetize a music

streaming service

. You can choose a freemium model, implement in-app ads, or offer subscriptions.

There are some essential features to include: audio streaming, music search and player. You can also add some advanced features to engage future users: song recognition, music therapy, or even a music social network.

The costs of music app development depend on its complexity, tech stack, and desired level of customization. According to similar projects we've made, the estimated cost of a music app like Spotify is around $70 000 for a full cycle of development.
Music app market: the story of conquering 
The audience of the global music streaming market continues to grow actively and, in 2021, amounted to 524 million people, which is 26.4% more than a year earlier. On average, people spend 18.4 hours per week using music streaming services — this is quite a lot and can be compared even with social media.
The global market size of online music streaming was valued at $13 billion in 2019, and is estimated to reach $24 billion by 2027. For example, today music streaming brings 84% of the U.S. music industry's revenue.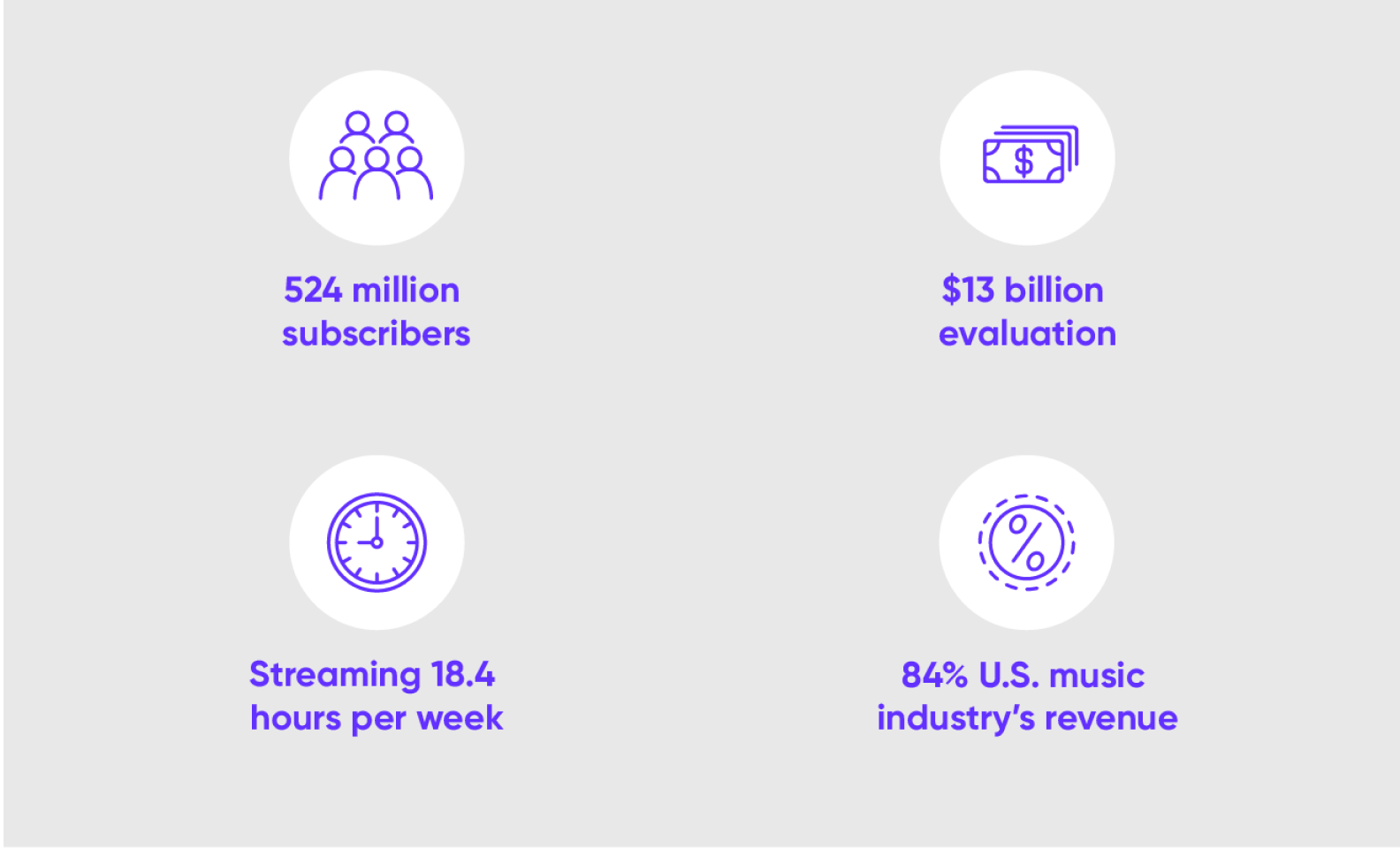 Global music streaming market
Spotify has the highest market share — almost a third (31%). It was launched in 2006 and quickly took users away from alternative music stream services, for example, from iTunes, which was a pioneer in the world of official digital music. But in fact, it was Spotify who was one of the first to use this business model and created a music streaming app in the form in which it exists now. Nowadays, it has 433 million monthly active users, 188 million of whom pay for a subscription. Spotify's current catalog includes more than 82 million songs. 
The second player of the global music streaming market is Apple Music. Apple failed Spotify because the company refused to believe that the future of the music industry was behind streaming, focusing on selling music in iTunes. But in 2015, they had to admit a mistake and released Apple Music that has 15% market share now and 88 million subscribers. The collection of songs to stream has exceeded over 90 million records.
Amazon Music that was launched in 2007 now has 13% share of the global music streaming market, more than 68 million subscriptions, and almost 30 million songs users can stream.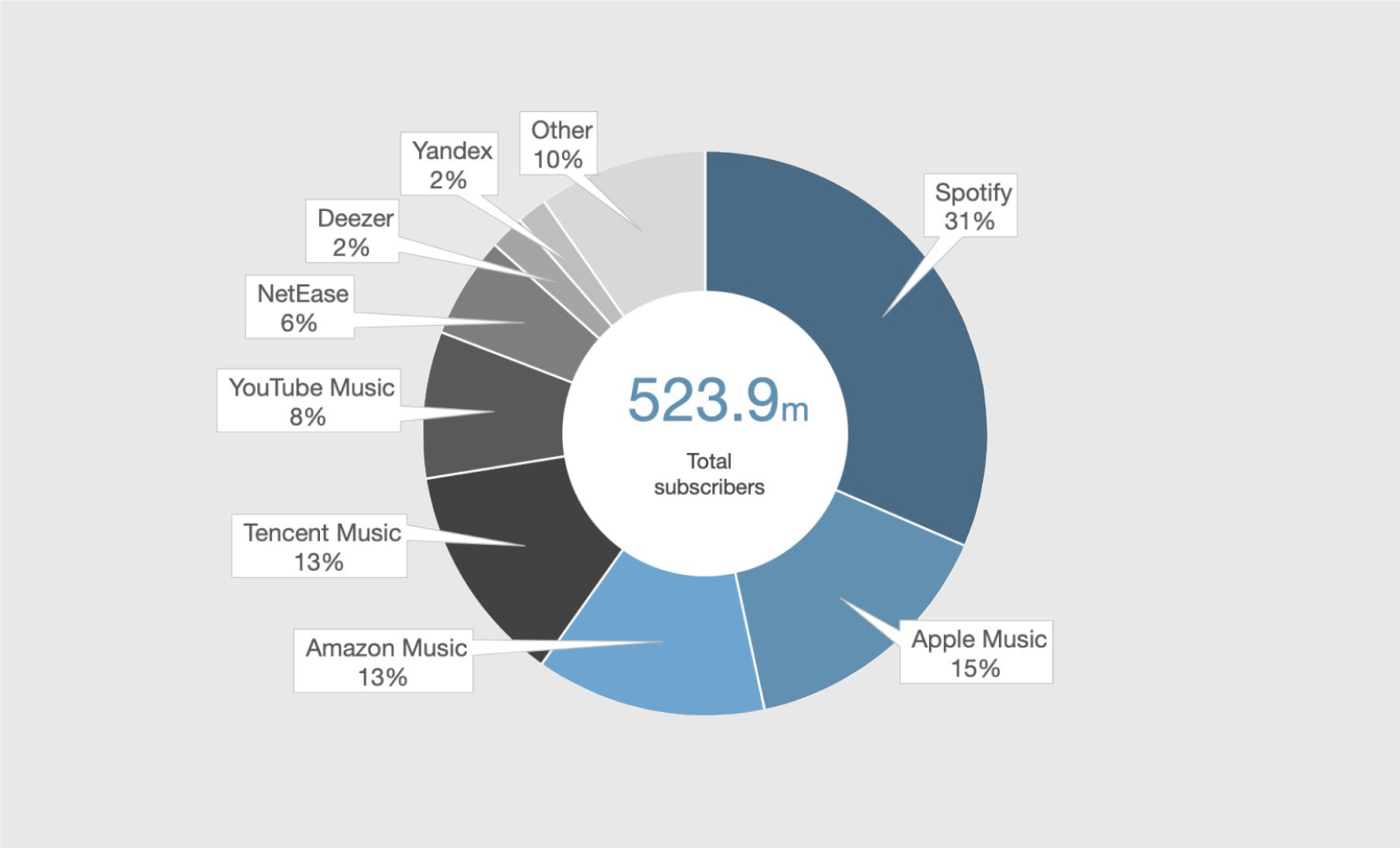 Music streaming apps and their share of subscribers Q2 2021
Thus we see these 3 music streaming apps occupy 59% of the market. But the remaining 41% deserve no less attention, because these are players in emerging markets, except YouTube Music with 8% of the market. Tencent Music Entertainment (TME) and NetEase Cloud Music that are available only in China grow fast and already have 18% together. In addition, Yandex Music — a Russian app — has literally grown 2 times over the past year. This perfectly shows that not all markets have music streaming services, and this is a huge potential for growth. The only question is how to develop a music streaming app? Let's find out the main features first. 
Essential features of a music app
A music streaming app is a rather complex service, it has many unique features. We will look at the most basic features that you need to consider when making a music streaming app. But before we start, note that the list does not include such standard functions as authorization, integration with social networks, push notifications, or share music function because one can find this basic set in almost every mobile development project.
Audio Streaming
Streaming is a technology that allows you to quickly find and continuously transmit audio or video via Internet connection. This allows the user to listen to songs already purchased by the service on request, instead of buying them on their own.
Searching music
The search function will help your users find any song or podcast. It is good to provide different tags for searching — by the name of the artist, song, album, label, or genre.
Music player 
Usually a music player has a simple and user-friendly interface. It has an audio track of the song, a volume control, buttons for playing and switching to the next or previous song. The interface also shows an album cover. Instead of the cover, some audio streaming apps show music videos. This feature makes the player more engaging, but it's worth making sure in advance that it does not waste too much of the user's Internet traffic.
AI recommendations
Artificial intelligence is an important part of developing an audio streaming app. Because many people like to discover new artists, genres, and directions in music, therefore, users are open to listening suggestions compiled according to their musical tastes and listening history. You can ask them to mark compositions that they really like or dislike so that AI tracks their preferences.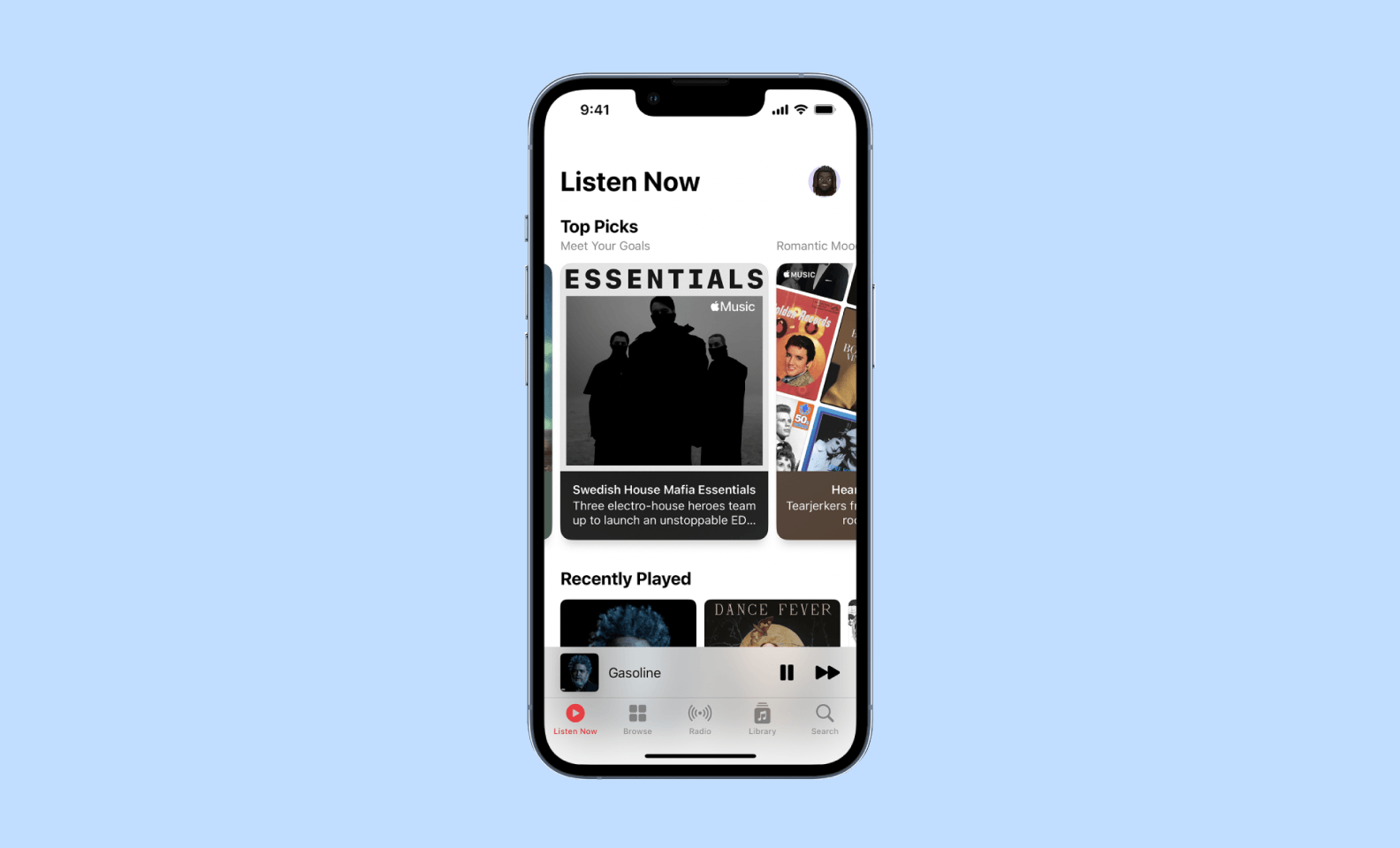 Apple Music suggest some music which may be interesting for users based on their preferences
Playlist
Thanks to this feature, users can save the compositions they like in a music streaming app and collect their own playlists from them, for example, for different moods or routine tasks.
Lyrics display
Many music streaming apps have a song lyrics demo feature, but some can sync the lyrics with the music being played. For example, this is what Apple Music does. It allows you to find and listen to a specific line of a song, which is very convenient. 
A useful feature here can be the automatic translation of a song into the native language of users — this is rare, but it is likely that users will appreciate it
Downloading
The ability to download your favorite tracks to a music streaming app and listen to them, for example, while jogging in the forest, where the Internet connection is unstable, is an invaluable feature. 
Podcast and radio
The most popular music streaming apps also include their own radio and collection of podcasts or even audio books.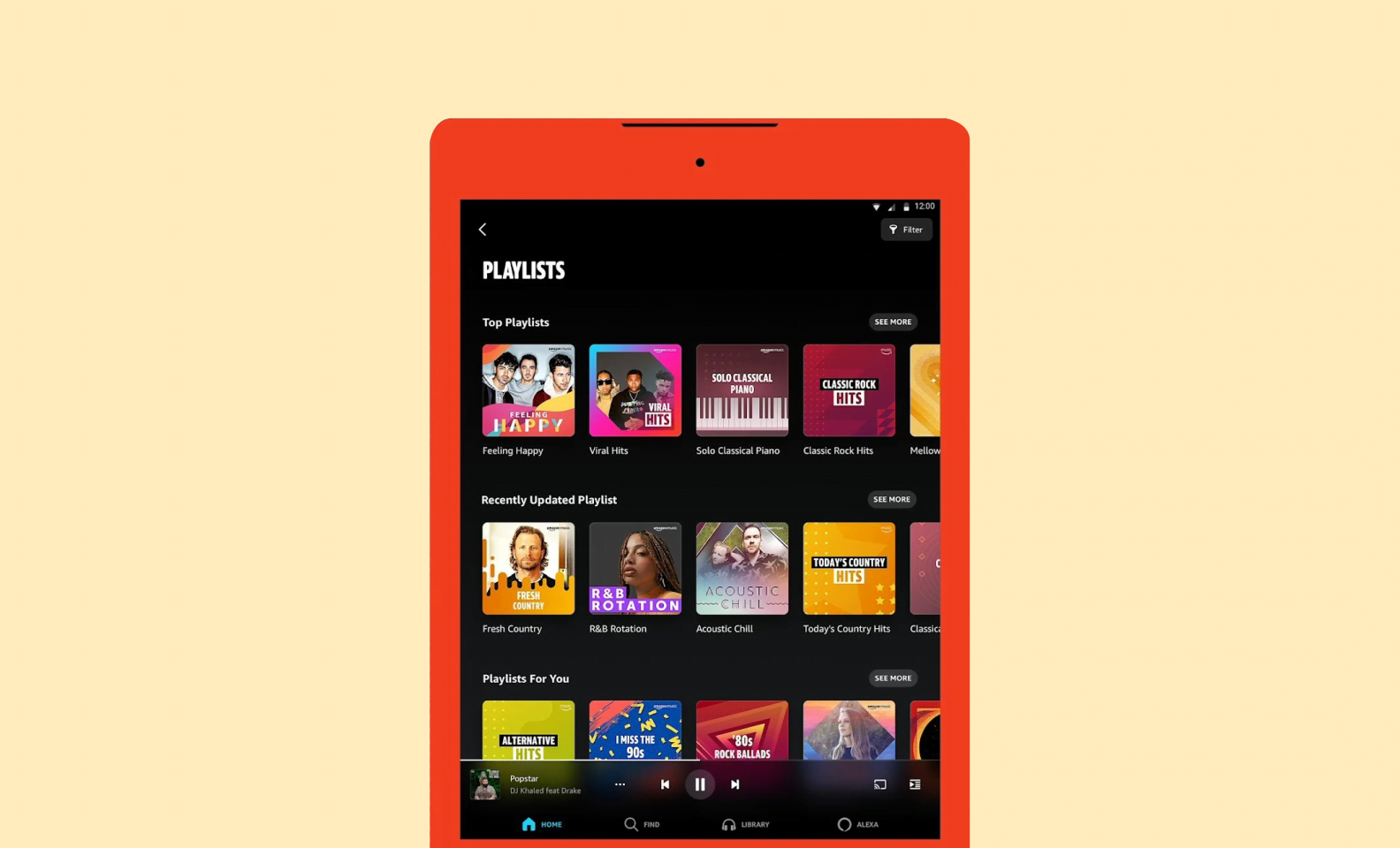 Amazon Music offers over 10 million podcast episodes.
Advanced features of a music app 
New and creative ideas are essential to keep users interested and compete in the music streaming industry. Besides the basic features like playing music and searching for songs, you can add some advanced features for users to experience deeper levels of enjoying music.
Musical social network
Incorporate something like a Facebook but adapt it to the needs of music lovers. So that customers could connect with friends, follow their favorite artists, and share the music they love. It's like having a music community right inside your streaming service.
Customizable user profiles
This means users can make their profile look exactly how they want it to. For example, pick their own picture, add a cool background to tell people about their favorite songs and singers this way.
Mood-based music
This feature helps to create playlists based on how you feel. Just choose some filters describing your mood. If you're happy, the app will play cheerful songs. If you're feeling calm, the streaming service will pick soothing tunes.
Concert tracking
Imagine: the streaming service keeps users updated on when their favorite artists are planning to perform live in their area or anywhere else. It's like having a reminder for all the shows they want to attend. By the way, you can become partners with some ticket offices and charge advertising fees.
Song recognition
Let's say you're somewhere and you hear a song you like, but you don't know its name. This feature can listen to it and tell you what it is. Then, you can add the song to your playlist and enjoy new music tracks right within the app.
Music therapy and meditation
Add some special playlists with music or meditations that will help users relax, focus, or reduce stress. Such a feature works on improving mental and emotional well-being, turning an audio streaming platform into a source of solace.
Cross-platform syncing
Make sure users' music and playlists are the same on all the devices, like their phone, computer, or smart speaker. So users can switch between the app and music streaming website easily.
Music recommendations from other users
It's like getting music suggestions from lots of people. Users just make playlists and share them with others. The most popular ones help music lovers find new songs and artists using your music streaming website or app.
How to build a music streaming app in 8 steps
Creating a music streaming application is not a straightforward task. We have highlighted the main stages of creating an application so that you don't go off track. 
Step 1: Research your audience
Conduct research on audience requests. Mostly, it depends on the location where you want to launch your streaming service. Statistics of Tencent Music Entertainment showed that during strict self-isolation, Chinese used music streaming apps more often on televisions than on smartphones. Such information is easy to miss if you do not conduct a preference research. It can open up some insights that will help you avoid mistakes making a music streaming app or come in handy to set yourself apart from your competitors.
Step 2: Define the principal features 
You can apply the list of functions given above, or come up with something additional — it depends on the idea of your music streaming application. When you select main features, we recommend launching MVP — the minimum viable product. Startups use this approach to quickly launch the product and test the idea. Usually MVP includes only the most significant features, so production is cheaper than a full-fledged music streaming app development.
Step 3: Acquire official rights to stream 
Any music is protected by the intellectual property rights, so you will need to take care of transferring legal content to subscribers. Buy a special license which gives you Public Performance Rights. For example, Spotify has a Sound Recording License, covering recording rights that you can get from such popular labels as Universal Music Group, Sony Music Entertainment Group, etc. And it also has Musical Composition License Agreements, covering the rightful owners of the songs. You can handle that via special agencies — in the U.S., for example, BMI and ASCAP.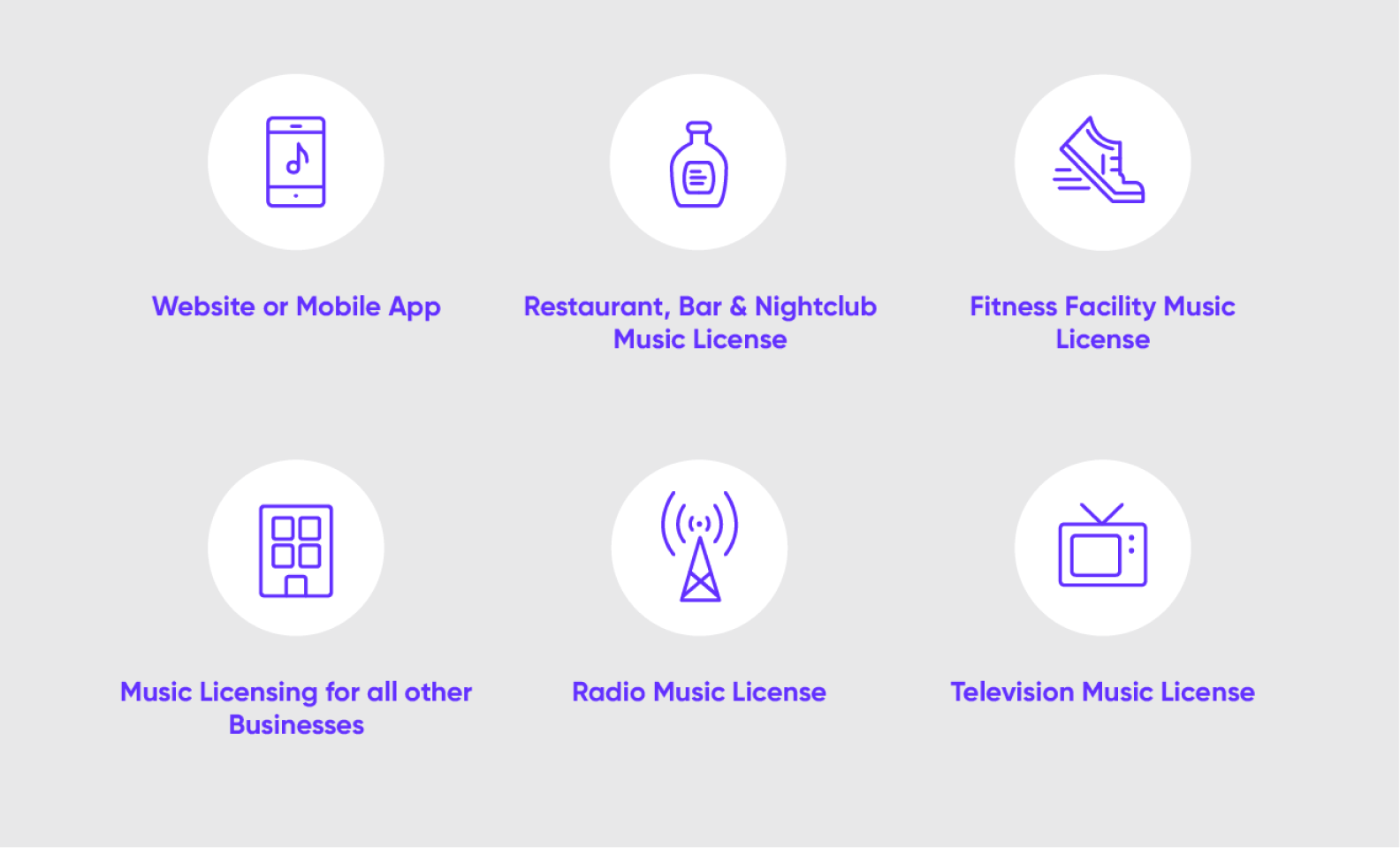 The American Society of Composers, Authors, and Publishers (ASCAP) has special music license for digital platforms and for other types of business.
Step 4: Create stunning UI/UX design
Imagine a music library with millions of tracks and your own playlists. User Experience design (UX design) can help users not to get lost in all of them, because it is responsible for making music streaming apps more intuitive and user-friendly. User Interface design is also important. Yes, people most often listen to music, and not look at it with their eyes (it would be strange), but good UI-design will help them not to go crazy from colors of album covers and tune into the right wave.
Step 5: Choose the technology stack 
When you have the main concept of how to make a music app, you need to meet your development team and choose a stack which will be suitable for the chosen features.
Step 6. Develop app
Development usually consists of two parallel stages: frontend and backend. Frontend developers write code for the application interface that the client interacts with — the work of the media player, playlists, music search, and so on. In backend development — for the backend. It is responsible for storing terabytes of music data, streaming directly, user authorization, and how they will connect with both platforms — iOS and Android.
Step 7: Testing and tuning
Testing is an important stage in the development of any application, including music streaming apps. It will allow you to detect and correct possible bugs before the release, so that your listeners could enjoy the quality of music and incredible selections.
Step 8: Launch the app and collect feedback
The release of the music streaming app is a very exciting moment. After all, your product, which you have been working hard on for some time, is coming out. But don't quickly go into euphoria. In the first weeks after the release, it is important to collect feedback from users to make your app more convenient and interesting for your audience and add more features to MVP. Want to know more about MVP, read our ultimate guide about this kind of mobile development. 
Tech stack for a music app
Choosing the right tech stack for a music application really matters as it influences performance, scalability, and the user experience. It plays a pivotal role in achieving swift loading times and seamless playback, even after the growth of user base and incorporation of some advanced features. A thoughtfully selected tech stack enhances the overall user experience through responsive interfaces.
Additionally, some technologies contribute to higher costs, while others can save your budget and time. For example, developing a cross-platform app is faster and 30% cheaper than creating a native one.
After going through different variants, we opted for JavaScript frameworks. The choice proved to be a good one as we successfully developed 300+ projects using this tech stack. Here's the detailed description:
| | | |
| --- | --- | --- |
| Back-end | Node.js, JavaScript | Helps to create a scalable and efficient backend architecture. |
| Front-end | React Native, React.js, Electron.js | Cross-platform development with React Native saves around 30% of your project budget. React.js and Electron.js provide effective solutions for web and desktop app development. |
| Infrastructure | AWS, Heroku | Offers such features as automatic scaling and continuous integration. Provides a scalable infrastructure for hosting the app. |
| Database | PostgreSQL, MySQL, Redis | Combine different databases to store data in a safe and convenient way. |
| Real-time messaging | WEBRTC | Implement real-time communication features such as chats and audio calls, using this technology. |
How much does a music streaming app cost
To correctly estimate the cost of developing a music app, you need to analyze a number of factors, such as features for streaming music, the platforms on which it will be launched, and the design of your app. All these key components are then decomposed and divided into hours that are spent on creating each individual function of the application. The cost can be in the hundreds of thousands of dollars if we are talking about developing full-format music apps. MVP will be much cheaper. Let's see what resources one needs to build a music streaming app with the MVP approach.
🚨Disclaimer: This is our estimation for the development of a music streaming app and we don't guarantee other companies have the exact costs or timelines. The following quote is valid only if you decide to develop a product with us.
| | | | | |
| --- | --- | --- | --- | --- |
| Stage | What we are doing | Estimation in hours | Estimation in weeks | Approximate costs |
| Project estimation | We discuss an idea of your music streaming app and estimate the costs and time needed | 0 hours | 0 weeks | 0 $ |
| UI/UX design | We create a single design layout based on a user behavior map and develop design concepts for each individual step and approve them with you | 142 hours | 6 weeks | $8 615 |
| Development stage | Our team is working on the architecture of the application, the client-side interface and its interaction with the server, as well as developing the admin panel | 1050 hours | 12 weeks | $51 300 |
| QA (Quality Assurance)  | We look  for any little bugs and fix them before releasing | 360 hours | in parallel with the project | $7 200 |
| Project management | We manage the project in such a way as to meet the agreed deadlines and create a quality product | In parallel with project | In parallel with project | $4 950 |
The exact project budget will depend on the details of your project: your idea, preferences, number of functions, and design additions. The final price can be named after consultation with the development team.
Challenges in music streaming app development
Let's have a look at some difficulties that may occur while building a music streaming service. But fear not, we'll suggest a way out for each challenge.
Music licensing
Acquiring the appropriate licenses for streaming music involves navigating complex copyright laws and negotiating with record labels, which can be time-consuming and costly.
Solution: employ experienced legal experts to navigate licensing agreements effectively and make a music streaming service without any problems. Establish partnerships with record labels and content providers to simplify the process.
Finding experienced music app developers
Hiring skilled developers who are well-versed in both music streaming and app development is a considerable challenge. Still, you can't do without a team capable of crafting a convenient music streaming service.
Solution: conduct a comprehensive research through professional networks, freelancing platforms, and referrals. Outsource development to experts with a proven track record in music app creation and a large portfolio.
Data storage and scalability management
Managing extensive music libraries and user data demands robust storage solutions. Ensuring scalability to accommodate growing user base and playlists while keeping the app's quality high is an ongoing concern.
Solution: use cloud storage solutions that offer scalability options or employ Content Delivery Networks (CDNs) to distribute content and reduce server load. You can also implement data partitioning and efficient indexing to optimize storage.
Audio quality and compression balance
Striking a balance between delivering high-quality audio streaming and minimizing data consumption is a technical challenge. Finding a proper solution requires time and effort, so that you could provide excellent sound quality without compromising playback stability within your music streaming service.
Solution: choose advanced audio compression algorithms and cloud-based music streaming solutions to maintain high-quality audio while minimizing data consumption. Implement adaptive streaming to adjust audio quality based on available bandwidth or provide offline access to music.
Cross-platform compatibility
Making sure your music streaming app works well across diverse devices and platforms is a must. It should run smoothly, no matter if a person uses iOS, Android, mobile, or desktop version (for a music streaming website).
Solution: opt for cross-platform development frameworks to streamline app development for multiple platforms. Conduct thorough testing on different devices and operating systems if you want to make a music streaming app without any bugs.
User data privacy
Music apps routinely collect personal data and user preferences, and that's the very case when robust security and privacy measures are important to keep users' trust. 
Solution: implement robust encryption protocols in your music streaming platform to protect user data during transmission and storage. Comply with data privacy regulations such as GDPR and CCPA. Regularly conduct security audits to identify vulnerabilities in your music streaming application and address them promptly.
How to monetize a music streaming app 
Freemium model
This monetization model is especially appealing for young startups that need to grow their audience. It assumes a free trial at first and additional options for a fee. It will also help to test certain features, how much they are in demand. For example, you can release the feature of turning on a special morning radio as soon as you wake up by synchronizing it with the alarm clock in your smartphone. Its cost may be quite small, but the number of subscriptions to it will tell you how interesting the feature is to people.
In-app advertisement
You can place direct advertising in your music streaming app with 2 options. The first one of this monetisation model is the integration of short audio ads into music content. The second is media advertising. The main thing here is not to overdo it, since the profusion of advertising always pushes away from the application and does not encourage you to use it at all.
Subscriptions
As soon as you gather a large loyal audience of subscribers who are delighted with your music streaming app and the work of the platform, ‌you can start a campaign to switch from a free plan with ads and choose a premium subscription plan for streaming without ads. It is best to set up several tariff plans including unique features or ways to avoid advertising. You can also make family or student plans that will help expand the user community by providing some discount.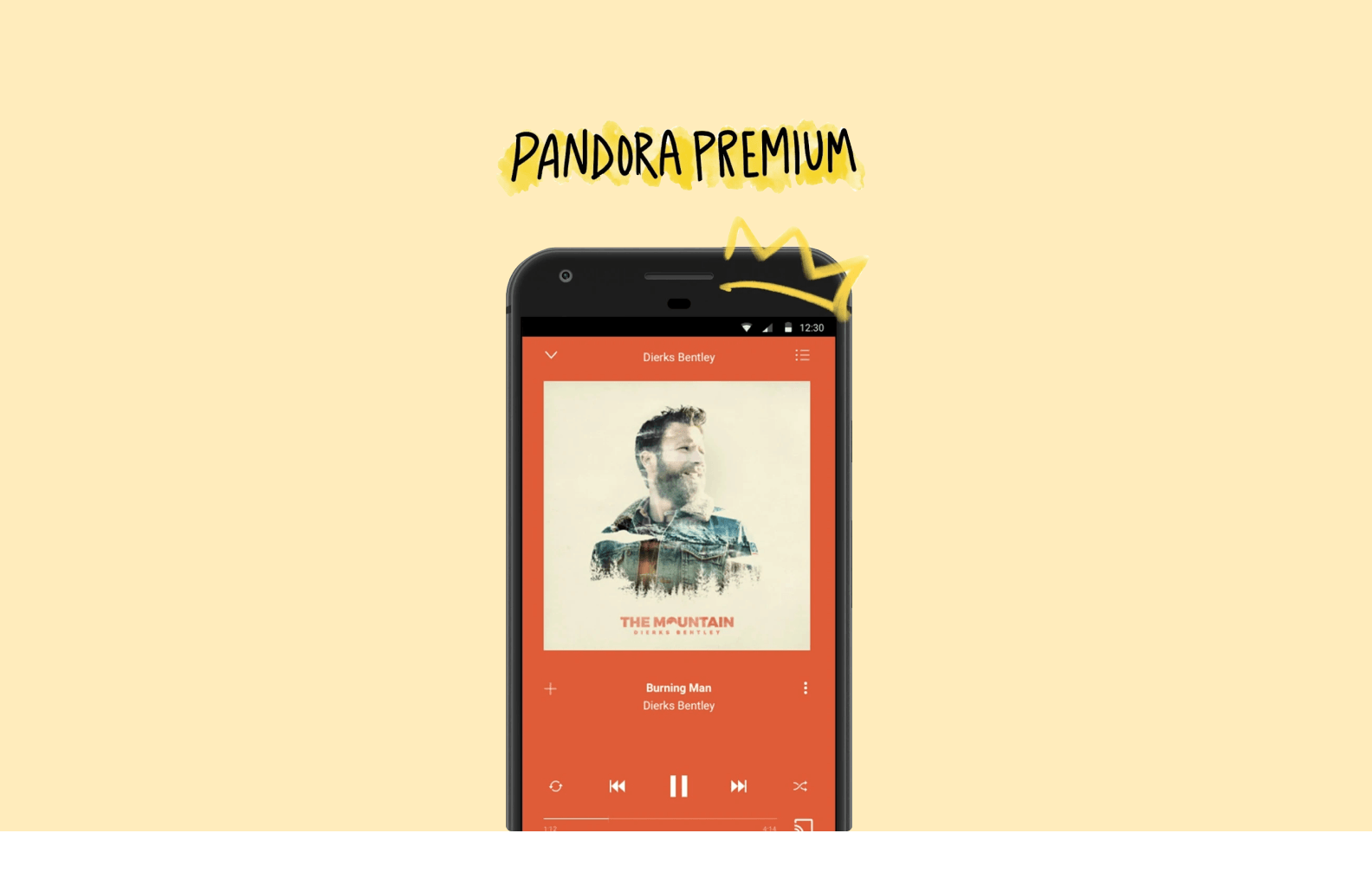 Pandora app offers to choose Premium subscription to listen to songs on-demand and without ads
Promotions
When your app has a significant number of subscribers, the next step in monetizing the app is to offer your service to promote young or little-known music artists. For example, your application can easily make as many users as possible know about the new album. This can be a very profitable story.
Our experience with music app market development 
In Purrweb, we already have some experience in music services development. We created a site Tunetank.com for market professionals who use music for commercial purposes. The main idea of this app was to rigidly filter tracks, make a cool design and ensure high performance and music loading. Among additional features were also integration of the international payment system, watermarks overlay on files and synchronization of two audio waves on one page.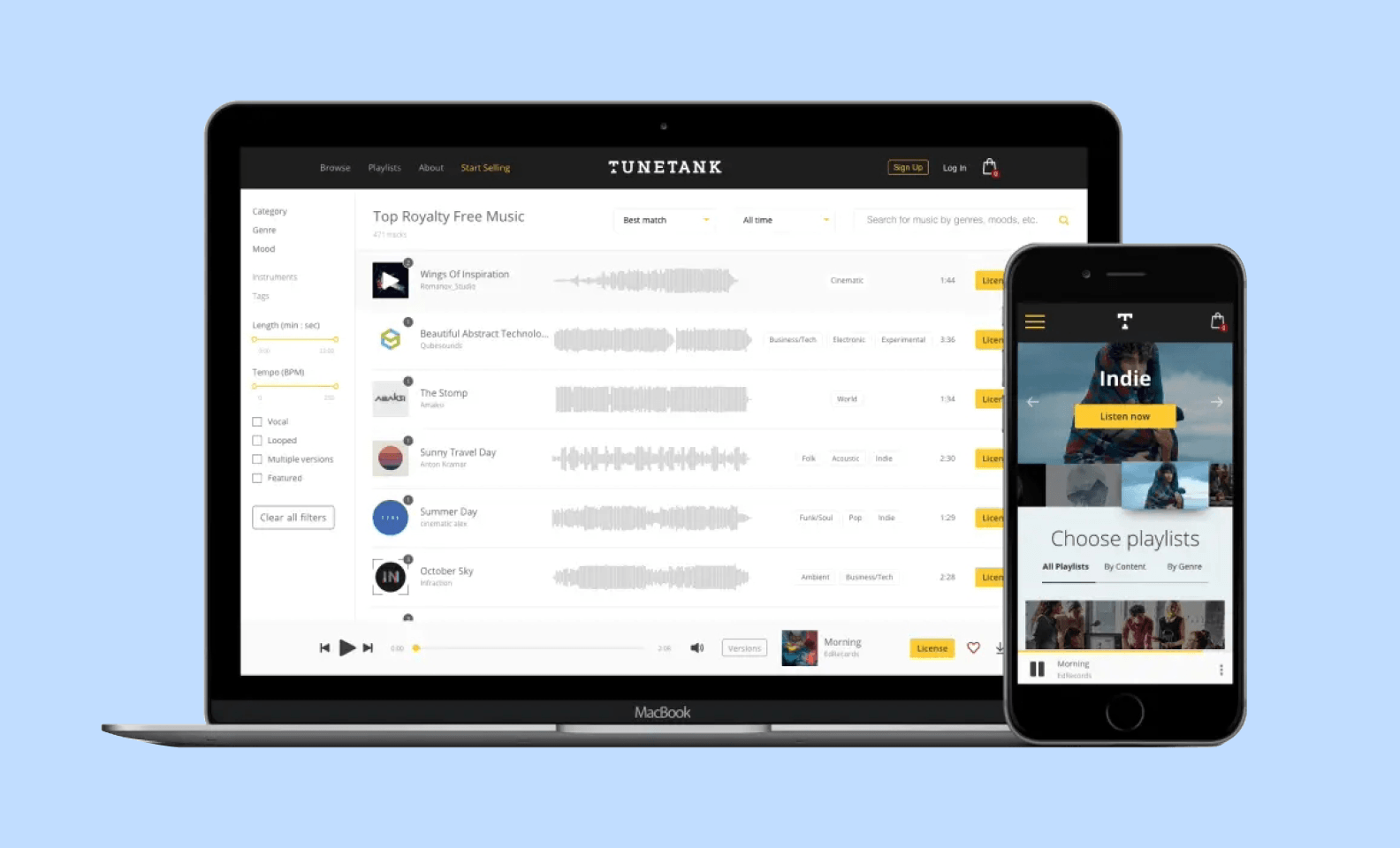 If you decide to build a music streaming app, we admire this choice and are happy to offer our services for the development and implementation of your idea. Leave your request in the form below and we will contact you back as soon as possible!