It's easy peasy for a five-year-old child to access YouTube via iPad. No one reads manuals for smartphones today because we know the common principles. Thanks to UX designers and the UI/UX services they provide. 
In this article, we will talk about the significant role of UX designers and explain to you why it's important to hire UX designer.
Who are UX designers and what do they do?
A UX designer is the person who makes sure a product logically flows from one step to another and designs it equally functional and easy-to-use.
Let's see what falls to a UX designer:
conducting user research;

coming up with a mind map;

determining the logic of a product;

designing wireframes and user flows;

creating design concepts & prototypes;

carrying out usability and A/B testings.
In other words, a UX designer explores approaches to solving a specific user problem and builds the logic of a product.
MVP development: what is the workflow of a UX designer?
When we are talking about MVP development, however, a UX designer is likely to be responsible for every part of the design process. Due to small teams and limited resources, they have to deal with both UI and UX — yeah, you ought to hire UX designer when working on MVP, i.e. first product version.
Let's dive into the MVP development process, look through it step by step and see why you need to hire UX designer:
Analyzing competitors and user needs
Even before MVP development starts, UX designers conduct competitor research. They look at existing apps and examine their visual design, functionality, and usability, thus identifying industry standards and foreseeing opportunities for the product.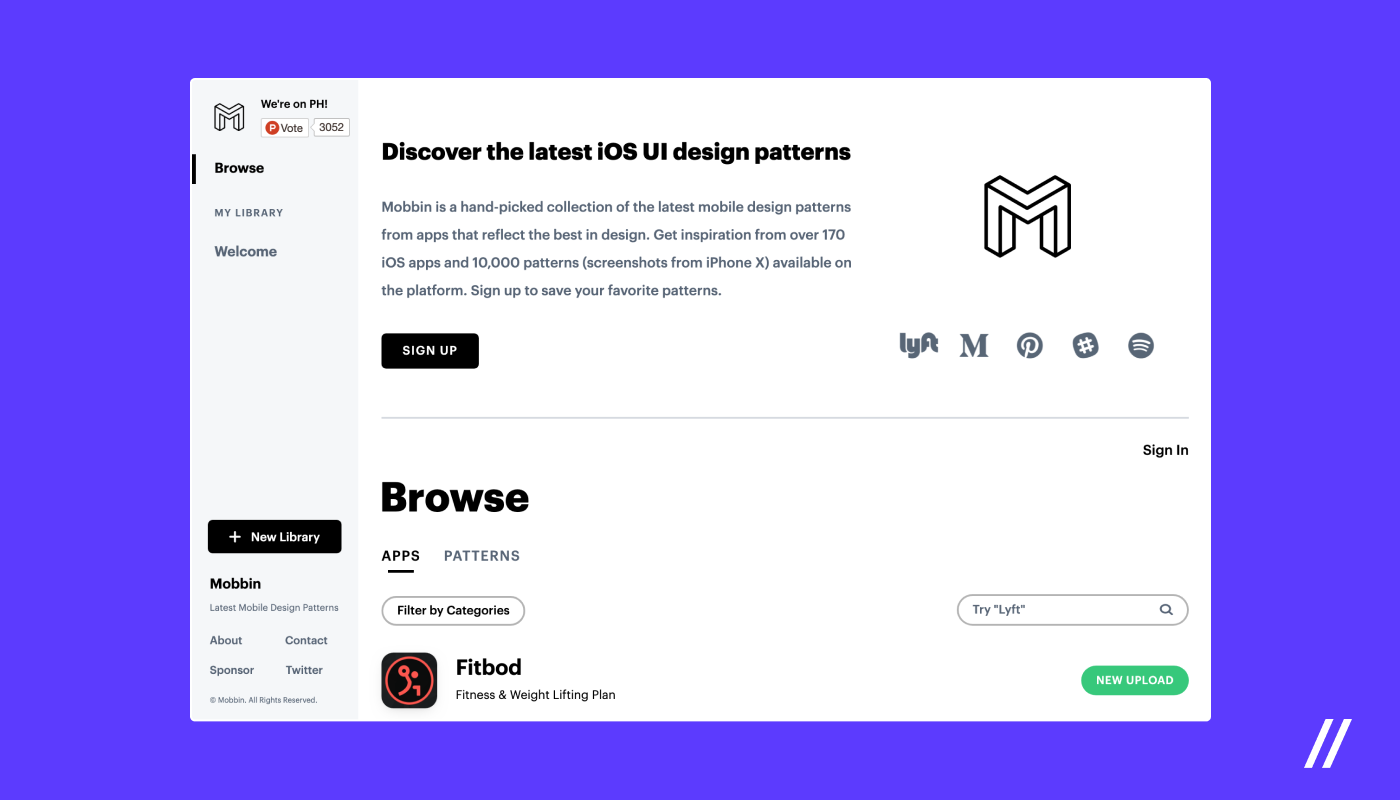 Mobbinhttps://mobbin.design/ is the tool we use for analyzing UX-patterns
Then they turn to user research — the process of determining user needs. Why is it important for MVP? Understanding user goals and behaviors help them build the right UI/UX strategy. If the product is aimed at people over 40, UX designers will nix small fonts on a dark background, for example (if you don't hire UX designer, no one will help you with that).
Design-concepts
At Purrweb, we established the practice of creating design concepts (one or two screens from the core user flow). Everyone benefits! For a client, this is an opportunity to see a summarized version; for our team — to present future UI/UX architecture to a client so we could reach an agreement on how the eventual product will look and feel.
Yeah, clients want to have a taste of the final UI/UX design
Prototyping
The most effort-consuming stage of MVP development. All of the tasks come back-to-back. Let's look at what a UX designer does:
User journey  — planning a number of screens that show what steps users make to reach their goals.

IA (information architecture) — building flowcharts or mind maps that result in the creation of navigation, hierarchies, and categorizations.

Low-fidelity wireframes and prototypes — creating rough sketches of the interface and prototyping them.

High-fidelity wireframes and prototypes — filling low-fidelity mockups with details. Designers add grids, typographies, and most of the necessary design assets, so they get a  b/w layout of the interface functionality.
During working with wireframes, UX designers think through core user flows and logical transitions between screens. As is often the case, the first three stages are sufficient to move on to visual design.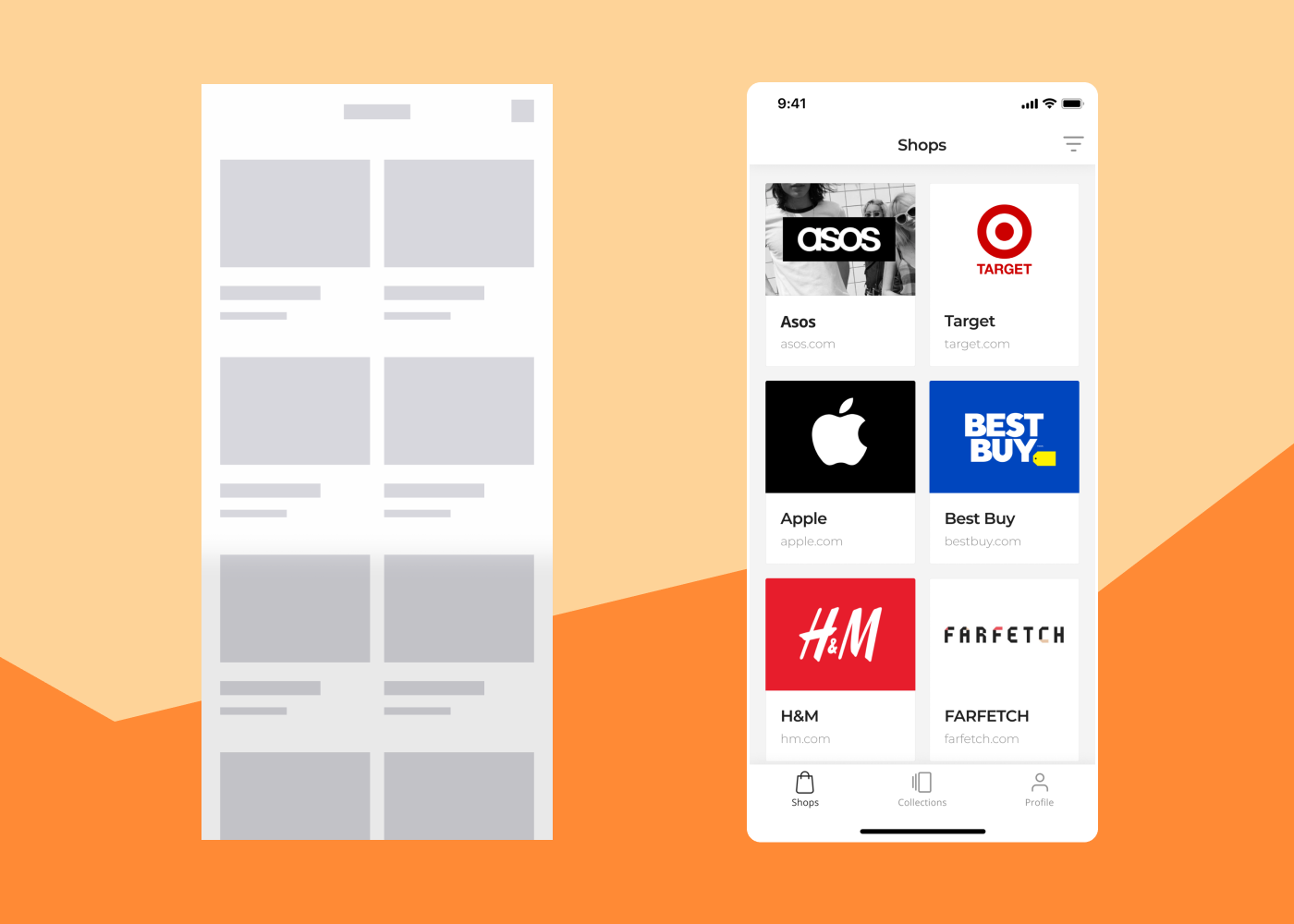 This is how a personal wishlist, which we developed at Purrweb, changed
Visual design
And the final step. The visual part is adding UI. Designers hook up colors, animation, logos, and all necessary brand-related elements.
Remember: no matter how cool your MVP idea is — without a beautiful wrapper it won't get many users. By 2020, users are sated with a thought-out UX and good UI, so it's a dead-end road to go raw. The question is: how can one think they don't need to hire UX designer?
Why is it important to hire a UX designer at MVP stage?
If any of you forgot why MVP is good for startups:
it saves time and money spent on the development

it  helps to net first users for your product and get feedback

it allows to validate the idea
Sure, MVP needs to be made as quickly as possible but a hastily created raw product is unlikely to verify the hypothesis: users won't simply understand a product with a bad UX, and it will not come to validation. Analyzing competitors helps to understand where your product can win. Research of users needs — everything from color and button size to the entire product logic. Isn't it enough of a reason for you to hire a UX designer?
No one will relish a crude UX
At the MVP stage,  a UX designer is to make sure that you release not a blindly created solution. The user gets something that perfectly solves problems. The client gets a product that can be further improved.
Answering the main question: do you need to hire UX designer? Yes. When? Always.