Key takeaways
Restaurant apps are mobile solutions that connect restaurants with their customers or suppliers and help store information in one place
The main trends in restaurant app development are cashless payments, menu filtering options, and loyalty programs
The restaurant app development includes such steps as: costs and timelines estimation, UI/UX design, app development, QA testing, and post-launch support.
What is a restaurant app
At first glance, the definition of a restaurant mobile app seems pretty plain and clear — what is there to discuss?
Restaurant apps are mobile solutions that connect restaurants with their customers or suppliers and help store information in one place.
However, there is no gold standard for restaurant mobile app development and each platform significantly differs from the others. Think about apps you have on your phone: one for online food delivery, one for table reservations, one for leaving ratings and reviews, and all of them can be called "restaurant apps," because they are utilized by different cafes and restaurants.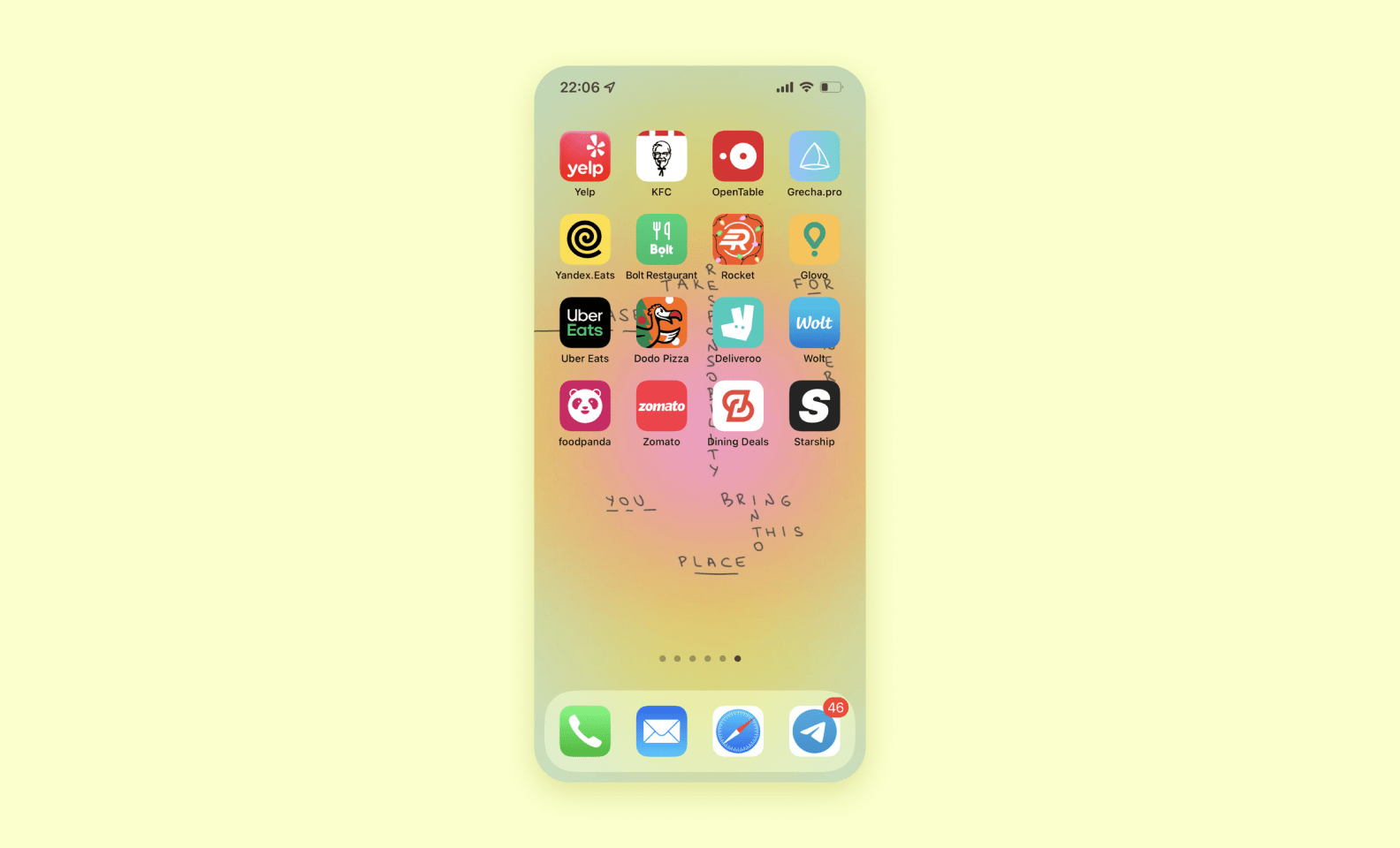 Most smartphone users have dozens of restaurant apps on their devices
Though the definition of a restaurant app is very broad, one thing is clear: such solutions are created for restaurants specifically and help them improve their operational processes. 
Stats and facts about the restaurant app development sector
According to recent research, food-related services remain one of the fastest growing segments of the billion-dollar app market. Undoubtedly, the ongoing pandemic contributed to the rapid increase in audience, revenue, and investing interests. Here we gathered together some important facts and statistics about restaurant mobile app development.
Numbers show that the food-tech sector is growing rapidly and is expected to expand dramatically in the upcoming years, alongside increasing investors' attention. The restaurant mobile app development service is in huge demand now, and if you have had an idea in the field, it is a good time to start acting.
Trends in restaurant app development
Over the last few years during pandemic restaurants realized the importance of online orders processing. There are few trends that will make your restaurant app very demanded.
Cashless payment. This trend has become popular during the pandemic. It is faster and more convenient to make an order and pay for it right in the app. 
Menu filtering option. Clients get more selective about the kind of food and a system of filters is essential. It helps users of a restaurant app find those dishes that they could have missed without filters.
Loyalty programs. Creating loyalty programs makes your app more popular and customer-oriented. Loyalty program works well with restaurant apps because customers will make orders in the same restaurant again and again to get purchase rewards and bonuses.
Most common types of restaurant apps 
Before jumping to restaurant mobile app development, let's discuss what types of solutions exist out there and what business purposes they serve. Generally speaking, there are several ways to categorize restaurant mobile apps, based on who uses the platform and why. In this chapter, we will break down the most popular categories, and in the next one discuss successful examples. Let's dive in!
Restaurant-supplier vs. restaurant-customer apps
One way to categorize restaurant apps is based on who is on the receiving end: the vendor or the customer. This will influence the app development process and user flow.
👩🏻‍🍳➡️🥦 Restaurant-supplier platforms connect owners with vendors. Through these apps food spots can move all interactions with their suppliers online. Also, some platforms allow users to browse a catalog of fresh produce and beverages and compare prices. 
If you are not into the restaurant business and app development, you probably have not heard of examples for restaurant-supplier platforms. But you can always look them up. They include Kitchify, Choco, or Grecha.pro. 
👩🏻‍🍳➡️🙋🏻‍♂️ Restaurant-customer platforms place regular clients on the receiving end, while the main goal of the solution is to connect food places with its customers and make this interaction smooth and quick for both ends. They can serve several purposes, for example, help clients order food online, get it delivered, leave reviews, book tables and find hot spots in new cities.
The restaurant-customer segment is very dense and has several subcategories depending on the main activity users can perform on the app.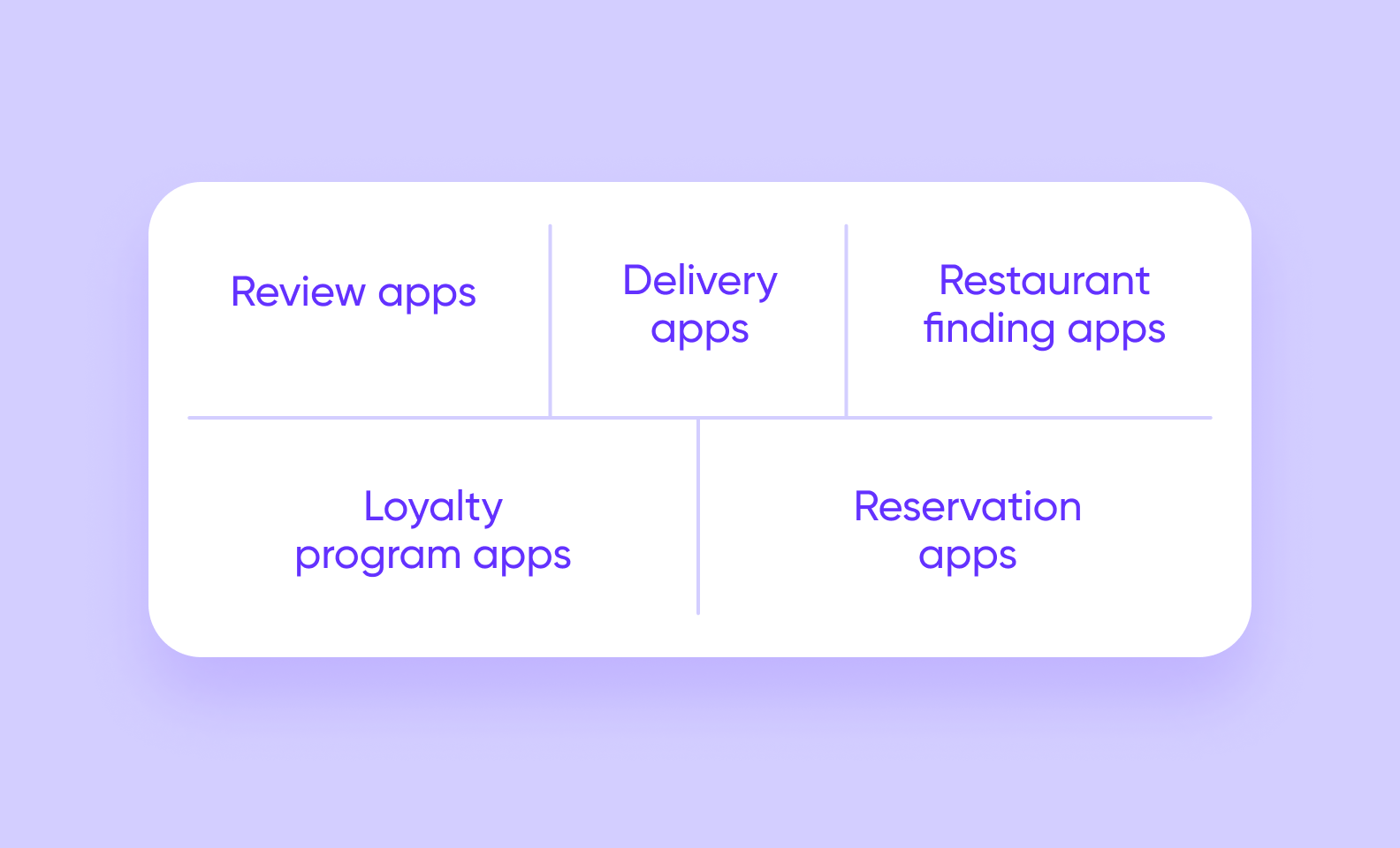 Reviews platforms

that allow customers to share their experience about restaurants and dishes they tried there. Prominent examples of

mobile app development

of this subcategory are Yelp or Urbanspoon.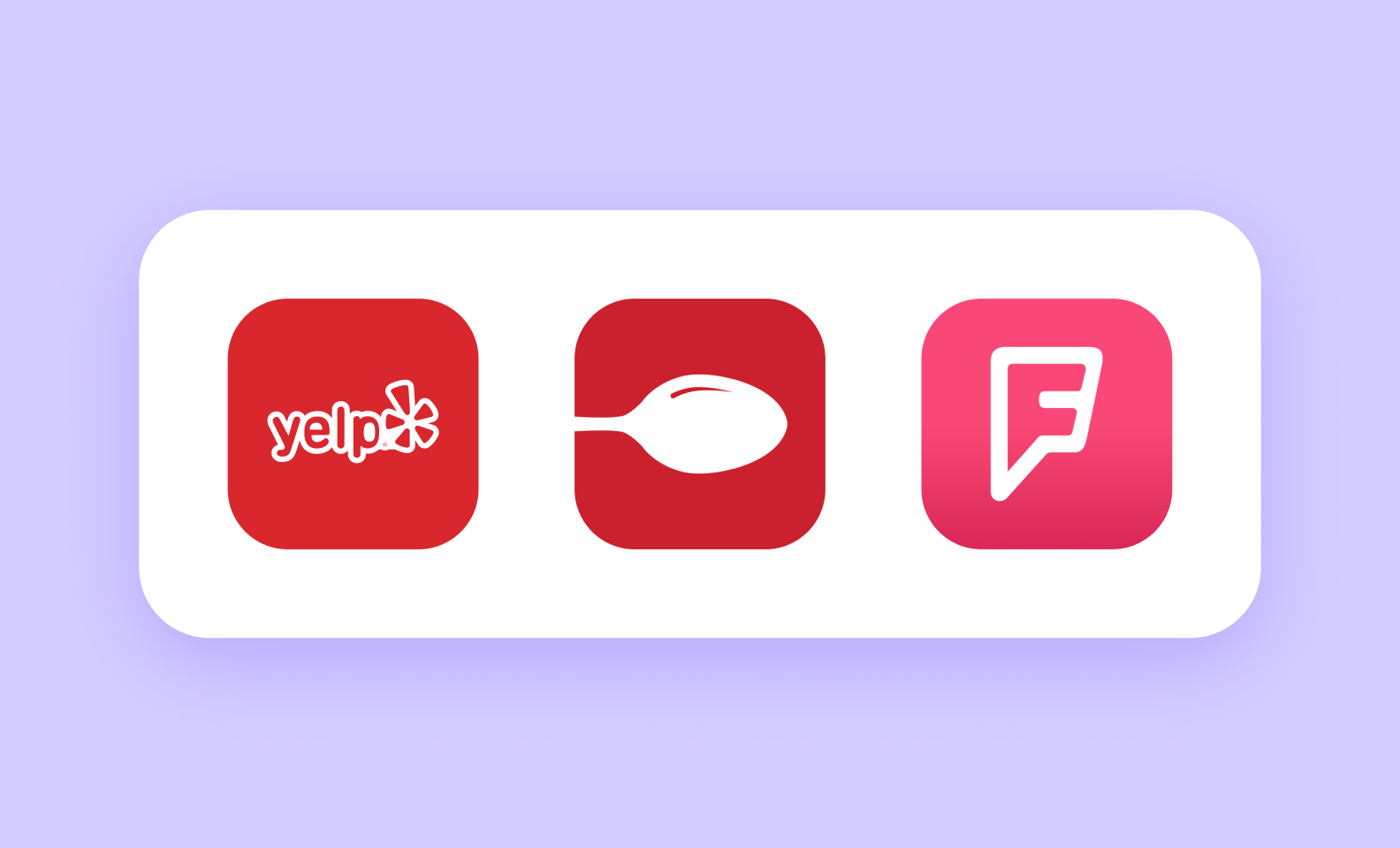 Online order and delivery apps

are the most popular subcategory, as it helps customers place orders for takeout and get their favorite meals delivered to the doorstep. Examples are well-known to anyone across the world and do not need a long introduction: UberEats, Wolt, Pizza Hut, or even McDonald's.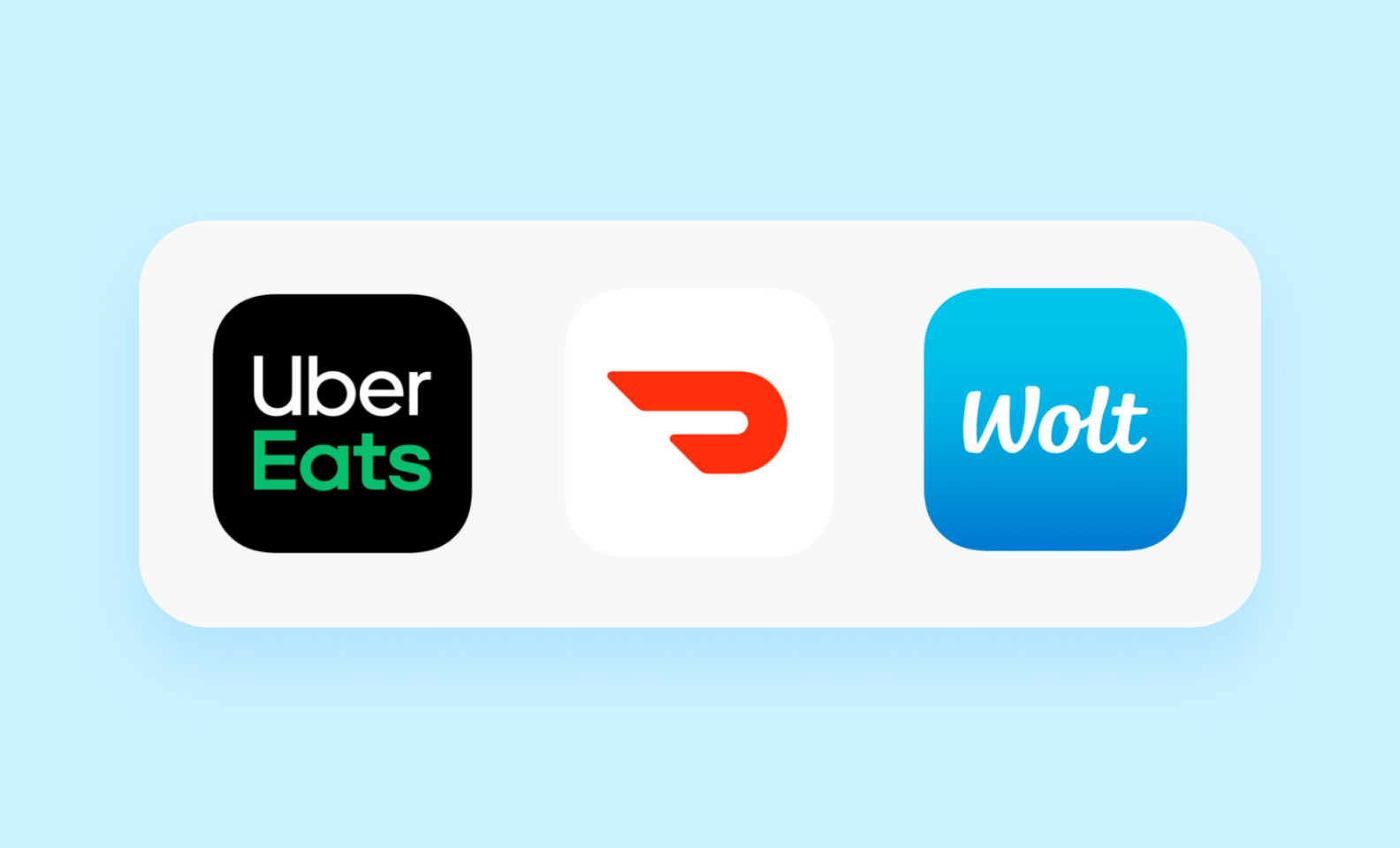 Reservation apps

help introverted customers to reserve a table without calling a restaurant. For this purpose, one can use OpenTable or NewTable.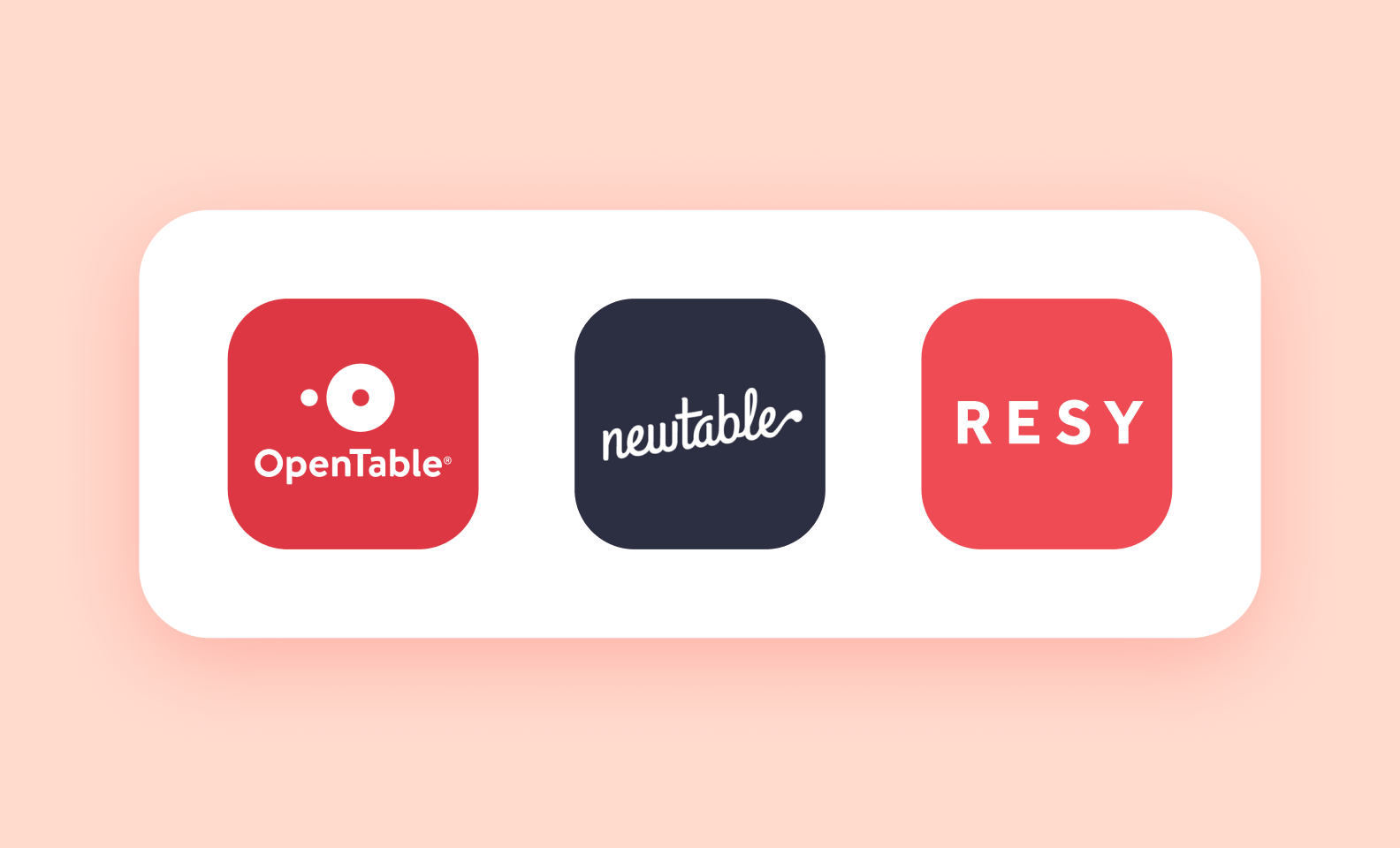 Restaurant locators

are apps that assist users in finding nice restaurants nearby. Usually, they include features from other subcategories, for example, ranking and reviews, so customers can read about other people's experiences and choose where to go for brunch or dinner. One of the most popular examples of restaurant finder platforms is Zomato.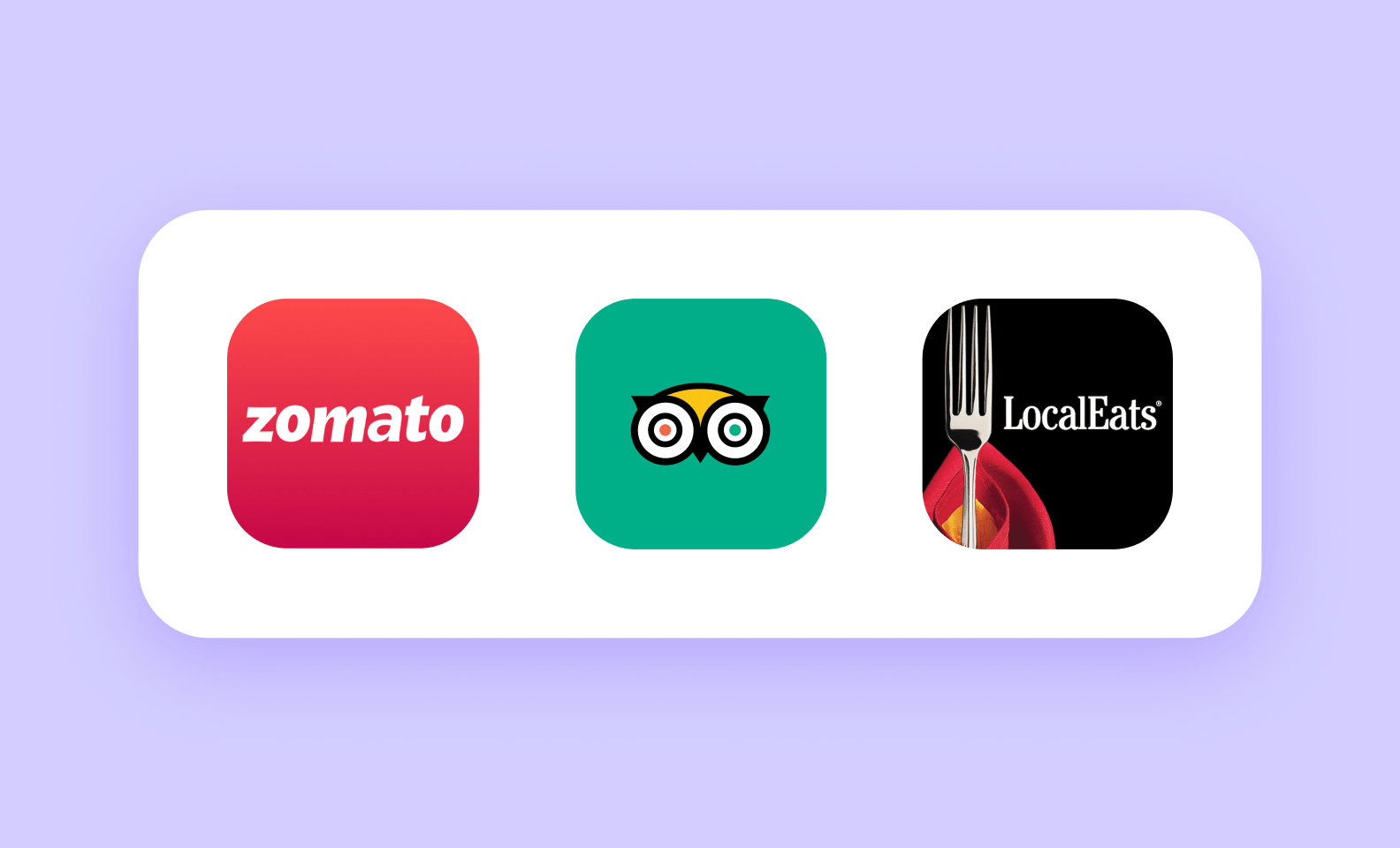 Loyalty program apps

enhance the stewardship between a restaurant and its customers. When using such platforms, clients can get points for their purchases and exchange them for different rewards: discounts, free meals, or drinks. For example, with the Starbucks Rewards app customers of the coffee shop chain earn Stars with every drink they buy and redeem them later, which makes them come back to the company.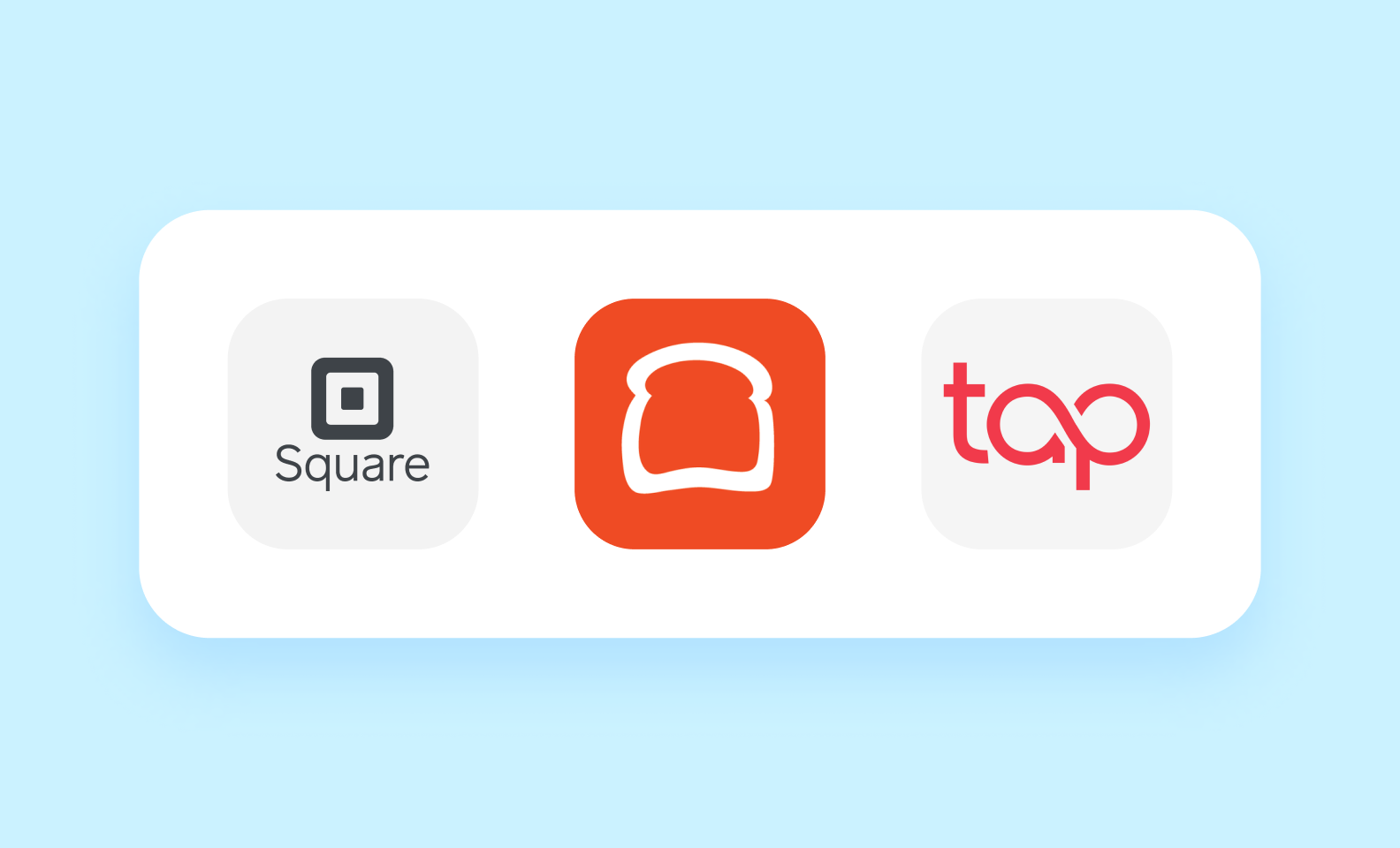 Single vs. multi-restaurant apps
Another way to approach restaurant mobile app development is to decide how many restaurants will use the solution. 
👩🏻‍🍳 Single-restaurant apps serve only one particular business. Usually, it allows customers to check the menu and order takeout or delivery. As you can guess, owning a personal platform is expensive, that is why only big global corporations, like Taco Bell, KFC, or McDonald's can afford custom restaurant app development. Small local restaurants and early-stage businesses prefer to utilize third-party services to cut operational costs.
👩🏻‍🍳 👩🏻‍🍳 👩🏻‍🍳 Multi-restaurant apps serve as a "middleman" and connect multiple food places with customers, delivery drivers, or vendors. This type of app development has a lot of potential, as the more restaurants join the platform, the faster it grows. A perfect example of such a solution is any food delivery app, such as Wolt, GrubHub, Bolt Food, and others.
8 restaurant apps examples 
To better understand the theory, let's move on to the practice and discuss real-world examples of restaurant apps. We picked 8 creative and robust solutions that you need to learn about before approaching restaurant app development.
Restaurant-supplier apps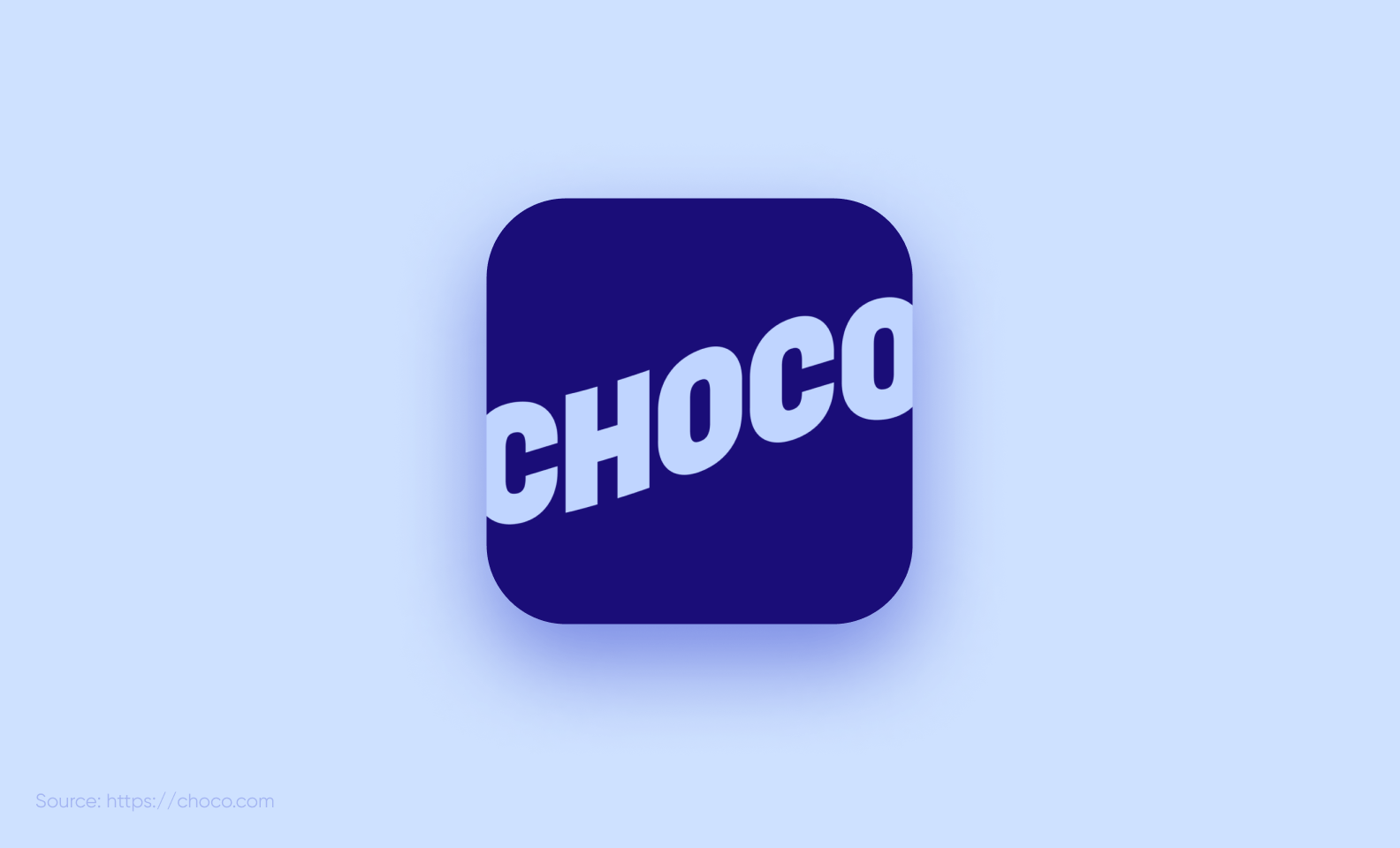 Choco is a free-of-charge platform for chefs and restaurant managers to connect with the suppliers and keep all kitchen orders in one place. It was founded in Berlin, Germany, in 2018, and in 2020 it raised $30.2 million in funding. Currently, the company is valued at more than $250 million.
Choco provides chatting functionality, a contact book, a catalog of vendors, and a tab to track current and past orders. A chef or a restaurant manager from any city and country can sign up, provide the details of their restaurant and browse the catalog. As soon as they see something they like, they can place a kitchen order and keep an eye on its readiness.
Moreover, the app targets not only the restaurants but also the suppliers — through the platform they can find new clients. Often sales reps simply do not have time to knock on every small restaurant door and offer their services and discounts in person. With Choco, they can do it digitally and reach even more food spots while saving time and money. For example, one of the first Choco's clients, the vegetable suppliers in New York, had over $800k of produce to sell when the pandemic hit. It had to be done quickly before all the food went bad. They joined the app, found customers, and now have more than 500 orders a day, thanks to Choco.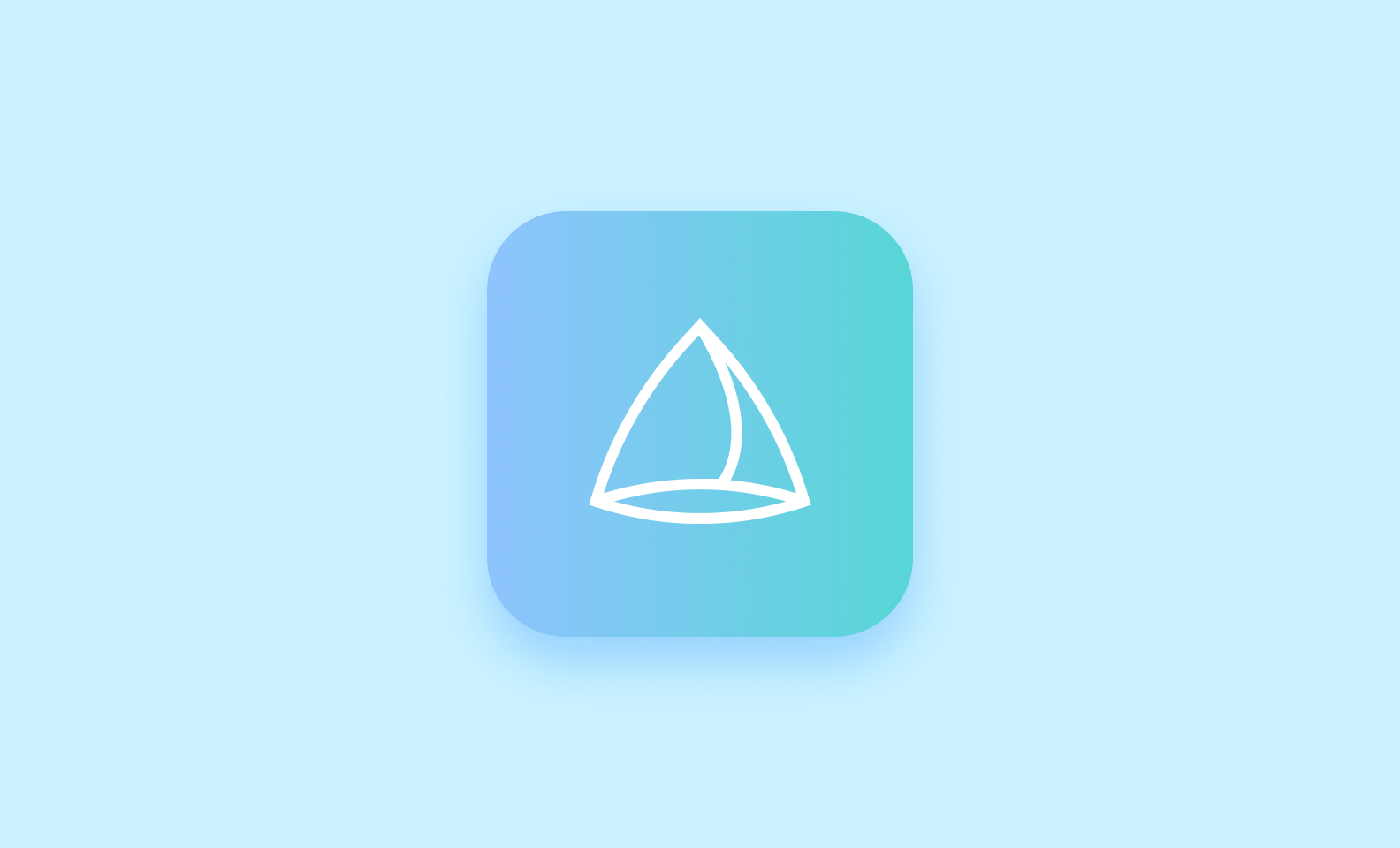 Grecha.pro is software that helps restaurants automatize and digitalize their orders. So far it works only on the Russian market but has plans to expand in the future. The flow is very clear and intuitive: a restaurant manager signs up, chooses the best offer, opens a chat with a supplier, and places an order — all in 3 clicks.
The hallmark of Grecha.pro is an integration with the messenger Telegram and e-mail. Why is it cool? Because at this stage restaurants are more after using such an app, so they use Grecha.pro messenger to chat and order, while suppliers stay in a channel that is comfortable and habitual for them to use: Telegram or e-mail. Moreover, the app allows you to add other employees to the chat, so they can also keep track of the order and control the process. 
💡If you want to know how we created Grecha.pro, came up with UI/UX design and why there is a buckwheat cereal on the logo, read our design case about the app.
Restaurant-customer apps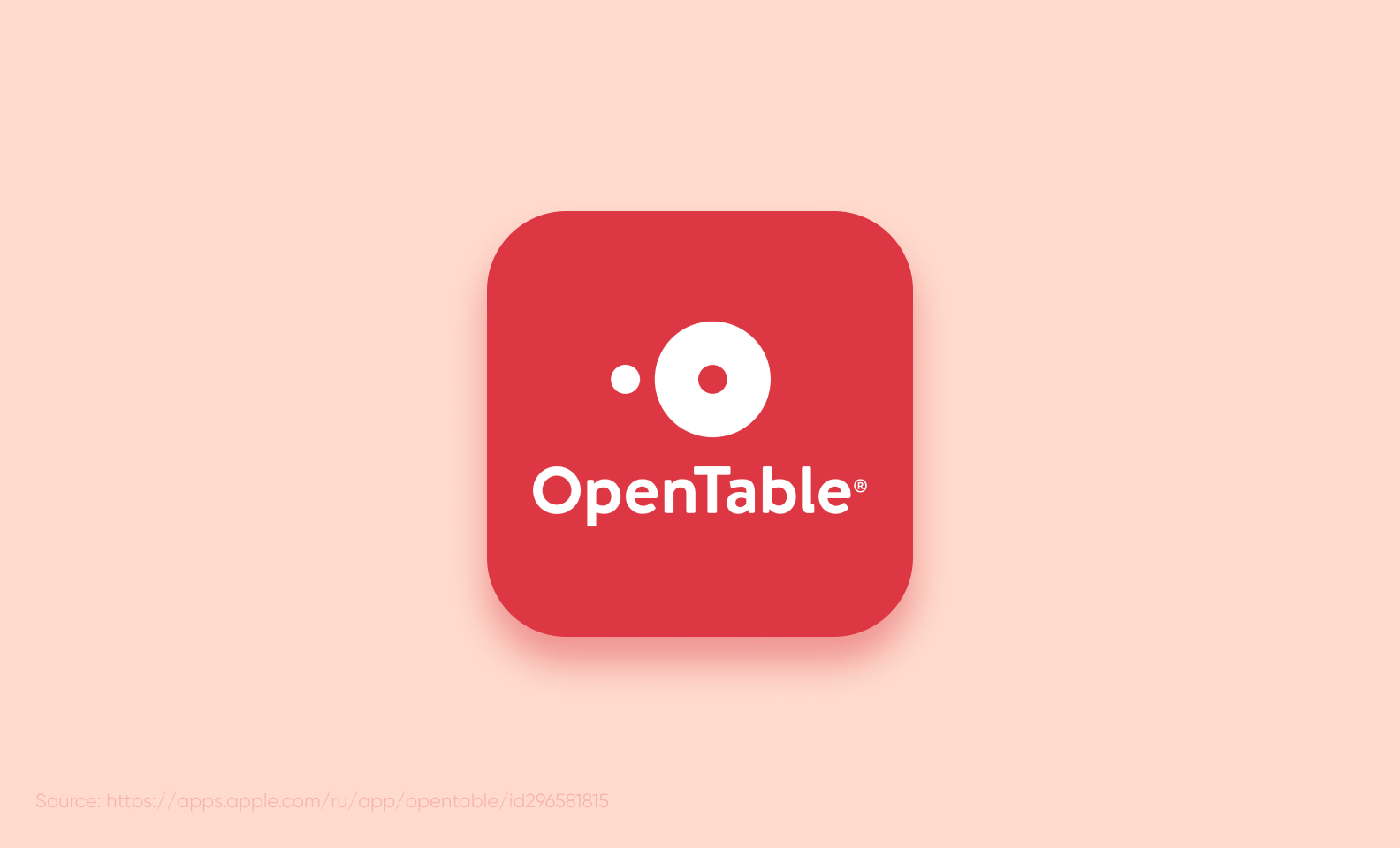 Open Table is a multi-purpose app that combines together several key functions. It allows users to reserve tables online, read and place reviews for dine-in seating, and, at the same time, earn rewards towards free meals and drinks. 
The platform is a veteran of a digital world — it was founded in 1998 and initially covered only the San Francisco area. The founder, Chuck Templeton, struggled to make a restaurant reservation over the phone. In 2014 the company was purchased by Booking Holdings, which also owns Booking.com and Kayak, for $2.6 billion.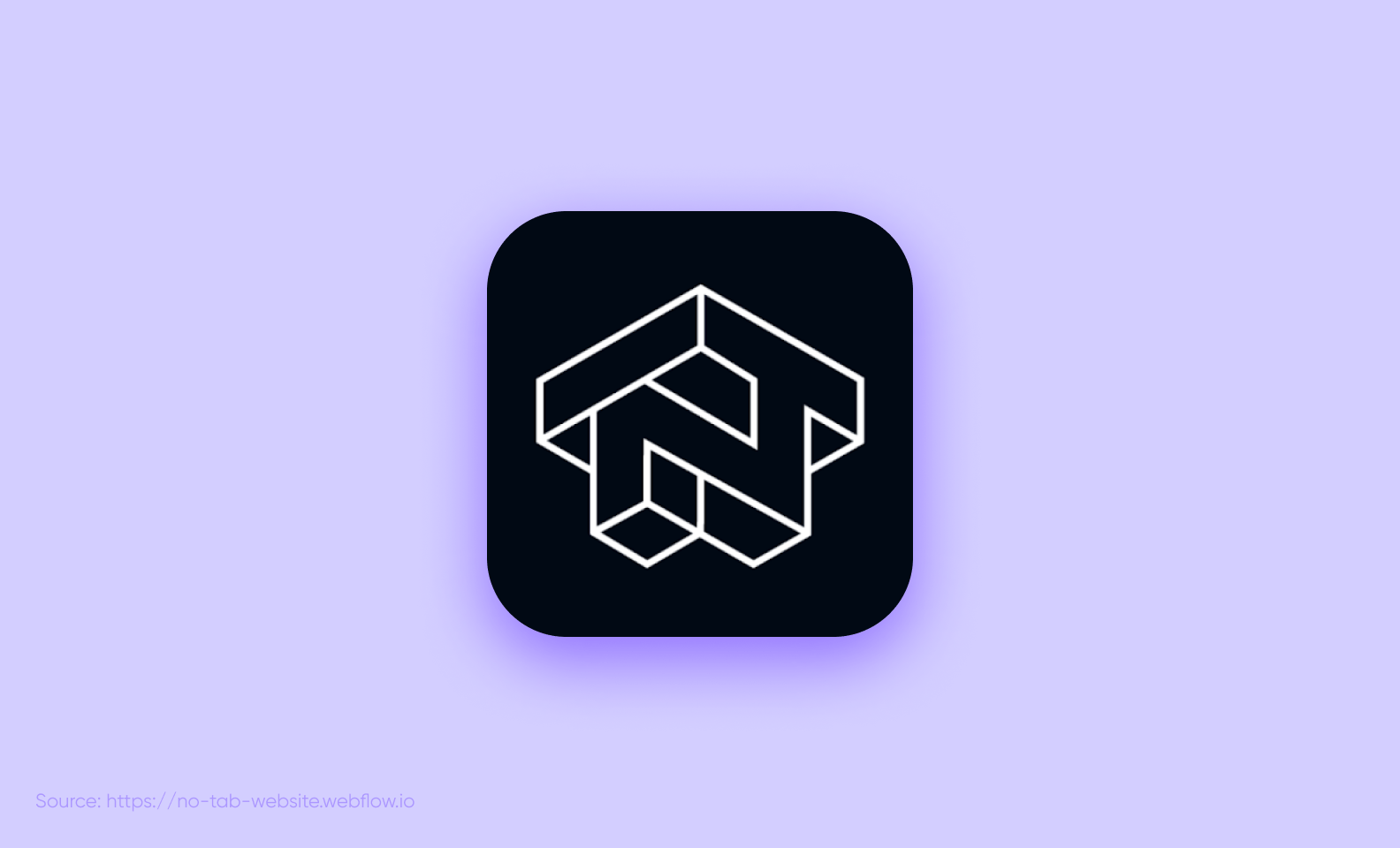 No Tab is a platform for night clubs to take automated orders and mobile cashless payments. The flow of the app is very simple: a customer can book a table in the app, then, when they arrive, scan a QR code, check the menu, and order food and drinks. Same for the dancers. No Tab even autimatically checks that guests are not underage if they want to order alcohol.
When guests are done with the meals, they can see the bill, pay it and tip the waiter. Meanwhile, the restaurants can see generated reports about customers' habits and behavior to make better business decisions.
However, the architecture of No Tab is not that simple. In fact, it is 5 apps in one: for a guest, for a waiter, for kitchen, for dancers and one more for a manager to supervise the process. The Purrweb's team developed all 5 applications concurrently, within only 6 month.
Single-restaurant app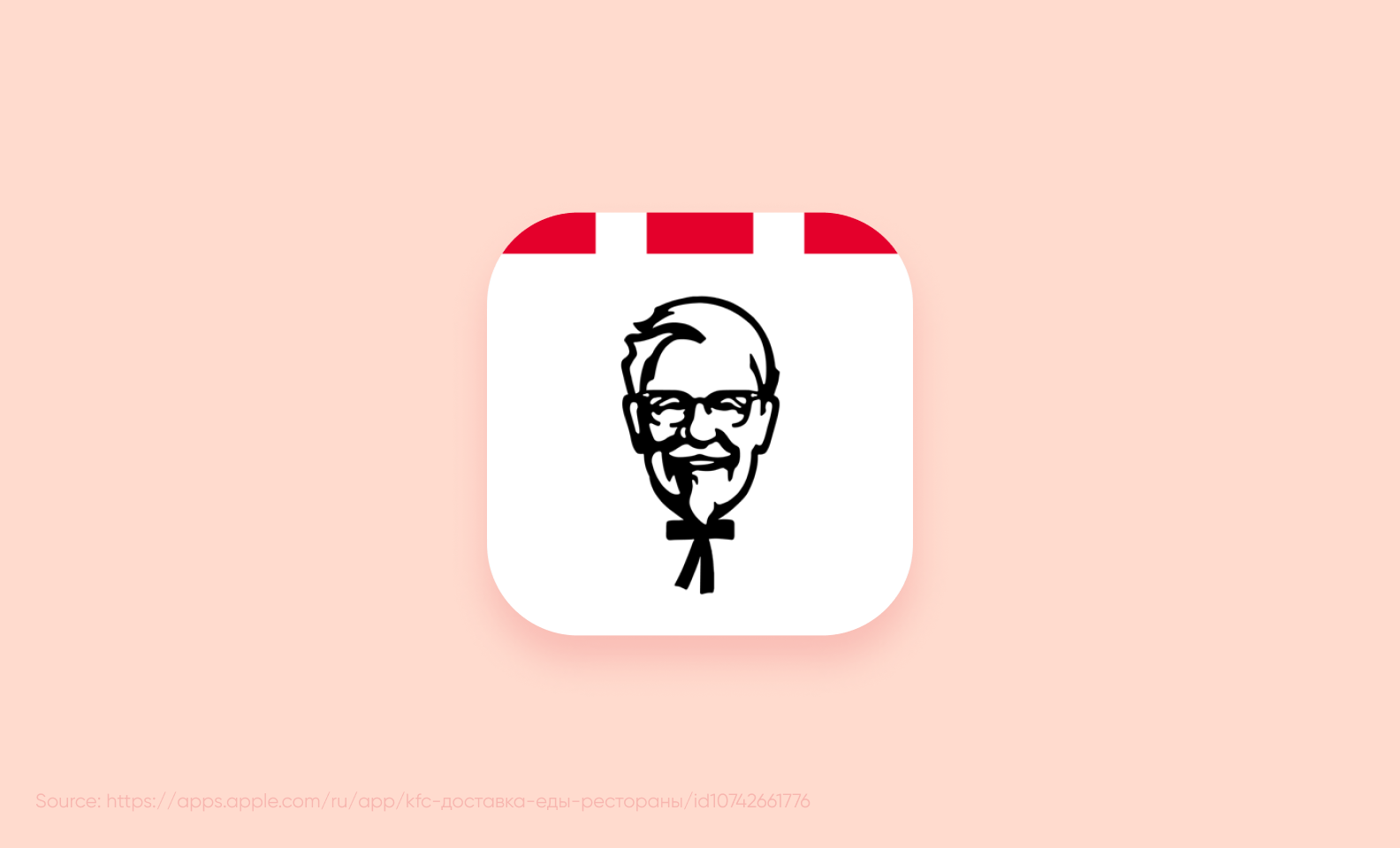 KFC is an app that belongs to the global fast-food chain Kentucky Fried Chicken (KFC). As we mentioned before, custom app development for only one restaurant is usually on the expensive side and is difficult to scale, because it is limited to a particular chain. 
With the KFC app, a user can find the nearest restaurant, check the prices, order online to skip the line, and schedule the takeout ahead. Also, to attract more customers to the platform, KFC promises special offers and personal discounts for app users only. The app works in many regions and is adapted for local languages. In some countries KFC also offers delivery.
The same model is used by many other fast-food chains: McDonald's, Burger King, Taco Bell, Chipotle — all of them have money for these app development services and build a custom, single-restaurant app.
Multiple-restaurant app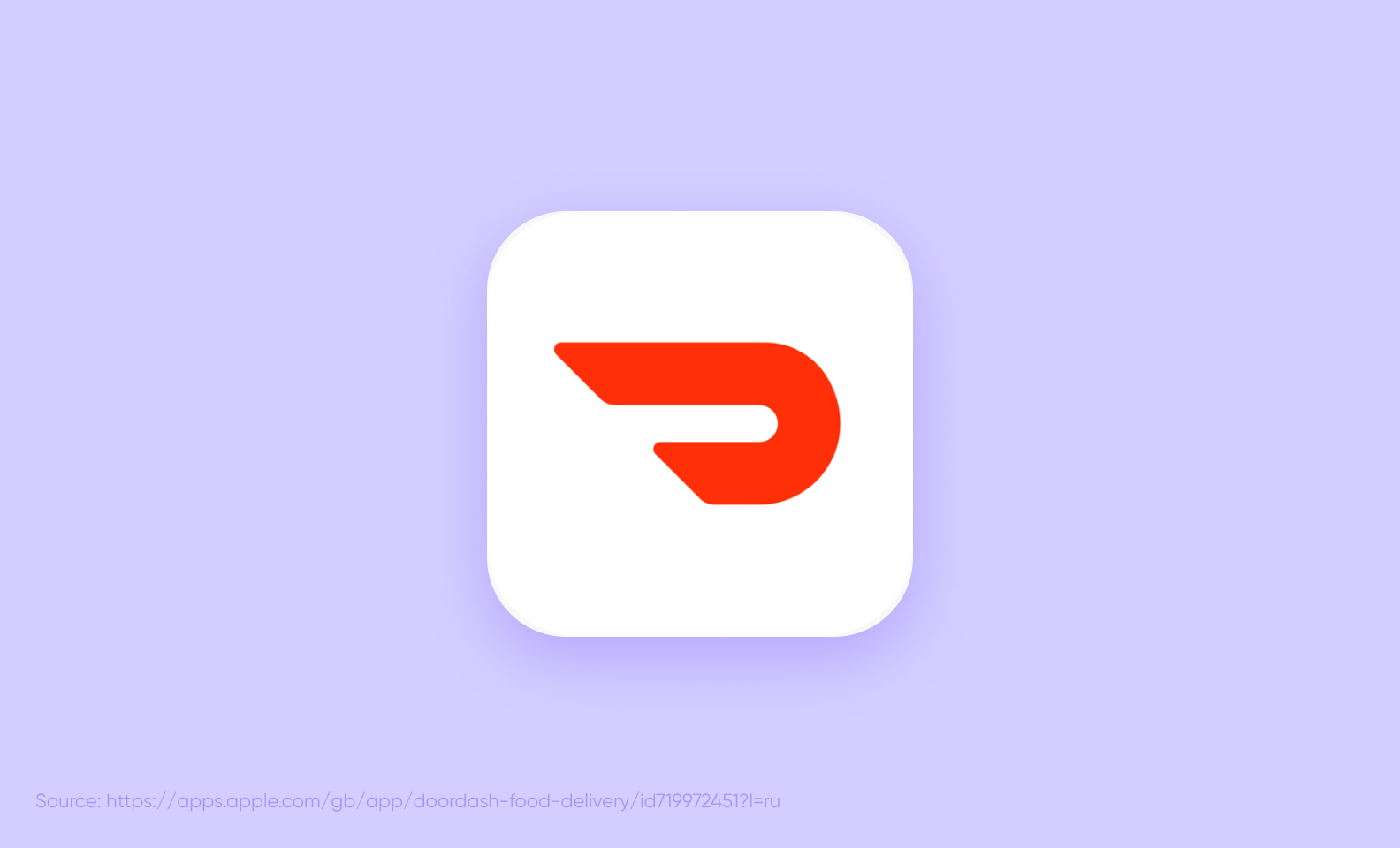 DoorDash is the app we all know. Even before you became interested in restaurant app development, you probably had used delivery apps to get meals and drinks from restaurants. Now DoorDash is one of the most popular food ordering platforms with a market share of 57% in the United States. It was founded in the early 2010s by Stanford students who were helping a local sweets shop with the delivery technologies. In 2013 they launched an MVP — PaloAltoDelivery.com, that was mostly popular among fellow students. The company started growing faster than anyone expected. In 2018 DoorDash overtook UberEats, and in spring 2019 they left behind another major competitor — GrubHub.
The main idea of the DoorDash app is to decrease the number of steps users have to take to order food, which leads to a higher conversion rate. Therefore, the design of the interface is minimalistic and contrasty, yet intuitive to customers.
Key features for restaurant apps
When talking about restaurant mobile app development, it is nearly impossible to skip a conversation about essential features for a mobile solution. The first step to define the functionality of your future platform is to choose a target audience and a category your app will fall into. If you want to build a restaurant-supplier app, you need one set of features. If you want to build a restaurant-customer app, it will be a completely different choice.
In this chapter, we will cover the necessary features for each type of restaurant app and share some examples of how they can be executed. Let's go!
Restaurant-supplier apps
The target audience of these mobile apps consists of restaurant managers, owners, chefs, and vendors. In order to successfully complete a supply order, users will need 5 main features: a welcome page with the signup and login forms, a customer profile page, a catalog, chats, and a tab with order history. 
The signup and login page is the first thing a user sees when they open the app. We can compare it with opening the first page of a book — if the font is too small, the paper is thin and yellow, and the exposition is boring, you probably would not buy it. Same with a mobile app. The welcome page should be clear and straightforward, while signup and login forms need to be short and ask for necessary information only. See how other restaurant app development teams have done it: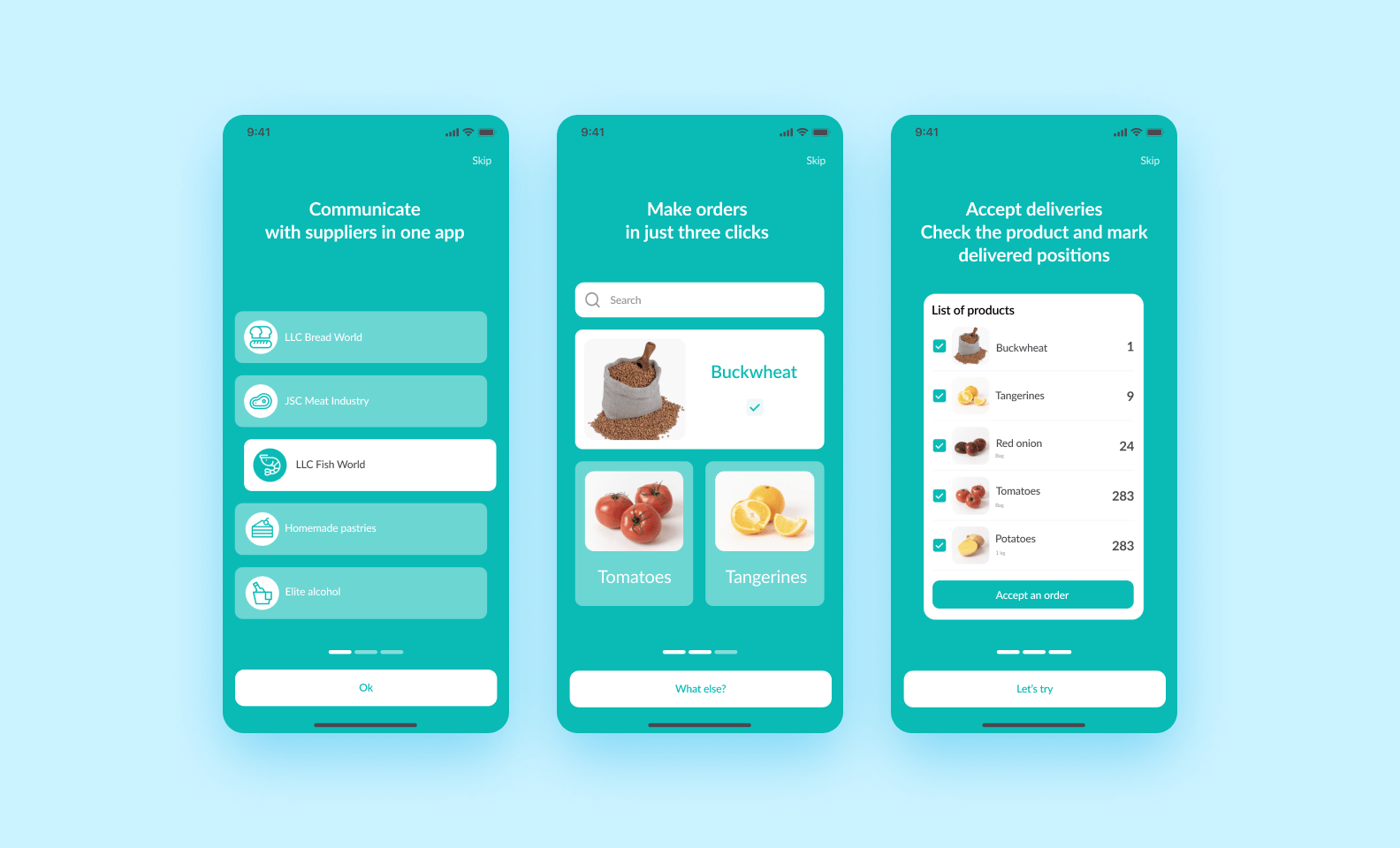 This is what how Grecha.pro onboards new users
The user profile is a page where customers can provide their personal information, including a phone number, address for deliveries, and comments for a driver on how to find the location. Suppliers also need to list products they have to offer and prices.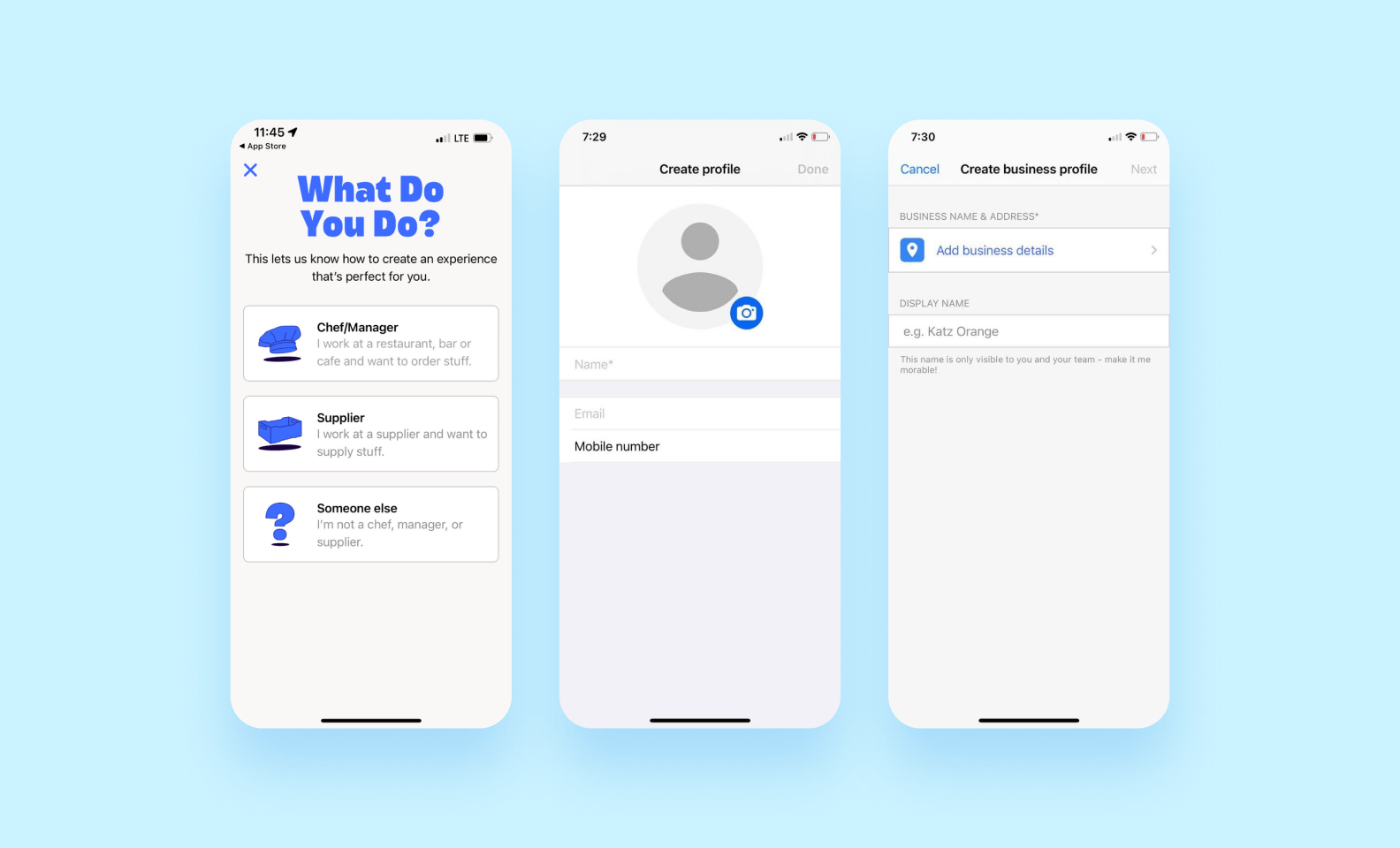 When signing up, Choco offers to choose between three types of a user profile: a chef, supplier, or just someone else
Contact book or a catalog. After a restaurant manager or a supplier sets up their profile, the next step is to see the offers. Usually, restaurant apps have a big catalog of vendors' profiles to browse and a contact book or a favorites list to save who they like. For the app development process, the necessary elements for this page would be a search bar, if a user wants to find a specific supplier or contact a particular restaurant, but also filters, for example, location, delivery time, produce available and other categories to narrow down the search.
On Grecha.pro restaurants can search for suppliers using the provided QR code
Messaging functionality. When a restaurant finds a supplier they want to work with, they need to get in contact with them using a messaging feature. Also, for a better flow, developers can integrate the opportunity to place and track orders right in the chat. For instance, on Grecha.pro, users can see their order history in the chat and add comments for the supplier about the delivery.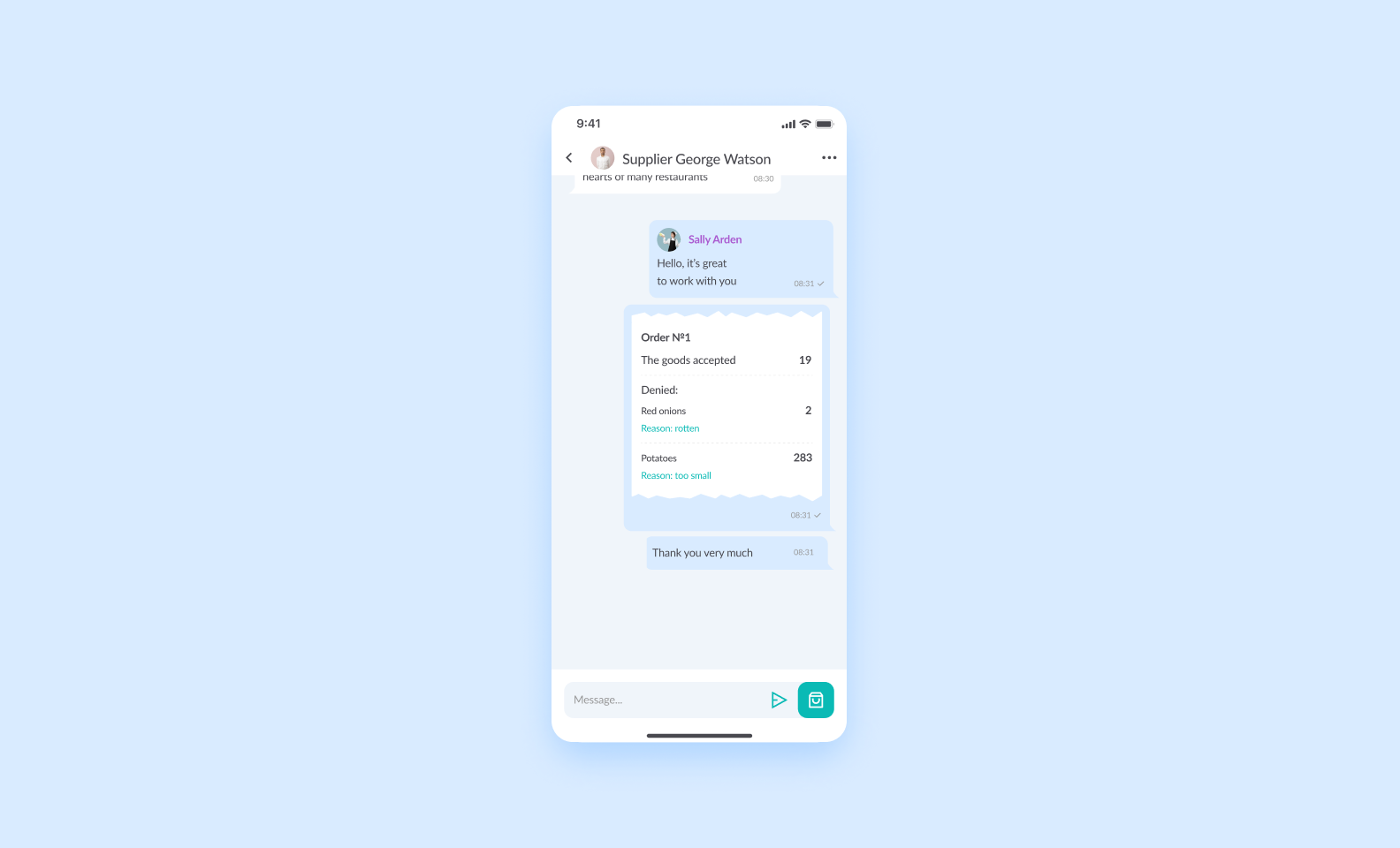 With Grecha.pro restaurants can place orders in 3 clicks, right in a chat
The "Orders" tab can be optional, but very useful, as it keeps everything in order and helps users track their previous and current orders. Also, on these pages, customers should be able to initiate the return process if they are not happy with the quality of the products. Here are some examples of the "Order History" page: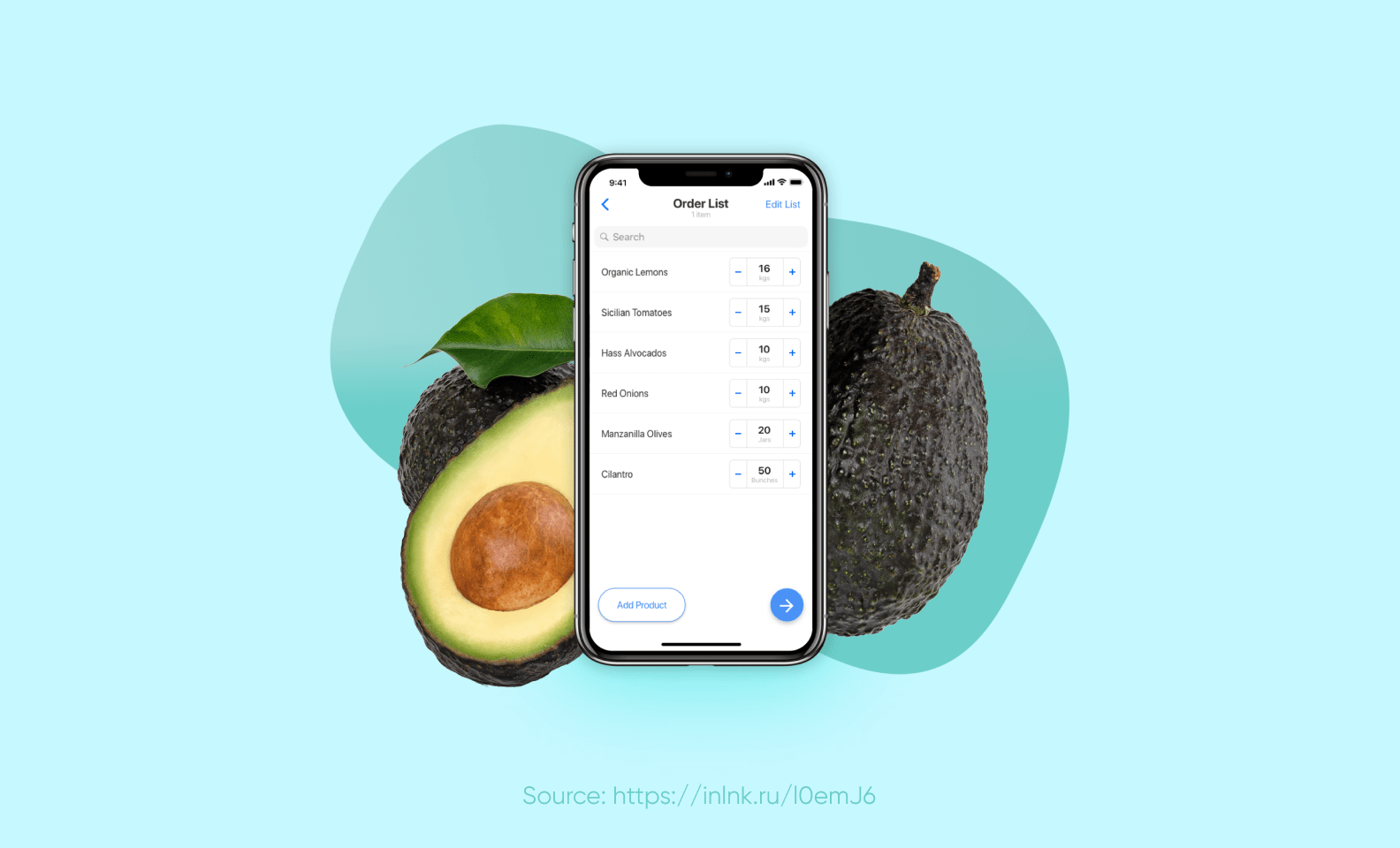 Restaurant-customer apps
The restaurant-customer solutions are not very much different when it comes to app development. For these platforms, the targeted audience is restaurant representatives, delivery drivers, and hungry customers. They require several key features that need to be considered during the restaurant app development: a welcome page, customer profile, restaurant catalog, menu, in-app payment options, push notifications, and a loyalty program.
A welcome page and a user profile serve the same purposes as they do in the restaurant-supplier apps. Here they should also be simple and clear, but there is also a small difference. Restaurant-customer apps need more information about the user, including some payment information and exact geolocation. The restaurant and courier's side of the app also needs a registration form.
GrubHub allows users to browse an app without signing up, and to do it later when a customer is ready to place an order
Online ordering functionality. For ordinary customers, it includes a restaurant catalog and menu, for couriers—actual order base, while for restaurants it needs to be an administrative panel with current inquiries. At Purrweb, we always consider different user scenarios during the mobile app development stage.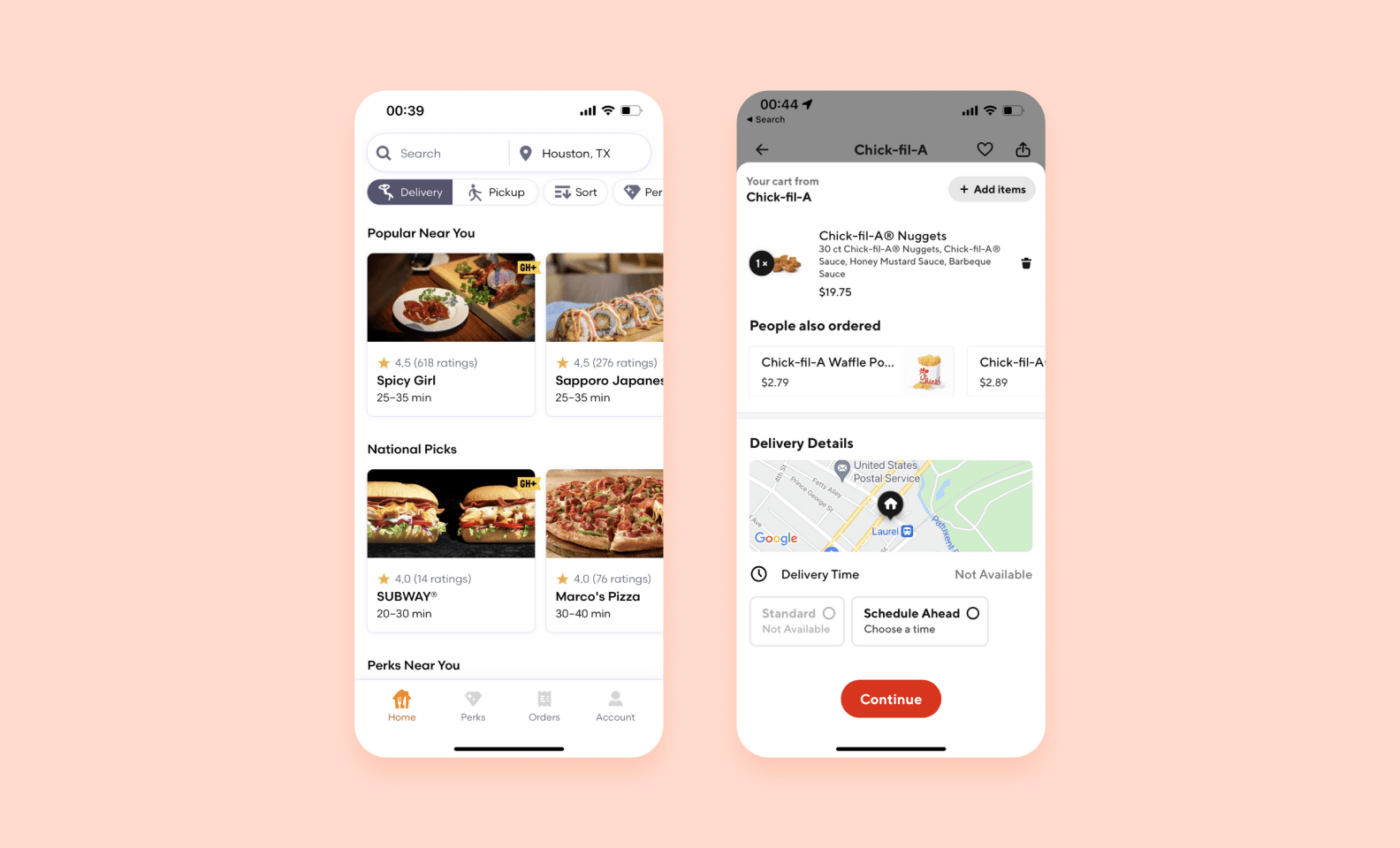 GrubHub vs. DoorDash interfaces
Favorites or saved lists help to increase a customer's satisfaction rate. How do these things even relate to each other? Easy! When a user wants to order food from their favorite restaurant, they need to take fewer steps and spend less time. Instead of looking for the spot in the catalog, they can just open the favorites list and instantly see the menu with meals they previously ordered. 
Payment options for restaurant-customer apps are a must. While card payments are the most common ones, you can also include Apple Pay, Google Pay, cash, and even cryptocurrency if you want. Talk to the team during the app development process to find out what will suit your targeted audience the best.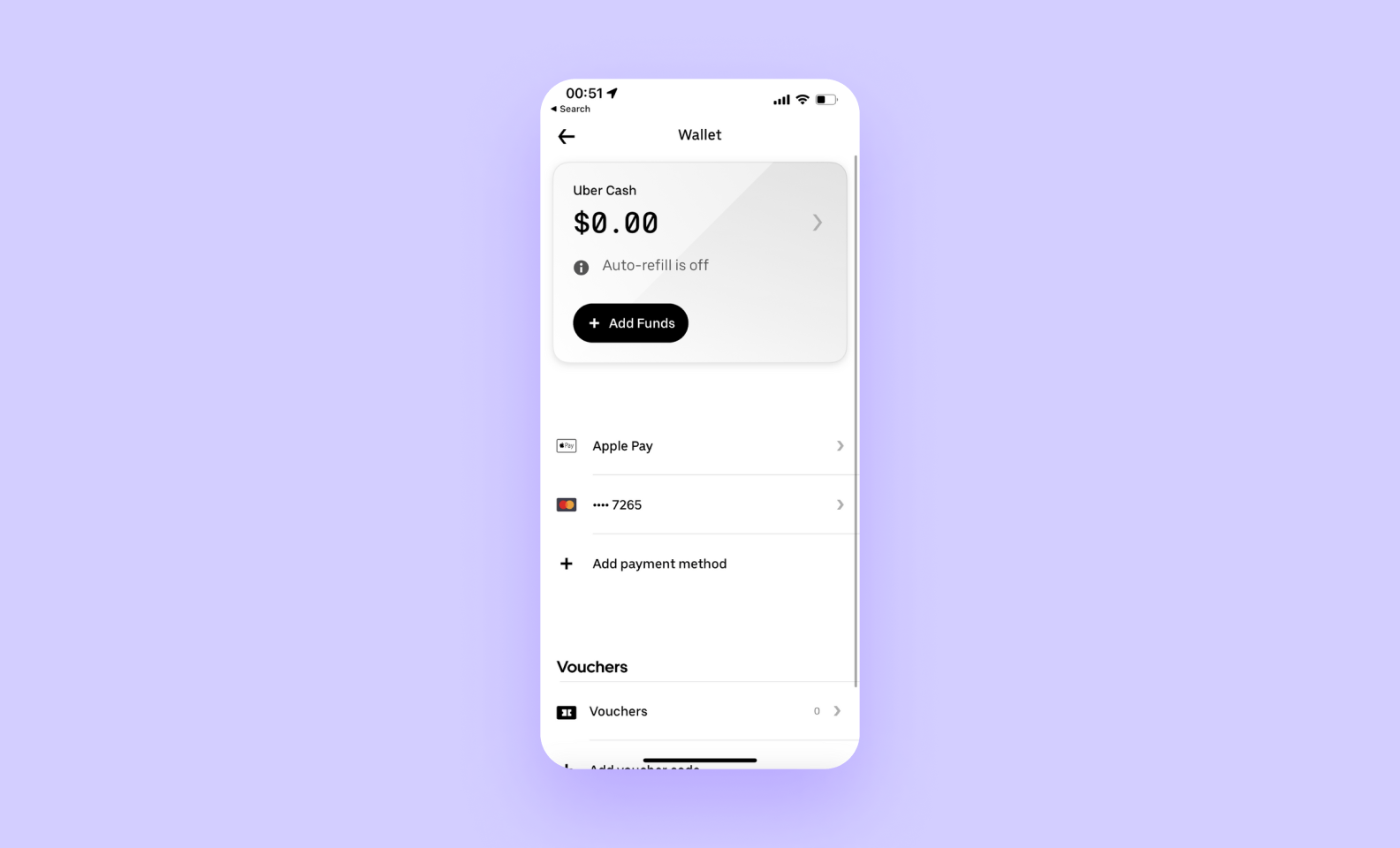 UberEats even has their own Uber Cash to pay specifically in the app
Push notifications are essential to keep every party updated and increase the retention rate by sending reminders and special discounts. That is why it is important to take them into account during the app development stage.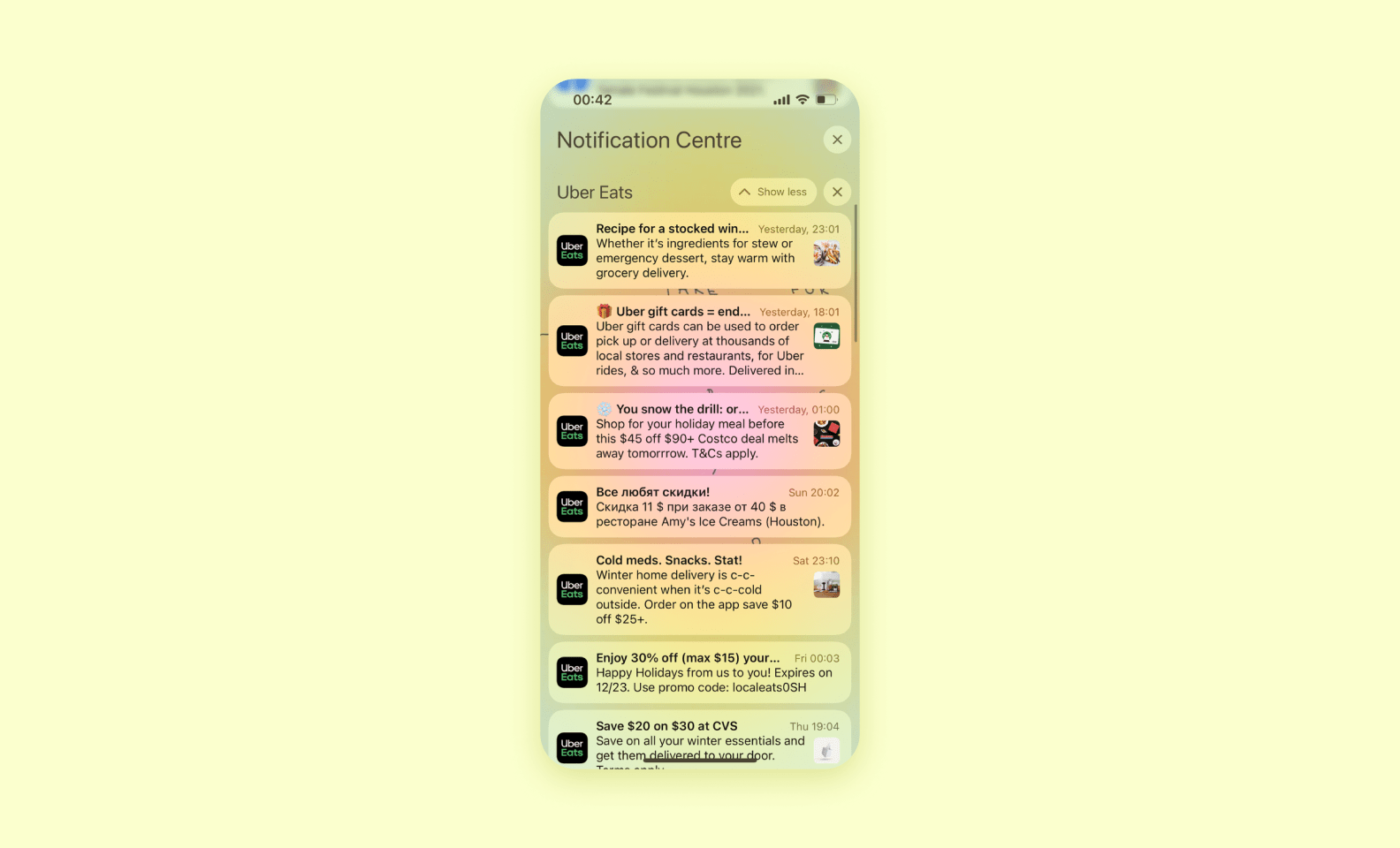 UberEats uses push notifications to offer special discounts
Rewards programs can also be optional, but if you want to make people come back to your platform, it is a must for app development. The idea is simple: customers earn points for orders, and later can spend them on free meals, discounts, and other perks. Such loyalty programs are a smart way to engage users and encourage them to order again.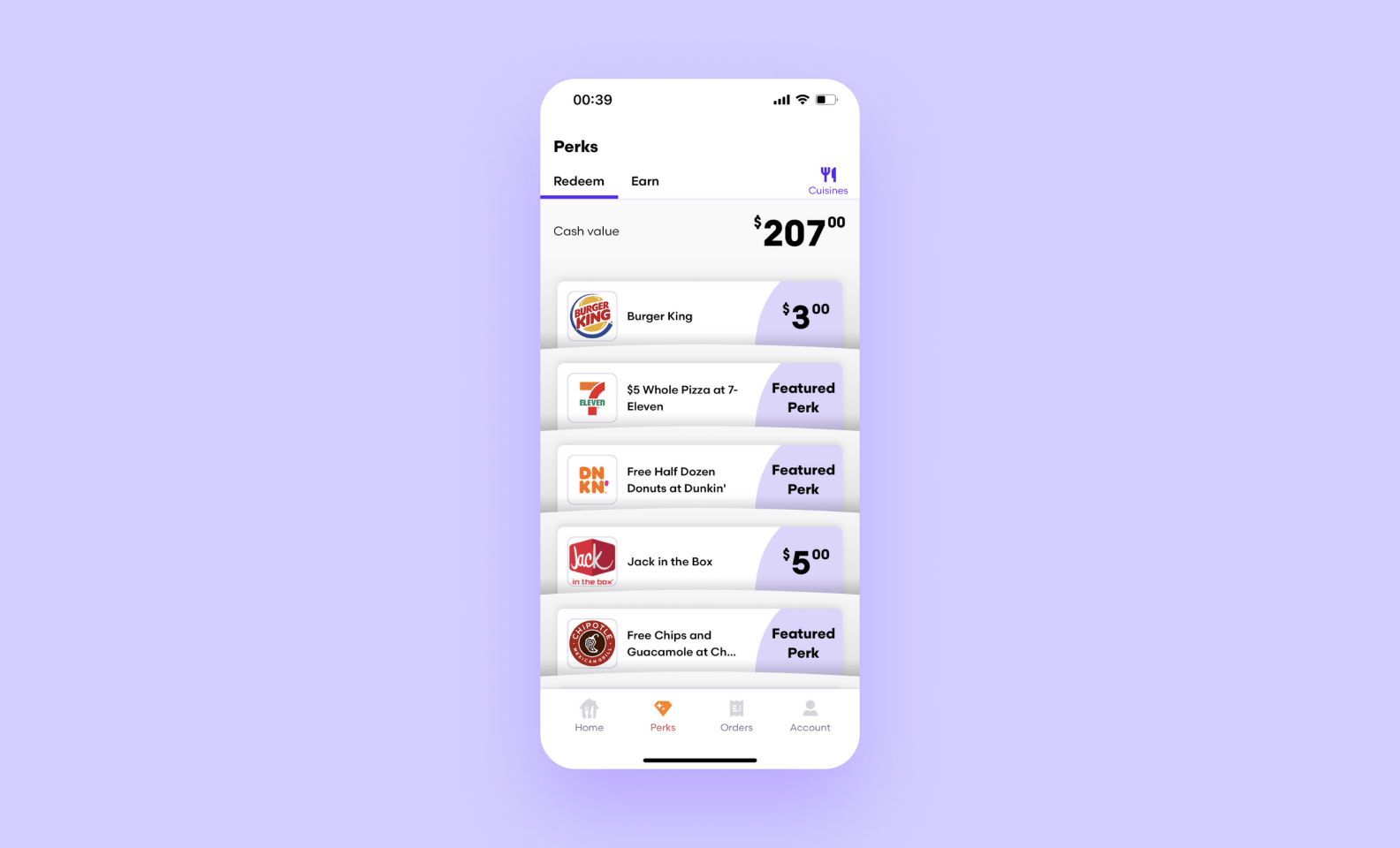 Food delivery apps can also have a reward program — here is proof from GrubHub
Steps of restaurant app development
Now it is the time to discuss what the app development process looks like and what the development team even does to create a restaurant app. If you are new to the IT field, this chapter can help you understand how costs and timeframes for a project are calculated at Purrweb.
1. Costs and timelines estimation
To start, we plan the app development process, estimate the app development costs and figure out how much time we will need to build a platform. At this stage we will need as much information about your idea as possible, so we will set up a meeting to ask questions and dive deeper. It is free of charge for our clients — we will only ask you to find some free time for our sales manager. 
What influences the cost of app development for restaurants most? Usually, it's the functionality of the app and, therefore, its complexity. For example, an MVP doesn't require as much code to write and time to invest from the team as an app with some advanced features. API integrations (for payments, ordering, etc.) also demand time and employees to do the job. Not to mention server specifications, database size, and all the programming stuff.
Luckily, you can choose the most relevant features to include. So that, the project matches both your business goals and the amount of available resources. That's why we pay a lot of attention to realistic estimation and especially "hidden rocks".
After the estimation is completed, we will send you a Google Sheet with a detailed breakdown of the price and timeline. Then you can decide if our vision of time and budget suits you and if you want to move forward.
⚙️Tools: Google Sheets, Zoom.
📝Results of this stage: Estimated price and timeframe based on user stories.
2. UI/UX design
During this step, we go through several stages to create an aesthetic and intuitive design.
The first thing we do is conduct research. Don't get confused if we ask you for some references. It really helps to better understand the client's taste. We also examine the major players in the market, latest trends, customers needs and preferences.
Then we create a mindmap, showing user experience while using your app. At first it doesn't look that appealing as the wireframe is completed in black and white colors. But it's the very chance to build a restaurant app that won't irritate hungry users with illogical screens and non-obvious features.
After that we create first mock-ups and work on the visual side — colors, styles, fonts, icons and position of the design elements. Our designers develop a concept that will help your app to stand out in the market and attract more customers. The design of the app gives people the first impression which really matters in the world of quick decisions. 
When we complete most of the work, it's time to present the design and discuss it. Once you approve our concept, we finalize all the screens and create a UI-kit for an app. If you have an in-house app development team, our tools and files will be enough to assemble the design of the solution.
In the case that you want to build your app with us, we will review the app development costs again: sometimes, during concept approvals, clients ask for extra features that we did not initially discuss.
⚙️Tools: Figma.
📝Results of this stage: Ready-made and approved design screens and a UI-kit.
3. Choosing a technology stack
Platforms
Decide for which platform you want to build a restaurant app. If for both, Android and iOS, then you need to make a cross platform mobile app. In Purrweb we use React Native for this purpose. If you decide to make a native app, then you need to build an app for each platform separately and use two different programming languages. 
Cloud servers
Cloud servers help to store and back up data and keep software running smoothly.  If you select the server type for your restaurant application, cloud servers like AWS, Azure or Google will provide continuous connection. You'd better choose it wisely as the scalability of the project also depends on the possibilities of the cloud server. If we're speaking about restaurant apps, it's particularly useful during peak hours when everyone wants to have a tasty snack.
Analytics
With a proper analytics API any restaurant owner will appreciate your app more. As it becomes a convenient tool to gain insights into customers preferences, effectiveness of promotions and user engagement. This way, restaurant owners increase their revenue and keep using your app. As for some specific examples, analytics API like Google Firebase will provide quick analytical processing of the data.
Customer connections
If we are talking about the customer connections, there are several ways to build them. For example, you can provide multiple payment options by using Braintree, Stripe, or PayPal integrations. For location tracking it's widespread to use Google Places API. You can also provide user registration, in-app chat, and opportunity to leave and see customer feedback and reviews. All inclusions and specifications are defined on the design stage.
⚙️Tools: Platforms (iOS, Android), cloud servers (AWS, Azure, Google), APIs.
📝Results of this stage: Chosen tech stack.
4. Restaurant app development
Now it is time to create a restaurant app. At Purrweb, we work in two-week sprints, presenting intermediate results after each. Usually, in the meantime, we come up with one or two features for your future solution. After each sprint ends, we can send our clients a report on the process or give access to Jira, a software that we use to track tasks and see what has been completed.
⚙️Tools: React Native, React, Node.js, Electron.
📝Results of this stage: First version of the app.
5. QA testing
When our app development team has finished a feature, it goes to QA engineers who look for any potential bugs. 
Choose a strategy
At Purrweb we don't wait until the whole app is ready. Instead, we take 2 days after each sprint to test the solution and solve any problem on the go. This way, the team maintains high quality during the whole process of app development for restaurants. QA engineers catch issues and developers fix them on time.
Define the testing tools
The testing tools are essential for QA engineers as they help to effectively identify bugs. Whether opting for manual or automated testing, it's essential to pick tools that match the specific needs of the project. For example, if the app includes lots of user interactions (like menu selection, customization, and payment), manual testing is better. 
Write the test cases
Creating test cases involves detailing step-by-step instructions for testing the app's functionality. These documents serve as a roadmap for QA engineers, making it easier to define and address any problems. Take even such a basic feature as user registration. This case must include two scenarios with valid and invalid user registration data, and that's just the beginning.
Execute the test cases
This part of the process helps us find mistakes, things that don't fit right, or any issues with how the app works. When we spot these problems early, we can fix them right away. This keeps the app strong and trustworthy, making it work well for users without a bunch of errors piling up.
⚙️Tools: Vercel, Postman.
📝Results of this stage: App development done.
6. Mobile app launch
Finally, we've made it to the mobile app launch. Now it's time to create a developer account on AppStore or Play Store (or both). Then you should submit your app to the app stores for review. It may take a few days to a few weeks for approval. Don't forget to place some marketing materials like screenshots, promotional videos, and a compelling app icon. Keep an eye on user feedback, reviews, and app performance. Be prepared to address any issues quickly.
⚙️Tools: AppStore, Play Store.
📝Results of this stage: A successfully launched app.
7. Post-launch support
When your app is released on AppStore or GooglePlay, our job is not done. First of all, marketplaces often update the requirements, and the app needs to be enhanced as well in order to comply with all the rules. Secondly, when the solution faces real-world customers, clients can realize they need to add extra features or scale the solution up to other markets and regions. Here Purrweb always comes to help.
📝Results of this stage: Polished, up-to-date app.
Factors to consider when developing a restaurant app
Competitors analysis
Research and define what exactly attracts visitors to your restaurant. The modern market is filled with various restaurants and the challenge is to be different from competitors and more convenient for clients. Creating an app that highlights attractive offers would be the right decision if you want customers to download and use your app.
Simplicity of a well-working app
There is no sense in creating an app that's hard to understand. The app's logic should be simple. Nobody wants to deal with complicated interfaces, especially when the users are hungry. If clients can't place an order in a few clicks in your app then they most likely will leave.
Budget
How much are you going to spend on app development? You should think about the profit you want to get from the app and recover the app development cost. If your initial requirements are overshot then you need to make a plan to balance your expectations.
Timeline and costs of app development 
Now, after we discussed the main steps of the app development process, you can better understand how costs and time frames are calculated. We asked our team to put together an estimation for a restaurant app MVP, you can find it below:
Stage
What are we doing
Estimation in hours
Estimation in weeks
Approximate costs

Project estimation

We discuss an idea of your app and estimate the costs and timeframes for the

app development

20 hours

—

no costs

UI/UX design

Map users' journey, come up with design concepts for each step, and present them to you

124 hours

4 weeks

$4960

App development

stage

Work on architecture and the interface on both client and server-side

882 hours

10 weeks

$35 280

QA Testing

Look for any possible bug and fix it before it even occurs

250 hours

concurrently with the development

$4500

Project management

Manage the

mobile app development

project and solve administrative tasks

—

4 weeks for the design stage

10 weeks for the development stage

$400

$2500
Overall, if you have an idea of a restaurant platform, app development services will cost you $47,640 and will take approximately 1276 working hours, which equals 3,5 months.
Wrapping up
Let's reinforce key points of the article:
Restaurant apps are mobile solutions that connect restaurants with their customers or suppliers and help store information in one place. 

The food-tech industry is growing fast. Stats show that 67% of American customers prefer to use a restaurant's app or a website to place an order. Moreover, in  2020 only food delivery apps earned $116.9 million in revenue in the United States and the United Kingdom. 

There are several types of restaurant apps depending on who uses them and how many restaurants are connected. Before you start

mobile app development

, you need to define what category your idea falls into.

The most common types of restaurant apps are restaurant-supplier and restaurant-customer solutions.

Key functionality also depends on the type of your restaurant app. Discuss the details with your

app development

team.

Approximately, the restaurant app will cost you $47,640 and will take 3,5 months to build.
To sum up, restaurant app development can be complicated if you do not know what type of app you need, what your targeted audience is, and what features to pick. To nail mobile app development and create a robust, reliable solution, it is always a good idea to hire professionals.
At Purrweb, we offer app development services of different levels of complexity. We take care of the project and develop it from an idea to a solid and reliable mobile web application that gets to the top charts of marketplaces.
Have a restaurant app idea? Share with us and get a free estimation of your project from Purrweb's experts.