4 reasons why you need post-launch maintenance 
Every day around 3700 new mobile applications are published on Google Play Store and a little over 770 on AppStore. There is no information about how many applications app development companies submit for approval but definitely much more than end up on the marketplaces.
To keep up with newly arrived platforms and win a battle for users' attention, your app has to stay up-to-date.
The best way to maintain apps and keep them relevant is to release updates after launch. Before jumping to numbers and discussing how much does it cost to maintain an app, let's talk about 4 reasons why post-launch service is a must.
1. App marketplaces change guidelines for approval
Both AppStore and Google Play constantly improve and update requirements for mobile apps to keep the platforms safe and engaging for users. They have a team of developers and a special algorithm to review and evaluate every app published on the marketplace. You will get a notification if the stores think you need to fix some bugs and improve the performance of your app.
AppStore will give you 30 days to update your apps. If you ignore the warning, miss the deadline, or just refuse to maintain apps after the release, they have the right to temporarily remove them from the marketplace until you submit an update and get it approved.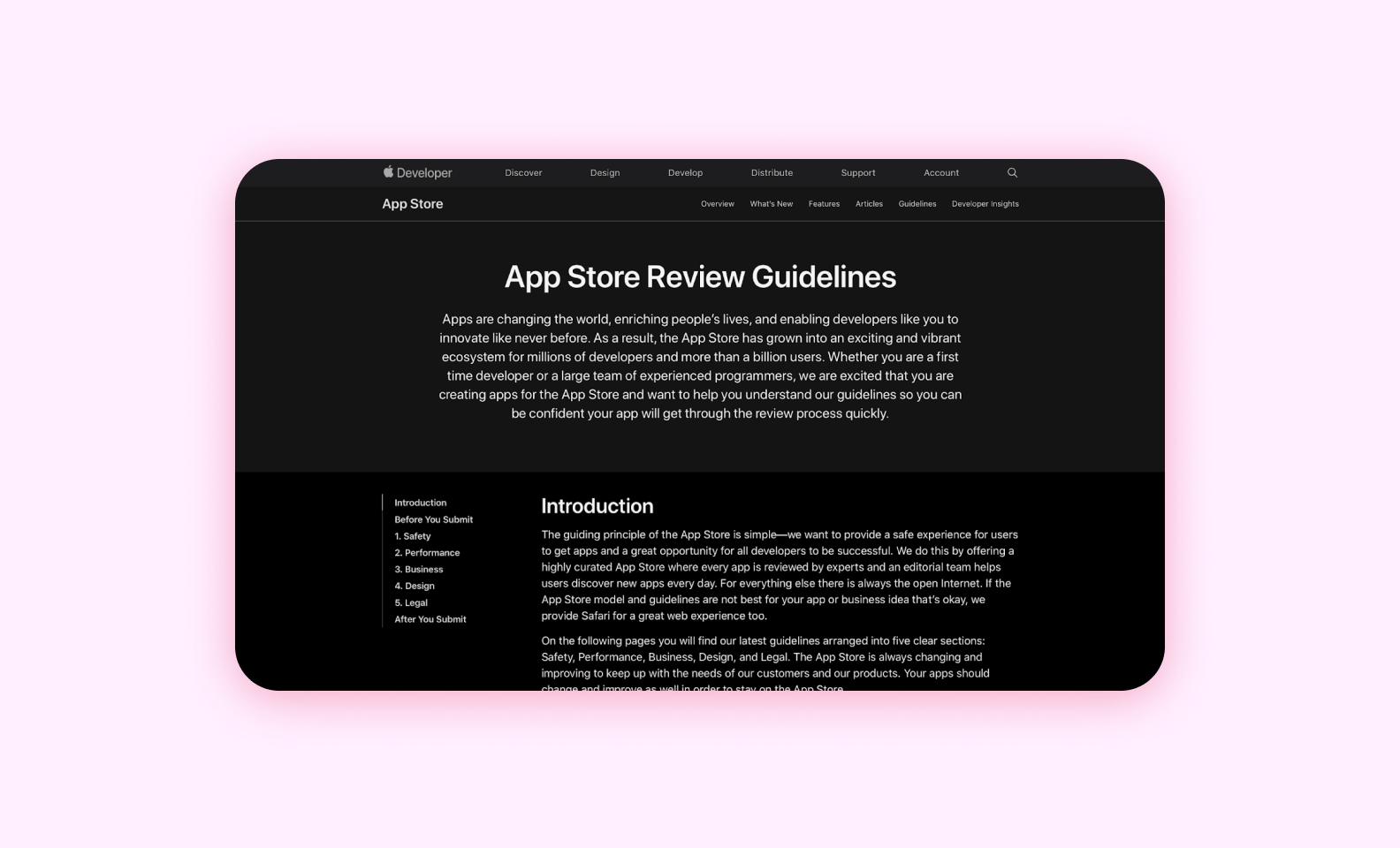 Marketplaces openly publish requirements for apps
To make sure your current app stays up-to-date, AppStore recommends checking the new review requirements as they are published and making sure you comply. Usually, startup owners have other tasks to do — they deal with marketing activities, customers' feedback, or content, and don't always have time to read the pages or check for updates. That is where the app development team comes in to help. The requirement to follow new guidelines affects the cost of support and contributes to the answer of "How much does it cost to maintain an app?"
2. Bugs occur
After the release, bugs can be found both externally and internally. Firstly, customers can always submit a bug report with information that needs to trace and fix errors. Secondly, as a part of post-launch maintenance, app development companies run diagnostics and solve issues from the backlog.
Even if the mobile app development process was flawless, post-release bugs can still pop up. Why does this happen and does it mean QA testing failed? Definitely not. The role of QA engineers is to discover, collect, and prioritize potential errors based on budget, time, and expected use. Bugs that break key functionality are labeled as critical and fixed as soon as possible. 
"Critical" means these issues stop users from finishing their journey, for example, placing an order, submitting a payment, or even opening the app. The rest of the errors go to the backlog and get processed on a rolling basis. Fixing every single minor bug would take weeks or months and cost an arm and a leg, therefore developers try to find a perfect balance and deliver a user-friendly and convenient solution on time when the idea is still relevant and urgent.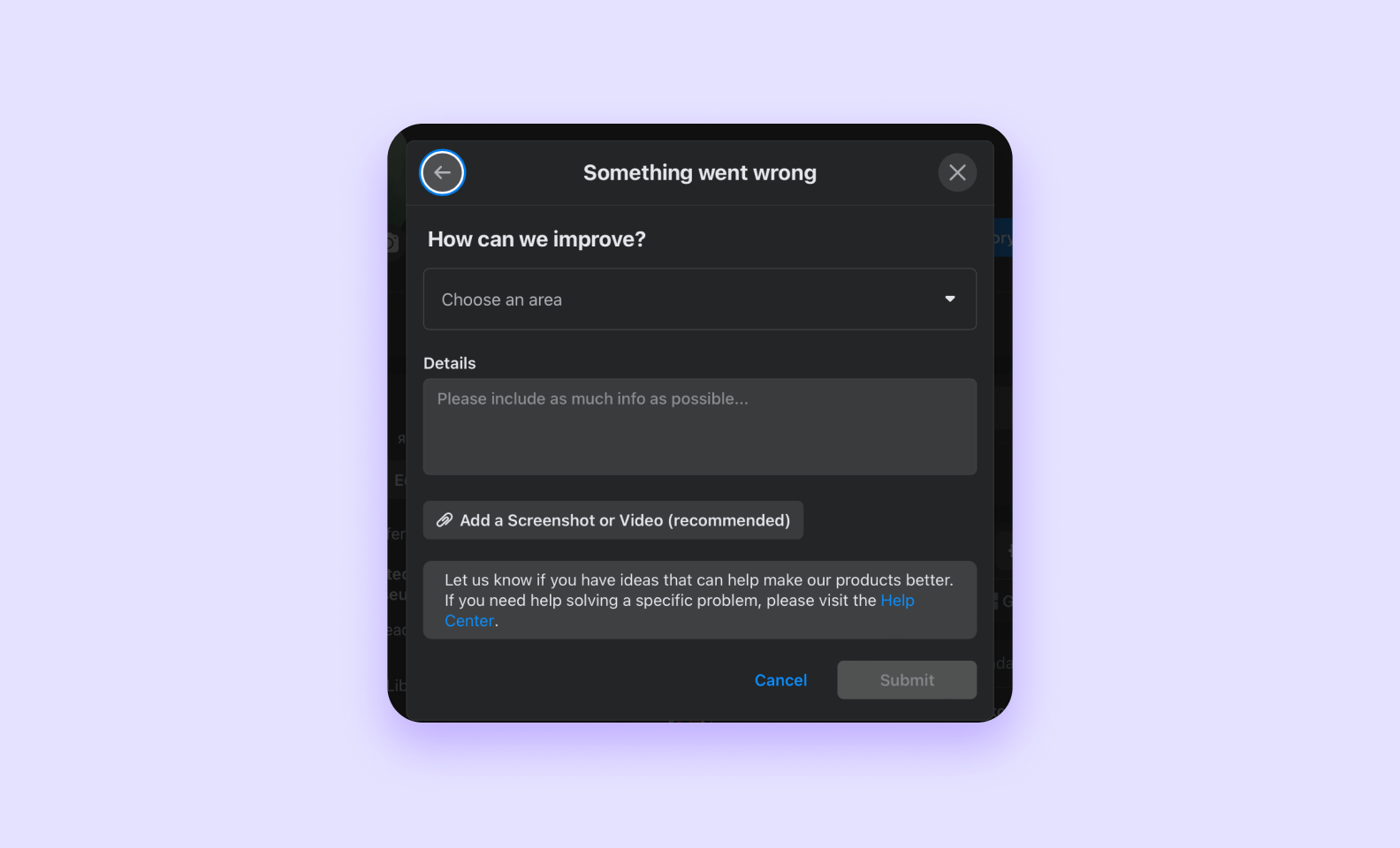 Facebook has a window where users can report a problem
3. Decided to scale up and add new features
There can be multiple scenarios. For example, you have a startup idea, want to release it as soon as possible and test it out with real-world customers. That is why app development companies always recommend starting with an MVP — a minimum viable product, a first fully-functioning version of your app with a limited number of must-have features. 
After the release, you can collect the feedback and add nice-to-have features, expanding your mobile solution and improving customers' experience.
Another way is when the number of users is rapidly increasing. For example, you prepared for around 10000 new customers per month but all of a sudden, the marketing succeeds and you get one million users wanting to sign up. To support maintenance and growth, the development team will check the server power, security protocols, and databases, while you can focus on the customer service and content. So, if you wonder, "How much does it cost to maintain an app?" keep in mind that the types of features you want to add after the release will influence the final estimation.
4. Last update date
Last, but not least, the reason why you need to maintain apps post-release is the last update date. Marketplaces like AppStore or Google Play show when the recent version was released — if it was too long ago, a user can think the solution is no longer supported and walk away.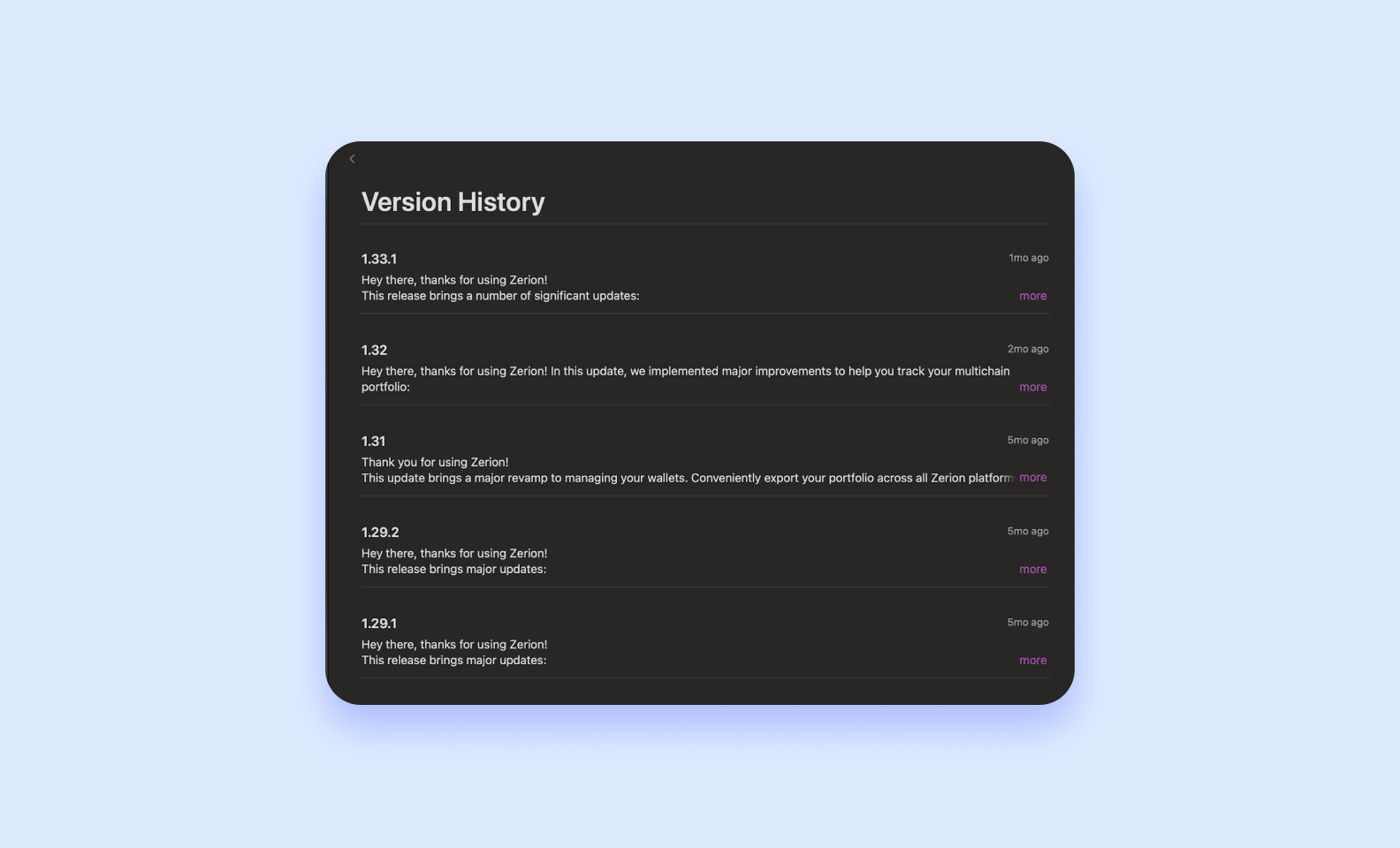 A crypto wallet Zerion releases updates almost every month
How often should you update your app?
As we discussed before, mobile apps are the most admired when they are relevant and updated regularly. There is no universal answer to how often you should update apps and add new versions: some mobile applications release updates every week, while others — every two months. 
The right timeline depends on your goals and apps' functionality. Keep in mind that the frequency of updates can affect how much does it cost to maintain an app, so the best way is to schedule it with your development team considering the budget.
Generally, we recommend releasing 1-2 regular updates per month, fixing bugs, adding new features, and improving performance.
2 types of post-launch support
So, "How much does it cost to maintain an app?" The total also depends on the type of service you need. In this article, we will cover 2 ways to maintain apps after the release: when you have an idea about new features and when you just want ongoing support. Then, we will provide the estimation for each type. Let's dive in!
🧑🏻‍💻 Disclaimer: We are describing how it works at Purrweb and we do not guarantee that other mobile app development teams offer the same number of services.
🆕 When you need new features
If during the app development process you already know what features you want to add after release, then, when the app is launched, we just keep casually leaning towards it. Our team works within the standard framework: discuss the feature, create a mindmap and a new estimation, and if you approve, send it further to designers and developers.
We usually complete one feature in a sprint — the short period of 2 weeks when we focus on one particular goal and execute it from head to toe. After the sprint, we show you the results and move on to the next feature on our list. This agile approach to time management helps us to stay organized and get measurable results in a specific amount of time.
What affects the final costs
Type of modifications.

Do you need new features or just ongoing support? If you decide to add elements, we will need to know how many features you want us to develop and how complex they are. Before taking your project for post-release services, we will discuss your goals and preferences, and prepare an estimation.

The number of hours needed.

Generally, in the IT world, the price of a project is based on how many hours the team needs to execute the idea. Therefore, we estimate the number of features and improvements first, then calculate how long it will take to do and, finally, prepare the quote.

The number of specialists to get involved. The more people you need for a post-launch service, the higher costs can be. If you want just an update, you will probably involve a developer, and a project manager. But if you want to redesign a page, UI/UX designers will add up to the team and price.
💰 To answer "How much does it cost to maintain an app?" more precisely and to show a better breakdown, we prepared a table for the two different types of post-launch services.
Type of post-launch service
Hours per week
Types of services
How many people involved
Estimated cost range

🆕New features

As needed

-Create a plan

-Estimate the costs 

-Prepare mock-ups 

3-5 team members

Depends on the feature complexity and people involved

🛠Ongoing service

20-40 hours

-Checking for bugs 

-Solving tasks from backlog

2 (a developer and a project manager)

20% of the initial price
Overall, the total of how much does it cost to maintain an app after release can vary depending on your goals and ambitions.
The general rule is that a year of post-launch services costs around 20% of the initial price of the app development.
Who to hire for post-release maintenance
After release many startups struggle to decide who to hire for post-launch support. Some prefer to assemble an in-house team, while others choose to outsource the process to freelancers or stay with the initial team. Let's discuss each option. 
In-house team
It can be a good option if you have minor things to fix. But in the case of scaling up and adding new features, in-house developers would not be enough to complete the task — as you can see from the table above, you need to hire a set of various experts to develop a new feature: a designer, a QA engineer, front and backend developers, and a project manager. Also, remember: scaling up is a temporary process, so expanding your in-house team just for that very likely would not be a good operational decision.
New studio or freelancers 
If you plan to scale up your solution, you can also switch to another team or an engineer after launch. But this strategy has some disadvantages: newcomers will need to spend time learning about the project and its architecture. This time will be considered when they answer your "How much does it cost to maintain an app?".
Original team 
The best idea is to work with the team that initially developed your app. They are familiar with all the hidden secrets of the project and know the code like the back of their hand. Also, they already have a backlog of the tasks and can start working on them as soon as possible — engineers who made your project do not need extra time to figure out how it works, unlike others.
Final thoughts
Overall, post-release app development is a must for startups who want to stay on top of things and keep users engaged by constantly improving their experience and adding trendy and thrilling features to the solution.
In the article, we discussed why all mobile apps need maintenance after the launch, answered the question: "How much does it cost to maintain an app", and covered what influences the final costs. Here is a little memo with a key point of the article.
About us
Purrweb is a UI/UX, web, and mobile app development company. We build robust and habit-forming MVPs from scratch, with a focus on usability and UI/UX design.
Have an idea for a project? Fill in the quote and get a consultation from our team 👇🏼