Most likely, you have a rough idea of ​​how it works: an IoT device is synchronized with a mobile app through WiFi, Bluetooth or NFC, and the user can control the device from anywhere in the world. Well, it's kind of the truth. You can find out how the Internet of Things really works in our article 'What is IoT?'. 
Like other fields, IoT app development also has its trends. We are here to tell you which of the trends will stay with us in the next couple of years. Perhaps some of them will inspire you to build your own startup.
Internet of medical things (IoMT)
The Internet of Medical Things improves medical processes and helps professionals monitor and analyze patients' health conditions.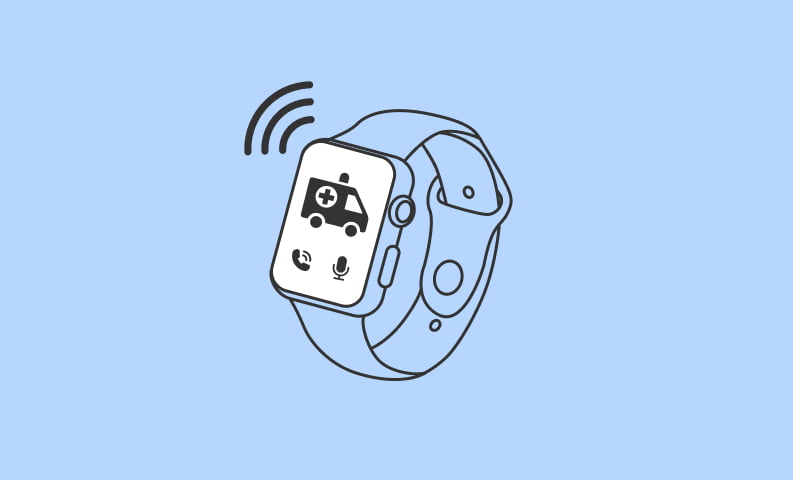 Imagine a situation: a person becomes ill, but they are unable to call for help. A smart device will scan their health indicators and call an ambulance
Internet of Things trends technologies allow timely medical assistance and improve the whole field of medicine. It provides specialists with a wide range of never-before-seen opportunities — from remote monitoring of a patient's health to online treatment of diseases.
Instead of the usual paper medical cards (the one that contains a bunch of test results glued to one page 🙃), there will be electronic profiles. Instead of regular visits to a therapist — data collected from wearable devices. 
What can we expect from IoT trends?
rapid diagnosis by analyzing health data from wearable biosensor

automation of routine processes and autonomous data storage

biometric test kit for home screening

air quality sensors

sleep phases trackers
Let's talk about the IoT development trends in medicine:
1. Remote monitoring
The constant flow of data will make analytics more accurate. It will allow to identify health problems before they become serious. In an ideal world, patients don't need to go to the hospital to receive a consultation. They can stay at home and receive it online.
2. Chronic disease tracking
Chronic diseases are not cured but require constant monitoring to keep a patient's condition in the normal range. Virtual examinations, real-time monitoring, and continuous contact with a therapist — this is what can be made via the IoMT technologies.
3. Re-hospitalization number reducing 
It's unpleasant to stay in a hospital for a week (or even more). However, IoT devices allow us to sidestep this experience. With special devices, the patient's condition can be monitored 24/7, which reduces the chance of coming back to the hospital. This option will help in both preventive and emergency help.
Smart office
For making a work routine better, we need an environment that helps to stay productive throughout the day. The better a workspace is organized, the more convenient work for the employees feels. The IoT development trends have not bypassed this area.
What can a smart office do?
control air temperature and humidity

adjust room lighting depending on the time of day

simplify interaction with the security system

book a meeting room (we know how it is when you cannot find a free meeting room 5 minutes before the call)
IoT development trends in a smart office:
1. Office management from anywhere
Smart office technology allows you to stay updated on what is happening in the office from anywhere in the world in real time. Using cameras with computer vision, motion sensors, and multipurpose controllers, it can track any activity inside the office. In addition, the smart office uses a pass system to keep track of visitors and parcels. All data is available in a single interface from a computer or a smartphone.
2. Meeting the employees
Meeting newbies is a daily office task that requires your attendance. But everything newcomers need to know about a new job can be stored on a web page or in a mobile app. For large companies, it will be possible to conduct online tours around the office, to reduce the new level of anxiety in front of the unknown.
3. Room management and booking
The Internet of Things can help you schedule appointments and create timetables. Employees will be able to make appointments, book all the necessary equipment and confirm their presence or absence remotely. Company managers will have more time for real tasks since they will not waste time on figuring out where to hold a meeting or call in a 'fire mode'.
4. Access and control
If there is a need for enhanced security and different access levels (for example, in a banking or military institution), IoT solutions should not disturb the workflow. Biometric authentication methods already exist in closed areas — for example, fingerprint and retina scanning, voice and face recognition.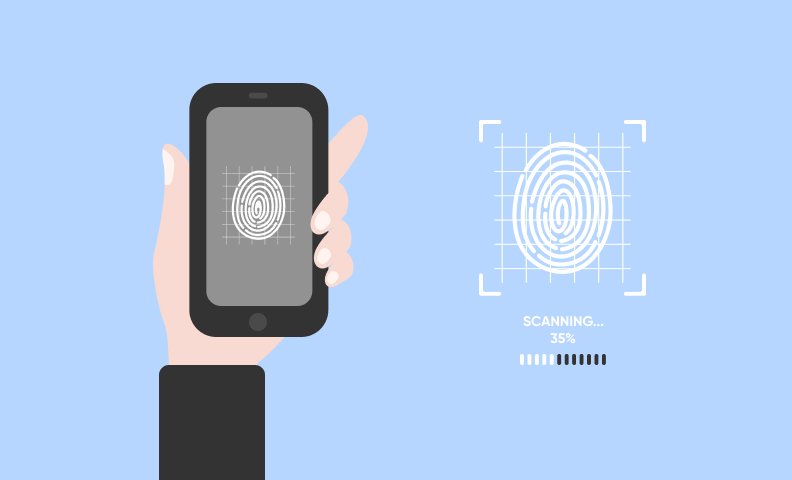 IoT development trends make scanning your personality by fingerprint our reality
In the future, this trend of the Internet of Things will capture 80% of all companies. IoT-equipped offices are not just about controlling temperature or lighting but about creating an enabling environment for a more efficient work atmosphere.
It's funny, but even such a small thing as a smart music station in the kitchen can significantly improve the overall mood of the team. We spend 8 (or even more) hours a day in our offices, so why not make the routine better?
Eco-friendly IoT
Rapid population growth, industrialization, and urbanization — all this sounds very cool, but it brings more eco-problems. The more people, the more problems with sorting and disposal of garbage. This is how the IoT development trends in this field came into the picture.
Green IoT offers solutions that help people conserve resources and use technologies to minimize waste. For example, a waste management system with shredding mechanisms, or a transport system. With the last one, cars can move at the same speed at a short distance from each other. This will significantly reduce fuel consumption.
The eco-trend of the Internet of Things can help us to:
1. Manage resources
The Internet of Things can help to track the use of energy and the amount of waste. Smart sensors of the IoT enable us to collect and transmit energy consumption data to specialists.
This trend also applies in real life. For example, you can set up a thermostat to remind you to turn off the heating or ask a device with water management sensors to warn if you're about to exceed the desired level of water consumption.
2. Monitor expenses
Special devices have been long monitoring how metropolises affect the environment: they collect detailed information on air quality or the amount of garbage.
For example, to solve the problem of the exhaust gases' negative impact, we have Air Quality Eggs — an IoT platform to control air pollution. Essentially, this system collects air quality data from the residents. AQE is widely used in America, Western Europe, and East Asia.
Retail and storage IoT
Retail IoT helps entrepreneurs improve their business and enhance customer service. IoT can monitor product expiration dates and track upcoming supplies. By 2025, the spread of IoT technologies in retail will reach over $ 35 billion.

Which IoT development trends can make retail better?
1. Personalized content
The Internet of Things is a tool that is designed to improve communication between a brand and its customers. Special sensors can track actions of the customers and share the data with the company's marketing team, which makes it easier to create personalized content for specific segments of customers. This way, it also helps the customers to find a product they want quickly and painlessly.
2. Navigation in a store
One of the common problems that can become an obstacle for potential buyers is the lack of a well-thought-out system for moving in a large store. IoT devices with built-in Wi-Fi, Bluetooth, and VR technologies can simplify navigation and help shoppers find what they want faster.
However, every rule has an exception
Let's be honest, how many times did you wander around IKEA being confused and not understanding how to find an item you came for? Everyone who has ever been to one of the IKEA stores is familiar with the situation: come for one thing and leave with a bunch of 'necessary' little things.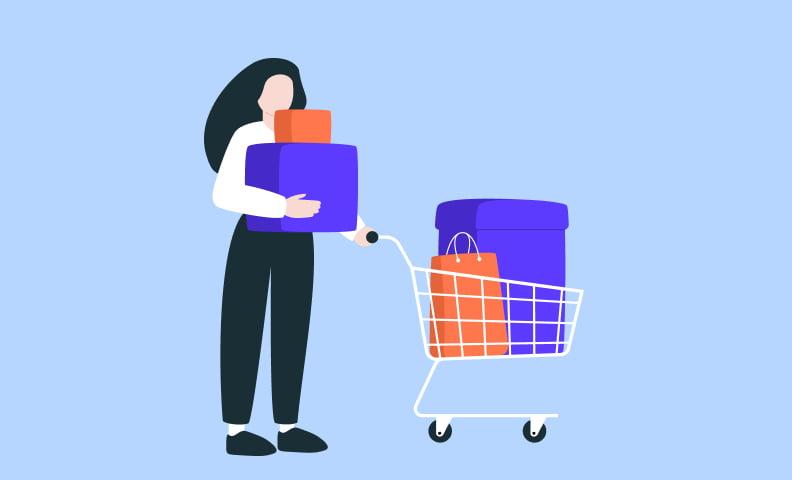 IKEA, for example, is famous for its reverse demand strategy
3. Long queues
Long lines always mean wasted time. The longer a customer has to stay in a line, the lower the level of customer experience. The Internet of Things allows brands to manage waiting time at stores and increase customer loyalty by offering a way of deflecting attention for impatient shoppers.
4. Online orders and delivery tracking
The Internet of Things has made online shopping available to all users — this technology allows sellers to update the delivery status so that the user can see the current location of their order.
Voice-based IoT
No matter how popular messengers are, most people still prefer voice communication over anything else. IoT devices controlled by voice are designed to make it more natural for those users who don't want to waste time entering information manually.
What factors made voice IoT so popular?
mobility of voice devices

extensive use of smart speakers

progress in natural language processing
1. Voice assistants
Virtual assistants — Alexa by Amazon, Cortana by Microsoft, Siri by Apple, or Google Home — are becoming more and more commonplace in houses around the world. These smart stations know how to connect to other smart home systems (such as lighting and thermostats) to automate our lives.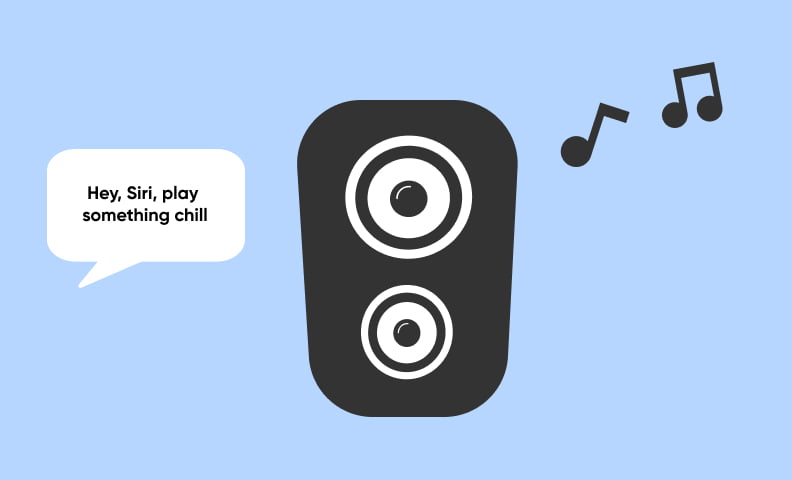 Smart music stations can play your favorite music
2. Home gadgets
Remember the villain from the Fifth Element? 20 years ago, we were literally amazed by the range of smart toys that guy summons by pushing a button. Robot vacuum cleaner, smart lighting, SmartTV — now nothing of these will surprise you.
Instead of conclusion
The Internet of Things technology industry is capturing (or has already captured) our lives. While some people see smart devices as things that are supposed to satisfy the caprice of those who are too lazy to get off the couch or vacuum the rug, others see them as an opportunity for business. Leaving out the first ones, IoT technologies are a promising niche that still has some space for young startups. IoT development trends can increase the level of user engagement with your product, thus boosting the conversion too.
All you need to do is to find a professional IoT development team and start with an MVP to test your idea, and add more engaging features after release. Before you start — you might want to know more about IoT development costs, so there's no surprises down the line.

If you are one of those who are not afraid of the rise of the machines — leave us a quote!