Doctor scheduling software market
According to Research and Markets, the global medical scheduling market is going to reach US $789.56 Mn in 2027. CAGR (the temp of growth) is estimated at 13% which indicates a fast-growing market. 
No wonder: researchers found that in 2022 67% of patients prefer online booking. With more than 40% of all appointments being booked after the business hours, that creates a ground to believe in further market growth.
We believe there are several reasons for doctor appointment booking app success:
During the lockdown, people got used to remote services. Many of us bought several online courses in order to brighten up our lives.

People started to pay more attention to their health as the majority of them were impacted by the COVID directly or implicitly.

Mobile scheduling is easy to use and flexible: people can book an appointment when a clinic is already closed or during their commute. They do not need anything except the Internet to create an appointment on the go.

Millenials and zoomers do not like to call. And businesses should fit new customers' preferences and allow them to schedule a visit through messaging or mobile apps.
Top 4 doctor appointment booking apps
ZocDoc
ZocDoc is a marketplace for patients and doctors. The app is strengthened by AI to help patients to find a specialist that fits the best to their health issues. Patients can search for doctors and book an appointment online. One more useful feature is the ability to match individual health insurance programs with doctors presented in the marketplace.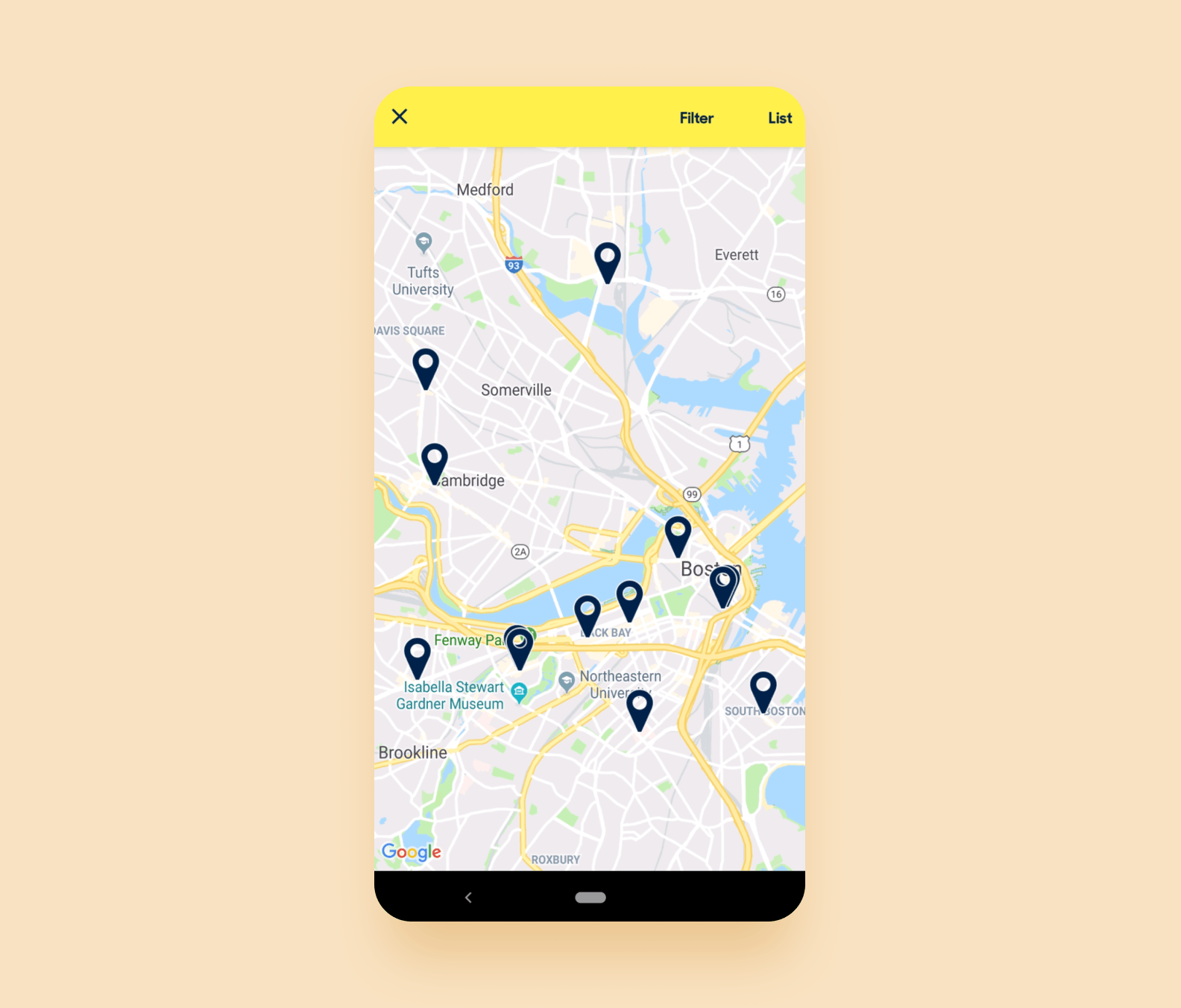 ZocDoc provides a map with doctors that fit the request
DoctorOnDemand
This is an example of a telemedicine app: people can not only book an appointment with doctors but also connect with them through chat or video call. After the consultation, a patient can buy prescription drugs in local pharmacies stated in the app.
Map with pharmacies in DoctorOnDemand interface: a patient can buy their drugs in local pharmacies
Practo
The app has broad functionality: patients can schedule an online or offline visit to doctors, manage prescriptions, set pill reminders and manage appointment schedules. Practo is very popular in India with more than 10 million downloads!
Practo app is a place of health management for patients
HealthTap
HealthTap is a classic doctor appointment app with a possibility to book an online call or chat with a doctor. Its distinctive features are B2B services for clinics, insurance companies and employees.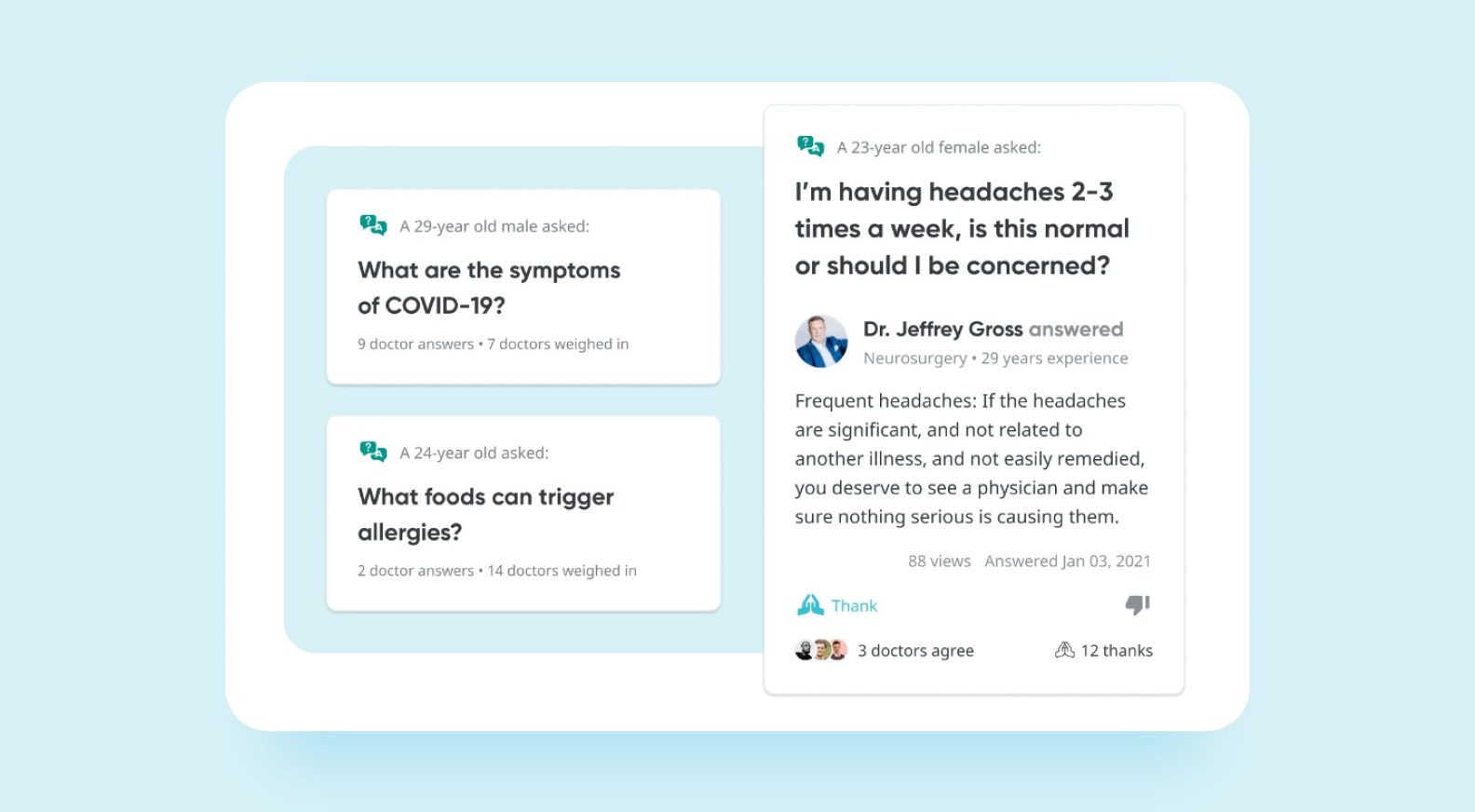 HealthTap provides an opportunity to ask questions to real doctors for free
Benefits of a doctor appointment booking app development
For doctors
Time saving. A doctor doesn't have a minute to waste on scheduling management. An app can do it without the doctor's attention.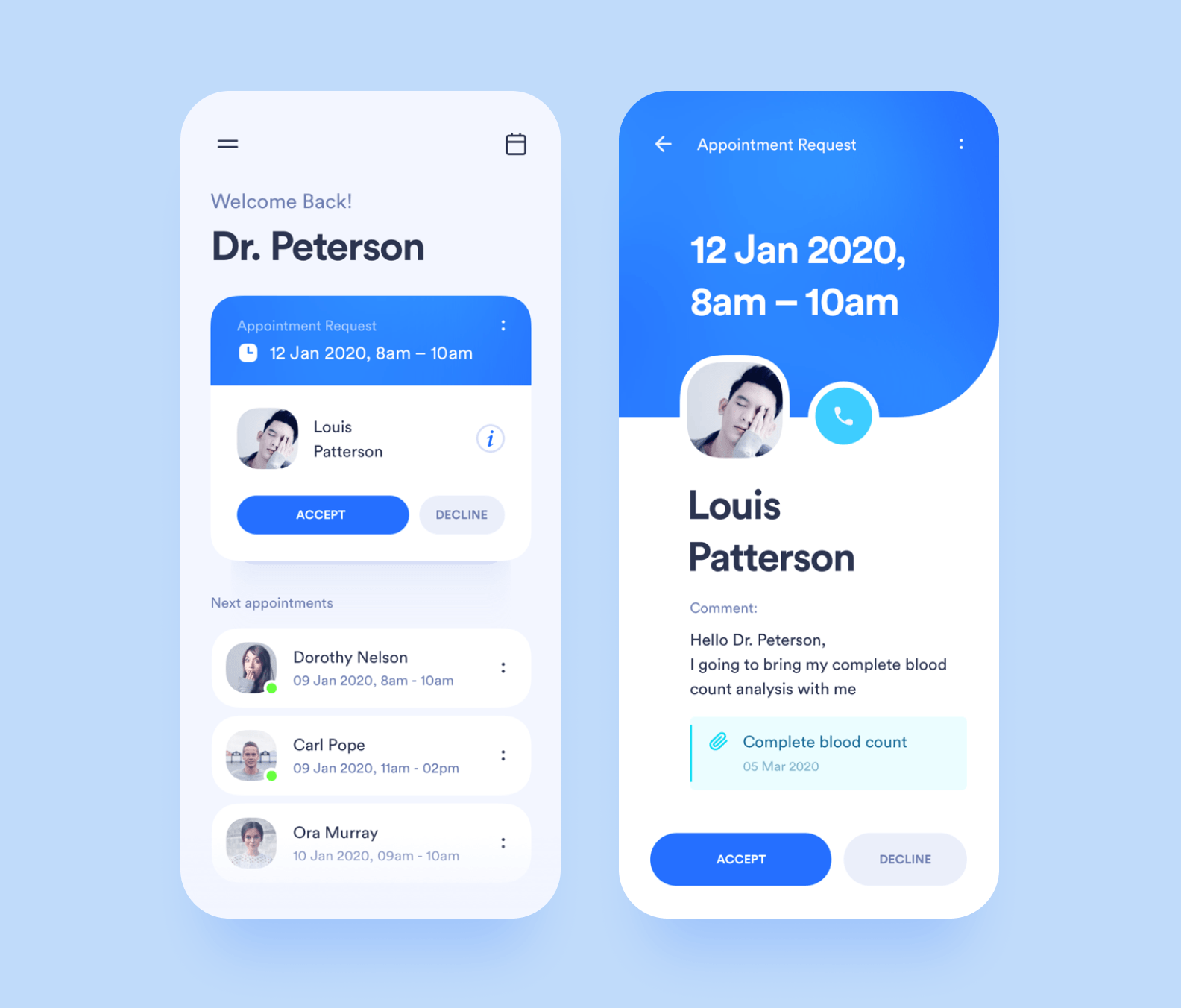 A doctor appointment app can help doctors to manage their patients' visits
Expand the patient base. If a specialist joins a platform for online doctor appointment, they can attract patients who already use the platform to visit their consultation.
Reduce no-show. A lot of practitioners face the issue of patients rescheduling their visit with a late notice. Use of a medical appointment booking app with notifications can minimize the number of clients forgetting about a visit or not capable of changing the date on time.
For clinics
Efficiency. Scheduling the appointments is a routine operation that needs a lot of attention and diligence. Automating the calendar management, healthcare providers can reduce the number of mistakes like overlap of appointments. 
Less administrative staff. With a booking system, a clinic can minimize the number of personnel responsible for managing clients. There will be a need for only one person, a support specialist.
Cost-saving. The above results in money saving: clinics spend less on mistakes and staff salaries.
Streamline operations. Automation of routine operations is a way to optimize work processes. Starting with scheduling, a clinic can then proceed with customer data management or equipment maintenance.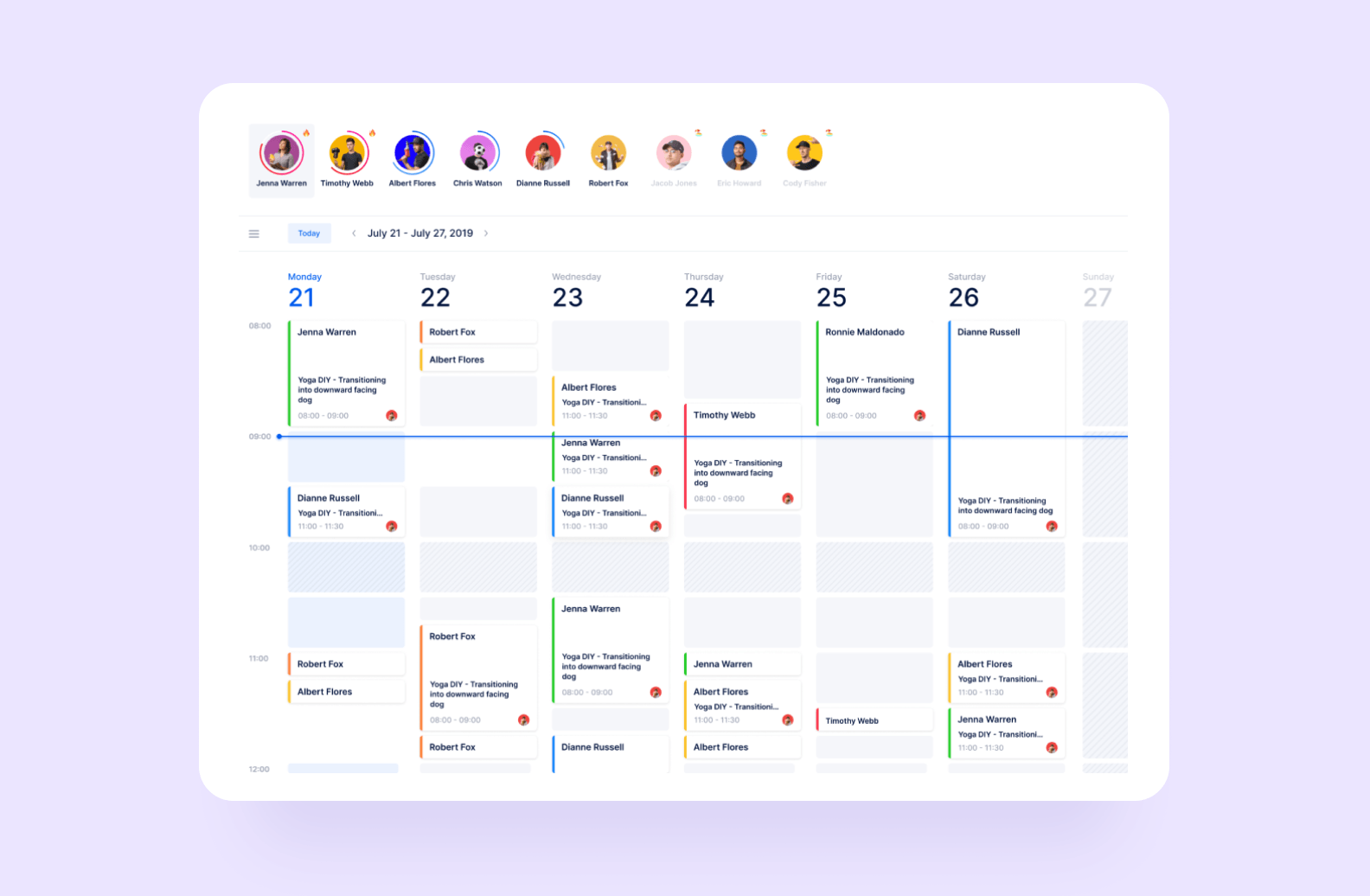 A doctor booking app with several doctors' schedule: colors indicate different specialists and help to manage all calendars in one screen
For patients
No need to wait for the call answer. "Please, hold the line. An operator will answer you" — this is one of the most annoying phrases. With a mobile app, a patient can save time and schedule a visit without waiting.
Easy on-the-go scheduling. A patient needs only a smartphone with the Internet connection for booking an appointment. No need to stop, call or visit a clinic.
Cancel or reschedule at any time. Sometimes, our plans can change after business hours. With a doctor appointment booking app, a patient can change the details of their appointment even in the middle of the night.
Integration with calendars. Many people use e-calendars like Google Calendar or iPhone's Calendar. Appointments made through an app can be easily transferred to an e-calendar and be built in a person's schedule.
Get free project estimation in 48 hours
300+
startups trusted us since 2014
Book a meeting
Core Doctor Appointment app features
There are several features which are must have to consider in doctor appointment booking app development:
Patient profile for managing person's appointments;

Doctor profile for easy search and choice of specialists;

Scheduling;

Calendar both for patients and doctors to visualize their appointments;

Support to tackle the technical issues;

Search bar.
Nice-to-Have features
Apart from baseline features, you should consider several special features that can distinguish your app.
Reviews
You can ask users to provide feedback on their experience during the consultation with a particular doctor. Based on this feedback, you can create a rating system for doctors. Ratings and reviews are helpful for users. Moreover, they motivate doctors to provide quality service.
Reminders
Add notifications about future visits both for doctors and patients. For specialists, it is a way to manage their schedule and reduce no-show. And for patients, this is a useful feature so not to forget about appointments.
Telemedicine
A telemedicine service can become a killer feature. You can create a space for health surveillance with appointment booking and the possibility to choose the preferred option either to visit a doctor's office or make a call through your app.
Electronic health records
Create a workplace for doctors by adding health records into your app. The doctors can put notes during the visit and send them to patients via your app.
Prescriptions
Electronic prescriptions is one more way to improve your booking appointment app. Doctors can send prescriptions for patients and, for example, to a local pharmacy where a patient can buy prescription drugs with this electronic receipt.
Health tips
You can further improve your app and add health tips for users. Imagine: customers can use your app not only for appointment booking, but also to learn something useful for their health.
Map and navigation
Your booking appointment app can also become a navigator for patients of offline clinics. It is convenient to check the address and route in one app with the visit details, so customers may probably want to use this feature too.
Navigation functionality in an app: plan of route and time for travel to doctor
How to add trust in the app?
Trust is very important for medical apps. You can provide more reliable services to your customers through:
App security. You have to comply with international regulatory norms like GDPR (General Data Protection Regulation) as it is an IT industry highest standard for data security.

Regulatory compliance. Doctor

booking system

is still a part of medical services and must comply with local laws. Check the requirements with a lawyer to be sure.

Proof of doctor qualification can be a must have feature for users. Ask the doctors to upload their diploma and / or medical license to add trust to them and your app.

Privacy is a must have when we talk about medicine. Apart from data security, you can provide a possibility to create an anonymous profile so a person can be sure no third parties will get access to their health records.
How to develop a doctor appointment app in 5 steps
There are several possible options for how to create a medical appointment booking app. You can either hire developers or outsource the software development to the agency. If you hire a team, you can control their work permanently. However, outsourcing of the development can help you to save your time and money.
You will need to take just 5 steps to create a doctor appointment app.
Step 1: Market research
Learn about other apps. Put attention to their business model and features. Notice inconveniences and mistakes which other apps have in order to avoid them in yours.
Step 2: Finding a developer agency
You may choose a development company to build a doctor appointment app in case there are no developers in your team. Start your search from companies' cases: an agency should have a number of relevant projects completed. Pay attention to clients' references and reviews — this is how you can choose the company that fits your expectations.
Step 3: Building an MVP
MVP (minimum viable product) is a working version of your app with most basic features. Creation of MVP helps you to test the app and minimize the development cost.
Your development team will help you with planning, tech stack and all important details.
Step 4: Release
This is a stage, when all the preparations are made and your scheduling app is uploaded to a marketplace. The developers will take care of technicalities, while you should pay attention to users' first feedback on the app.
Step 5: Maintenance
After an app release, a huge phase of maintenance and improvement starts. Do not refuse to ask the development team for additional updates: they will help you with further functionality and design upgrades.
Get free project estimation in 48 hours
300+
startups trusted us since 2014
Book a meeting
How much does it cost to build a doctor appointment app?
We prepared a rough guideline on time and money needed for doctor appointment app development. These are our estimates that imply that you are developing your app with Purrweb. We have four key stages.
Project Estimation
We will discuss the app idea and estimate the time and costs to develop a doctor appointment app. This stage is free of charge.
UI/UX design
Design includes not only visual representation, but also key functions of your app. In this stage, we plan everything you want to see in your future app from sign in to appointment booking. 
⏰ 160 hours 
💰 $9 710
Development
This is the most time-consuming stage. The team develops the architecture, the interface on both client and server sides.
⏰ 1100 hours
💰 $53 910
Here is what you get for these time and money:
| | | |
| --- | --- | --- |
| Feature | Time for development, hours | Cost of development, $ |
| Sign-in | 48 hours | $2 160 |
| Search bar | 100 hours | $5 400 |
| Patient profile | 48 hours | $2 160 |
| Doctor profile | 60 hours | $2 700 |
| Calendar | 100 hours | $4 500 |
| Support | 48 hours | $2 160 |
| Notifications | 32 hours | $1 440 |
| Rating and feedback mechanisms | 36 hours | $1 620 |
QA (Quality Assurance)
Testing is important. Аll the bugs should be identified and cleaned up before the app release. QA engineers will work it up for you. 
⏰ 390 hours
💰 $7 800
Project management 
There is one more additional spending item — project management. A professional manager assigns tasks, control deadlines and costs of development. 
💰 $5 450
The total spending for doctor appointment app development is $75 970
You can make a first step to your future doctor appointment app development by consulting with Purrweb experts. Fill in the form to contact us and have a free consultation. We can discuss your expectations and timeframe for the app development. Moreover, we will give you some recommendations based on our experience.