Key takeaways
There are 5 types of mental health apps: online therapy sessions, relaxation, mood tracking, meditation, or breathing exercises
The mental health market was valued at $4.2 bil. in 2021 and is projected to grow to $17.5 bil. by 2027
The favored platform for mental health apps: iOS
The dominant region: North America
The most popular type: Depression and anxiety management
Developing a mental health app costs around $64,000 and takes approximately 4 month
What is a mental health app
Mental health app provides tools for assessing, preventing, supporting, and regulating different aspects of mental health well-being. For example, mood, sleep, stress, or anxiety. These apps cannot replace a doctor, but they can connect users with healthcare providers, check for symptoms, and recommend the next steps.
Mental health solutions include apps in several niches: online therapy sessions, relaxation, mood tracking, meditation, or breathing exercises
In terms of design and interface, the platforms can look very different and have a diverse set of features, depending on the final goals and target audiences. So if you plan to create a mental health app, there is no pattern you can follow — UI/UX design, functionality, user flow, etc. will depend on your niche.
3 types of mental health solutions
There are many categories of mental health applications on the market, but we want to focus on the 3 major types that take over the top charts on AppStore and GooglePlay.
1. Meditation and relaxation
It is also a popular niche for developing a mental health app. Mindfulness and breathing exercises can help users unwind after a difficult day and ease anxiety and depression symptoms in the long run. The apps in this category provide guided instructions to show how to mediate and regulate your thoughts.
Popular competitors: Headspace, Insight Timer, Calm.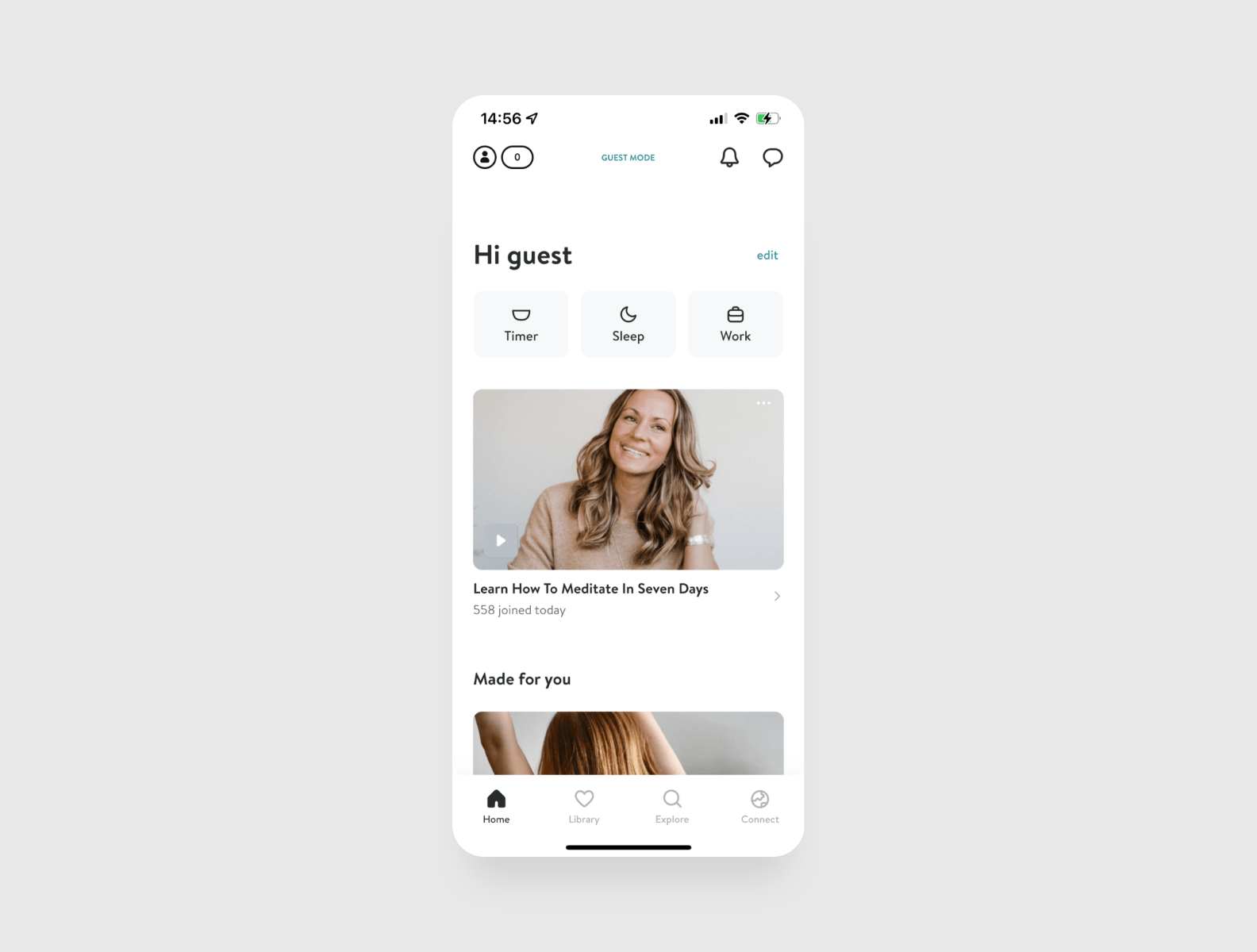 Insight Timer has educational content that teaches mindfulness and meditation
2. Mood and symptoms trackers
Mental health trackers provide users with tools for self monitoring, as well as a ton of insights about symptoms, triggers, and moods that can be discussed with a therapist or a doctor. They also can help with developing or dropping a habit. For example, users can learn how to journal, abandon negative thought patterns, or nail-biting.
Popular competitors: Moodfit, MindDoc, HappyMe.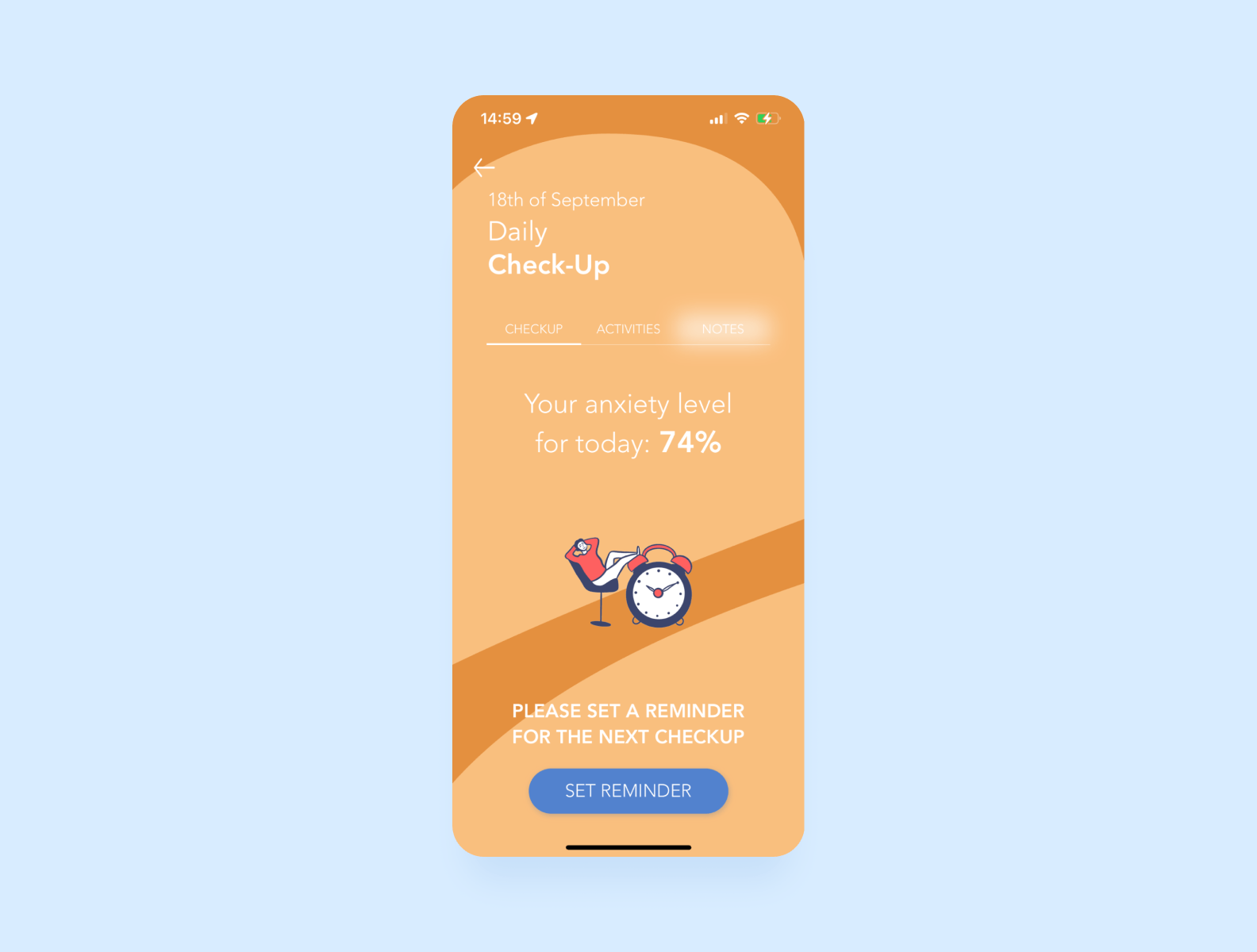 Mood trackers evaluate the current level of stress and keep a record of the user's progress
3. Teletherapy
This type of mental health application helps users have audio and video sessions with therapists. The flow is simple: a user signs up and takes a quick questionnaire about goals and reasons for the therapy. Then they get matched with licensed therapists, browse their profiles, choose a specialist, and schedule a session. 
Popular competitors: BetterHelp, Talkspace, Amwell.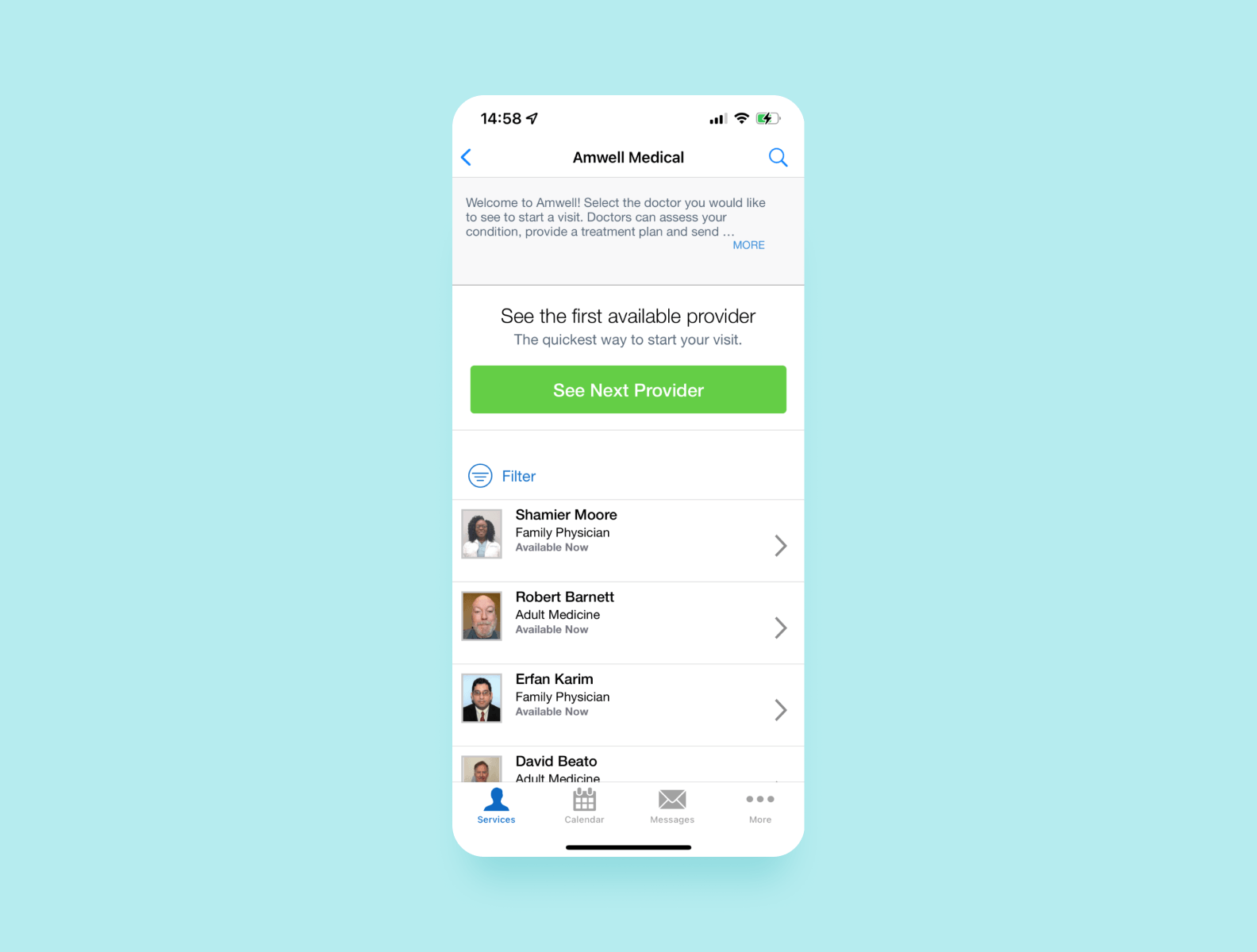 Teletherapy is the best option when you need to talk to a doctor urgently
Teletherapy apps vs. Traditional therapy: pros and cons
The demand for online therapy sessions and virtual mental help especially skyrocketed during the pandemic. Uncertainty, endless lockdowns, and isolation caused a lot of stress and anxiety. So, people started seeking new ways of getting mental health help and teletherapy platforms are experiencing a boom.
➕ Pros of online therapy:
Lower costs.

Don't have to commute to the therapist's office.

Easier to schedule a session.
➖ Cons of online therapy:
Confidentiality of personal information can be compromised.

Video calls require a high-internet speed internet and a laptop or a smartphone (which might be inaccessible to senior users).
Why creating a mental health app is beneficial for users and owners
Mental health app development has advantages for all parties. Startups get access to a large market and solvent groups of the audience. Users get more accessible mental well-being tools. They don't need a lot of money, time, or resources to get professional help with stress, anxiety, and mental health disorders. Finally, those platforms create a big database for monitoring and managing mental health conditions that can be used by researchers.
In a nutshell, mental health application development:
Opens access to a

wide solvent audience

;

Makes

self-care more accessible

;

Helps users

manage mental health disorders

and stressful situations;

Contributes to the creation of research

materials

.
What's going on in the mental health app market
The mental health app market is booming and the demand for self improvement apps will keep growing in the upcoming years. Post-pandemic anxiety, increasing awareness of the importance of mental health, and fast speeding of technologies actively contribute to its growth.
The size of the potential audience is enormous. According to the World Health Organization (WHO), around 1 billion people struggle with mental disorders. One of the most common is depression which affects almost 5% of adults.
In terms of mobile applications, in 2021 the general mental health market size was estimated at USD 4.2 billion and it is expected to reach USD 5.2 billion by 2022 and USD 17.5 billion by 2027.
The most dominant platform for mental health apps: iOS.
The most popular region: North America.
The most popular type: Depression and anxiety management.
There are unfilled niches on the market, for example, it lacks modern and effective apps that reduce obsessive compulsive disorder (OCD) symptoms or help users get their depression medication delivered. So, consider doing market research before working with mental health app developers.
Key monetization strategies for mental health app development
Mental health apps make money in three ways:
Subscriptions

. Registered users have to pay to get access to exclusive features or content. Usually, they are charged monthly or annually. It's the most popular model for mental health applications.

In-app ads.

This model is less common, but some platforms still use it. Ads are delivered inside the mobile app in different forms: a banner, a video, or an interstitial.

Paid sessions.

Most teletherapy apps charge users per hour of the session and withhold a commission fee before paying the counselor.
Top 3 mental health apps on the market 
There are more than 20,000 mental health apps on the market as of now. Let's dive in, discuss the main players on the market and talk about key features and monetization strategies for mental health apps they use.
BetterHelp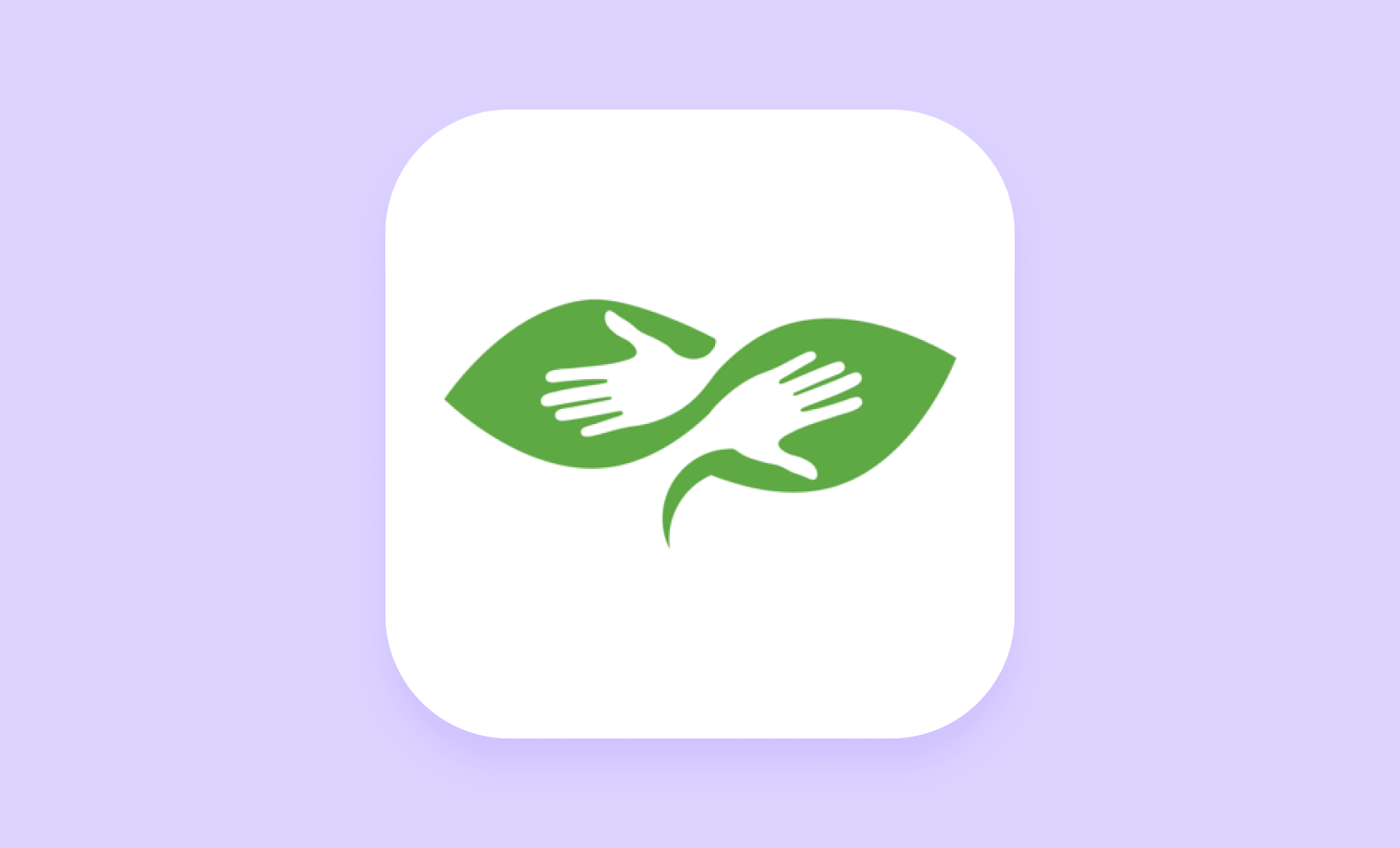 BetterHelp logo
BetterHelp is a mental health app founded in 2013 in California. It provides virtual counseling and therapy services via video calls and chatting functionality. The idea is simple: users get connected with licensed therapists that are available 24/7 from any location.
Key functions: user profiles, messages, live audio and video calls.
Monetization strategy: a monthly subscription ($240-600 per month depending on how many sessions you want).
Headspace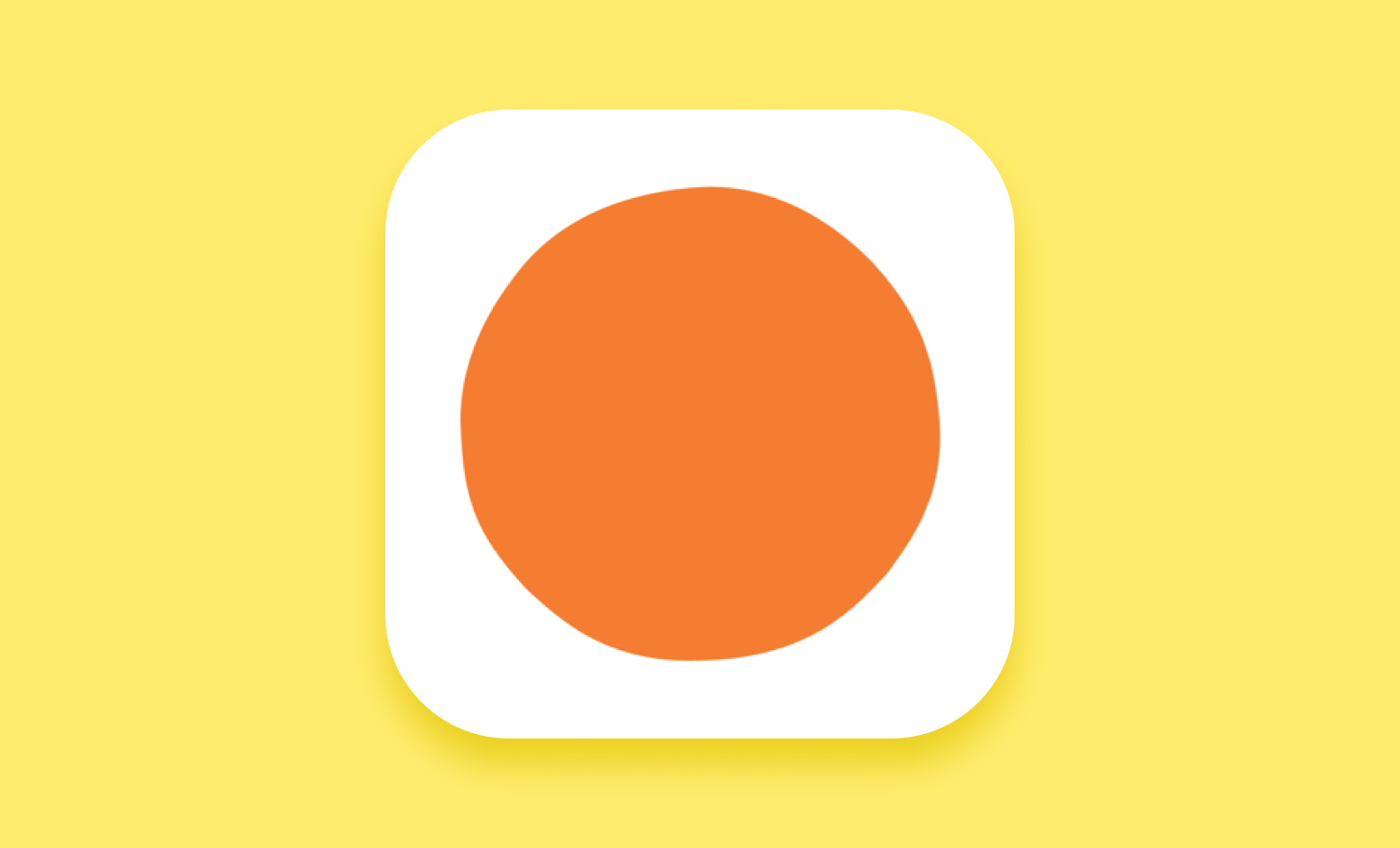 Headspace logo
Headspace was created by British entrepreneurs Andy Puddicombe and Richard Pierson. The story of the startup was unusual: Puddicombe, who was a former Buddist monk, ran a meditation clinic in London when he met Pierson, a burnt-out marketing agency director. Back then, in 2010 the importance of mental health was not on the ear, so the idea sounded irrelevant. But now Headspace has 30 million users in over 190 countries.
The mental health app provides guided meditations divided into topics: sleep, anxiety, fear of flying, stress management, and many others.
Key functions: meditations catalog, search, and dashboard with the progress.
Monetization strategy: subscription ($12.99 per month or $69.99 per year).
MindDoc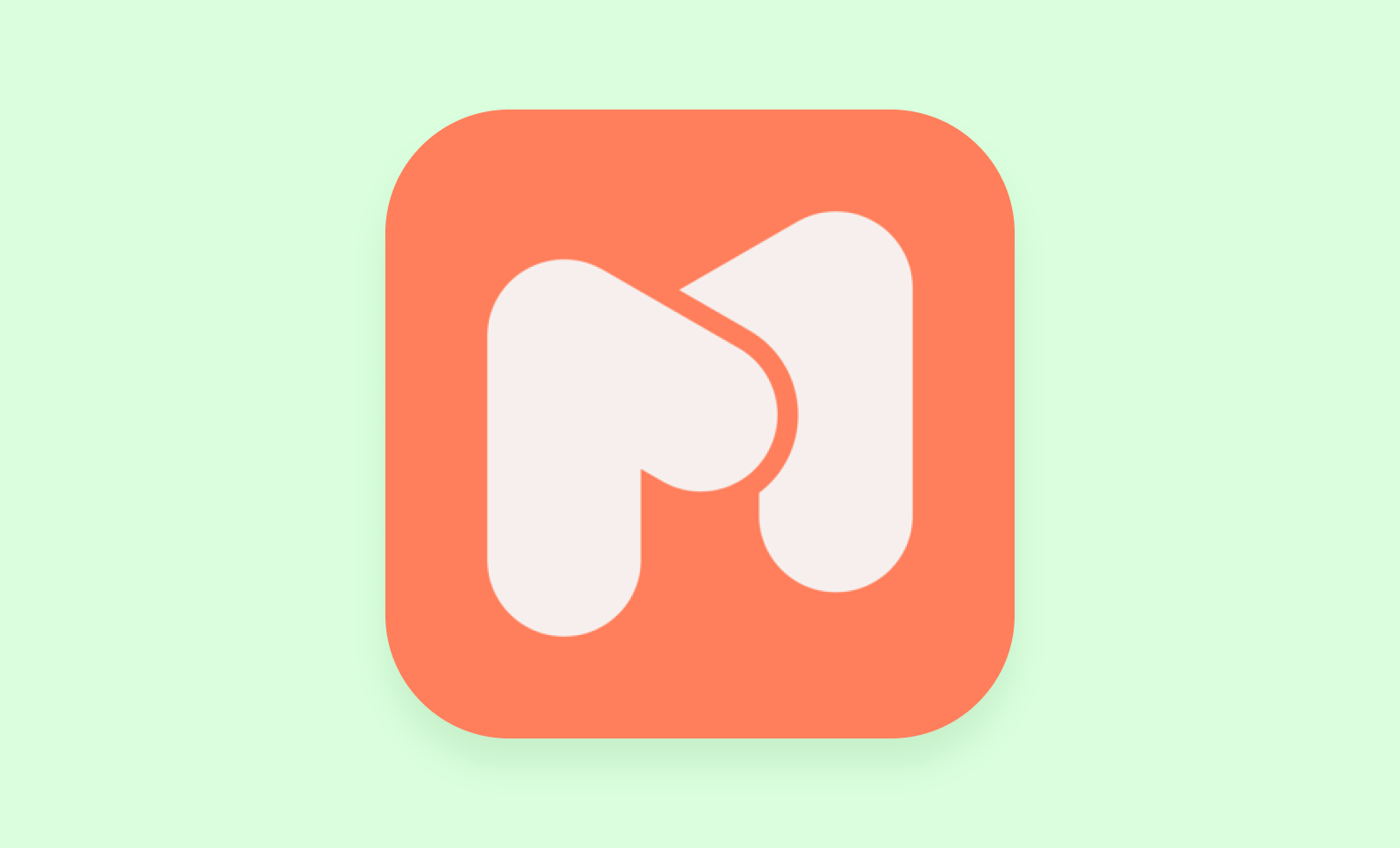 MindDoc logo
The MindDoc app was developed by clinical psychologists and mental health researchers to help people with self monitoring. Users can log in to their feelings and see a calendar with their main patterns and progress. Moreover, the platform has personalized recommendations and psychological exercises to boost the user's mood.
Key functions: mood tracker, calendar, push notifications reminding you to log in your thoughts and feelings.
Monetization strategy: subscription ($29.99 for three months, $44.99 for six months, and $69.99 annually).
5 essential features for a mental health app
Set of functions for your mental health app depends on its type and goals. If you work on a mood tracker, you would prioritize a feelings checker and a dashboard with all data. If you create a meditation app, you will probably focus on content and the navigation through it.
When you plan to develop a mental health app, it is important to decide on the functionality and user flow beforehand. We put together a list of 5 key features of mental health app for online counseling.
📝 Sign up
You need to ask a user to share some information before they start using the app. For mental health platforms, registration is a must, because user experience there is connected with achieving certain goals. For example, meditate 10 days in a row or have 5 sessions with the therapist. To make sure users achieve desired results, they need to fill in a questionnaire about expectations and objectives.
Signing up is usually the first step of user experience. Therefore it should be simple, intuitive, and straightforward. You can also add alternative sign-up options, like social media accounts.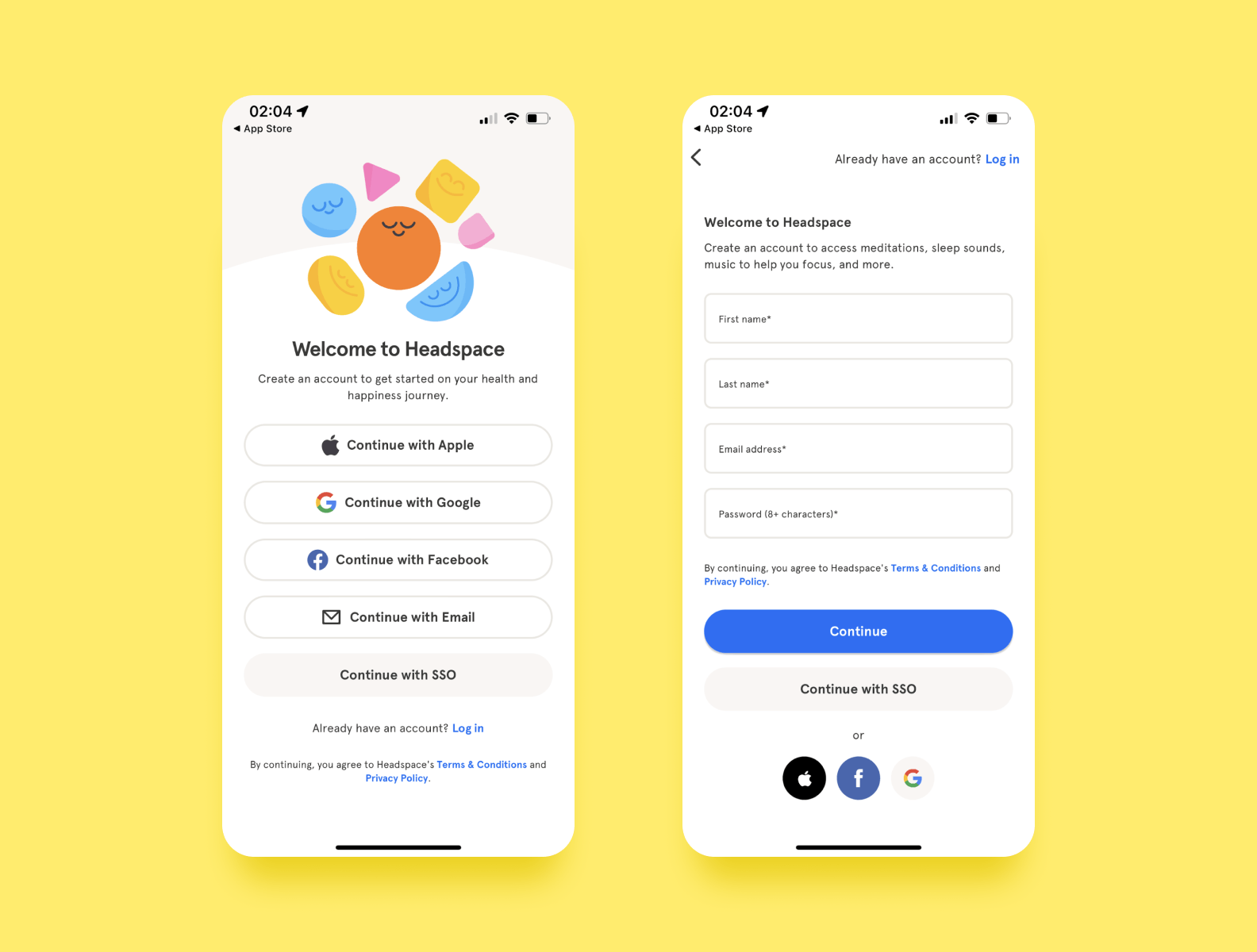 Headspace sign-up options
👨‍💻 Therapist profile
The best profile page is informative yet simple. It should have the following elements: a name, age, a photo, and a bio describing the therapist's expertise.
The purpose of this feature is to help users learn about therapists and engage them in the platform. So, profile pages should be easy to find and explore. Use UI/UX design tools to keep the navigation in your mental health solution intuitive and concise.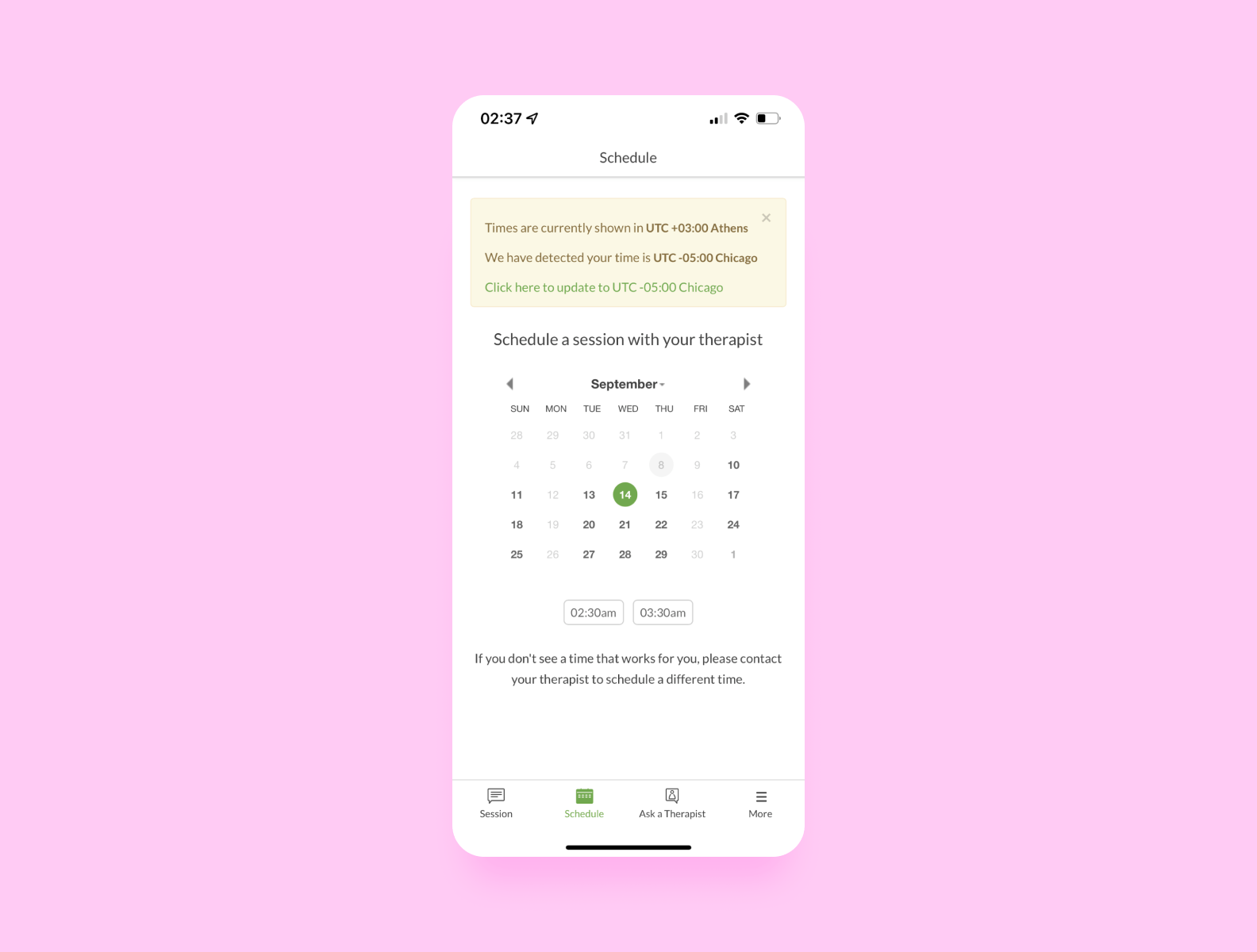 BetterHelp displays the therapist's availability in the profile 
📊 Dashboard
When people use a mental health platform, they usually have a goal they want to reach. To keep track of the progress and display the data, apps use dashboards.
The golden rules of a good dashboard are simple: clear logic, up-to-date data, customizable elements, and visually appealing design.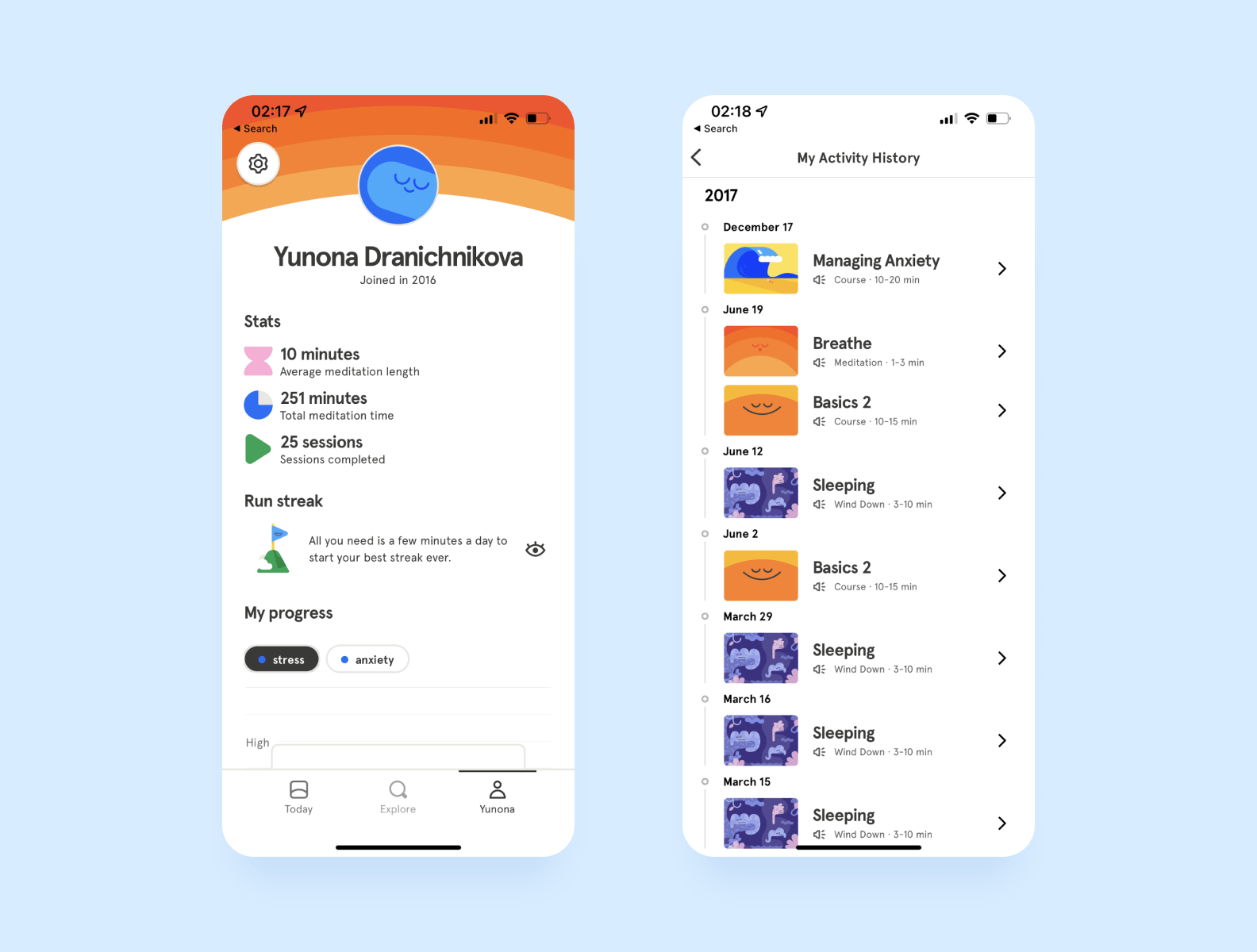 Headspace dashboard and activity history
📲 Notifications 
Push notifications will keep users engaged and help build relationships with customers. There are many ways you can use this feature for the app's benefit: for instance, send a reminder of an upcoming session to show that you care about the audience, or give a promo code or a free session if a user hasn't been in the app for a while.
📞 Audio and video calls
When it comes to teletherapy apps, chatting is a core feature, as it provides an opportunity to have a real-time session. Users should have a choice: video, audio, or text, depending on their level of comfort and trust.
Obviously, the audio should be clear and loud enough and the video should be optimized to the best quality. It mostly depends on the user's equipment and an internet connection, but you need to make sure everything on the server side is honed for the real-time sessions.
Best practices for mental health app development 
If you want to make sure your mobile application stands out from the competitors, it is crucial to know about current trends and drifts in the market. Before you create a mental health app, think about best practices for healthcare solutions and ways to implement them. We recommend these two: personalization and gamification.
Personalization
Personalization is the way of building an app to suit the needs of a specific user. Simply speaking, it makes the solution more convenient and helpful.
Most mental health apps ask questions during the onboarding process. Such as, what is a user's end goal, how she feels now, and how often she wants to be contacted. Within the healthcare sector, personalization of experience is really important: it connects a patient with the right provider with relevant experience and training. Would you entrust marital problems to someone who works with teen counseling only and never helped couples before? Very unlikely.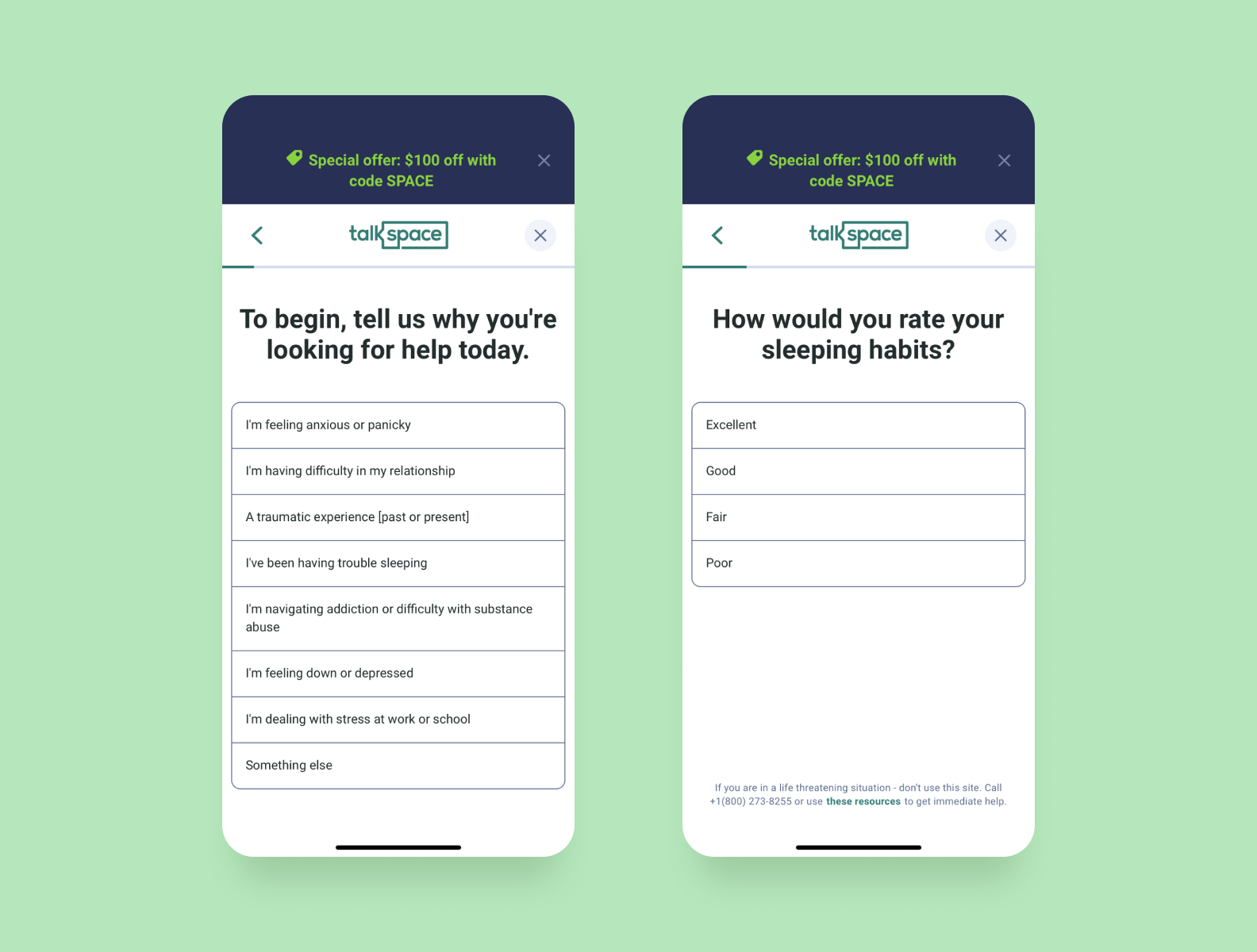 TalkSpace asks new users to fill out a questionnaire
Gamification
To defuse the tension around emotional struggles and add a motivation boost, mental health app developers use gamification. It is a practice of adding game elements to mobile apps. For example, rewards, badges, or challenges.
Having gamification elements in the interface has many benefits for the user experience: it motivates the audience, helps progress better, and increases the engagement and retention rate. Good gamification balances the user's needs and behavioral patterns with their desire to be entertained. Remember: fun in healthcare solutions is good, but it should be too much because mental health is a serious matter and should be presented accordingly.
How much does it cost to build a mental health app?
How much does it cost to create a mental health app? How long will it take? Those questions are haunting everyone who has an idea for a mobile application. No worries, we got you covered.
Let's break down how much the development costs for the same type of project and how long it takes.
🚨Disclaimer: This is our estimated quote for mental health app development with basic functions and we don't guarantee other companies have the exact costs or timelines. 
Stage
What are we doing
Estimation in hours
Estimation in weeks
Approximate costs

Initial meeting

Discuss the idea of your app

1 day

–

No costs

UI/UX design

Map users' journey, create ideas for the screens 

160 hours

6 weeks

$8 010

Development

Build the

app

1018 hours

9 weeks

$45 810

QA (Quality Assurance) 

Find and fix bugs

270 hours

In parallel with the development

$5 400

Project management

Manage the app development project and solve administrative tasks

In parallel with the project

15 weeks

$4 050
Overall, the mobile mental health app development services will cost you $64 070 and will take approximately 4 months.
How to develop a mental health app in 4 steps
Step 1: Create a solid idea. To stand out on the market, you will need a creative and definite idea. Before planning the app, think about your target audience and how your solution will help them. Who is your user? What makes you different? How will your app make money? These questions are to start exploring the idea and turning it into a business plan.
Step 2: Select a team. The right choice of developer matters. An experienced and skillful team can strengthen your idea, assist in marketplace research and help you achieve the desired results. Take your time when choosing a developer, check the portfolio with relevant cases and verify credentials.
Step 3: Develop an MVP. MVP stands for a minimum viable product and helps us test an idea with real customers. Don't confuse this stage with a prototype or a draft: MVP is a fully-functioning product, just the set of features is temporarily limited.
Step 4: Polish the product. After you receive feedback and analyze data, it is time to improve and grow. The team of developers will help you plan the scale-up, provide post-launch support, release updates, and fix any issues.
Our experience with mental health app development
At Purrweb, we know how important it is to get your idea out and test it in the real world. Therefore we help our clients rapidly launch MVP and focus on user experience. We ensure that the mobile app meets customers' needs and that personal data is protected on all levels. 
One of our areas of expertise is healthcare app development. We provide full-cycle development services for web, desktop, and mobile platforms with custom and robust UI/UX design and firm QA control.
Online psychotherapy app
We developed a mobile app for online consultations with psychotherapists in the UK. The clients came to us amidst the pandemic and they're goal was to create a selective service with a lot of custom options: calendar, notes, chat, video calls.
As you can imagine, there are many online therapy services on the UK market, so we had to make sure that our app really stands out. For that we:
Added tons of

custom features

that clients asked us to make from scratch;

Took the

adaptive design

approach to make sure the interface looks well on all devices and screens;

Created the

window management

feature to let users do two things at once: for example, minimize the video call screen and take notes.
Overall, the project took our team over 8000 hours to complete. The clients were involved in the process on every step, providing their vision and feedback. Sometimes micromanagement from a hirer side can lead to a disruption of the process, but we managed to solve the situation quickly and keep the communication crystal clear without any conflicts. Want to know how? Read our case article for more details.
Wrapping up
In this article we summarized our experience of working with healthcare development. But we have some more tips for the road. When you decide to enter the mental health app market, there are several things for consideration. 
The market is already concentrated and it keeps expanding. That is why your solution has to stand out from other competitors, and just a reliable interface and clear flow might not be enough. Think out of the box, and explore new niches and approaches to mental health treatment.

The healthcare sector is closely tied to confidential information and privacy. Everything that happens on the app should stay on the app, and it is your responsibility to encrypt the data and secure it from breaches.

Many countries have compliance laws for medical mobile apps. They regulate the safety and effectiveness of the solution. Your mental health might not even be regulated under those laws, but you still need to double-check in advance. No one wants to have trouble with authorities, so stay alerted.
Need development services for your app? Fill in the form to get a consultation with us