Mindfulness is the new sexy. 'Breathe in, breathe out. In through the nose, out through the mouth. Allow thoughts to come and go.'  These words have become an essential part of our modern life, where meditation is widely accepted as the best and most effective way to cope with stress, anxiety, procrastination, and even with the imposter syndrome. Does your phone have a meditation app? It's time to think about mobile app development of your own!  
Nowadays our everyday life is tied around smartphones — we work and rest with phones in our hands. Everything has moved online, including stress relief activities and meditation, and there are hundreds of apps out there that will guide a user through the path to mindfulness and soul tranquility. Nevertheless, the admiration of such apps only grows, and the market demands new creative decisions. If you want to build meditation app and don't know where to start, this article is for you. 
We created a step-by-step guide on how to develop meditation app like Headspace. Here you can find insights about how much mindfulness app development costs, how to select key features for an app, and where to find a contractor. Enjoy!
Who else is on the market?
Let's talk about competitors first. Currently, there are two major players: Headspace and Calm — they share around 70% of the U.S. meditation app market.
Headspace is a meditation app that provides guided mindfulness sessions in multiple languages. The startup was founded in 2010 in the UK by former Buddist monk Andy Puddicombe and his ex-client Richard Pierson. They started with offline meditation events across the UK, but then quickly realized that the future is online. With friends and family support, they released the app and by August 2020 it has reached 65 million downloads and earned $610 million in revenue.
Calm, the second biggest mindfulness app,  appeared on the market two years after, in 2012, also in the U.K.  In 2019, their revenue surpassed $100 million, and experts say it goes up by 46% year-after-year.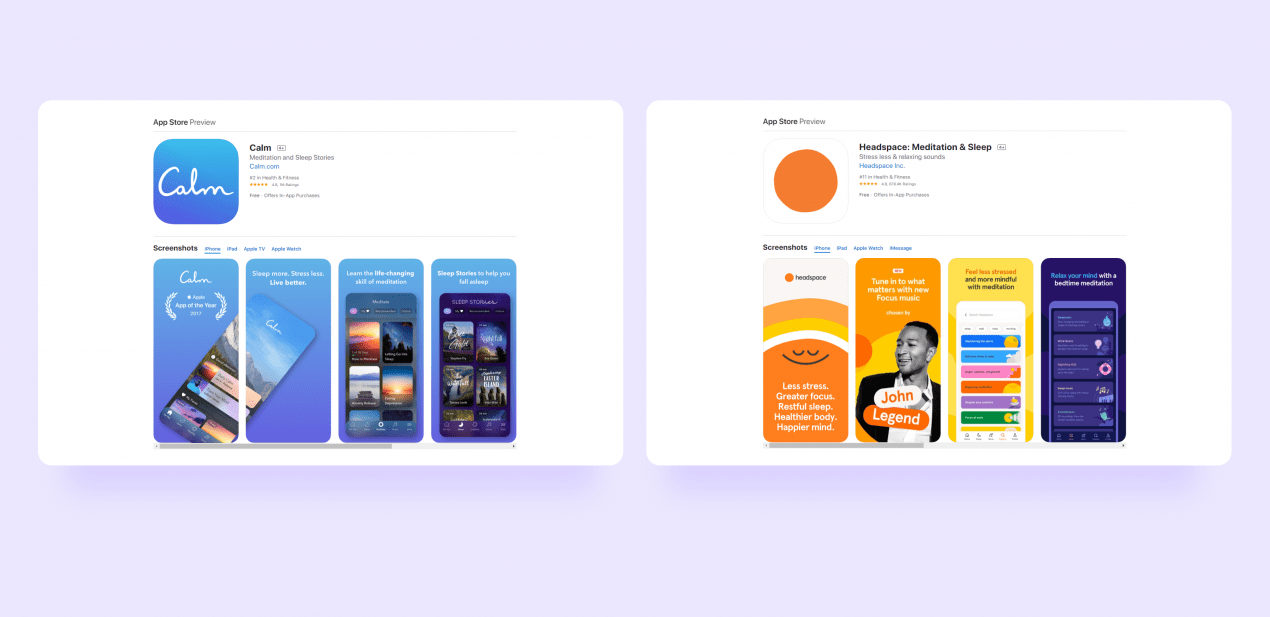 Top-2 meditation apps in the U.S., Headspace and Calm
How does a meditation app like Headspace make money?
There are 4 popular ways for a meditation app to make a profit.
To be honest, the most popular meditation apps are not free of charge, and

premium subscriptions

are a major way of monetization. Headspace offers 10 introductory meditation sessions for free, and if you want to keep going, you have to pay

$12.99 per month, or $95 per year, which is even more than a basic Netflix subscription. Calm came up with a 7-day free trial, after which you will be invited to pay $12.99 per month or $59.99 annually.

Also, meditations apps offer an option of a one-time payment that gives you access to the sessions catalog forever. Headspace charges

$399.99 for that, while Calm goes with a $299.99 price.

Some meditation apps, like Buddhify, charge a small

fee per download

— $4.99 from iOS App Store and $2.99 from the Google Play Store. 

Another way to make money from a

meditation app

is

in-app ads

. They are usually used by apps with free access to sessions, like Deep Meditation, that also might suggest you to remove ads by paying a small fee. However, stats say it has the opposite effect. Users get annoyed by pop-up windows and stop using apps. That's why we recommend looking at other monetization options.

Partnerships and sponsorships

are also a strategy to work with. Almost any

meditation app

has a broad mature audience to offer for brand partners. For example, Headspace has collaborated with Amazon, Air Canada, Nike, Spotify, and many other companies. If you need some inspiration, you can see the full list of their collaborators

here

https://www.headspace.com/partners

.
How to choose key features for a meditation app?
If you got here, it means we have convinced you that a meditation app like Headspace could be a goldmine. After you researched the market and chose a monetization strategy, the next step is to define the main elements of the future app. We gathered 6 features you will definitely need in order to build meditation app that everyone will love and use.
Sign up / Sign in  page
First things first. At the beginning of every meditation app is a sign-up form. Our advice is to simplify it as much as you can to give users a quick start. People definitely don't want to spend more than 3 minutes filling it in. The registration page should ask to create a username and password, to put an email address, and to agree to the Terms and Conditions, while the sign-in board of a meditation app should have login and password bars.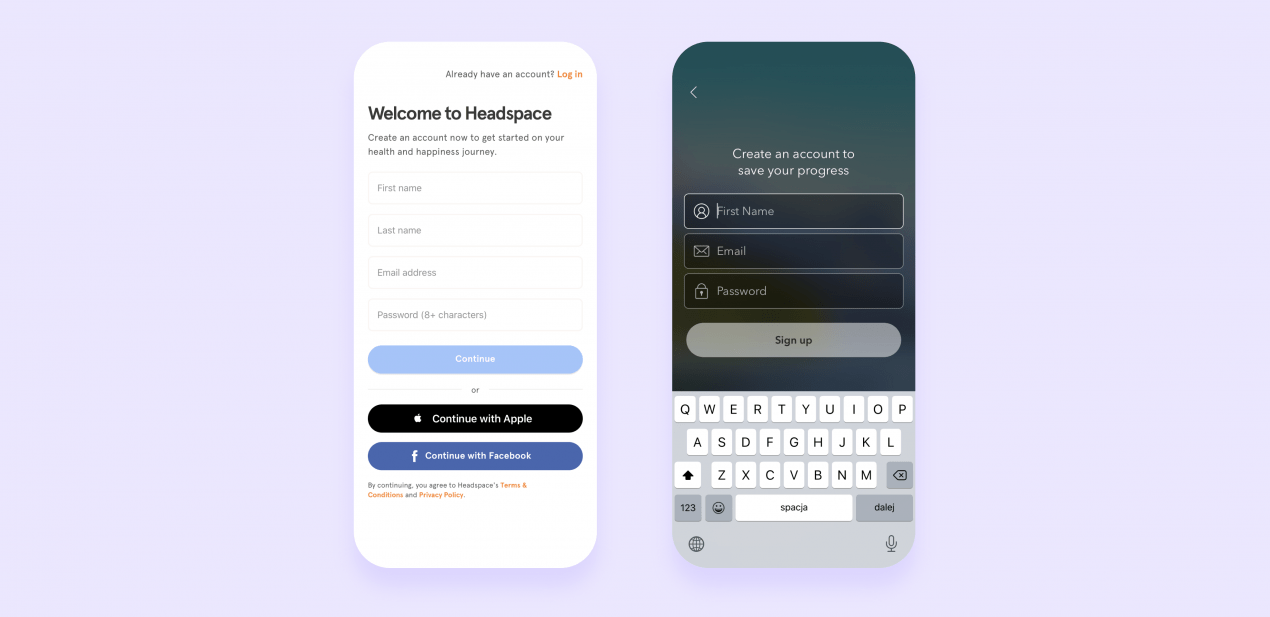 Headspace / Calm sign-up pages
Personal profile
This feature helps users personalize their page, add photos and profile status, as well as check subscription plans, change language settings, and enable notifications. If the marketing strategy for your meditation app is to build the community around, you can also add a  buddys' list to a user's personal profile like Headspace or check-ins like Calm.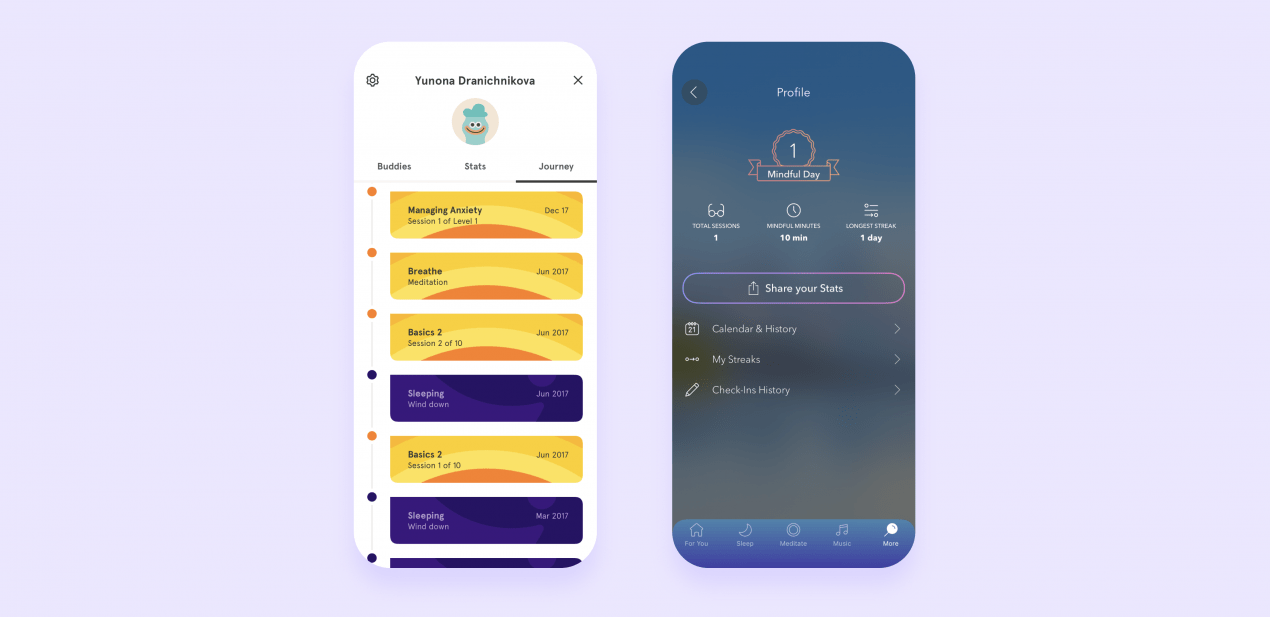 Headspace / Calm personal profile pages
Meditation library
Content is what keeps users engaged and increases the customer retention rate (CRR) of a meditation app. The more broad and diverse your content is, the more people will stay in the app, browsing and trying new sessions. Usually, apps offer different length meditations, guided and unguided options, and thematic sections – sleep, anxiety, fear of flying, and so on. We recommend dividing meditations into logical groups, so users can easily navigate through the library. 
Plus, when you develop a mindfulness app, it's also good to think about implementing different voices. For example, both Headspace and Calm invite celebrities to record guided meditation sessions with apps, so users can ease their mind listening to LeBron James, Matthew McConaughey, or Lucy Liu.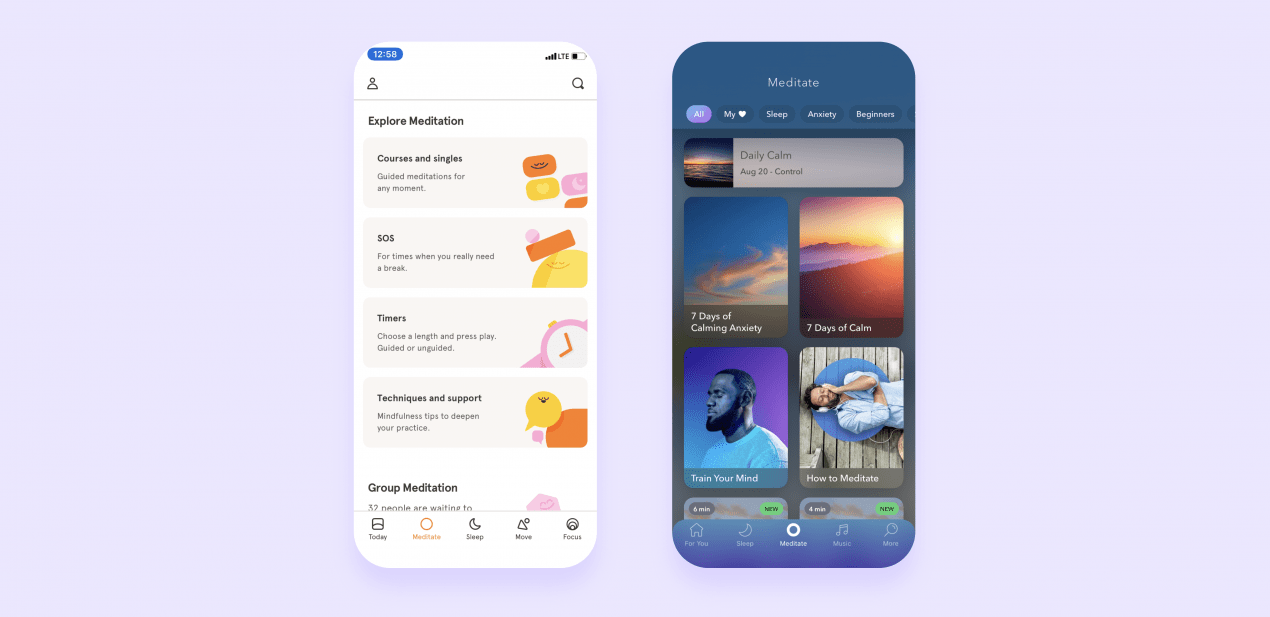 Headspace / Calm personal libraries
Play / Stop buttons
Play screen is not just for users' comfort, but also it acts like a call-to-action in a meditation app. Big bright buttons raise a desire to tap, dive in, and start exploring sessions. Also, the majority of meditation techniques require closed eyes, so it's better to set a 3-5 seconds pause between the moment the user hits play and meditation starts. Here is the list of necessary elements for this page:
Play / Stop buttons;

Scrubber, so users can see how long the meditation lasts;

Rewind buttons;

Sound settings, like volume, speed, and voice.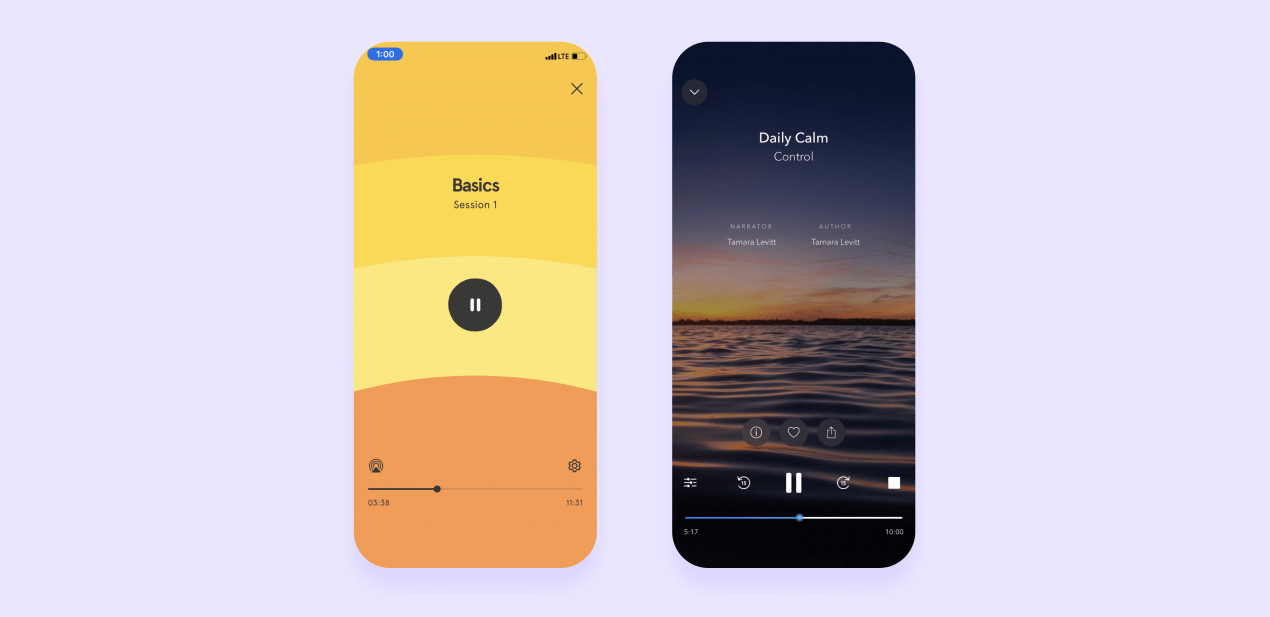 Headspace / Calm playing interface
Personal progress
Let users see how much they progress on meditating! Seeing the results and getting rewards like badges motivates people to keep at it. Headspace and Calm give streaks for meditating X days in a row or completing a whole course. It can also be a good idea to use for your meditation app.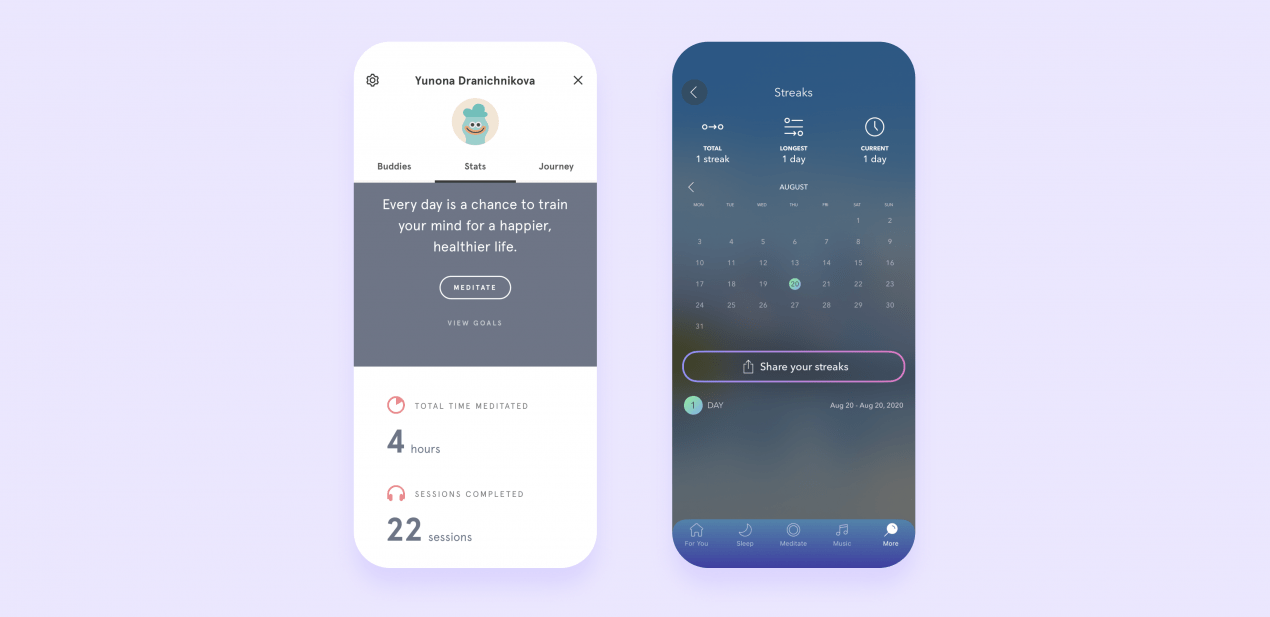 Headspace / Calm
Push notifications
That's how a meditation app like Headspace keeps users engaged — they act like triggers to open the app. Calm offers to set up a daily reminder; for instance, every morning at 8:30 am you can get a notification with a friendly invitation to meditate today. Headspace uses this feature to share mindful and inspirational messages throughout the day.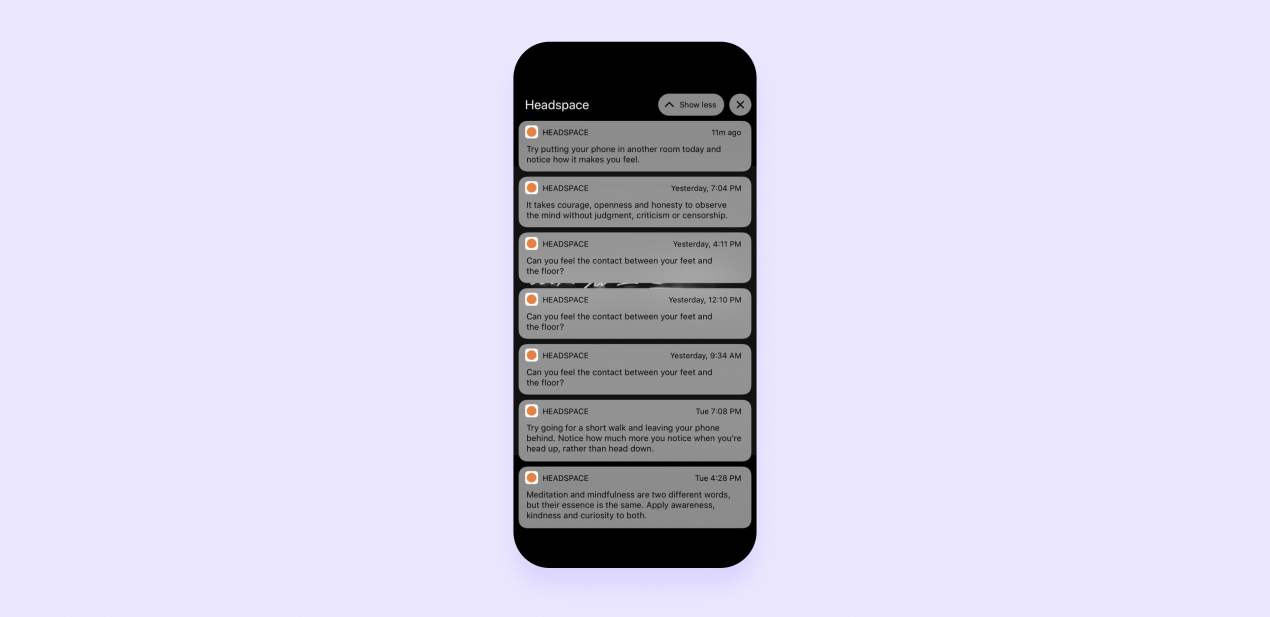 Headspace daily notifications. Source: Twitter @MelCLiu
Payments options
In-app purchases and subscriptions are how your app will make money. That's why interfaces should be simple and clear to use. At Purrweb, for clients who want to create meditation app like Calm, we pick only the most preferable payment options. Be it credit/debit card, ApplePay, GooglePlay, or PayPal integration — the choice depends mainly on what you're comfortable working with, as well as what your targets prefer using. 
Wait, is it expensive to develop app like Headspace?
After we talk about a long list of main features, the next question is always 'Do I need millions for a meditation app?'. The answer is no! Did you know that Headspace began as a startup with only $50 000 of initial capital that they gathered from friends and family members? After 10 years, the app earned millions of U.S. dollars on meditation and has users from 190 countries around the world.
The general rule about pricing is the more teams you hire, the more you pay. Many startupers want to build multiple apps for different operating systems to cover a larger variety of markets, but don't want to hire multiple teams for meditation app development. The good news is that at Purrweb, we work with the React Native framework that allows us to develop meditation app like Calm really quickly and to use one JavaScript code and one team for both iOS and Android app versions. It saves our clients tons of time and money.
Also, for our clients, we try to make the development process as transparent as possible, and we always openly discuss all future steps. The average meditation app development time for the Purrweb team is 5 months. Let's do the math now!
When you want to make a meditation app  like Calm  with us, you will pay for full-cycle development, including:
UI/UX design of a

meditation app

React Native frontend development 

Backend development

Project management

QA Testing
Overall, a team of 6 people will develop your meditation app. Here is the timeline: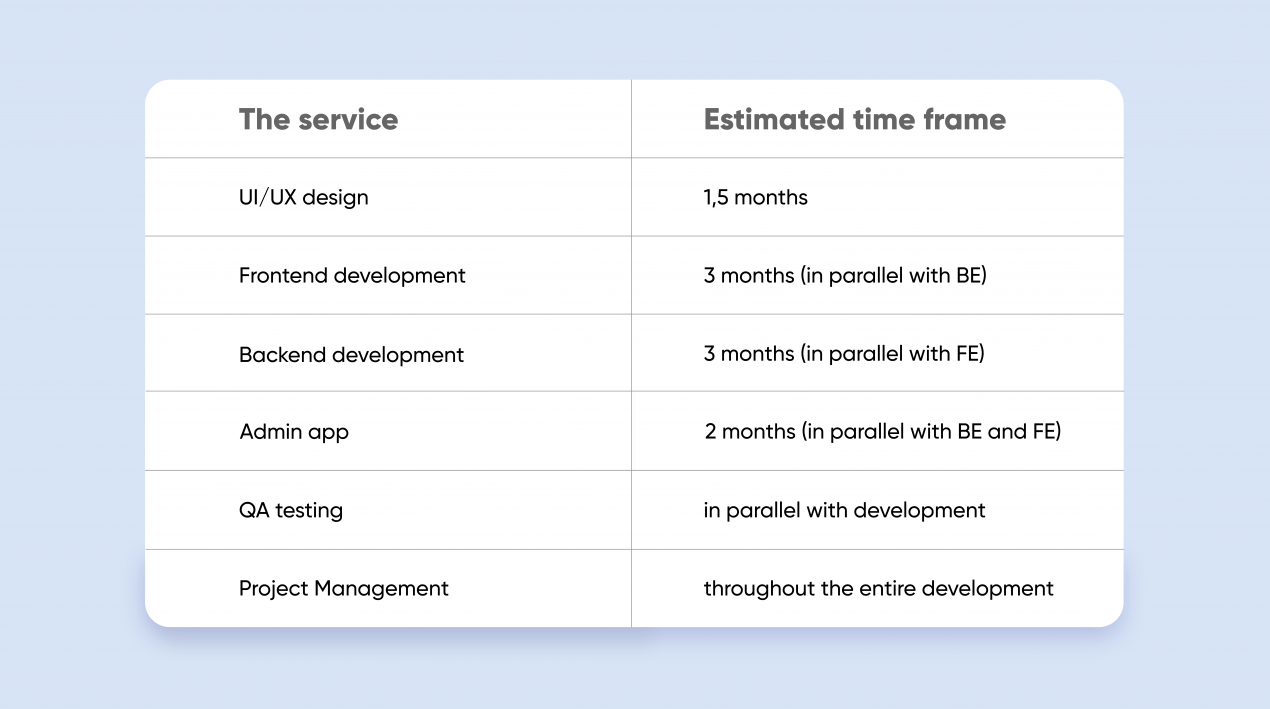 Key in your e-mail address to get a full breakdown of the estimation with all details
Thank you! You will be contacted soon!
According to similar projects we have made, the estimated cost of a meditation app like Headspace or Calm is from $80,000 to $100,000 for a full cycle of development — UI/UX design, development, and QA testing.
How to find a contractor for a meditation app?
We know that finding a reliable and reliable contractor is never easy. Here's how you can do a background check on a potential outsource team for your meditation app: 
Google a company name and check out their website and client reviews. Then visit platforms like Behance and Dribbble and thoroughly study their design works. Companies who value their reputation care about their online presence and showcase what they can. At Purrweb, we even run the

blog

in order to help you learn about the experience we have in full-cycle app development. 

Choose someone who works with React Native. The framework allows us to create a meditation app for both iOS and Android with one code, while native UI-elements will make them perform like solutions built with Swift and Java. Our experience says if you want to test a business idea, React Native is the perfect solution that saves time and your budget. At Purrweb, the average time required to develop a fully-functional React Native meditation app from scratch is 3 months. Once it's done, go share the product with users and get initial feedback or present to investors and get financial support. 
Trust your guts. After you read a company's blog and check the projects they've already delivered, listen to your inner voice. If something confuses you about a developer – it's better to keep looking until it clicks.
To learn how to choose a contractor and make sure they do not steal the startup ideas, check out our article with the instructions.
Let's reinforce
Is it a good idea to build app like Calm or Headspace in 2020? Yes, because the meditation app sector is a trending area for your future startup. The amount of stress in everyday life only increases, and people desperately need creative tools to ease their minds and relax. Also, the meditation app is easy to monetize, because the majority of competitors have already implemented premium subscriptions and audiences are already warmed up to the idea of paying for an app regularly. 
There are 4 major ways to make money out of a meditation app that we mentioned in this article: subscriptions, fee-paying download, in-app ads, and partnerships. 
Here we are sharing a step-by-step process on how to make a meditation app like Calm or Headspace.
Start with the market analysis. In the article, we gave you hints about major players and how they work. The next step is to research the competitors more thoroughly and see what could make you stand out. Maybe, you come up with a new meditation method or invite cool narrators that haven't participated in projects like that before. Be bold and creative!
The next step in meditation app development is to define key features. You can use our list with 6 core elements or just contact us directly and ask about a personalized app plan for your startup.
Create a clickable prototype. This stage is crucial for testing and finding investments. The sooner you create something tangible (something that allows to get an overall view of what the idea is about), the faster you start collecting feedback and present the idea to potential investors.
Develop meditation app.  After you tested the idea and got promising results, you can go on with the development process. For us, the average time required to develop an MVP from scratch is 3 months. Within this time, we create a fully-functioning solution that target users can benefit from.
Remember, when you want to build meditation app, a solid idea and a reliable experienced contractor are more important than initial capital. Headspace started with only $50 000 in their pockets and grew into one of the biggest health apps in the world. 
We will be happy to help you build app like Headspace, and maybe even better.  With Purrweb it will take you 5 months and the cost to build a meditation app will be around $85,000.