What is a fitness app?
Fitness apps are designed to make our life more comfortable and relaxed. There are many reasons for people to integrate sport into their lives. It can be a desire to lose weight to fit into favorite jeans, advice from a doctor, or simply a goal to become better at doing something — for example, to run further or swim faster. 
The main advantage of fitness apps — online mode. It's easy to add a workout into a schedule: just do it from home, you don't need to catch the gym schedule.
One of the most frequent requests on Google is 'Fitness apps that work'. Why is it like that? If the user has a smartwatch, they will most likely want to find an app that will synchronize with it. If the user has already tried two different apps, but both of them didn't turn them from a couch potato into a sport enthusiast… Probably, they will try to find another one that can handle the task. For now, our goal is to figure out what features we should add to our fitness app to break into the market and meet all user needs.
Fitness app development: types of fitness apps
Nike Training Club, where the user can find workouts for athletes, is not the only example of a fitness app. Fitness apps help to solve problems: find an appropriate workout or stop putting sports on the back burner — functionality of the app depends on the problem. We have identified 5 types of fitness apps and want to tell you about each of them. Let's go!
Fitness apps can be categorized by a training type: there are exercises for strength, endurance, or mobility. The major task of training apps is to teach users how to do the exercises correctly, that's why audio and video content is a 'must-have'.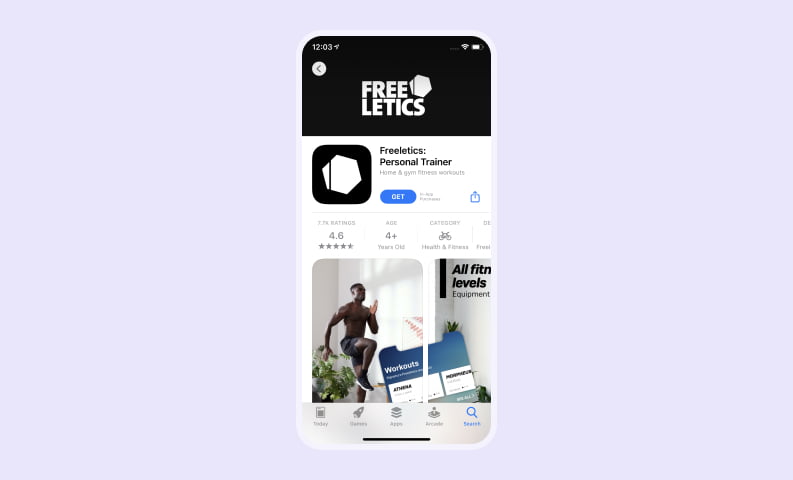 A good example of workout apps — Freeletics
Most often, training apps are used by people who have already paid their dues in the wrong way of doing exercises. They cannot imagine a workout without a fitness bracelet or other wearable device. Therefore, it's important to add synchronization with wearable devices in such an app.
Such fitness apps help you track dietary habits, count calories, and stay hydrated. One cannot imagine a diet app which doesn't provide users with an opportunity to set goals, check calories, and find proper nutrition recipes.
Usually, Diet & Nutrition apps include:
food data tables — allow the user to find information about calories, proteins, fats, and carbs of a product;

calorie counting calculator — helps to calculate a daily calorie intake depending on the user's body like age, gender, height-to-weight ratio;

food diaries — lets users record data about meals they eat during a diet.
Over the last few years, people started buying smart devices more often: Apple Watch, Xiaomi Mi Band, SmartWatch. With their help, the user can count the number of taken steps, the heart rate, and even the stress level! Tracking apps are used not only by professional athletes but also by people who want to track their health indicators. Think in advance about the potential of your fitness app and add sync with a wearable device — users will appreciate it.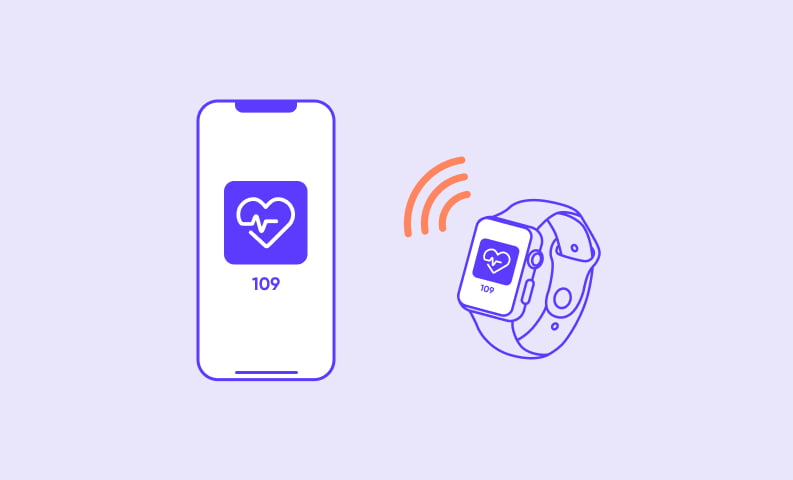 Create a fitness app: make a connect between wearable device and smartphone
Regularity will lead you to success in any business! Habit-forming fitness apps help users get rid of bad habits, form good ones, and gradually begin a healthy lifestyle.
Here is an example:
Alex sets a goal — 'I want to run a half marathon'. It's not an easy task, especially if an app is not reminding the user to track the progress. Without it, Alex forgot about his goal. 

And the other way around. Alex set the goal, downloaded a

fitness app

, and set reminders. In this case, starting from a short distance, Alex will move towards his goal!
This is how good habits keep users coming back to the app again and again.
How to create a fitness app: the key features

It's up to you to decide what features will be in your fitness app. To help you with the choice, we have compiled a list of basic fitness app functionality that will allow you to become a serious competitor for Nike Training Club or My Fitness Pal. Welcome!
Activity & progress tracker
Add the ability to set goals so that users could see progress! It is very motivating when you notice how successful you are today. The fact that the total number of steps per day has exceeded 10,000 or the calories from the ice cream, eaten yesterday, were burned while walking — all this to understand why today is a great day!
To set goals means to challenge yourself. The desire to get better every day needs to be encouraged. Make sure that for each new record or completed goal, the user gets something in return. Add a results-based achievement system and grant the user a virtual or real prize. It will help with the marketing strategy of your fitness app — you can find advertisers willing to show up as partners.
Allow users to pick a workout plan according to their needs. Add filters to quick search for workouts.
Search parameters can be different — think about them in advance. For example, it can be a filter by training duration, physical level required for a training, type of load, or focus on a specific muscle group.
Progress bars and leaderboards are powerful generators of motivation. An opportunity to compete with each other even at home affects performance.
Well-known fitness app Nike Run Club has a great option — you can set a goal with your friends. Users can choose a distance, date, and invite their friends. The one who does the best receives a gold medal!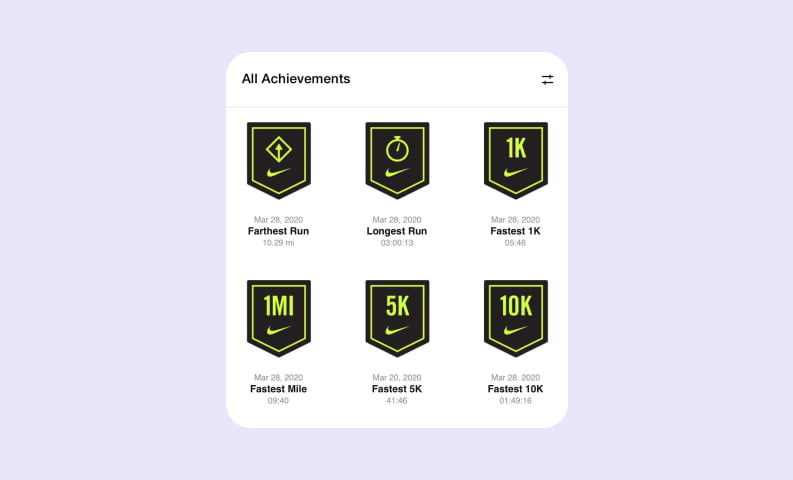 How to create a fitness app: allow users to achieve their goals with fun
Those who struggle to plan their day will appreciate a customizable push-notification system. The most common problem in sports is the loss of enthusiasm. Bad weather, laziness, or household chores — good reasons to skip exercises or break the diet. However, notifications will remember users about their goals. A good fitness app is always ready to remind you of the importance of training. 🤘🏻
Don't forget about setting the frequency of notifications — let the user decide how often they will 'annoy' and force them to get up from a couch or take eyes off the computer.
Being guided by a highly trained professional is always safer, so users will appreciate having access to expert advice in your fitness app.
Think about adding an online mode of workouts under the mentor's control. You can hire a professional that will help your users develop an effective workout program, teach them how to track progress, and set the right direction in building their health.
The ability to share results will motivate users to grow. To prove a point, there is a case:
on the one hand,  when no one knows that you have started doing sport, there is a temptation to reduce physical activity or skip a workout

on the other hand, if there is someone (for example, a friend who uses the same app) who can find out that you skipped a training session, it is an additional motivation not to do it 
Friends will motivate users to practice regularly and enter the results in the fitness app! 🙃
Sync with wearable devices
Most users have smart devices to help them track their physical activity while doing sports. Smart devices became popular a few years ago, and today almost everyone uses them to monitor health indicators. The user who has a smartwatch bought it for a reason — they want to use it in training. Most likely, this user will prefer a fitness app that works in tandem with his/her device.
How to create a fitness app: monetization strategies
Let's dig deeper and learn how you can earn money from fitness apps.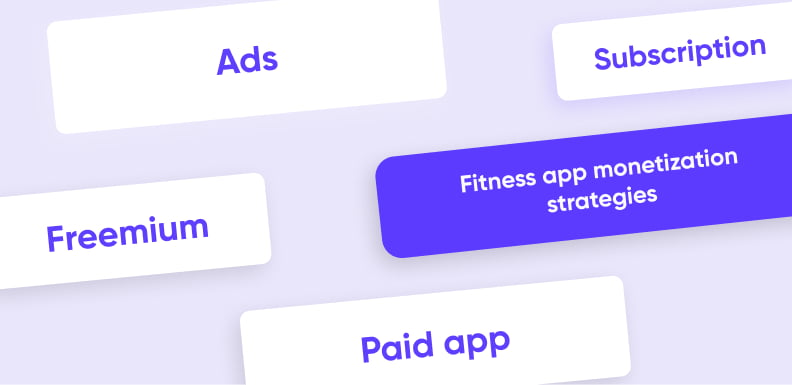 One of the monetization options is to add other brands' advertisements in your app. Everyone is happy in this scenario: brands increase sales, users get a free app, and you earn money from advertising.
Buying a fitness app on the store isn't the safest option for a startup. Users are only willing to pay when they are sure of receiving a quality product. However, you can always offer the user to start with a trial version.
Users need to subscribe to get access to the functionality of an app. Add a trial period so that users could evaluate the quality of your fitness app.
The basic functionality of an app is available to everyone. The user pays only for premium or additional features like disabling ads, access to personal trainers, or individual training plans. You can mix this strategy with other ones.
Finish line
The fitness app niche is growing rapidly, but there is still room for new apps. Hurry up to take your own! 🙂
Developing a fitness app is a complex and multi-step process. You will have to invest a lot of time and effort in it: determine the type of your app, choose a business model, and work out a monetization strategy. Everything depends on you.
How to create a fitness app: development cost
At Purrweb, we estimate a project cost at the discovery stage. Wanna get an estimate of your future project and find a fitness app developer? 👇