More than 200 healthcare services are launched in app stores every day. Despite such rapid expansion, the market is still far from saturation. Innovative technologies and a large target audience make healthcare mobile app development attractive for aspiring entrepreneurs. Since the competition is huge, every detail becomes crucial for the success of the application: sales, marketing, reliability, convenience, visual appearance, and, of course, the technology on which the project is implemented.
In this article, we will share core principles that we follow when providing healthcare mobile app development services to clients and delivering solid platforms within just 3 months. Learn about key features, current trends, successful examples, and costs of healthcare software development. Let's go!
What is a healthcare app 
Healthcare platforms are also called medical apps or mhealth apps. They help users keep an eye on the mental, physical, social, and environmental factors of their overall health. For example, the software can track how many hours you sleep, how many steps you take daily, what is your blood pressure, how often you meditate, and many other things.
If you want to get into healthcare mobile app development, you need to know your competitors. The most well-known healthcare apps are Apple Health, MyFitnessPal, BetterHelp, Welltory, HealthTap, WaterLama, Zero, and Flo.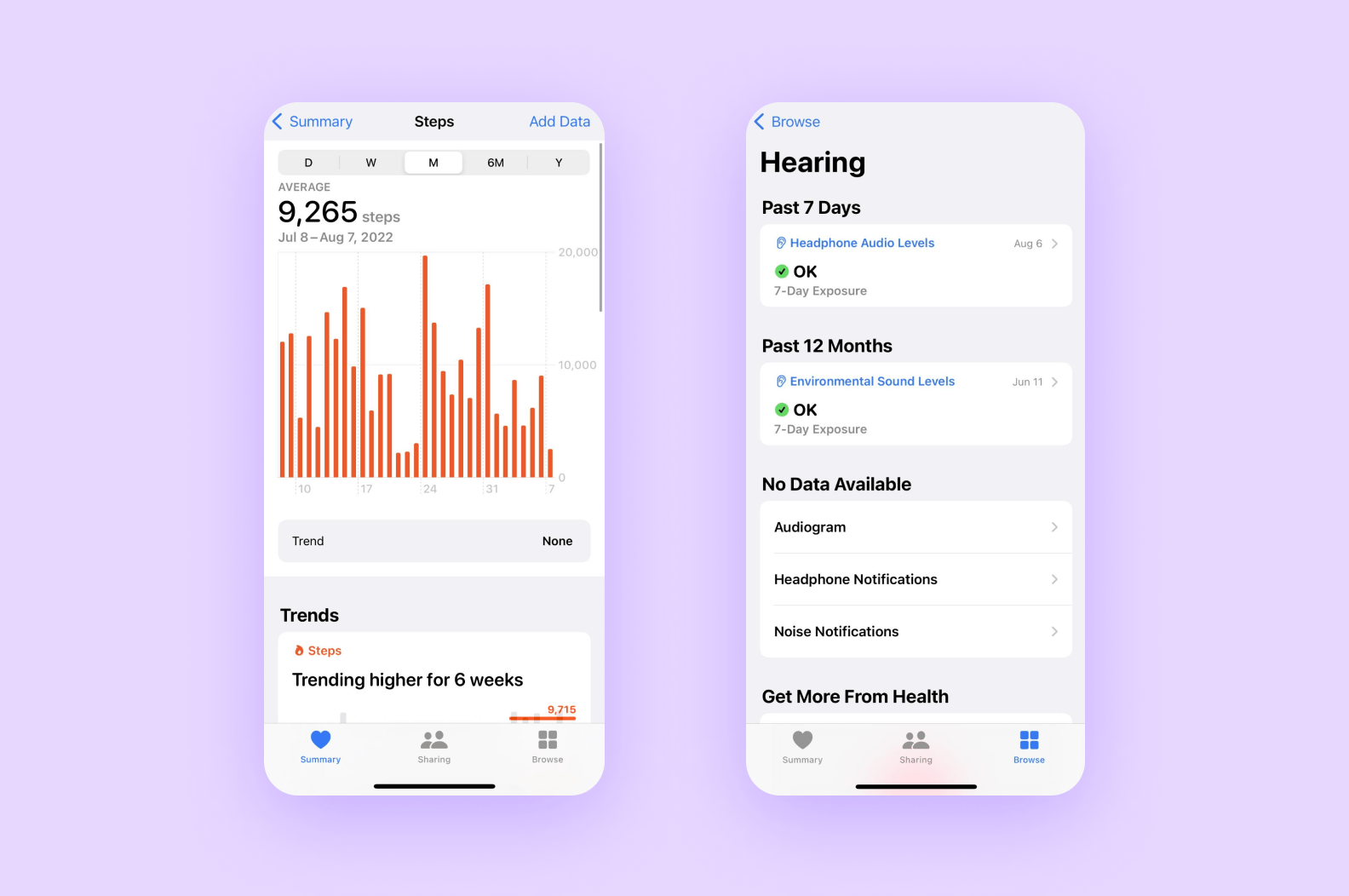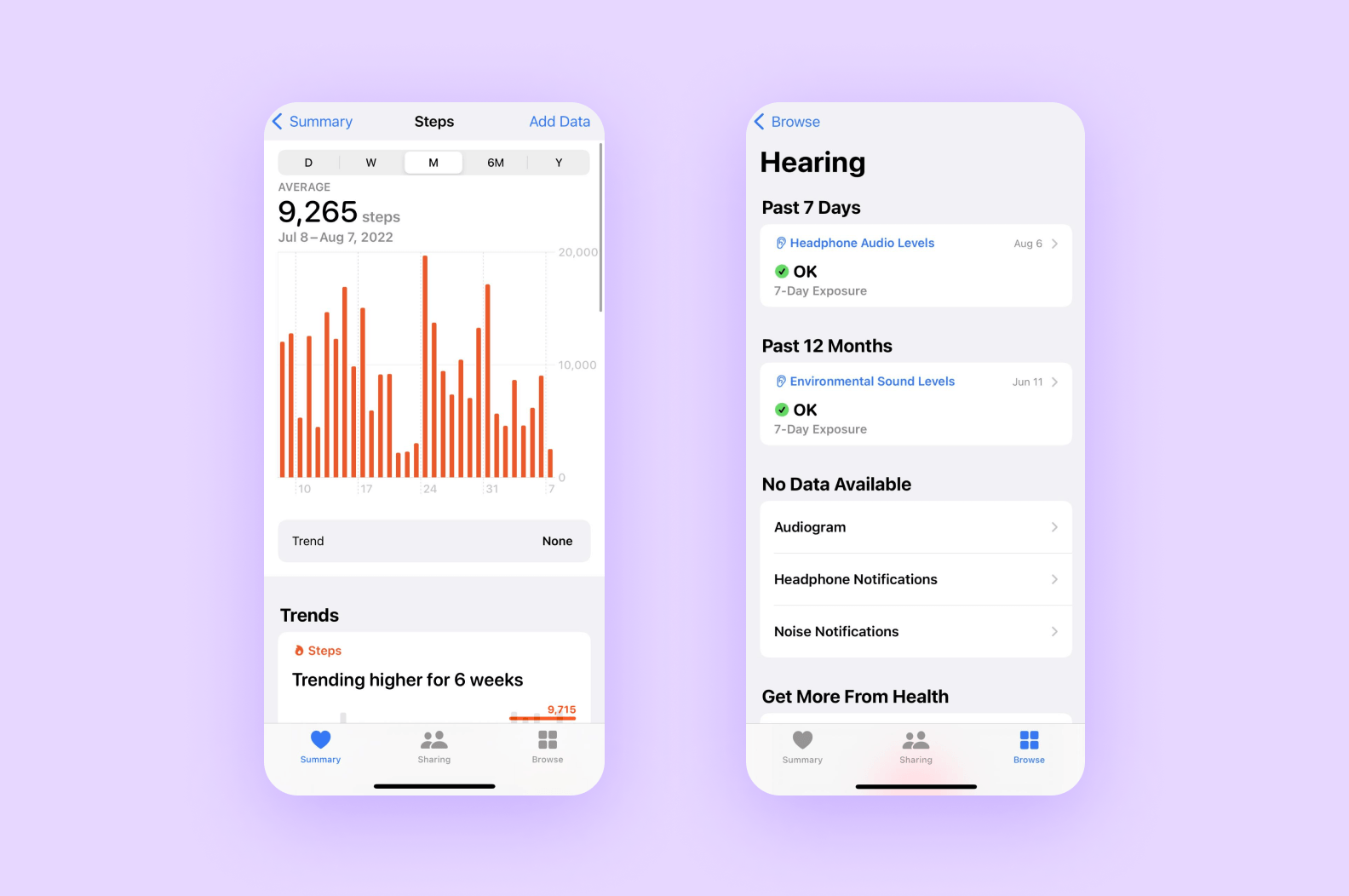 Apple Health app tracks a user's physical activity, noise level, and many other health factors.
Types of healthcare apps
There are many different types of healthcare apps on the market. We carefully reviewed the top charts in the Health category and identified 7 of the most popular types. Let's break them down!
📝 Symptom Checkers. Those are healthcare apps for patients mostly: they help users keep records of symptoms on their phones and easily answer a doctor's question "When did it start?" For example, if you suffer from seasonal allergies, you can add days when you started sneezing a lot or got a runny nose. When you come to see a doctor, you will have your health records ready.
💻 Telemedicine. This type of medical app hosts online calls between patients and doctors. It got especially popular during the pandemic when visiting a hospital was a risk. Many users switched to online appointments. This way they can safely talk to a specialist via audio or video call, explain their concerns, and get the treatment prescribed.
📲 Reminders. How many times have you forgotten to take your vitamins or drink enough water to stay hydrated? In busy times like ours, reminder apps are the saviors. They send you a push notification about things you need to do and overall make life easier and simpler.
🍏 Nutrition & Weight Loss apps help users track their food intake and count calories. How does it work? You set a goal and keep a food diary by searching a large database and adding items you ate throughout the day. The app will calculate the nutritional facts and can suggest certain foods to have a well-balanced diet, such as fiber-rich options like fruits and vegetables, or low-sodium snacks.
🧘‍♂️ Meditation. This type of app provides users with guided meditations to help them unwind, relax and get a clear mind. Some of them offer more features, for example, mood trackers or a community of like-minded meditators. The most well-known examples are Headspace and Calm.
🤰🏻Women's Health Trackers. They serve several purposes: users can keep track of their menstrual cycle, report symptoms they experience, plan a pregnancy, and predict periods. Market leaders, Flo and Clue, both also provide educational content, publish articles, and offer courses to learn more about overall well-being.
📊 Prescription Price Comparison. Usually, those are very simple apps that collect info about how much medications cost in different pharmacies and what coupons or discounts they are offering at the moment. Drug price checkers are very popular in the United States. One of the most successful examples of this type of health app development idea is a mobile application GoodRx.
Why healthcare app development is essential in 2023
The app development for healthcare has seen rapid growth in recent years. Compare these numbers: in 2013 only 66,713 medical appshttps://mhealthintelligence.com/features/key-features-of-mhealth-apps-trends-in-use existed on the market. Now there are more than 350,000 available platforms and more than a third of them appeared in the last 2 years. Researchers predict that the healthcare industry will keep expanding by approximately 10% each year and by 2030 will reach $105.9 billion in total revenue.
Health apps are popular in all regions of the world, with North America being the leader of the market, followed by Europe and Asia. 
Benefits of developing a health app 
Healthcare application development targets many audiences at once: patients, athletes, caregivers, doctors, pharmaceutical companies, public health officials, and researchers. They all can benefit from using digital health platforms. For example, healthcare apps for patients can track their symptoms, report them to a doctor, and have an online appointment if needed. While doctors can monitor their patient's health on a smartphone in real-time, without spending time on phone calls or quick check-ups.
🤔 So, why is healthcare mobile app development a good idea right now? Not only does the number of apps grow, but also the number of users. People prefer to use digital health platforms to track their medical records because they make the process clear, simple, and headache-free. There is still plenty of space on the market: for example, the niche of mobile applications for people diagnosed with diabetes, obesity, and depression is almost unoccupied.
Does healthcare app development make money
The short answer is yes, it does. In 2021 total revenue of mHealth platforms reached $38.2 billion. Most of the apps are free but have additional paid features and tools. There are several monetization strategies for healthcare software development, let's review them together. 
Subscription

is a recurring payment user makes to get access to extra features and services. For example, MyFitnessPal offers premium subscriptions for $9.99 a month or $49.99 for the year. For this price, subscribers can take advantage of an ad-free app, export their data, scan meals with a smartphone camera and get detailed food analysis.

Paid content

is another way to make money in health app development. After paying a fee, users get access to expert content or courses on how to maintain a healthy body and overall well-being. Flo, a period tracking app, posts videos, articles, and audio curated by doctors, and it is available for $10 per month or $49.99 per year.

In-app advertising

can be annoying to users, but it really works. This revenue stream comes from ad buyers who want to show info about their product in

your healthcare app

. For example, companies that produce low-carb snacks can purchase a spot for the ad weight loss app and be sure that they will reach the target audience. But you should be careful with this monetization strategy: too frequent ads can negatively impact the user's experience — it's all about the right balance.
Examples of successful healthcare apps
To conquer healthcare mobile application development and get to the top charts of app stores, your app should stand out from the competitors. We decided to help you on this journey and studied 3 major health apps to learn about their user experience, key features, and UI/UX design peculiarities.
Apple Health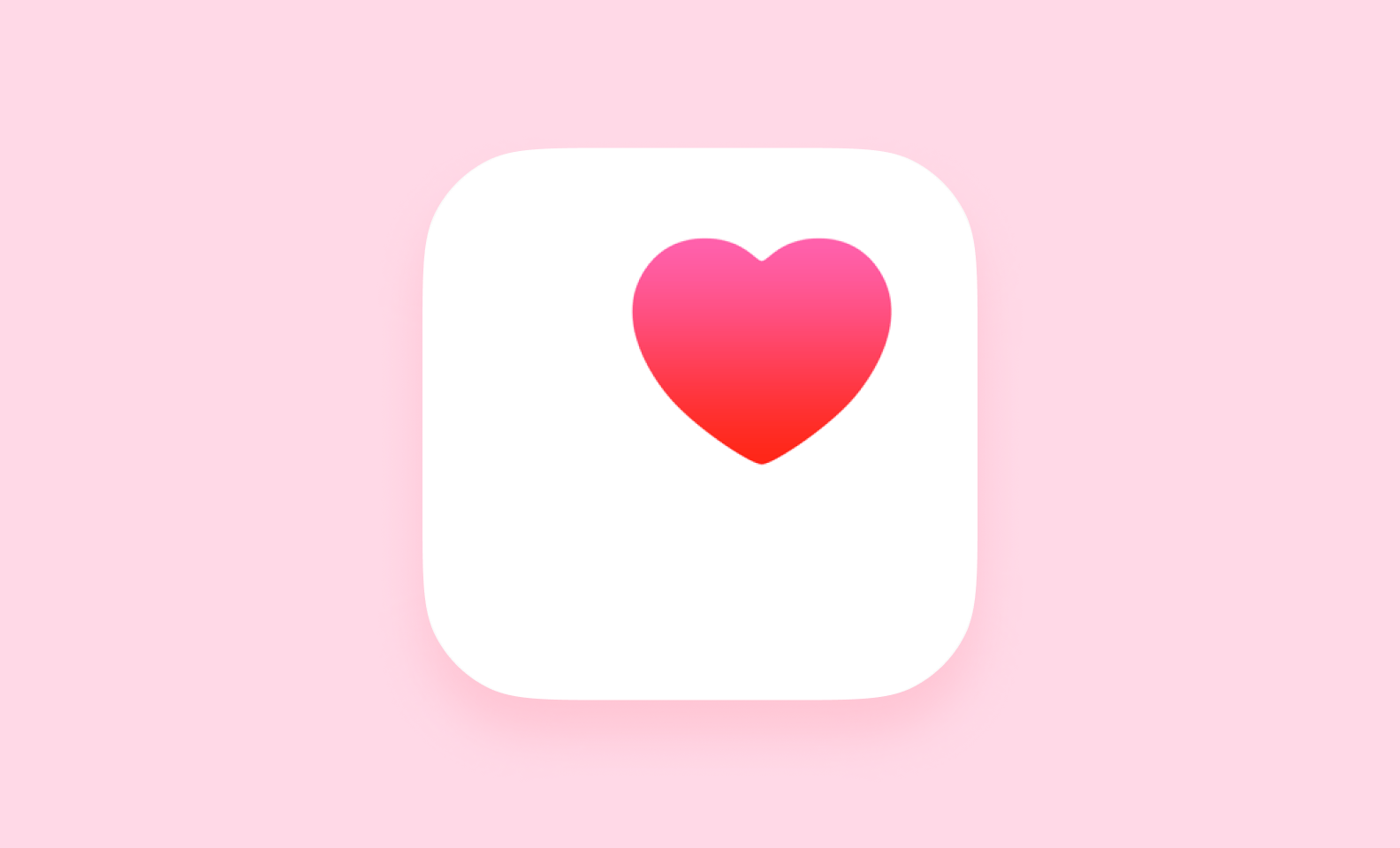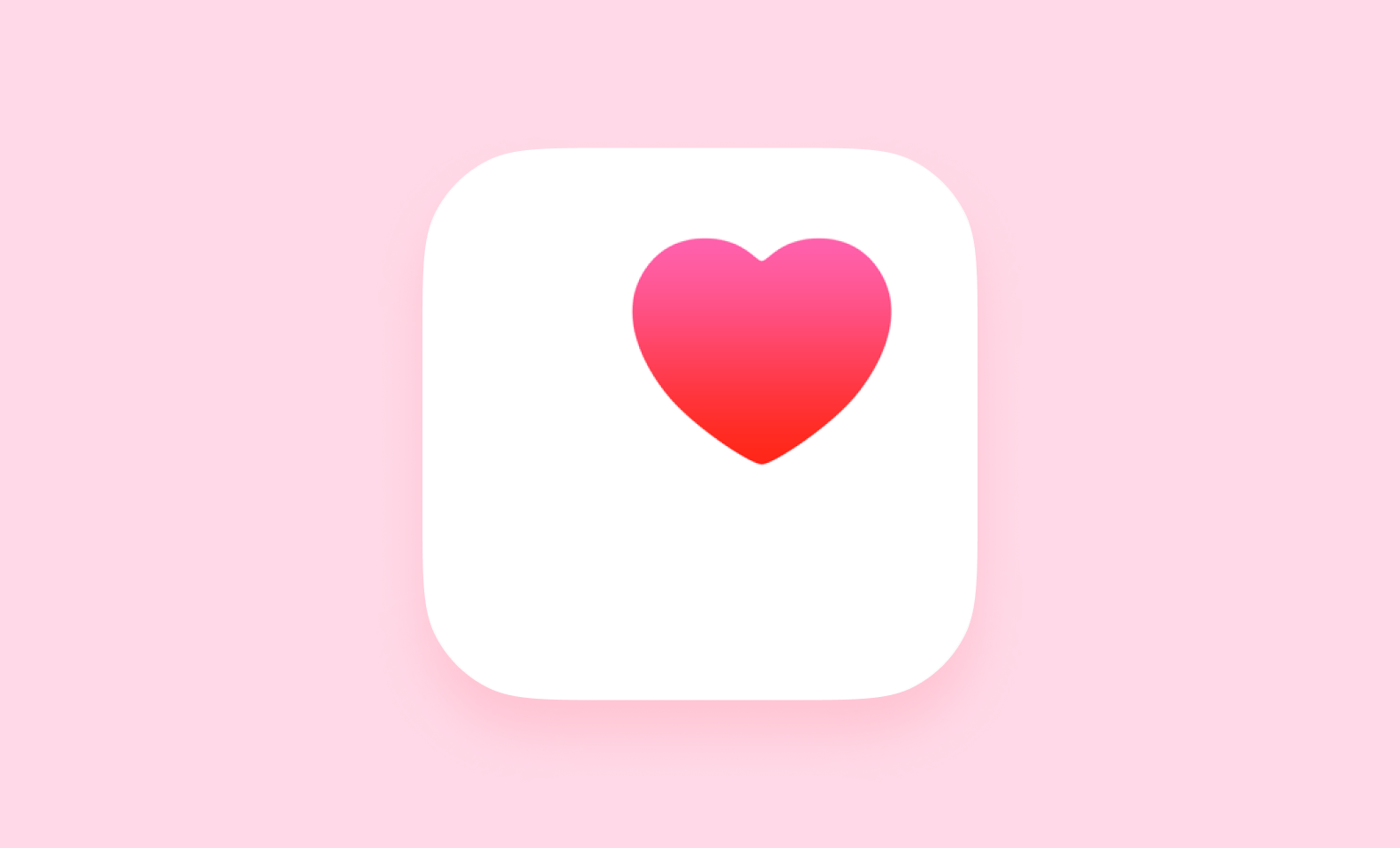 Apple Health logo
Apple entered healthcare mobile application development in 2014 when they launched their own app. It is free of charge, is included on all devices with iOS 8 and older by default, and stores the digital health records of a user. For example, it automatically counts the steps, walking and running distances, sleep time, and heart rate showing trends and recommendations.
Apple's app is all about the user's experience. In terms of design, it is very minimalistic, clean, and straightforward. From dashboard layout to buttons and fonts, all elements use simple and smooth lines. The color palette is limited to white background and several bright shades that correspond with different categories. For example, red for physical activity, green for nutrition, and pink for heart health measurements.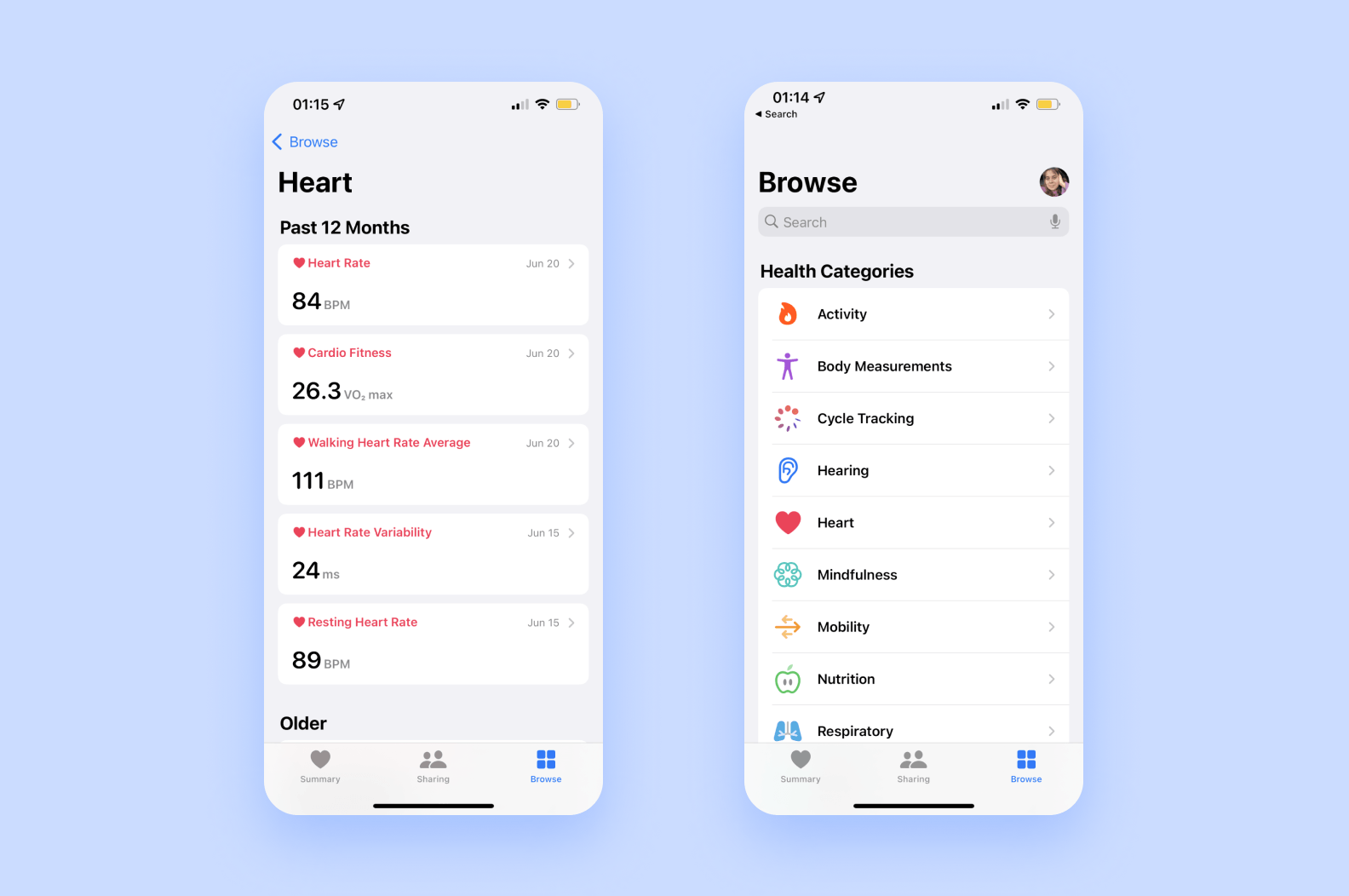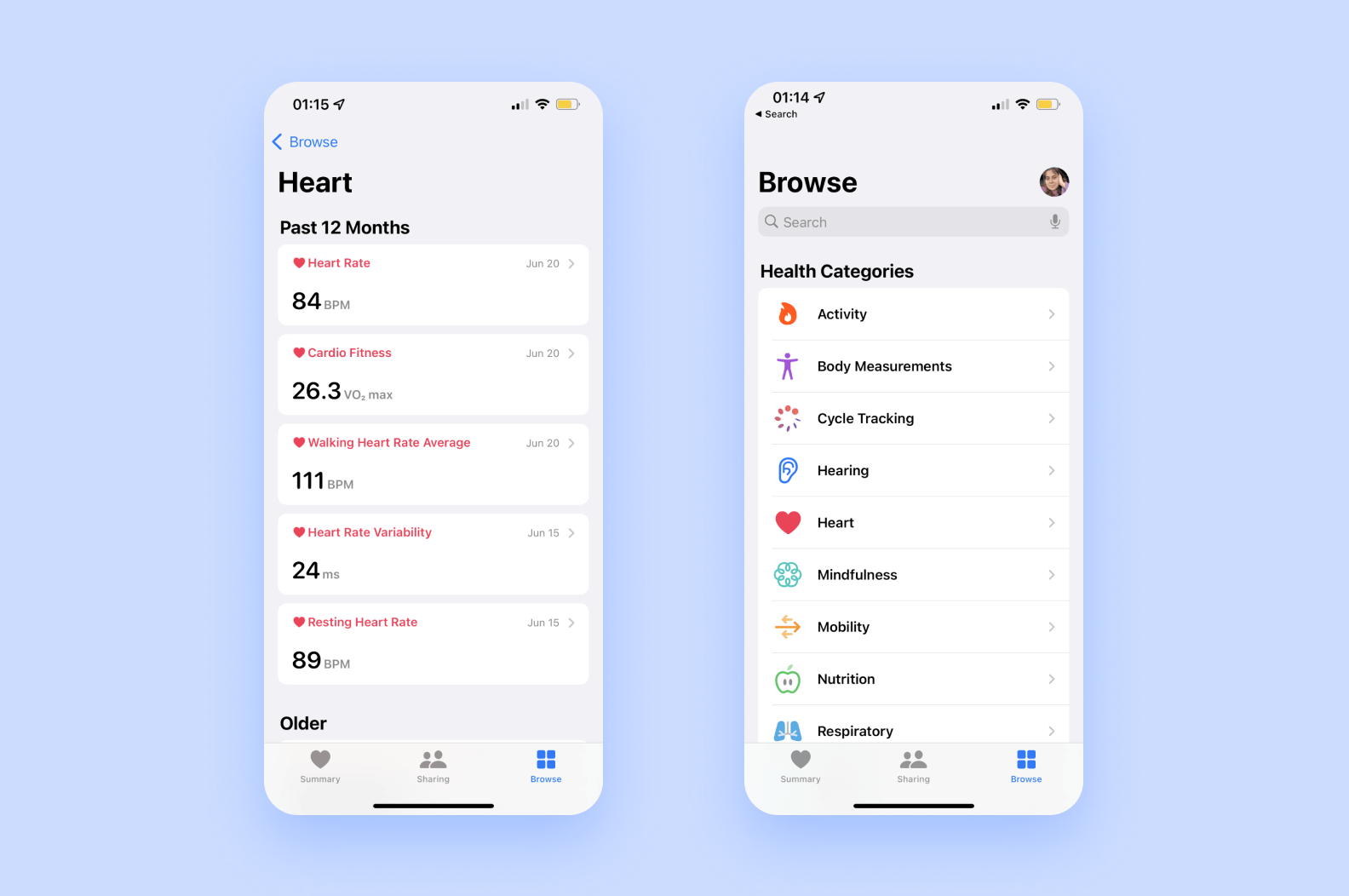 Apple Health user interface
Probably, one of the most interesting features of Apple Health is sharing. Users can give access to their data to friends, family members, and doctors. This, according to the company, "can lead to richer, better-informed conversations with your healthcare team."
MyFitnessPal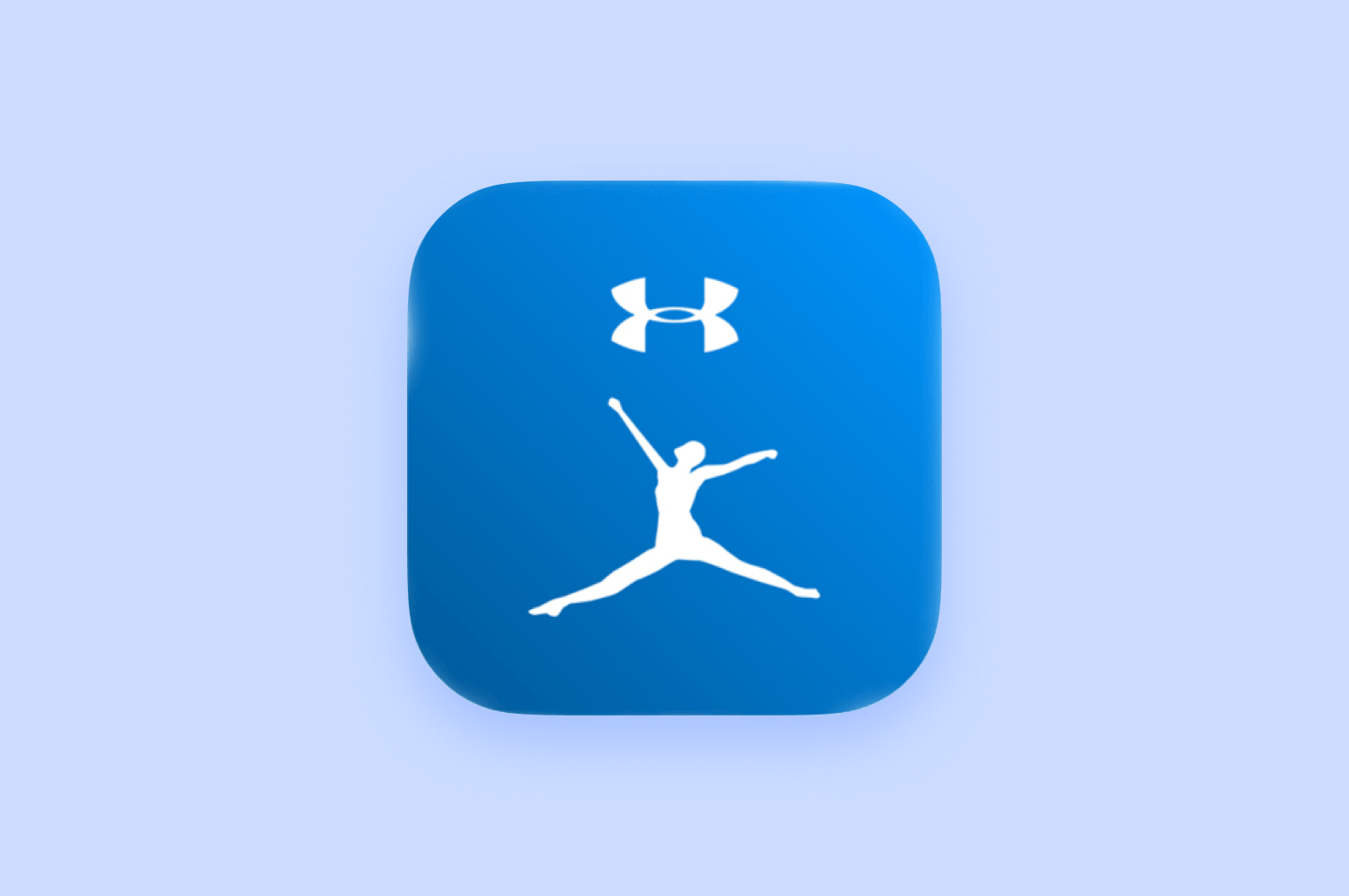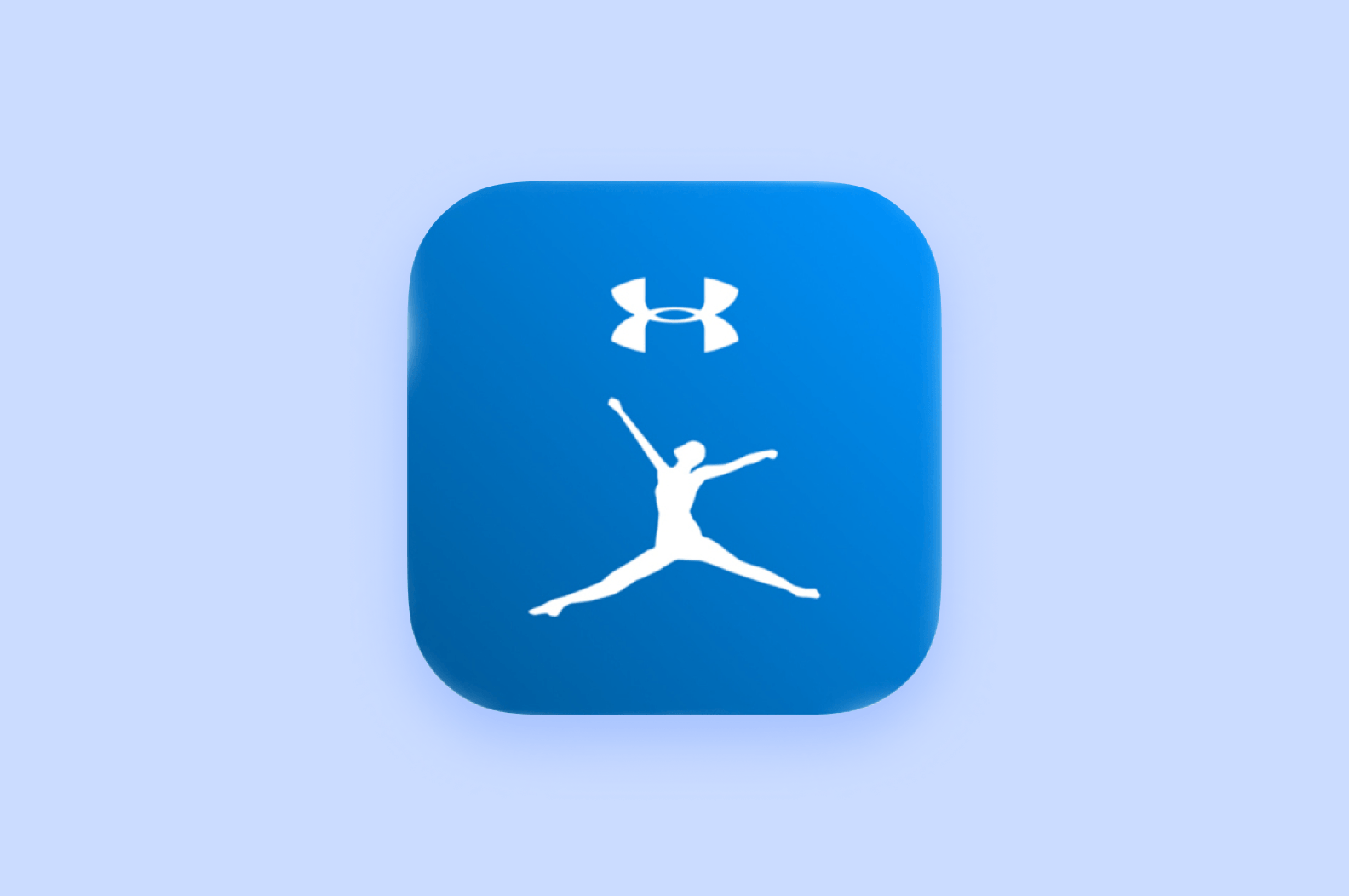 MyFitnessPal logo
The app was released in 2005 and was a pioneer in healthcare app development. It helps almost 140 million users track their diet and physical activity daily. The basic version is free, but some features are only available for premium subscribers, such as meal prep, recipes, guided workouts, and others.
The flow is simple: a user signs up, chooses a goal, and starts reporting their meals and exercises. MyFitnessPal has one of the biggest databases with over 14 million food items, so users can quickly find nutritional facts for each product. Premium subscribers can use their phone camera to scan packaging and find the items quicker.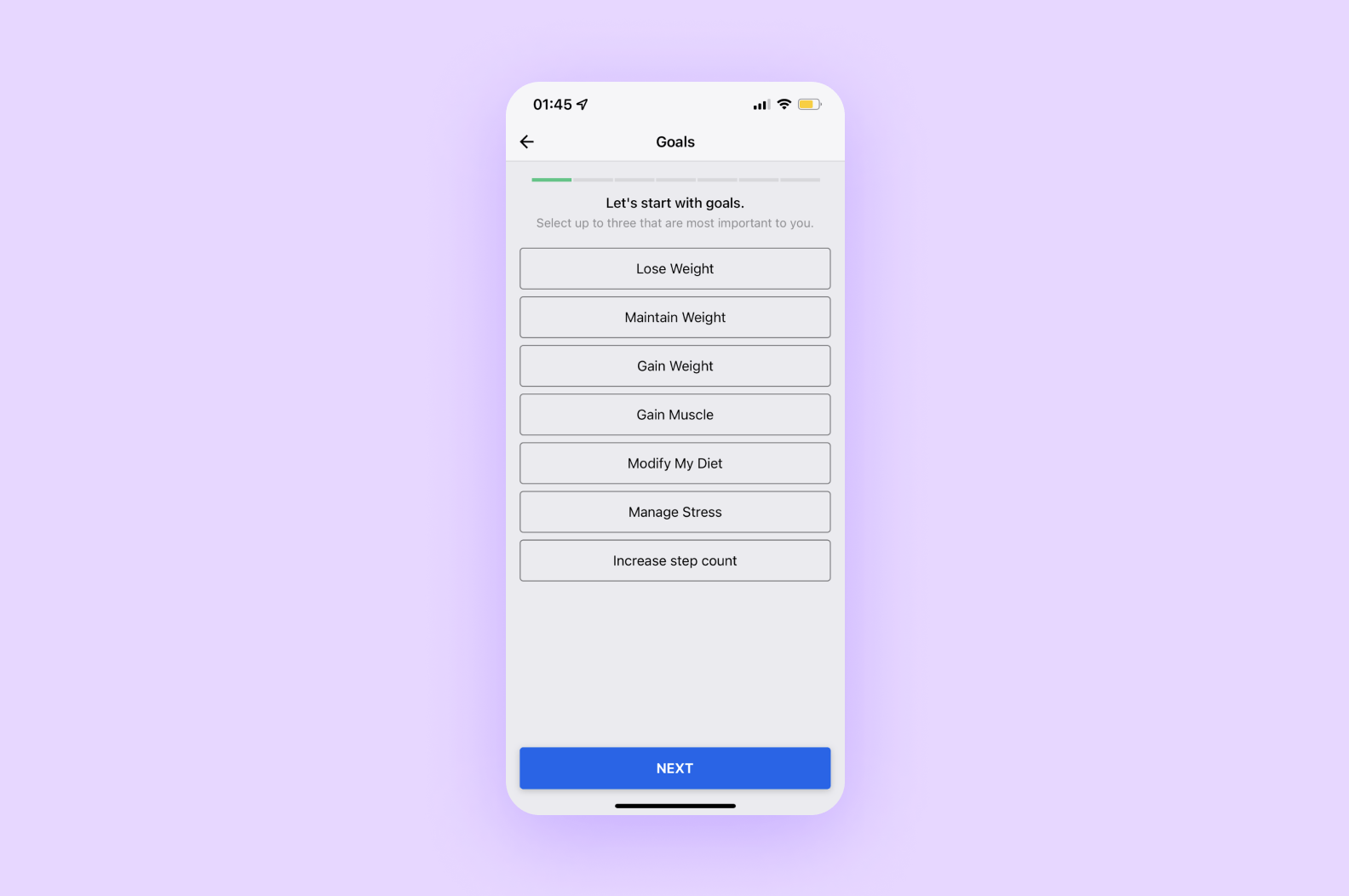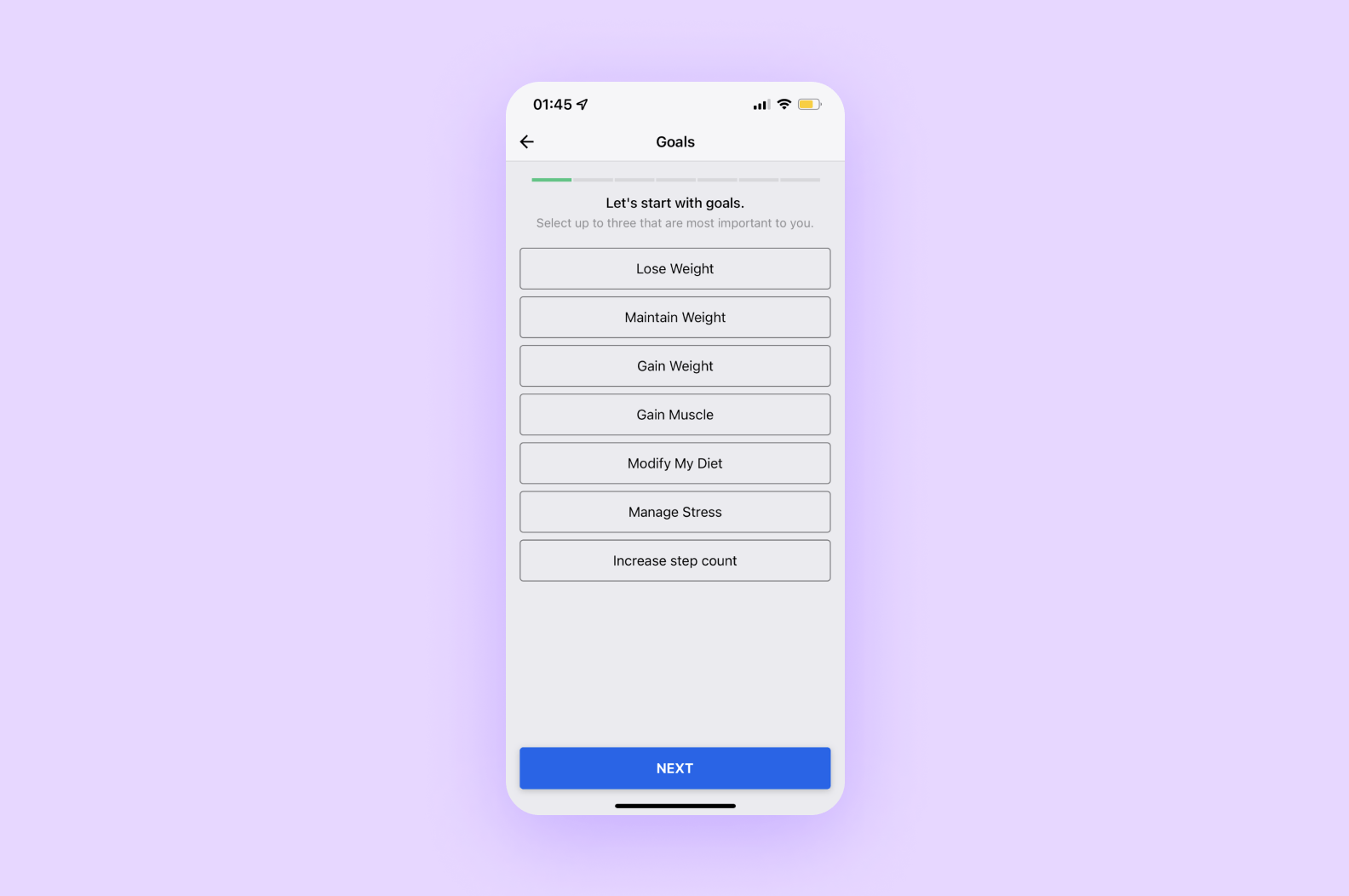 MyFitnessPal users can choose from 7 goals to get personalized recommendations
Welltory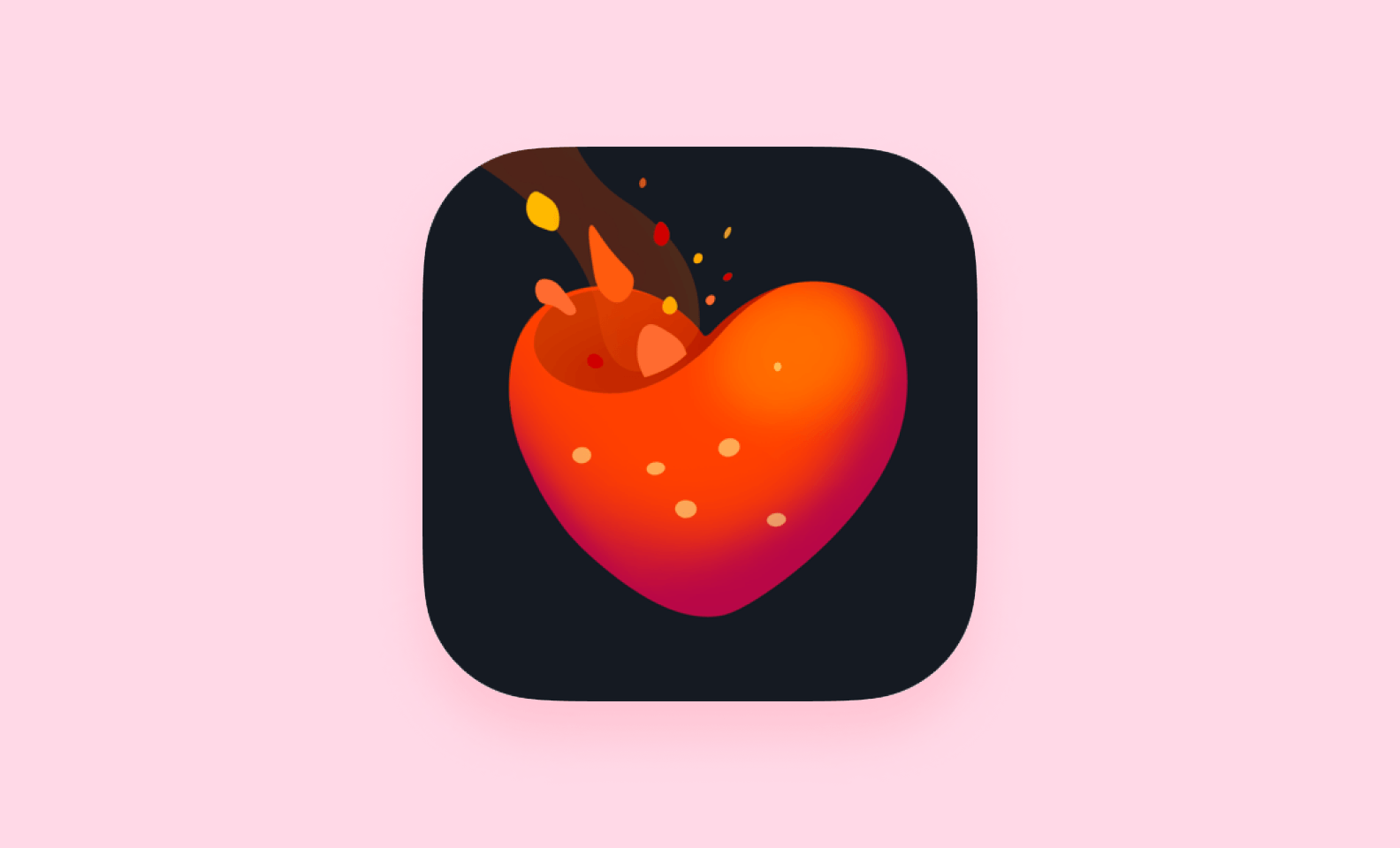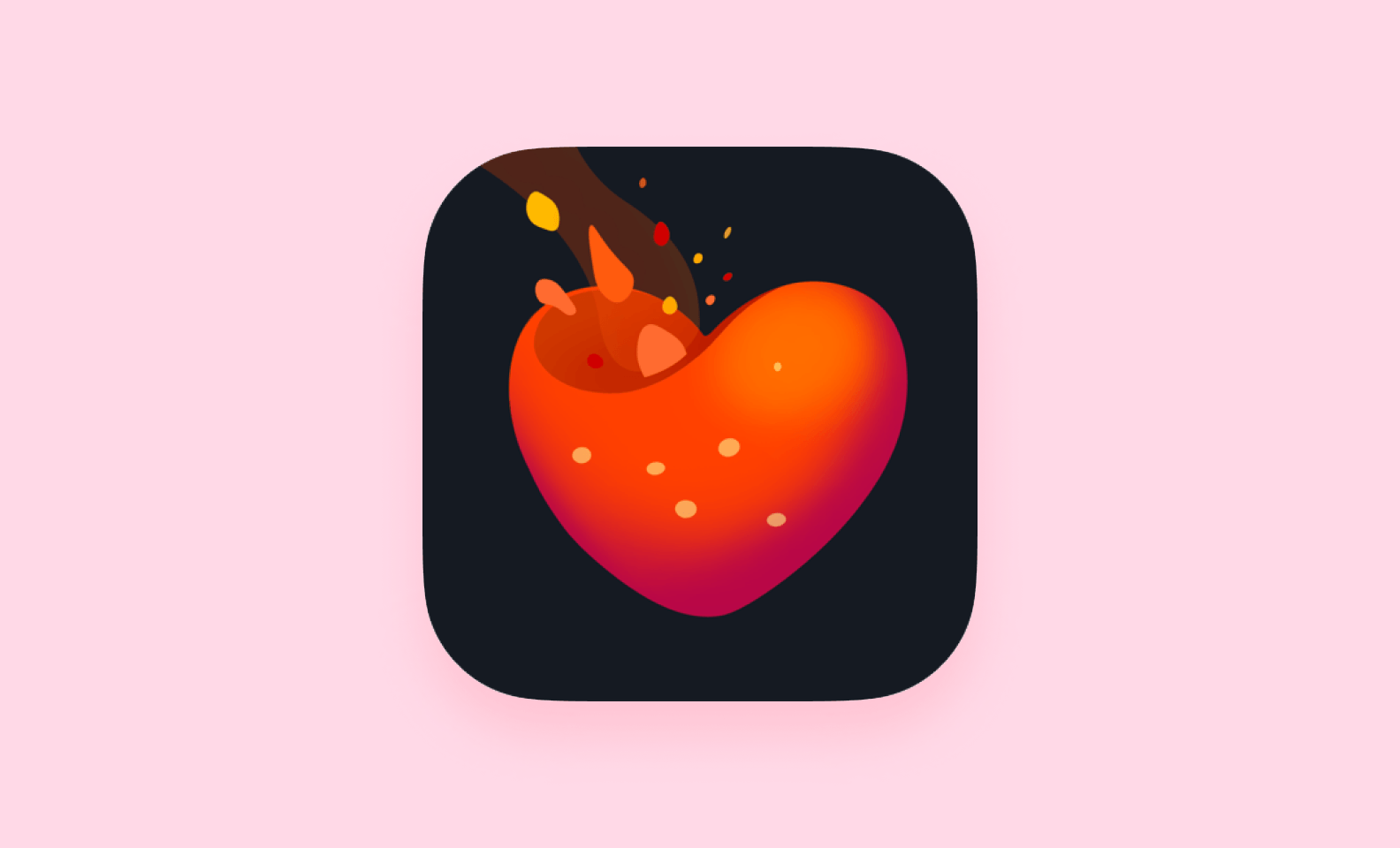 Welltory logo
Welltory helps to increase the productivity of your body by taking control of the most important health factors. It was launched in 2016, but quickly became popular and gained an audience of 4 million people in 136 different countries. The platform is free to use but has premium service available for $13 per month or $79 annually.
What exactly does the app do? The main feature of Welltory is to monitor the user's heart rate and blood pressure using a phone camera with a flash. For a full assessment, it takes into account 15+ different science-based metrics, genetic factors, and past measurements. You can also link it to other apps, like Apple Health, Nike+ Run, and Strava, to add your sleep, exercise, and productivity data and get more comprehensive results about your cardiovascular health. Welltory also provides users recommendations on how to manage stress levels or increase productivity at home.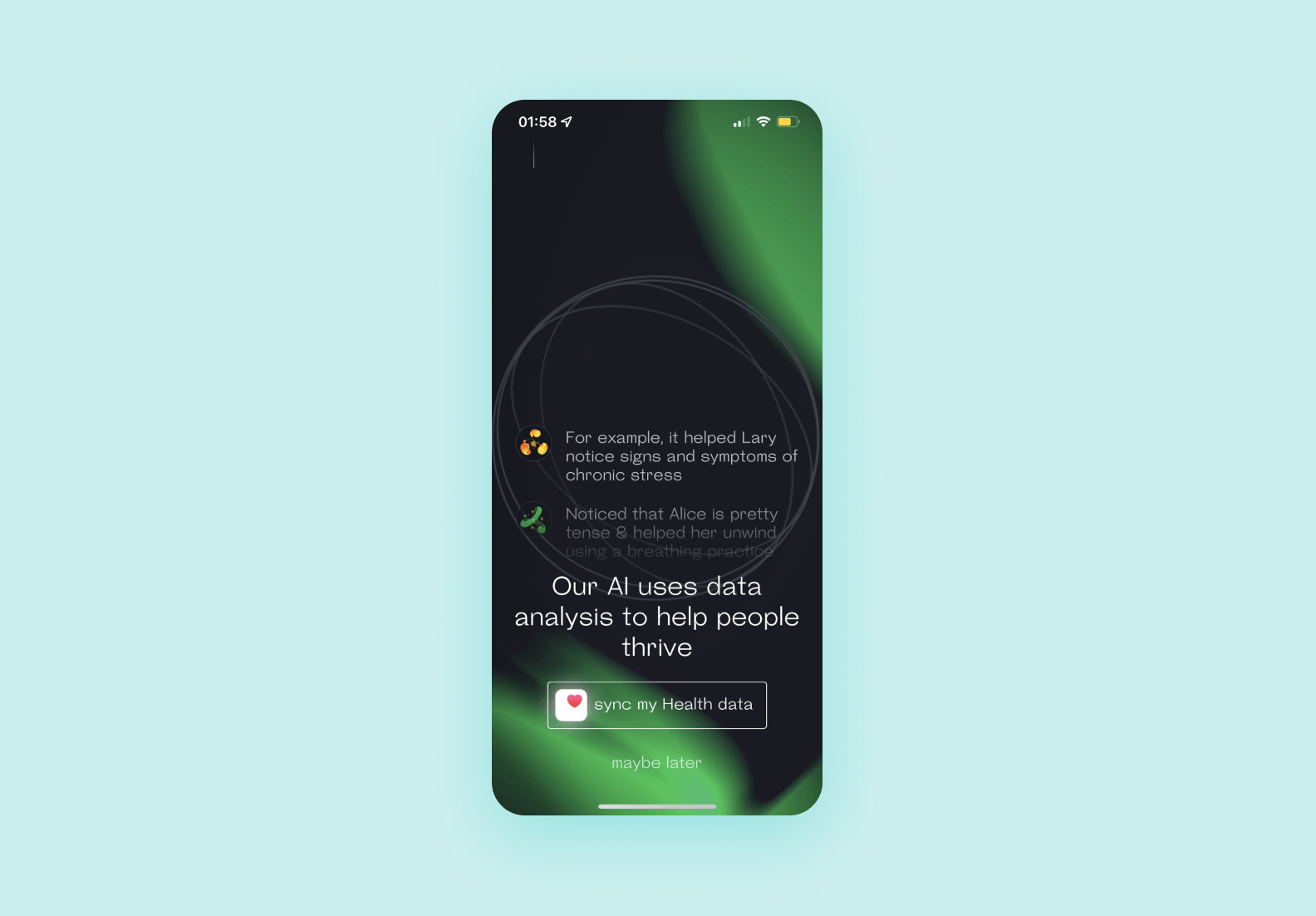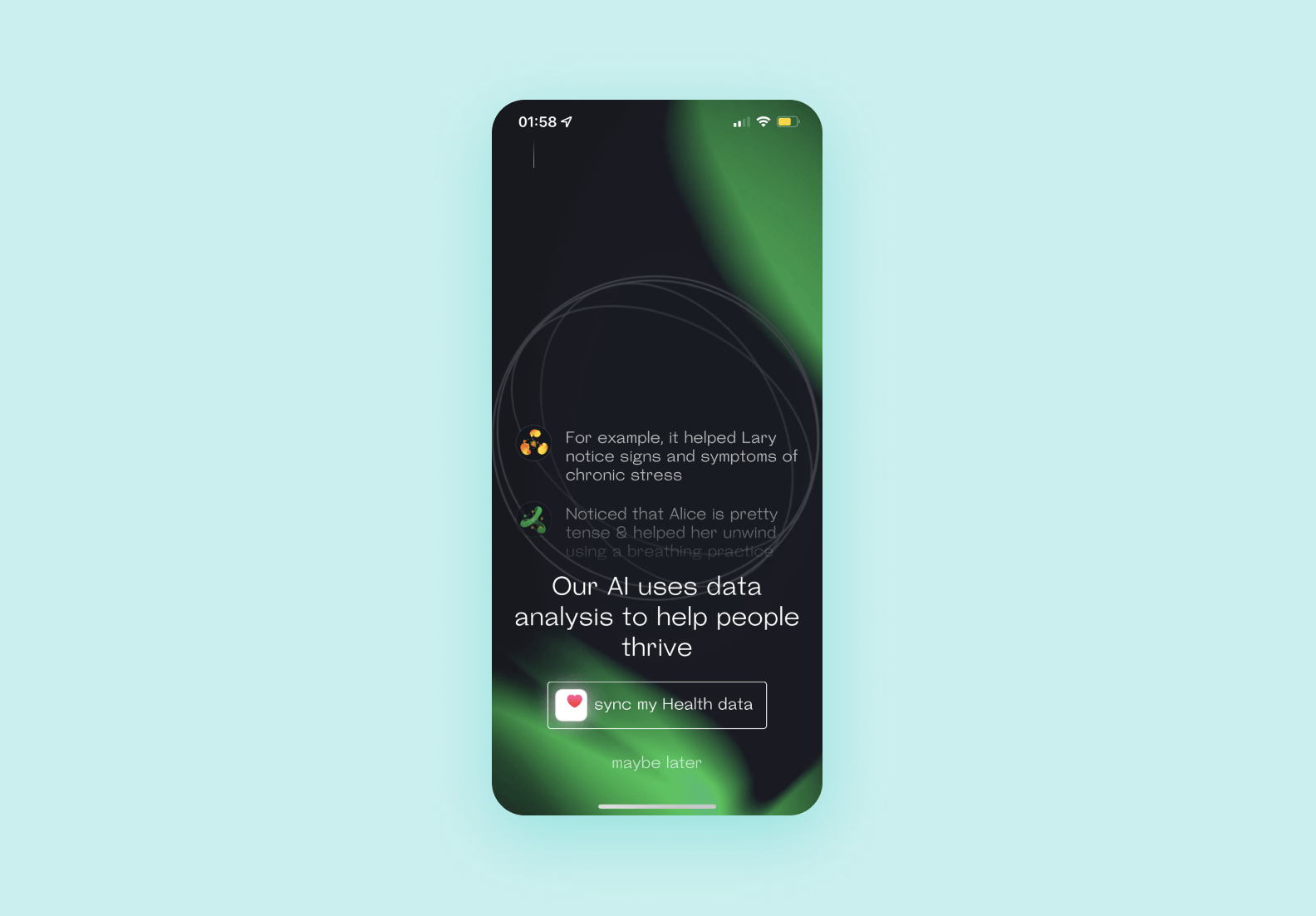 Welltory suggests syncing data with the Apple Health app
The app has a very sophisticated graphic interface with a dark color scheme and lots of animation. The navigation is clear and straightforward, and as a user, you always know your next step.
5 essential features of a healthcare application
To make your app stand out among competitors and meet your audience's needs, you need to think about key features before starting the development for healthcare. Depending on your idea and target users, you might need different features for your MVP.
Here are 5 features any medical app should include, regardless of type or audience.
1. Registration and login
You need to decide with your healthcare app development at what step you want your users to log in: before they start using the app or after a short walk-through. For a more personalized experience we recommend asking users to log in on the first screen — this will also help you authenticate who is using your app.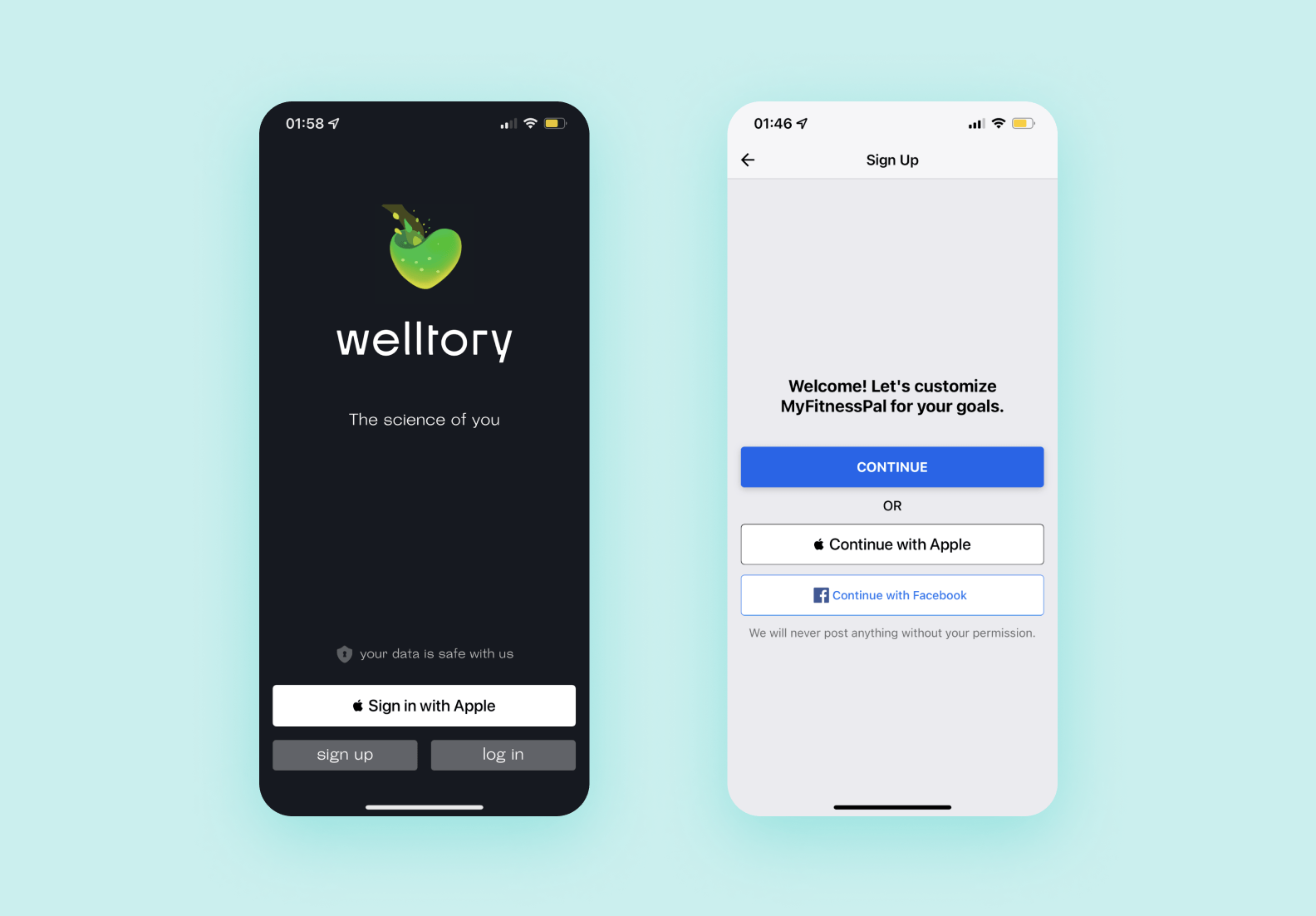 MyFitnessPal and Welltory welcome screens
Try to keep the registration form short and ask for basic information only — name, email address, height, weight, date of birth. The rest, such as payment information, push notifications settings, goals, and wearables integration — all can be added later.
2. Dashboard
Dashboard presents grouped updated data in the forms of graphs, tables, and charts. A clear and easy-to-navigate dashboard is a must for robust app development for healthcare. The core of such platforms is the user's data, and if numbers are messy and confusing, no one will use the solution.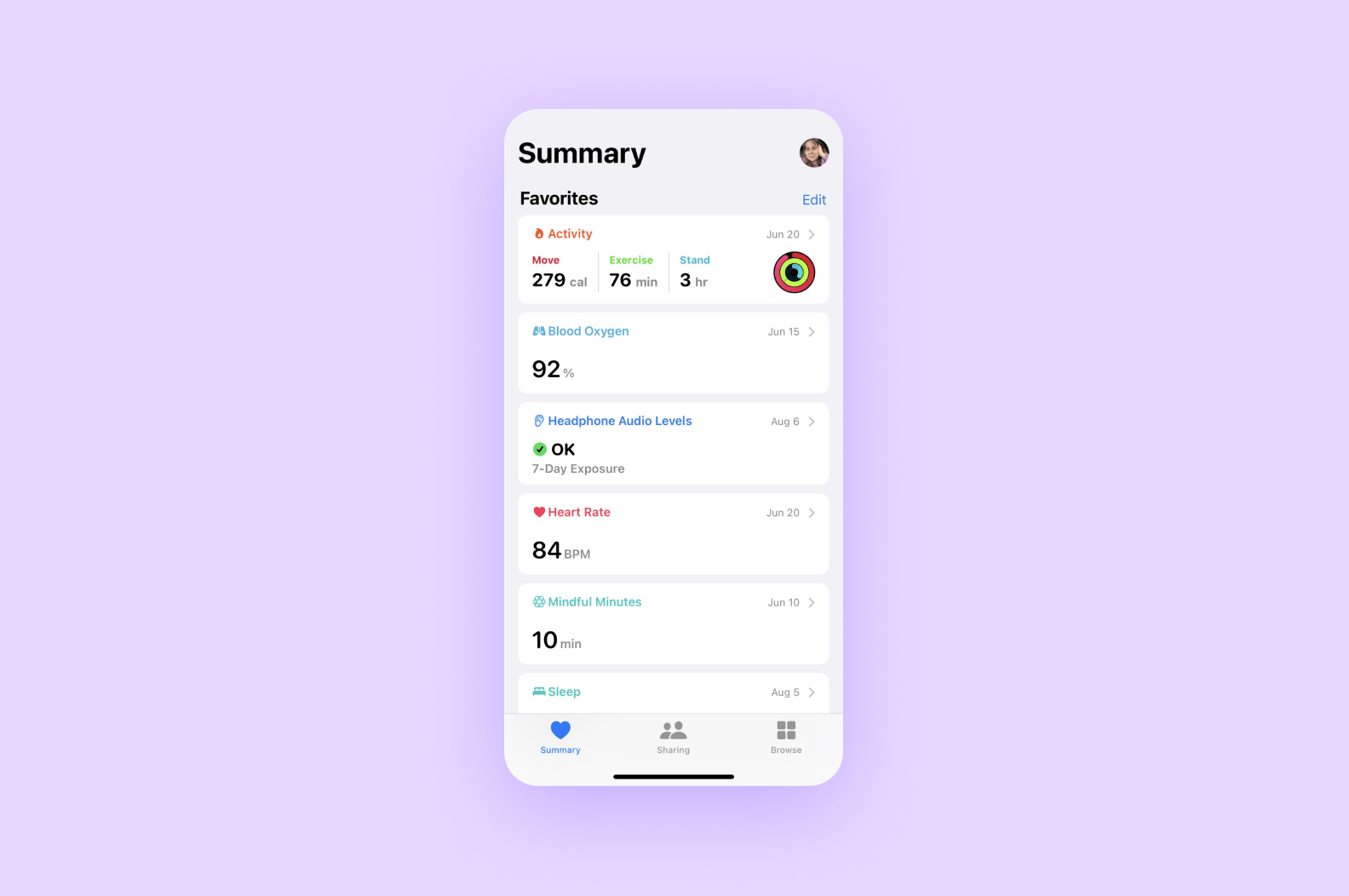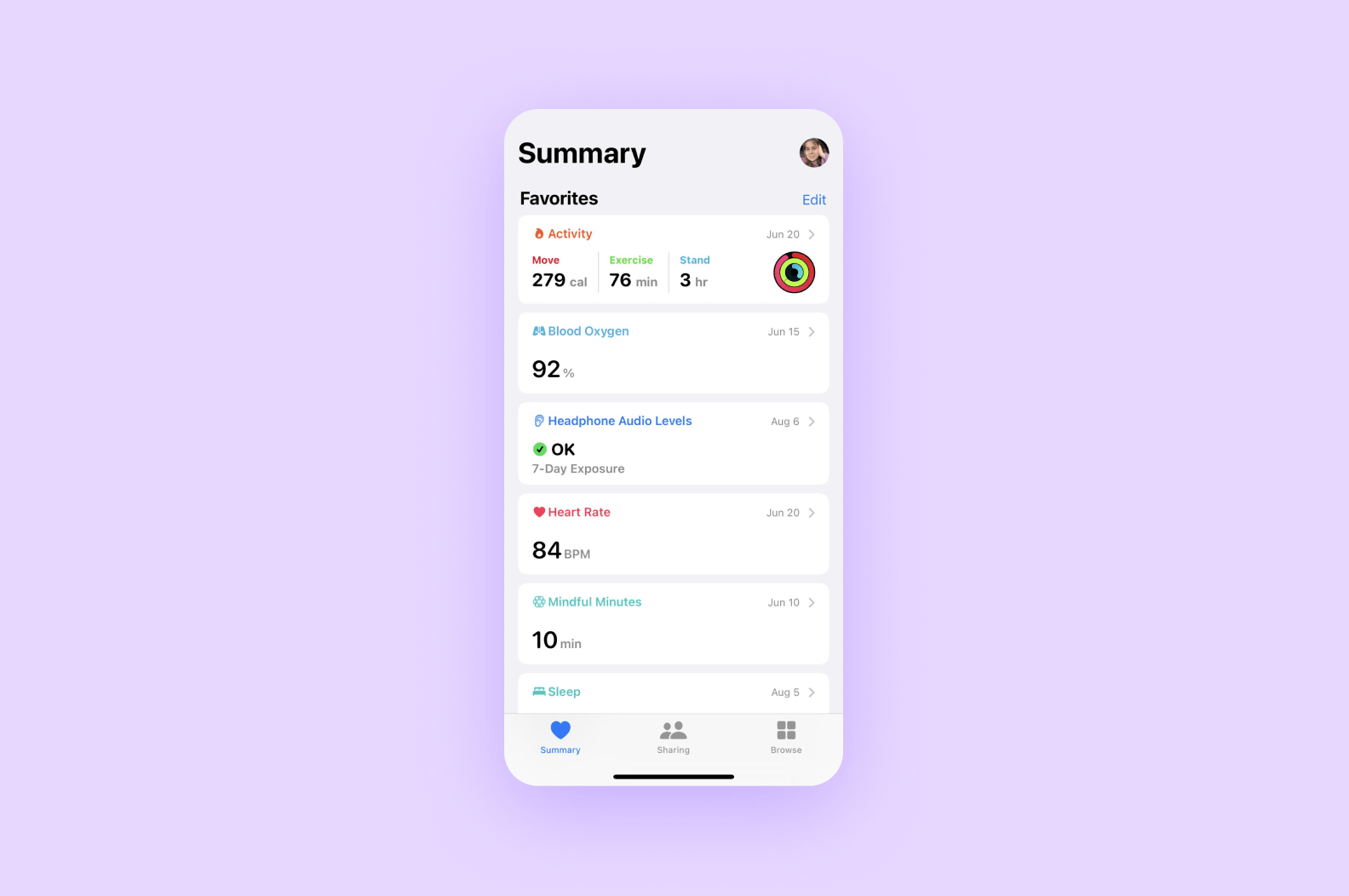 Apple Health's dashboard example
For effective dashboard design, everything should be well-thought and thoroughly planned: colors, fonts, and UI elements. First, we recommend studying your target audience. Then, selecting the right dashboard type, and making sure you meet your customers needs with the way you present your data.
3. Reminders and notifications
Push notifications are short messages that pop up on users' screens. For an entrepreneur, it is your way to speak directly to the user. Notifications can serve as reminders or alerts about important updates and changes. 
For example, you can remind a user to drink water, notify them about upcoming server maintenance, or send exclusive access to a free trial of the premium version to promote the paid features of your app.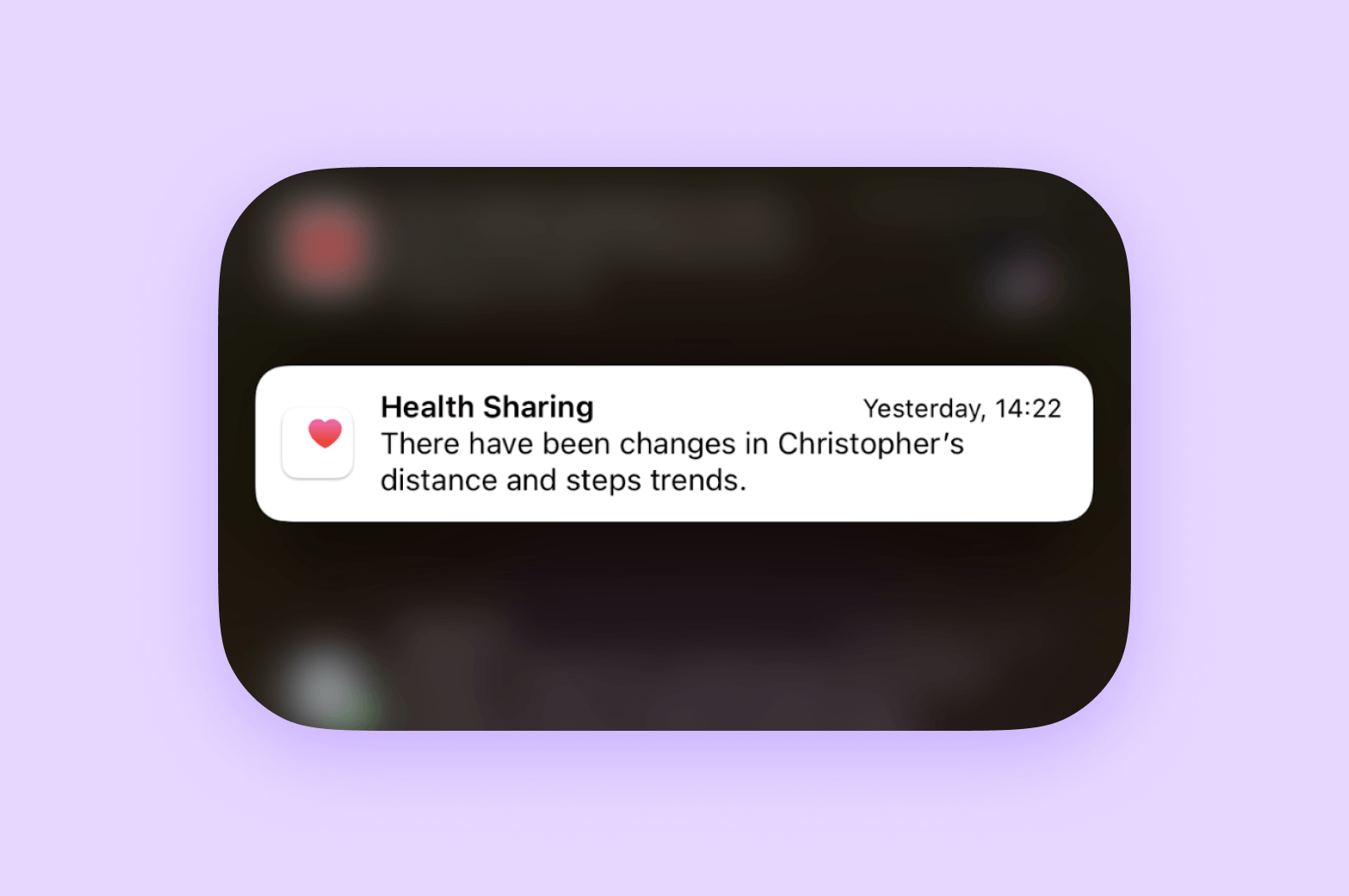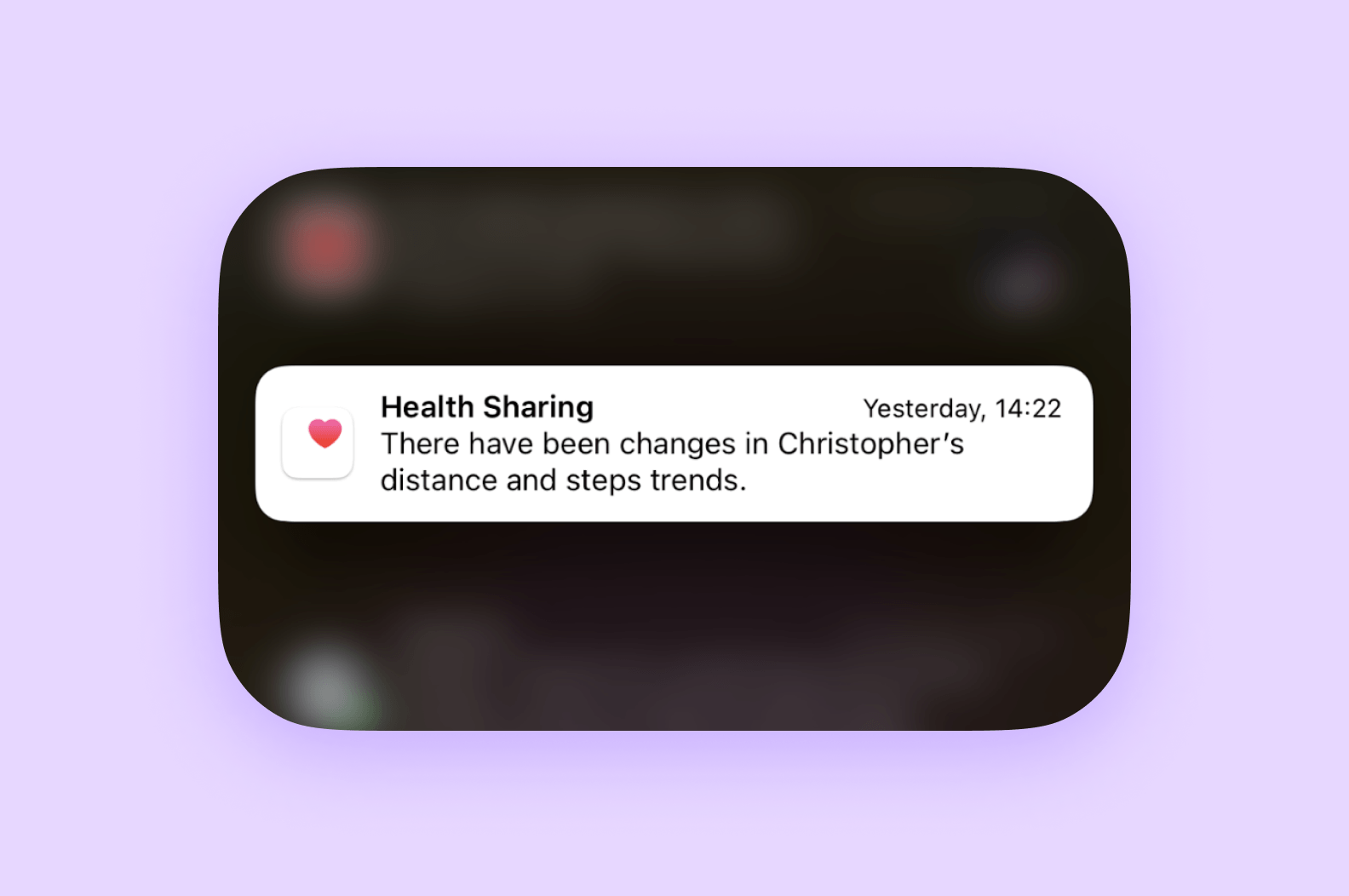 If you share your data with friends, Apple Health will send you updates about their milestones
4. Payment options
If you want to monetize your healthcare app, you will need to use payment processing APIs, so your users can purchase additional tools and services. Make sure you add ApplePay or GooglePay integration to your mobile version for faster checkout, but also PayPal and other services for accessibility.
Also, when you deal with payment information and credit card data, consider extra protection, and talk to your developer about the most secure payment gateway options for your solution.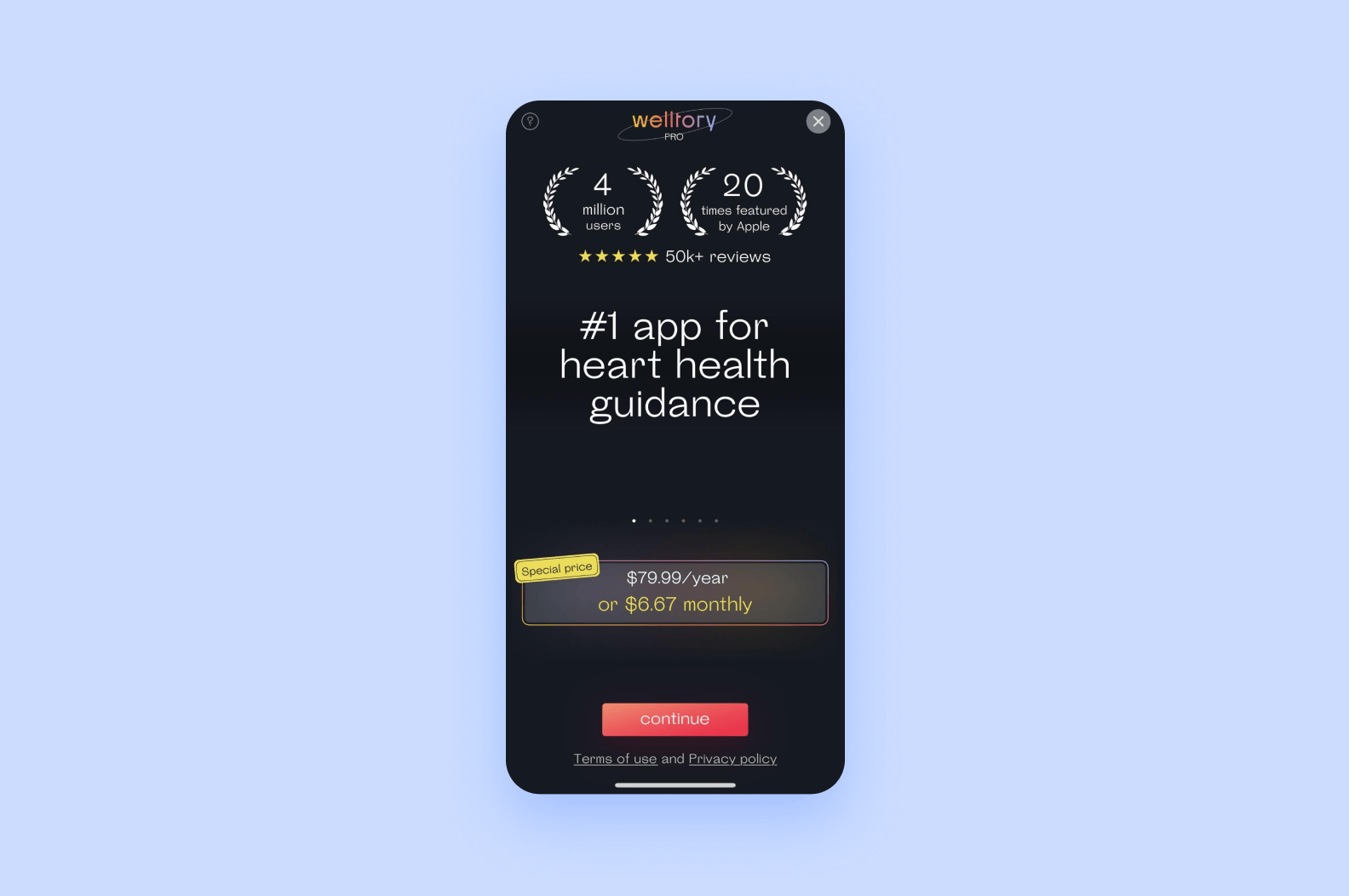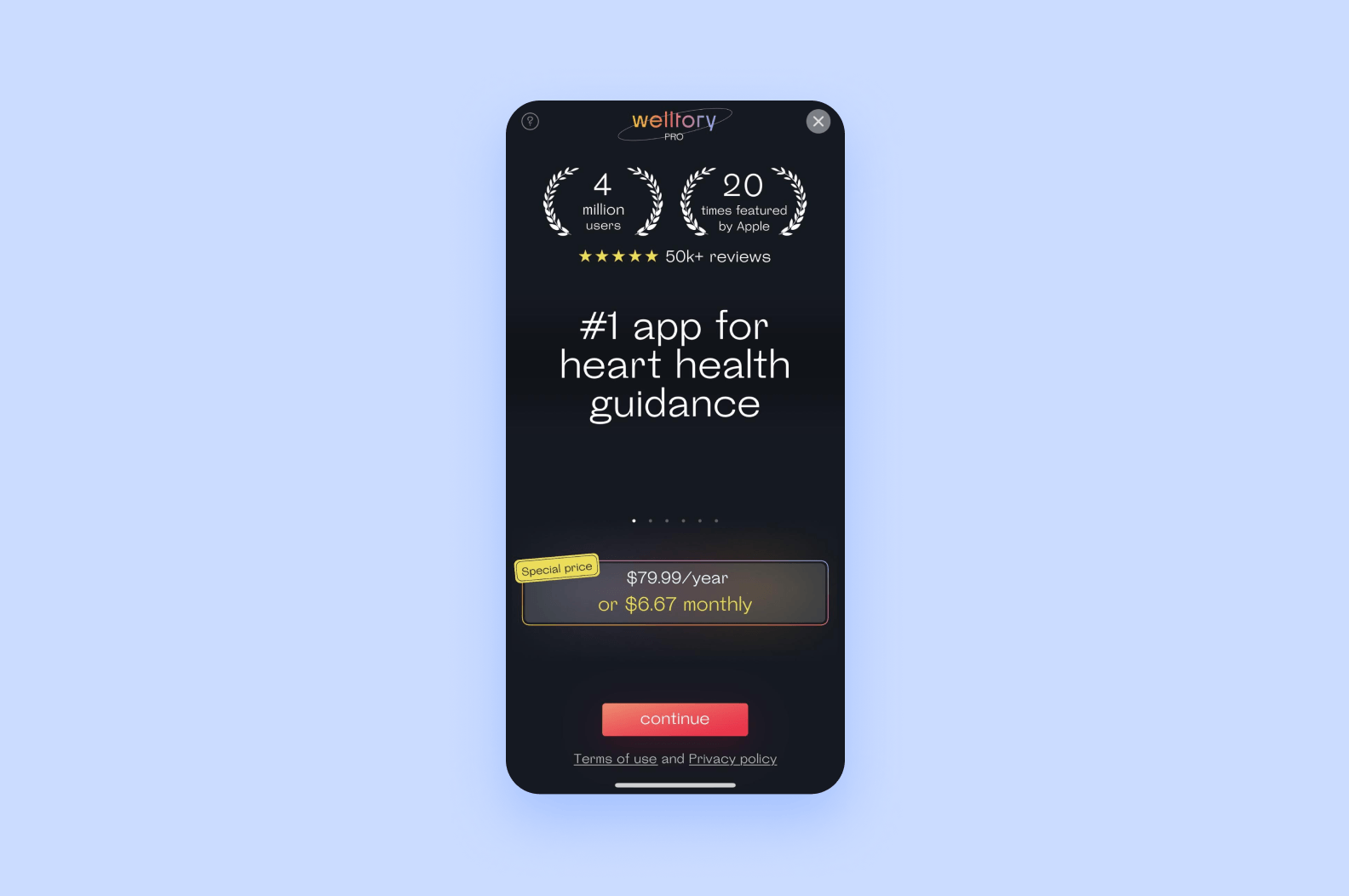 Welltory's subscription offers
5. Wearables Integration
Another must for successful medical app development in 2023 is integration with Apple Watch, FitBit, Oura ring, and other fitness devices. There are several benefits of this feature. First, it will help you to source more data and prepare a more comprehensive analysis for the user. For example, if your app doesn't monitor physical activity, a simple syncing with Apple Watch can close this gap. Secondly, you won't have to compete for the user's attention: your audience can use several devices and apps to get insights into their health. And each of them will supplement another.
To add functions for wearable devices into your own healthcare applications, or retrieve data from a user's device, you will need APIs for those wearables.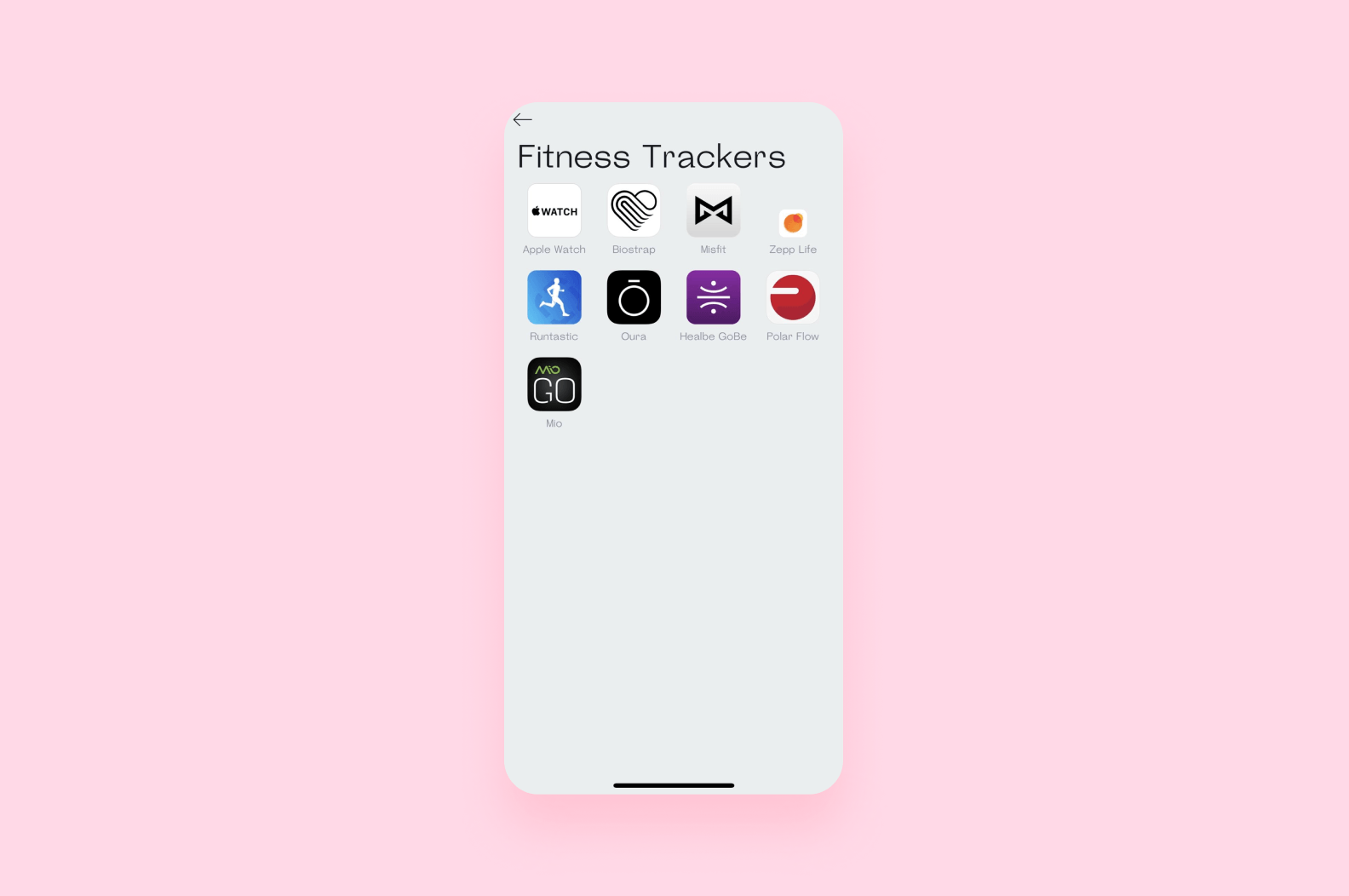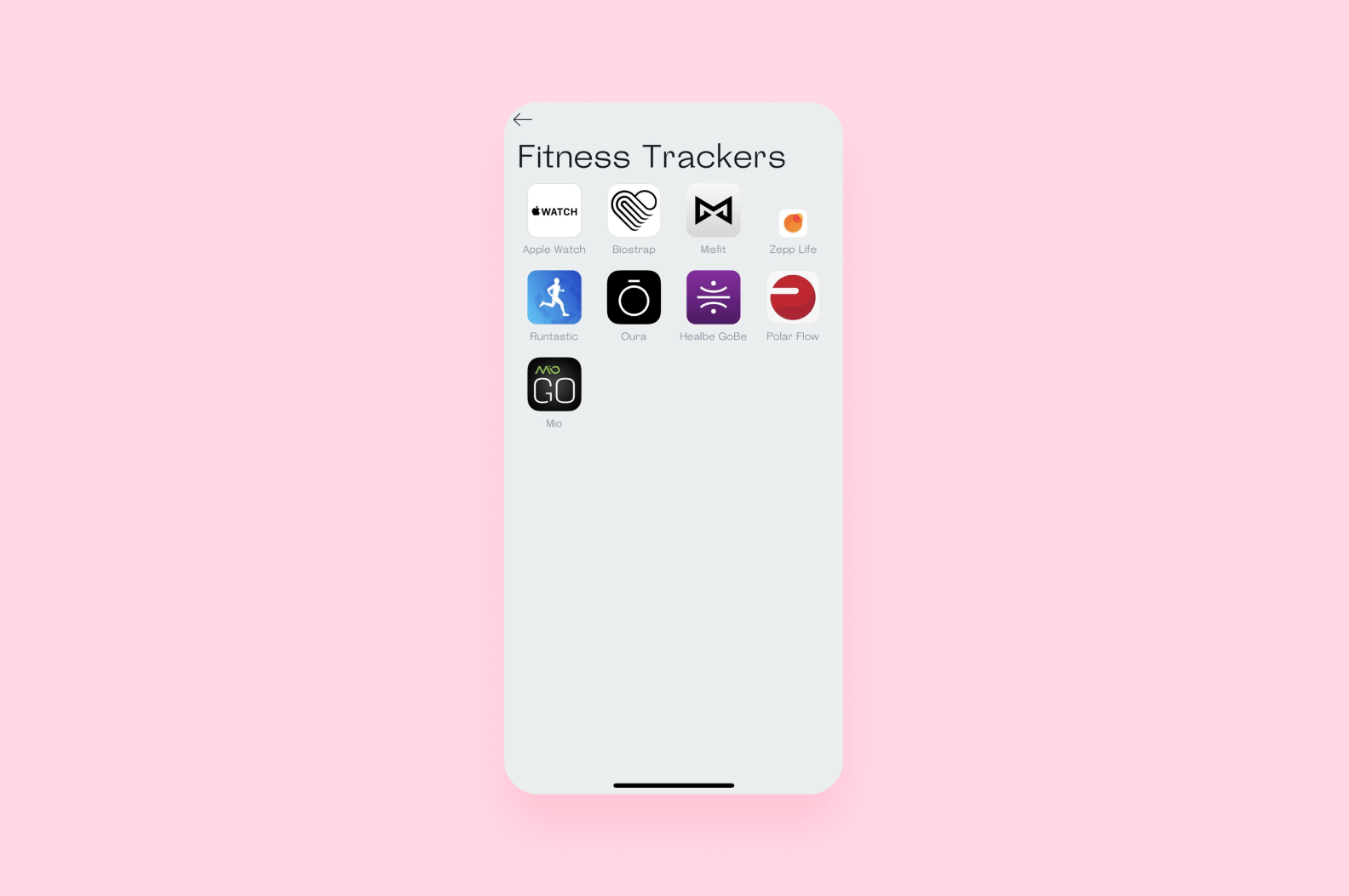 Welltory supports integration with the majority of the most popular fitness trackers
3 best practices for medical mobile app development
Healthcare mobile application development has some secrets that you can learn only from experience. At Purrweb, we successfully launched several medical apps, and we are happy to share our insights on 3 best practices.
🌊 Clear and simple flow
According to the data, the user makes a maximum of three attempts to understand how the application works. 
If a user fails to register, schedule an appointment with a doctor or receive a recommendation, the app is likely to go to the trash bin. 
To prevent this from happening, you must take into account that the audience of the healthcare apps market includes not only millennials but also people aged 40+ and 50+. However, even if your service is aimed at senior audiences, this is still not a reason to create a made-in-early-2000s design. As our experience proves, you should still adhere to the principles of cleanliness and minimalism when developing interfaces. But at the same time, it is crucial to add tooltips explaining how the app works to the users.
There are other ways to simplify interaction with the app, for example, saving the history of actions, reusing previously entered information for the sake of reducing the number of steps in the future, and so on.
For example, when we developed the preliminary diagnostic app Lytic Health, we thought about how to save the time of both doctors and patients. We added a chatbot, a questionnaire, and a suggested search functionality along with tagging, to guide a user through the process and make a more precise exact diagnosis.
🕹 Gamification for motivation
Pursuing your health goal is all about commitment and determination during the journey. Being able to see the results often inspires people. Gamification sounds like the best way to manage motivation by demonstrating progress.
But healthcare applications require balance, since caring for health is still not a game: users don't like too funny, cartoony solutions. Gamification should be engaging, fun and meaningful, but still serious enough.
In the past, at Purrweb, we have created special dashboards and integrated gamification elements into the application which allows doctors to prescribe medications to their patients. By integrating gamification elements in the UI we motivated users to take medications on time and not quit their treatment.
🏃 Know your users and their roles
Healthcare applications are an effective way to attract clients and start interacting with them, that's why the focus should always be on the end-users, their needs, problems, and doubts. However, such platforms can be used by different groups, such as patients, doctors, insurance companies, researchers, and hospitals. So, when you're in the process of healthcare mobile application development, you need to consider not 1 or 2, but many target audiences and make their experience personalized.
For instance, when we worked on a service that helps find psychotherapists in the UK, we needed the app to be detailed for every user role: service providers, patients, and admins. 
In the app, for example, patients can keep track of past and future sessions, take notes, as well as set and work towards therapy goals. Also, users chat with therapists and search their profiles. Thus, we ended up creating approximately 100 screens for 3 roles for each version. 
HIPAA and other regulations to consider
HIPAA is a set of administrative regulations aimed at safeguarding patients' electronic protected health information (e-PHI). HIPAA requires that all healthcare providers (developers of healthcare apps included) implement a number of administrative, physical, and technical measures to combat fraud, leakages, unauthorized access, and any other infringements that would compromise patients' confidentiality. 
Although compliance with HIPAA is crucial for anyone who wants to enter the healthcare market, there are other regulations to keep in mind when developing a healthcare app. 
CCPA. Although specific only to California, any business that seeks to attract customers from this state must comply with the CCPA requirements. This law instructs all for-profit entities to inform consumers (in this case — patients) on what private health data are being collected and tell them whether or not this information is being disclosed with other parties. According to CCPA, any patient who is a resident of California reserves the right to ask for total erasure of data associated with them.
NIST. The National Institute of Science & Technology has devised a voluntary cybersecurity framework for businesses that deal with sensitive information. The NIST guidelines help private organizations enhance their protection in the virtual space and create proper algorithms for safe communication and resolving problematic situations. Following these guidelines is not mandatory; however, it can make the product more attractive to both patients and governmental institutions.  
HITECH. Another act aimed at establishing a high level of patients' health data security within medical networks. It has recently been merged with HIPAA, so complying with HIPAA automatically means complying with HITECH.
In this article, we are focusing primarily on the US legislation protecting patients' medical data, but most other countries feature similar laws. It is crucial to always consult the relevant documents before launching a healthtec app in any market — be it domestic or foreign. 
4 steps to build a healthcare app
Step 1. Idea. 
First things first, you need a solid app idea to stand out from the competitors. Who is your target audience? What problem will you be solving for them? How will I reach potential customers? Those are useful questions to start exploring your creative idea and building a business plan.
Step 2. Adhering to HIPAA
Secure the data. The flow of patients' medical data should be protected from both external and internal threats.
Limit access. Ensure that the only parties with access to e-PHI are patients and their attending doctors. 
Conduct audits. Any activity in information systems that contain patients' sensitive data should be timely recorded in case any further examination is needed. 
Ensure interoperability. The app needs to be integrated into a wider network of already-existing solutions designed by the medical establishment via flexible APIs. 
Supervise. HIPAA obligates healthcare providers to train all staff professionals to work with e-PHI in a safe and proper way, as well as introduce sanctions for non-compliance. 
You can find the full list of requirements on the HHS site. 
Step 3. MVP
The goal of this step is to test out your idea with real-world customers.  MVP stands for a minimum viable product and can be described as the first version of your mobile app with a limited set of must-have features. Don't confuse it with a prototype or a mock-up: MVP is a completed and fully-functioning solution.
Step 4. Full-scale product.
After you receive customer feedback, analyze the data, and perfect the product it is the time for a final launch and scaling up. The team of software developers will not only help you with polishing the solution but also will provide post-release support, develop app updates, and fix bugs if they occur.
Costs & timeline
How much does healthcare mobile app development cost? Let's break down the services and the numbers for a similar project.
🚨Disclaimer: This is our estimation for medical app development and we don't guarantee other companies have the exact costs or timelines. The following quote is valid only if you decide to develop a product with us.
Stage
What are we doing
Estimation in hours
Estimation in weeks
Approximate costs

Initial meeting

Discuss the idea of your app

1 day

–

No costs

UI/UX design

Map users' journey, create and present you interface mock-ups

125 hours

5 weeks

$6 300

Development

Work on

your healthcare app

860 hours

10 weeks 

$38 700

QA Testing

Find and fix bugs

300 hours

In parallel with development

$6 000

Project management

Manage the

healthcare

mobile app development

project and solve administrative tasks

16 (in weeks)

During the whole project

$4 250
Overall, the mobile healthcare app development services will cost you $55 250 and will take approximately 5 months.
Curious about how much your idea will cost? Fill in the form to get a quote
Wrapping up
There are many nuances in launching mobile applications in the healthcare industry, but this doesn't substitute one of the main startup rules: you should not delay the app release. If you are absolutely happy with the first version of the product, it's likely that you've released it too late. In conclusion, we'd like to share a (super short) list of Purrweb rules which will help you launch healthcare & wellness-related MVP under tight deadlines — namely, in just 3 months.
1. Most IT teams run themselves ragged before the release, although it's more rational to save energy for quick bug fixing that will be required after people start using the app. At this stage, you shouldn't be afraid of negative reviews: a quick reaction from the developers and technical support team can turn even the most fierce critic into a loyal user.
2. Remember, even though bugs in the application are okay, any errors regarding the user data are absolutely unacceptable. At the same time, ensuring user privacy should not stretch the launch time: there are simple yet reliable techniques that guarantee compliance with the legal requirements.
3. It is necessary to set priorities wisely. This means that there is no excuse for cutting corners on design, security, and QA-testers. However, even if you have an unlimited budget for the project development, you can get rid of unnecessary features and not overspend on expensive technology. For example, consider cross-platform instead of  a native application: now the level of cross-platform development has grown significantly, so users won't even notice the difference.
At Purrweb, we work with cross-platform app development to provide your users with a seamless and hassle-free experience. If you are looking for a full-cycle development team with experience in healthcare apps, then look no further.