How do telehealth apps work?
The overall principle of telemedicine app work is simple:
a patient registers in the app,

the patient chooses a doctor or submits a request for consultation,

the consultation is scheduled,

the patient and the doctor connect either by video, call or in chat,

the patient describes their symptoms, the doctor can look through the patient's medical history and take notes,

after the consultation, the doctor sends a medical report with recommendations to the patient.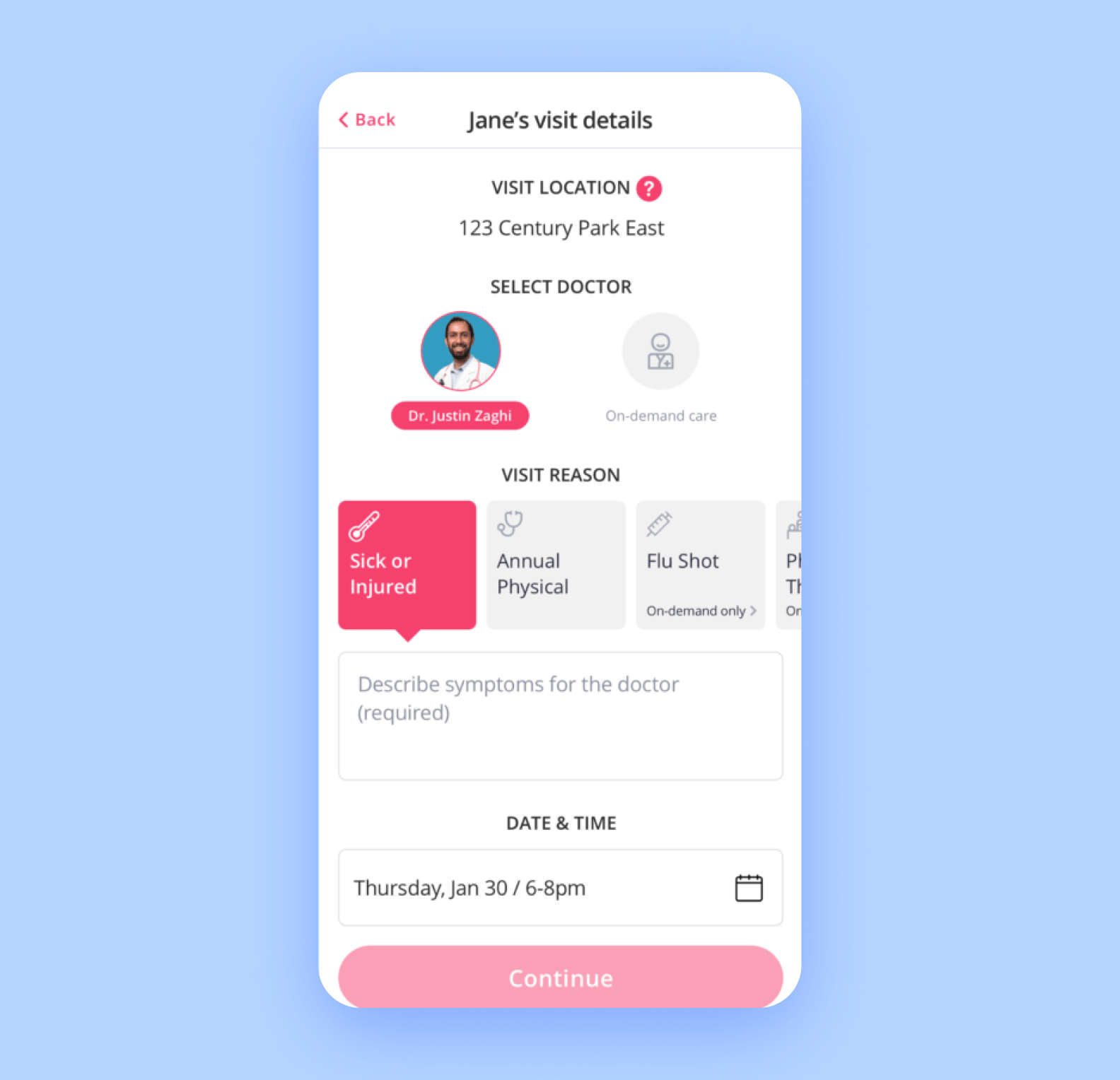 Example of a telehealth app
Why build a telemedicine app?
A telemedicine app is easy to use and provides several benefits both for patients and for doctors. Let's dive into them.
Benefits of a
telemedicine app for doctors
Time saving. There is no need for doctors to go to their office or to patients' homes. They can just open a laptop or unlock a smartphone to start consulting patients.
Easy access to a patient history. A doctor can have fully remote access to any health records in electronic versions through a telemedicine app for doctors. It is very convenient: no need to search for archives or look through a lot of papers with test results and previous recommendations.
Continuous monitoring. Even without hospitalization, a patient can be surveilled by doctors remotely. For example, a patient can send their health metrics like blood pressure or temperature to a doctor for monitoring.  
Level up in decision quality. Having full access to any necessary data, a doctor can hand down a more informed opinion. All health details are structured and clearly stated in the electronic health records, so it's easier to navigate.
Benefits of a telemedicine app for patients
Get help faster. No need to wait for the appointment: a doctor is as easy to access as a person's smartphone.
No need to go to the hospital. This is important for elderly or disabled people: it's hard for them to even access their local doctors for monitoring. With remote services, they can talk to doctors and refresh their treatments from home.
Access to high-level doctors. There are rare diseases, and patients cannot easily find a doctor to treat them, especially in small towns or rural areas. This issue can be solved with a telemedicine app: everyone can access the best doctors without moving to cities or even getting a day off to reach the state hospital.
On-demand consultation 24/7. Sometimes emergencies happen and people need to have an urgent consultation with a specialist. Telemedicine provides round the clock access to medical help and consultation which is a must-have in unforeseen situations. 
Affordable medical help. Telemedicine can be money-saving for patients. As there are no such costs like office rent or transport expenses, specialists can lower the price for their consultation so more people can afford it.
Telehealth app features
There are several features which are a must have for any app:
sign-in,

search,

notifications,

technical support.
However, there are several specific features you definitely need to consider in telehealth app development. They are:
chat,

video consultations,

payment mechanism to pay for consultations,

review and ratings of doctors to ease the choice,

electronic health records

(EHR),

automatic medical report summing up the results of consultation and proposed treatments.
We have created an app for online psychotherapy with advanced telehealth app features: specialist selection and insurance integration. A client can take a survey or use an artificial intelligent chat bot in order to select a specialist fit to solve their problems.
Telemedicine app examples
Lemonaid
Lemonaid is an app for online treatment selection. A patient should fill in the questionnaire. A group of therapists and pharmacists will review the answers and provide a treatment with free delivery to the patient.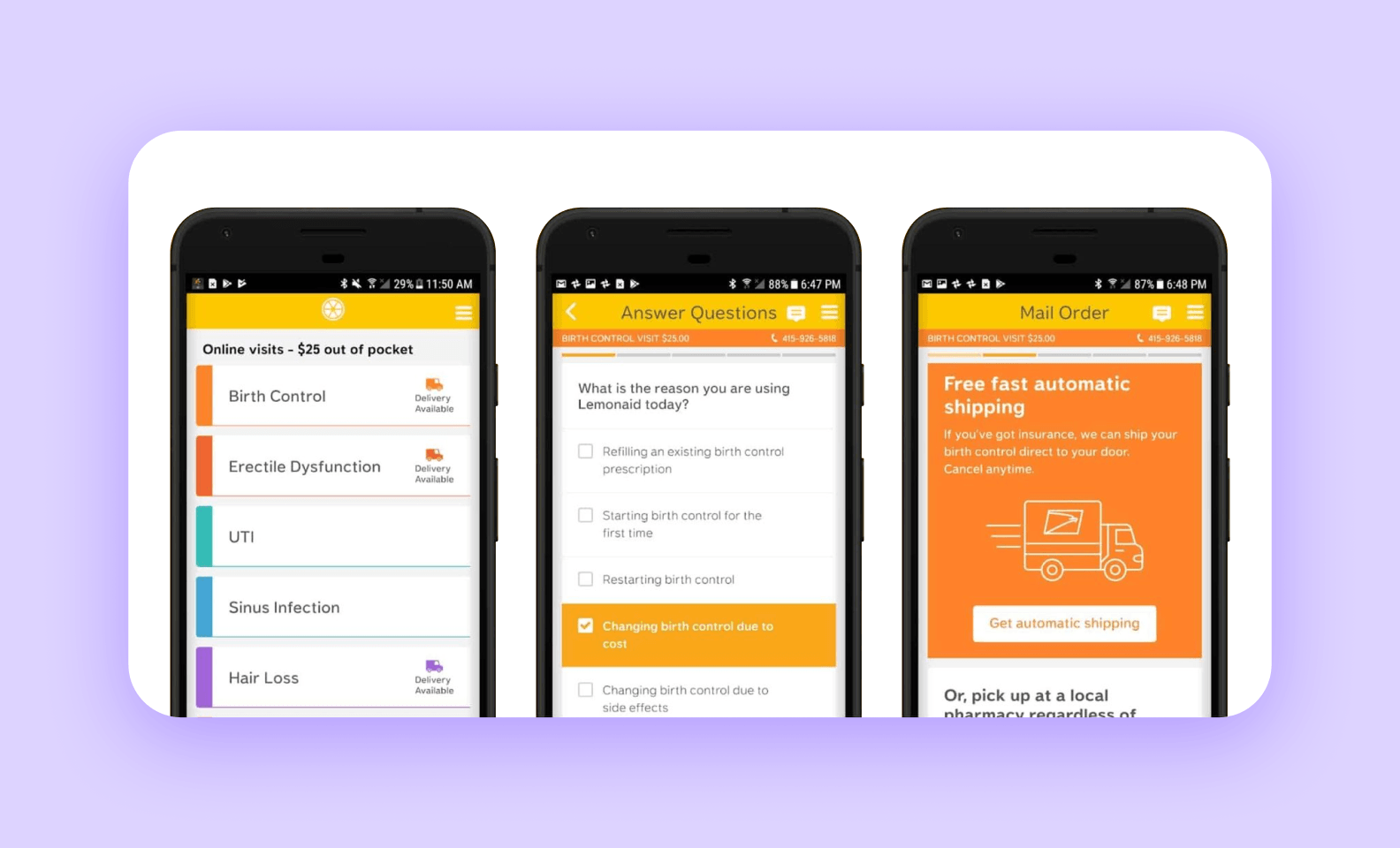 Lemonaid app interface: questionnaire and pharmacy selection
DoctorOnDemand
An app with comprehensive online medical services for patients. There are two most remarkable features: 
a HealthKit integration for blood pressure and temperature control in real time,

integrated maps with pharmacies to buy prescription treatment.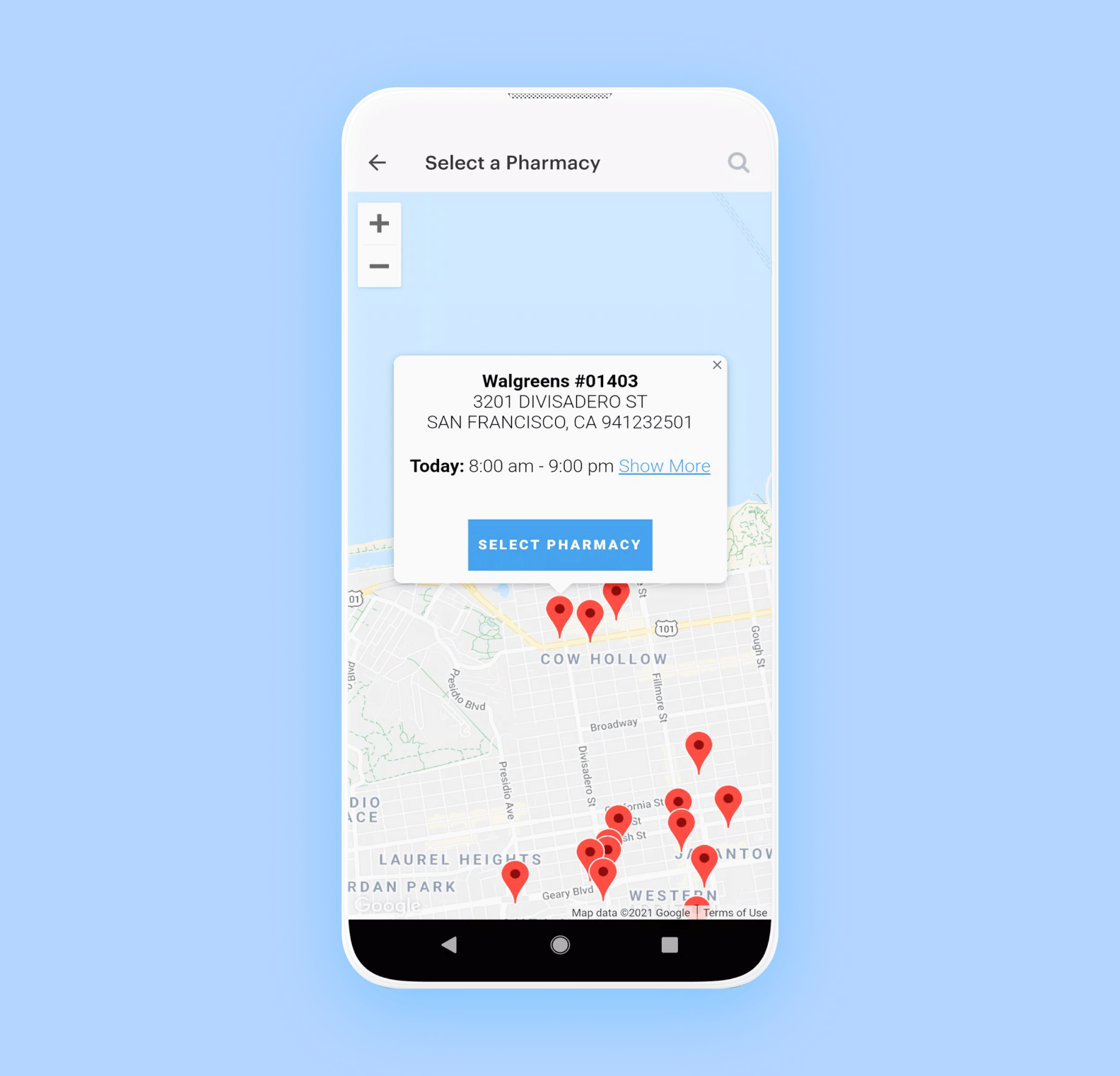 Map with pharmacies  in DoctorOnDemand interface: a patient can take their drugs in local pharmacies
Gyant
This app provides a platform to conduct services to patients remotely. Gyant's philosophy is to empower people to improve medical help and outsource the technical side. It is a B2B service for clinics: doctors can use the platform both for consultations and monitoring.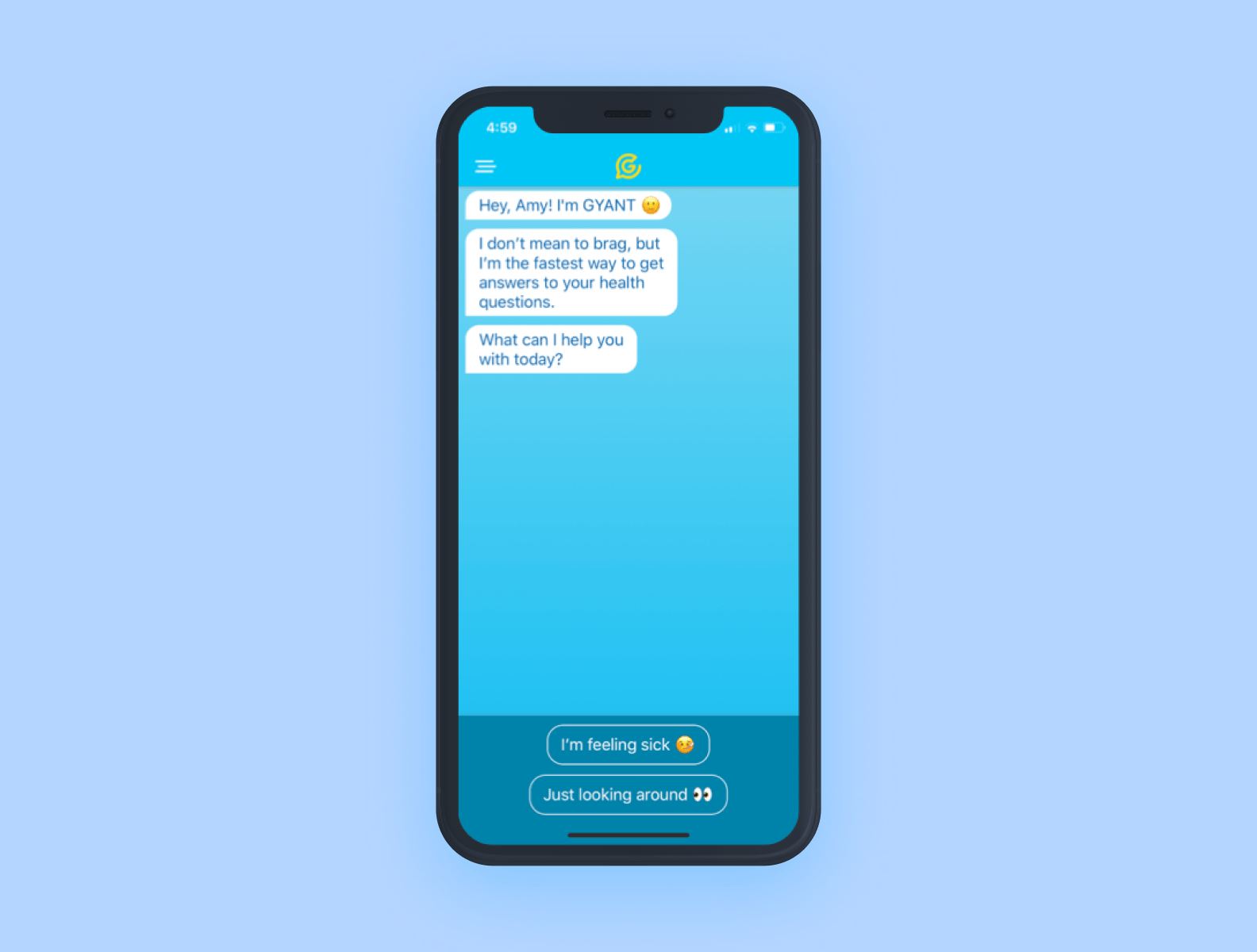 Example of chat in Gyant
CirrusMD
CirrusMD helps to create remote on-demand consultations for companies' employees as a voluntary medical insurance. The app specializes in healthcare services to patients from retail companies in which employees cannot leave their workplace for a sick leave to visit a doctor.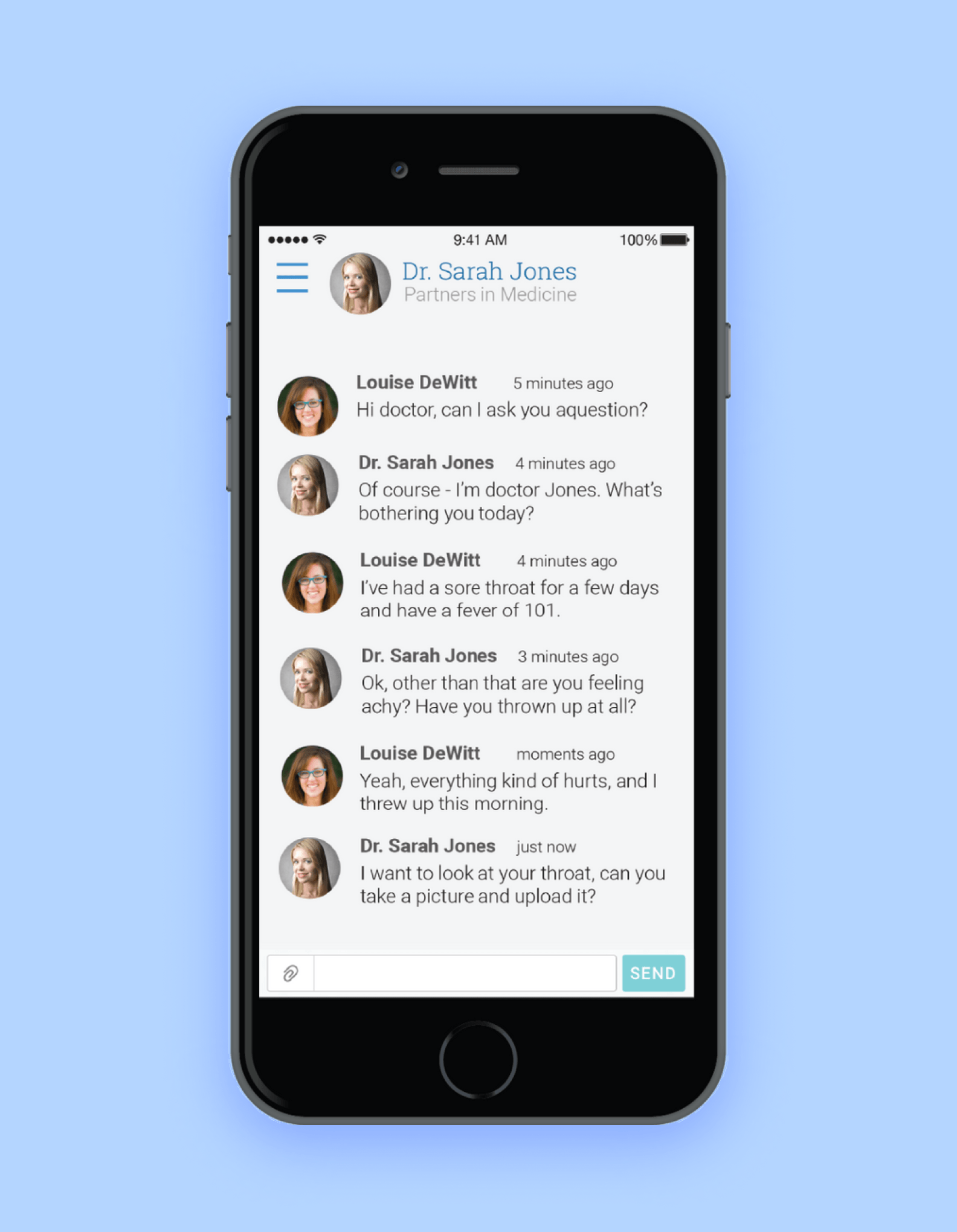 Example of a chat with a doctor in CirrusMD
Future of telemedicine apps
There are several technologies with great potential to use in the telehealth industry: augmented reality, gadget integration and artificial intelligence. 
Augmented reality
The first technology is augmented reality (AR). A doctor can demonstrate how to wear medical gadgets or how to do exercises for a patient as they do in real life. It is convenient for patients and efficient for treatment.  
Gadget integration
Secondly, a telemedicine app features for patients can be integrated with wearable gadgets like smart watches, bracelets or glasses. It can ease the process of self monitoring. A telehealth app can collect data about heartbeat, walking distance and exercises made by patients, and create visualized reports both for patients and doctors.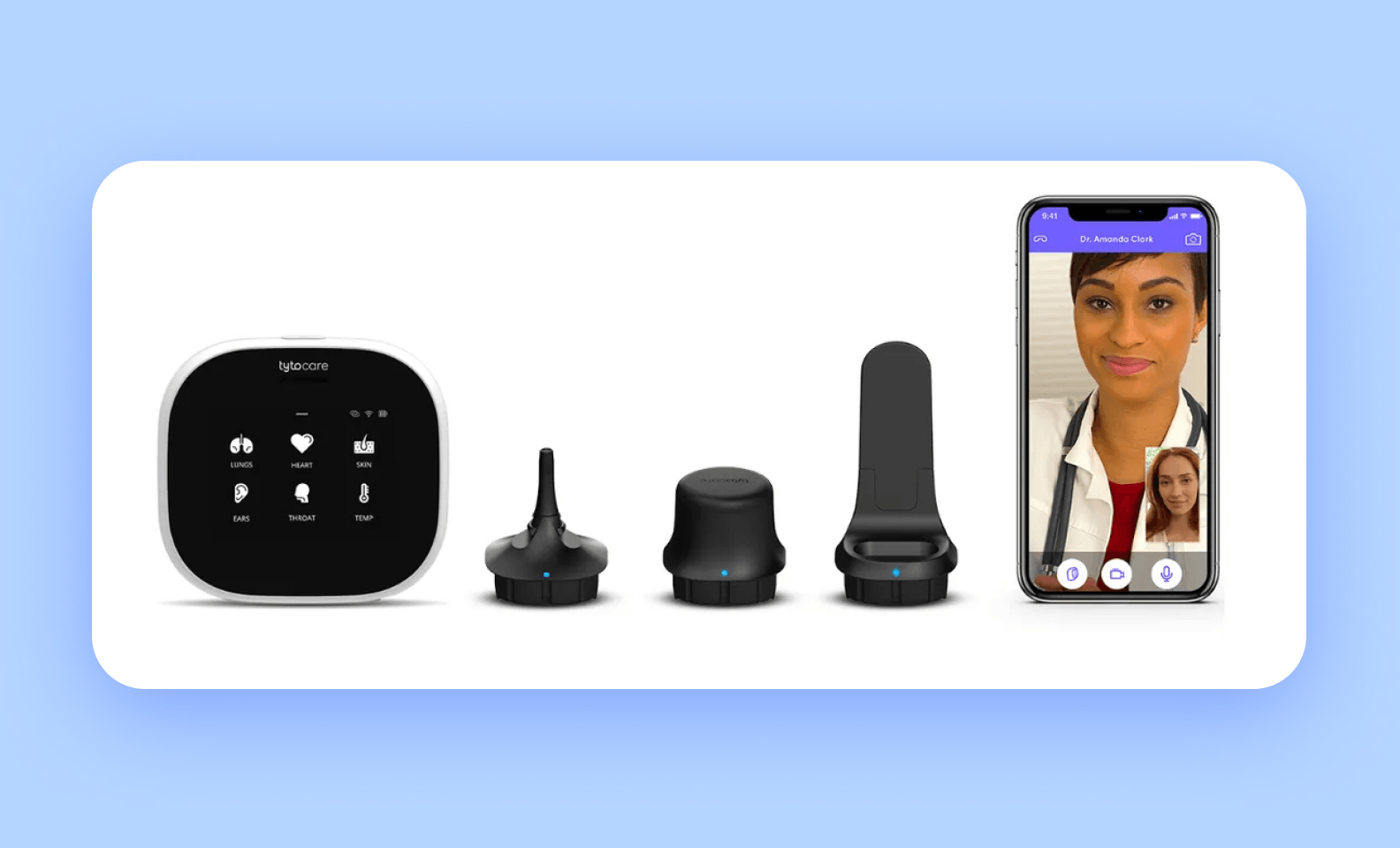 A telehealth app of the future. Real-life examination with special devices: electronic camera and thermometer, stethoscope and otoscope
Artificial intelligence
Innovative technologies can also make doctors' work easier. For example, an artificial intelligence (AI) connected to a telemedicine app can help with diagnosis. For example, it can analyze the data from health records and patients' complaints and create recommendations. Moreover, AI can help with real time monitoring and disease prevention by connecting with medical equipment. A technology of machine learning integrated into an app for doctors can analyze the patient's history and develop preventive measures in order to avoid a disease.
We have developed an AI app Lytic Health for primary diagnosis. Learn more about its features and design.
Pitfalls of a telemedicine app
However, there are several issues you can face in a telemedicine app development.
Compliance to regulations
While being a non-government mobile application, a telehealth app is still a part of medical service and is a subject to regulatory compliance, such as insurance accountability, prescribing and telemedicine regulations for a particular country.
For example, in telehealth app development online psychiatry, you need to comply with prescription regulation. Psychiatric drugs are usually regulated by the government and must be prescribed by a doctor with a special license in a proper way like official recipe.
App security
The second issue is the security of an app. Since a telemedicine app contains a lot of sensitive data about a person's health, it must comply with the highest standards of data security in order to get users' trust. When you develop a telehealth app, you can rely on international regulatory norms like GDPR (General Data Protection Regulation) as it is an IT industry highest standard for data security.
The next two pitfalls are related to the process of a medical consultation. 
Video quality
In some cases, for example in skin care, a doctor must conduct a visual examination of a patient. That is where technologies sometimes fail: if an internet connection isn't stable or video quality is lower than HD, a doctor can have a poor vision which affects the quality of medical service.
Lack of manual examination
And the last is the limitations for examinations. Using online medical service, a doctor cannot conduct a manual examination and have to ask a patient to do the manipulations for themselves. That is also a risk of quality decrease because a patient can translate the results of manipulations incorrectly.
Monetization strategies for telehealth apps
Telemedicine apps create profit for their owners like every other apps do. There are four strategies to monetize a telehealth app:
Subscription

: fixed payment for a period of an app usage.

Advertisemen

t: you can show ads to your users. In this case, the app can be free for users and you will be paid by advertising providers.

Paid app: you can charge the app's users just once with a fixed rate when they decide to join the platform.
The best tech stack for telehealth app development
To all our clients, we recommend using the React Native framework for a telemedicine app development. This technology has several strong advantages: 
the developer can create an app for iOS and Android simultaneously which saves money and time for development,

there are a lot of developers in the market acquainted with these technologies,

it is an open source stack and there is no license payment for it,

it can be integrated with platforms for audio and video online communications such as WebRTC to make a telemedicine app useful and convenient
And if you would like to integrate advanced technologies, set a task to your developers to choose an AI based platform for voice or chat bots and integration with health gadgets and their systems. You can also consider blockchain technology for communication security through distributed networks and cutting edge encryption.
How to create a telemedicine app step-by-step
There are several possible options for how to create a telemedicine app. You can either hire developers or outsource the development to the agency. While the first option has the advantage of permanent control for the team, the second option will cost you less.
You will need to take just 5 steps to make a telemedicine app.
Step 1. Market research
Learn how other apps built their business model and what kind of features they have. Put special attention to inconveniences and illogical transitions in order to create a perfect telemedicine app.
Step 2. Finding a developer agency
If you don't have a team of professional developers, you may choose a development company to build a telemedicine app. Start your search from companies' portfolio: an agency should have a number of relevant cases. Put an attention to clients' references and reviews as a clear indicator of the company's approach to relations with customers.
Step 3. Building an MVP
MVP (minimum viable product) is an advanced prototype of your future telehealth app with baseline features. Creation of MVP helps you to test the app with early bird users and minimize the telemedicine app development cost.
The agency you've chosen will help you with planning, tech stack and all important details.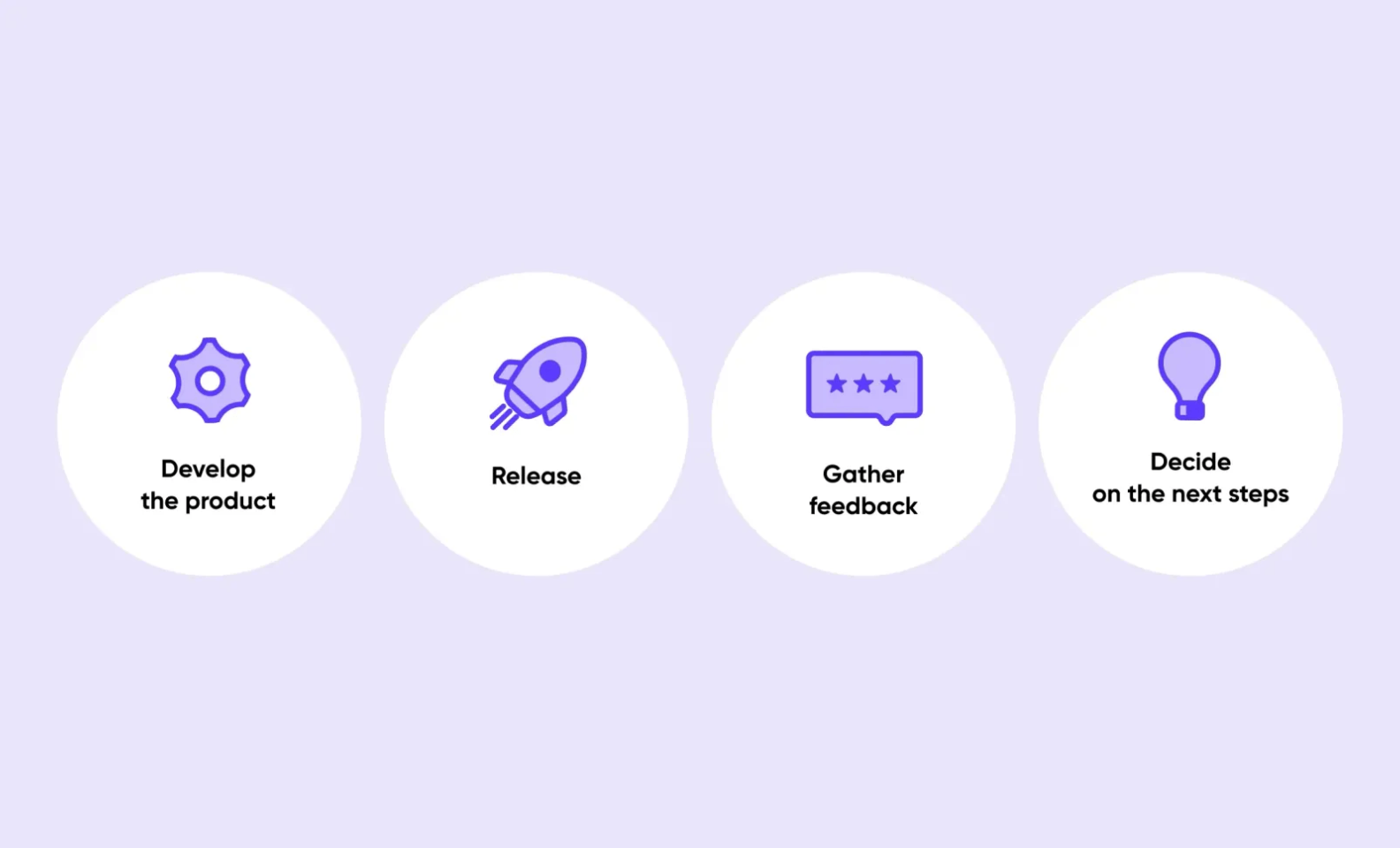 MVP of a telemedicine app must support the basic functions: search, scheduling and appointment
Step 4. Release
This is a stage, when the red tape is cut and your telehealth app is uploaded to a marketplace. Your development agency will get the responsibility for the tech minorities, and you should put your attention to your users and their first impression from the app.
Step 5. Maintenance
After an app release starts a huge phase of maintenance and development. The more users join a telehealth app, the more feedback you will get and, therefore, get the opportunity to improve your app. Do not refuse to ask the development team for additional corrections: they know your app better than anybody and will help you with further functionality and design improvement.
Telehealth app development cost
We prepared a rough guideline on time and money needed for mobile app development. There are four key stages:
Project Estimation
You and your development agency will discuss the app idea and estimate the time and costs for development. This stage is normally free of charge.
UI/UX design
Design includes not only visual representation, but also key functions of your app. In this stage, we plan everything you want to see in your future telehealth app from sign in to medical report. 
⏰ 167 hours 
💰 $8 325
Development
This is the most time-consuming stage. The team develops the architecture, the interface on both client and server sides.
⏰ 1105 hours
💰 $49 725
Here is what you get for these time and money:
| | | |
| --- | --- | --- |
| Feature | Time for development, hours | Cost of development, $ |
| Sign-in | 48 | $2 160 |
| Search engine | 90 | $4 050 |
| Payment system | 40 | $1 800 |
| Chat | 120 | $5 400 |
| Video calls | 140 | $6 300 |
| Notifications | 20 | $900 |
| Rating and feedback mechanisms | 40 | $1 800 |
| Electronic health records | 50 | $2 250 |
| Medical conclusion  | 30 | $1 350 |
QA Testing
Testing is important. Аll the bugs should be identified and cleaned up before the app release. QA engineers will work it up for you. 
⏰ 300 hours
💰 $6 000
Project management 
There is one more additional spending item — project management. A professional manager assigns tasks, control deadlines and costs of development. 
💰 $4 400
The total spending for an app development is $69 250
There are a lot of minutes you need to consider while developing a telemedicine app:
audience's needs to fit,

regulatory compliance,

app security,

ease of use,

extra features to attract and retain app users.
You can make a first step to your future app by consulting with Purrweb telehealth app experts. Fill in the form to contact us and have a free consultation. We can discuss your expectations and time frame for the app development. Moreover, we will give you some recommendations based on our experience.