Office life can become a boring routine. That is a good enough reason to make your working hours worth a while. According to the studies happy employees perform better than their burnt-out colleagues. 
The actions should be taken to make the employees working life engaging and fulfilled. Of course, the core of employees' interest in work is the challenging tasks themselves, and an employer must provide the team with opportunities for self- and career development. However, that is not everything that could be done to make daily office life soulful and heartwarming.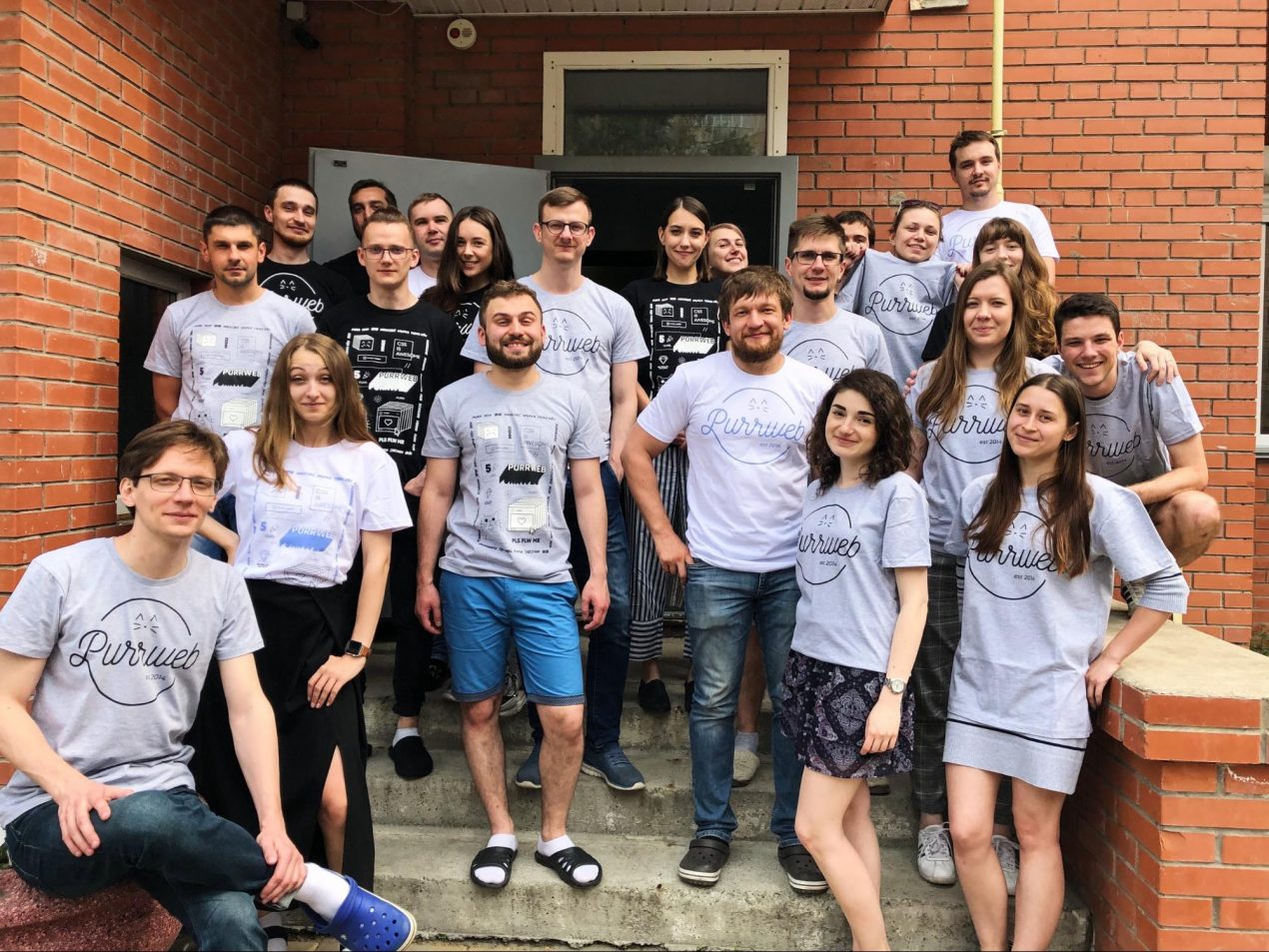 A part of our dream Purr Team
In this article, we are going to talk about small things that will bring joy and a sense of belonging to your employees. All of the following ideas are implemented in our office life and customized according to our team's preferences. Feel free to adopt some of them or transform into something that would fit your company.
1. Stuffed Toys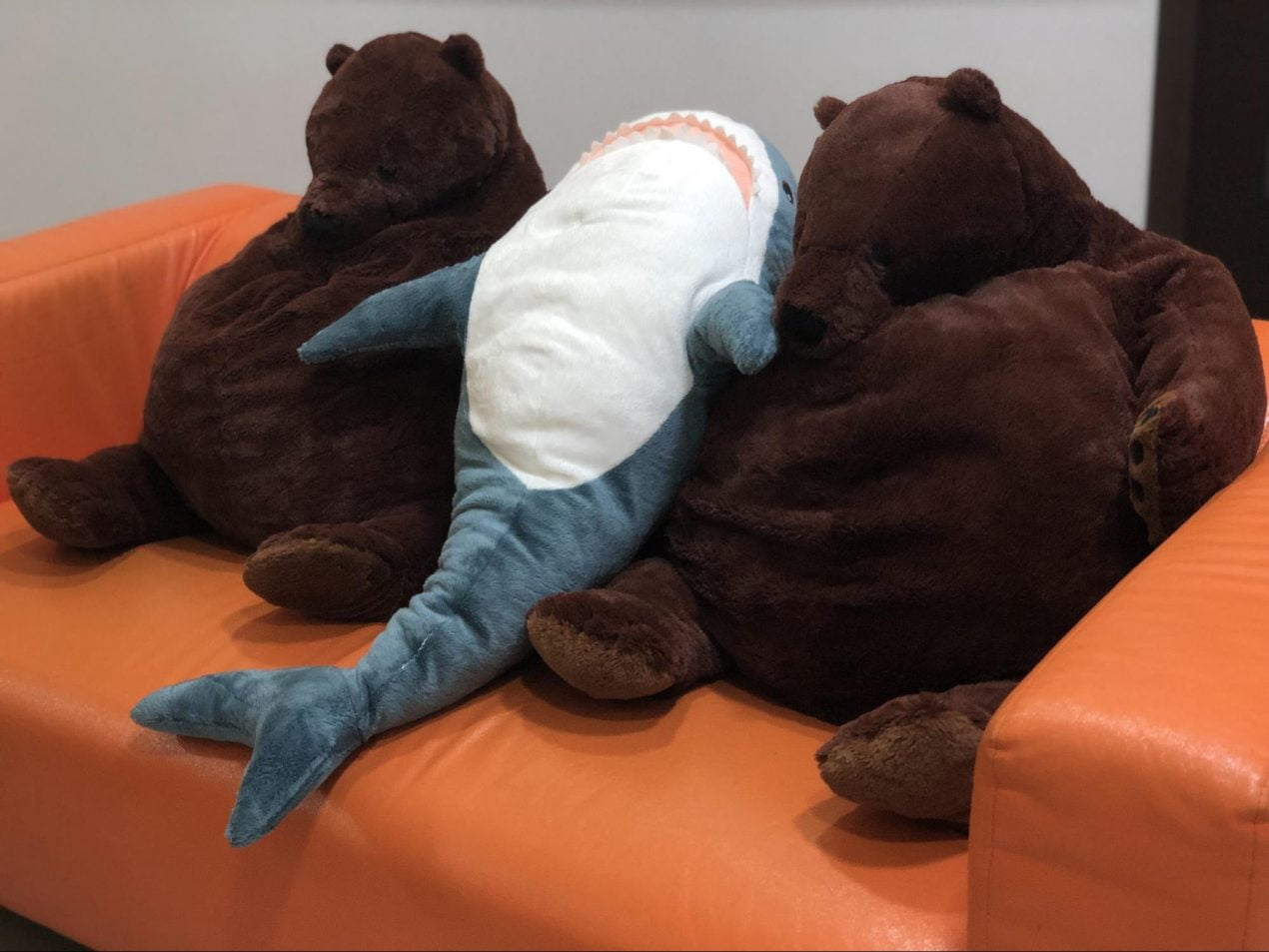 The shark and the bears
We possess two plush IKEA bears and a shark. But it hasn't been in our office forever. It's just spontaneously appeared. The point is that you might notice that those IKEA sharks went viral. Our city hasn't avoided this trend either. And one day our CEO brought the shark to the office, and everyone loved it. After some time we noticed that the shark is taken by those who are on a very difficult task or under another kind of pressure. A person would just hug the shark and continue working with it as usual.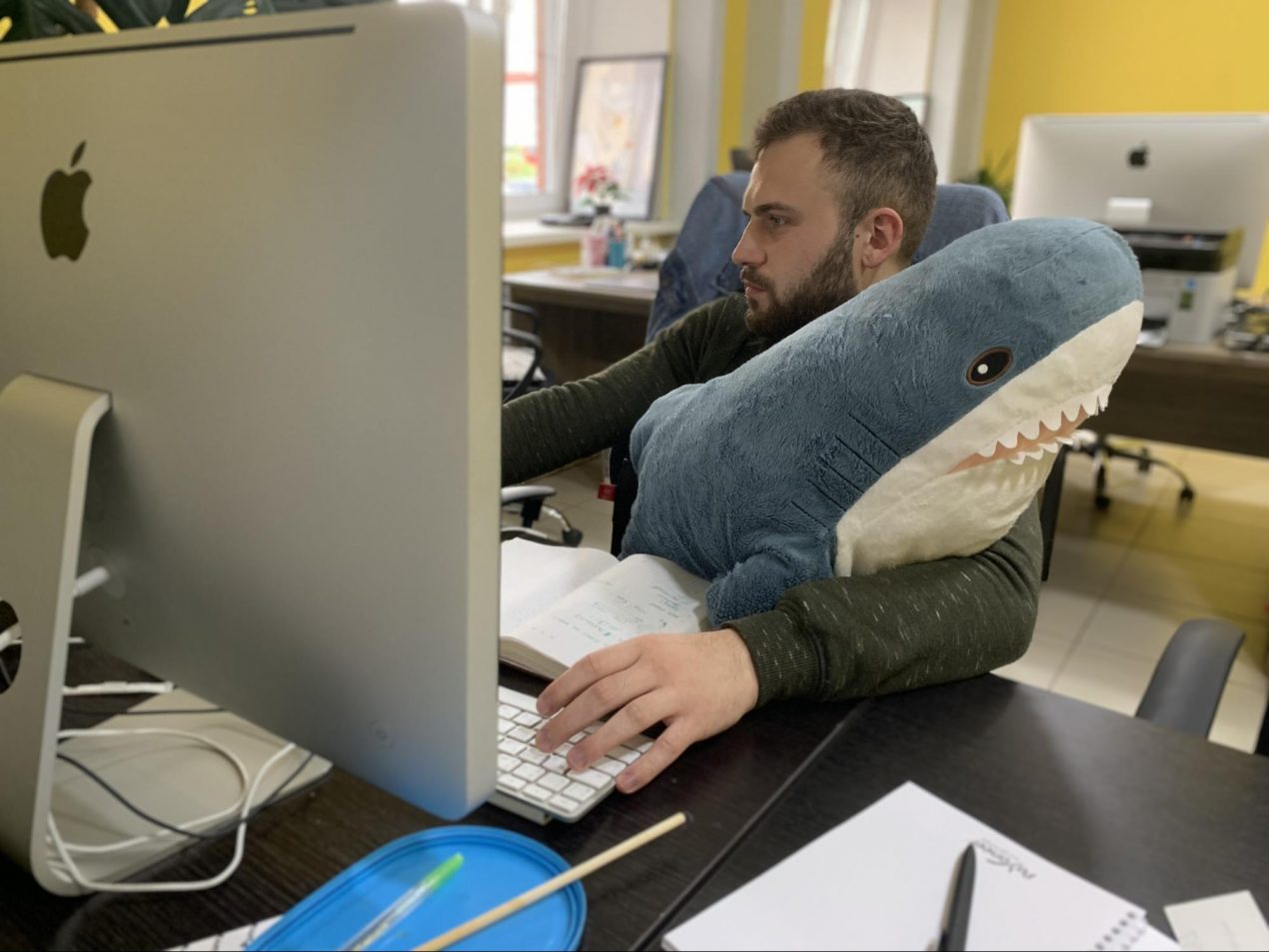 The shark helping with a difficult task
So the shark plays some kind of a therapeutic role here. Later some folks from the team asked for more toys because the shark was in constant high demand. So I went to IKEA and returned with two very huggable bears. Now this fluffy animal team supports us with anything and creates a warmer and more home-like atmosphere in the office.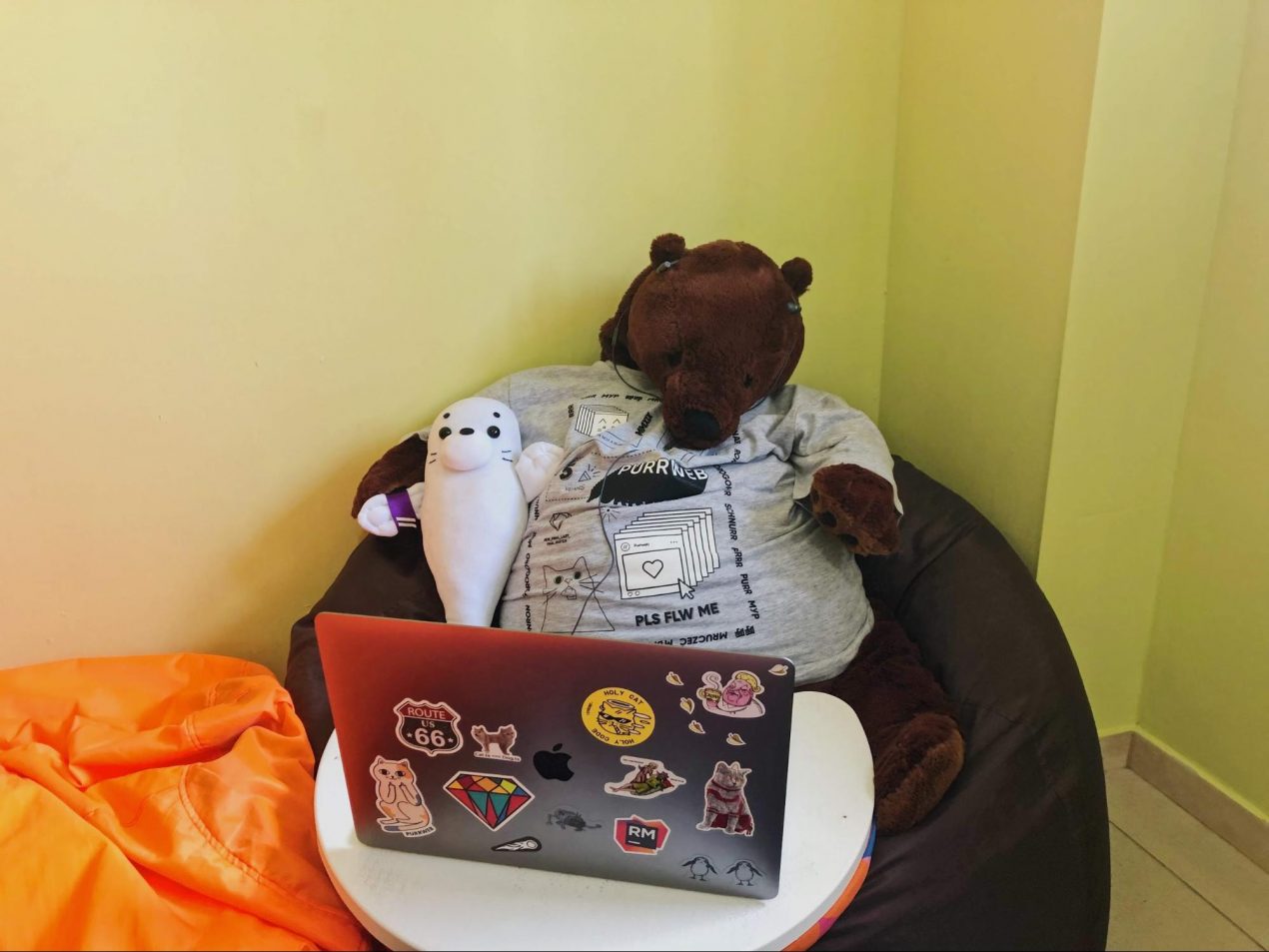 The bear and the fur seal are working on a revolutionary app
2. The Secret Friend
When an office life turns into a routine it is time to add an engaging and even cute activity in order to bring life and foster team's creativity. We guess we have a tool just for that. We call it "The Secret Friend". All the participants are assigned to a buddy whom they are supposed to make happy during two weeks.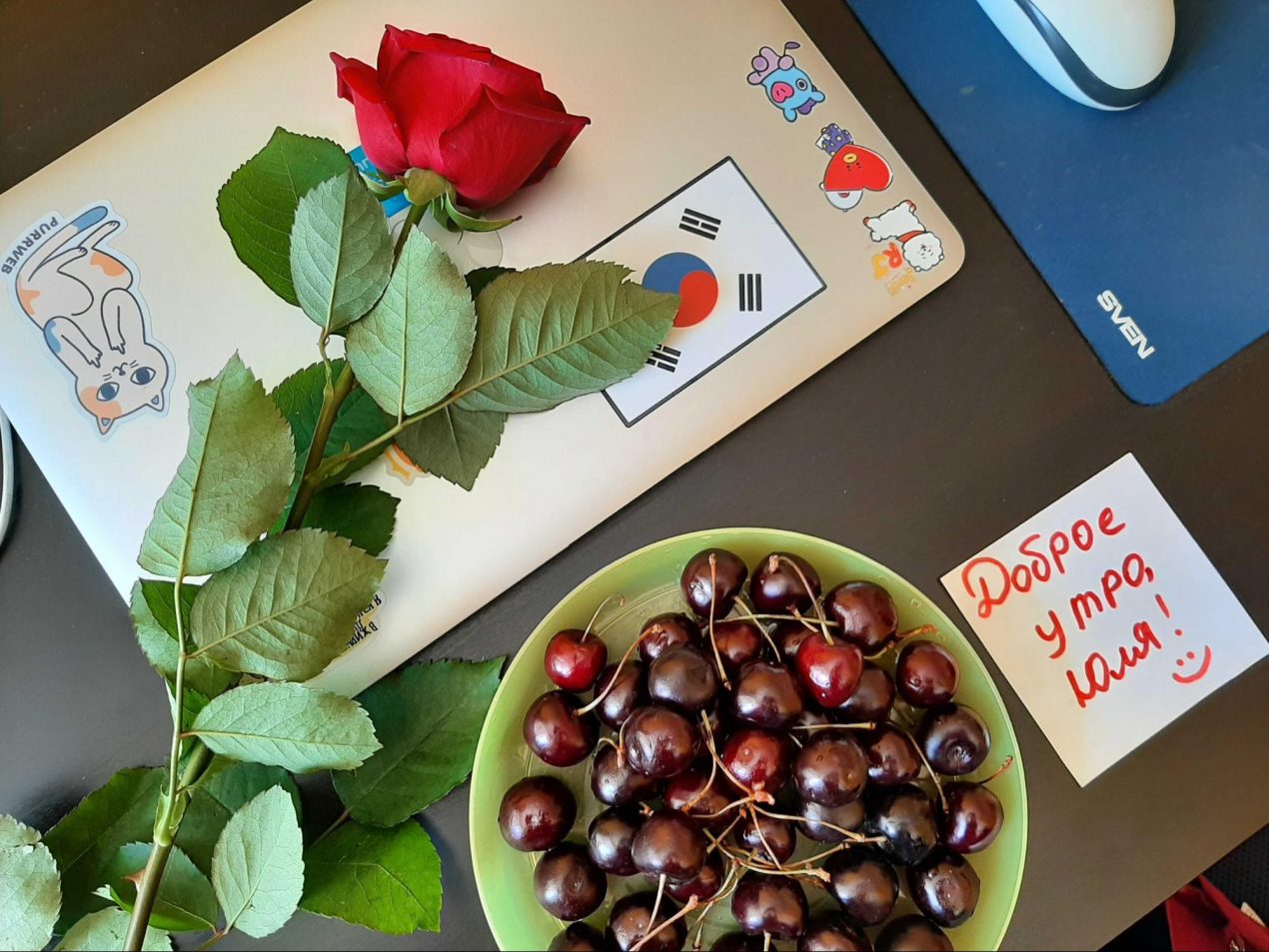 A morning surprise from a secret friend to our sales manager
The main part is that they need to do it without being noticed or caught. All who participate become secret friends for others and get secret friends assigned to them too. This creates a happiness flow in the office. Usually, people secretly put some chocolate or sweets to the desk of their buddies, but sometimes inspiration overtakes and secret friends create special quests for their buddies and make them solve riddles to finally get the prize. Some other participants print memorable photos, do collages or mood boards, or even make a customized mug.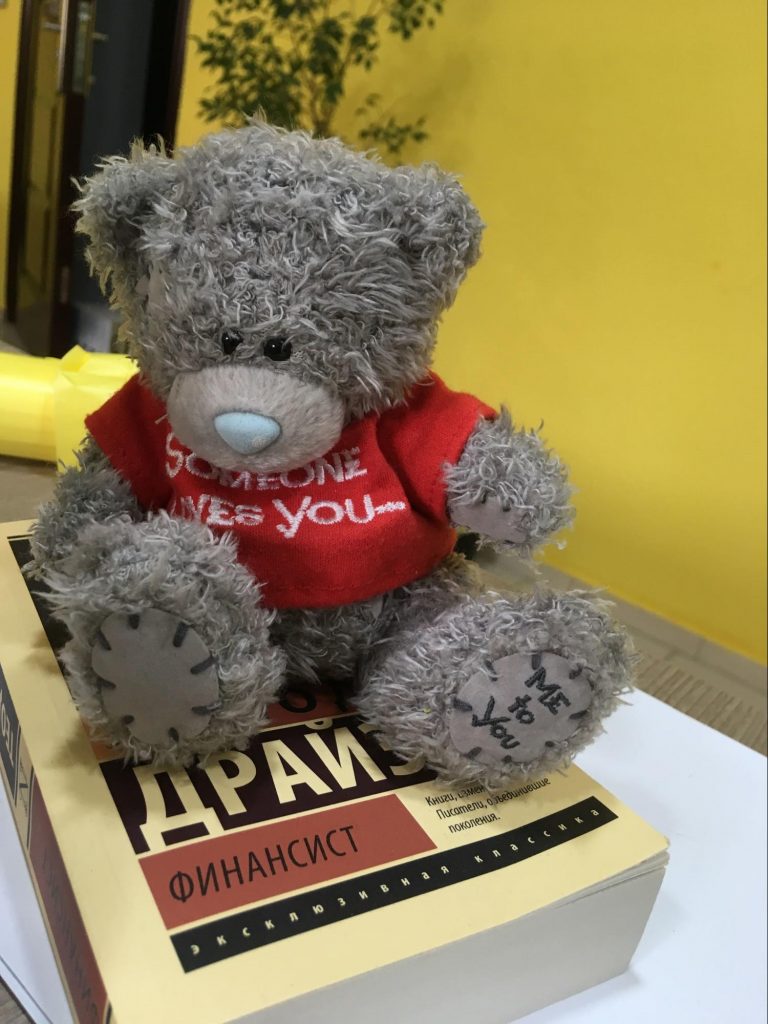 It's very exciting to get an unexpected gift from a mysterious friend. That is why when participants receive a surprise, they post it on a Slack channel, so the whole team is aware, curious, and anticipating their gifts. These actions create a lively atmosphere and happy vibes around the office that kill an ordinary routine.
3. A Corkboard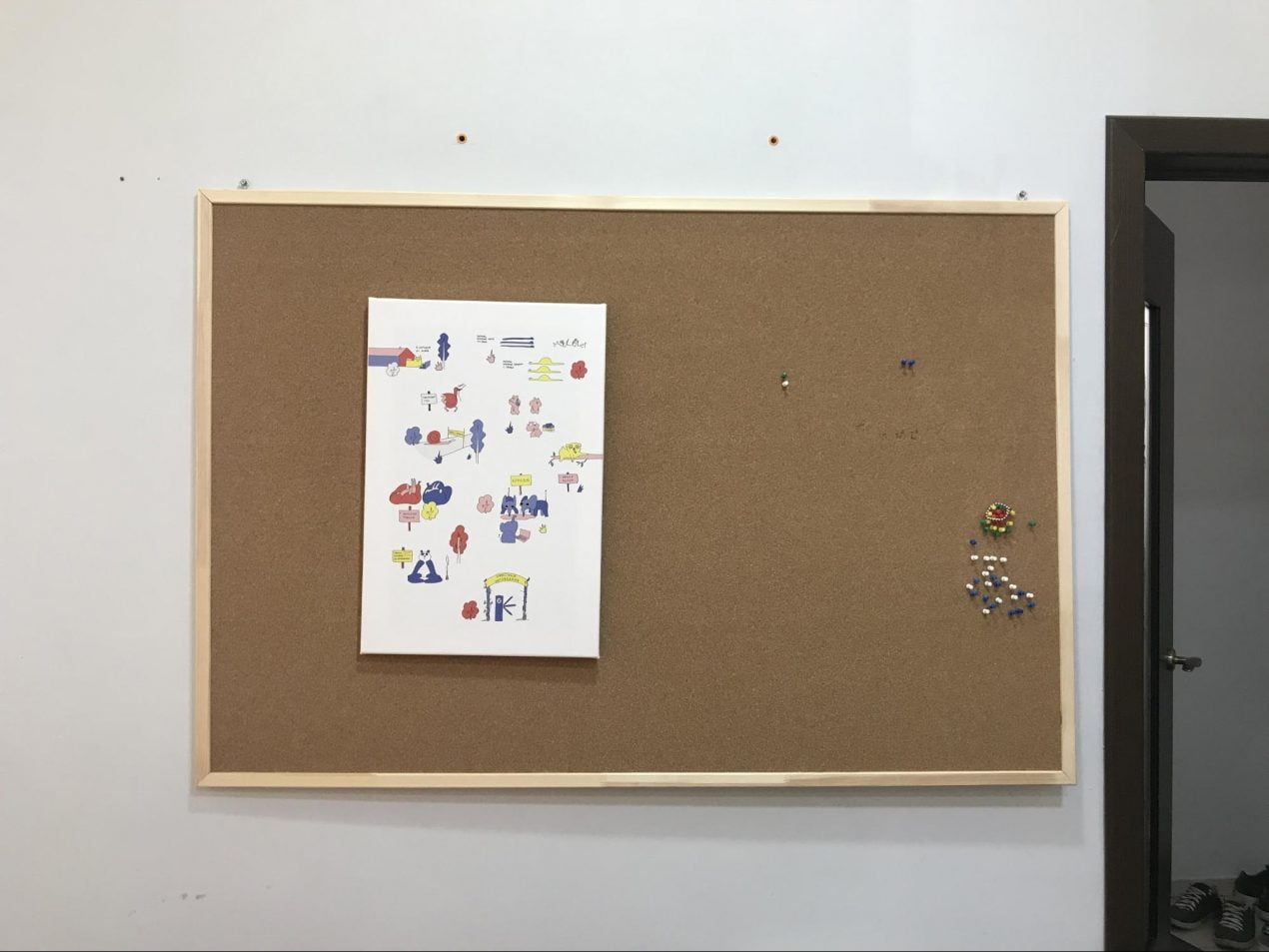 The (almost) blank corkboard in our office
The third idea we'd like to suggest is to place a blank corkboard on a wall. Make sure to leave pins, markers, and stickers somewhere nearby. You can go first and pin a sticker with a random phrase. And then — observe. Your colleagues will join. When we got our board, teammates started to add stickers, jokes, paintings, and memes there. They even had anonymous conversations there. Also, some of the secret friends used the board to leave messages for their buddies.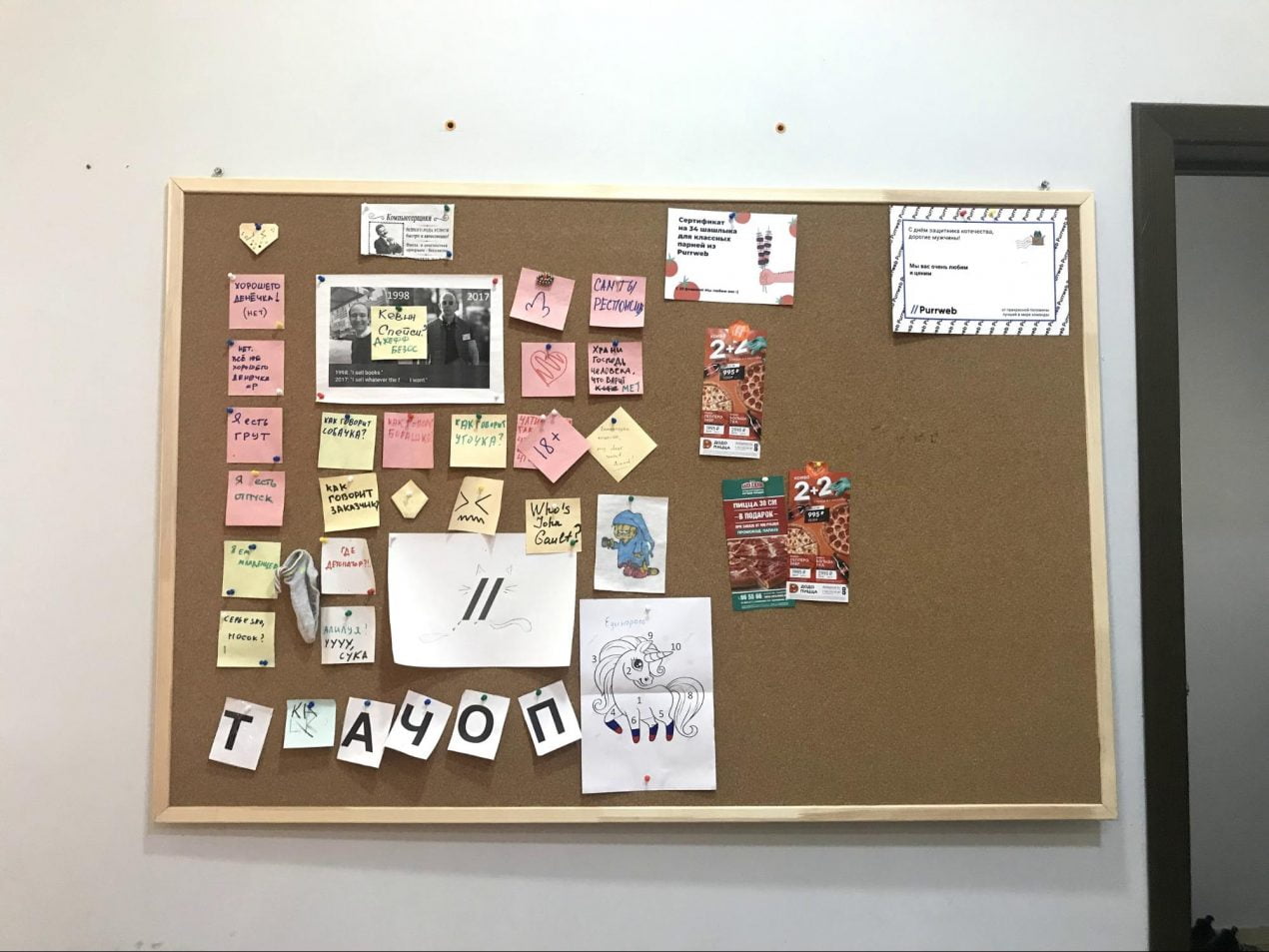 Our board with the team members' art. Yes, there is a sock on it Don't ask
Tip: use the wall in a common area like a kitchen, then the board will be visible for all the team. And since everyone reads any new sticker on the board, you can use it to make important announcements.
---
These are three activities we suggest that you adopt to make your office life brighter and happier. Of course, there are much more of what can be done for this purpose. We just wanted to speak about what we tried ourselves and the outcome we got. If you used some of these or any other tools, please do share it in the comments section. We are thrilled to hear your stories and learn from your experience!