Why create a business plan for a mobile app?
A business plan is the backbone of any enterprise. Many people like to describe it as a map that assists you in getting from point A (idea) to point B (success) without accidentally venturing into point C (financial failure). You can also think of it as a set of guidelines used to devise comprehensive app development strategies and manage the budget in a responsible and effective way.
With a comprehensive mobile app business plan, you'll be able to use facts and exact calculations to determine the overall direction of the business:
Gain useful insights about the competition and the current state of the market
Make informed decisions regarding marketing and communication
Outline a thorough financial strategy
Evaluate performance and decide what's the best way to allocate your resources
It will also help you to better manage your team:
Keep everyone in sync and focused on the same target
Establish clear goals and KPIs, as well as set priorities
And finally, having a business plan is crucial if you want to win over investors and stakeholders.
And it's not just our opinion — there's actually some research that confirms the value of writing a business plan. Recently, Palo Alto Software surveyed 2,900 entrepreneurs and discovered that people who create business plans are almost twice as likely to succeed as those who don't. To measure "success", Palo Alto used three metrics: business growth, secured investment capital, and secured loans. Find out more information about the study.
What does a mobile app business plan look like?
A typical mobile app business plan is comprised of 8 sections:
Executive summary
Products & services
Company overview
Market analysis
Competitive analysis
Marketing strategy
Financial strategy
Appendix
The whole document usually runs 20 to 40 pages including appendices, but this number largely depends on the scale of your project and your goals. A mobile app business plan for a massive product with international presence may well run into hundreds of pages, while an average startup is unlikely to go over 50 pages. 
When writing a mobile app business plan, you should always consider the target audience. Keep everything informative but concise — otherwise, you run the risk of losing the reader's attention. This is especially important if you're writing a business plan to raise some funds: investors don't like to waste their time. However, it's crucial not to sacrifice any important information for the sake of hitting a hypothetical 40-page goal.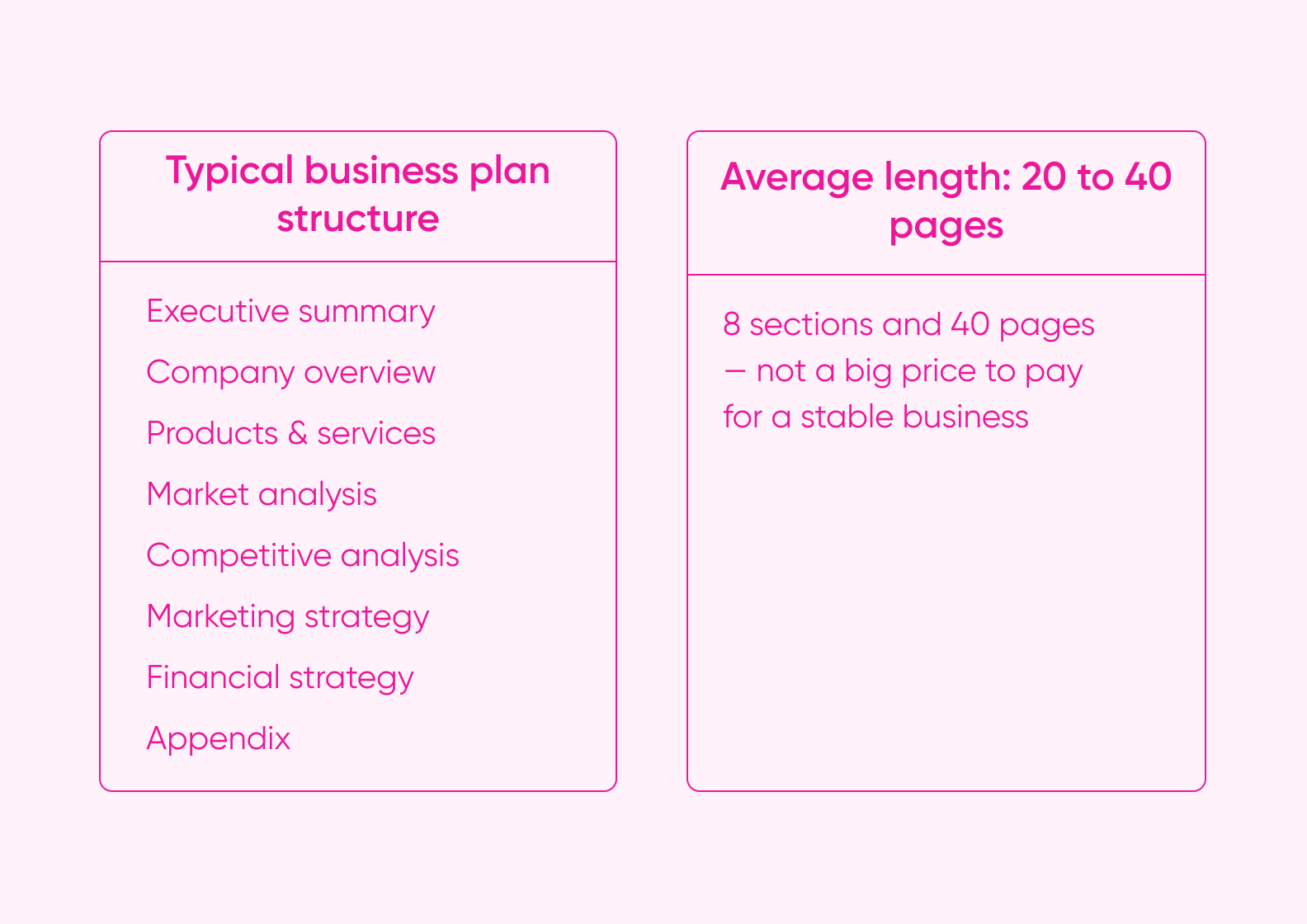 Things to keep in mind when creating a business plan
Before we dive straight into writing a mobile app business plan, let us give you some tips that will help you along the way.
Purpose
Before opening that Google Document, ask yourself one question: what are you trying to achieve? The answer to that question defines your priorities. For example, if you're going to use your mobile app business plan to raise some funds, you want to focus on the reasons you need that money and the exact ways you're going to spend it.
Structure
Readability is highly important. This means that the information you present may be complex, but navigating it should be as simple to do as possible. The document should have a coherent structure, with one part logically flowing into another, and clear formatting with headings, subheadings, and enough white space. You can also supplement the numbers you provide with graphs to highlight the most important outtakes.
Fact-based estimates
All financial forecasts in your mobile app business plan should be realistic — too much optimism will likely damage your image and cause distrust, not to mention that inflated expectations can ruin the enterprise itself. With that said, all the reports should clearly indicate that there are good prospects for the business and that investors stand to gain good profit if they support the project. If the reports paint a bleak picture, maybe it would be a good idea to test another concept.
External review
Creating a 30-page formal document is a daunting task, and there's not a single reason why you should face it in solitude. In fact, it'll be much better if you don't! As you go, ask other people (preferably experienced) to review it from time to time — this way, you'll be sure that your plan is logical and makes sense.
Looking for a company to create a mobile app business plan?
After 300+ completed projects, we can develop an app in any niche — from healthcare to IoT. Contact us, and get a free project estimation in 48 hours.
Contact us
How to create a business plan for an app
OK, so we've established that a typical startup business plan consists of 8 sections, each equally important as the others. But what exactly do you put in these sections? Let's find out.
Write an executive summary 
An executive summary is a rundown of the whole document. It describes the current situation in the market, establishes the target audience, as well as puts forward the product's concept, business goals, and financial projections. Put simply, it answers three big questions:
A good-written executive summary can act as a standalone document. In fact, many investors make their initial decisions after reading this part only, so getting it right is crucial if you want to win over important stakeholders.
The secret is in keeping everything clear and concise: you want to convey the message that your app idea has huge potential without overwhelming the reader with 5-page long sheets and abstract ideas. Ideally, the executive summary shouldn't run longer than 2–3 pages.
Prepare the company overview 
In this section of your mobile app business plan, you tell the reader more about your company. Include the following information:
Mission. It's brief explanation why a company exists (take Google, for example: "Our mission is to organize the world's information and make it universally accessible and useful")
Vision. It's a declaration of the company's potential impact on the world.
Corporate values
History and past achievements (if any)
Structure
Location
Competitive advantages
You should also provide detailed information about the team: the number of people you employ, as well as their qualifications and previous experiences.
We recommend dedicating a separate subsection to your top management and key team members to tell about their background and achievements. This will help convince investors that apart from a great app idea, you also have great people behind it.
Make sure to cover the issue of ownership. Does each partner own an equal portion of the business? If not, how exactly is ownership divided?
Potential investors will definitely want to know this information.
Describe your products & services
This is where you really get into detail about your business idea. First, provide some information about the problem you want to solve. To do this, answer 3 fundamental questions:
You need to convince the reader that this issue actually bears any importance. You can cite some research or statistics, but try not to oversaturate this section with numbers.
Then, you move on to the actual solution and tell how exactly you plan to tackle the problem. This is where you describe your product or service. Give a brief description of the processes involved, but again, stray from flooding the section with too many technical details.
Finally, give a brief examination of your competitors and highlight how exactly your product is going to surpass the already existing options.
Conduct an audience analysis
In the audience analysis part, you evaluate the current state of the field and give justified reasons why you believe your product has any place in the competitive environment. This section includes queries into the target market, customer behavior, current trends, and several important metrics: cost per acquisition (CPA), total available market (TAM), service available market (SAM), and service obtainable market (SOM).
Try to be as specific as possible when talking about the target audience. Consider building customer personas — generalized representations of the people who are going to be interested in your product. To create a persona, conduct several in-depth interviews and organize the obtained information into the following blocks:
Demographic information — age, gender, income, place of living
Psychographic information — goals, challenges, motivation, personality type
Professional activities — qualifications, current job, past job experiences
Interests and personal tastes
Needs — why would they need your product?
Carry out a competitive analysis
We've already touched on the subject of competition in the executive summary and the products & services section. This time, however, you dive in much deeper and provide a detailed analysis of your direct and indirect competitors, answering the following questions: What are their strengths & weaknesses? What marketing strategies do they use? What is their pricing?
Once you've described the competitive landscape, it's time to show why your product is going to be superior. One way to do this is by conducting a SWOT analysis.
SWOT stands for Strengths, Weaknesses, Opportunities, and Threats. It actually doesn't get any more complicated than this: the section names speak for themselves.
In Strengths, you state the advantages that separate you from the competition.
In Weaknesses, you focus on the things your product lacks and resource limitations.
In Opportunities, you describe the prospects for your business, as well as the external factors that can have a positive influence on the enterprise (rising demand, changing attitudes, etc.).
And finally, in Threats, you cite any external factors that can have a negative influence on the enterprise (bad media coverage, changing regulations, and so on).
Outline your marketing strategy
This is where you describe three important things. First, you need to cover the channels you're going to use to reach your target segments — for example, social media, target ads, or physical ads. Then, you specify the amount of money you plan to spend on marketing activities, and finally, the KPIs you're going to use to evaluate efficiency.
Describe your financial strategy
We've reached the core of any mobile app business plan. A startup needs a financial strategy much like a ship needs an engine or a mast, and this section is where all the crucial number crunching is happening — akin to an engine room. Let's look at what you need to include in this part of the plan:
Revenue
A revenue model, also known as a monetization strategy
A monthly sales and revenue forecast for the first 12 months and annual projections for the next 3–5 years
An income statement, which outlines annual net profits or losses
Funds
A cash flow statement, which shows how much money the company operates with in total
A balance sheet, which lists assets, liabilities, and equity in your company
Funds needed (how much money you need to gain in investments)
Use of funds (how exactly you're going to use gained investments)
Exit strategy
You need an exit strategy if you plan to sell your company some time in the future. Having this subsection is crucial if you want to draw the attention of venture capitalists and angel investors. The most common exit strategies are acquisition, initial public offering (IPO), and management buyout.
Make sure you understand all these terms correctly and can confidently use them when pitching — investors are more likely to trust an entrepreneur who knows their financial matters.
Compile an appendix
This isn't a mandatory section — you can omit it altogether, if you want. However, it might be a good place for charts, tables, legal notes, licenses, permits, detailed studies, illustrations of your product, and all other miscellaneous pieces of information that can seem a little out of place if you include them in any of the primary sections of your mobile app business plan.
How to fund your app startup
We've compared the main sources of funding in the table below.
Pros
Cons
Bootstrapping

Full control over your business

No financial or contractual obligations to third parties

Likely to create a huge dip in personal savings

Failure could affect your financial situation

Personal networks

Easier to successfully pitch your project 

More time to recuperate in case of failure

May not be suitable for large-scale projects

Can lead to personal conflicts

Crowdfunding

You get to build a customer base super early

No need to repay (in most cases)

Failure can lead to court proceedings

Platforms can charge steep fees

Angel investors

Higher tolerance to risk

Money is not a loan

Less control over your business

High expectations

Startup contests

A quick influx of resources early on

Networking opportunities

No guarantees

Fierce competition

Bank loans

Interest is tax deductible

You'll get the money quickly

Strict payment plans

Unfavorable interest rates
And now a bit more about every source of funding.
Bootstrapping
Bootstrapping is just a fancy word for using your own money. Unsurprisingly, this is the best way to fund a startup: there are no loans, no interest rates, no bonds, and no contractual obligations. If the idea fails, you've got no one to answer to (well, apart from your wallet) — and if it takes off, you get to keep more of the returns. 
Personal networks
The second most desirable source of funding. A personal network is your friends and family — or, in other words, people you have a close emotional connection with. Persuading them to fund your mobile app development project will be much easier than pitching the idea to complete strangers. And in case the startup fails, they will likely give you enough time to recuperate and pay them back. 
Crowdfunding
Crowdfunding means turning directly to end-users to get funding for the project, usually via the Internet. This method is very popular among smaller, niche-specific enterprises, but it doesn't mean that large-scale ventures have nothing to gain from it — some businesses (including app development companies) manage to raise millions of dollars on Kickstarter and other crowdfunding platforms. Pros: you get to build a customer base super early. Cons: failure to deliver the promised product usually leads to court, unless you have exceptionally good PR.   
Angel investors
Angel investors are wealthy individuals who use their own money to support business ideas they find promising. They usually invest in budding projects in the seeding stage, when the risks are at their all-time high — hence the name. But here's the catch: in return, they get a share in the business, or at least a convertible bond. This means that if the idea takes off, they'll gain a certain level of control over your company and become entitled to a share of your income. 
Startup contests at IT events
The tech industry is packed with conferences that can define the future of your app startup. Many of these events host startup contests with formidable prize funds reaching millions of dollars (or euros, depending on the country). Winning a contest like this is a quick way to get a solid influx of money early on — but, of course, there are no guarantees, and the competition is fierce.  
Bank loans
Bank loans are your last resort. We recommend using this option only if every other one has failed. Why? Tons of paperwork, strict deadlines, and unfavorable interest rates make it poorly suited for fledgling startups — and don't forget that failure to return the money on time may lead to severe consequences. It's much safer to take a loan once you have an established company, but definitely not when you're just starting out.
Monetization strategies
Deciding how your product is going to make money is one of the most important steps to take when developing a mobile app. There are multiple monetization strategies available, each of them suitable for specific types of businesses. Let's look at some of the most popular ones.
One-time purchase
The app and its basic functionality are free to use, but users can pay to access more advanced features or nice-to-have bonuses. The most famous examples of this business model are probably games like Clash of Clans or Fortnite — you can play all you want for free, but if you want to progress faster and look cooler, you can buy skins and in-game currency. Very lucrative if applied properly, but is mainly limited to the entertainment segment.
In-app purchases
The app and its basic functionality are free to use, but users can pay to access more advanced features or nice-to-have bonuses. The most famous examples of this model are probably games like Clash of Clans or Fortnite — you can play all you want for free, but if you want to progress faster and look cooler, you can buy skins and in-game currency. Very lucrative if applied properly, but is mainly limited to the entertainment segment.
Subscriptions
Users can download the app for free, but to enjoy the full range of its features they'll have to buy a subscription. Usually, this business model includes multiple options: for example, you can subscribe for a month, 6 months, or a year. To increase conversion, developers often offer trial periods that allow customers to fully experience all the advantages of the product before choosing to commit.
Talentum, an app we developed a couple years ago, used a subscription-based revenue model. Users could order food from their favorite chefs without any paywalls, but there was always an option to upgrade their accounts and unlock the full range of features.
A fitness app we developed uses a similar system, but on the vendor side: coaches can buy higher-level subscriptions to take on more customers.
The subscription model is also used in dating applications such as Tinder, Bumble, and Hinge. Users that subscribe receive profile boosts, unlimited likes, advanced filters, and other benefits. Check out our article if you want to know more about dating app monetization strategies.
In-app ads
The most popular business model, which is also easy to combine with others. In this model, you use the app to run ads for compensation. There are several formats you can choose from, with some of them being more intrusive (like interstitial ads), and some less (like native or banner ads).
Many developers use this strategy together with a subscription-based model: the free version of the app is monetized using ads, while buying a subscription removes this annoyance and grants other benefits.
Commissions
Very handy for marketplaces of all sorts: if a vendor uses your app to sell their goods, you charge a commission for every sale they make at a fixed percentage. Alternatively, you can opt for charging fixed flat fees, but the first option is more widespread. The more vendors you attract to the platform, the heftier your revenue will be.
Business plan template (executive summary)
Here you can download an example of an executive summary — feel free to use as a template for your business plan or simply as a source of inspiration.
Let's start working on your mobile app business plan today!
We look forward to hearing from you. Contact us for a free project estimate within 48 hours.
Let's start
Summary
Mobile app business plans are great tools for founders. They provide a reliable foundation for effectively managing finances, negotiating with investors, keeping the whole team in sync, and clearly evaluating risks and opportunities.
Do you have an idea for an app? Purrweb would love to help you bring it to life. Our team will take your project through every stage of the app development process. Reach out to us using the form below — we'll turn your mobile app concept into an MVP perfect for gauging the market and gradually scale the project.