Key takeaways
The world yoga market is continuously growing.
A typical aggregator app for yoga includes such features as user profile, search, personal recommendations, teacher profiles, class schedule.
There are different ways of monetizing a yoga app — from subscriptions to adds.
Statistics on the world yoga market
Yoga has become a popular form of exercise and relaxation across the world. In fact, the global yoga market is now worth over $105 billion and is expected to continue growing at a rate of 9% annually. By 2028, it is projected to reach an impressive $177 billion.
A typical yogi will spend $62,640 on classes, workshops, and accessories over their lifetime, according to research by the Yoga Alliance. This figure highlights the growing importance of the yoga market to the wellness industry.
Let's take a closer look at some regional markets:
These figures demonstrate the global appeal of yoga and its increasing popularity in various regions. As people prioritize their physical and mental well-being, the demand for yoga classes, accessories, and workshops is likely to continue to grow.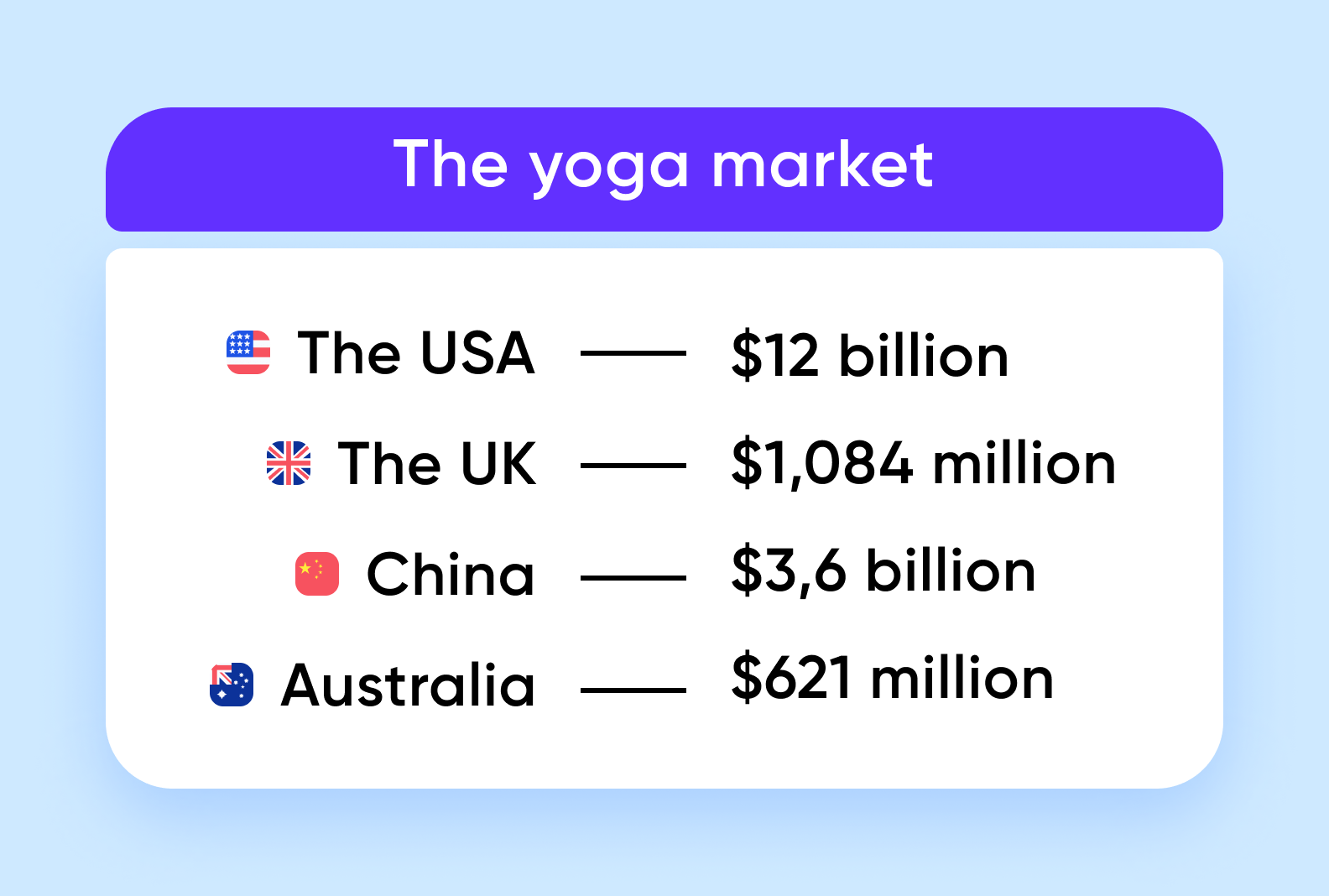 Types of yoga mobile apps
Yoga mobile apps come in two main types: apps for specific yoga studios and aggregator apps that offer classes from multiple yoga instructors.
Specific yoga studio apps
A specific yoga studio app is an app designed for a particular yoga studio or chain of studios. These apps are tailored to the needs and offerings of that particular studio, and they provide features that are specific to that studio. Studio apps typically offer features such as class schedules, teacher bios, and the ability to book classes and purchase packages directly through the app. These apps are a great way for yoga studios to connect with their clients and provide them with an easy way to access their services.
Aggregator apps
Aggregator apps, on the other hand, offer yoga practitioners a wider variety of yoga classes and teachers to choose from. These apps typically include features such as teacher profiles, class schedules, and the ability to filter classes based on difficulty level, duration, class format, and style. Yoga practitioners can select from a wide range of yoga activities, from traditional Hatha yoga to modern Vinyasa flows, and can exercise with different teachers from all over the world.
So, these apps are more flexible and offer more variety than specific yoga studio apps, that's why we will tell you more about yoga aggregator apps.
How does a yoga mobile app work
A yoga mobile app typically works by providing users with access to various yoga classes and exercises that can be practiced on-the-go using a smartphone or tablet. Here's a breakdown of how a typical aggregator yoga mobile app works:
Registration process for users: users create an account and provide basic information about themselves.
Search and filter for classes and teachers: users can search for classes and teachers based on various criteria, such as class type, teacher, location, and availability.
Selection of classes and scheduling: users can select the classes they want to take and schedule them at a convenient time.
Payment for classes: users can pay for classes within the app, making the process more convenient.
Access to class recordings and archives: many aggregator apps offer access to class recordings and archives, allowing users to take classes at their own pace and on their own schedule.
Top 5 yoga mobile apps
Let's dive into the world of yoga app development with the best yoga apps. They are available on iOS and Android. These apps will help you analyze your market competitors and understand trends in the yoga app industry.
Yoga Studio: Mind & Body
Yoga Studio: Mind & Body is a comprehensive yoga application that offers a range of yoga classes and programs for all levels, from beginner to advanced. With over 80 yoga and meditation classes, the app provides detailed instructions and voice guidance for each pose. Yoga practitioners and yoga instructors can choose from pre-made classes based on their fitness goals, or also create their own custom classes.
Key features:
80+ yoga and meditation classes
Custom class builder
Detailed instructions and voice guidance
Schedule and track classes
Asana Rebel
Asana Rebel is a yoga and fitness app that combines traditional yoga poses with high-intensity interval training (HIIT) for a more dynamic workout. The app offers a range of classes and programs, including yoga for weight loss, strength, and flexibility. This mobile application has fascinating yoga app features: a sleek and user-friendly interface, easy navigation, and smart customization.
Key features:
Yoga and HIIT workouts
Personalized training plans
Interactive challenges
Mindful meditation
Daily Yoga
Daily Yoga is a popular yoga app with a variety of yoga classes and programs for all levels, from beginner to advanced. Apart from the wide range of yoga classes, Daily Yoga also offers an extensive range of guided meditations suitable for both novices and experienced meditators. Additionally, users can track their progress through the app and set personal goals, which are updated regularly to aid in improving their yoga practice.
Key features:
500+ yoga poses and classes
Personalized training plans
Guided meditation
Calming music and sounds
Down Dog
Down Dog is a unique yoga app that generates a new sequence for every practice, so users can enjoy a fresh experience every time they practice. With a variety of settings to customize the experience, including music, voice, and difficulty level, the app is perfect for both beginners and advanced practitioners.
Key features:
Unique sequence generator
Customizable settings
7 yoga practice types
Offline access to classes
Glo
Glo is a premium yoga app that offers a range of yoga and meditation classes taught by world-class instructors. With over 4,000 classes and programs, users can enjoy a personalized experience and find classes tailored to their needs and preferences. The app also offers guided meditation, Pilates, and other fitness classes.
Key features:
4,000+ classes and programs
Personalized recommendations
Offline access to classes
Core features of yoga apps
When it comes to developing your app, the core yoga app features ensure user authentication, content management, and payment processing. Here we have listed the basic features of a yoga app.
User profiles. They help users to customize their experience, track their progress, set goals, and monitor their performance.
Search and filters. Such features enable users to quickly observe specific classes, teachers, or styles of yoga and find the yoga practice that meets their needs and preferences.
Personalized recommendations. This feature uses data such as the user's previous practices, progress, and preferences to suggest classes and teachers that may be of interest to them.
Teacher profiles and credentials. Users can view the profiles and credentials of different yoga instructors, helping them pick the right teacher.
Class schedule and registration. Users can view class schedules and register for classes within the app.
Live-streaming capabilities. Many aggregator apps offer live-streaming capabilities, allowing users to participate in live classes from their homes.
Nice-to-have yoga app features 
If you want to spice up your yoga app, there are a bunch of cool features you can add.
Integration with social media platforms. Aggregator apps often integrate with social media platforms, allowing users to share their progress and connect with other users outside the app.
Integration with wearable devices. Many yoga apps integrate with wearable devices like smartwatches or fitness trackers. This allows users to track their progress and monitor their heart rate or other biometrics during yoga sessions.
Gamification. Including gamification elements such as challenges, rewards, and badges can make practicing yoga more fun and engaging for users. So, such apps can send motivational messages and give game points for completing tasks. Points can be spent on improving the app, online and offline purchases.
Customized playlists and music integration. Many people like to practice yoga to music, and customized playlists or integration with music streaming services like Spotify can enhance the user experience.
Meditation and mindfulness features. Many yogis are also interested in meditation and mindfulness practices. Including features like guided meditations, breathing exercises, and stress reduction techniques can add value to your app and appeal to a wider audience.
Additional resources. Offering users additional resources like movies, podcasts, and articles inside a yoga mobile app is a great way to enhance the user experience and create a one-stop shop for all yoga things. By providing users with a variety of resources, you can help them deepen their understanding of yoga, its history, and its benefits.
Main monetization strategies
Let's dive into monetization models and discover how to make money out of a yoga app. These are some of the most popular monetization models.
Freemium model
The freemium monetization model is a popular strategy used by yoga mobile apps to generate revenue. With this model, the app is available for free to download, but certain features and content are only accessible through in-app purchases or by upgrading to a premium version of the app. This approach allows users to try out the app and its basic features before committing to a paid subscription or purchase.
In-app purchases for yoga classes
In-app purchases allow users to buy individual items or features within the app. These can be individual classes or access to guided meditations or personalized workout plans. In-app purchases are usually one-time transactions, and users only pay for what they want or need at that particular moment. In-app purchases can provide a steady stream of revenue for yoga app developers, as users are often willing to pay for high-quality content and personalized experiences.
Subscription model for unlimited access to classes
With this model, users pay a recurring fee for unlimited access to a variety of classes. This can be a great option for users who want to try different types of yoga or explore different teachers without having to purchase individual classes or commit to a long-term subscription. For example, a user can subscribe for a month to understand what types of yoga classes work best for them and prolong the subscription later. To make this model successful, it is important to offer a wide range of high-quality classes that users find valuable and engaging.
Revenue-sharing model with teachers and studios
Revenue-sharing models require strong partnerships and trust between the app owner and the teachers/studios. The app owner must also ensure that the revenue-sharing is fair and transparent for all parties involved. This monetization model can be particularly effective for smaller or independent yoga instructors and studios looking to expand their reach beyond their local community.
Ads
One of the ways to monetize your app is by adding ads from other brands. Brands increase their sales, the users get free classes, and advertising makes money.
Tech stack for yoga app development 
We at Purrweb have developed health and fitness apps more than once. One of the examples of a meditation app that we designed and developed was The Breath Method.
When it comes to developing your yoga app, the tech stack you choose will have a big impact on your app's success. Your tech stack should be tailored to the features and functions you want to include in your app. Popular tech stack options for yoga app development include React Native, React.js, Node.js.
If you're looking for a web-based app, React.js and Node.js are two popular frameworks to consider. React.js is used for the frontend of your app, which is where users will interact with it. Node.js is used for the backend, or the "server" side of things. Together, these frameworks can provide better performance and make your app run faster without any glitches.
React Native is a great choice for creating a mobile application that works on both iOS and Android. With React Native, you can build one app that works on both platforms, saving you time and money in yoga app development.
We have chosen to focus specifically on this set of instruments in Purrweb that have consistently demonstrated their effectiveness in our work. By honing in on these tools, we can ensure that we are providing the best possible service to our clients.
Through our experience and research, we have found that these instruments offer a unique combination of accuracy, reliability, and practicality. Overall, these technologies offer robust development frameworks that enable developers to create fast, scalable, and user-friendly applications.
How to create a yoga mobile app step-by-step
Now that we've figured out the types of yoga apps, killer features, and monetization options, let's try to get a handle on how to develop a yoga mobile app.
Step 1. Market research and analysis
Before you start developing an app, you need to analyze the market. Think about whom you want to help with your app and what they need.
Step 2. Planning the app
At this point, you need to understand what features your application should have. Will it be an app with different short yoga sessions? Or will it be possible to sign up for a particular trainer? What monetization model will you use? Answer these and other questions to understand what your app is going to look like.
Step 3. Creating the app design and layout
You need to pick references for the design of the application and make expectations from the project. Then the design team will make the first concepts and present them to you. Over several iterations, you can work together to create the best design for your app. This is the stage of the mobile yoga app development when you have every chance to make the user experience exciting.
Step 4. Coding and testing
The developers will work on the architecture and the interface on both client and server side. Depending on the features and functions you want to include, the process of mobile yoga app development will be different.
Quality assurance is an essential part of the development process which helps ensure that the app functions smoothly and is free of any glitches or bugs.
Step 5. Launching and marketing the app
If you're planning to launch your yoga app, you can follow these steps to create hype around it:
Establish a strong social media presence. Post interesting and relevant content on social media platforms and use relevant hashtags to reach a wider audience. This can create awareness and generate interest in your app.
Create an exciting launch video. Showcase the unique features of your app through an engaging launch video. This can help generate interest and excitement in potential customers.
Write a blog post. Writing a blog post about your app and its features can be a great way to introduce it to potential customers.
Reach out to the press. Connect with journalists and media outlets and let them know about your app. This can help in getting your app featured in publications and generating more publicity.
By following these marketing strategies, you can ensure a successful launch for your yoga app and make it stand out in the market.
Step 6. Post-release support
After the release, everything is just beginning. You can eventually start getting comments from the first users and see if your app provides good user experience. Be sure to analyze user feedback to further update and improve your app.
How much does it cost to build a yoga mobile app?
Before you decide how much to invest in building your yoga mobile app, there are a few factors to consider:
The type of app you want to create. Do you want to make a yoga app for beginners or advanced practitioners?
The features you want to include in the app. Will it have guided yoga classes, pose tutorials, or a meditation section?
The platforms you want to use. Do you want to develop the app for iOS, Android, or both?
The hourly rate of the developers you will be working with.
Make sure to evaluate your available time and resources and explore different options to find the best rates.
The cost of a yoga mobile app development depends on the factors listed above and varies from $50,000 to $55,000.
If you are planning to create a yoga app, tell our experts about it in the form below. Get your yoga app idea started today! 👇