Over the years we've developed multiple geolocation solutions for startups and decided to break down the main questions about the development process based on our experience. Read how to create a location-based app, what APIs to use, what the process looks like, and how much it costs. Jump in!
What is a location based app?
Let's start with the definition. The term speaks for itself: a location-based app is a mobile or web solution that pings and utilizes the location of the device. For that, an app can use GPS, mobile network data, and WiFi. Usually, this data helps startups and big companies in providing more convenient services that increase a user's satisfaction.
For example, food delivery services like UberEats or DoorDash are location based apps. When users want to order food, they offer to determine location automatically, instead of making them put it manually. For customers, it saves time and makes their interaction with the service smoother. Moreover, users can track where their order is and see how much time is left.
To create app with location features, developers use third-party APIs (Application Programming Interface). The most common ones are Google Maps API and Apple Maps API.
Statistics about location based apps
With the fast development of technologies, more and more companies are adopting location services. Solely in the United States in 2020 this market was valuedhttps://www.researchandmarkets.com/reports/4622307/location-based-services-market-growth-trends at $44.47 billion. By 2026 it is expected to grow by over 23% and reach $155.13 billion. Another researchhttps://www.alliedmarketresearch.com/location-based-services-market offers similar data and predicts the location-based services field to skyrocket by almost 27% in 2027.
Overall, the trend is upward, showing that the demand for location based apps will be increasing and more startups will integrate these features into their solutions. In order to not miss out on future tendencies, we recommend going with the flow and adding GPS to your service.
Perks of using geolocation for your app
Before thinking how to create a location based app, let's see how it can benefit your startup idea. Here is what geolocation services can help with:
Locate the user's specific area to provide more precise services.

For example, help them find the closest store or match them with a person nearby.

Increase the turnaround time of orders.

Instead of manually putting the address, users can ping it on the map and proceed to the next step. It saves time and makes the interaction more comfortable and satisfactory.

Monitor user's activity.

For instance, track their steps or other workouts and note how many miles they run. 

Give directions

.

Location based apps

can also help users to go from one place to another.

Define the time zone and the country where users are

. Maybe you don't want your customers to get notifications at night, or maybe you want to send relevant pushes to people in certain areas? Geolocation features will help with that!
What types of startups need location based apps 
For some companies location features are optional, but for others, they are a must in 2021 to leave the competitors behind.
We put together examples of apps that can utilize the user's location and break down how they can be used in a solution. There are several types of services that will benefit from a location based app:
They allow customers to order services based on their location. Usually, on the user-side of those apps, location features look like a third-party map and a pin with the address.
Examples: UberEats, DoorDash, Wolt.
Social media services are basically location based apps. Geolocation features help users check-in, monitor local trends and events, increase engagement rate and even attract local customers.
Also, apps like TikTok use geo features for their algorithm. Based on the origin country and the language it decides what part of users see a video. If a person posts from Spain, but hopes to become an influencer in the United States, on TikTok it is very unlikely. Their content will probably land on pages of Spanish users.
Examples: TikTok, Facebook, Instagram, Snapchat, Yelp, Foursquare.
To match a user with the right partner, it needs to locate both of them first. Usually, dating apps ask to share a location first, and then let customers set the distance where their fling should be located.
Examples: Tinder, Bumble, Hinge, Pure.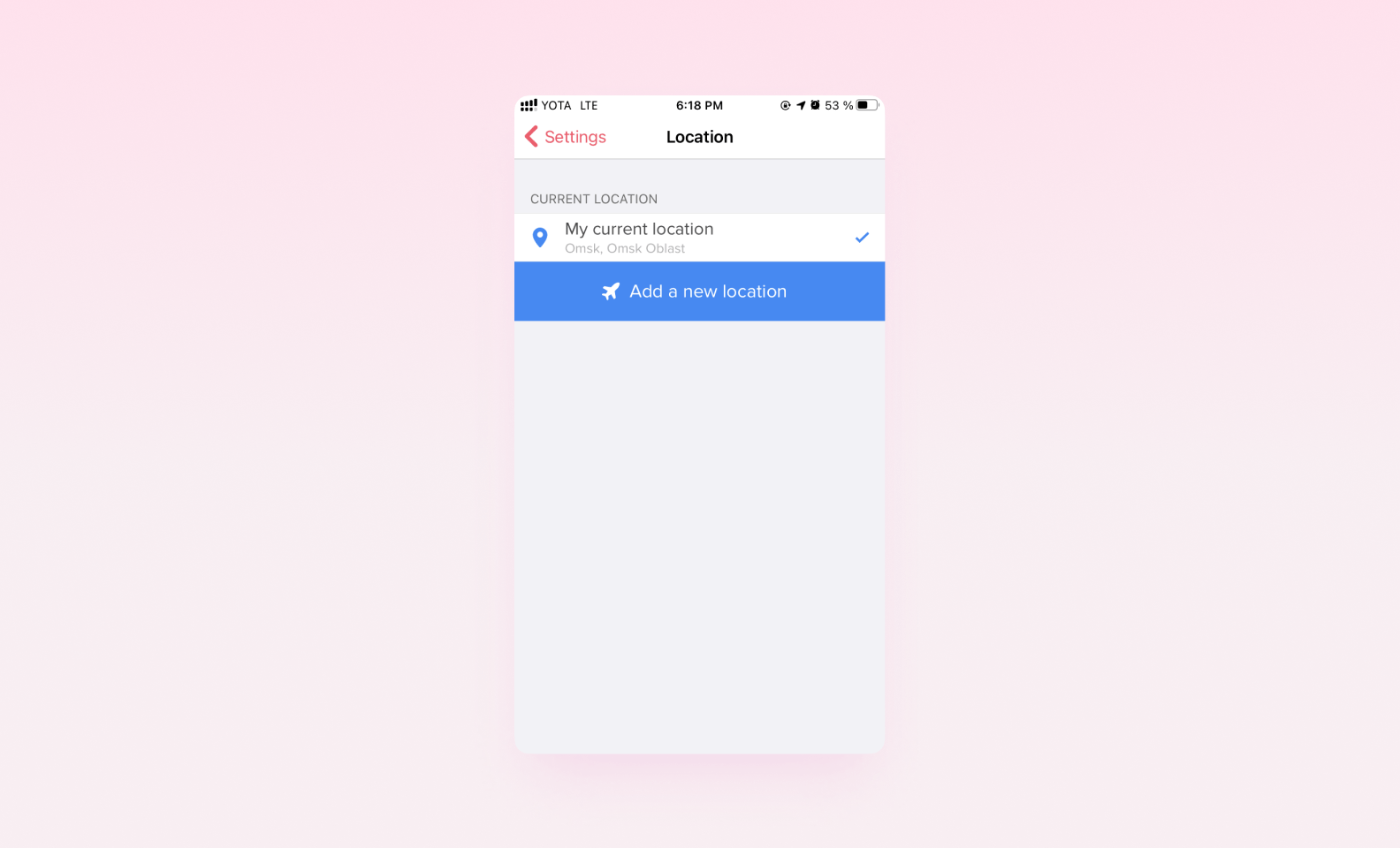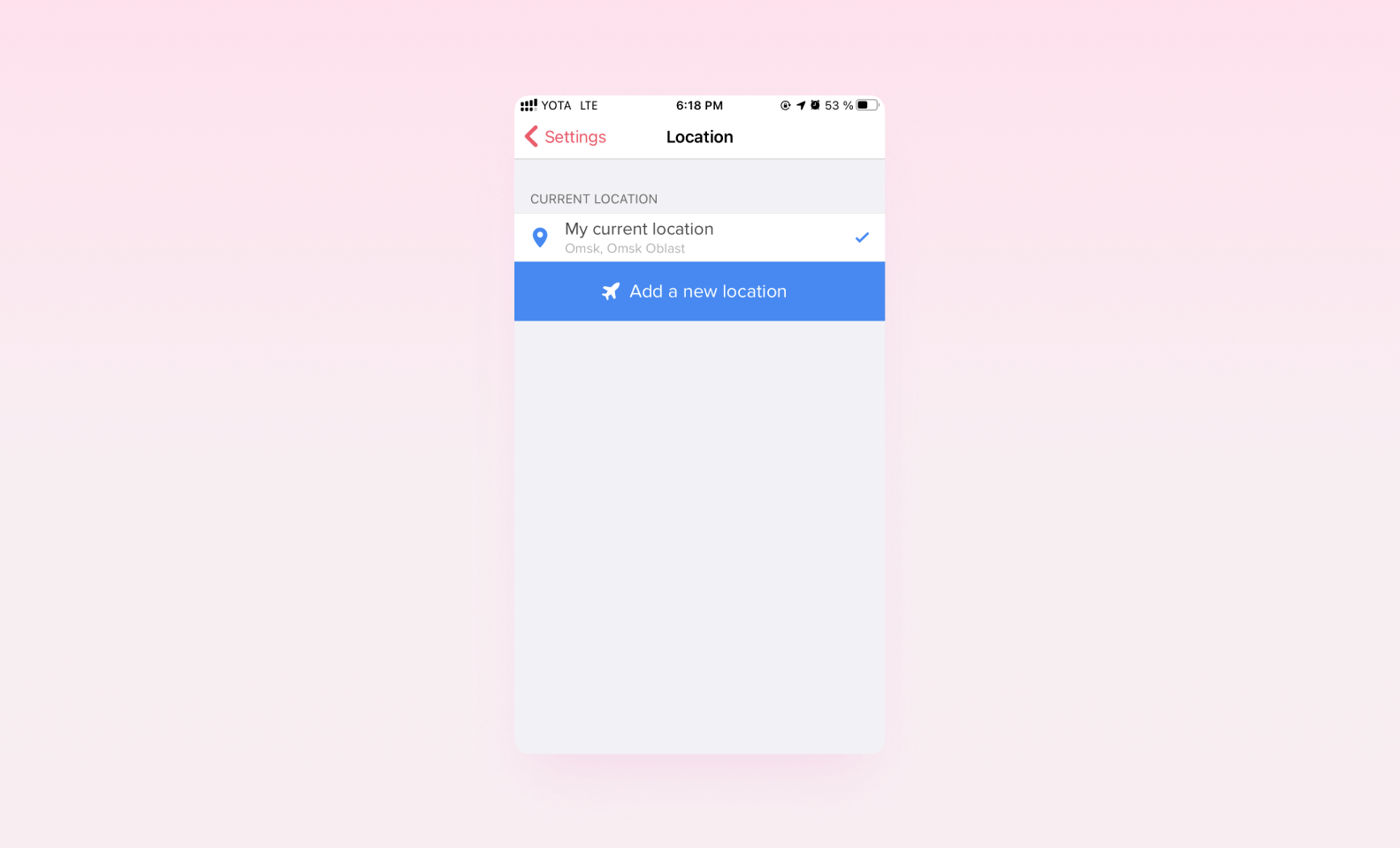 Tinder, as well as other apps, asks for permission to track the location
How to create a location-based app and make it a marketplace? Easy! Most of the time users want to know when their package will be delivered. To estimate that, marketplaces use location APIs that track where a seller and a customer are located.
Based on that the platform provides delivery date, using satellite information, cell phone data, and an integrated map. Location-based marketplace: 2-in-1 app!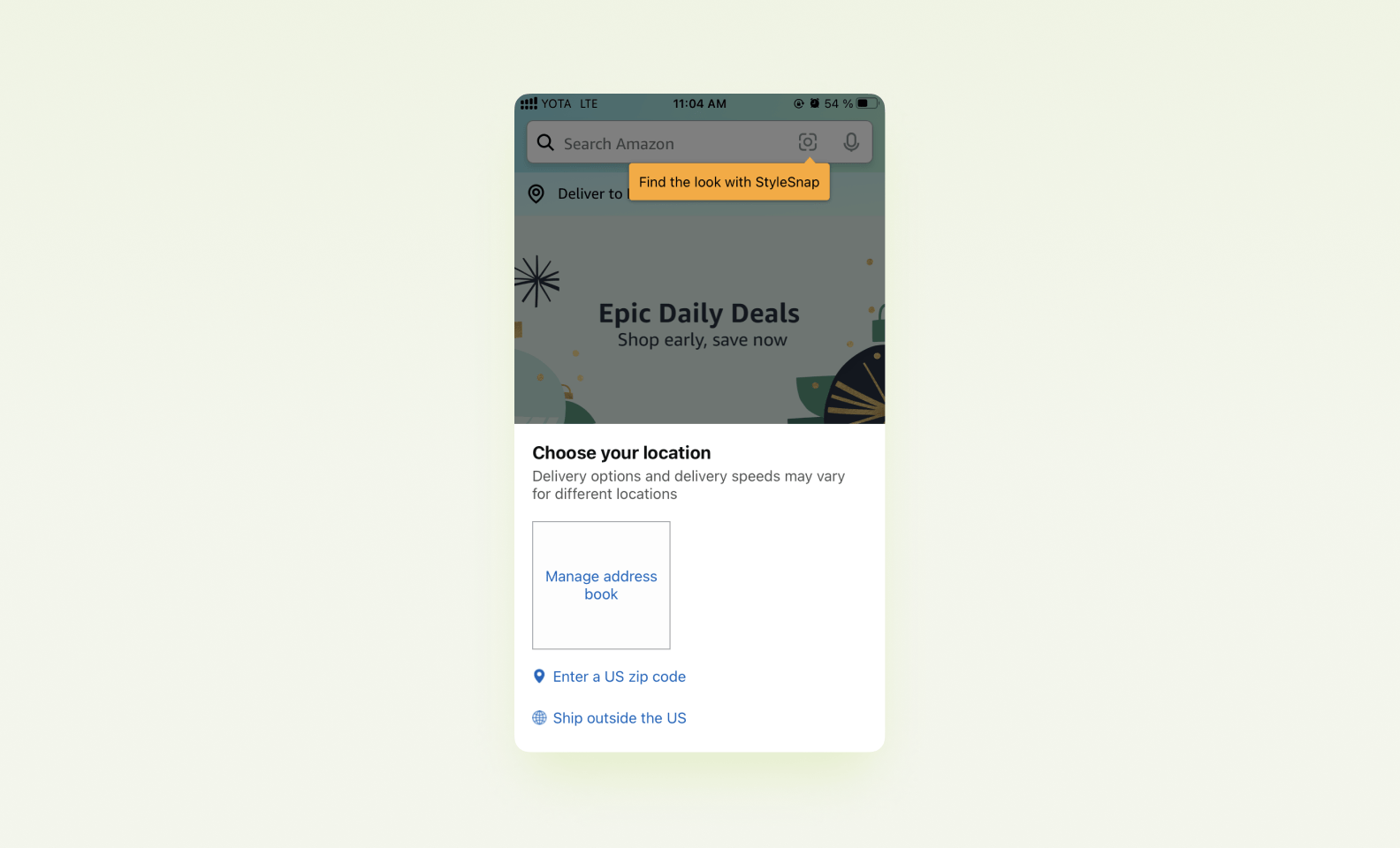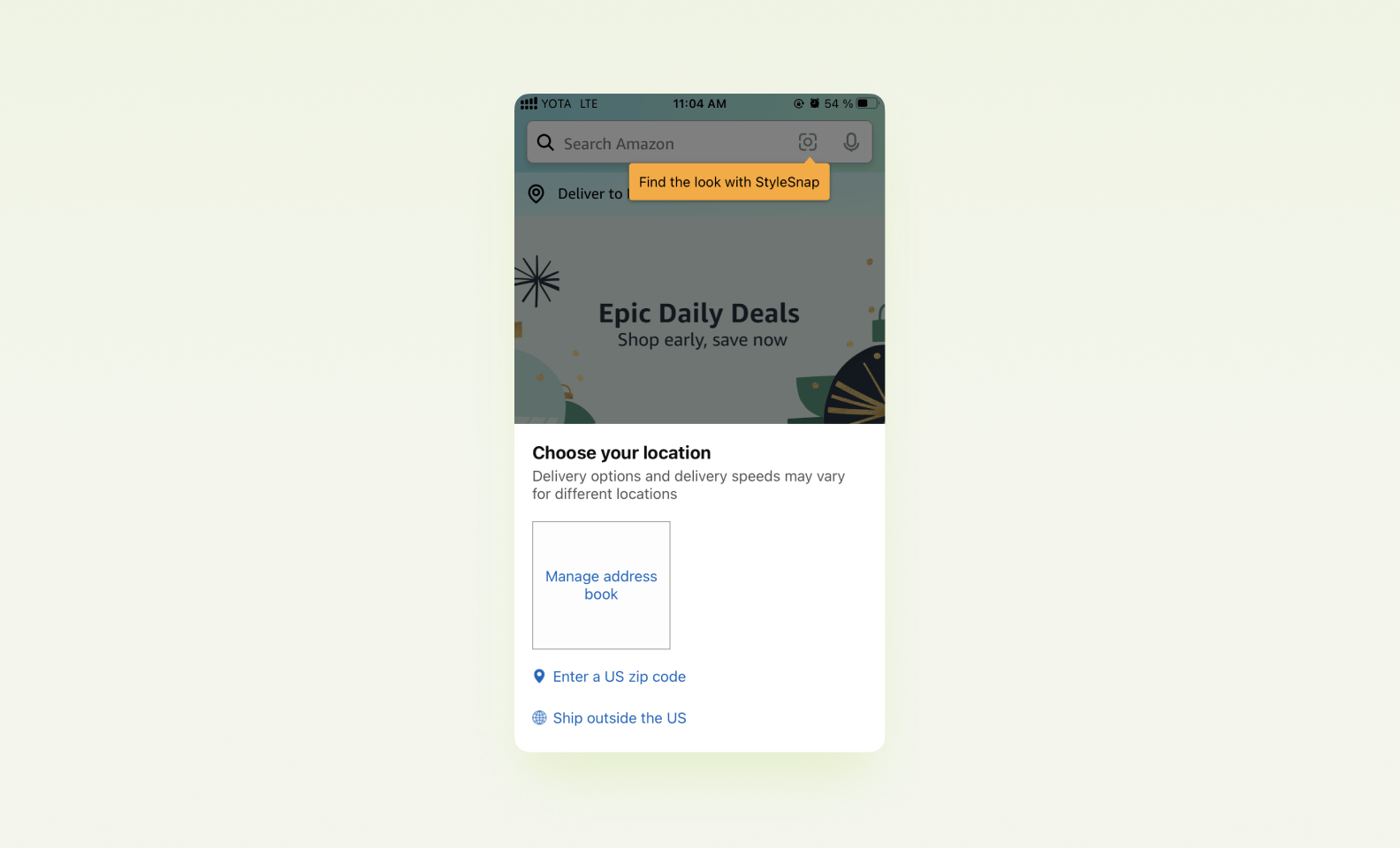 Examples: Amazon, eBay.
Taxi-hailing services utilize data about where users are located to match them with a car. The live location feature also helps to find where the driver is parked.
Examples: Uber, Lyft.
Their main purpose is to locate a user and find a route to the desired place. It considers biking, walking, driving, or taking public transport.
Examples: Google Maps, Apple Maps, MapsMe, Waze.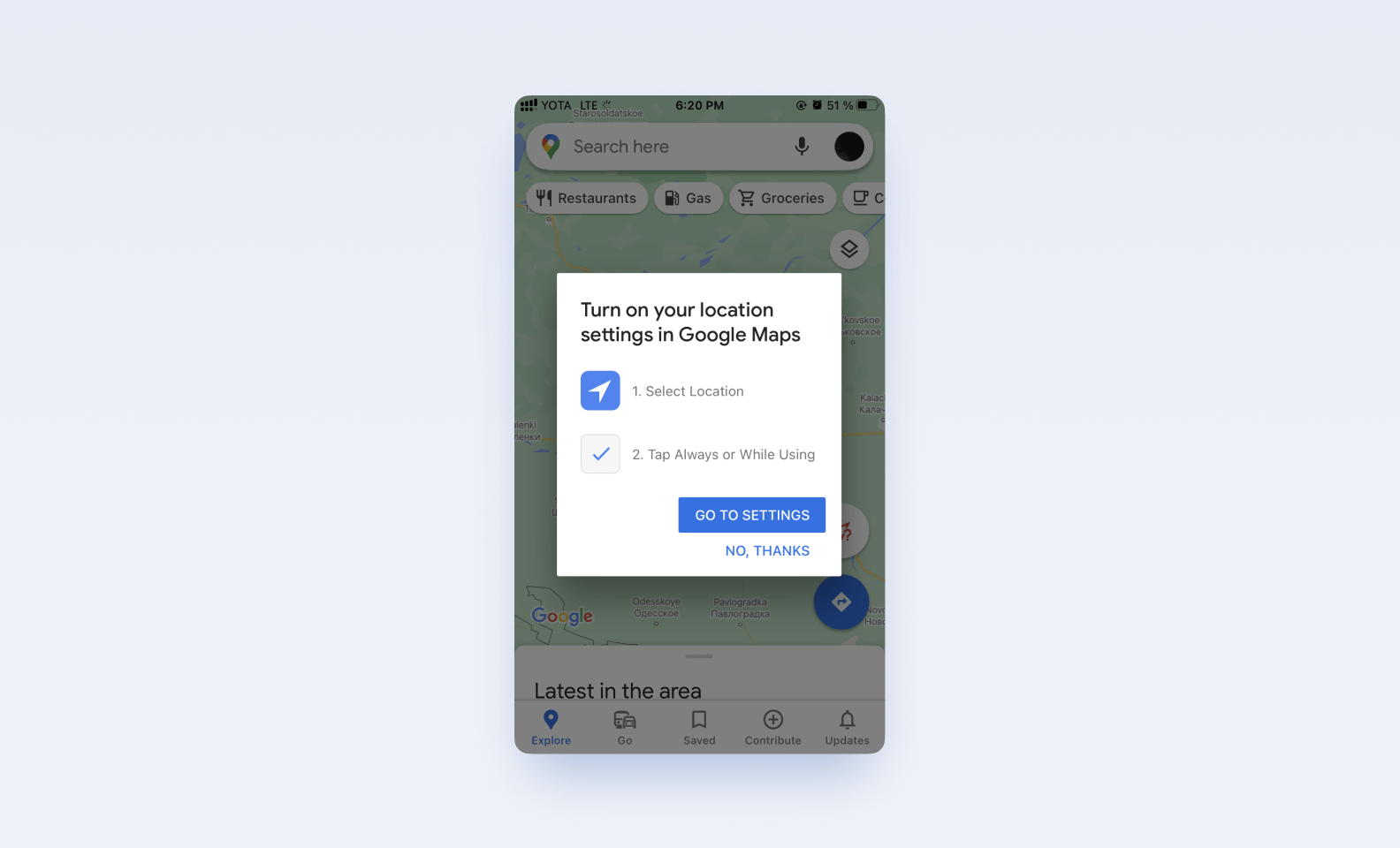 Google Maps are also one of the popular APIs for location-based apps
Concerns when making a
location based app
We have to be honest: there are privacy and ethical concernshttps://www.google.ru/amp/s/appedus.com/ethical-responsibility-with-privacy-and-location-based-data-apps/amp/ about location-based data in mobile apps. Like with any personal information, storing and possibly disclosing a user's location can be a very sensitive topic. And, in bad hands, geolocation can uncover users' whereabouts when it is not necessary. However, there are ways to secure users' data. 
So, how to create app with geolocation and make it safe? There are few steps to make:
First, you should

decide what data exactly you need

from users and for how long you will be storing it. If you need a location only for one-time use, do not store it longer. Likewise with other information: phone number, name, or payment options.

Then,

think about adding logins and passwords for users.

It will help to minimize the risk of someone else using their account. Also, if you deal with payment information and store card data, consider implementing two-factor authentication for extra protection.

After,

encrypt your data

. When it is transferred from a device to a server it is especially susceptible. Therefore encryption of names, phone numbers, location, and other contact information is a must.

Finally,

run security check-ins and stay involved.

After you launch a

location based app

, the supervision of security does not end. New malware appears every year, so make sure to update your encryption and security protocol and from time to time test the system –– your initial developing team will help with that.
6 steps how to create location based app 
After digging into details of how to create a location based app, the next question comes: "Where to start?" With security, or, maybe, with APIs? We got you covered on that!
Here are 6 essential points that can not be overlooked:
Start with an idea.

First things first: think your business idea over, realistically weigh the advantages and disadvantages of your future solution, and research the competitors. The better you understand your idea, the quicker the development team dive in and starts working on your location-based app.
The rule of thumb is to be able to put your startup idea in a few sentences. Practicing it will be useful before pitching investors, but also will help you identify and highlight the main points of the idea.
Find a reliable contractor

. Who are you going to develop your app with matters a lot. Especially, when it comes to data privacy and security protection, you want to make sure you work with professionals.
When choosing a team to create app, check their reviews, learn about their past experience and schedule a short meeting to meet face-to-face. Nowadays, the majority of developing teams worldwide have their own blogs, where they post cases and share tips for startupers. Make sure to check it out 😉
Choose the main features for your geo app

. To decide

how to create app

for your startup, you need to figure out what you want to see in the solution. Do you need a map in the interface? Do you want to send notifications when the location is changed? Are you going to track users for some time, like running apps do, or just get a real-time place once?
These questions should be lined up with your idea and discussed with your developer before starting.
Launch MVP

. Releasing the first version of a product is crucial for future development and pivoting. It helps to test the idea, check how the market is doing, and receive reactions from targeted audiences. MVP does not mean the solution should be sloppy or messy –– it is actually a sign of a bad app.
MVP simply means the initial version of a location based app that contains only essential features that make the solution work. Your developing team will help you prioritize those pieces and create a shortlist of what will be part of the minimum viable product.
Collect feedback

. Get reviews and hear what your real-world customers have to say. At this stage, it is important to be open-minded and listen actively. Sometimes when a person works with an idea for too long, he or she can get blurry eyes and accidentally miss important details. That is why on MVP stage users will help to identify what suits them the best and what needs to be changed.

Release the final version

. After you took into account user's feedback and updated the app, it is time for the launch 🚀 
It might not be the end! Very often apps need post-launch services to keep up with new requirements and software, upgrade the interface and fix the bugs. Discuss with the developer who is going to create app if you need this type of support.
Costs & timeline
Even though geo application requires a lot of time and effort, we know how to create a location based app on a budget. Of course, it is impossible to give an example of a universal estimation of an app using geolocation, since the range of options is very large. Therefore, we decided to show you a rough app estimate of how to create a location based app that allows the user to find a place to buy coffee on the way.
Disclaimer 👇🏼 : The estimation is provided by Purrweb and can vary from team to team. This is how much time it will take us to create app.
| | | | |
| --- | --- | --- | --- |
| Stage | What exactly are we doing | How many hours needed | Approximate |
| UI/UX design | Map users' journey, create interface concepts and present them to you | 111 hours | $4 995,00 |
| Development | Work on architecture and the interface on both client and server-side | 823 hours | $37 035,00 |
| QA Testing | Search for bugs and fix them before the release | 83 hours | $1 245,00 |
| Project management | Manage the development process and control deadlines | 14 hours | $1 800,00 |
Typically a location-based app costs $45 075,00 and requires 1017 hours of work.
The estimated price covers everything your solution might need: we develop an application from scratch for both iOS and Android, make sure the data is encrypted and secured, establish the connection between server and user-side, at the same time focusing on the UI/UX design. We take a minimalistic and simple approach in order to create a robust and easy-to-navigate interface that makes users happy and enhances their experience with an app.
What to take from the article
In this article, we discuss how to create a location based app and what to consider. Roughly every single user now has a solution that tracks their location. For example, Uber, DoorDash, Instagram, TikTok, Amazon, and many more. Geo features help to provide customers more specific and personalized services just based on where they are.
While for some mobile applications location tracking is a nice-to-have feature, for others it is required to have. We came up with 6 types of startups that will definitely benefit from introducing geo. Guaranteed! They are:
Food delivery apps;

Social media;

Dating apps;

Marketplace apps;

Ride-sharing apps;

Maps.
The development process of such solutions can be tricky. For that, we summarized the main point in the list. Here are the key takeaways from the article on how to create a location-based app:
Location based apps

use special APIs, GPS, and Wi-Fi data to track where the device is and provide services based on the user's disposition.

The location services market is a fast-evolving area that expects to grow by 23-27% by 2026-2027.

To stand out from competitors geo features in the new releasing apps are a must.

Solutions that locate users can raise concerns about their security and privacy. This area needs extra care during the development process to make sure the user's information is protected.

Double-check to encrypt all the data and add extra protection to the servers.

The approximately

location-based app

will cost $X and take X months to develop.
The Purrweb team has worked with location-based solutions for several years. Our developers will be happy to help you execute your startup idea, secure the data and add geolocation features where it is needed.
Need more information about how to create a location-based app? Fill in now and get a quote from our experts.