Reasons for the app redesign
Entrepreneurs nurture their products from the very idea and sometimes get blind as most parents do. Therefore it's easy to miss the moment when it comes to app redesign. Here are some cases prompting you this is a good time for a makeover.
Outdated interface
It's only natural to stay biased towards your product. But waking up and smelling the coffee will do you better. As it did, let's say, for Apple. Released in 2007, the very 1st iPhone generation was a break. Back then 6 million people bought it, but you would scarcely do the same today. Still, we keep on buying next generation products, as Apple knows full well how and when to upgrade.
Metrics dropping down
Another thing hinting at app redesign are poor results for metrics. In regards to mobile apps you should specifically look into retention, conversion, and adoption rates. Besides, considering churn rates, daily active users (DAU), monthly active users (MAU) and lifetime value (LTV) might be helpful.
In case you see low results for the basic metrics, consider this a sign of some flaws that might need corrections.
Company rebranding 
Similar to interfaces growing outdated, you may find the entire business identity going dead as a dodo as well. While running a rebranding process, you shouldn't stop at a brand-new logo, but preserve consistency and revamp all company's products. App redesign included. This is important to preserve design heredity, build associative flow between a company and its solutions.
Negative reviews
Mobile apps are created for users. Sad but true. If they say black comic sans font looks awfully unreadable on dark green background, then it most possibly does. Some entrepreneurs take it personally, but that's just digging yourself a grave. Feedback highlights areas for improvement of user experience and app design in general.
New target audience
There are cases when entrepreneurs had been long targeting on specific groups of users but someday set new business goals. App design has to evolve accordingly. Let's say you released a home fitness app for women aged 25-45, but then decided to cover ladies 65+. Then product UI/UX should grow more accessible: employ larger fonts, simpler navigation patterns, and more succinct texts.
Benefits of redesigning your app
App redesign process takes time and costs a pretty penny, that's for sure. However, it will pay for itself and then some more. Here are the perks product-owners may enjoy after application redesign.
Crafting a well-versed image. Products that follow design trends seem pleasant to use on a daily basis and therefore inspire respect for developers nurturing them.
Standing out in the market. If a mobile app gets timely upgraded, an entrepreneur uncovers an opportunity to make a highly compatible offer.
Increased conversions. As redesign includes a UX makeover, it influences the rates mentioned above and not just that.
Building brand awareness. Brand awareness helps differentiate a mobile app from others in stores, make it recognizable and trustworthy in users' eyes.
Enhancing chances for new investments. Your product makes a sartorial statement for you in investors' faces. And nothing speaks in favor better than an application constantly releasing new features and updates.
Having a product to boast of. Any app redesign builds on replacing outdated patterns and ideas with new ones. Rolled out in the fashion of the hottest design trends, the software will obviously make you feel proud and voguish.
When the redesign is not a solution
With all the perks and reasons convincing you to start a new chapter in app design, don't regard a makeover as a plaster for all sores. In some cases it's just not worth it.
Case #1. Target audience left out in the cold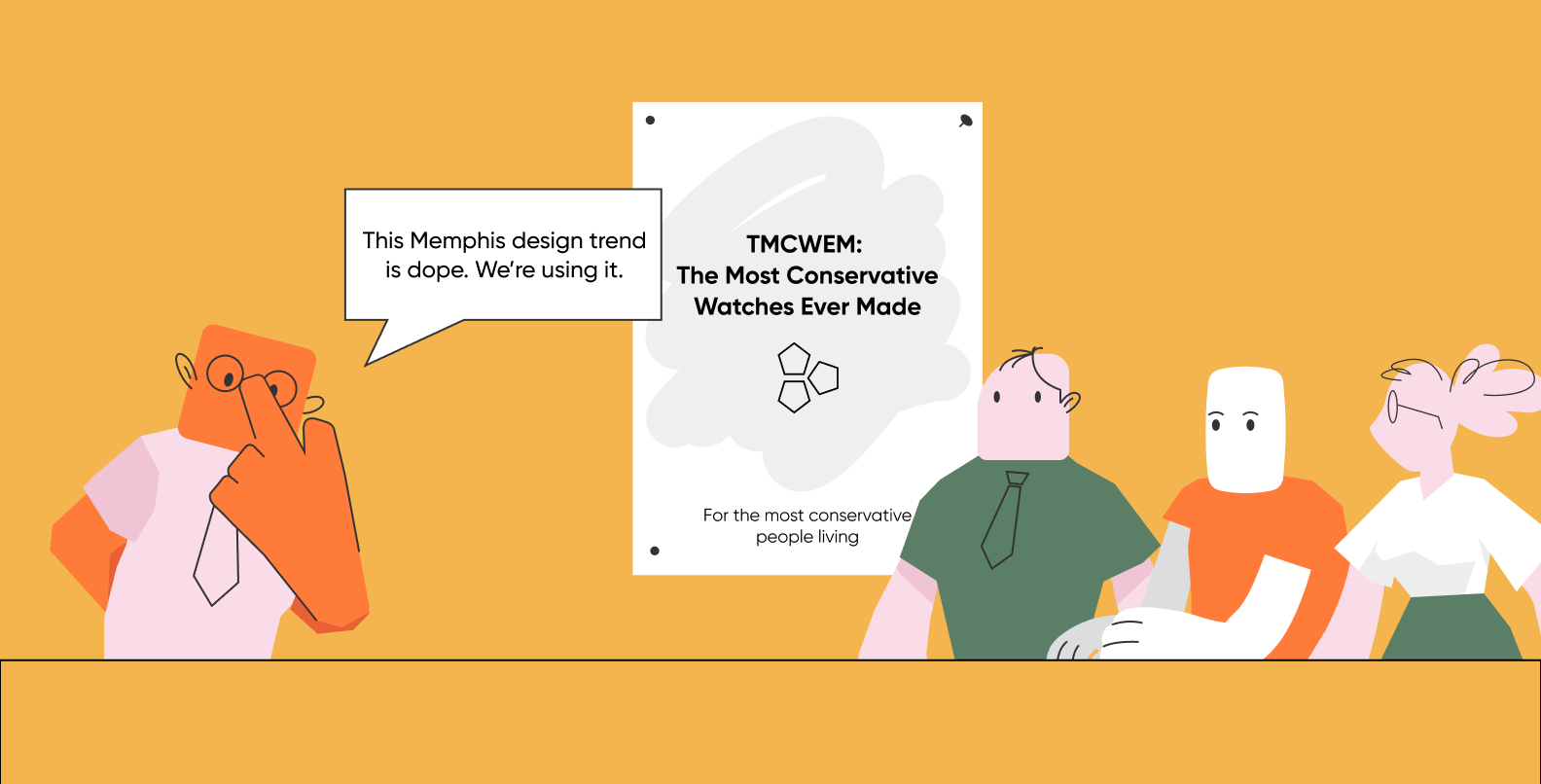 Building an app redesign process with an eye on trends sounds like a smart idea. However, fashion just for the sake of it won't do you good. To create a friendly and enjoyable user experience, a product-owner should consider trends from the customers' point of view. If they are 45+ respectable businessmen wearing tuxedos 5 days a week, the whole Memphis look will hardly hook them.
Case #2. Judgment calls mistaken for proper feedback
Users say useful things to consider like in the comic sans example mentioned above, but occasionally they just pour out everything they have in mind. Like button colors don't fit the whole mobile app scheme, name and last name go in line in forms and that's poor user experience. These solitary comments look too subjective and don't give occasion to redesign an app. Better look into design trends to find the truth.
However, when it comes to usability and user experience flaws, product-owners have to be all ears. Low page loading speed, misleading navigation, vague CTAs, poor content composition will always remain the causes for upgrade.
Top mistakes of app redesign process
Obviously, an entrepreneur won't enjoy all the benefits of application redesign if they fail to do it properly. Here's the list of common mistakes to avoid.
| | |
| --- | --- |
| Don't do this  | Instead do this  |
| Indistinct purposes and objectives for redesign | Set KPIs and specify why you need product makeover |
| Negligence towards users' needs | Discover the audience to adjust the product to its needs |
| Interface overload | Keep UI/UX balanced and remember that utility and friendliness come first |
| Disregard for market | Observe competitors and make sure to follow market trends and communities |
| Inconsistency | Stick to one concept and don't let it change dramatically in the course of work |
| Newbie solo journey | Ask for help, there are professional developers out there ready to guide you |
How to properly prepare for the app redesign process
Let's say redesign is justified, you have solid reasons, a pack of KPIs to track success, and somewhat of a concept in mind. Rush is not a friend when we talk serious business like redesign. We strongly recommend taking time and prepping for the journey.
Here's what you need to do before the start:
Secure a realistic budget considering what you can and cannot sacrifice.
Think over the deadlines and reckon up a desirable release date in your head.
Share the plans with stakeholders.
Give your knowledge of UI/UX trends a brush-up.
Decide on the features: do they stay the same or not?
Assign a person responsible for arranging the process.
Choose your path: you can arrange the thing yourself or get in touch with professionals.
In case you've chosen the second option, study the development market and find your team.
Steps to make your app redesign successful
In this chapter we'll describe how to redesign an application pursuing our approach specifically.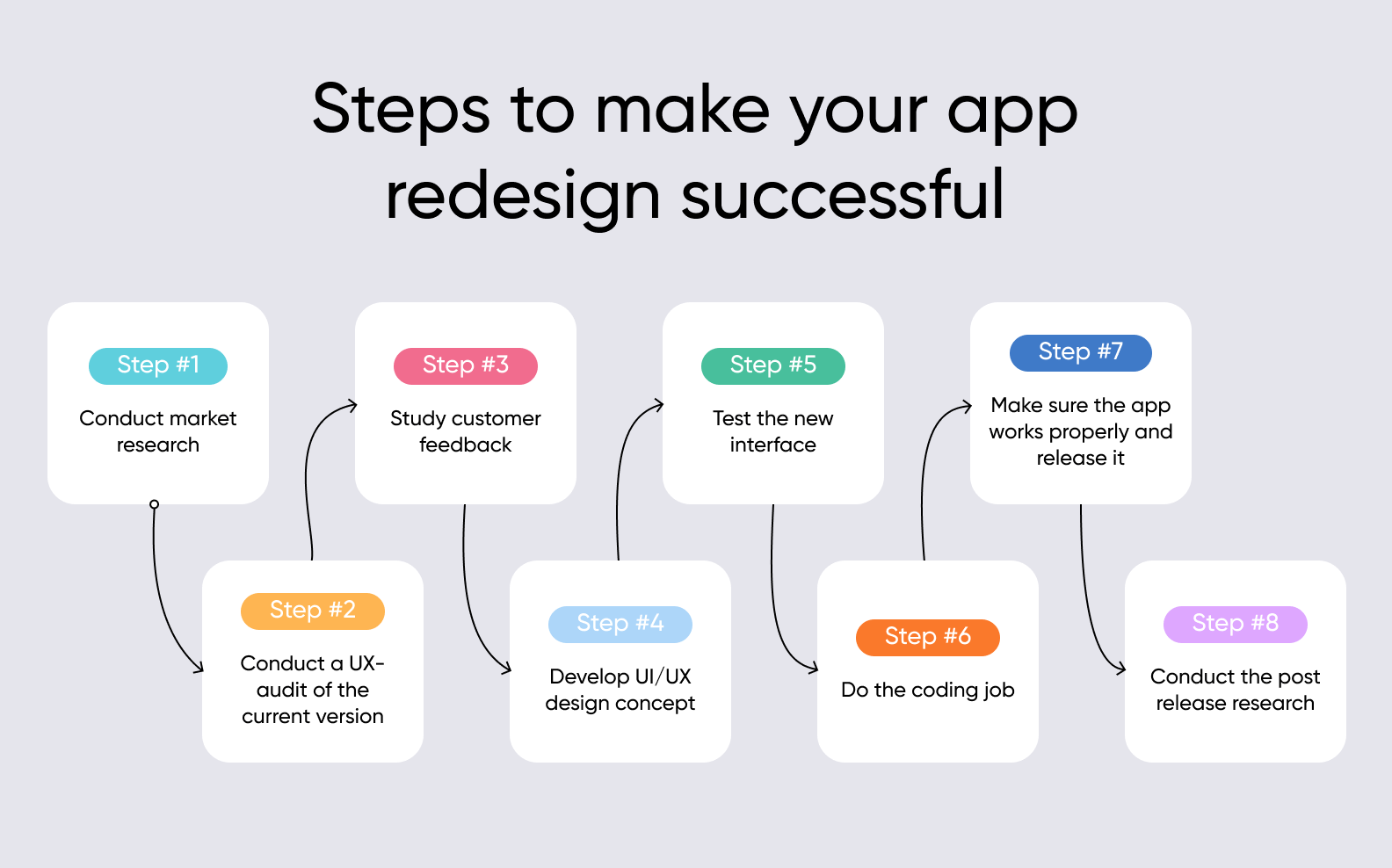 Step #1. Conduct market research 
The initial stage of any app design process, total makeover included, is market research. Since you are definitely aiming at the store's top, your mobile app has to provide some unique value. Market research helps narrow down the focus, find out what competitors have to offer and how you can outdo them.
Step #2. Conduct a UX-audit of the current version
The grossest blunder one can make is to disregard the existing interface. We never go there. Instead we deconstruct current app design giving the most heed to user experience. This job should better be done by a professional UX-researcher, who knows how to read metrics and enhance user journey.
Step #3. Study customer feedback  
The last of the three pillars of app redesign research is evaluation of user feedback. This includes gathering reviews on App Store and Google Play, as well as on social networks. Besides, often entrepreneurs create surveys for customers.
Step #4. Develop UI/UX design concept 
You must have gone through this stage before the very first iteration. The plan remains practically the same. Wireframing. Prototyping. In case your company underwent rebranding make sure the redesign concept reflects the new identity.
Step #5. Test the new interface  
UI/UX testing aims at figuring out flaws and gaps in user experience and the interface in general. In terms of UI it means eliminating inaccuracies like uneven paddings or incorrect displaying on some devices. When it comes to mobile app UX researchers conduct interviews, A/B-tests and create life scenarios.
Step #6. Do the coding job
After the design stage is over, developers enter the game and start writing a project codebase. There's always a frontend developer involved and depending on the amount of new features a backend-coder enters the workflow. Sometimes mobile apps need a makeover from scratch, then it's way better to simultaneously roll out both on iOS and Android markets using React Native, a JavaScript framework.
Step #7. Make sure the app works properly and release it
Testing again, but here a QA team assesses the product and points out bugs. Besides, developers make sure the software meets all the requirements of platforms. Finally, here comes the major milestone of the whole mobile app redesign, the release itself.
Step #8. Conduct the post release research 
"Was it a success or not?", that's the thing you uncover at the last redesign stage, However, product lifecycle doesn't just end like this. As you release the application, it requires support and development.
How much does it cost to redesign a mobile app
For the table down below we've roughly estimated the cost for mobile app redesign in partnership with Purrweb. The example includes the redesign of approximately 15 blocks (e.g sign-in, feed, etc.) with 3-5 screens in each. The process covers the stages described below guided by the approach reflected in the article.
For your convenience we discuss costs at the very start while doing the entire project estimation. This takes approximately one day and is free.
| | | |
| --- | --- | --- |
| Stage | Time | Approximate costs |
| Project estimation | 8 hours | $0 |
| Market research | 2 hours | $90 |
| UX audit | 4 hours | $180 |
| UI/UX design | 90 hours | $4 455 |
| Development | 215 hours | $10 600 |
| QA | 86 hours | $1 720 |
| Project management | during the whole project | $1 750 |
| Total  | 3 weeks  | $18 795  |
Quick recap
There are several reasons and signs prompting an entrepreneur to redesign an app. These are last century UI/UX design, change of company's identity, loads of negative reviews from users, shift of focus in favor of a new target audience, and poor metrics.
If done right, application redesign contributes to entrepreneurs' image both in the eyes of users and investors, helps grow brand awareness and earn credibility on the market.
To ensure a smooth and slick revamping, set distinct goals and KPIs, do some user research to gain audience insights, and monitor the market. For some entrepreneurs words like 'redesign an application' sound too Greek, they'd better partner with professional developers with a suitable background.
Do some prep work before going all out for redesign. Consider the budget and deadlines, discuss the plans with stakeholders and assign the one who's going to take a hit and manage the process from your side.
App redesign process has much in common with the ultimate design workflow. It starts with research, but now you have to go over the current UI/UX to top it off. Then do customer review analysis, coding, testing and release. After the roll out you gather user reviews as well to see if you are moving on the right way.
If you're planning to start your app redesign and looking for a team of professionals to help you, contact us using the form below.