Developing a new product with amazing functionality is actually great. Unfortunately, it's only a part of being successful. Your product should be simple and user-friendly. If you have created an app that requires a million steps to get to what users want and has a cluttered interface, you might be sure that clients won't use it at all. This is why UI and UX design is crucial for your products. 
Of course, you might not have experts in your team or enough skills to create a proper UI/UX design. Don't worry it's a common situation for many startups. A professional UI/UX company can help you to develop a successful product. In this article, we'll talk about the main features of UI/UX design, discuss where and how to choose a proper agency and what to do if you want to change a contractor after some time. Shall we start? 
What are UI and UX and how they are distinguished
The easiest way to clearly define UI/UX and understand differences is to imagine a house. So, let's try. In our imaginary house UX design is a layout i.e. where there are main rooms, bathrooms, living rooms and also ways which a person living there will use moving through the house. Meanwhile UI design is the house decorations, such as furniture, wall colors, paintings and chandeliers.
Let's shift the described definition to your product. So, UX is a planning process, solving users' problems and guiding through the product. While UI is buttons, colors, titles and other decorative features that make your app incredible and attractive for users. 
UX design includes users' feelings, perception, and emotions during and after using the app. The main goal of UX design is to create a user-friendly product. It includes some parameters, such as content hierarchy, simple navigation and functionality of visual elements. The most important is that all these characteristics help to solve users' problems. To create an effective UX design you or your contractor should concentrate on the following aspects:

UI design is responsible for the appearance of your app. User interface includes graphics, design and creates an attraction for the customers. UI design is an indefeasible part of UX design and it makes the users' ways through the product aesthetically pleasing. Developing the app design your team or agency have to concentrate on some details: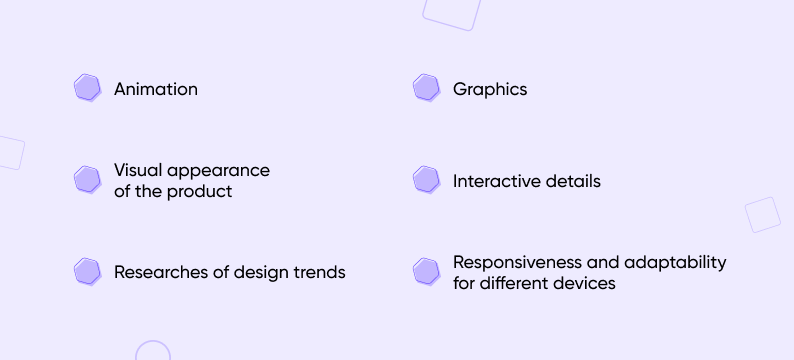 How UI/UX design can benefit your business
UI/UX design is relevant to all parts of launching the product: from the app development process to everything that happens after entering the market. Let's consider some benefits of a great UI/UX design:
1. Users' satisfaction = return on investment (ROI)
Customers' satisfaction of your product depends on engaging content and simple navigations. A great design may provide your app with these characteristics. If customers have a great experience of using your app their loyalty will increase. It means that they will use your product again and again and also will recommend it to other users. This results in an increase of customers and loyalty for your brand. Therefore your product will be sold better and it'll enhance the ROI of your startup.
2. UI/UX design helps to understand your target audience
The standard process for preparing UI/UX design is to make a research of your audience. It means that all design features of the product will be based on real users' needs.Therefore your app will attract users you build it for. Moreover, UI/UX design permits segmenting customers, which is really useful for understanding each concrete audience necessity.
3. It helps to save money
An investment in great design doesn't mean wasting money. There is a minimal chance that users won't be satisfied by your product if it has a clear interface and an attractive design. Splendid product doesn't demand frequent upgrades and modifications, therefore it'll save your money and time. 
How to choose UI/UX company
It doesn't matter how perfect your product is, poor UI/UX design won't let it be successful. This is why proper digital design agencies can help you to achieve the best results in the market. So, it's significant to choose the right UI/UX company. But how can you do it in this competitive market? Sharing some tips:
Check the agency rating
A good way to check ratings is to seek for the contractor on special web-platforms, such as Clutch or GoodFirms. These platforms have a reputation as a trustful source for searching agencies that can help you to choose the ace of aces. You can use filters and create a list of top UI/UX designers or digital companies, read independent reviews and choose several ones that look more prospective for you. 
Look through portfolios
It's always a good idea to look through previous projects. Here you can use Dribbble or Behance, these web-platforms represent designers' works and their portfolios. You can check the agency's experience and also its approach to projects: does it use a different method to each one or does it follow a similar design template every time. Also you can look for projects in a similar field to yours, it'll help to indicate how the UI/UX company will manage your tasks.
Go to the agency's website and social media
An official web-page can demonstrate the agency's mission, values, approaches, tools that it uses for work and also its experience. While social media shows an informal side of the UI/UX company. So you can find a lot of interesting details there, such a visual design of agency pages, feedback, activity. Also it's possible to evaluate how the company communicates with customers, its employees and even some news. 
Check a work process
Best UX companies should be able to explain their work processes. Describing it, the UX agency shouldn't jump from a problem directly to a solution, meaning it has to explain all stages of any complex process. It's significant to be familiar with the company's approach before starting to work with it. Based on this you can evaluate what to expect from the company and what result it'll provide.
Look at a pricing model
Usually agencies have two pricing models: a fixed price or a flexible price model which depends on time and resources spent. So, each model has its advantages and disadvantages, before you make a decision, compare them and choose the most appropriate for you. 
Test task
You can ask the company to create a design concept. Some digital agencies practise this approach. The design-concept is a creative idea visualizing your brand and values. It'll demonstrate how the UI/UX company will solve design problems and which tools will be used for creating your visual concept. 
What are the reasons to change your contractor 
Let's consider some situations when it's needed to change the contractor:
Your project is facing stagnation. 
For some time you have seen neither positive growth dynamics nor possible solutions or new offers from the contractor.
You conducted an independent audit and found some blunders.
So, you know that the agency made crucial mistakes, but it completely refuses to accept its guilt.
The contractor doesn't have any activity.
The agency doesn't evaluate important metrics and it's not interested in the future of your product at all.
The agency works frankly terribly.
It disrupts deadlines, doesn't make reports, doesn't answer calls and emails and the list goes on and on.
Change any contractor with less harm
If you detected the described above points through your working process with the agency, this is a sign that you should replace it. Now it's decisive to make a change the right way and as fast as possible. Here are our tips how to make this process smoother:
1. Don't quarrel with your contractor.
In order to avoid any pause in the product development it's crucial to keep good relationships with the contractor. Because you'll need to ask your current agency to save all information and send it to you. This will help not to lose important data and transfer it to a new company without any loss.
2. Make sure that you have the following information:
Data of competitors' research.
This investigation provides the agency with information about the best and worst competitors' products and also about common patterns used in similar areas. 
It's a document describing a typical user that will interact with the product. Usually this file includes the information such as demography, goals and needs, sore subjects and typical behavior.
It's a powerful tool demonstrating a step-by-step user interaction with your product. The file with user flow usually includes a route illustrated as text, arrows and blocs.
Wireframe and mockup, if they have been created.
Wireframe is a diagram representing main content groups and general interface features. Its main goal is to show how the interface works without many graphic details. This helps the agency to evaluate at early stages the basics of users' interactions. 
Mockup demonstrates a more detailed design and how product screens will look. It has icons, colors, illustrations and some text samples. The main mockup goal is to represent the product appearance.
3. Ask your current contractor to do a report about the development process for the last quarter.
4. Change all passwords if needed.
Sometimes a dismissal of a previous agency may provoke a conflict. So, in this case there is a risk that the contractor can remove information, roll back some changes or even steal new ideas of the product.
In conclusion
UI/UX design is a crucial part of the product development. If you want to succeed make sure that you paid enough attention to the design. Instead of putting too much effort into building the app that won't bring as much profit as it could, hire a top digital agency that may help you to unlatch full potential of your product. Use our advice and choose the best agency that will help you to stand out and attract users.
Through the development process there may be a moment when you decide to replace your current contractor. Remember, that any change of agencies should happen not more than once per 5-6 months. Otherwise you risk not getting any results at all. Change the contractors but don't go to the extremes such as the eternal search for the best ones. Don't be stressed about it and apply our tips to avoid any harm and conflicts.