Key takeaways
Insurance apps help attract new clients, decrease operational costs, and increase business efficiency.

In

surance app should have a user-friendly UI, policy details, the option to file a claim, payment processing, and customer support.

There are six types of software you can build: life, property, health, car, travel, and business insurance apps.  

It's also necessary to ensu

re l

egal and security compliance.

React Native works best for creating mobile insurance apps, React.js fits if you want to roll out a web app, and Electron.js is recommended for desktop apps.

Insurance app development costs approximately $48 000 and may take 11 weeks.
What is an insurance app
An insurance app is a software designed mainly for mobile devices that enable users to manage their insurance policies and claims. It allows users to quickly and easily apply for coverage, update policy information, file, and track claims, and communicate with insurance providers. Such an app can also offer personalized policy recommendations and access to insurance-related resources.
Insurance providers implement apps to enhance customer experience, gain new clients, and, thus, increase income.
Why do you need to build an insurance app
Humanity has digitized shopping, medicine, communication and tens of other facets. Putting insurance services into your smartphone was just a matter of time. Insurance mobile app development is a win-win thing for everyone involved in the process including insurers and their clients. 
Benefits for customers 
Branded insurance agency app enhances service experience for policyholders. Let's list out some advantages for them first:
Taking care of bills in one app without much hassle; 

Keeping all papers at hand without any fear of losing them;

Fast and convenient access to insurance policy;

Easier claim tracking and reporting;

Making payments with practically a single click; 

Notifications with updates in terms or discounts;

Remote customer support and consultations with insurers;

Seamless alteration of policy plan.
Benefits for insurance companies
The insurtech industry is a relatively new niche that merges insurance and technology. This dynamic and rapidly evolving sphere can potentially transform our traditional insurance system. In 2019, global insurtech market revenue was valued at $5.48 billion and is expected to reach $10.14 billion by 2025, according to a report by Businesswire.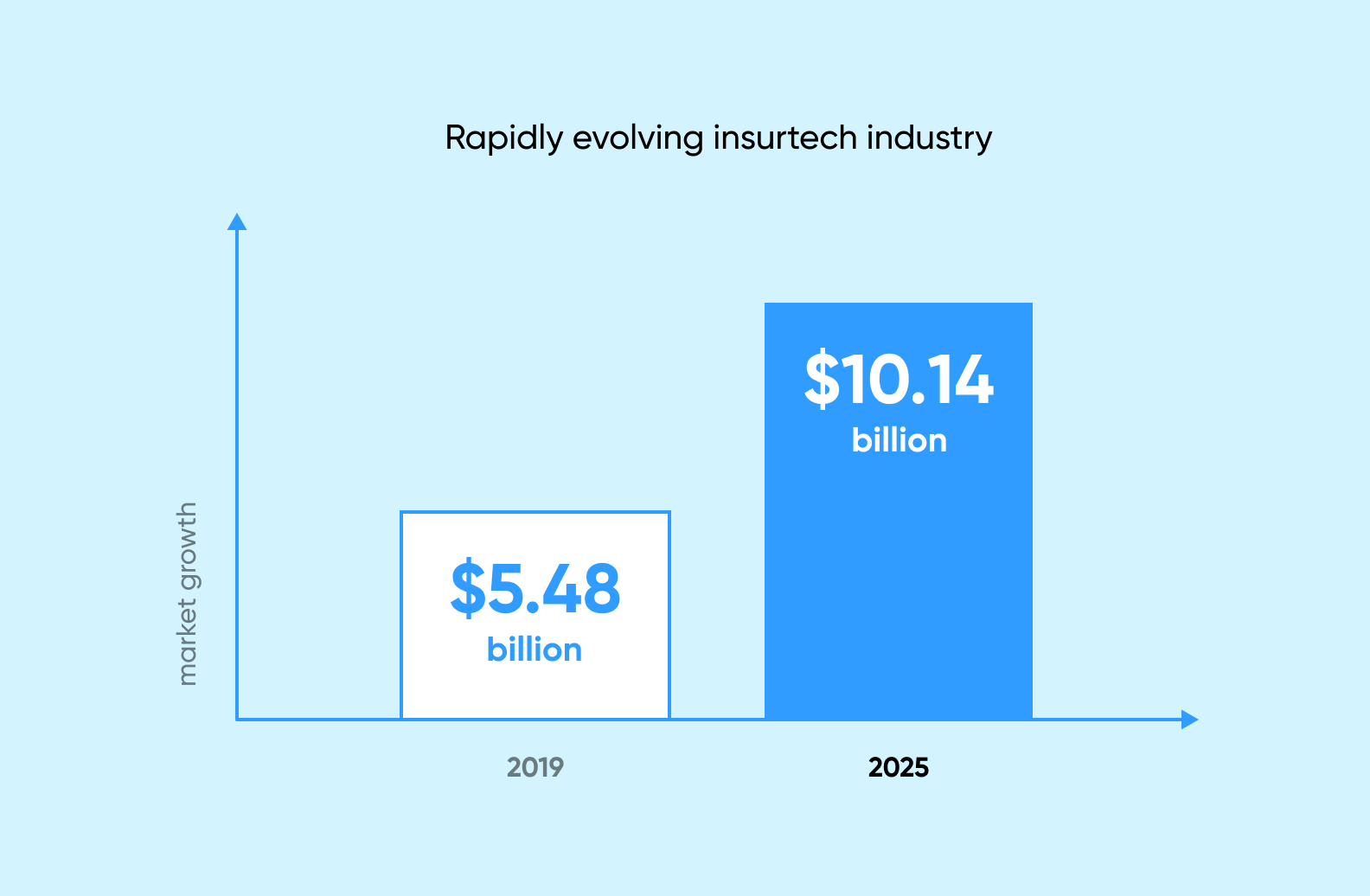 Insurtech has a wide scope that goes beyond simple apps: it encompasses technologies like blockchain, artificial intelligence, and machine learning. Blockchain provides a secure and transparent way to store and share data, while AI helps to automate and optimize insurance processes. Advanced data analytics and machine learning algorithms ensure more accurate ways to assess risk. Thus, the latest technologies in the industry open great opportunities to launch an advanced app.
There are many implementations of insurtech apps across all types of insurance, including property, cars, pets, and even life insurance. While most of the apps are designed for customers to manage their claims, some of them are created to help insurance agents make better deals. You can choose any suitable option from a wide range of types of insurance apps — there is definitely room for new apps in the market.
All of this makes insurance software development a reasonable idea.
Benefits of the insurance mobile application for business
When you decide to build an insurance app, think about the reasons to implement it. Let's see why it is beneficial to go for mobile app development if you are planning to open or you already have an insurance business.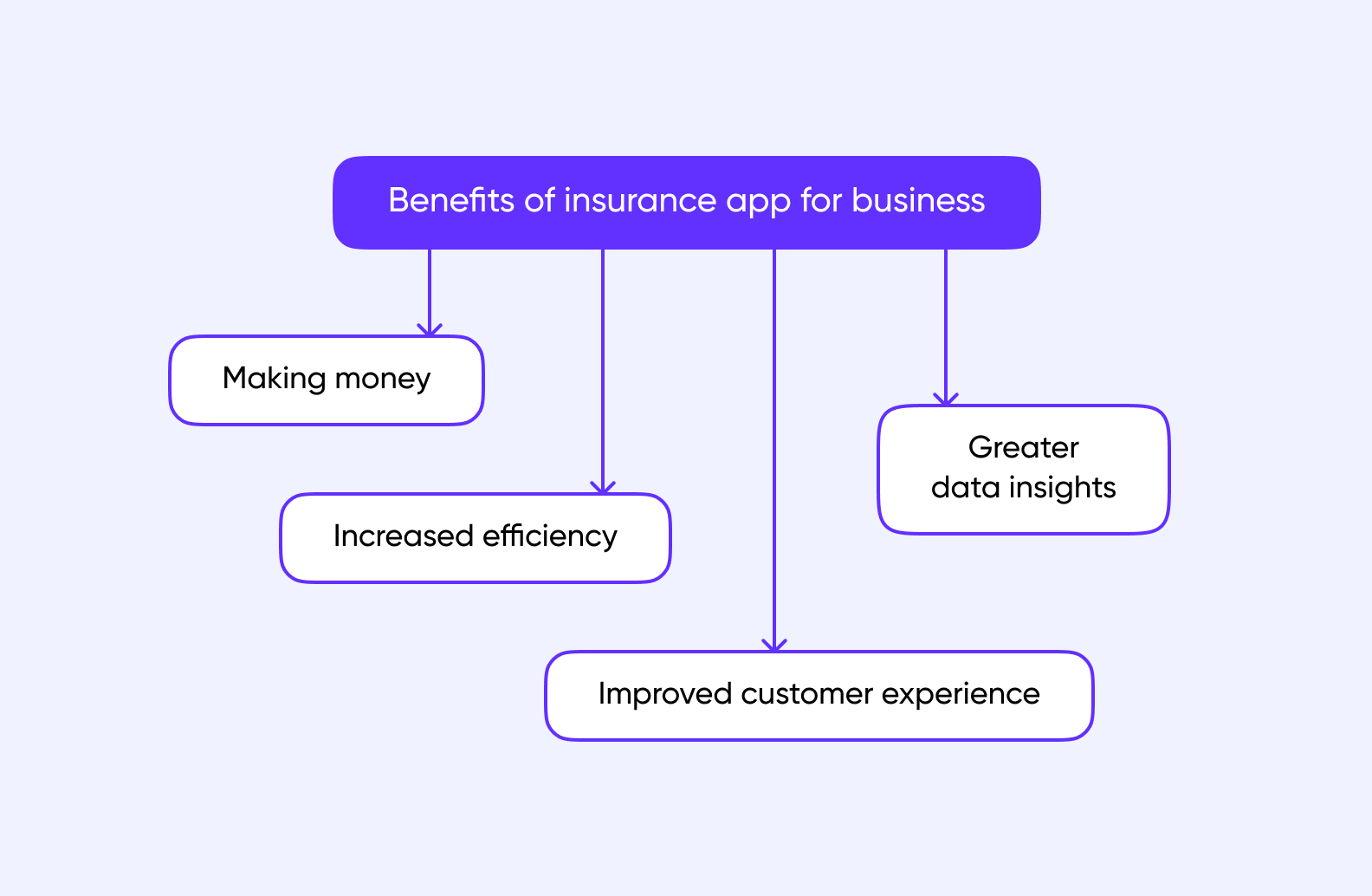 When users see that you have a tailored insurance app, they realize that you care about clients' convenience. This makes an entrepreneur look more appealing and customer-friendly compared to those with no digital products.
Increased efficiency. Automation of tasks — claims processing and policy management — leads to increased operational efficiency, reducing the need for manual intervention. An app requires less effort and fewer people involved, which cuts costs.
Greater data insights. With advanced analytics tools, insurance providers gain valuable insights into customer behavior, identify trends, and make data-driven decisions to improve their business processes.
Improved customer experience. Insurance mobile app provides customers with quick access to their policy information and allows them to manage their policies and claims in real time. This can enhance customer satisfaction and loyalty and lead to increased retention rates.
Making money. An app can be an additional source of income for insurance businesses. Insurance apps generate revenue in several ways, depending on their business models and target markets. This could be premium accounts, commissions for each policy sold, in-app purchases, data analytics, and partner programs.
Overall, insurance app development gives a competitive advantage by providing customers with a more convenient and seamless experience. This sets companies apart from their competitors, allows them to earn extra money, increase their customer base, reduce operational costs, and boost business efficiency.
Looking for insurance app development services?
After 300+ completed projects, we can design an app in any niche — from insurance to IoT. Contact us, and get a free project estimation in 48 hours.
Contact us
Types of insurance apps
You can group them several ways like separate products aimed for insurers and policyholders or branded and shared apps. Mostly insurance providers build custom software specifically for their services and that's really the most promising way to hit the market. 
When it comes to some new product release, we highly recommend beginning your journey with MVP. That's when you build some basic solution first, like the one targeted to provide insurance services of one type. Here're some ideas for your start-off. 
Life insurance app
This insurance secures you throughout life and also protects family financial obligations in case of emergency. On applications, users get faster estimation of insurance coverage, receive updates on policies, fill in and track claims.
Health insurance app
Protection of a person's well-being implies the involvement of not just an agency and a policyholder, but of hospitals as well. Health insurance apps make communication of all the three a lot easier. Usually you can schedule a doctor's appointment, find the nearest providers, store prescriptions and call your healthcare specialists.
Car insurance app
This is the software that saves drivers' nerves when they face the unexpected. Most US states now allow you to substitute paper piles with online auto insurance in your car insurance app. Such products help drivers protect cars, trucks, vans and other movables, manage auto insurance policy, upload photos and fill in claims in case of accidents, get repair estimates and locate available car services.
Travel insurance app
No trip is proof against emergencies: you can fall sick, have a flight canceled or lose luggage while on holiday. Travel insurance exists just to assist you in overcoming such challenges. Having a travel insurance app with all the papers you need relieves much stress.
Business insurance app
Target audience of business insurance are entrepreneurs who want to protect their investments like commercial property or equipment. Besides, many insurers offer compensation for employees to protect business from huge losses. So, make sure to add all these features if you're planning to release an application that meets user needs.
Property insurance app
When it comes to property insurance, the first thing you think about is mostly your sweet home. Though apart from real estate there are policies protecting jewelry, art works or other valuables. In fact, you can get coverage for practically anything that you own. Applications simplify access to insurance policies, property maintenance services and customer support.
Note that insurance business often offers multiple policy types like when you get health and travel insurance in one app. Use this as an idea for further product development.
Top 5 best insurance apps
As technology advances, more and more people tend to manage their insurance policies online. Insurance companies respond to this need by developing mobile insurance applications. With so many insurance apps available in the market, it might be challenging to determine which ones are the best. Here we talk about different types of insurance apps — car, pet, health, real estate, and traveling — and highlight the top 5 apps available in these spheres.
Esurance
Esurance — an insurance company that provides coverage for a variety of areas, including home, car, pet, and life insurance. Users can select the type of policy they need or opt for a combination of coverage options to save money.
Investopedia has recognized Esurance as the best insurtech app because of its simple user-friendly interface. The app is available in 50 states across the USA and DC, making it a convenient choice for users seeking coverage.
Lemonade
Lemonade — a popular insurtech app launched in 2015 that focuses on providing a unique and customer-centric approach to insurance. It offers renters, homeowners, and pet insurance policies. The app's chatbot guides users through the process of purchasing insurance policies and filing claims. Lemonade allows for adjusting coverage, adding or removing items, and making payments.
It earned a 4.9-star rating on the Apple App Store and is ranked No.1 in Google Play, Supermoney, and Clearsurance.
GEICO Mobile
GEICO Mobile — an insurance app developed by GEICO, one of the largest car insurance providers in the United States. The app provides users with the ability to view their policy information, make payments, and update their policy details. Users can file and track insurance claims, view claim status, and receive updates on the progress. Additionally, clients can request roadside assistance, track the location of a tow truck, and use other tools, including a car rental booking service, a mechanic locator, and a gas station finder.
Cuvva
Cuvva — a UK-based insurance company that started operating in 2015. The company's unique selling point is its flexibility, as it offers insurance coverage for cars on a short-term basis. Customers can purchase insurance for a vehicle for as little as an hour or up to a day, depending on their needs. Clients usually get a monthly subscription or pay an hourly rate when they drive a car, using a unique pay-as-you-go approach.
TravelSmart
TravelSmart — an app through which users can file and track claims and receive real-time flight status updates up to three days before departure. The app also includes an international first-aid terms translator, making it easier for travelers to communicate with medical personnel in foreign countries. Additionally, the app's "Assistance Around Me" map uses geolocation to direct travelers to the nearest hospital, pharmacy, police station, or U.S. embassy.
TravelSmart had over 470,000 downloads in 2019, making it one of the most popular apps in this category, according to Forbes.
The main features of an insurance mobile app
Mobile insurance apps have revolutionized the insurance industry by offering a seamless and fast way to apply for insurance coverage and process claims. When choosing an app, users consider many factors, such as convenience, accessibility, and a set of functions. Here is a short list of essential features that clients value the most.
Profile
A profile in an insurance mobile app allows users to save all their personal details, including name, address, phone number, and policy details in one place. When user profile management is simple and intuitive, users consider the app convenient.
Search function and filters 
This function is usually called "All policies" or "Find a policy". The search function and filters allow users to find the information they need quickly and easily. They can use keywords to search for specific topics or set filters to narrow down the search results based on their preferences.
Policy details
The insurance mobile application should display the details of the user's policy, including the coverage, the amount of the deductible, and the expiration date of the policy. This data helps to make informed decisions when making a deal with your insurance company.
The option to file a claim
The ability to file a claim through your insurance mobile app is the most useful and time-saving feature. Users submit a claim and track its status in the app, which can help speed up the claims process.
Payment processing
Insurance apps often provide a secure way for users to pay for their premiums and set up automatic payments. Add a possibility to add payment methods and view payment history, so users could control the money they spend easily. This feature helps users avoid late fees and stay up-to-date on their payments.
Customer support
Many insurance apps offer a customer support feature that allows users to contact the insurance company or the expert directly from the app. This can include live chat, email, or phone support. Customer support is a convenient way for users to get assistance with any issues they may be experiencing. If it works well, this is a sign of an app that can be trusted.
Notifications
As a developer, you may include the ability to send users reminders about upcoming payments, changes to their policy, or updates to the status of their claims. It helps users stay informed. Additionally, you can make notifications about discounts and novelties that your clients might want to buy, so there is a chance for you to make money.
Tech stack for building an insurance app
App development is a complex process that requires a deep understanding of the tech stack needed to ensure seamless user experience. At Purrweb, we have been creating MVPs for different types of businesses for more than 9 years.
Our developers prefer JavaScript frameworks which help you build products for several platforms at one shot. This approach is known as cross-platform development. 
JavaScript promises a bunch of advantages both for developers and startupers. Being versatile, the language can be used to handle both client and server sides. It gets annual updates and has one of the largest communities in the entire coding world. 
Stack overview 
In general, tech stack unites all technologies used to build your digital product. The list usually comprises coding languages and frameworks for frontend and backend, databases, infrastructure, and other services. See the table down below to learn more about the tech stack we like to use for insurance app development.
Component
Technology 
Advantages

Frontend

React Native

,

React.js

,

Electron.js

React Native saves around 30% on your cross-platform (iOS + Android) mobile app development costs. React.js and Electron.js make web and desktop app development fast and efficient.

Backend

Node.js, JavaScript

Both Node.js and bare JS provide a scalable and efficient backend architecture

Infrastructure

AWS, Heroku

Provide a scalable infrastructure for hosting applications and offers a range of features such as automatic scaling and continuous integration.

Database

PostgreSQL, MySQL, Redis

Combining different databases helps to store data and ensure maximum protection. 

Real-time messaging

WEBRTC

Useful for implementing real-time communication features such as chats and audio calls. 
Mind that applications are built not for smartphones only, you can release insurance solutions for web and desktop as well. All the three app types share the same tech stack except for frontend. Let's see why and how it influences insurance enterprise app development. 
React.js for web apps
Web applications resemble websites with the main difference being your ability to interact with the first one. They can be accessed through browsers but they acquire all features characteristic of classic applications. Say, an insurance agency app would support online payments or booking a visit to insurance brokers. To make interaction smooth and enjoyable we use React.js, a JavaScript library that provides a simple way to develop complex user interfaces. 
React.js has proven effective in building high-performing web apps that can handle a heavy load. They are fast to respond. That's very important to keep users and turn them into adopters. 
Electron.js for desktop apps
Just like mobile apps run locally on smartphones, desktop products run on your computer or laptop. You can't access them through a browser, but should install them on your device. 
Desktop app development for insurance business can be done using Electron.js. This is a framework based on web technologies such as HTML, CSS, and JavaScript. It provides an efficient way to build cross-platform apps that can run on different operating systems, including Windows, macOS, and Linux.
React Native for mobile apps
For entrepreneurs planning to roll out an insurance agency app for mobile we recommend React Native. This is a framework used in mobile app development, as it allows coders to create mobile apps for several platforms using a single codebase. 
With React Native, code is written just once and deployed across different platforms like iOS and Android. All the while your application preserves a natively-looking interface: you won't distinguish it from the one written, say, on Swift. This saves time and resources making the framework the best technology for fast delivery. Besides, React Native provides enhanced app security owing to secure cloud storage and real-time database management.
Legal compliance of insurance apps
Legal compliance is an essential part of insurance app development, as any insurance app deals with a lot of user data and must ensure user safety. Key factors to consider include:
Data privacy and security. Insurance apps collect and store sensitive user data, including personal and financial information. To ensure data privacy and safety, apps must comply with data privacy laws, including Data Protection Act (DPA), General Data Protection Regulation (GDPR), and Health Insurance Portability and Accountability Act (HIPAA).
Insurance industry regulations. Apps must comply with insurance regulations in the countries where they operate — your app should be legally allowed to offer insurance services and protect users from malicious practices. Every country has its own insurance regulations.
Consumer protection laws. Consumer protection laws secure purchases of goods and services from poor-quality products, misleading and fraudulent business practices. In the US, an example of such a law is Section 5 of the Federal Trade Act.
To meet legal requirements, insurance app developers should work closely with legal experts. Failure to comply may result in legal action and damage to your app's reputation. To prevent this, contact professionals who have experience in building compliant apps.
6 steps to develop an insurance app
If you have some product idea but lack knowledge about its implementation, try partnering with an insurance app development company. This is what your development journey would look like. 
Step 1. Strategy development 
Insurance mobile app development always starts with mapping out the way you're going to go. Minimum viable product has proven to be the best strategy when you want to see if the solution will hit the market or not. This is a consistent and gradual process of product roll-out and growth.
Prior to development of your first MVP, make sure to do the following: 
study the market and define the main competitors,

find out on-demand features the app should definitely have;

specify your target audience and try finding information about their preferences and the way they interact with digital products,

study market trends you want to implement. 
Our team has experience in creating functional MVPs — consider the steps that we follow to create an insurance app. If necessary, we can help with the market research, and then will take care of the rest.
Step 2. Business model determination 
Insurance mobile app development is in fact the process of building your business. Just like with any other money-making project it requires initial analysis. Framework called Business Model Canvas rushes to assistance here. Plainly speaking, it comes as a table depicting how you're intending to run a business, whom you want to address and what you can use to reach the goal. 
Here you see an example of Business Model Canvas for a meditation app. The table collects the basics of the basics and the general idea of the product.
We advise you to study Business Model Canvas closer and let it work for you at its best. 
Here you can also arrange features in the order of implementation. Some techniques that can be of help here are user story mapping and MoSCoW method. They help you gain a better understanding of the steps which you will take to build the software.
Step 3. Design
At this stage, your task is to collect a pack of references reflecting your tastes and expectations. Trust us, a bunch of pictures speak louder than words. It's crucial for your designer to understand what layout, structure, fonts, visuals and palettes you prefer. All these insights are used to create a moodboard for your project. 
The goal of a moodboard is to convey a particular product feeling. Properly done boards speed up UI design as they give a firm understanding of interface style you want to see. 
Mind that design never ends on visual beauty. Make sure to plan how users are going to interact with the application. We believe that the best way to outline user flow for your future product is to create a mindmap.
All approved, we can start working on wireframes and prototypes visualizing the application. Make sure to check if your partner has designed a UI kit with all the buttons, icons, fonts and other elements. In the future it will simplify product scaling and support.  
Step 4. Development 
This is where frontend and backend development starts. Frontend development mainly focuses on the interface — everything that users see on the screen. Backend is the server side of the app which encompasses app's data structure, system, and logic. Using the tech stack described above, we create the main functions, install payment gateways.
Being genuine Scrum adopters, we split the development process into short periods called sprints. Each sprint has some goal which we achieve at the end and finalize by sharing the results with our client. This brings transparency to the whole application building process. 
Step 5. Quality assurance
As long as the codebase is ready, you need to check whether all functions of the product work correctly at every stage of development. Our QA engineers make sure that your software maintains stability and performs well on all devices. 
We test products both manually and with autotests. Such an approach works best for covering all possible scenarios, use cases and conditions. After debugging we can proceed to a hasslefree roll-out. 
Step 6. App release and post-release support
As developers we make sure platforms accept your product and it gets successfully published wherever necessary. After early application adopters leave feedback you can start further development and improvement. User reviews provide great food for thought for you to grow your product and make it more appealing and friendly.
If you work with us, we can offer post-release support. The amount of hours for varies from 20 to 40 per month. During software maintenance we fix bugs, supervise codebase, correct UI/UX design elements if necessary, and make sure your app meets all Google and Apple updates.
Let's start working on developing your insurance mobile app today!
We look forward to hearing from you. Contact us for a free project estimate within 48 hours.
Let's start
How much does it cost to develop an insurance app
The cost of developing an insurance app varies depending on several factors, such as the app's complexity, the features it includes, and the technology stack used to build it. At Purrweb, we estimate a project cost at the discovery stage. We take into account client's needs and desires to create a perfect MVP with essential features.
Here's how our team estimates rates and timeframes for the development of an insurance mobile application with a basic set of functions:
| | | | |
| --- | --- | --- | --- |
| Stage | Estimation in hours | Estimation in weeks | Approximate costs |
| Project analysis | 8 hours | 0 weeks | $0 |
| UI/UX design | 90 hours | 3 weeks | $4 455 |
| App coding | 700 hours | 8 weeks | $34 200 |
| QA (quality assurance) | in parallel with the development | in parallel with the development | $5 600 |
| Project management | during the whole project | during the whole project | $4 050 |
Overall, insurance app development will cost you approximately $48 305. For more information about our development services, please contact us.
Summary
Application development is beneficial to insurance companies because it allows them to earn money, increase customer base, reduce operating costs, and improve business efficiency.
If you are the owner of a company that is looking for a team to create an app, Purrweb employs 190 specialists with 8 years of mobile app development experience. Contact Purrweb and get an individual offer.