In this article, we'll share the most popular React Native apps and explain what makes this framework so special. 

React Native is a technology that has already earned trust from world-known giants. Before you start searching for a suitable React Native development agency, we'd love to prove the power of this cross-platform framework. We've compiled a list of the 14 best mobile apps built in React Native. Let's check them out together!
1. Instagram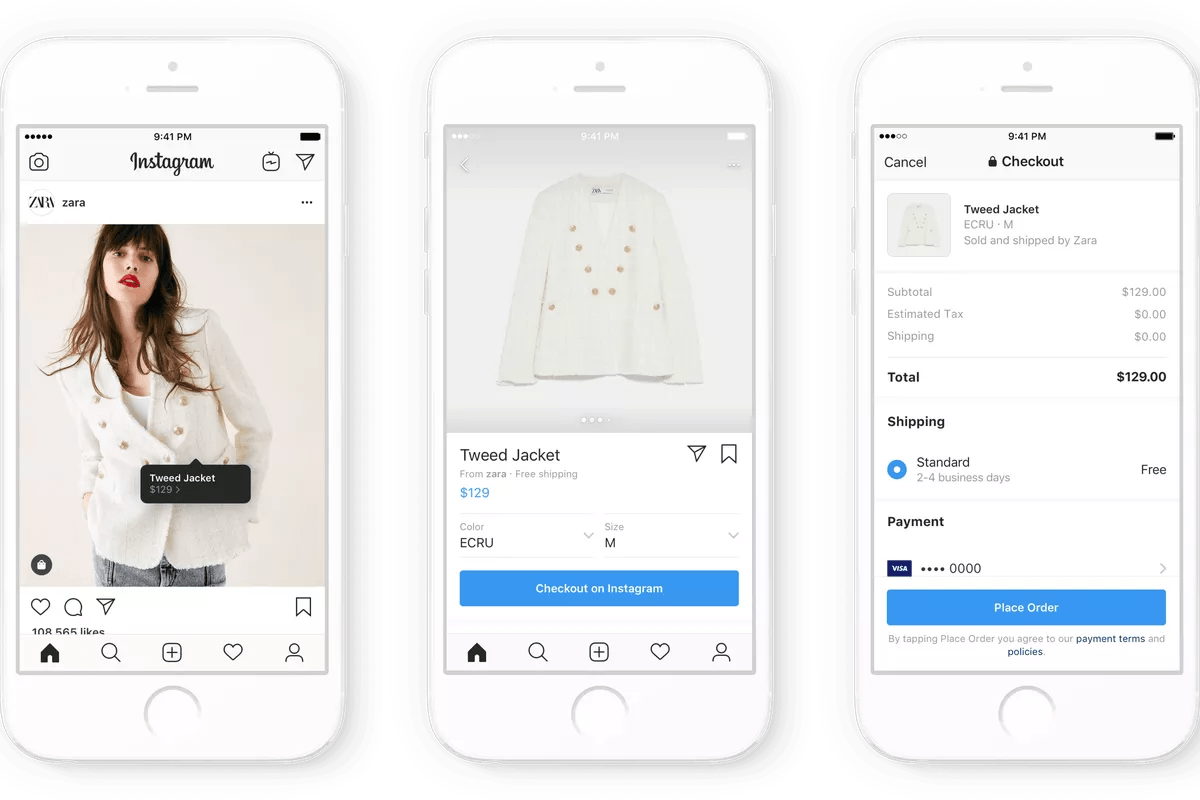 Source: theverge.com
Today it's difficult to imagine a world without this application. Getting the hottest news on celebrity scandals, finding the best cooking recipes or workouts — Instagram covers all these scenarios 🙂
Instagram is one of the most popular mobile apps in the world. It has 1 billion monthly active users, and more than 500 million of them use the platform every day. In their official blog, Instagram developers claimed that using React Native allowed their team to ship features faster to both iOS and Android apps.
REACT NATIVE AGENCY | OUR APPS
2. Skype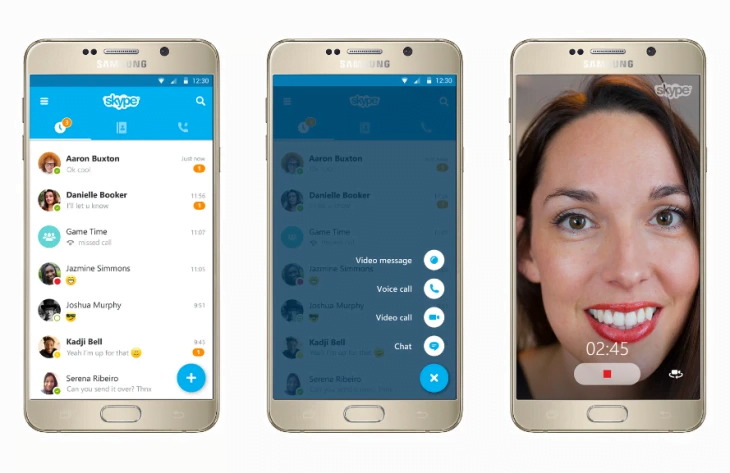 Source: techcrunch.com
Back in early 2017, Skype announced the team was developing an app based on React Native. The new Skype Android app was a drastically renewed version of Skype — a huge part of this app was rebuilt, from design to functionality.
The company transferred almost all the features of the old version of Skype to the new version and added many new features. For example, Microsoft has integrated Giphy, which allows users to share GIF files in conversations.
Despite a decline in popularity, Skype is still utilized by millions of users around the world.
3. UberEats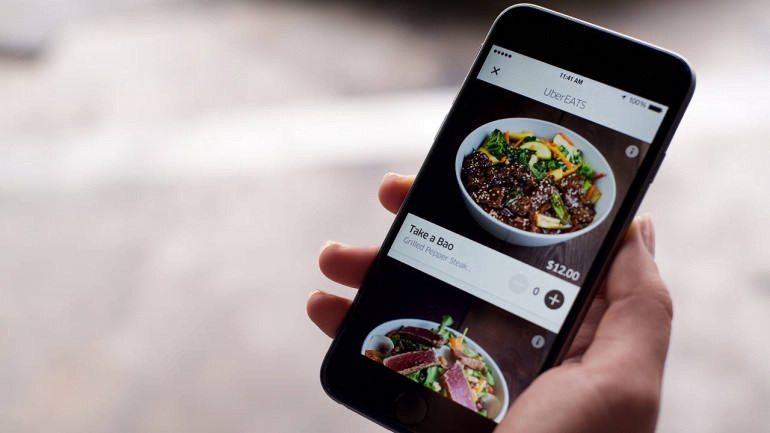 Source: moneycontrol.com
UberEats is a platform that allows to easily order favorite restaurant food.
To put together three parties — restaurants, delivery partners and diners — Uber's team needed to improve its built-in Restaurant Dashboard and rewrite this component using React Native.
Soon after the introduction of the technology, the developers said that, although React Native was a rather small part of the UberEats ecosystem, their experience in using it to rebuild Restaurant Dashboard was very positive.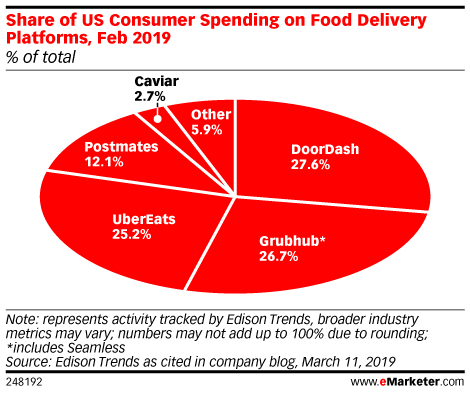 Source: emarketer.com
Since using React Native, the updated Restaurant Dashboard has become a common tool for almost every UberEats restaurant. Developers were gratified to know that they've created an improved platform that attracts more users and helps expand Uber's customer base. Today, UberEats is one of the most popular food delivery platforms in the USA.
4. Walmart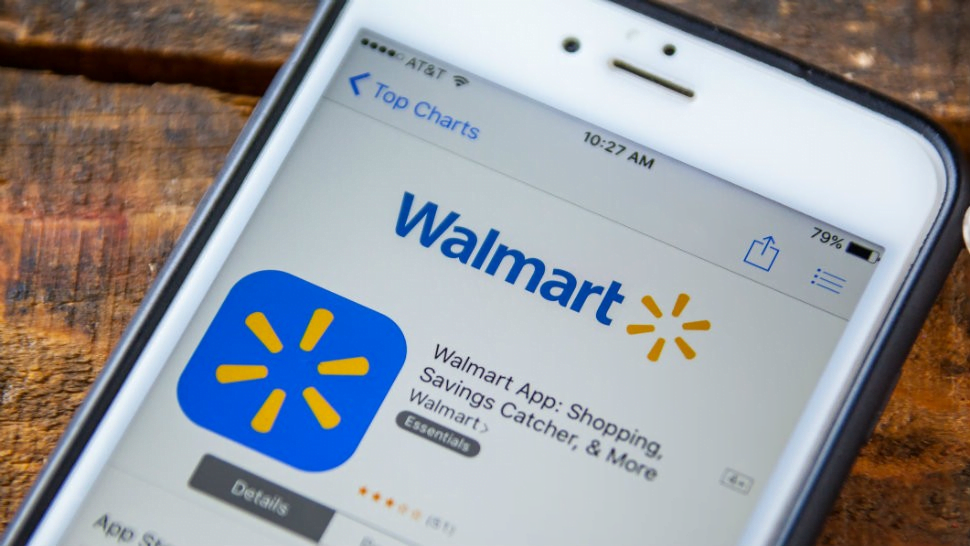 Source: komando.com
Today Walmart is one of the most popular retailers on the planet. To retain the top position on the market and provide the best customer experience, the Walmart team placed a big bet on React Native.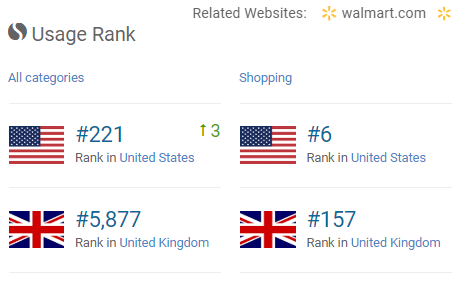 Source: similarweb.com
React Native allowed them to simultaneously use the same team for developing both iOS and Android apps which reduced labor costs by half. The initial stages of development, as well as the creation of additional features, were completed very quickly, giving Walmart the edge over competitors in meeting the evolving needs of its customers.
The benefits of using this cross-platform many times outweighed its downsides. As a result, the Walmart team recommended using React Native in creating new mobile projects for companies ranging from startups to Fortune 500 enterprises.
5. Tesla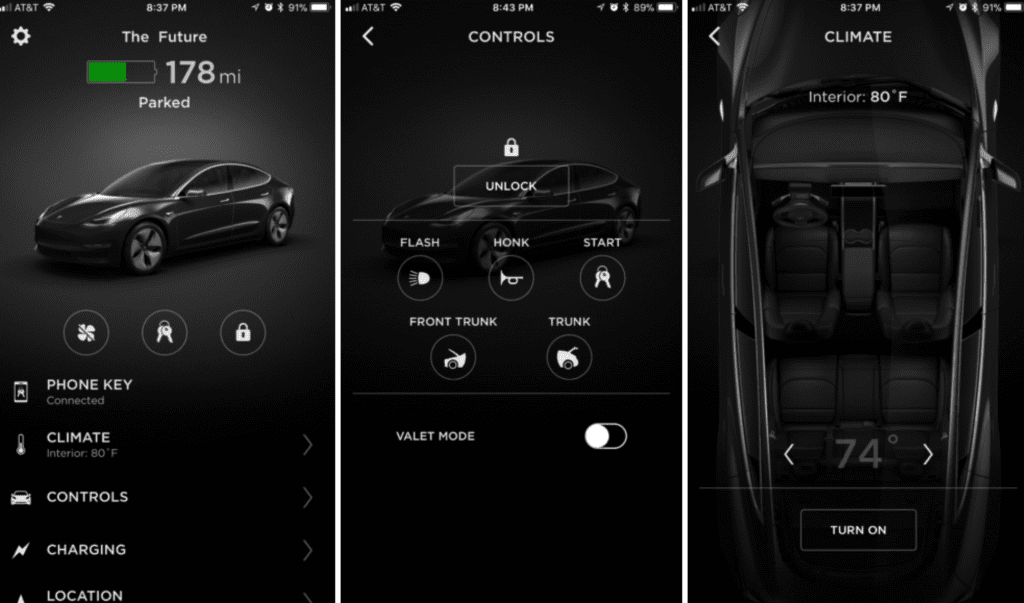 Source: teslarati.com
The famous manufacturer of all-electric cars also used React Native to develop its mobile app. Thanks to this technology, it makes no difference to users whether their device is Android or iOS. All the app features such as charging, lights, horn, locks or the panoramic roof, are available on both platforms with the same capabilities.
6. Facebook Ads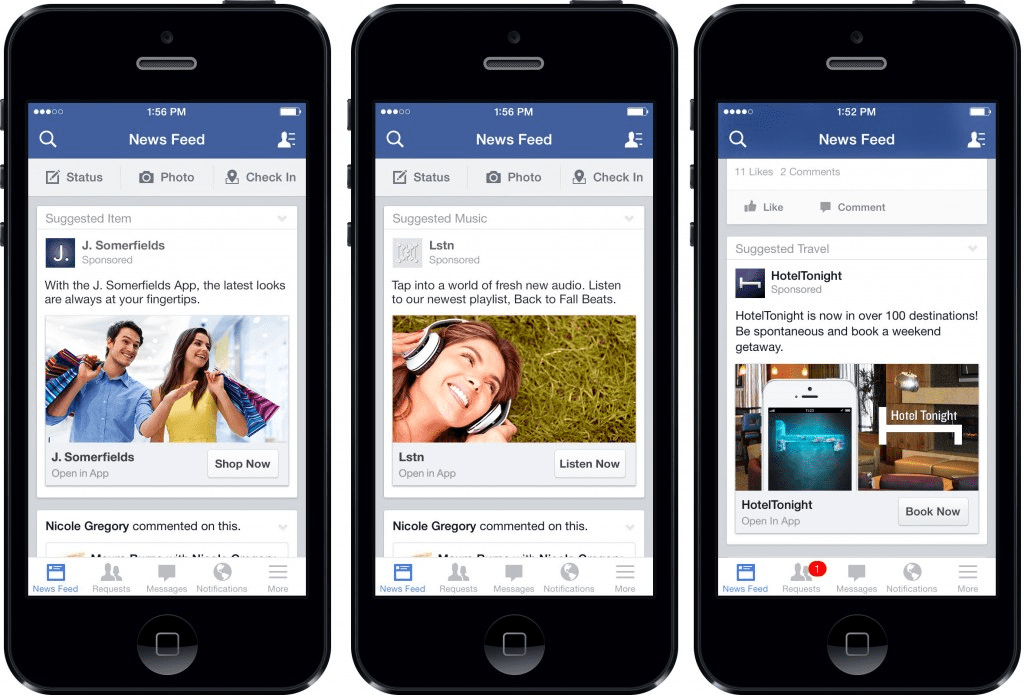 Source: engadget.com
For Facebook, the company that released React Native in 2015, the framework is an important part of the company's tech stack.
7. Wix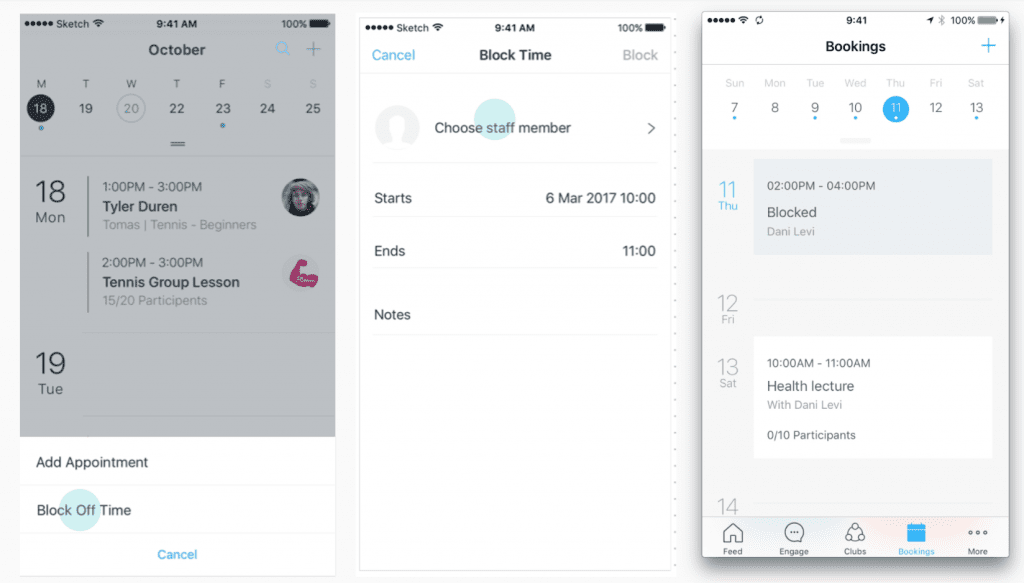 Source: wix.com
Wix is a popular service that allows users to create and manage websites in a very convenient way. In addition, the company provides a mobile application using React Native.
What does the company think about using this technology? First, Wix offers the React Native crash course — an independent learning program created to help developers learn the basics before they start writing code in React Native. The course is open-sourced since May 2019.
8. Bloomberg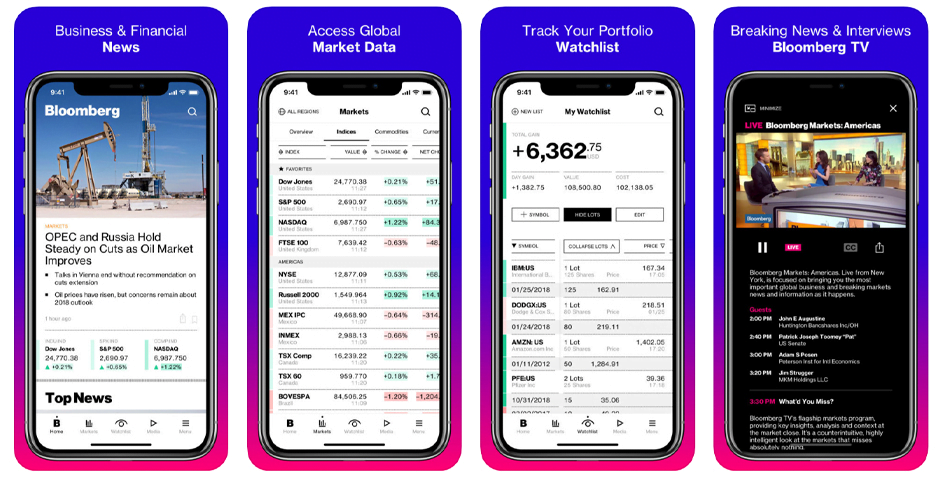 Source: webbyawards.com
When Bloomberg decided to develop a mobile app, the company wanted a high-quality solution that would offer an advanced user experience and personalized content. That's why they opted for React Native.
With this cross-platform framework, Bloomberg engineers were able to easily and quickly rebuild the company's consumer app for both Android and iOS, as well as add many innovative features.
The whole process took the team of developers just five months, roughly half the time it would have taken with native technologies.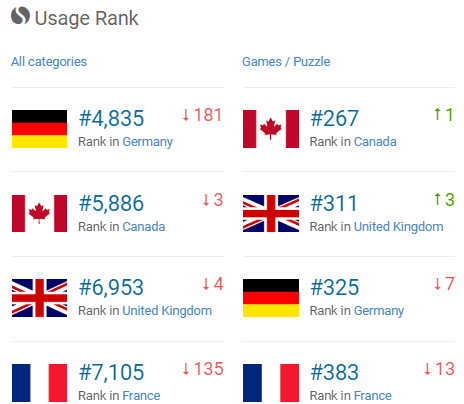 Source: similarweb.com
9. Airbnb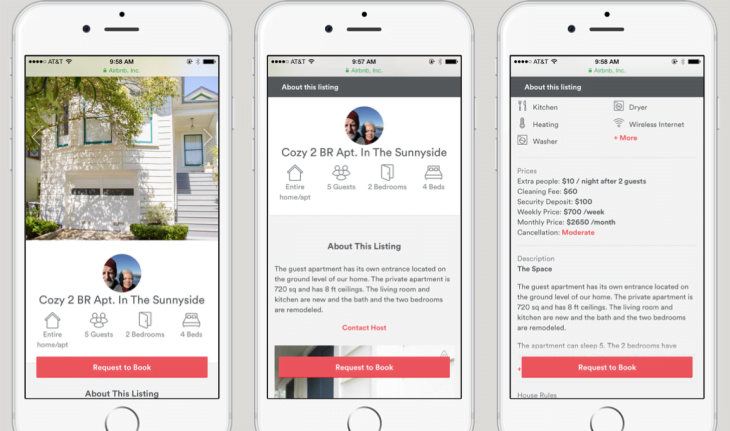 Source: techcrunch.com
Airbnb is a famous digital marketplace for arranging or offering primarily homestays, lodging, and tourism experiences. Although recently the Airbnb team has decided to use other frameworks, a few years ago React Native helped the company accelerate the development of their mobile app.
10. SoundCloud Pulse
Source: cdm.link
SoundCloud Pulse is a React Native app that helps creators manage accounts and interact with their communities.
SoundCloud faced a number of difficulties during the development process. In particular, the team could not find suitable iOS developers. Therefore, the company decided to try React Native. The SoundCloud team continues to use this framework.
11. whym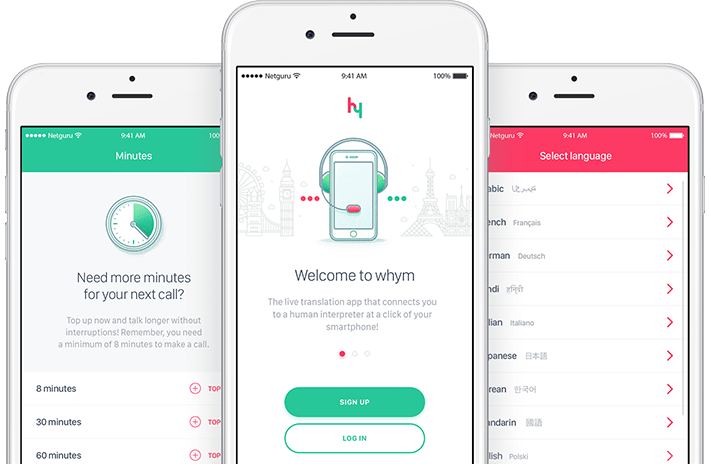 Source: netguru.com
Whym is a real-time translation app for hospitality and travel businesses (airports, hotels, etc.). The team used the React Native framework when developing a mobile application and was happy about the results.
12. ChaperHome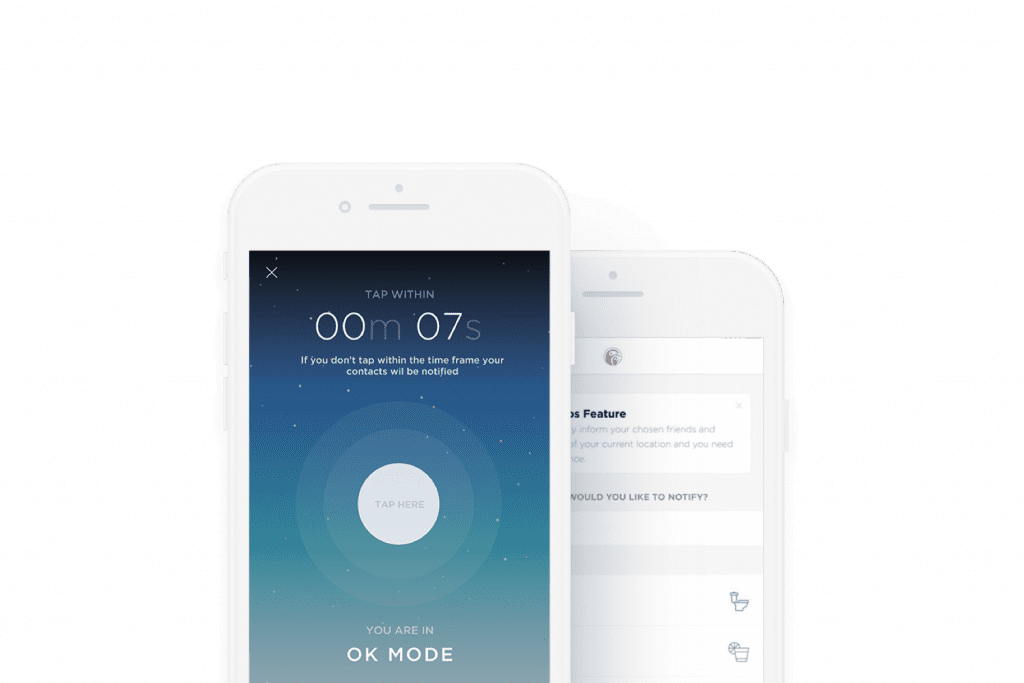 Source: netguru.com
ChaperHome is a personal safety app that was also developed with React Native. With this app, you can save other people's lives — or your own. To avoid dangerous or uncomfortable situations, users pick protectors (people who will get a notification if they feel unsafe) and set the time they want to reach their destination points.
13. Shine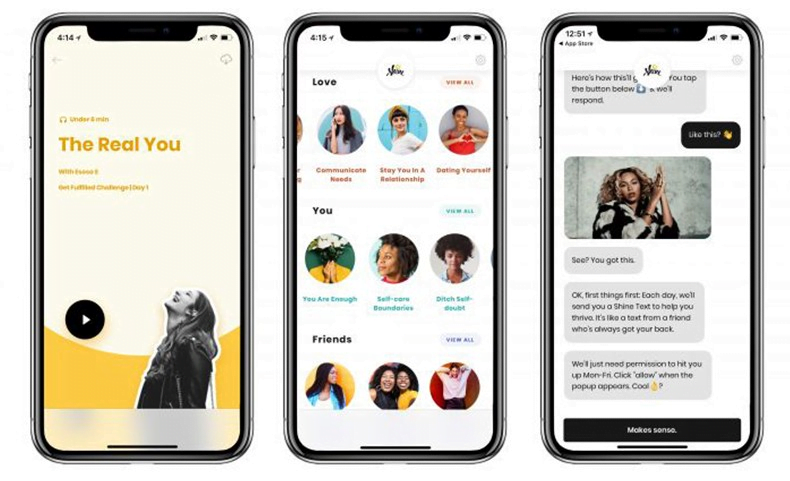 Source: sheerluxe.com
Shine is a mindfulness app that provides users with motivational articles and mottos, helps them deal with stress and encourages relaxation. It offers inspiring recordings created by experts. Today, this React-based application is quite popular in Canada and in the United States.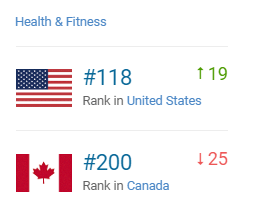 Source: similarweb.com
14. Microsoft OneDrive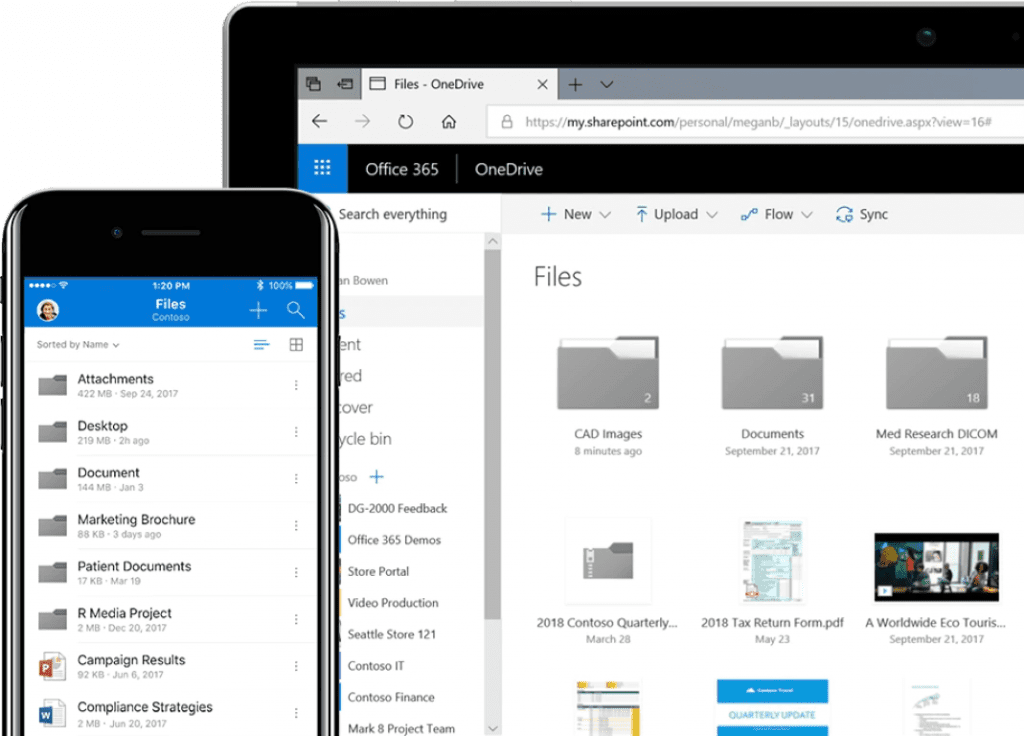 Source: products.office.com
Microsoft OneDrive is a file hosting service and synchronization service operated by Microsoft. During its development, Microsoft decided to choose the React Native framework for the OneDrive mobile app.
Wrapping up
So, yes, we've just listed out top 14 React Native-based apps. These solutions are from completely different industries, however, there's SOMETHING they have in common — all these apps are super popular.
In terms of user experience and performance, React Native is amazing. With such a framework, it's possible to deliver a mobile app that targets will fall in love with (these 14 examples just perfectly prove that). So, if you hesitate about which technology to choose for mobile app development, React Native is definitely worth considering.
Folks who regularly read our newsletter launch their startups 5x faster. Join them!