Entrepreneurs are ordinary people who speak in plain words. But when it comes to advertising texts, it all turns into 'Think outside the box', 'Leading the industry' and 'Primary quality product'. Sounds smart, but what the hell is that?
In this post, we'd like to share considerations about what crappy advertising is and how plain language influences sales.
When it comes to generic gobbledygook, it usually appears due to any of these two reasons:  
You're lying.
You're trying to sell.
Paul Ekman, the American psychologist, studied the reasons why people lie. He claims that one of the reasons we lie is to avoid significant damage if the lie is discovered. The threat of being punished causes changes in the way we behave — facial expressions, body movements, gaze, voice, or words — this is what makes us look unnatural. 
Gobbledygook comes not from lying, but from the fear of being punished if this lie will be detected
As for advertising, possible reasons why people use generic phrases are:
They wanna sound like true innovators.
They believe that 'Think outside the box' is what makes a good first impression.
They haven't validated their ideas yet, and hence have no clue about what the core is.
Gobbledygook comes when you don't know what your product is about
What fatty words look like 
How to ensure that advertising text is crap? Grab a random advertising text, remove all the names and see what happens:

If you can't understand what this text is about after removing all the names — this is insincere crap
How to write clearly
Stop flogging products. No puffery, rhetorical questions, thick letters and lots of exclamation marks. Eventually, you describe a product, not your favorite tearjerker movie.
To get the idea of how to stay persuasive when describing products, let's go back to our examples and try to cut the fat.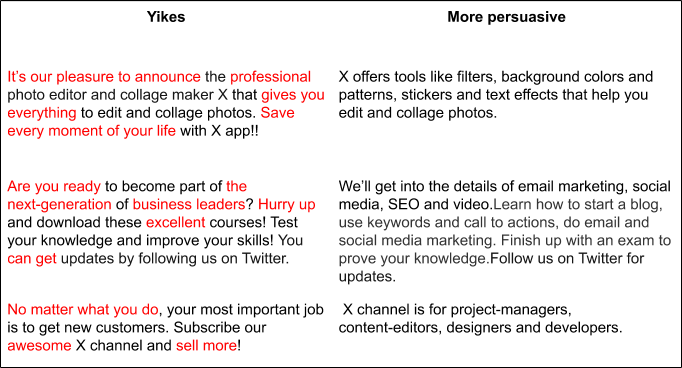 So, the basic rules of writing clear advertising texts are:
Drop all subjective evaluations and add facts.
Translate features into benefits.
Build the benefits in users' reality.
Don't use five or more words where three will do.
Write like you talk.
Will plain words boost my sales?
No one will give you the answer. Seriously.
It's hardly possible to prove, that plain words bring more customers than buzzwords. We wish we could prove it, but we should stay honest. Speaking in plain language is just a way of communicating with users. It's not a brilliant trick that brings you tons of happy customers.
The goal is not to find 'powerful' words that sell. It's more about your attitude to users and what you do