Explore the fitness apps market
According to Allied Market Research, the health and fitness apps market is growing annually by 24.3%. By 2030, it's estimated to reach $120.37 billion. 
Statista report is also encouraging. The forecast made for the worldwide market shows that in 2021 the revenue in the fitness applications segment amounted to $4,024.9 million and keeps growing rapidly. In two years' time we will see 31% growth. And if a whole fitness apps market flourishes, tracking apps contribute to this success too.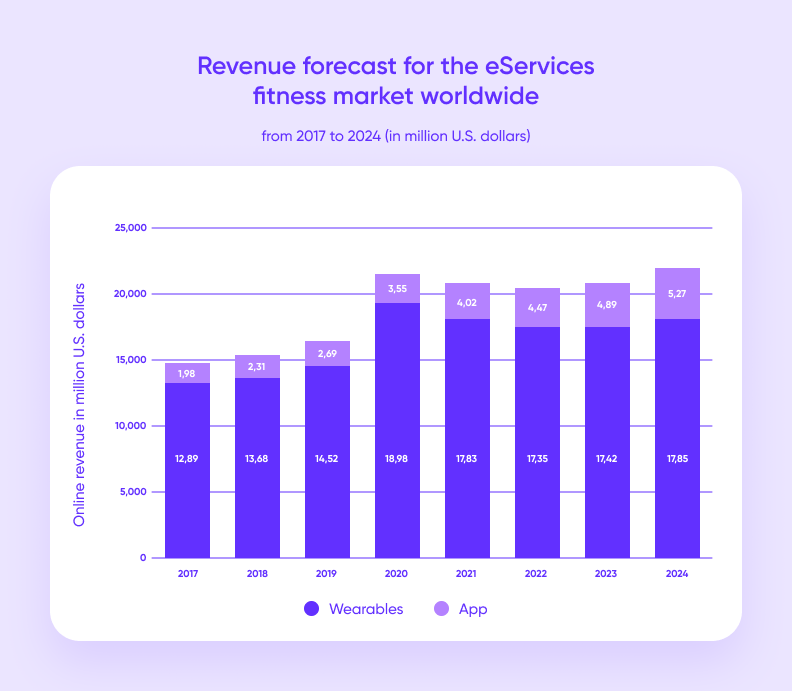 Statista report
Last couple of years were a game changer in the fitness application industry. What contributed to the development of the fitness apps market and what affects it now?
Post-pandemic emphasis on maintaining a healthy lifestyle
We all remember how the COVID pandemic made us take better care of our health. But the change was not only in awareness. Behavioral patterns changed as well. Avoidance of crowded places has led people to prefer workout apps over gyms. Technology-aided activities became an indispensable part of life and are now a habit. 
A fitness app is an easy and affordable way to maintain wellbeing while working or studying from home or traveling. Furthermore, activity tracking apps users have all the needed data in their smartphones and can show it to doctors, trainers and nutritionists when making decisions to improve their health.
Increasing use of smartphones, tablets and wearable devices
Smart devices are becoming more affordable and people of different social groups use them all over the world, including developing countries. Smartphones are a leader here and the majority of fitness apps are installed into mobiles. 
By 2030, we will see the rapid growth in usage of fitness apps via wearable devices, but smartphones are believed to stay out of competition.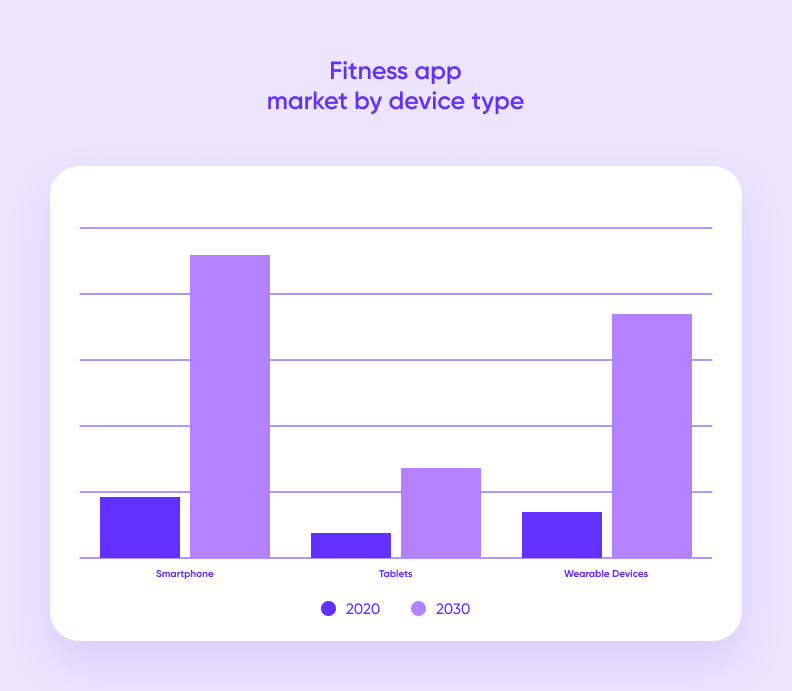 Allied Market Research
Increasing time spent in apps
According to statistics, 42% of users open their health and fitness apps at least once a day. They believe workout applications and fitness trackers help them achieve their health goals. And they really do — fitness apps continue to develop, incorporate new technologies and specific features to become more efficient and indispensable. It's safe to assume that the time spent in fitness apps will only increase.
Apps become a part of gym's ecosystems
Offline gyms and sport clubs are still alive and well. And many of them added mobile apps into their business model. Keep your friends close and your enemies closer, as they say. Fitness trackers help to increase gym's clients' loyalty by providing workout history, saving user's data, drawing impressive graphs and progress bars. Athletes can mix their online and offline presence and still stay a member of their sport club. Besides, a subscriber that randomly downloaded a gym's fitness tracker can soon turn into an offline client.
Fitness tracking app market
There are several types of fitness apps which differ in their logic and features. Workout apps teach users to do their exercises correctly, often providing audio and video guidance and synchronization with wearable devices. Diet and nutrition apps help you track dietary habits, set and monitor calorie goals and find healthy meal receipts.
Activity tracking apps, as the name implies, keep track of health indicators and different activities or exercises. Some trackers are designed specifically for runners or cyclists, some for professional athletes. But most are suitable for everyone. Tracking apps count the number of steps taken and the distance traveled, measure your heart rate and stress level. You can set goals and view your progress, always having a complete picture of your health condition saved on your device. 
Fitness app market is experiencing incredible growth and it affects all types of fitness apps. We're expecting to see 4x growth of activity trackers by the year 2026 in the U.S. The trend can be applied to the whole world.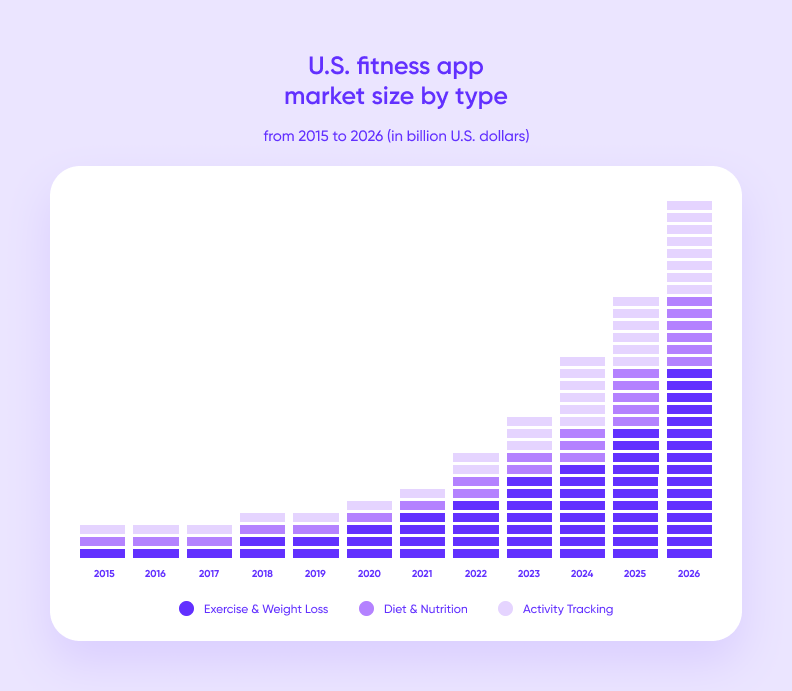 Grandview research
Key players in tracking apps market  
If you're going to make a fitness tracker app, check out the leaders of the market and the main features that popular applications incorporate. 
MyFitnessPal
The diet and exercise app helps users achieve their nutrition and fitness goals. Some of the key features here are gamification elements that motivate people and encourage them to spend more time in the app. There is also a barcode scanner to find the nutrients of certain food and a water consumption tracker.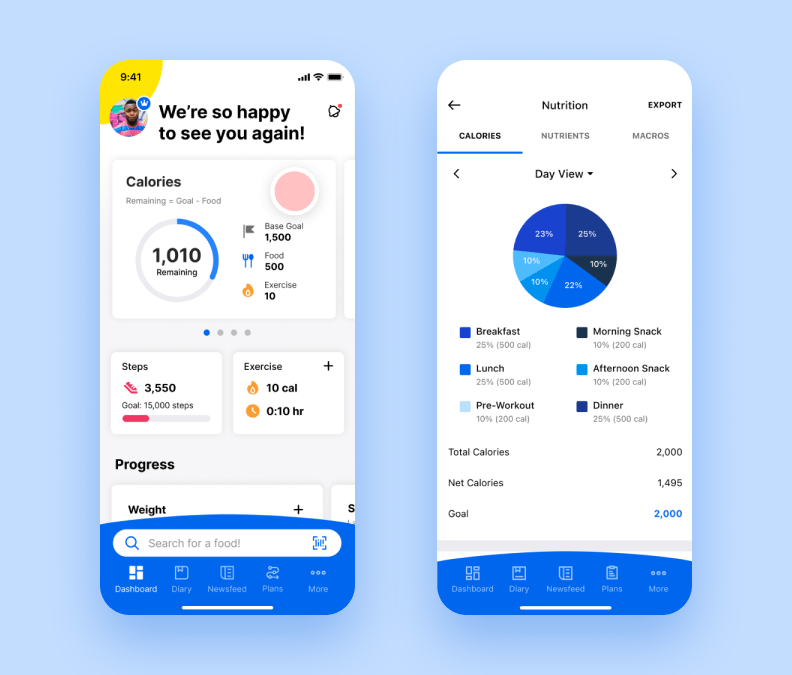 MyFitnessPal app
Nike Run Club
The main logic behind the Nike Run Club app is tracking all the metrics that are important for runners, such as time, pace, distance and heart rate. The signature feature of the app is an accurate GPS tracker that helps users visualize their activity and share their favorite running routes. It also supports indoor fitness — the app has a special mode for treadmill runners. Additional features athletes love are choosing music playlists and receiving push-notifications that spur on to new achievements.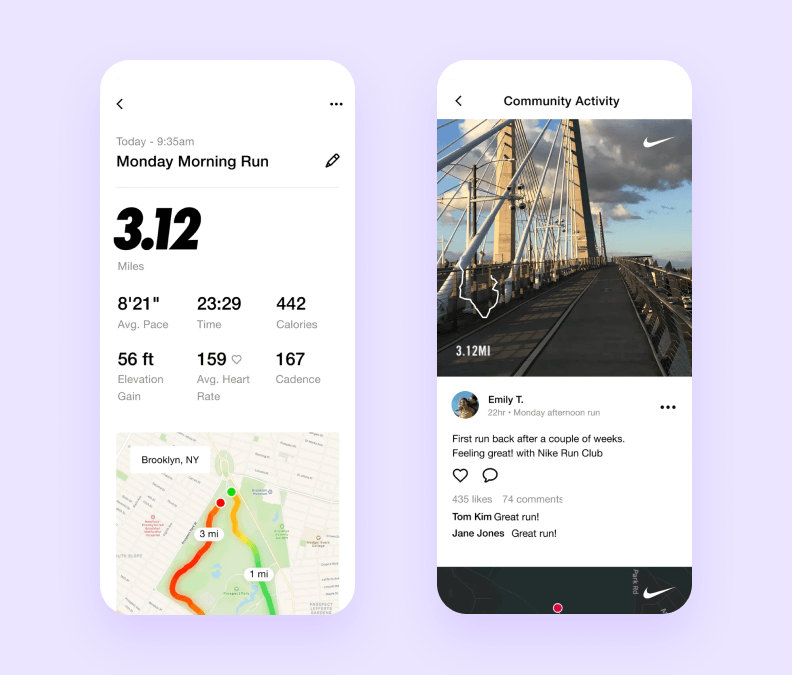 Nike Run Club app
RunKeeper
Another running tracker which differs from its competitors by expert guidance, monthly challenges and running marathons that help to build users' loyalty and trust. The app also offers a paid subscription with additional features, such as building a personalized training plan and professional support throughout your journey.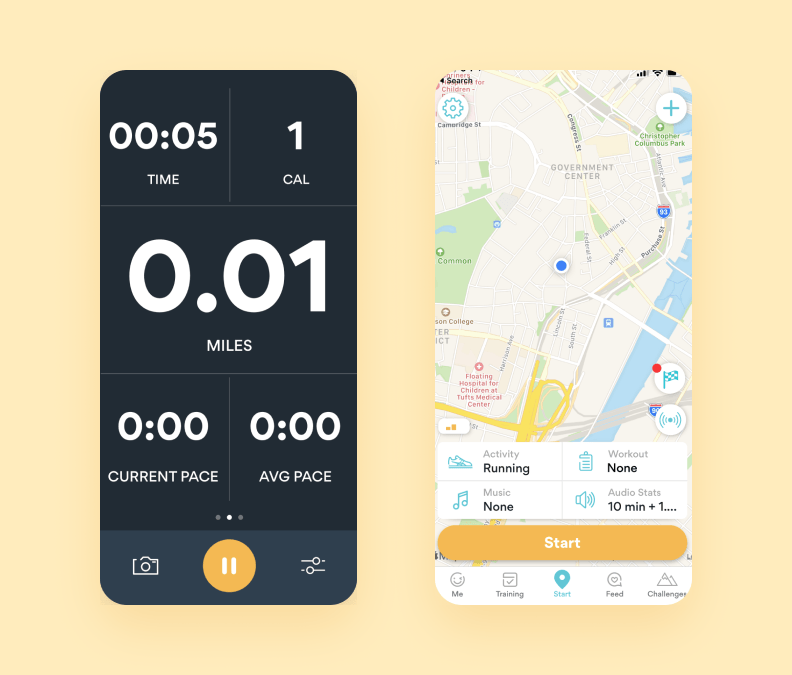 RunKeeper app
FitBit
A FitBit app is a basic health and activity tracker combined with a community page — a social feature that allows users to get inspiration from other athletes and share their achievements. The paramount thing here is that a mobile tracking app is only a part of a FitBit sport ecosystem. There are also wristbands, smartwatches and pedometers that can all synchronize with the app.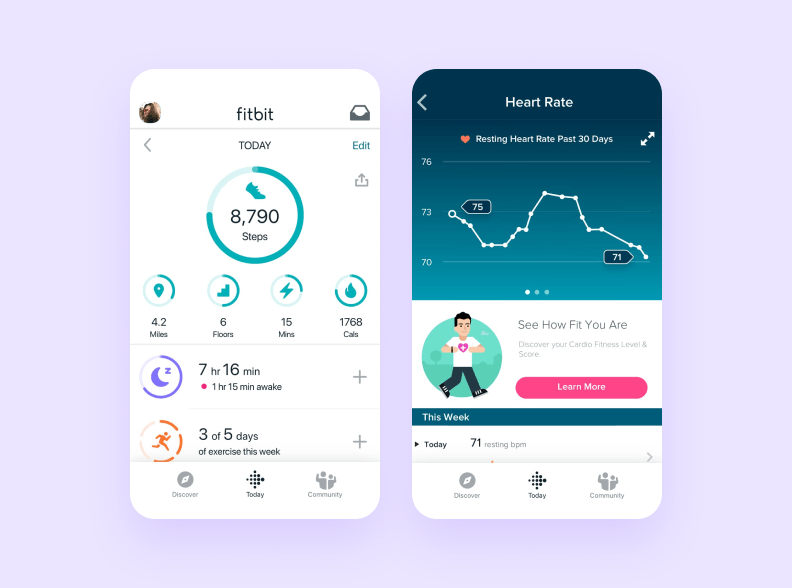 FitBit app
Strava
This running, hiking and cycling tracker is famous for incorporating social network features. The logic behind the Strava app is sharing your activities with friends and followers and receiving comments and kudos in response. The app is free, though there are some paid features, such as setting custom goals, getting personalized training plans and thorough  performance analysis.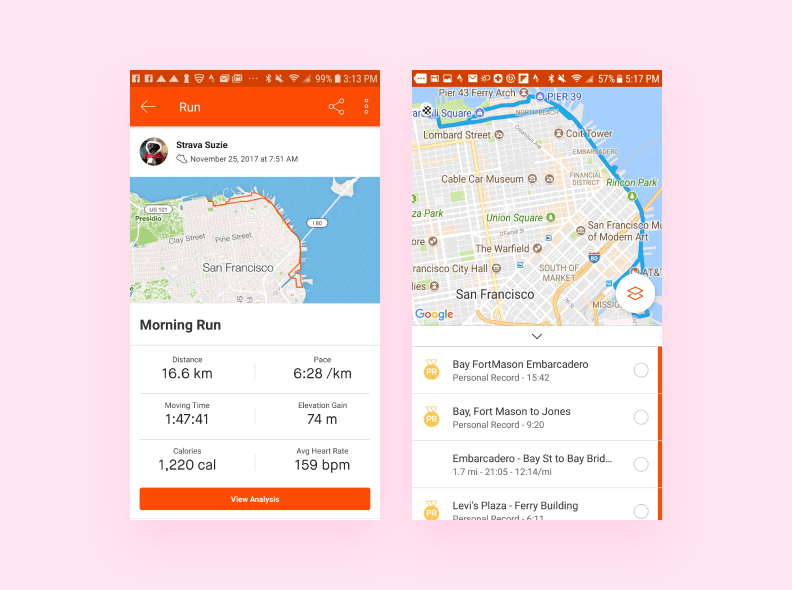 Strava app
Must-have fitness tracker app features
Say, you're about to create a fitness app and ready to dive into the fitness app development process. Having analyzed the main features that famous fitness trackers have, it's time to come up with your own. Here's a list of must-have fitness tracker app features to win the heart of your audience.
Goals setting and achievements tracking

Activity tracker: steps, distance, speed, pace 

History of workouts and training suggestions

Maps

Social media features 

Push and email notifications 

Training support: a chat with a mentor or a community forum
How to create a fitness app in 5 steps
App development process, no matter what type of app it is, generally looks like this: Project analysis ➡️ UI/UX design ➡️ App development ➡️ QA Testing ➡️Release and post-release support. We thoroughly discussed all stages of developing all kinds of apps here.
Now let's explore the tracking app niche precisely. How to build a fitness tracking app and what steps are specific here?
Step 1. Define your platforms
What devices does your target audience use? Of course, smartphones have become an extension of our hand, but when you are about to create a fitness app you have to see the whole picture. Ask your potential clients if their day-to-day activity is measured by smartwatches, wristbands, pedometers. Do athletes watch fitness videos provided by your app on TV? Maybe they are used to switching from smartphone to tablet when they come home and expect all data to be synchronized without delay. 
Analyzing your audience's behavior will help you to make a fitness tracker app that meets all expectations. An app will become indispensable if it is linked to other software the customer is using and follows their activities on all preferable devices.
Step 2. Choose principal functions
The idea to create a fitness app should aim at helping users achieve their fitness goals. They need to see their progress, stay motivated and stick to the training routine. The most important feature of a fitness app is a well-functioning data processing algorithm that would gather all activity metrics from the device's sensors. We can also name a desktop version and integration with basic utilities such as a calendar, a GPS tracker and a music library.
FitForce.com app
Depending on your target audience, you'll have to imply additional features to develop a fitness tracker app that meets user's demand. Check our FitForce.com app that helps fitness trainers achieve their professional goals. The app can schedule their sessions, manage invoices, and track their clients' success via phone or computer. It even has a chat-bot that notifies users about upcoming events and provides information on frequently asked questions.
Step 3. User-friendly design
Even if your workout application has numerous useful features, there is always the main one — the reason why athletes choose your tracker and not another. Maybe the first thing they need when they open an app is checking their water consumption, or setting a timer for an exercise, or viewing yesterday's number of steps before setting today's goal. 
When you define this main feature, make sure that users can access it in just 1-3 taps. All other user activity should be based around it. 
Step 4. Develop interactivity
Examples of successful fitness apps show that interactivity is key to create a fitness app that motivates users and builds up their loyalty. In the stage of fitness app development, pay special attention to gamification and social features of the app. A previously mentioned Strava app, for example, lets you virtually compete with users from the same area and earn rewards while climbing the leaderboard. And in FitBit you can set up a family group chat and start a walking challenge.
Your audience will be better engaged in tracking their progress and health routines if your app incorporates such interactive features as ratings, reward systems, stickers, and colorful stats. People are motivated by earning badges and certificates and sharing these achievements.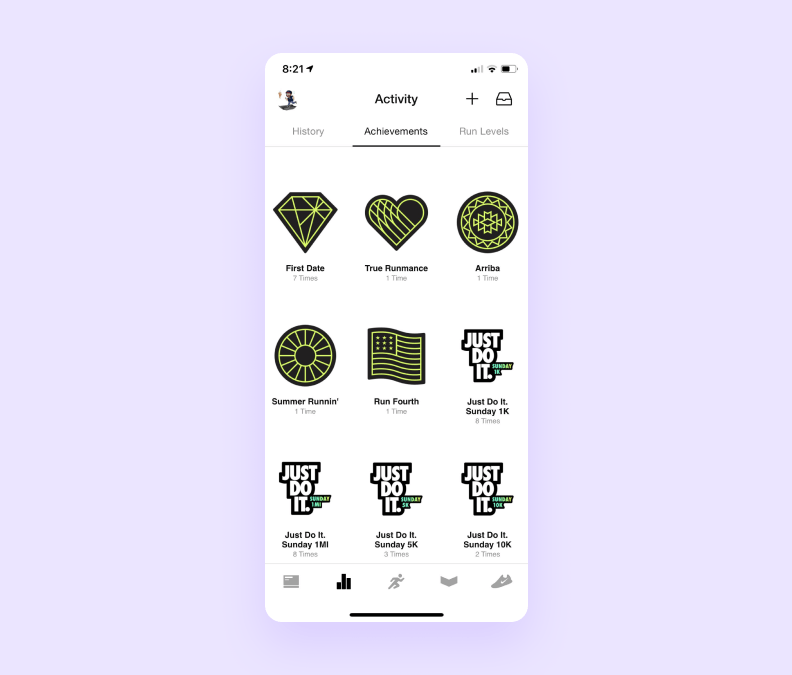 Nike Run Club achievement badges
Step 5. Release an MVP and get feedback 
MVP — Minimum Viable Product — a first version of your app. You've gone through all the stages of the fitness app development process and are ready to release a working fitness tracker. How can MVP approach help make a fitness tracker app that is both effective and reasonably priced?
Get feedback. MVP can help you gather valuable user feedback before spending the entire budget on a product that doesn't meet customer expectations. It helps you implement additional features that were previously overlooked or enhance the functionality of existing ones. 
Check feasibility. Entrepreneurs are not programmers. Business owners can plan app functionality that is impossible to bring to life from the development perspective. MVP helps to test vital apps functions, its scalability and algorithm realization, at the same time being a perfectly working application.
How much does it cost to make a fitness app?
Here's Purrweb's health and fitness app development cost breakdown. Bear in mind that these are approximate numbers — we based them on our calculation of a fitness app that has basic functionality. 
| | | |
| --- | --- | --- |
| Stage | Estimation in weeks | Approximate costs |
| Project analysis | 1  | $1,000 |
| UI/UX design | 4  | $5,400 |
| App development  | 9 – 10  | $36,000 – $40,500 |
| QA (Quality Assurance)  | concurrently with the development | $5,400 – $6,000 |
| Project management | during the whole project | $3,950 – $4,100 |
Overall, you will need approximately $56 000 to create your own basic functionality app. And the application development process will take 920 – 1020 hours, which equals 4 months. 
Depending on the number of innovations, the staff involved and the desired functionality, the app development cost can be lower or higher. Get additional information in our article How Much Does It Cost to Develop an App. 
Monetization strategies for a fitness application
Most of the famous fitness trackers are free in their main functions. However, it doesn't mean that they are not making money. Let's see what monetization strategies can help you meet all user needs while earning money.
Subscription.Your app can have different levels of subscription, starting from a free trial and increasing based on the needs of the athletes. Your subscription fee may vary depending on the number of features a user gets or depending on the time they are planning to stick to your app.
In-app purchases. When the audience is loyal and has a strong commitment to your services, they might want to boost their experience with in-app purchases. That can be additional features, such as access to video lessons or personalized training plans. And also little one time purchases — certificates, stickers, avatars. 
Ads. An easy way to make money on the app is adding other brands' advertisements into your fitness tracker. Keep the amount of ads reasonable and make sure that users are not irritated. Ads should be thoughtful and match your brand style and niche. 
Scaling. The most complex of monetization strategies is building an ecosystem around your brand.If you have other offline and online products and services, make sure the audience is aware and is willing to use your entire product line to enhance their experience. 
Let's discuss your future app! Fill the form below and we will contact you in 24 hours.