Key takeaways
An online marketplace is a platform that connects vendors and their customers. Great examples are Amazon, Ebay, and AliExpress
Before starting marketplace app development you should know who's your customer (B2B, B2C or C2C), determine which features you need in your app, and decide on your business model
The most popular marketplace business models are: commission, subscription, freemium, listing fee, lead fee. You can mix them however you like.
What are marketplaces and how can they work?
An online marketplace is a platform that connects vendors and their customers. In simple words, it works like this: a vendor displays its goods at a third-party platform (a marketplace) and a customer purchases these goods. 
The first thing that usually pops into mind is a large Amazon-like hypermarket that allows you to save time on shopping and get any goods you can even think of. Yes, such venues are marketplaces, too, but in fact, a marketplace is a much more global term. It is not only about some tangible goods: a marketplace can display services or digital products. Let's look at the top famous marketplaces (and their revenues) to expand your view of the overall idea.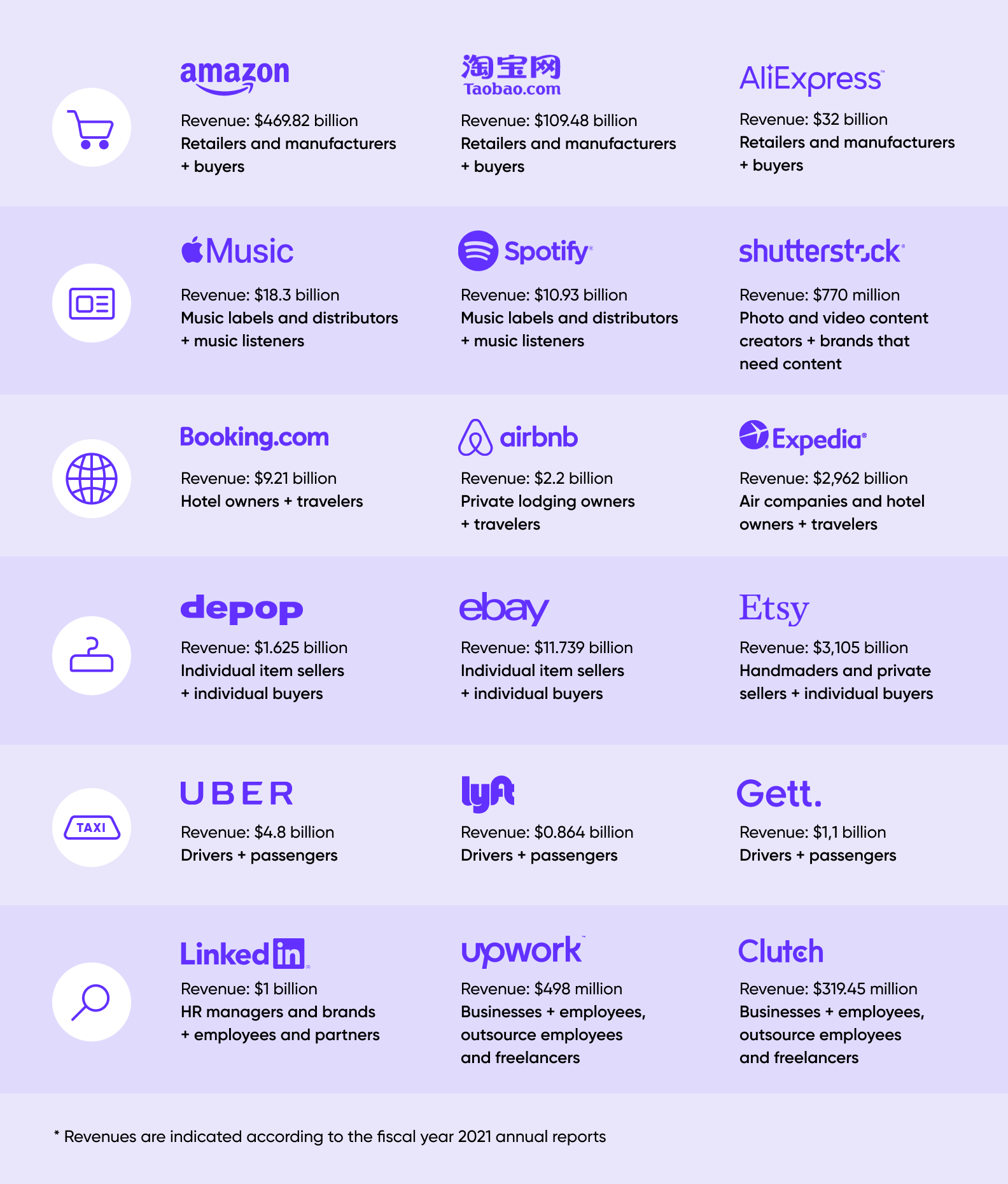 As you see, all these marketplaces generate enormous revenues, although they don't produce or sell anything themselves. One of the keys to their success was the right marketplace business model — the way they monetize their services.
What is more, startup marketplaces often fail when they opt for a business model that doesn't fit them or don't consider all possible risks 
For example, Design.Inc, a US startup marketplace, shut down within a single year after the launch. The point of the Design.Inc was to connect freelance designers to customers, but soon it became clear that there are more designers than jobs for them. In other words, the marketplace turned out to be too niche to bring regular large profits. Besides, some freelancers just happily partnered up with the clients directly and left the marketplace, and it all brought the service to failure in the end.
So how to find the best suitable marketplace business model for a particular startup and avoid risks?
What do I need to know before marketplace app development?
Begin at the beginning: before you monetize anything, you need to know what the product will be like. Everyone has its own approach to a business plan, but the basics always remain the same. You must know who will use your marketplace app, what will make users choose it over and over again and pay for your services. Another essential question: who will be responsible for your marketplace development? Will it be your in-house team or an outsourcing agency?
Some of these points might give you a hint regarding the suitable marketplace business model and overall simplify the marketplace app development process. So, let's give them a closer look.
Know your customer
When you are thinking of the marketplace development, you basically want people to pay you for being a mediator. Pretty obviously, you must know who will find enough value in your marketplace. Note: it's not always some business (say, a clothing shop) and its individual customer (say, a woman that needs to dress up). A marketplace can target only businesses, or only individuals, depending on its nature. Here are the most widespread types:
B2B or business-to-business

: the model when both vendor and customer are companies, not individuals;

B2C or business-to-client

: the model when a vendor is a business and a customer is an individual;

C2C or consumer-to-consumer

: the model when both sides are not entrepreneurs and can be both vendors or buyers.
Here are some examples to make it clearer: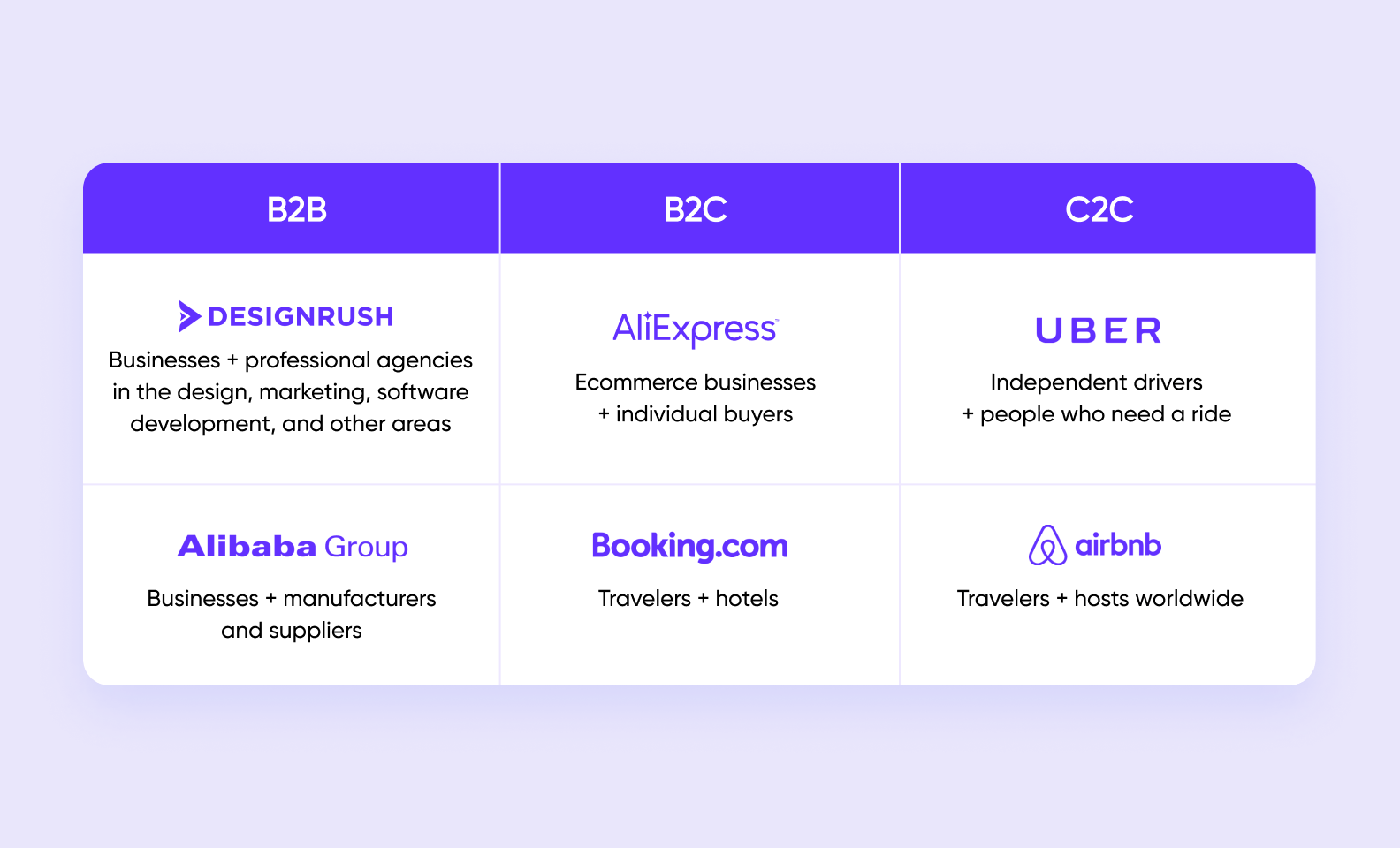 Note: in fact, when you get a closer view of the most famous marketplaces, you'll see they successfully mix B2B, B2C, and C2C models. For instance, Aliexpress sellers work with businesses, too, and AirBnB accommodation options include hotels, not only individual rent. Many C2C platforms begin attracting businesses when they become popular enough: for instance, Uber started offering special packages for corporate travel.
So why do you need to know who will use your marketplace? The main reason is that you need to know who will pay for your services.
It's essential to consider who will find more value in your platform: a vendor or a buyer, and understand who a vendor or a buyer is.
For instance, Booking.com charges vendors, while buyers don't pay anything for their hotel reservations. Thus, their monetization model is based on vendors, who are businesses, and it perfectly works for both sides.
Think of the features that must be in your app
What will make your marketplace app different and will it be convenient enough for both vendors and buyers? App features might include calendars (for booking apps), listings, various search filters, payment gateways, and many more. 
However, it's not always a good idea to put them all in the very first version of your product. 
The best solution for a startup is to start the mobile app development with an MVP
.
The MVP is the minimal viable product, e.g. an app with only the core features. It might be hard to outline what the core functions should be: as a product owner, you definitely admire all of them. Still, your main goal at the first stage is to collect feedback from your customers, and you need exactly the basic app version for it. In other words, you need to test your idea: if it doesn't work out, you won't regret spending a fortune on a complicated super expensive development.
We shared two best ways to select the MVP core features it in a dedicated article: read how to keep your first product version simple, attractive, and viable.
Decide how you will earn money from your app
So, we are coming to the main point: marketplace business models. We will touch on the top popular ones and show examples of how brands mix them. Don't lose your nerve now: you don't choose a model once and forever and can change it or combine it with another one.
Testing is our king: check your ideas, track results, analyze, and start all over again with another plan if it doesn't work out. This is why it makes sense to entrust marketplace app development to a team that will be engaged in your product and help alter some features or add new ones on the post-release stage.
Top popular marketplace business models
Here is an overview of the most widespread models we prepared to explain which of them work best for different goals.
Commission
The commission revenue model implies fees charged for every transaction. For instance, when you order food from a meal delivery marketplace, a restaurant will pay a commission from your order amount. It can be a flat rate, a fixed percentage, or a float commission that depends on the transaction's sum. 
Who uses this model?
Aliexpress

charges vendors a commission of 5%-10% depending on the sold item's category. As a welcome bonus, it offers a zero commission for the first 100 items;

Booking.com

has an average 15% commission that is charged from properties for every reservation. If a guest cancels their booking and gets a full refund, a hotel won't pay any fees, too.
Will it do for me?
It might seem a perfect solution for everyone, especially in the B2C segment: a vendor gets free listings and pays only after they get their profit from a buyer. However, it won't work if a marketplace stores very expensive items or, on the contrary, focuses on non-commerce relationships.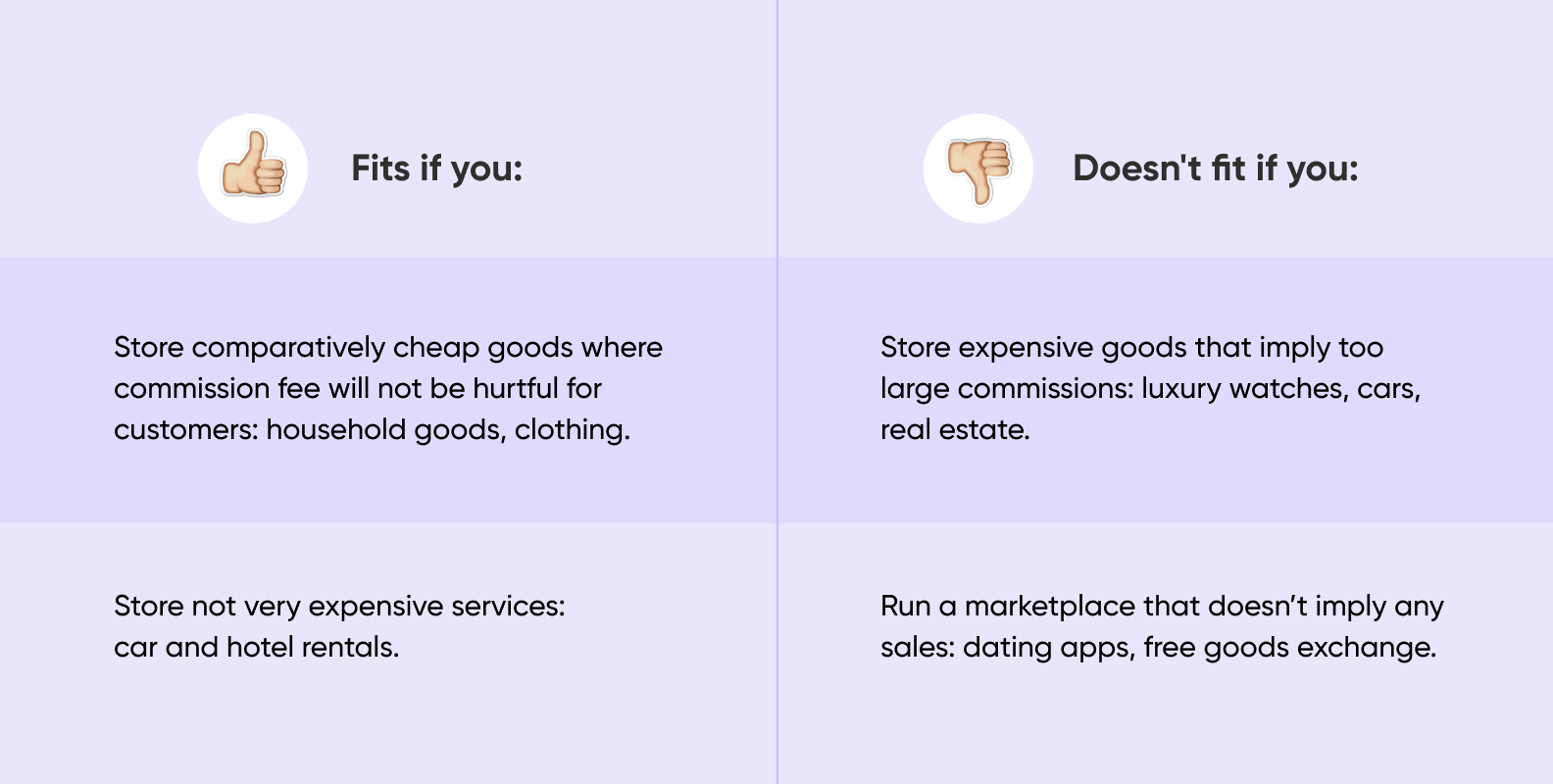 What can go wrong?
The commission fee business model implies two main challenges. The first one is actually the fee amount: what should it be to not drive the customers away but still bring you a stable income? The best option is to look at the opponent marketplaces fees and suggest a competitive one. Many platforms change commissions depending on the business size or sales amount, and thus create an image of a fair, flexible, logical pricing plan.
Another challenge is how you charge fees. Think of Booking.com: it doesn't always make travelers pay for accommodation in advance. Thus, the transaction is done off the marketplace: a customer pays at the hotel upon arrival. Some hotels try to work the system and cancel a Booking.com's reservation when the client arrives: no reservation — no commission. To avoid such cheating, Booking.com calls or sends emails to guests, asking them if they really stayed. If it finds out a hotel broke the agreement, it applies particular fines. Of course, it doesn't always work out, but you still need to think over the system so as not to miss profit.
Subscription
Subscription marketplace business model implies that a seller or a buyer or both of them pay a regular fee to use the marketplace. Obviously, such a marketplace must look worth paying for it daily, monthly, or annually.
Who uses this model?
Shutterstock

: offers three membership options that allow you to download photo and video content with various types of license. Price varies depending on the number of photos you want to get per month and starts from $29. Photo and video owners don't pay any fees but share a part of their earnings when someone purchases their content;

Apple Music

: all musical tracks become available for listening online or saving in the offline library only after a buyer opts for the subscription plan. A standard plan costs $9,99 per month. Besides, Apple Music pays royalty fees to music labels and artists: $0,01 per stream and thus ensures a large content base.
Will it do for me?
This model is not really universal: it will be suitable for platforms selling products or services people need and are ready to pay for regularly.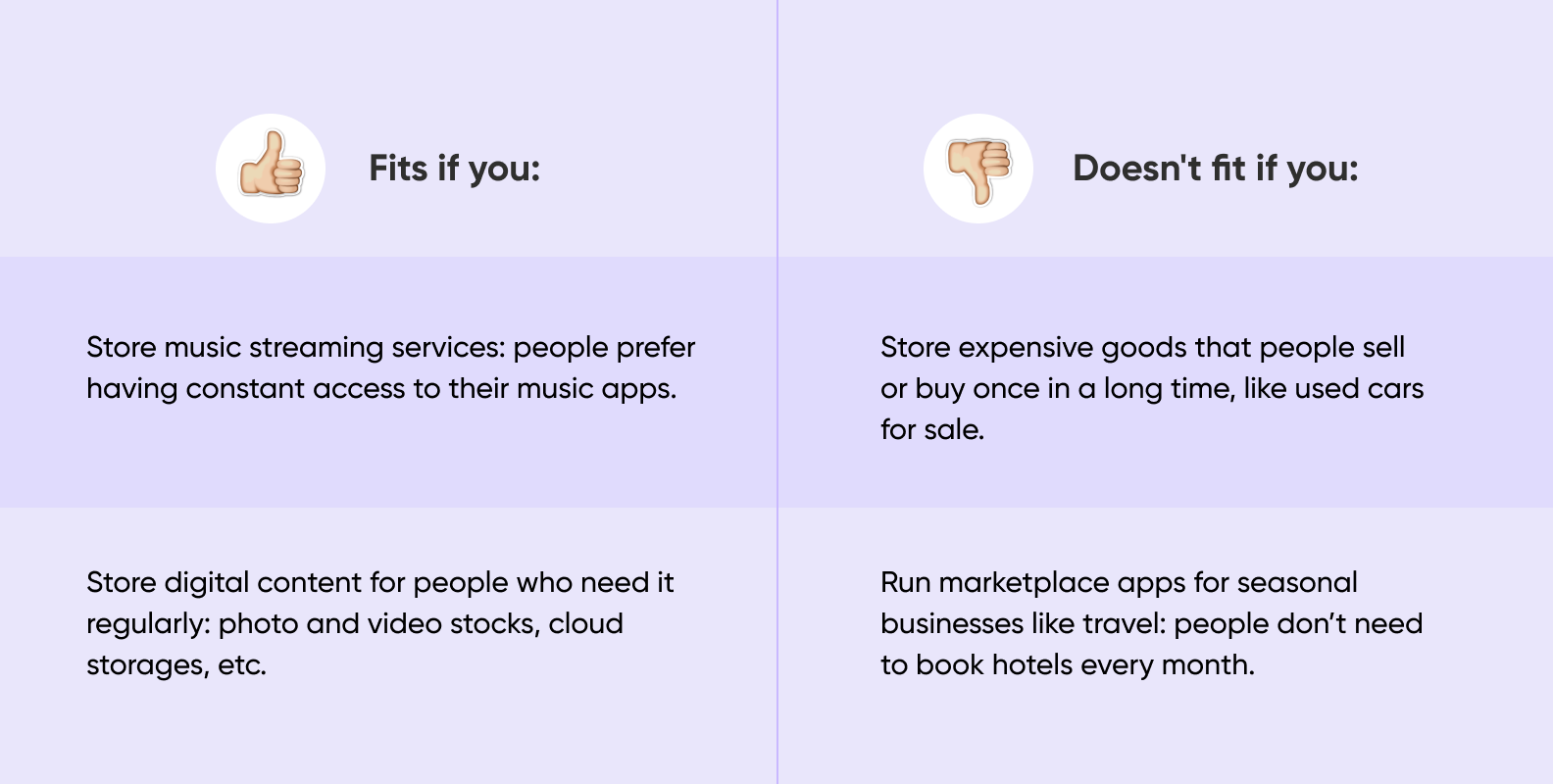 What can go wrong?
The major challenge of this revenue model is to prove your platform is really worth paying fees. Many marketplaces solve this issue by giving a free trial period to let people get used to a site or an app and become kind of addicted to it😉. For example, Apple Music provides new users with free access for the first three months. Shutterstock's unique selling point is based on copyright law: you simply can't use any images without an owner's approval so you need to purchase them anyway.
Another important note: if users tend to opt out of subscription, vendors won't see the point in using it, too. Thus, losing buyers' loyalty is another big risk for this business model. One of the solutions is various subscription levels allowing people to get discounts or share the fees. For instance, you can select between Standard, Student, and Family memberships in Apple Music, while Shutterstock offers a discount when you pay a year in advance.
Freemium
Freemium is Free+Premium. It is a model when a marketplace offers its basic features for free, but also has a premium paid plan with extra options.
Who uses this model?
YouTube

: you have access to the full video library when you join YouTube for free. However, when you get tired of ads here and there in every video, you can purchase a Premium plan for $11.99 and enjoy ads-free content. On top of that, you get access to YouTube Music.

Spotify

: you can listen to music without any fees when you register to Spotify, but a $9.99 premium monthly plan gives access to the top sound quality, unlimited skips, absence of ads, and more.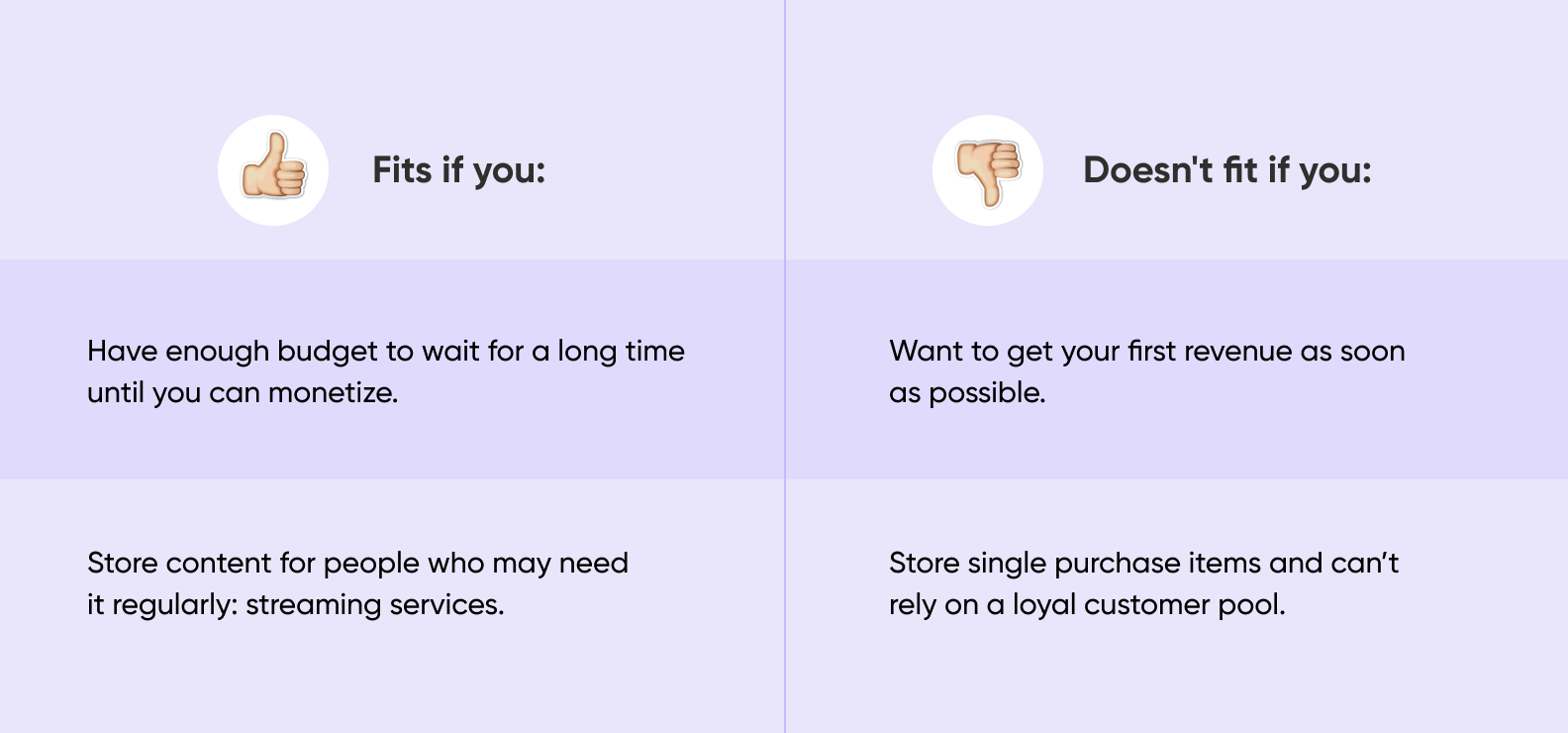 What can go wrong?
As a startup, you don't have enough trust to make people pay for your services. Besides, most of them won't do it just because they can use your platform for free. The main challenge is to motivate users to purchase premium features and find the ones that will be really worth it in your customers' eyes. Say, Spotify's free plan is not the most convenient way to listen to music, so its premium version becomes the only way to get rid of annoying ads and various limitations. 
Another big challenge is to track your customers' behavior. What are the main triggers making them opt for the premium? It's pretty hard to understand and predict users' decisions in this revenue model, so such a startup usually implies investing into a seasoned marketer (or a whole marketing team).
Listing Fee
Listing fee revenue model is when vendors pay to a marketplace for every listing they create at the platform. In other words, they need to pay every time they post a new item.
Who uses this model?
Craigslist

: this ads marketplace allows publishing ads for free unless they belong to particular categories. For example, job postings cost from $10 to $75, and apartment rental ads cost $5.
Will it do for me?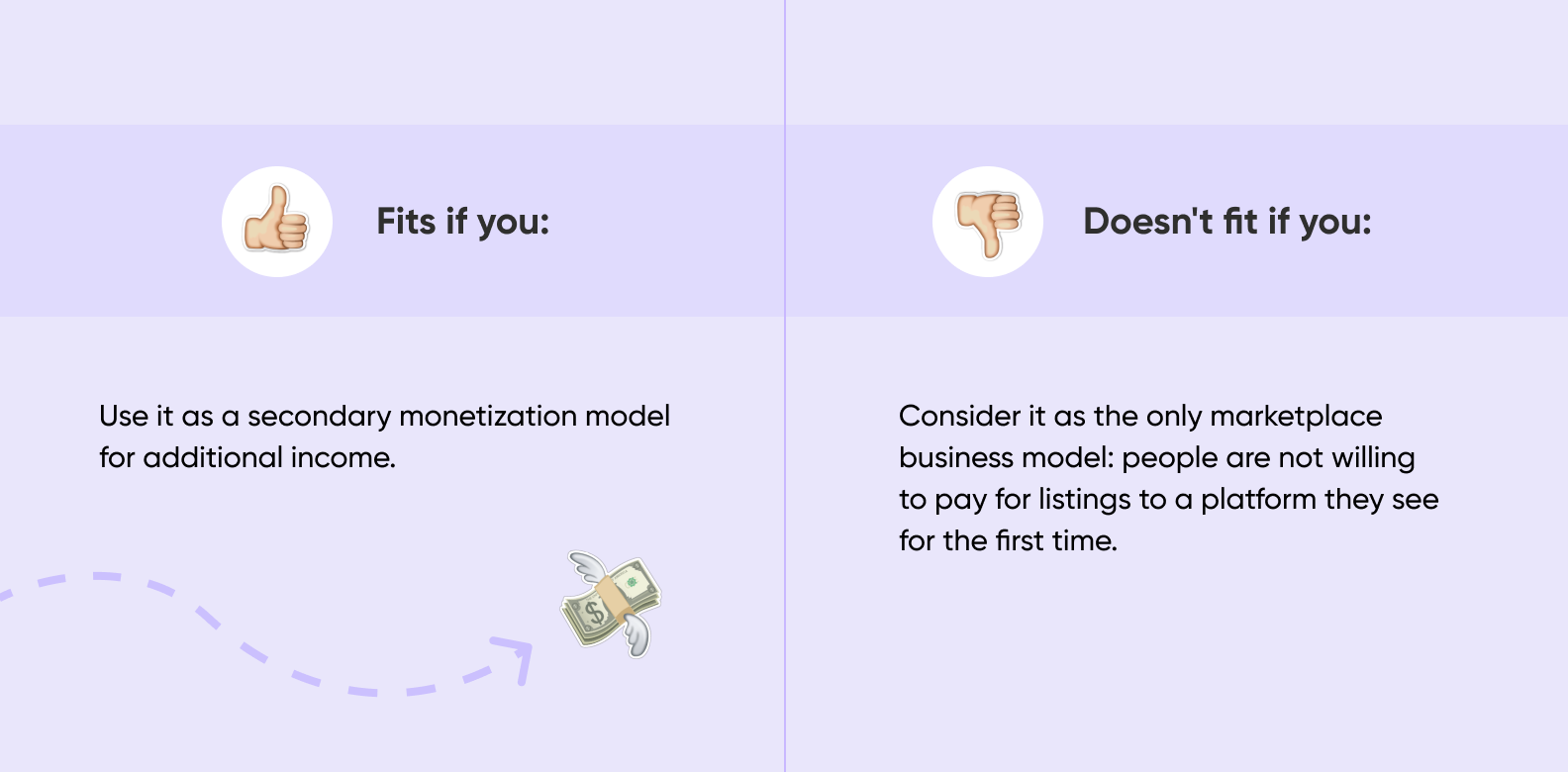 What can go wrong?
As a brand new platform, your marketplace will barely have enough trust to pay for listings. Thus, you might need to wait until you have your first income. In fact, this model rarely works independently, so we recommend mixing it with the other monetization variants.
Lead Fee
The lead fee marketplace business model is based on payments from vendors. They use a platform for free, but pay only when they find buyers. The difference between the commission model is that there are usually no trades on a lead fee marketplace: it only gives vendors access to customer contacts. Still, sometimes a vendor pays for a lead only after the deal is done, but it's usually a flat fee per lead, not a commission. 
Who uses this model?
Homeadvisor

, a home improvement marketplace, charges contractors (maintenance workers) $50 for every lead they find via the platform.
Will it do for me?
What can go wrong?
When you sell leads, your biggest risk is the marketplace leakage. In other words, you will connect a buyer and a vendor, and even if their first deal will bring you some income, they may continue partnership outside your platform in the future. To avoid it, a marketplace must find a reasonable price that won't exceed a market average.
Mixing business models
We already mentioned that you can switch up the model if you think you made a mistake. Besides, you can add another one, and mix various monetization options. In fact, it's a very common practice among marketplaces:
Etsy

, a C2C eCommerce marketplace for selling vintage and handmade goods, combines a whopping three models. First, it charges sellers $0,20 for every listing. Second, sellers also pay a 3,5% commission fee for every transaction. Finally, sellers can opt for premium features, like additional views, for extra fees.

Amazon

does it another way: it has a $0,99 listing fee for small businesses with less than 40 items sold per month, but offers a $39,99 monthly plan and additional selling fees for larger companies.
What if I am still doubting?
We keep telling in our blog that Purrweb is not only about mobile app development. Our expertise allows us to guide you through the challenging steps like choosing the best suitable marketplace business model or the app core features. And we can prove it!
How we helped a startup create a perfect digital marketplace
We already shared this story in our blog: you can read it here in detail👇
Our client asked us to create a video marketplace to connect video creators, businesses, and distributors on a single platform called Contentplace.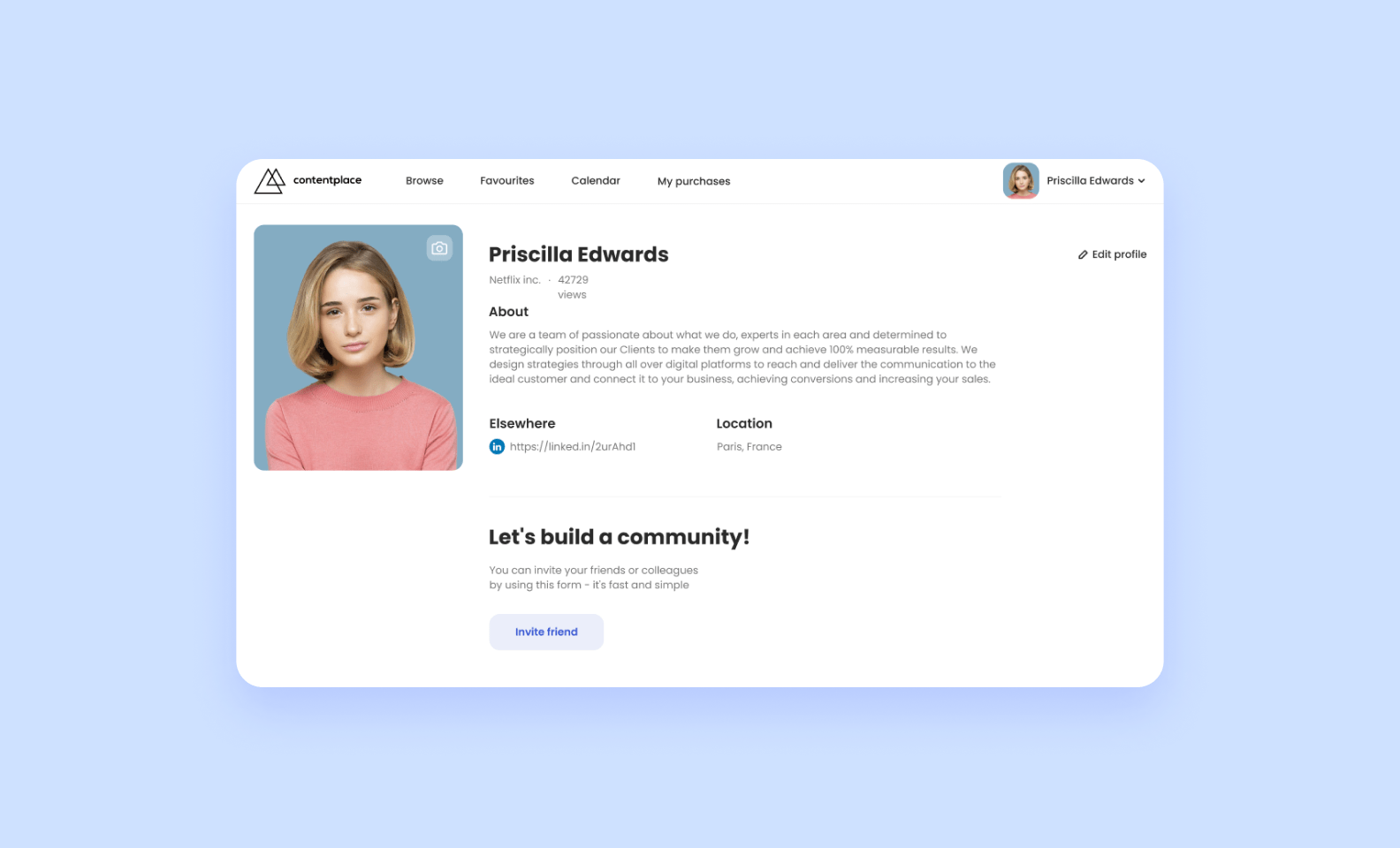 What did we do?
First, we determined the

core features of the app

. Our clients had plenty of brilliant ideas, but after discussions, they agreed to do with the key functions at the MVP stage. It involved registration, onboarding for a buyer or a seller role, search and filters, content plan calendar, and more. The features were different for buyers and sellers, of course.

At first, the client considered a very simple freemium business model: either users pay nothing, or they pay for everything if they subscribe. Still, our experience in similar projects told us it wasn't the best solution, so we suggested altering this idea. In the end,

we came up with three subscription options

instead of 30.

The

mobile app development

stage involved a range of challenges: we needed to enable

app indexing, add payment gateways, and protect content

from unauthorized users. We pulled it off 🙂
The MVP was ready in three months, and it was warmly greeted by the US media industry. Pretty soon, we added new features to make it even better: no, we don't leave the client after the release and always keep working on the platform if needed.
Final words
Feeling up to creating your digital marketplace? We are ready to help you, too: maybe your marketplace will be our next top case? Contact us through the form below to start working: we will listen to your idea, give you tips on how to bring it about, and come up with the high-quality MVP within three months.