What is a freelance marketplace?
Online freelance marketplace is a double-sided platform where companies place relevant job postings and hire independent contractors. In turn, freelance specialists can apply for open positions if their skills meet the requirements.
Now let's take a closer look at how an online freelance marketplace works.
How a freelance marketplace platform works
An employer posts a job or a task and waits for a response. The company itself can offer the job to a contractor after examining the portfolio and feedback from other employers. A freelance marketplace like Upwork has algorithms that select relevant candidates with a suitable fee and experience in the niche. Even if the online platform's AI fails to find a contractor for some challenging project, the freelance marketplace employees manually find qualified candidates for freelance work. At the same time, contractors on freelance platforms strive to get good reviews, do well on projects, and improve their experience to be higher in the rankings and to get interesting and expensive jobs.
Why have freelance marketplaces become popular?
There are several reasons why freelance marketplace websites have become popular. Some of them relate to the growth of the freelance market in general and others to the merits of the freelance marketplaces themselves.
First, the pandemic forced companies to hire staff and work remotely even though they had not thought of it before. Over time, many of them have recognized the benefits of remote employment. In turn, websites like Upwork have simplified the process of finding and hiring remote workers.
Secondly, many employees, especially those of Generation Z, do not like sitting in an office from 9 to 5. So they take advantage of flexible hours and the saved time because they don't have to go to the office. The continuous growth in the number of freelancers proves it. In 2022, more than 70 million people in the US alone are freelancing, and by 2028 that number will rise to 90.1 million.
A third reason for the growing popularity of these service providers is the convenience and benefits of freelance marketplaces themselves for job seekers and employers. Here are 3 main advantages:
Vast choice of specialists and tasks. Marketplaces like Upwork gather many talents in different fields while a freelance platform like 99designs showcases niche specialists. Finding the appropriate candidate on a freelance marketplace is easy due to the number of users. A freelance marketplace also collects many jobs for workers of different levels and specialties, so every contractor will find a project to their liking for a comfortable payment.
Easy hiring and communication process. Employers can filter candidates, view work examples, read reviews and write to the relevant candidate directly on the freelance marketplace platform. Contractors on the website like Upwork can post their cases and portfolios, and not only look for jobs themselves, but also accept offers from employers, and communicate with them directly on the platform.
Built-in payment gateways. When the job is done, the employer sends payment according to an agreed fixed price to the contractor directly on the freelancer marketplace.
With such a set of benefits, the popularity of freelance marketplaces among job seekers and employers will only grow, as well as the revenue of the freelance marketplace creators. For example, according to Statista, Upwork's revenue more than tripled between 2016 and 2021, reaching $502 million. So if you want to join the freelance industry, you can make money by becoming a service provider and developing a freelance marketplace.
Types of freelance platforms & overview of websites like Upwork
The freelance market is growing and Upwork, founded in 2003, is no longer the only choice. The variety of platforms is increasing and many freelance marketplaces like Upwork have emerged. In this part, let's look at the different online marketplaces and the features that attract users.
Freelance marketplace for long-term projects
Websites like Upwork,  which is a long-term freelance marketplace, focus on large, long-term projects with high budgets. At the same time, these freelance platforms are the most versatile: there are many types of freelance jobs and different types of payment available. Users can quote custom prices, and clients can choose the best quotes. When creating a freelance marketplace, think about the niche for your project. For example, a freelance website for long-term projects is good for app development but a short-term one is better for copywriting.
Freelance marketplace for short-term projects
A marketplace like Fiverr serves as a platform for specific small tasks. There are many projects on Fiverr, from content creation and video production to app design and more. Such service providers deal with small budgets and focus on affordable prices for employers. Here, customers mainly put out small tasks for a low price, which is suitable for specialists with little experience.
Global freelance marketplaces
If you want to help people find specialists all over the world regardless of location, a global freelance marketplace like Behance is the right option. Behance combines a freelance platform with a social network for creators. Artists, photographers, and motion designers can create a portfolio and share it with a huge audience.
Local freelance marketplaces
If you want to help people in a particular country or region look for talent, then create a local freelance marketplace. For example, Salita specializes in finding translators in Norway. Anyone with interpreting skills can register, prove their qualification by uploading certificates and gain access to jobs through this freelance marketplace.
Niche freelance marketplace
If you want to focus on jobs for specialists in a particular field, then set up a niche freelancing marketplace. For example, 99designs helps to find designers for websites, logos, clothing, and other products. In addition, this freelance website presents itself as a community of designers for inspiration as they can look at each other's projects, learn new trends in design, and get inspired.
General freelance marketplace
If your freelance marketplace business model involves different areas of expertise, then consider building a general freelance marketplace. For example, Freelancer is a freelance marketplace specialized in bringing together a wide range of different professionals: web developers, marketing, social media specialists, etc. The freelance marketplace hosts various competitions to help freelancers enrich their portfolios and develop a positive reputation on the site.
When thinking about the type of freelance marketplace, you don't have to focus on just one. The types of platforms can overlap and combine two or three: for example, Upwork is a general marketplace for long-term projects.
Monetization strategies of freelance marketplaces
It turns out that not only the number of freelancers is increasing but also the variety of freelance platforms. Monetization opportunities for a freelance marketplace like Upwork are also growing. Let's find out what monetization strategies exist for the freelance marketplace.
Fees
Charge fees when transferring payment for successfully completed tasks and projects. Websites like Upwork and Fiverr use this monetization strategy. Fiverr charges 10% of the transaction above $10.
Freemium
This subscription model assumes you provide some of the app's functionality for free but charge only registered users for additional features in a premium subscription. For example, Upwork has a free plan for freelancers and a premium one. With the Freelancer Plus plan for $15 per month, a freelancer can see what price competitors charge for tasks. And a paid member's profile remains active and will be shown to employers even if the person has not visited Upwork for some time.
Promotion of profiles
Freelancers want their portfolios to appear first in searches and employers want their jobs to be at the top. Add a feature to your freelance marketplace that allows contractors and recruiters to promote their listings for a fee to increase your income.
Custom prices
If you decide to build a general freelance marketplace or a marketplace for long-term projects and focus on large corporate clients, it can be difficult to calculate a universal subscription price. In this case, you can take an individual approach, talk to company representatives and calculate a custom price for using the marketplace website.
Mixed model
This subscription model assumes that you combine several monetization strategies to increase your income. For example, you can offer freemium to freelancers and charge employers fees.
Must-have features of freelance marketplaces
To be profitable, your freelance marketplace must remain competitive, and for that, it must be user-friendly. So when developing a business idea for a marketplace like Upwork, you need to think about the basic features that will attract your target audience. Below we collected must-have features for the freelance marketplace.
Registration
Registration at a freelance website like Upwork should be available to all types of users: contractors, recruiters, and agencies. Here are a few tips on how to make registration user-friendly. First, add the option to register via social network or email. Second, avoid being intrusive and don't require users to register as soon as they enter the freelance platform. Instead, offer a registration form when the user is viewing a job offer or candidate's profile.
User profile
User profiles should include contact information and a photo, describe skills and experience, offer promotion of the profile if you use this freelance marketplace monetization strategy. Besides, you can add the following sections to user profiles:
Rating and Reviews. Here recruiters will see the number of completed projects, text reviews, and the overall level of satisfaction with the contractor.
Portfolio. Here contractors will upload their diplomas, examples of completed projects, code samples (for development experts). This section is like a cloud service for contractors' projects.
Identity verification. Websites like Upwork should make sure that a person behind the account is not a scammer and can be trusted. Identity verification can be done with an ID — uploading photos of identity documents and/or video call.
Search and filters
Freelance services marketplace should use advanced search and filters to ease the selection of appropriate specialists and projects. For example, on Fiverr typing the words into the bar, you will see the most popular queries. Apart from the search bar, add to the freelance marketplace filters like publication date, hourly rate, specific skills, and rating.
Job catalog
Companies and recruiters on a marketplace like Upwork should be able to post jobs and assignments. In this section, the client can indicate the gist of the project, the necessary skills of the freelancer, describe the company or entrepreneur, and set the proposed fee.
In-app chat
Messenger in the freelance marketplace allows clients to chat with pre-selected freelancers and discuss project details. In chat, the requestor and the contractor can stay in touch during the project as well.
Payment system
To make the use of a freelance marketplace like Upwork comfortable for users, you need to build in payment gateways and provide multiple payment options. For example, add the ability to pay with debit and credit cards. If you build a global freelance marketplace, then add currency exchange within the platform.
Review & feedback system
The feedback system is important for the freelance marketplace as it provides real information about the contractor and the quality of his services. After the freelancer has completed the task, the client should be able to leave a review. It is better to enable this feature only for registered users, to avoid reviews from rogue sources.
How to build a freelance marketplace
To launch a freelance marketplace, you need to start with the MVP — a minimum viable product. This is a version of your platform with basic features that will be enough to attract the target audience. To develop the MVP, you need to follow a few steps. Here they are.
Step 1: Work out an idea and business strategy
First, analyze the market. In order to start a development process, do comprehensive market research, study competitors' business models, and learn as much as you can about the target audience of websites like Upwork and its needs. Find specific problems of the target audience and omissions of competitors that need to be solved. For example, read reviews about freelance marketplaces and find out what users are dissatisfied with. These are the omissions of competitors, which, if corrected, will make your freelance marketplace competitive.
Second, form a unique offer: choose the type and business model of the freelance marketplace. After analyzing the market, think about how your project will differ from your competitors and what will be your advantage. For example, you can focus on accessibility or uniqueness of the online freelance marketplace. If you choose uniqueness, you can, for instance, create a platform for blockchain developers or copywriters in Spanish. Through such a business model you can make the community exclusive, and sell access to it more expensively, gaining money. If you choose accessibility, the benefit will be that your freelance marketplace will suit more people, so you can earn more from a wider target audience.
Step 2. Decide on the functionality
To build a freelance marketplace, think about the feature set that you will include in the MVP. This should be a minimum set of features that can keep the freelance platform competitive and attract the target audience. A sample list of such features was described above.
Step 3: Choose the technology stack
The next step in the freelance marketplace development process is choosing the technology stack. To build a freelance marketplace we at Purrweb use React.js for the frontend (the interface the user sees) and Node.js for the backend (the server part).
For mobile development, we use React Native — a framework for cross-platform development. It creates a native-like experience and saves time and money as the team works on a freelance marketplace for iOS and Android simultaneously.
Step 4: Develop the MVP
Once you have chosen a technology stack, you need to hire a development team to build a freelance marketplace. At that stage, the team will take care of UI/UX design, code writing, and testing. When the MVP is ready, you can release it, collect feedback and improve your freelance marketplace.
Read more about what MVP is, why, and how to develop it in this article of our blog.
How to keep your freelance marketplace competitive
To remain competitive among other freelance marketplaces, make the use of your service as comfortable as possible. There is no such thing as a perfect marketplace, so to stay competitive you can take into account and correct the mistakes of your competitors, improve basic features like the payment system or add to a freelance marketplace new unusual features that you haven't seen before. Here are a few points to reflect on:
Convenient and fast payment system 
It is important for people to get money for their work quickly and to be comfortable making transfers. So there is a lot to think about.
Speed. Choose for your service provider an internet acquiring that works with most banks and allows you to receive payments within 24 hours.
Comfort. Automate billing, fees, and invoicing to accommodate users. Implement escrow, a payment method in which money is held in a third-party account until the client approves completion. The payment is then sent to the freelancer. Such transactions increase the level of trust to the freelance platform from both clients and contractors.
Geography of payments. If your freelance marketplace operates around the world, consider offering multiple payment options and currencies. Most modern payment solutions, such as PayPal and Wise, support major world currencies. If your platform will operate in a local market, be sure to choose a service that works in the local currency.
Multichannel communication
Beyond just chat, add more features for communication: video calls, screen share, voice messages, and the ability to share files. These tools will help the freelancer and the customer communicate comfortably.
Gamification
Let users collect points for feedback by taking professional tests or inviting friends to the freelance marketplace. Users can then swap those points for discounts or free courses on the platform.
How much does it cost to build a freelance marketplace?
Prices for freelance marketplace development can fluctuate depending on the level of development company, feature set and business model you choose.
Below we have calculated the cost of freelance marketplace development at Purrweb based on the features mentioned in the article.
| | | | | |
| --- | --- | --- | --- | --- |
| Stage | What we are doing | Estimation in hours | Estimation in weeks | Approximate costs |
| Project estimation | We discuss the idea of your freelance marketplace and estimate the costs and time needed to build it. | 8 hours | 1 week | $0 |
| UI/UX design | We analyze user flow, create a prototype of the platform. Based on it we design each individual page and show them to you. | 100  hours | 4  weeks | $5 040 |
| Development | Our team builds the architecture of the marketplace, builds the client-side interface and sets its interaction with the server, as well as creates the admin panel. | 835 hours | 10 weeks | $47 700 |
| QA (Quality Assurance) | We check the platform for any bugs and fix them before launching the freelance marketplace. | in parallel with the project | in parallel with the project | $6 000 |
| Project management | We plan the stages and terms of the project so that you get a quality product in the result | during the whole project | during the whole project | $4 100 |
Our experience with marketplace development
We at Purrweb have already created successful marketplaces.
For example, we built a music marketplace and managed to stand out in the market. How? By creating a native experience using Java Script, unlike competitors, who used WordPress. By the way, the project's YouTube channel has already gained 20,000 subscribers. Read more about the case here.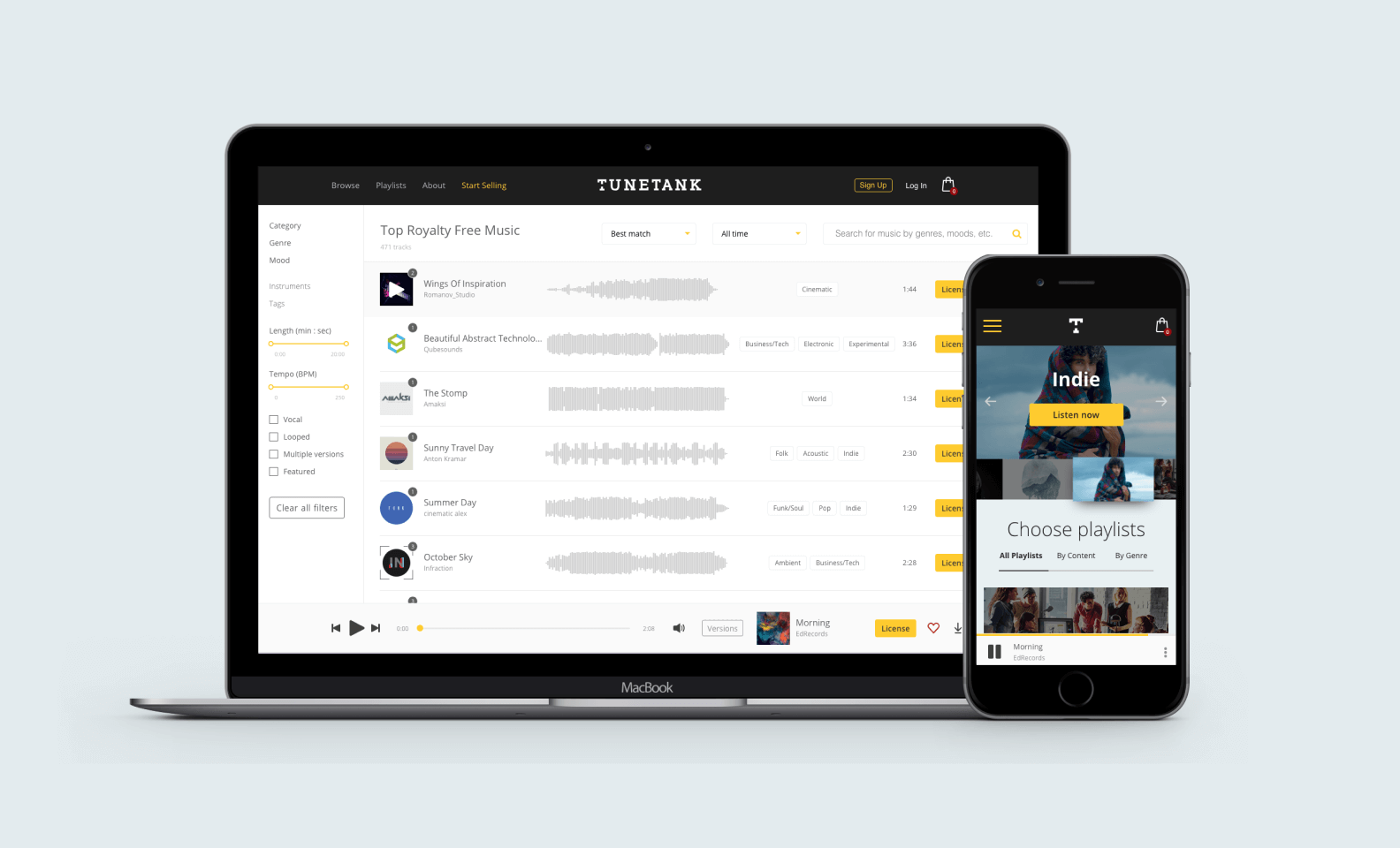 We also developed a photographer freelance marketplace for our client from Belgium. To make the platform user-friendly we solved a lot of problems: rebuilt the UI/UX design from 300 random screens of the previous contractor, worked around the restrictions for the payment gateway, limited long-term storage of photos in the database. What other challenges we encountered while developing a niche freelance marketplace and how we solved them you can read here.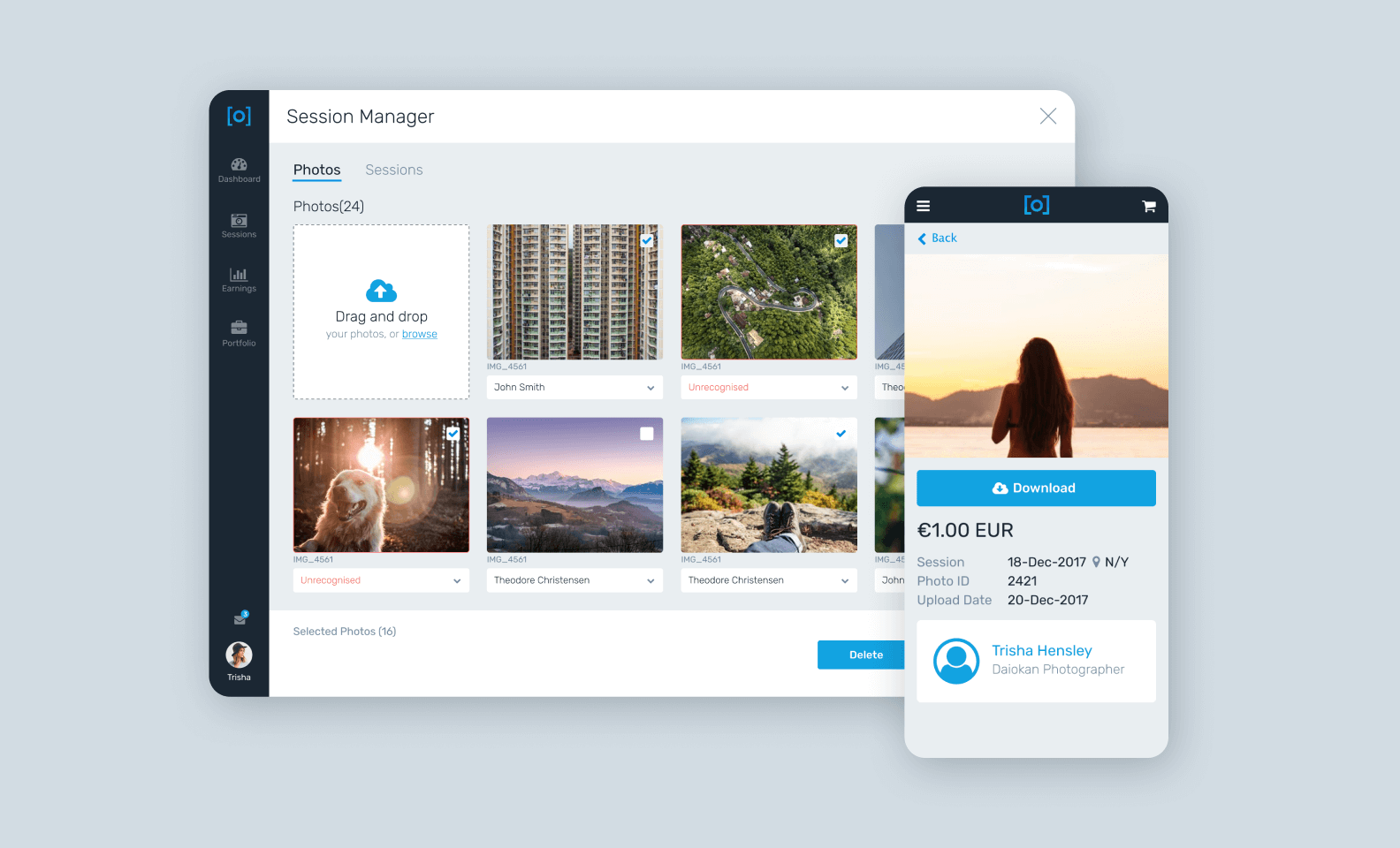 Final words
The development of a freelance marketplace requires serious work — market research, finding a business model, design, and coding. Nevertheless, 2022 is the very moment to enter the market because the freelance industry is constantly evolving and there are a lot of ways to monetize your freelance platform.
If you want someone to help you analyze the market, take into account all the peculiarities and develop a freelance marketplace, order the development at Purrweb. Fill out the form below and we will contact you shortly.