Users don't care about concepts. They want functioning apps that solve their problems. So, MVP or Minimum Viable Product is the first, imperfect yet functioning version of the app which already brings value. 
The process of testing an idea with the minimum viable product framework is simple: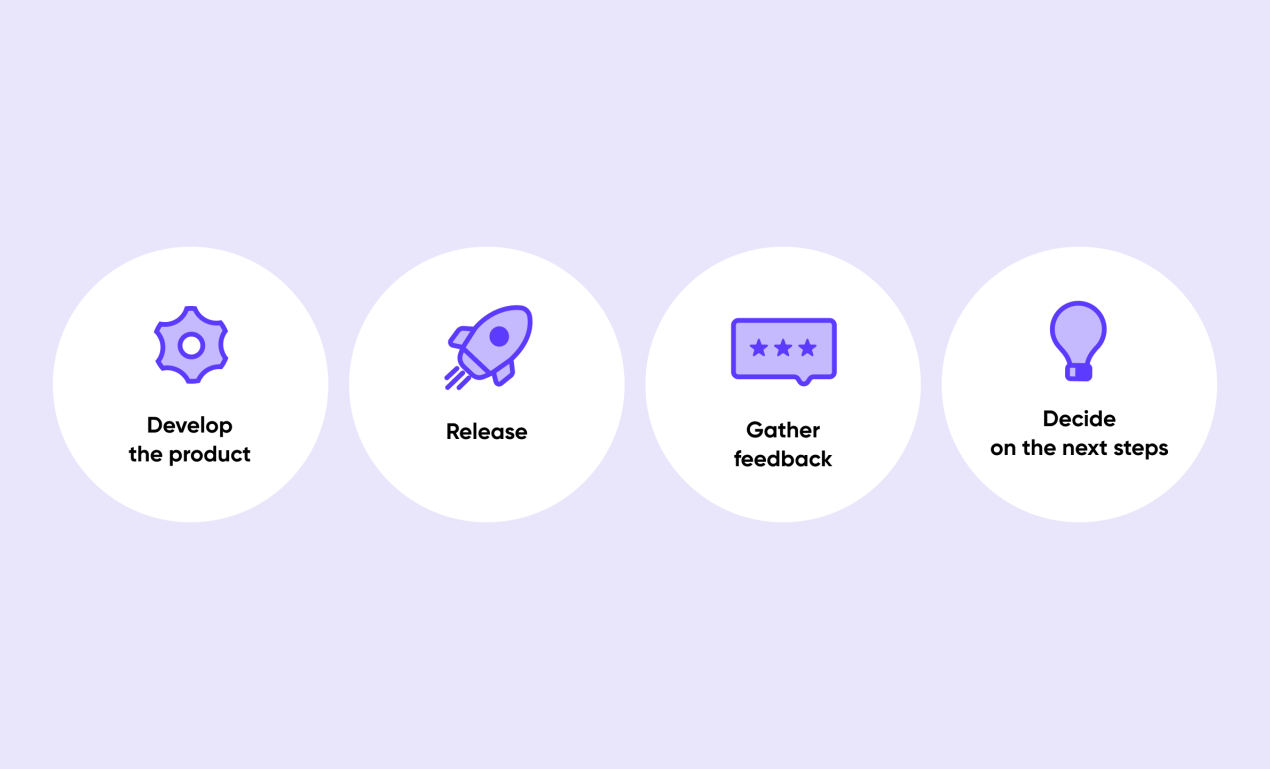 Your vision of a product may seriously differ from what users really need. The MVP is an approach to make sure the concept works and there is a demand for it. If after release it turns out that nobody needs the app or it doesn't work properly, you will get off cheaply without flushing the budget down the drain. 
Investors as users are more interested in a working product. It demonstrates that you're ready to do something more than just Figma designs.
3 MVPs that made it
MVP is not a new approach. Many titans of the IT industry also started off from the minimum viable product. Check out the 3 cases that did it. 
Spotify
Who doesn't know about Spotify? But when Daniel Ek and Martin Lorentzon had been launching the project in 2006, they couldn't even imagine how far it would go. It all began with a simple hypothesis — people can give up on piracy if it will become easier to listen to music legally. To test it, they developed a desktop version of the app with the only feature — music streaming. The user should not download songs on the device. Simply push "Play" and the magic happens. Now you can't impress anybody with it but 15 years ago it was something doozy. When the founders gathered enough feedback from first users, they started to add new features and knock on every door to get funds.
Uber
The Uber story started with a problem — ordering a taxi in San Francisco was hard. In 2009 Travis Kalanick and Garrett Camp decided to reinvent the taxi market and connect passengers with taxi drivers in one app. 
They considered 2 facts: 
people want to get from A to B quickly and predictably;

taxi drivers need clients and it's hard to look for them on the street.  
In the minimum viable product, there were only 3 limousines together with the killer feature: one-click order with the possibility to track the driver's location. It turned out to be just enough to raise the first round of funding and develop the idea into what we can now download on App Store and Google Play.
Airbnb
Airbnb is not a golden child living luxuriously from the cradle. At the start, they had neither the website nor the app nor a support team.
The story is similar to Spotify. Brian Chesky and Joe Gebbia moved to San Francisco and faced a problem typical of young guys: they were short of money to pay the rent. In the house that they rented there was some spare space though. And their friends meant that it's close to impossible to find an affordable hotel room in San Francisco. 
What does a tourist need in San Francisco? Right, a place to sleep over and a breakfast. So, the first version of Airbnb was really simple. The founders bought a couple of mattresses, set up Wi-Fi, started cooking breakfasts, and invited the first tenants. The product started to breathe. 
Recently we posted an article about how to create a mobile app marketplace like Airbnb. 
Start off with MVP and see what happens
MVP is not the only way to launch a successful project. There are at least two more — to "shell out all money" approach or start with a concept. 
Shelling out all money is either for genius or fools. Anyway, such people definitely have money and they are damn sure of their success and don't need to test the hypothesis.  
A prototype is a rather forced measure when there is no money for React Native mobile development but the founder still badly wants to fund the project externally. As the saying goes, half a loaf is better than no bread. 
MVP
is somewhere between the prototype and the "shell out all money" approach, an optimal option for those who can develop a product and test it on real users. 
Minimum viable product — is a great starting point because you will:
1. Win the first investments 
Investment is a green light for project development. But to get it is quite a challenge — you need to spark investors' interest. At the same time, it's not enough to paint a pretty picture about how good and profitable the idea is. We don't say that it's impossible to get funded with a prototype. It is, but many stars should align in such a case — an unordinary idea, a fresh design, and the luck on your side. 
For example, we designed a clickable prototype for Clearstep (earlier Lytic.Health) just for  $1500, and the founders later collected $400.000 of investments. The stars obviously were on the founders' side, but our design didn't let them down as well 😏 With MVP, the chances of receiving the first tranche are higher. The investors see how the product works on the 'battlefield', not in the Keynote. For them, the MVP is like a litmus test for the founder's intentions. It becomes crystal clear if he is ready to put nose to the grindstone to make the project breathe.
2. Check the viability of an idea  
Probably, you already have several startup ideas lingering in your mind. For example, a marketplace for restaurants and food suppliers or Tinder for musicians where guys can find bandmates. Which idea to take is a dilemma. 
In such situation, developing a full-fledged, multifunctional app is risky. There is no plausible data about the target audience. It's possible that restaurants and suppliers can do without the app and musicians match in the usual Tinder. 
React Native mobile development allows to quickly test the hypothesis simultaneously on iOS and Android devices. It becomes clear what users really need and what to do next.
Few are aware that Instagram actually started from Burbn, an app where users could check in and share plans with friends. Although Burbn didn't gain much popularity, among all the features people liked attaching photos to the posts. So, the founders stuck to the 'post photos' feature and launched it as a new app — Instagram.
3. Test UX and UI
The times are changing and people get pickier in terms of design. Now you will not impress anybody with animations, bright photos or unusual scroll. It's expected to be there by default. However, to delete the app, the user doesn't need that much: one logical mistake or payment issue. And the more elements in the design there are, the more issues may occur. 
So, you can spend years designing a perfect UI in greenhouse conditions and find out that people don't act like the designer expected them to. For example, the designer put the 'hamburger menu' in the top left part of the screen but the real users for some reason push the top right.
There is another way: 
in 2 weeks make a basic mobile UI/UX design with animation and minimal amount of features;

in 3 months develop the minimum viable product and understand where users really stumble upon in the app;

change and adapt.
4. Save money  
React Native mobile development for Uber-like app will cost you around ~$60,000 or 1500 dev hours — a pretty penny for a startupper without investors on his side. But if you follow the minimum viable product framework: put off the driver's rating, support ad credit card payment, and keep only the core functionality — booking a ride, you can reduce the cost by 20%. 
If you work with a web studio, you will not have to pay for everything at once. React Native mobile development goes in iterations meaning that every week the team rolls out a new feature or a screen.   
By the way, we already wrote an article about how to create an app like Uber.
The recipe of a 'tasty' minimum viable product
An original idea isn't a 100% guarantee of a product launch. During the 6 years of work, we came to the conclusion that there are 5 ingredients of a high-flyer minimum viable product.  
1. Value
Though Spotify, Airbnb, and Uber were built upon unusual ideas, they all had value for the user inside. As a rule, a good app makes user's lives easier and saves time. Before rushing to investors or a web studio, answer a simple question — what value does your product bring? 
2. Prioritization   
Let's say your product does bring value. However, on top of that, you also want to add additional features like inviting friends, referral program, super-chat, and… Easy, easy.  
Distill the ones that bring core value, in Spotify — it's the player, in Airbnb — the apartment listing. Emphasize the killer feature — the one that differentiates you from the competitors. All the rest can be added after the release. Otherwise, you risk stretching the deadlines and miss a chance to launch.
3. Design 
Often MVP becomes an excuse for decreasing the product quality. Please don't do it like that. It's better to throw out 2-3 features than sacrifice UI/UX design to the deadlines. A product must evoke an emotional response and be intuitive. It's easy to bury the app value in an illogical flow or tasteless interface.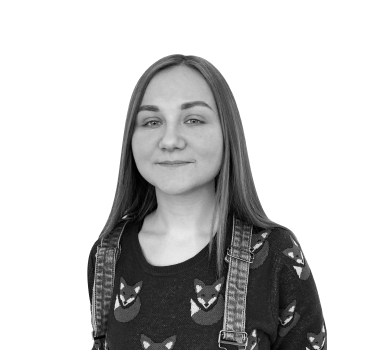 An interface must be clear even for a 5-year old kid. Will a child handle the flow of your app?
4. Development
The design may look incredible, but to realize it is a separate kind of art. If the dev team and QA lack experience, it's not a fact that the project will be released. Do not take such risks. 
Solely building a team without any project management experience is like playing Russian roulette. Especially if you're talking about 500+ dev hours. In such a case, it makes sense to address the web studio and hire a fully packed team for React Native mobile development.  
5. Feedback 
The release was successful and you think it's over with the hard work? Not really, the most interesting part starts — gathering feedback. In the end, it's all about understanding what users need, right? Then either a new iteration of React Native mobile development or closing the project if the spot is missed.
So, what is it all about?
You don't need a ton of money to start an MVP. Clearstep, for instance, started off with just $1500 for the design and then attracted $400.000 of investments. The key point — don't forget about the value. People love the value. 
If you don't have your own dev team, it's better to find a web studio rather than freelancers — more guarantees and less headache.
There are already 150 successful cases in Purrweb's portfolio. Do you want to be the 151st? Fill in the form below and we will quote, how much it costs to launch your Crew Dragon 😉