If you have a web-product, some day you'll probably ask yourself how to improve it to have maximum profit. It's a great question. Sure, no one wants to spend their time and resources in vain – especially developers of web-based products. So, to avoid a fiasco, it's necessary to make sure a product is perfectly 'packed' before realising it.
How a professional team that provides UX design for startups can help you with it? Let's have a look into the matter together.
Why a UI/UX design is so important
The role of UI/UX designers in product engineering is significant. A well-done product 'packing' depends on its visual and functionality. It doesn't matter how special and unique your product is, if it's developed as a mish-mash and looks like a web-page of the 2000s there is no chance that your clients will start using it.  
Until recently, product UI/UX design was underestimated, many companies completely ignored it. However, today developers have changed their mind and started to emphasize the importance of UI/UX. It happened because there are many benefits associated with this design. Let's consider some examples that present how UI/UX can influence your business success:
Sale level increases;

Customer engagement rises;

The conversion is improved;

You receive more feedback;

The value and recognizability of your app increase.
Sounds good, isn't it? So, you may start thinking about hiring a UI/UX design company. This is a proper thought. Professional design agencies are a part of successful product improvement. They will examine the market, competitors, target audience and draw a conclusion about demand, functionality and attractiveness of your product. Using different tools, a UI/UX company may help to tackle some difficulties before entering your app into the market. Also the UI/UX agency can give great support through launching a product . Therefore, it's crucial to find a professional UI/UX contractor. There might appear a question: 'If UI/UX design is so important how can I find a professional company for it?'
How to find UI/UX agency
There are a lot of UI/UX agencies in the market. The diversity of potential contractors is so considerable that the review process becomes a pain in the neck! However, there are some features that distinguish a professional UI/UX agency from a mediocre one. Use the following tips to simplify your search process:
1. Use online platforms to evaluate different agencies:
Dribble

. It's a social networking platform for digital designers where they publish their projects and exchange ideas. There you can consider portfolios and read comments from other community members.

Behance

is a part of Adobe family and serves as another online platform to showcase and discover creative work. There you also can take a look at portfolios and find some attractive cases.

The

Clutch

portal. There are more than 3000 agencies specializing in UI/UX design. You can investigate portfolios, reviews, work quality assessment and other parameters that may help you to make a conclusion about the company
2. Determine the basic specification of your product.
Let's think that your research stage is already passed. Then you need to describe your goals and requests. It's important because you have to be clear-headed about what exactly you need from the agency. So compile a short brief:
Your product goal;

Who is your target audience;

What is your budget;

The project duration;

The product features and specifications;

What is the expected deadline.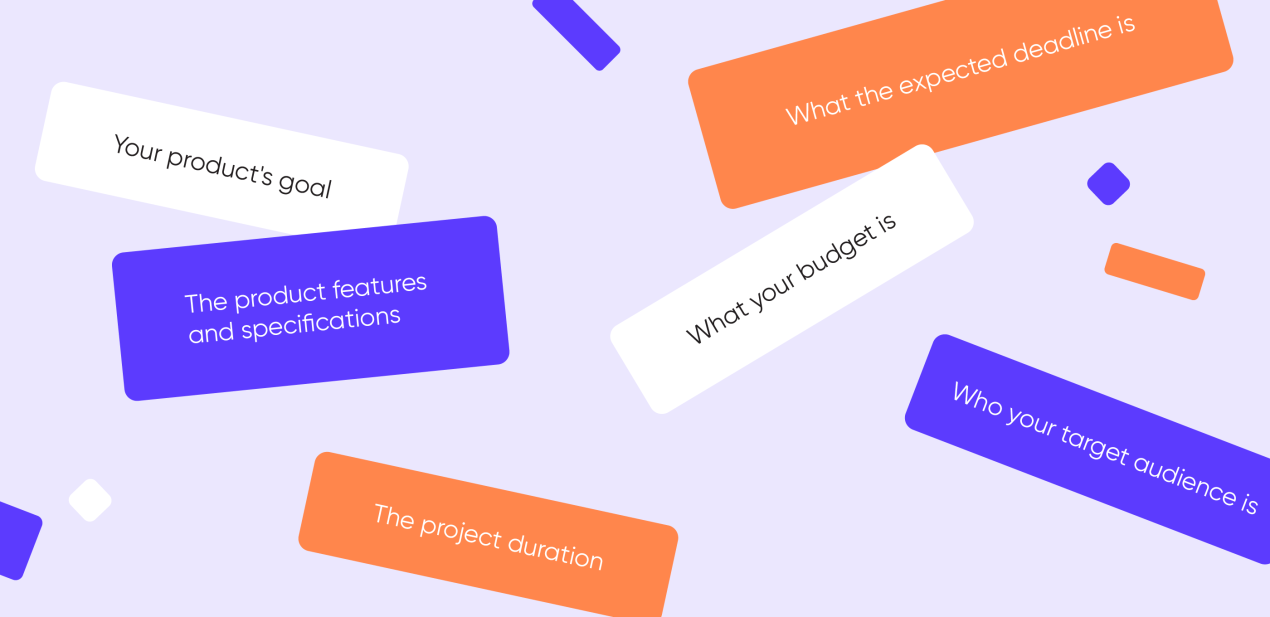 These are just some aspects which are needed to be presented to the company. Remember, it's important to have these features clearly emphasised so the communication with your potential contractor will be hassle free.
3. Search for UI/UX consultancy and not only for outsourcing.
Your contractors will be a part of your project, therefore they should be your trustful business partners. The UI/UX agency shouldn't offer you only operational services, it has to recommend you the best solutions for your business and project needs. Any professional design company takes into consideration the factors influencing your product and creates a UI/UX design according to them.
4. Don't base your choice on the agency's popularity, follow your real needs.
  At this stage you'll probably have a short list with chosen companies and know your expectations and needs. It's time to go to the next step. Try to seek for a company that has already realised a similar project as yours. This means that the agency has work experience with an analogous product and might be well prepared to help you in achieving the best result possible.
How to choose the best UI/UX agency and make sure that its reviews are not fake?
So, you have the list with the agencies. Now you need to move to the next step and ensure that the chosen companies have real experience. Here are some tips which can help you through this process:
1. Search for the real cases in the portfolio.
Every UI/UX design company has a portfolio on its web-page, Dribble or Behance profile. So, it's an exceptional chance to check their cases. Through scanning earlier projects of the agencies, represented on their web-pages, pay attention not only to the appearance of the UX/UI design, but also consider if the products created for previous clients brought real benefits for their businesses. How can you do it? For example, you may find clients' reviews for the previous version of the product and the last one. Evaluate key indicators and draw a conclusion.
2. Check if the UI/UX agency describes the process and end design goals.
Using this tip you can assure that the projects in the portfolio are not fake. If the chosen company can outline the design process completely and correctly, it means that they have real knowledge about their previous project and they conducted it from the beginning till the end. UX/UI designers have to know all details of their projects with facts as well as data. Also you can ask the company to submit concrete examples of what they precisely did to achieve the end design goal. As the end goal can be an increase of conversion, involvement or retention rate.
3. Read reviews
Sure, it can sound trite, but it's still important to do. When you choose a TV set, do you read the reviews? I hope you do, so it's the same with agencies. Through searching for your contractor you should try to find any customers' feedback. Even if it has been mentioned only in some specific forums it should be still possible to find some information on the past projects. 
Through this research there can be two potential outcomes. Firstly, you can't find anything, so it's already a red flag. Of course, the company may be very talented, but lack of reviews tells about inexperience. Secondly, you found lots of feedback, most of it is positive, some of it is negative and neutral. It means you're probably dealing with a professional UX/UI agency. However, you shouldn't forget that nowadays it can be difficult to assure whether a review is honest or fake. Some agencies get both false positive reviews and false negative ones. To write fake reviews is a new kind of business. Nonetheless, there are some possible ways to check authenticity of the reviews:
It should be noted that some of the projects might not be public because of the Non-disclosure agreement, which they might have signed with a previous client. In other cases, companies should have some public materials that show their skills and they also can send them to you. 
Write to previous clients.
It's ok to ask for recommendations. Usually, UX/UI agencies have few public clients and you can easily find their contacts. So, ask about the working process, problems that they might have had, cooperation model and honest feedback.
Usually, in the portfolio you can find some mistakes that the UX/UI agency made in the past projects and what they did to fix those blunders. If their portfolio doesn't contain examples of mistakes, you can ask about them in an interview. A professional UI/UX agency is the one that knows how to set their faults straight. Companies that don't show their mistakes and claim that they don't make them are economical with the truth.
Use specific questions during the interview.
If the obtained information was not enough and you're still not sure about the UI/UX agency's credibility, you can use the following questions through the interview. The answers provided should be comparable with the portfolio. Here they are:
Could you outline your common design processes and approaches?

Do you have an example how your team usually deals with user research and usability testing? Describe it.

Do you use analytical tools to evaluate your design? Which ones?

Have you faced any challenges with a recent project? Describe them;

How did your team tackle the problem?
These questions may help you to make a decision and evaluate this UI/UX agency's credibility.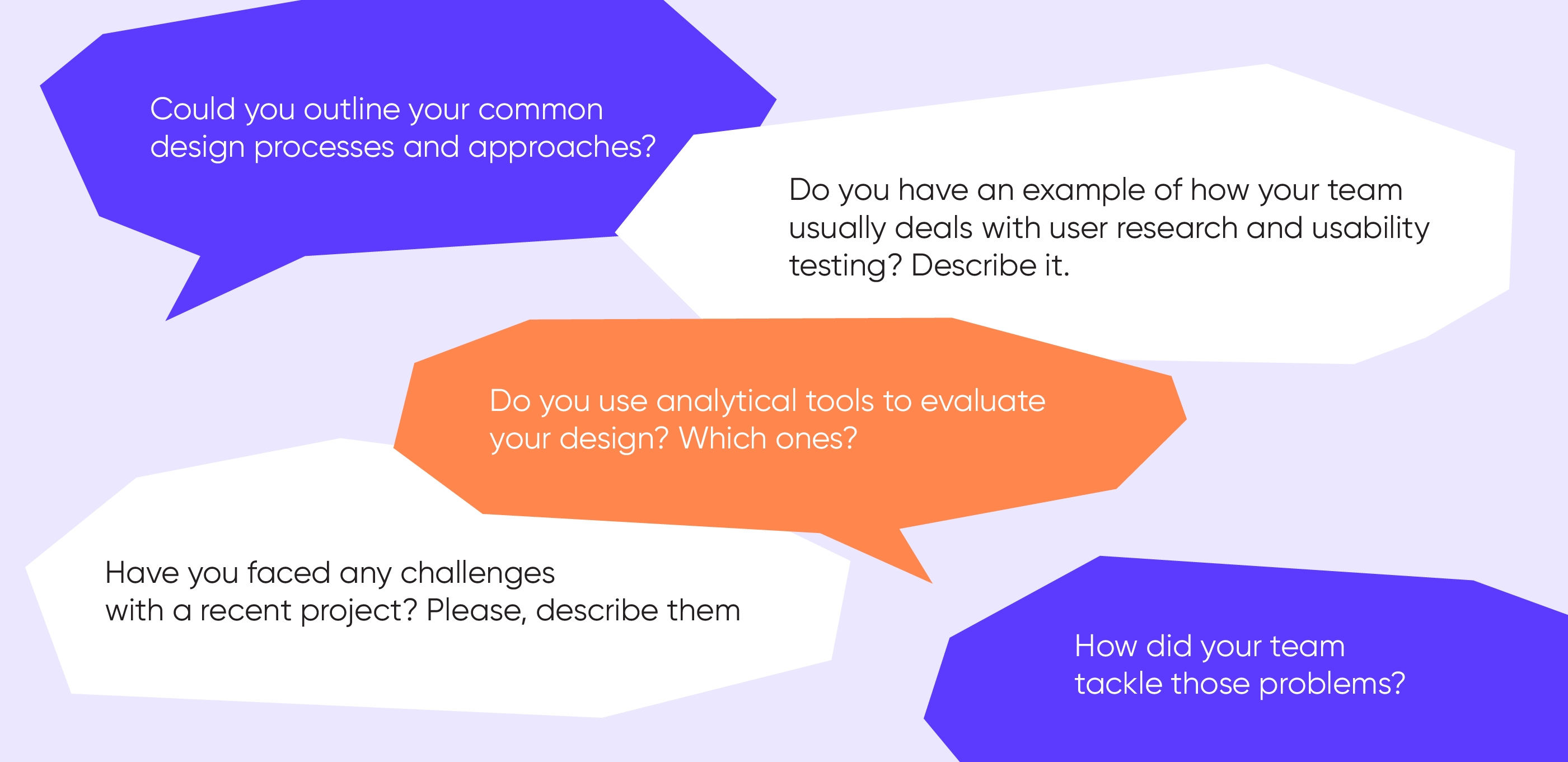 In conclusion
Remember, that product 'packing' is not possible without a competitive UX/UI design part. It's important to find a trustworthy contractor. Therefore, the most significant part of searching is to match the UI/UX design agency to your real needs. Don't forget to check reviews, clients' feedback and portfolios. Lack of information is the first warning sign, use the given tips to check the agency's credibility and make sure that you're dealing with the best UI/UX agency.
And finally, remember that a well-developed product with an appropriate UI/UX design can increase your conversion up to 70%.